Hello 2013
This is a slightly long overdue post but it's still the first week of the new year! I hope you had a terrific new year no matter how you spent it, and that 2013 brings you lots of smiles and love. I'm titling this post "Hello [year]" as I did with my other posts; it's sadly not on the first of January as it was for the past three years, but we all get a little busy and tired around this time of year, and I'm no exception. :P
My cousin Ricky has been gone for less than a week and I already miss him. He had a short stay here but I hope he enjoyed the time he spent. In his last days here we went to see the fireworks in Sydney's Darling Harbour. James tagged along too, as well as Brandon and my dad. We watched the 9pm fireworks in the harbour, managing to get a spot on a pier to watch. We were really close to the water and to the fireworks. I didn't want to lug my camera around because it was going to be too much trouble, so I took photos on my phone instead.
We walked some three kilometres before we finally found a suitable place to stand to see the midnight fireworks that would ring in the new year. Areas around the bridge and the Opera House were full, so we couldn't really see from our spot near the art gallery. It was kind of disappointing. The fireworks weren't that great. Even if we did get a good spot, the fireworks seemed pretty repetitive. :( Probably not something I want to do every year. :P It was the first time James and I spent new year together, or that I've spent it with someone other than family, so that was nice. I think next year I'd rather watch the fireworks on television or ring in the new year in some other quiet way.
We ate a huge dinner at a buffet the day before Ricky left to go back to Indonesia. It was sad seeing him go but I'm sure he had a great time. His luggage got left in Malaysia because the airline staff were idiots, but thankfully he wasn't the only one whose luggage was left behind after the stopover in Kuala Lumpur. They managed to deliver his luggage at 4:20am the next morning, so it was a relief that it wasn't all lost.
On Wednesday, a day after new year, I went to see Unknown Mortal Orchestra (UMO) at my favourite venue The Standard. I think I had a pretty bad day; I was tired and had barely had anything to eat. I really enjoyed seeing Black Zeros and seeing Bloods (who I've seen before, and play some really fun garage-punk), and seeing UMO for the first time was great. They have a psychedelic electric-punk kind of vibe. Their recordings sound like electric Simon and Garfunkel, but they sound a little like post-rock Jimi Hendrix live. Sometimes you get curious how some sounds are made in songs, and it was nice to see how UMO did that. There are rarely and good three-piece bands out there but UMO is definitely one of them. Guitar, bass, drums, that's all you need and it's possible to make some really great music. By really great, I mean unique, not just lathering your fingers all over a guitar. That said, you don't have to lather your fingers all over a guitar and do solos non-stop to be impressive. Not at all.
I was a little miffed that night because I only pulled up three great photos of the guys, and because some asshole dissed my camera.
Can I just say, I really hate small talk. This guy was really tall and Eurasian (a bit like me I guess, LOL), so he had the complexion and stature of a typical Caucasian but he had a really typical Asian face. (I'm the other way around, by the way, I don't have a really Asian face but it's obvious I'm kind of mixed-race.) Anyway, point being, this guy said to me, "You're taking photos are you?"
No shit, why else would I have a camera?
I hate irrelevant small talk. This is the kind of stuff I rant about with James – irrelevant small talk is when the person asks you a question that isn't completely appropriate or relevant to what the hell is going on. A lot of the time I've had people say, "Are you excited for The Griswolds?" or "Do you know when Electric Empire come on?" or "Are you here to see The Grates?" Those are questions that have started real conversations. Asking about what I'm doing tonight when I'm up front with other photographers with their cameras is stupid.
Of course, I answered in the affirmative, and he proceeded to ask, "Is that a shitty 50mm… one point…?"
Wow.
Next person to diss my camera is getting a swift kick to the nuts.
Next person to call a prime lens "shitty" is getting their nuts grabbed.
And squeezed. Really hard.
If you don't have nuts, well… I didn't think that one through.
Regardless.
A 1.8 lens is not shitty, a prime lens is not shitty, and he couldn't finish his sentence so I finished it for him. Glaring, I said, "One point eight."
"Oh yeah, one point eight."
What annoyed me more further into the night was that he grabbed one of the band's setlists before they even finished. I thought that was really rude. He left without bothering to meet the band, so I was just glad he'd fucked off. I was sick of his dancing like a cat on hind legs only bending his knees and jutting his head in and out à la dance-like-an-Egyptian and his beer-drinking and laughing with his friends. Pretty much ruined my night. Same goes for the androgynous-looking guy in a tie-dye dress and poncho, who just kept on talking to guitarist Ruban Nielson and asking what kind of gear he had and what pedals he used and…
My god, can't people have a normal, un-stupid conversation with someone? I went to talk to Greg, the drummer, and we had a chat about new year and what we did, and because he's from America, I told him a little about the new year festivities here. In passing, he asked about my t-shirt, which has a cartoon of the Grim Reaper saying "GUESS WHO?" with his hands around a kid's eyes. I mean, honestly, talk about something real. No fucking musician wants to talk to a fan about their fucking equipment, it's the last thing you want to ever talk to someone about. In the creative industry no one gives a toss about what tools and materials you use, they want to get into questions like what inspires you and what this artwork was about and… I can't stand people. Really. Just.
I bumped into Tim from The Griswolds, who seemed pretty blasted tired after playing at Peats Ridge Festival, and thankfully, had a more normal conversation about what we'd both been up to. I'm thankful that at least I can have a normal conversation with people.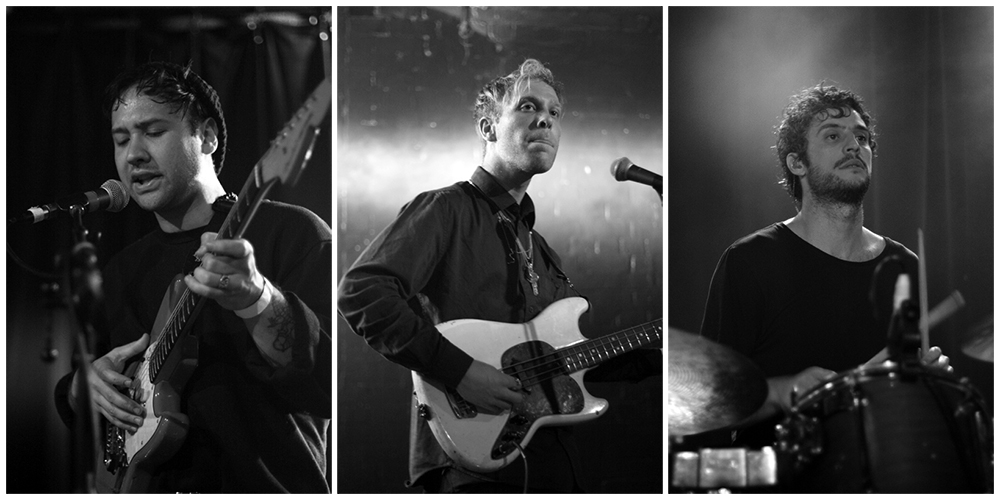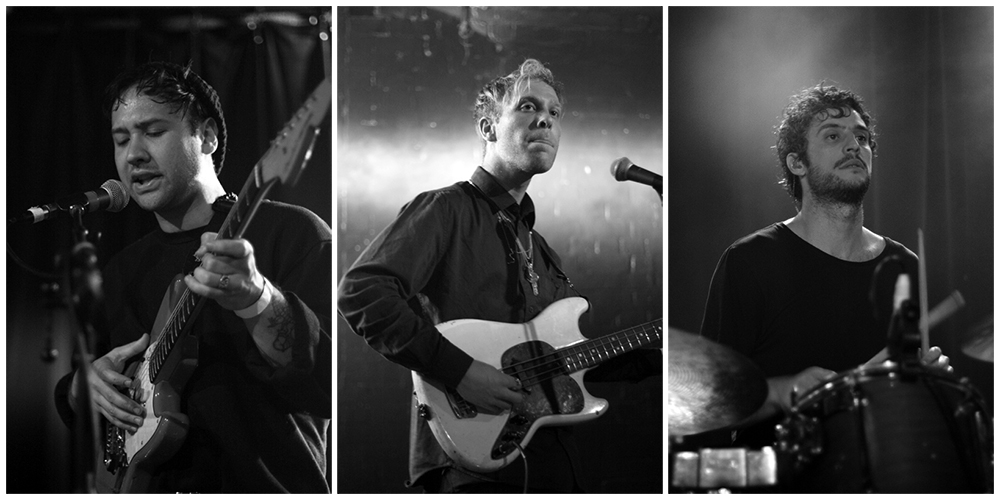 I'm going back to work tomorrow, which means I need to sleep soon!
This week I also received the news that I can complete the next stage of my Masters program (Master of Interactive Multimedia). It's thrilling that I've made it this far, though I'll have to do two subjects this semester and in the latter half of the year, do my major project. I'll still be working, but chances are I won't be as shit-tired and busy as last year. :) That said, it doesn't mean I'm going to stick to my resolutions, because the truth is that I have none. Zilch. Zero. Nada. I'm over that kind of stuff, and last year I told myself I was done with lists and goals, and so far I've been doing good. It's allowed me to get along with life at ease, with no pressure, and by having no lists it's actually made things clearer. What needs to be prioritised is clear in view. :D
That said, I won't hesitate to recap on my 2012 like I did last year with 2011:
January
February
March
April
There used to be a link to a post on my old photoblog that had the original "A Day in the Life" post, unfortunately the photoblog does not exist anymore and as yet, I haven't imported the post into this blog. (18/02/2018)
May
June
July
August
September
October
November
December