Ever After: Marianas Trench, Live
On the 25th I went to see James Morrison live, and though it was really lovely and I adore his music, I couldn't help but think that it was all better suited to a smaller venue. Who can I blame, though? His show was sold out, everyone sang along to all his songs and it was simply beautiful. He's an international star and has fans of all ages, and with three hit albums all with a different sound, he put on a really good show that Tuesday night. The supporting acts were interesting – Gin Wigmore had a voice much like Lana Del Rey, but she sang more catchy, upbeat music. She had a terrific band who not only supported her but also stood out as a powerful collective.
James Morrison was wonderful to hear live, though – and I guess it's another one of those cases where the artist sounds a lot better live. You can feel the emotion that should be pounding through the words, because of the deep things he sings about. That's the kind of stuff you can really only see and feel in person.
I guess the reason why I titled this post after Marianas Trench was very well because the show I went to the next day seemed to overshadow how great James Morrison's show was – that is, Marianas Trench was better. I love James Morrison's music but I when I compare the two shows side by side, Marianas Trench wins hands down.
I nagged my brother Brandon to come with me to Marianas Trench and I'm so glad he did in the end. I just knew he wouldn't regret it, and the fact that I was buying his ticket and we both liked the band was incentive for him to come along. His friend was really jealous of him when he told him he was going to the show. I hopped on over to the theatre and waited for Brandon for about half an hour while he was catching a train. I had walked to the theatre straight from work and was getting a little impatient outside. The security guard noticed me waiting.
I was a bit iffy about bringing my camera, thinking it might get taken and locked up for the duration of the show. I was standing outside sneakily trying to hide the fact that it was in the bag on my shoulder, by covering it with my actual handbag. I was more concerned about not being able to take photos than the fact that I could possibly drop it or damage it. :P
I have to thank Ashley and Gillian, my lovely Canadian friends, for introducing me to Marianas Trench. I can't even remember how long ago it was, but it was when their second album Masterpiece Theatre had recently been released, and it was long before Gillian took her break from blogging – which must have been at least two or three years ago now. Not only does that mean I've been a fan for that long, but I've also known Ashley and Gillian for that long as well. :) I remember Ashley telling me that Marianas Trench was her favourite band. When Gillian mentioned the words to Shake Tramp, "cry a little more, little more, little more – I'll slap you like a bitch and you take it like a whore" and I found them amusing, I just continued listening to the band's music.
Over time I found out that they had wriggled their way into my top eight on Last.fm. After a while I got so annoyed that the other artists in my library didn't get as many listens, and I complained to Rachel about this endlessly.
When Brandon finally arrived, the security guard joked, "you! You kept the poor lady waiting!" XD Yes, yes he did. I was actually getting anxious that we wouldn't get a good view of the stage. This was also Brandon's first show, so I hoped he would enjoy it. Deep down I knew he would, but it was going to take a bit of friendly chat and reassuring for him to get used to the atmosphere. They were already letting people into the theatre before I started waiting outside.
What do you know – when we walked inside, the place was already half full. We still managed to get in the second row, but off to the right hand side of the stage. There was an African-American security guard inside who checked bags but he didn't seem to notice or care about my camera bag. He was hilarious, he immediately tried to guess what ethnicity my brother and I were. He guessed we were from the Philippines. Which is a reasonable guess!
There were two supporting bands – The Sunny Side Up and Sound of Seasons – both from Sydney, and they were quite good. I might be looking into their music later, but I can't say I'll continue to be a fan of theirs, because none of their songs stood out all that much to me.
Everyone went insane when Marianas Trench came onstage. Girls were screaming and yelling and just cheering so loudly. I joined in – it was inevitable. When Brandon and I turned around we realised the place was so full, even though we heard nothing about tickets being sold out.
The band opened with Ever After, the title track of their newest album. It was wonderful hearing everyone singing along and waving their arms in the air. At louder, more upbeat parts of the song, people punched the air or bopped their heads. When they played All To Myself, everyone sang along so loudly. Right now I can't remember every single song they played, but I know Brandon was waving his phone around as he recorded parts of the show. I heard him shout "fuck yeah!" nearly every time a song finished and frontman Josh Ramsay thanked the crowd. He was oblivious to the band's fame in Australia, saying, "No one ever told me there were going to be so many of you. I don't even know how you guys know our music. I thought we'd be the Canadian band just singing an audience of twenty people".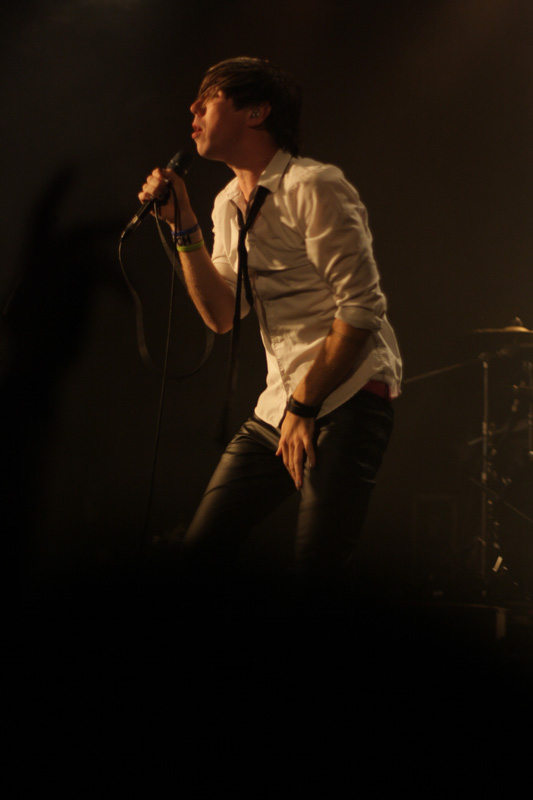 To be honest, I'm surprised they're pretty big here too. I mention the band to someone and usually they have no idea. Perhaps it's just this collective of people who attended the show the other night, and they just happened to capture our hearts so completely.
Marianas Trench were just so much fun to watch. It was great being there. Brandon had such a good time as well. He said he'd gone deaf or his ears were ringing. I'm used to loud music, but I have to admit that amongst the screams, I don't think I had been to such a deafening show in a while. It was well worth the ringing ears though. They didn't play one of my favourite songs, Say Anything, but they played my favourite off their new album and their previous album – Desperate Measures and Perfect. They played all the other songs I expected them to, and even played a few of their slower songs.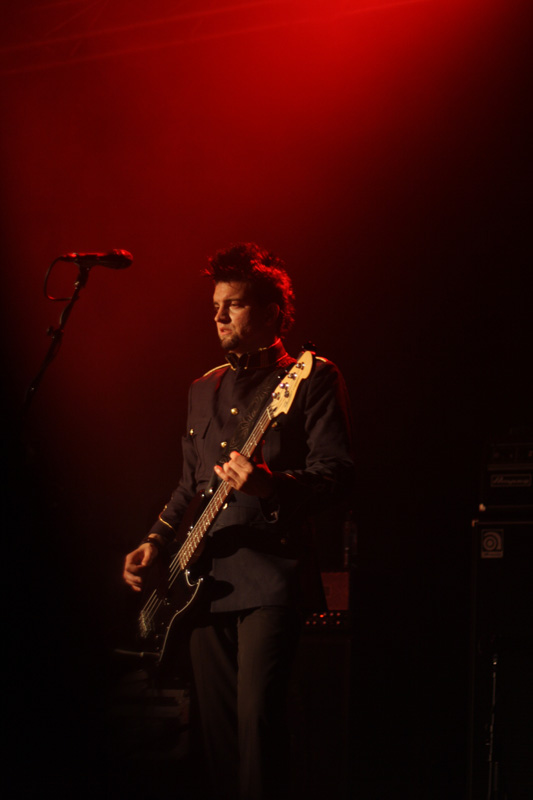 Josh did a solo cover of Tiny Dancer, which was simply beautiful – and led that into Good To You – which nearly brought tears to my eyes. The rest of the band returned to the stage where they closed with Cross My Heart.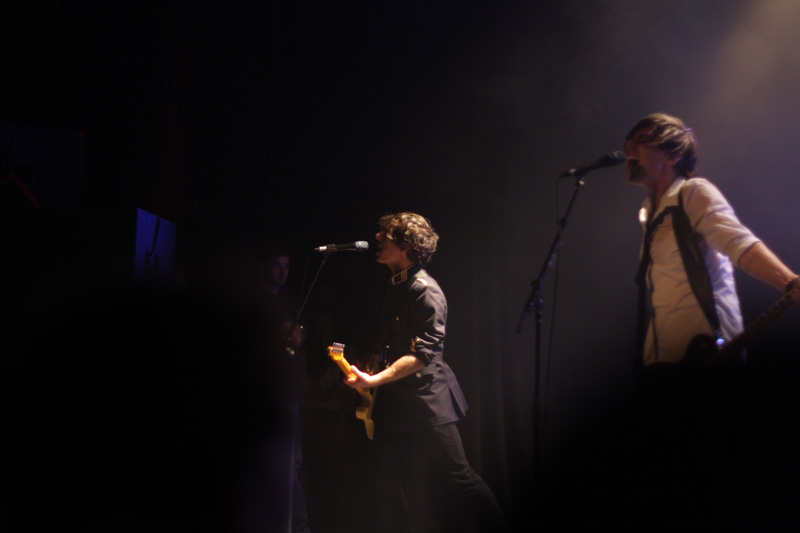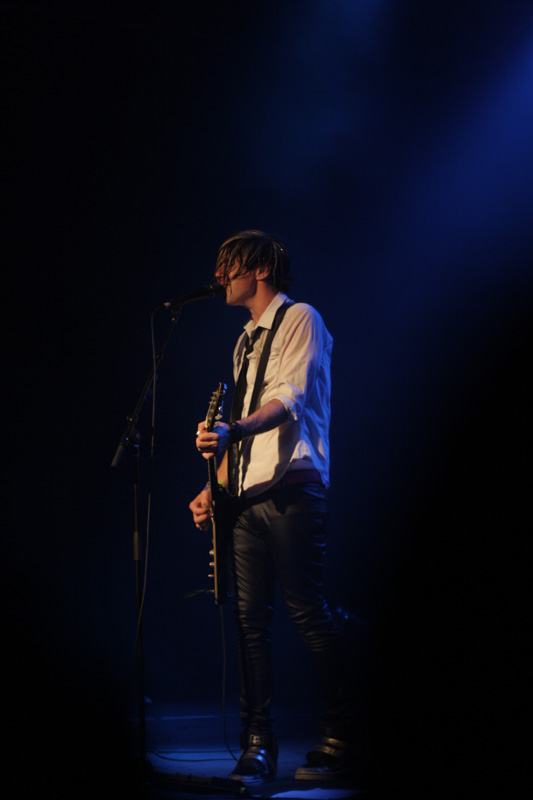 They loved us so much they said they'd come and meet us all. I don't think they expected what they got.
Everyone lined up to see every single one of them. Take a photo with them. Chat, if they had a chance. Sign something. Sign a shirt. A CD. Their ticket. The funny African-American security guard was entertaining the flood of people in the lobby area as they all waited to get a photo with one of the band members.
You know, I remember thinking, if they didn't say they were going to come out, I would have waited for them anyway. I couldn't think of a reason. It was just in my head the whole time. That I'd be willing to wait for them. I got my wish granted anyway. I do have to thank Brandon. For having the patience to linger and have a laugh about how guitarist Matt was veering away from his original standing spot, to wait in line (well, it wasn't a line, more like a massive circle-crowd) for what seemed like a while, just to say hi and get a photo.
Well, it was worth it, you know.
I can't deny the truth. I love this band more than I care to say. I guess, in seeing them hit so many plays on my Last.fm, I refused to believe I found a band I liked that much.
I asked them to please play Say Anything next time.
Whenever next time is.