Oh, Claudia
This week I received my results for university and I passed! Super mega good news out of the way, eh. I've officially passed my Graduate Diploma in Interactive Multimedia. I got a High Distinction again, and I only passed the subject I disliked by eight marks, but that was also balanced out by receiving over 80 in a subject mainly Flash-based (I was very surprised). I'm going to shoot myself in the foot next year going through my Masters degree – nah, come on, get real, I've done well this year despite the struggles. I promise myself I will not stress out so much next year. And as usual, Hey Geronimo > university. Always. ;)
I am so relieved, and since then the week has been a whirlwind.
I've handmade, stamped and addressed over twenty Christmas cards and received tweets of thanks and even photos! Aaw. Of course, I went for the simple option. I wanted to save money and come up with something not too extravagant. I ended up buying some pretty (but plain) card, and some "hairy" paper. I guess you could say it's the kind of "angel hair" that you might see on Christmas trees, or like straw-pressed paper… I used those to cut out little trees. From the beginning I was planning something with the star sequins I had. I have large blue ones but it was hard thinking up something with non-traditional Christmas colours or neutral colours, so I stuck with silver.
As for the trees, I figured it was the cutest thing I could do without morally screwing it up. I thought about baubles, but there's not much to a bauble other than a fancy circle. I still have lots of cardboard left, so sorry if I send out the same stuff next year! Who knows, it could have another purpose.
Postage wasn't much of a hassle – when you work 40 hours a week, a couple of hours making cards and spending a maximum of $1.65 on each isn't much, and it's a thoughtful gift. I have really appreciated this year and although I don't celebrate Christmas hugely, there you go. I even took the time out to send Andrew (Hey Geronimo, haha) and Lime Cordiale a card, though I'm not sure if the latter received theirs yet. I like surprising people, I don't think Andrew expected a card from me. ;)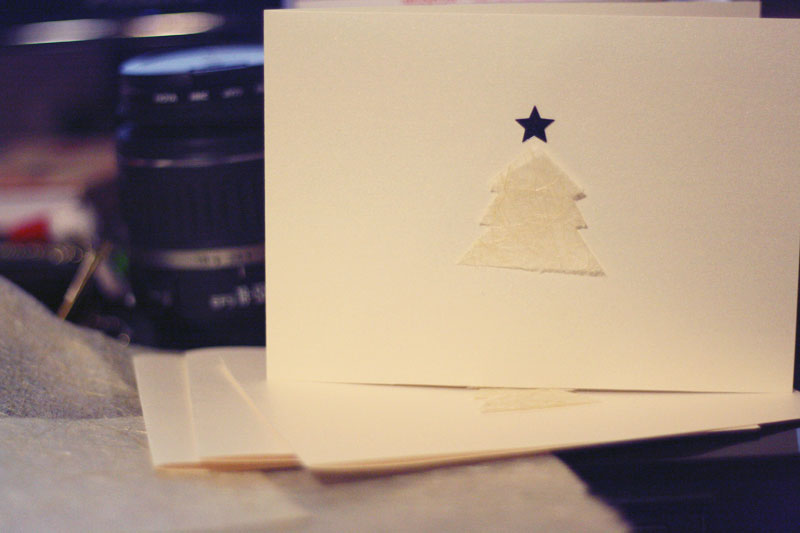 I also ended up buying a ticket to see Weezer live in concert! I couldn't stand it anymore, quite literally, and I was just shaking in my chair every time I listened to their songs at work or at home. I went on Gumtree (an Australian trading post) and bought a standing ticket from this guy who had two to sell. I made sure I met up with him in person and paid in cash so I wouldn't get ripped off. I didn't want to spend money sitting up the back of the concert in a seat, so I'm going to be pretty happy somewhere amongst the standing people. It's Weezer and it's American rock – and that kind of music is probably what would be best experienced standing. There goes $100, but then again, it's nearly Christmas so I might as well spoil myself silly.
I also ended up buying tickets for me and Seb to see Neil Gaiman in January. I can't believe Weezer and Neil Gaiman are in the same month!
February will be a rad ball, with seeing Bullet For My Valentine live, and Dylan's coming to accompany me. It's been a while since I've seen a metal band and did some headbanging, so I'm looking forward to it.
On Friday I had lunch with James, and spent part of the day in the office alone while my officemates went to play bumper cars and have beer. I didn't miss much, apparently.
I went to see the Griswolds (again, and I've lost count how many times it's been) on Friday, but I couldn't stick around for their set because Oli from Lime Cordiale would have busted my bones for missing them, and they were playing elsewhere. I also found out about their show before the Griswolds, boo. But Chris (Whitehall) forgave me because I've seen them more than anyone else has.
I idiotically wore my highest heels. I did bring a change of shoes but I was far too lazy to change them when I walked from Kings Cross all the way to Oxford Street to see Lime Cordiale, so I pretty much walked through a whole town in high heels. My feet were sore but I was surprisingly used to it. The thing is, sometimes you get screwed up toes from heels, but my heels didn't really mess up my toes. They were surprisingly comfortable. They only hurt because of my rough walking so I got blisters on my ankles where the top of the shoes scraped a bit, but it's all good.
Claudia is probably my favourite Lime Cordiale song right now. It's pretty, it's ever so romantic (though others may be inclined to disagree), and I'm still holding out for a full live version to be uploaded to their YouTube channel or for it to be released as a single.
I was just in time, arriving just as the guys were setting up. I'm glad I came because I had a terrific time. Lime Cordiale's music is easy to get lost into. While I've danced along to other music, it's almost as if you can either dance or sway to their music, and you wouldn't feel out of place. Oli and Louis's voices are gorgeous, though I dare say Louis's is better. I love Lime because they have a unique sound that honestly can't be matched by anyone else. They've had a myriad of influences and were also classically trained, so their music is like a mix of them all.
I bumped into Andrew in the middle of Claudia. I saw him earlier at the door, which was a surprise because I didn't expect him to be there at all. You know, it's kind of nice when you randomly bump into your friend and you just don't expect it. I say sometimes that I don't like surprises… but hey, I guess I kind of do? Either way, I didn't expect to see him until next week. I'm going to yet another Hey Geronimo show and I'm really looking forward to it. It's at the same place Lime Cordiale played, and I have to admit I kind of hate how full the venue gets, because it's free entry and it gets a bit insane. It's not as chilled out, I guess. Anyway…
Naturally, I took a bunch of photos and here are a few.
I am going to end here, because I have to go to the airport to pick up my cousin Ricky! I'm mega excited to see him again. There was a horrible flood in Indonesia yesterday so he had trouble getting to the airport but his brother said he made it just in time, the last passenger in. I'm so relieved. ♥️