Indonesia: Gulings and weddings
It took me a while to remember that "guling" in Indonesian means "bolster". I couldn't quite think of a fitting word, thinking that there was no English word for "guling" at all. There are various kinds of bolsters, but just the quick and dirty: a guling is an oversized, usually cylindrical-shaped pillow, that is often hugged at night.
It is pronounced gew-ling – basically, not "gulling". Apparently there are various kinds of bolsters but gulings are very common in Indonesia given their shape and size. I've always called mine a guling; can't quite bring myself to call it a bolster because when I think bolster, I think of a small, fat pillow.
The past few days I've just been clinging onto a guling in pain because I somehow contracted salmonella, or other nasty, gross food poisoning. Last time I contracted salmonella was when I visited Indonesia in 2003. The pain was excruciating; I didn't make it to the toilet in time once. It hurt to move, I spent most of a few days in a foetal position unable to move. After a course of pills and much rest, I felt better, but it really did take almost a week to heal.
This time I fell sick on Monday, having the familiar diarrhea I had experienced in 2003. I thought nothing of it, thought it may have just been the change in diet from Australia to Asia, and went on with my day. The next morning I woke up with unbelievably painful stomach cramps and a headache and… hmm, I couldn't really walk. I managed to make it down the stairs and tell my mum I was not feeling good, so she gave me some familiar diarrhea pills as well.
I know it sounds gross, but I pooped my pants a few times (TMI alert… wait maybe that should have gone as a pre-warning)… because the diarrhea was that bad. 😢
I needed to go to the bathroom that morning and had to walk up the stairs. I don't know what happened but suddenly I lost control and my vision went white. I remember looking for my towel hanging near the balcony, to take with me to the bathroom, and not being able to locate it… then the next thing I know I had ran straight into a door, head spinning, and was on the floor in a foetal position and started to cry.
Before I started crying I thought I had blacked out and fainted, but my aunts and cousin and the maid came to my aid, lifting me up by the arms as I cried. My vision returned but I felt a horrible pounding in my head. That was the worst of it, though.
I slept most of the day and took the diarrhea pills. I didn't eat for a few days. The nausea was unbelievable and the thought of even the yummiest food made me want to throw up. 🤮 I only managed my first meal in days this morning; just a piece of bread. I was able to eat some noodles later on for lunch.
The first day was pretty terrible, but the headache and nausea disappeared once I got some rest. It was really difficult sleeping at night, though. I seem to have gone nocturnal a little since I arrived in Indonesia. I seem to have gotten better quick, though, which is surprising. I was expecting to still be in pain today, but I just have the odd stomach rumble every now and then. I didn't eat much today but I did manage to eat, and I've been keeping up my fluids.
I don't suppose the diarrhea will go away too soon, but it's definitely a lot less severe than before. :)
My cousin Ronald got married on Sunday. It was a huge, really busy day, and the ceremony and reception were both incredibly fantastic. The night before, we stayed at a hotel near the church where the ceremony was held. I managed to go without the internet for 24 hours that day… :P Which means I can cross something off my 101 in 1001 list.
Of course, at the ceremony, I couldn't resist taking my camera and shooting some photos. My favourites are these from the outside of the church where everyone let a bunch of balloons go.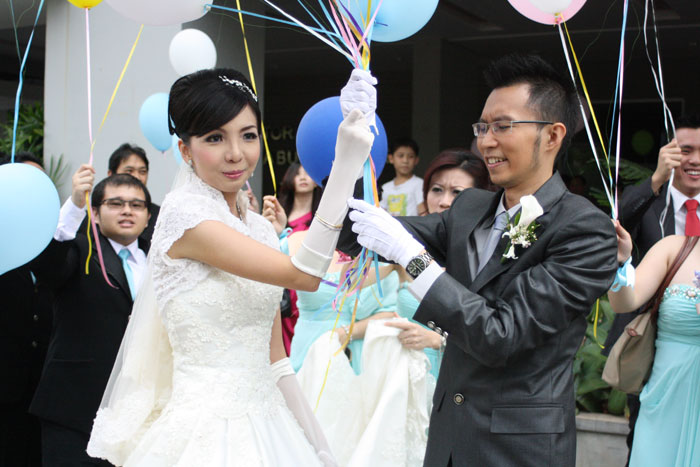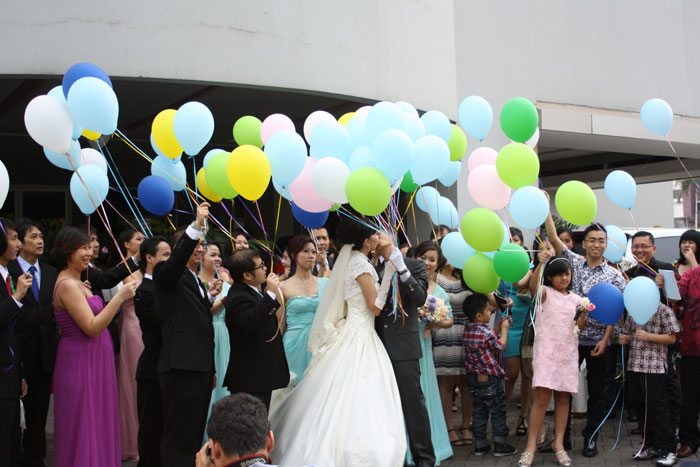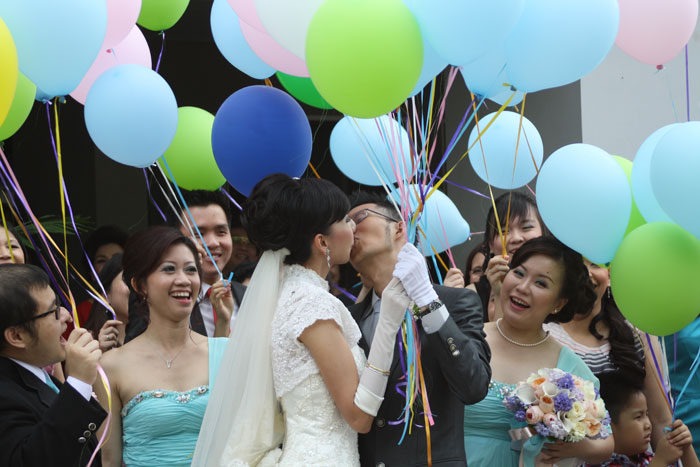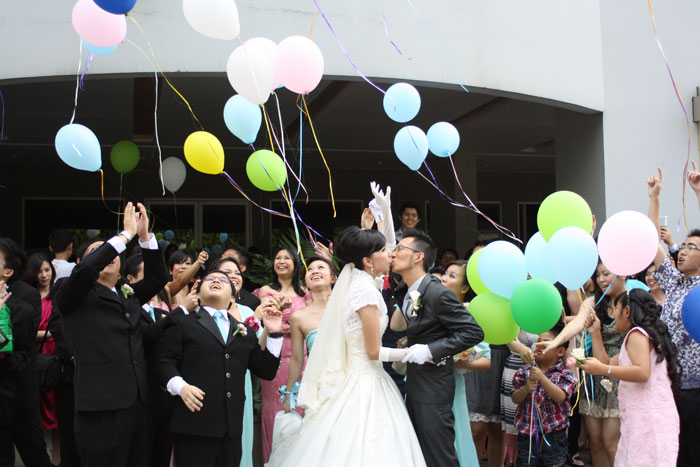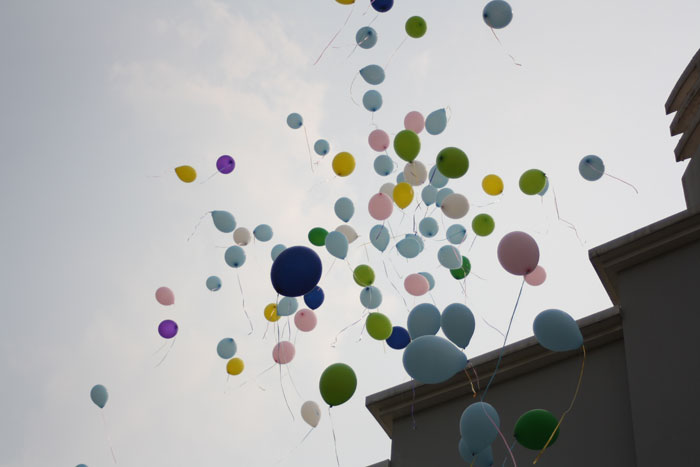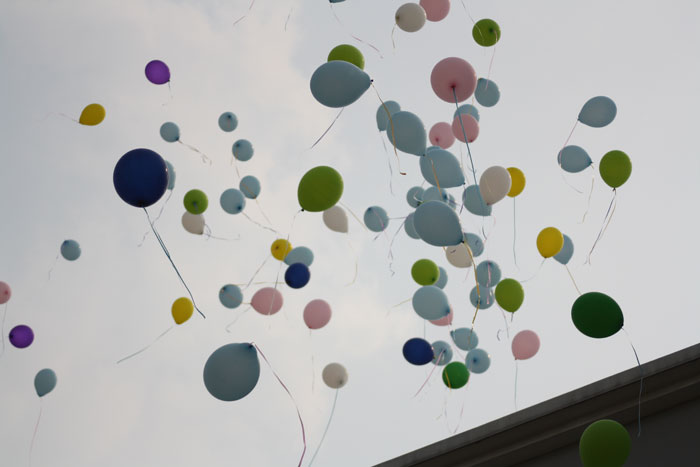 At the wedding reception I was actually at the front desk collecting envelopes of monetary gifts for the newlyweds. :D Ronald asked me if I wanted to and I didn't mind being there – it was a bit difficult as my Indonesian is really broken, but I managed for the most part, with my other cousin's help. There were six desks and I was there for nearly the whole reception. My cousin Ricky got me some food from the buffet, but I found that I wasn't all that hungry. I got tired of standing but we all got a seat to sit on.
I'll admit that before the wedding I was really ticked off – angry about all the makeup and the fact that my other aunt hadn't arrived with the dress I was supposed to wear. Ronald's mother made all the dresses for the extended family, including mine, and when my other aunt arrived I was upset to find that the straps were still too big (I had to pin it up) and the hem hadn't even been sewn. :( It could have been worse; I spent the first half hour silently moody. :X
I didn't see most of what happened but I enjoyed meeting all the guests and giving them their photo and wedding souvenir tickets. I took so many photos with my cousins at the photobooth. At the photobooth, you just line up and professional photographers photograph you with the background a lovely set-up of flowers and such. You get your photo printed straight away, which is pretty cool. /bounce
I found that the wedding differed from Western weddings greatly. At the reception, there are no seats, but it's just a huge buffet where you walk around and pick up everything you want to eat. My dad said that's how it's been for years. He said that it is also cheaper because you don't have to pay per person, but you give an estimate or a maximum of guests and you get a fixed price for the food/drinks and other services for the evening.
I regret not taking a longer break from the front desk as I missed a lot of photo opportunities… but oh well. My brother had a go, but he had trouble operating my camera in the yellow light. He normally does so, so well despite not knowing much about a DSLR – he doesn't shake, he is familiar with some of the controls and he has good focus, but I guess he got let down that night with a bunch of blurry photos.
I really enjoyed the night regardless, and am very happy for my cousin and his new wife. ♥️