Indonesia: Daily Life
It's been a few days since I last posted and things have been both busy and dull. After three days of going out to the markets and shops, yesterday we just stayed at home – home being my cousin Ricky's house. I actually slept most of the day. I have no idea why I was feeling so lethargic yesterday – probably because I got a bit dehydrated. I did make sure I got some water though.
It's currently the dry season in Indonesia, but yesterday it rained. The weather has actually been a bit cooler as well. Normally the temperature in Jakarta is around 35 Celsius (95 Fahrenheit) with really high humidity, resulting in an uncomfortable stickiness. We have air conditioning, luckily, but last night we barely needed it because it wasn't that hot. What's new since we came here five years ago is the fact that the markets now have air conditioning. They didn't before, and it was disgustingly hot, like a real market.
The market we like to visit is Mangga Dua (translation: two mangoes). It's insanely huge, with multiple levels and multiple blocks. It's very easy to get lost. Whether you see it as a good thing getting lost in all the stalls, or as a bad thing not being able to find your way back to where you started, is up to you. :P Back home in Sydney we have a number of markets which I know all too well after perhaps a couple of days browsing the stalls. At Mangga Dua, it's practically impossible to know your way around really well unless you browsed every day for a month. On Tuesday my mum and I spent the whole day on one level, and didn't even finish browsing that one level. Thankfully the levels are categorised so that clothes are on one level, electronics on another… and there is also a simple directory. Thankfully most of the stalls have names as well, but I can't say that my mum and I remember most of the stalls by name. XD
I really love the exchange rate – one Australian dollar is about 9,500 rupiah, which can get you so much here. I find that I'm doing a lot of the calculations in my head every time I buy something. Fifty cent sundaes, fifty cent bread, two dollar shirts… @_@ I'm gawking at how cheap everything is for me as a visitor from Australia. It's amazing how I can buy a meal for just three dollars, which would normally cost $12 back home (for example a bento box). My brother was laughing at the fact that we spent eight dollars on three complete meals for himself, me and Ricky. Food is really very cheap in Indonesia, but of course you have the more expensive restaurants too.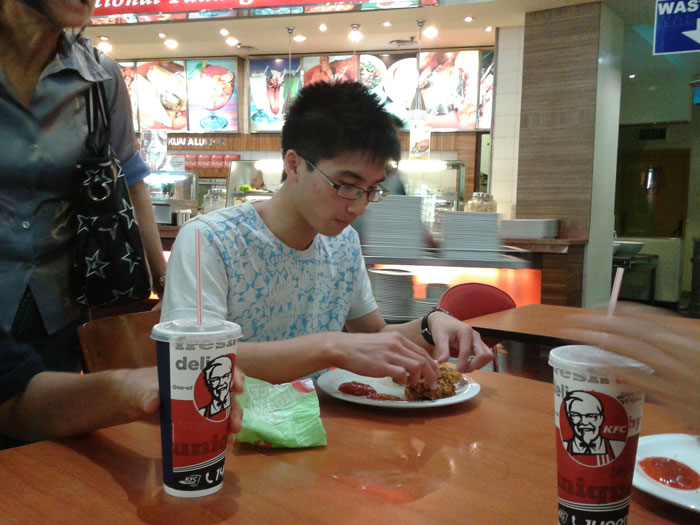 I have bought some shirts and skirts, and I bought a Hermes wallet/bag. No doubt it's an imitation, but I couldn't resist the gorgeous colour. Sorry for the shitty phone photos.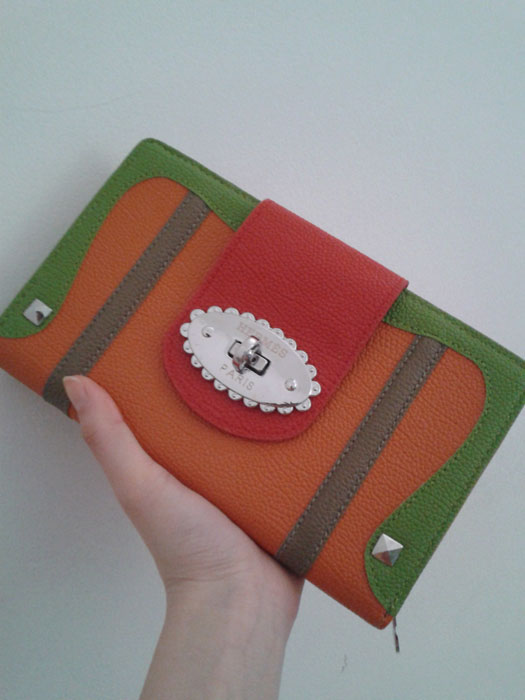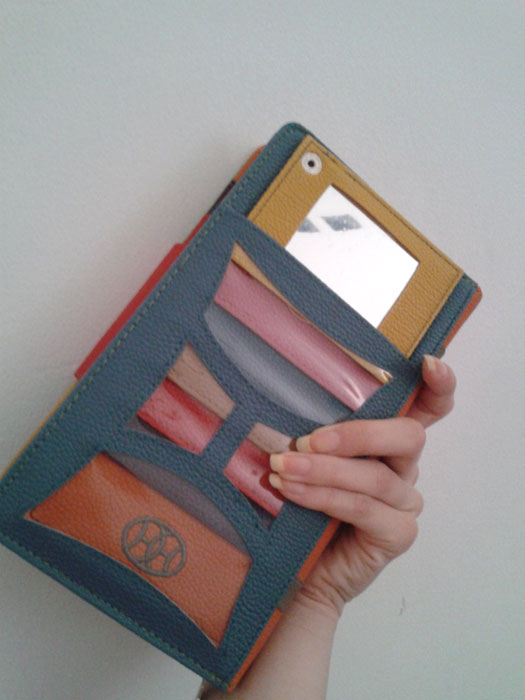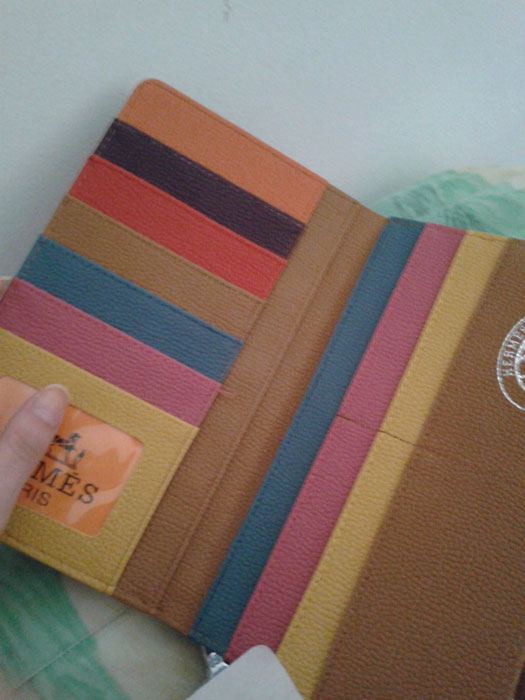 I also bought this cute red pair of shoes for just three dollars! /love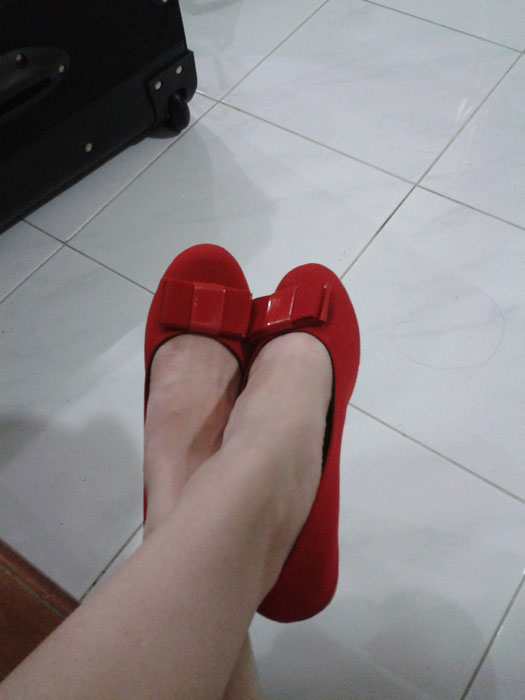 What I don't like about Indonesia and what I always dread is the toilets. Most toilets are squat toilets so you have to squat over a hole in the floor to do your business. Such is the norm in South East Asia, though, as far as I'm aware. :( You don't use toilet paper, rather you wash yourself off with water. I've been lugging toilet paper around anyway, because I can't live without it. I know people who live here are damn well used to the toilets, though. The things we take for granted!
Showers also consist of a large tub filled with water, and a container with which you grab water and pour over yourself. The water goes into a drain in the floor (don't pour it back into the tub, geez). It sounds odd, but the thing I like about this is that it saves a lot of water. You don't have the water continually running as you shower, but you grab it when you need it. This is also suitable because of the heat. You don't get cold without water running, and there is rarely a need for hot water. It's rather annoying to wash hair properly, but I've found it quite relaxing to take a shower anyway. Haha.
Another thing I don't like is the traffic. It's insane and rules are so flexible, they're practically nonexistent. A lot of large intersections don't have traffic lights, so everyone tries to get in the intersection at the same time. I've taken a photo to try and capture it, but it doesn't quite capture the insanity and reality.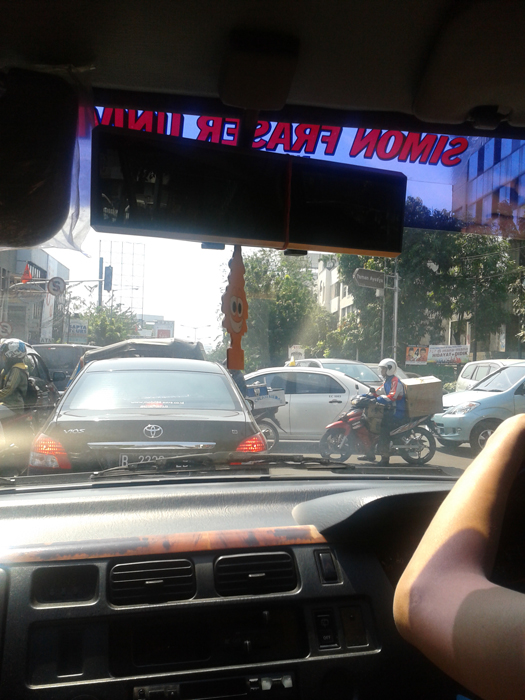 The final thing I hate about here is how everyone stares at me. I look very un-Asian for someone currently in Indonesia: I am extremely pale, and my lighter eye colour and facial features are unusual for an Indonesian. I get a lot of looks and comments that pretty much translate to "oooh, white giirrrrl" from unattractive males. 🤮 It was what led me to cry when I was nearly ten years younger and had guys wolf whistle me when I was twelve years old. Two days ago I had a ten-year-old boy stare me up and down which made me feel extremely uncomfortable.
I wear appropriate clothing, mind you – a loose t-shirt and knee-length skirts or shorts, and I still get eyed and stared at.
It's crazy how if you visit another part of the city (a more sophisticated one, for example) people dress up and wear more fancy clothing and don't get judged. Different parts of the city vary so much. It would be so hard to get used to living here. I almost feel sad – but I'll admit I am having a much, much better time as a 21-year-old compared to when I was eleven and sixteen.
Perception is everything.