Where are my lightsabers?
May the Fourth be with you, young Padawan. *bows* It's Star Wars day every 4th of May. Today is no exception.
Hello, I'm Georgie and I'm tired. I also had my graduation ceremony today to receive my Bachelor of Arts in Communication. As I type this sentence mid-yawn as my eyes are shut and watering and my fingers bear a life of their own, I look back on today – eventful.
It began at 5:30am when I woke up to Houdini playing on my phone. Perhaps it's time to change my alarm tone, but I'm far too lazy. I've been waking up really early for the past few days, trying to get used to it, as well as sleeping earlier, just to shift my body clock a little. I'm often tired when I get home from work, and it's too late to do much, so I think it would be a good idea to sleep not long after I get home and have an early, productive morning.
I went to work this morning. I love work; hey. I was supposed to get my graduation robe and hat some 90 minutes before the actual ceremony. I left work at 1:00pm. I was actually intending to come back after the ceremony. We weren't allowed to take a bag in anyway, so I left most of my stuff at work and just took my camera and phone and wallet. I took my work keys as well, just in case I came back to the office and no one was in.
I met Seb at the front of the main university building. I was surprised to see so many people there already; some with their guests and some without. I didn't really dress up so much. I mean, for one thing, why wear something fancy when you're graduating? My mum had a point; she suggested I wear a collared blouse and a skirt and work shoes so I would be wearing something that looked like I was going to work. After seeing some people graduate several years ago and describing the way they dress to my mum, she actually said it was rather inappropriate to "dress up". Anyway… I agreed with her. My parents didn't come until much later but I sort of wished they had come a little earlier.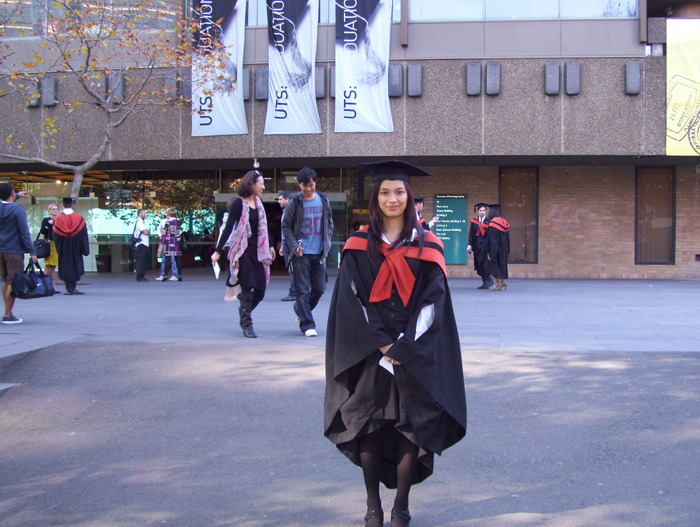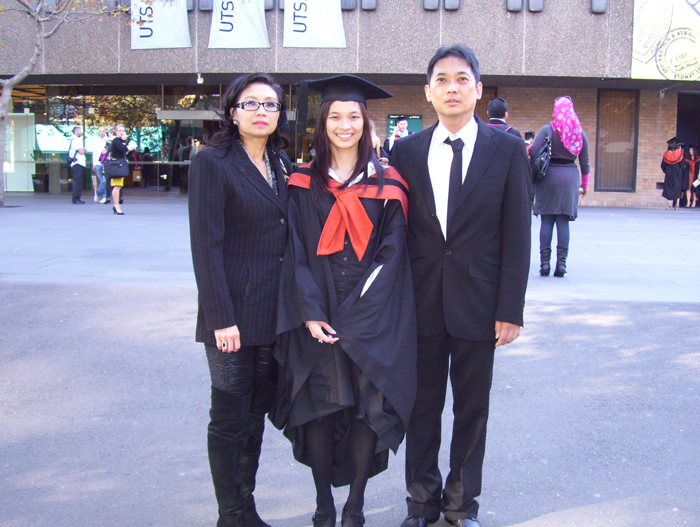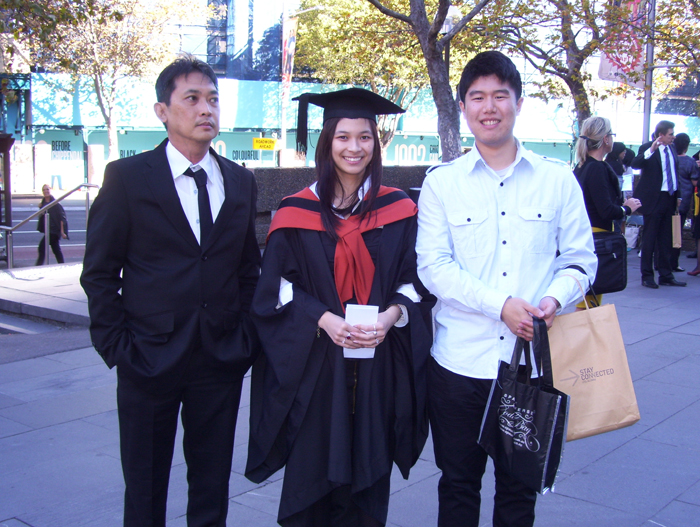 The ceremony wasn't as boring as I thought it would be. I thought it'd be boring to sit through all the names and wait for my turn, but because it was all very organised and you had to slowly get up and line up in the wings of the Great Hall, it seemed like most of the time was taken up by standing and shuffling forward in line as the names were read out. I guess it also depended whether your name was called out near the beginning or the end. My name was somewhere in the middle, and I kept an eye out for people I knew before I had to get up and line up with the other people in my row.
The Great Hall was recently refurbished. The inside was amazing, like being inside a little theatre. The seats were pretty close together, but the place felt cosy without being uncomfortable. I'm surprised a good half-a-thousand people fit in there, because it seemed so small. I think the most beautiful part of the Hall was the ceiling; decorated with rigid asymmetrical tetrahedrons. It was like being inside of a geometric icicle cave.
It was all very organised and representatives in the wings made sure we looked presentable before we went on stage; that our square hats (I should call them their proper names, but it's cute to call it a square hat) were not crooked, and that our robes were sitting nicely on our shoulders. Once we acknowledged the Dean as he called our names out, we'd shake hands with the chancellor, have our photo taken quickly, exit the stage and collect our testamur – which basically consisted of our wonderful certificate and report and other information.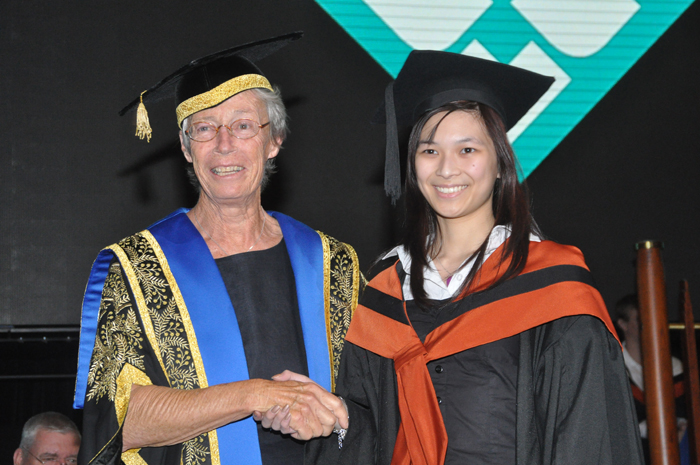 It was like receiving dreaded school reports without the dread factor, perhaps. I actually found it interesting watching the names being called out and all the graduates walking across the stage and being acknowledged. It was all very exciting. I wish they'd given us custom coloured lightsabers simply because it was Star Wars Day…
My parents and James ended up sitting at the back, but we still got some photos before and after the ceremony. Woo. Afterwards we were invited for refreshments and food… there were some very delicious plain croissants and buns with cheese and tomato/ham.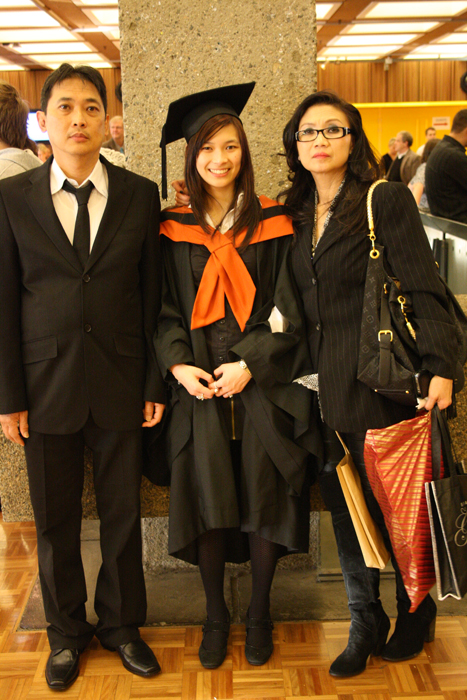 I was actually looking forward to going back to work. My mum insisted I get my certificate and my photo with the chancellor framed, so we did just that. She said it was an opportunity I may not get again, so I might as well. :P I will be graduating from my postgraduate course at some point, so one day I'll wear the robe and hat again and walk on that stage again. XD
To celebrate, James and I had dinner at the same Italian place we went to a couple of weeks ago. The one with the awesome pizza. This time we had pizza with olives and anchovies, and potato pizza. The potato pizza was delicious, it was like having potato bake on pizza – Spanish onions, shallots, sour cream – the lot. /drool