Aw Yeah: The Grates, Live!
If I had to choose my favourite thing about going to live concerts and gigs, it's finding new music… well, closely followed by hearing music live. The problem with the latter is that sometimes artists suck playing live. This hasn't happened to me for the main acts and bands I've wanted to see at every concert I go to, luckily – but I've heard many people express disappointment when their favourite band sucks live. I mean, there's something so magical about seeing a band live, seeing them in person expressing the music that you loved to hear. I can imagine it would be disappointing if they didn't blow you away watching them play right in front of your eyes.
Yesterday I went to see The Grates. I did admit they weren't my favourite band, or one of – but they're a band whose music I enjoy a lot. Because I'd heard a fair bit about the energy in their shows, I decided to see them. It was a Friday night, in a place I was pretty familiar with, and I decided to give it a chance despite knowing that their awesome drummer left the band a couple of years ago to pursue a career in culinary arts. Given the option, I may have gone for the culinary arts – I can't cook for crap, and how I'd love to…
Last night it was raining, which wasn't all that pleasant. I will admit that I wasn't really looking forward to it because I was already feeling tired. I actually considered leaving early, but I saw that on the performance list, The Grates were due to come on at 10:40. Rolling my eyes subtly, I decided to, as usual, deck it out front and listen to all the supporting bands.
No one really hung out on the floor. A couple of girls stood at the front near me, and we ended up chatting a bit later on. A bunch of guys stood near me and one of them was already drunk in the first half hour. I was getting pretty thirsty. It was dumb of me not to go and get dinner beforehand, but I made my way to the venue right after work. I was sooooo tempted to drink alcohol, but I just remembered that I'd never drunk alcohol in my life and I'd rather that happen in a safer place, and preferably at a more formal celebration. I'm like that. :P 'Sides, I should avoid alcohol while I'm on antidepressants.
The first act was a guy called Swimwear. Oh, it's a tacky name alright, and I don't know why he couldn't have chosen something else; anything else. His real name's Tim Derricourt, and he has a Bandcamp profile with some music you can check out. I'd say his music is really similar to Foster The People (at least, that's the only example I can think of now). I like his awesome description of his own music: Swimwear is wild, camp dance music made to make you feel good.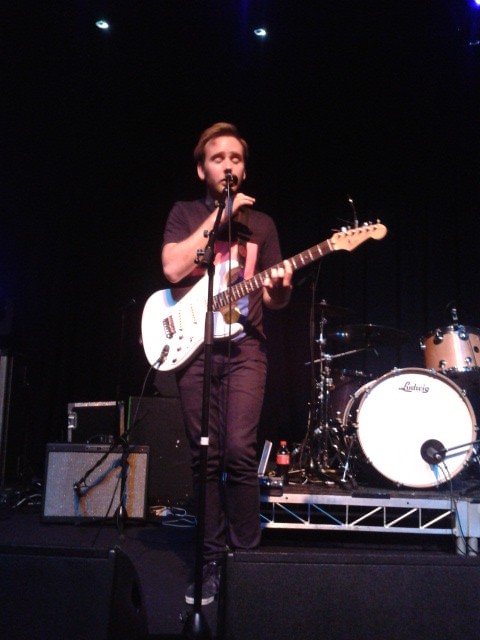 It's pretty accurate. I was a bit too shy to dance, but a couple of people behind me we were really making themselves comfortable. The floor was still not that full and people were just hanging around at the bar and around the edges. But I'll tell you, Tim Derricourt was a great dancer. He had some signature moves – I could tell – and he was really passionate as he sang. Had a couple of great guitar solos, too. I guess I was a bit amused by his dancing, but come on, I dance like that at home. A bit like Thom Yorke dancing in Lotus Flower, Tim was really into his own moves.
Cameras, the next band up, really did my eyes in. They were one of those shit bands that, like the Seabellies, whom I mentioned in my post about my last concert, seemed like a bunch of great vocalists still attempting to get the hang of this idea of being in a band, and the hang of playing live. The two main singers were the female keyboardist and the male guitarist. Their music was far too choppy, erratic, mismatching. I didn't give them a listen before going to the show, as the supporting act list was changed so many times. I wouldn't recommend their music, solely based on what I saw and heard, but they are probably better on the record.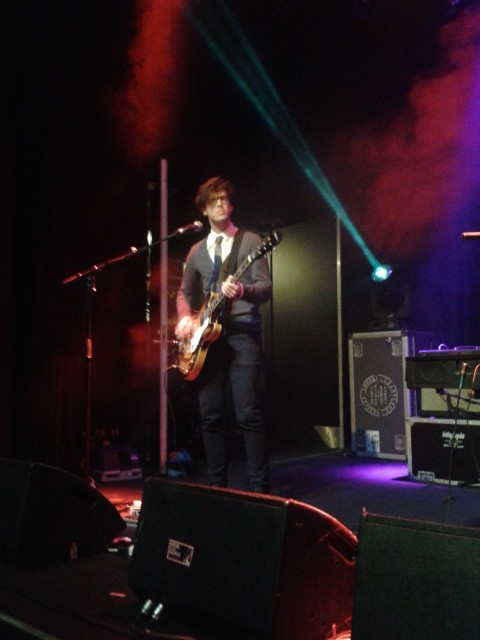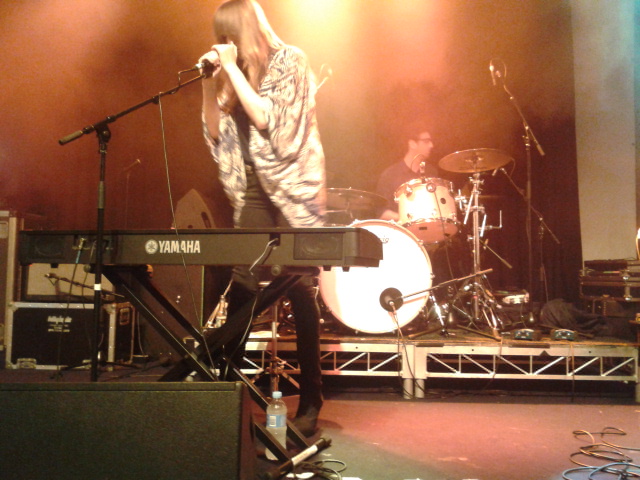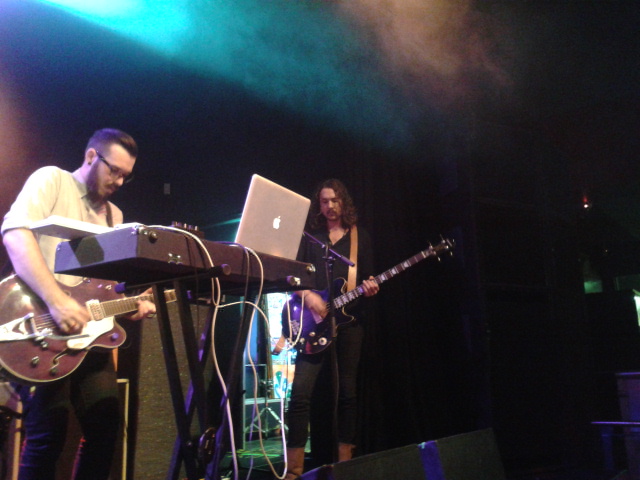 Gold Fields, a band from Perth, followed Cameras. I hated how long they look to get ready (nearly 40 minutes), and even ignored the first minute of their act while I was texting on my phone, but after I put my phone away and listened, I realised that they were quite great. The frontman and lead singer looked like a rapper, the way he wore his hoodie. I'll admit he was rather attractive when he took it off. :P He was an amazing singer, and I realise that they probably needed more time to set up because they had two drum kits and one of the drummers also played keyboard/synth. You didn't see much of what he did because of the space on the stage, but boy did he play a great part. The bassist – normally the most dissed and teased member of the band – was really into the music and had such prominent solos and parts in the music.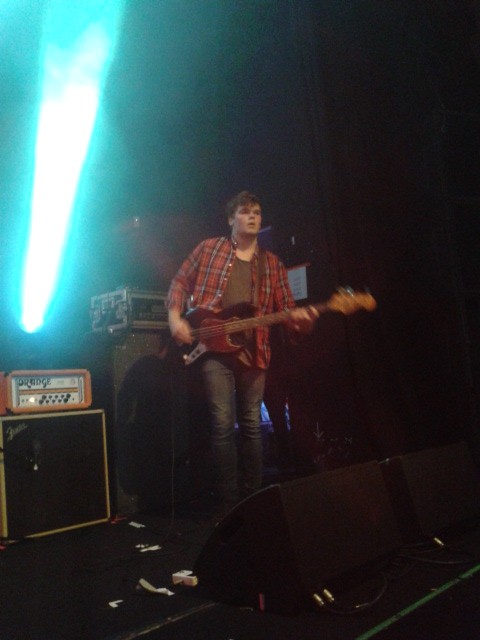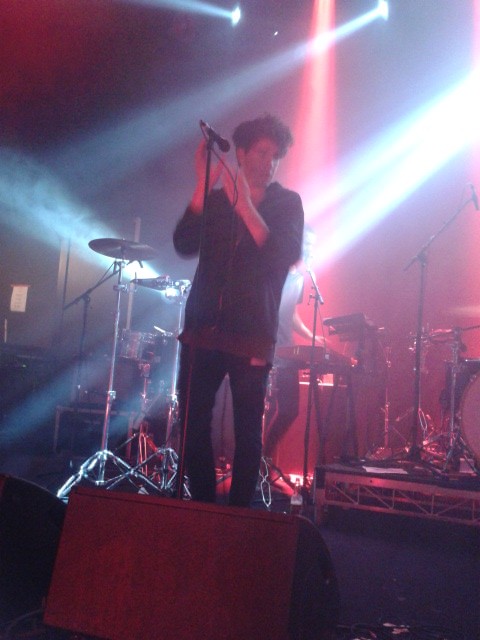 I really enjoyed Gold Fields because while they were heavy they were also very enjoyable. Their music was rough, but kind of dancey, and everyone was bopping their heads to the music. They didn't seem to like the extreme lighting and actually asked some of it to be turned down. I listened to their music on Bandcamp and sadly realised that like Bob Evans, their music was much better live. I have a memory of that marvellous performance, as I got my hands on one of the drummers' drumsticks when he threw it. It was already splintered and broken, and that was just evidence of how amazing their performance was.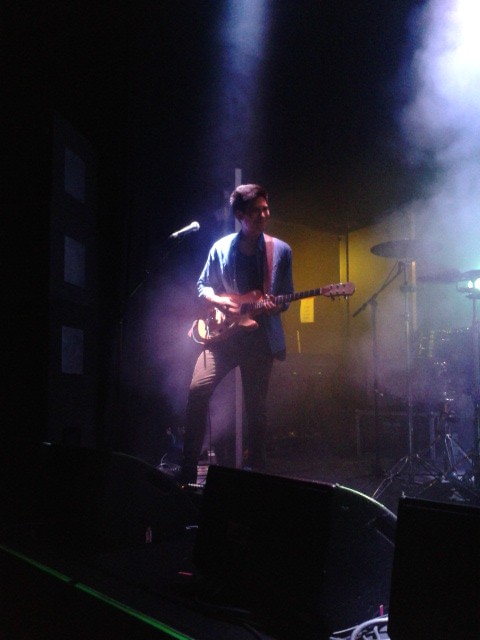 The Grates were just amazing. Being at the front was pretty uncomfortable. No one in the front row jumped up and down or danced as much as everyone behind us. In a way I was glad that I wasn't really part of that. I completely wasn't in the mood. I wasn't tired, but I think deep down I was very tired. Patience, lead singer of the Grates, put on such a show. I was really expecting everything – the crowd surfing she did, her leaning into the audience and climbing up on the barrier and reaching out to us all, her crazy dancing and just interacting with the audience above all – but being there at the front of it all made me forget all that I expected.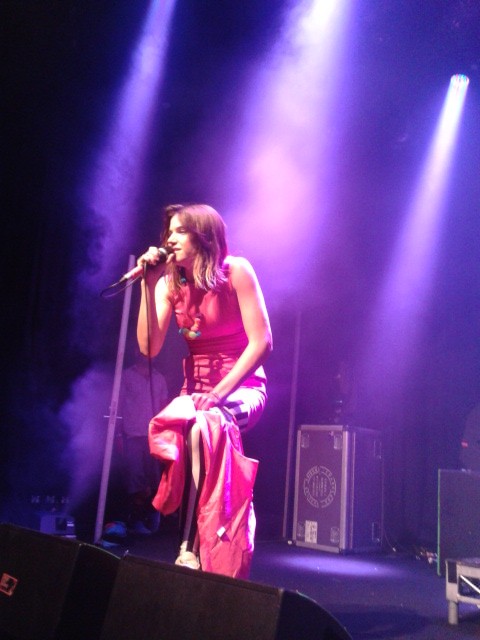 I'm not one of those crazy people who go "OH MY GOD I TOUCHED HER HAND". Not really. I mean, it's something to note. And I'm sure James is still happy about shaking Kevin Mitchell's hand. But when you admire someone and they have a large fanbase, and they just reach out to you and sing to you, it's wonderful. You just know it's the thing to do, when they crowd surf, you help them in and help them surf back. You hold them so they don't fall. In the moment, it's not lame, it's not crazy, but it's always going to be the way the performers interact with everyone. It's always going to be that they thanked you. It's always going to be that they recognised your hat in the crowd. It's always going to be that they asked how many of you were from a particular city, even if a hundred people raised their hands.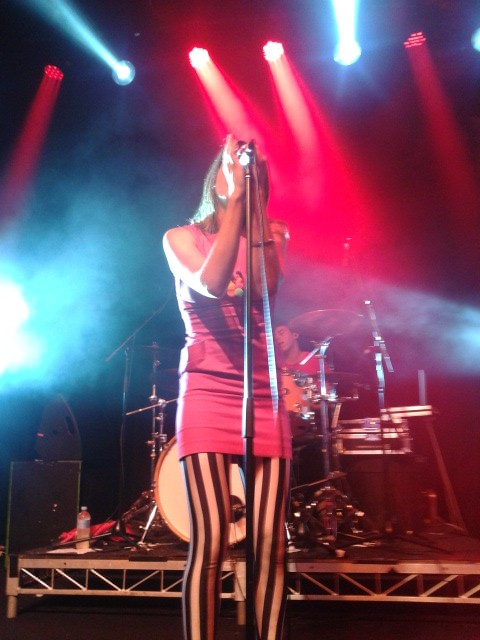 And I waited at the bus stop at 12:00am thinking I should have stayed back and tried to meet Patience and John, and regretted that I didn't take enough photos, but remembered them play Aw Yeah, and Like You Could Have It All – oh, and they didn't play Milk Eyes, damn it – but they played their classic Science is Golden, and they played Carve Your Name, heck, even Inside Outside and Burn Bridges – then I realised I had a great time nonetheless, and perhaps enough craziness for one night – and waved my hand out to the N70 bus that approached the university, and sat down at the back and listened to Milk Eyes again on my iPod, and shut my eyes.