Hey World!
The rest of this post is probably going to completely overshadow this news, but yesterday I released my six-track EP to the public. Please visit my Bandcamp and download my EP for free. I'd appreciate your thoughts on my songs. :D
Well! Without so much as a lame title like "New Beginnings", here I am. In a nutshell, I've moved my website to a new URL, and I know there are tons of questions, maybe some more important and frantic than others, but I'll go in the order that makes the most sense. I named this post Hey World, primarily because it coincides with ye ol' Hello World, except it does my new website name more justice. And it is, of course, Hey Georgie.
Why did you call your website Hey Georgie?
It is a reference to my favourite pop rock band Hey Geronimo. Hey Geronimo, Hey Georgie. I adore the band to pieces. I've seen them multiple times live and love their music, and them. They're a gorgeous, friendly and talented bunch of guys from sunnyland (ie. a city called Brisbane), and I am honoured to have had the chance numerous chances to meet them. Guys, if you're reading this – thank you for writing awesome music, performing incredibly, and your terrific videos. See you at the next one.
Why did you move from Heartdrops?
Let's face it… I thought that name was going to be forever, being my first domain and being nothing stupid like my old site name "Out The Window". But after four years, that time came where I hit a roadblock. This roadblock was none other than the roadblock you get when you think you've reached the end of something and there's possibly nothing better you can do. After my "Love is" and "I Love" projects, and after many failed side projects (365 albums, A Thousand Roses, A Letter To A Domain), I hit this point in my mad life where I realised I just had a lot on my plate with all those projects dropped, and many incomplete. I'd had giveaways – giving away twenty domain names, I'd written 400 website reviews, I'd returned over 15,000 comments across my 500+ blog posts, I'd progressed from using my own photography in layouts to purely CSS, I'd made left-aligned, centred, fluid, and responsive layouts. And with each layout I created, I said, "I will never make anything better than this."
Yet I did. But with my last, blue and brown layout inspired by Cecelia Ahern's The Time of My Life cover, I felt like that was the end. It was responsive, but a responsive fail. Over time I also cleaned out the superfluous articles and tutorials that were on my website – which of course, at one point, were relevant. And as I spontaneously made these changes, it scared me.
I've always been a to-do list person. Endless to-do lists, any time, anywhere, and some time in October I realised I was getting nothing done. This is when I started a project in my head that would be the last project I'd ever start – Project Simplify Georgie. There would be no to-do lists of everything I needed to do. There would be no projects of things that would stop me in my tracks everywhere I went. There wouldn't be this thing called a bucket list. I would live life, and live it spontaneously.
Then, it was only normal that I move. Heartdrops will always be my "baby", my first domain, and I've been through shit tons with her, but I'm pretty sure she got sick of me too, she grew up herself.
Will you still keep Heartdrops?
Heartdrops.org will remain around; any traffic will be redirected to hey.georgie.nu. I'm still hosting my best friends on there. I will continue to renew the domain. I will not let it expire. As I said, she grew up, she's now the elder of my hostees there, and that's how it'll be.
Of course I'm going to miss her.
I have attachments. Of course it was difficult, thought-process-wise. But in the end, it's what I wanted. And in actuality, I didn't think about moving my blog at first. I thought about the name, Hey Georgie, and how much I liked it. Then I decided I wanted to just move. I didn't want to "start afresh"; there's something about my established presence that will feel useless if I didn't move all my posts and pages over. I know people still head back for the tutorials, so have at it – they're still there.
Thank you for those who followed Heartdrops' journey, especially from the beginning. Trust me, I remember you all. If you ever think "goddamn she's not writing that many tutorials anymore" or "I knew she'd never go back to reviews" – you know, you've been there since the beginning. Sure, I've changed, but I'm still the same person. And if, after all these years, you've never left a comment or said "hi"… don't be scared. I've had so many people, now my closest friends, tell me how they were first intimidated by me and the way I wrote and the fact that my site was popular.
Stop being sentimental and tell me about this layout!
If you've spotted the Minecraft axe already, YES! I love you! You rock. If you haven't, well, look for it.
This theme is mega-responsive. I took the time out to take screenshots for you. So if you're looking at my website on your phone or iPad or what have you, you'll probably see a range of different styles (alternatively, you can resize your browser window width). I have work to thank for learning all of this and for helping me to keep up to date with new technology and build my best responsive design to date. You can even add my website to your home screen on your iPhone/iPad and get a nice little custom icon that I made, instead of some ugly screenshot. I'm horribly proud of this responsive theme, so here's hoping I keep it up for a while.
Screenshots! Of course, they're showing my previous post.
iPhone portrait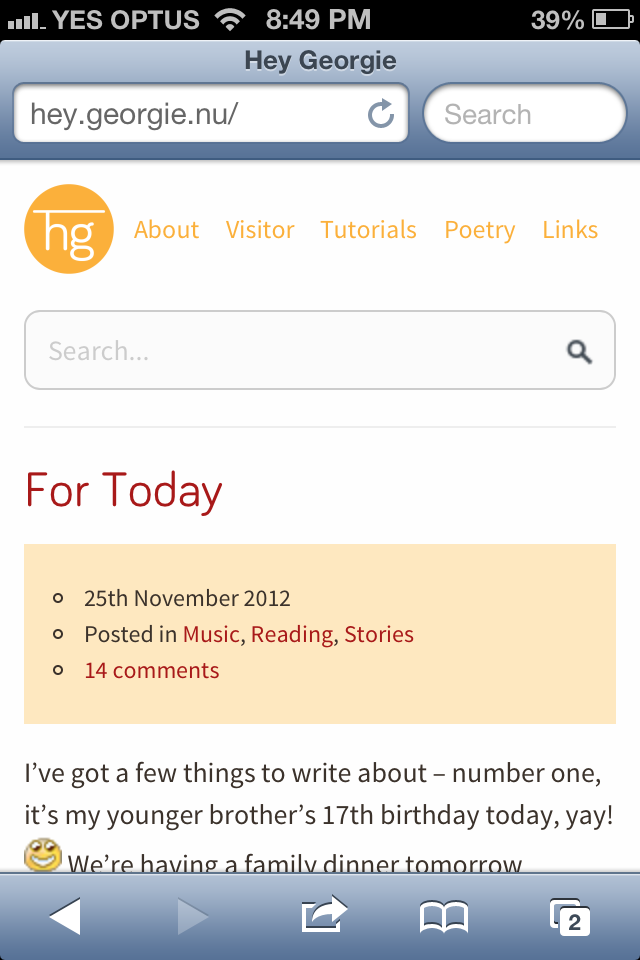 iPhone landscape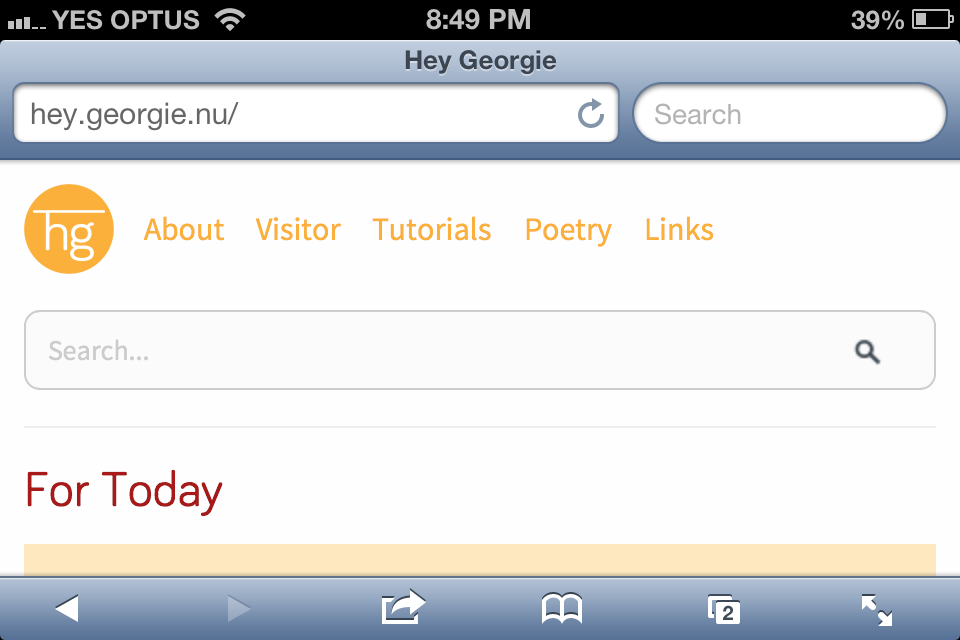 iPad portrait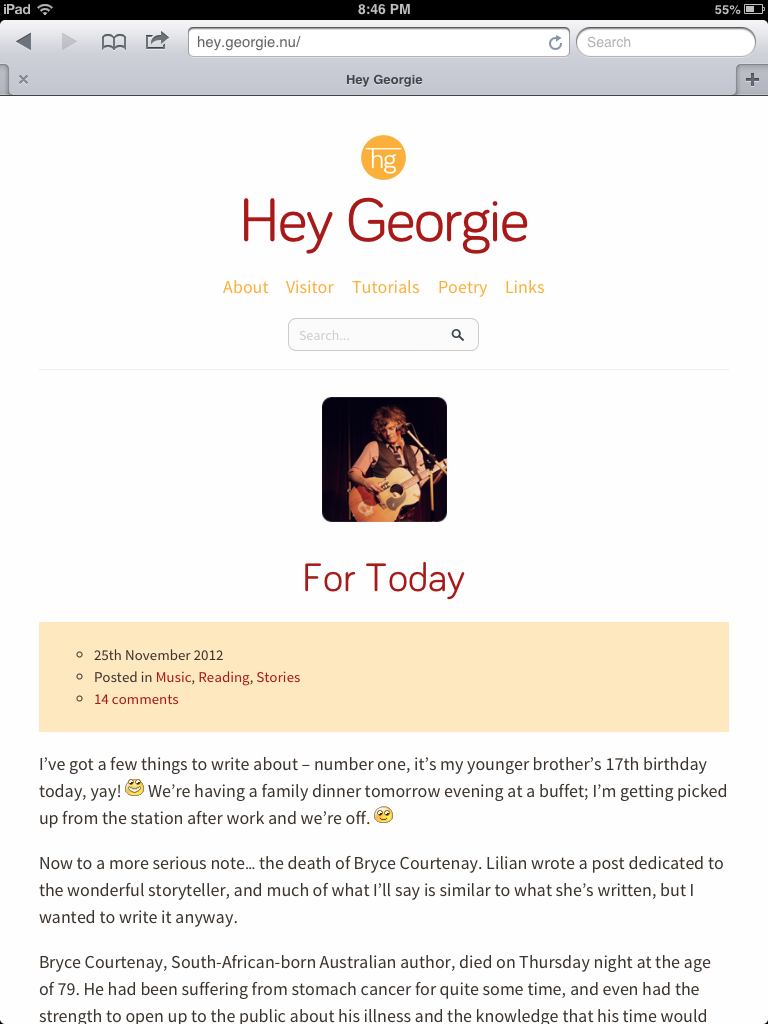 iPad landscape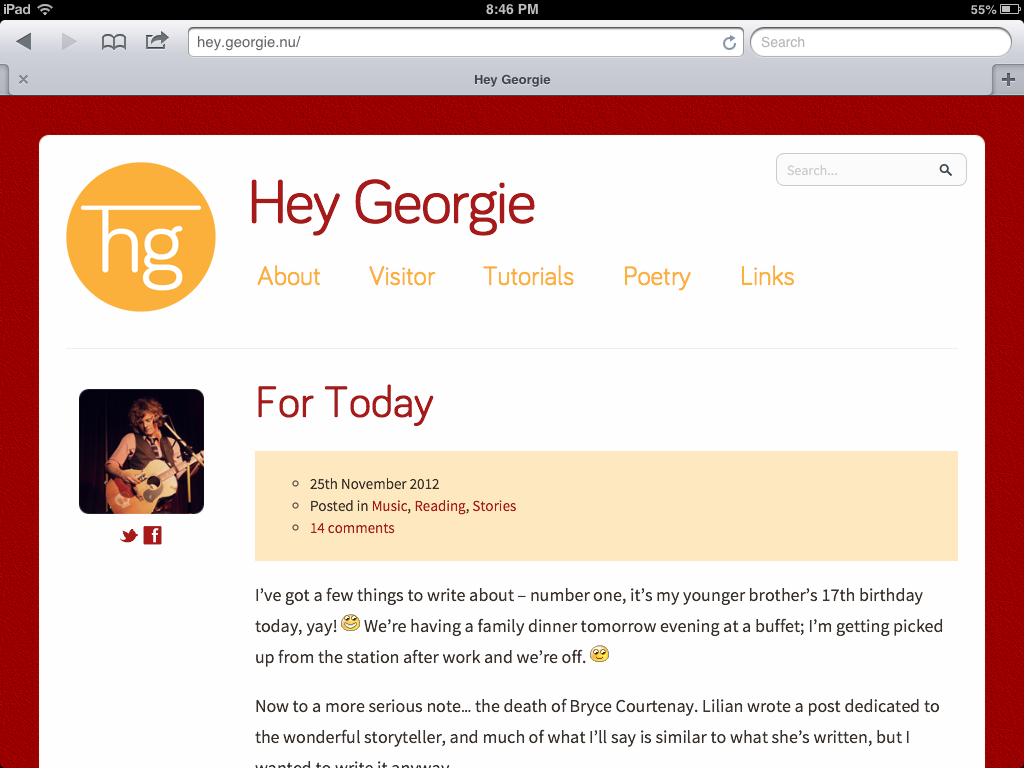 Le glorious desktop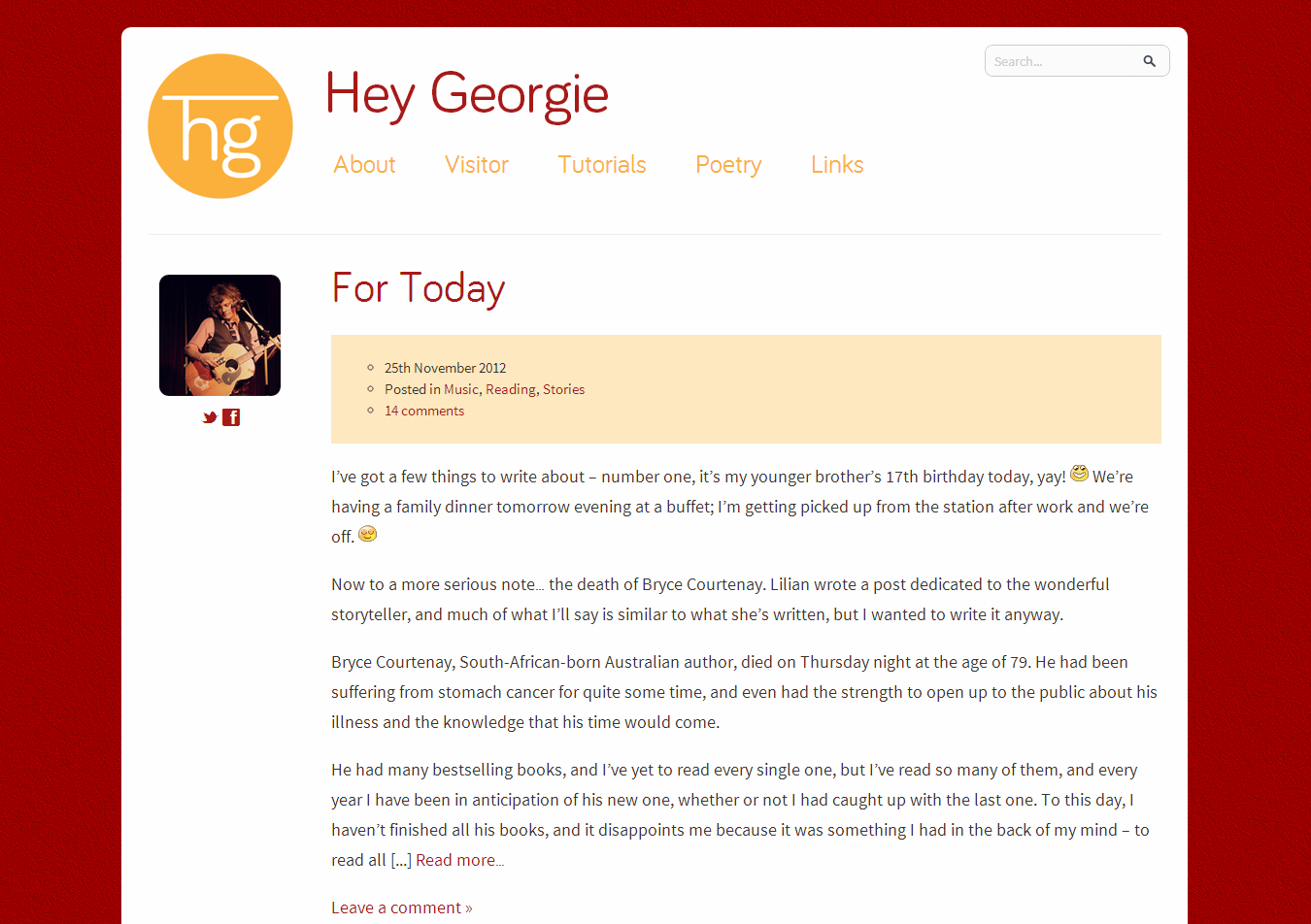 I love the colour red, get over it. :P Thanks so much to Daniel for helping me with the move. Words cannot express how much I appreciate your help and feedback for the launch of this theme. ♥️
Don't forget (but you probably already did) to download my EP for free and listen to some of my music.