Achievement Unlocked: November 2016

November was, in fact, a lot lovelier than October. At the beginning of the month I was a little worried, uncertain and not happy. At present I am happy, and I am going really well! I had a bit of a slump the past couple of weeks though: I have recently found my hobbies no longer interest me (photography, designing, writing) and just don't really feel inspired at the moment…
But something that has kept me busy is that I am giving a talk at DevFest on Saturday. I have been working on expanding on one of my recent talks. I have to speak for 40 minutes and that is a big thing for me to do! Also, speaking of talks, I have made a speaking page – videos and slides for these talks to come soon. :)
Nick started a new exciting job this month, I am really happy for him and he has perked up so much. 💖 We had a couple of nice dinner dates this month, and we have kept up going to the gym as well. 💪
My mum unfortunately fractured her foot earlier this month. She had a bad fall outside and rolled onto her foot and fractured the side of it. At first she didn't receive a report from the x-ray technician when she picked up her x-ray, and the doctor analysed it and said it was fine. But later she received a text message asking her to come in, and that's when she heard the news about the fracture. It was upsetting for her because she had been walking on it for a few days before receiving that news! She's on crutches now. :( She feels a little useless, sadly, but she is also enjoying the time off work because she does want to heal completely.
Other things that happened this month included catching up with my university friend Fern, and Liv, one of the girls in the Girl Geek community. I also caught up with Lilian! It was Brandon's birthday last Friday and we went out for dinner as a family the next day. Nick and I got him a good protein shaker and some money (I don't know what gadgets 21-year-olds like these days).
Just before writing this, I was:
Practicing my talk! :)
This past month, I achieved:
I delivered a talk at work, which I had done at a Girl Geek meetup prior, but I tried to speak without depending too much on my slides or leaning on the podium. I stepped away from it a bit but still reached out to look at my notes…
I started bench-pressing at the gym! I was a little frightened to start. But I actually find it makes me feel good, haha.
I cleaned out my cosmetics/skincare drawer. I bought some boxes to organise stuff in, and I got super excited about it, like a real nerd. I also threw out some old clothes, and re-organised my shelf. I would call it a bookshelf, but very little of it is actually books. 😜
This past month, I was grateful for:
Brandon being able to pick me up and drive me home several times! It's so useful now that he has his licence to drive alone. :P
This past month, I learned:
That Kikki-K does not make good teapots.
This past month, I got bored of:
Trying to figure out what to do with my life. Almost literally: I couldn't pick out a new hobby to try, and I was feeling so lethargic some of the weekends.
And those Black Friday sale emails, 95% of which I deleted. I fell victim to maybe one store. Just one!
But that's OK, because I enjoyed:
I printed out a few photos from Nick's and my Europe trip and put them in a 6-photo frame that his sister gave me for my birthday earlier this year. 😍
Today, something that made me happy was:
Making some progress with the practicing of my talk. I have been trying to rip out my presenter notes and just go by my really simple slides. Basically try and remember the whole thing.
Today, something I could have done better was:
Not eat so many M&Ms.
Tomorrow, I'm going to:
Hopefully receive some packages in the mail (I bought some nail wraps). And send off a package, because someone bid on my old gym pants I was selling and scored both of them. She paid earlier tonight, so I can send that off tomorrow.
Next month, I'm looking forward to:
Christmas! And I know it sounds almost negative but I promise it's not – I am looking forward to the end of the year. 😇
Next month, I'm going to make the positive change of:
Trying to go out more, and better my sleeping patterns. I am still working on those sleeping patterns but doing a little better. I think I just made myself super busy this week with my talk, eek. As for trying to go out more – Nick and I spend a lot of time cooped up at home. We love it, and we love watching movies, coding, doing work, watching videos, lazing around, but I feel like I am aching to see nature and go exploring a little.
One thing on my to-do list is:
Buy Christmas presents! I have bought a few. It is so good to be prepared.
One happy photo from this month is:
I actually really love this photo that Pat took of me for my last Fashion Friday. It looks very genuine and very 'me'.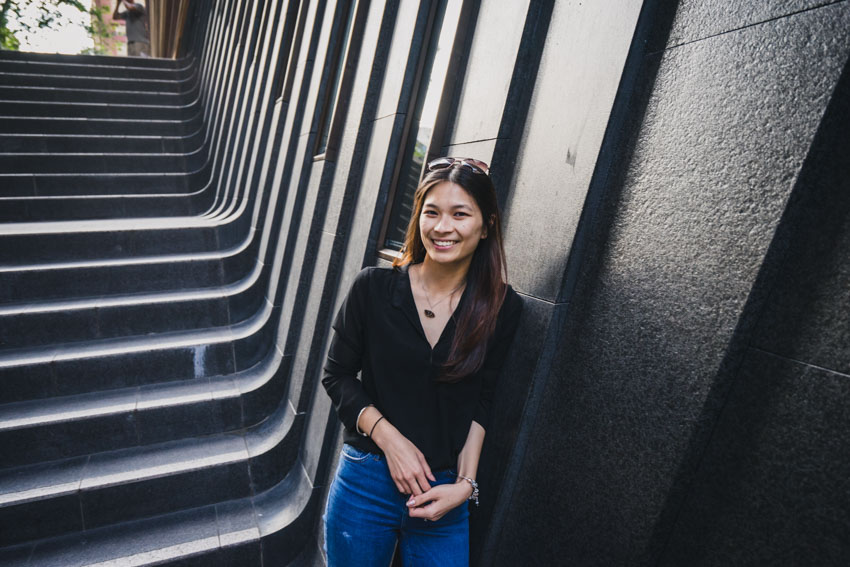 If I had to write a book or record a film about this past month, I would call it:
Spend All The Monies 💰 – I have spent quite a lot this past month, ruthlessly, and I actually was a little concerned that I was just spending money on things to make me happy. This got me worried. But I was buying some things I actually needed, like shampoo, underpants, food. And I was buying experiences, too, like concert tickets. So I am not really throwing all my money away.
After I post this, I'm going to:
Go to bed!
Also see: