Achievement Unlocked: September 2016

I really need to get into the habit of writing these posts on the last day of the month when it makes a little more sense! September had a few happenings:
Along with some of my coworkers, I participated in Steptember. We walked 10,000+ steps a day to raise awareness for cerebral palsy. We raised $831.06 and in total, we walked 1,482,130 steps!
I went to Indonesia with my family and Nick, for my cousin's wedding.
Nick and I went to a wedding expo and picked up a bunch of brochures… there was nothing else to report there.
I bought the new iPhone 7.
Nick's sister graduated from high school! 🎓
We saw Hey Geronimo for what was my 31st time.
We started going to the gym three times a week! I'm noticing some progress with my biceps and legs.
I bought a new handbag (the Emma Satchel from Fossil), my old one is getting a bit worn. I know I really only need one handbag and it's probably a bit hypocritical of me to have bought another one, but it's nice to have two options. I bought one that was quite different – a brown one (rather than black), and it's smaller than my other bag.
I got a manicure last week when Amy from Nailed at Work visited our office. I went for a nude muted pink colour with a bit of subtle glitter on top.
I caught up with Lilian last week. I know our Best Friend Lunches (and dinners) don't always have a post, but they are still worth mentioning. 🍱
Just before writing this, I was:
Cleaning up a bit of PHP code on my blog's backend.
This past month, I achieved:
Other than the successes with Steptember – we came first at Campaign Monitor, too! – I kept up going to the gym.
This past month, I was grateful for:
Nick. Anything and everything Nick ❤️
This past month, I learned:
I'm grateful that at work I learned a thing or two about JavaScript. It's a bit hard to name anything concrete that I picked up, but the main thing is that I was able to sort out some issues and build some functionality with our email builder at work. 🙃 It has not been easy keeping up with learning JavaScript, and the book I was reading proved to be hard to get through. I need to try different methods like watching videos, and I might do more of that this month.
This past month, I got bored of:
The notebooks I am using that I am trying to use up as quickly as possible. They are quite small and I want to move on to some of the bigger notebooks I bought recently.
But that's OK, because I enjoyed:
That ravioli I had the other day with the really tasty napolitana sauce. I don't know – it just left an impression on me.
Today, something that made me happy was:
Experiencing some soreness in my abdominals and my back from the gym. I really pushed hard on Saturday! I already had a day of rest and we're going to the gym again today, but I'm thinking carefully about what exercise I'll do so I don't put my body under further strain.
Today, something I could have done better was:
I'll answer this question related to yesterday since it's still morning right now. Yesterday I spent so much time buying clothes online. I did buy some, but look – I'm going to have to clean out some of my wardrobe to make room for the new pieces! I don't regret buying the clothes I bought, but I hope they are good quality and fit well. I am sometimes unsure about buying clothes online for that reason. I didn't spend an insane amount of money, but it's still spending, so I'm going to watch what I spend from now on.
Tomorrow, I'm going to:
Well, today is a public holiday so tomorrow I'll be going back to work! We usually go to the gym on Tuesday mornings but thought we might as well go today since it's a public holiday. I don't really have anything specific planned for tomorrow.
Next month, I'm looking forward to:
I'll be going to Perth at the end of October. I have never been there, yet it's on the other side of Australia. I will be there for the Mixin conference and then staying over the weekend to explore the town.
Next month, I'm going to make the positive change of:
I was going to try and do some habit tracking to kick the habit of playing with my hair, but I haven't yet tried. It's just really embarrassing and I look really stupid when I play with my hair, but thankfully it's not as bad as when I had trichotillomania many years ago – that is, the habit of pulling your hair out (it got so bad I even had some bald patches).
One thing on my to-do list is:
I need to work on my talk which I'm giving next week at the Girl Geek Sydney event. It's titled How to let go of the fear of failure and make better goals and I already have my notes down pat… just have to work on my slides and pulling it all together. And practicing the talk, of course.
One happy photo from this month is: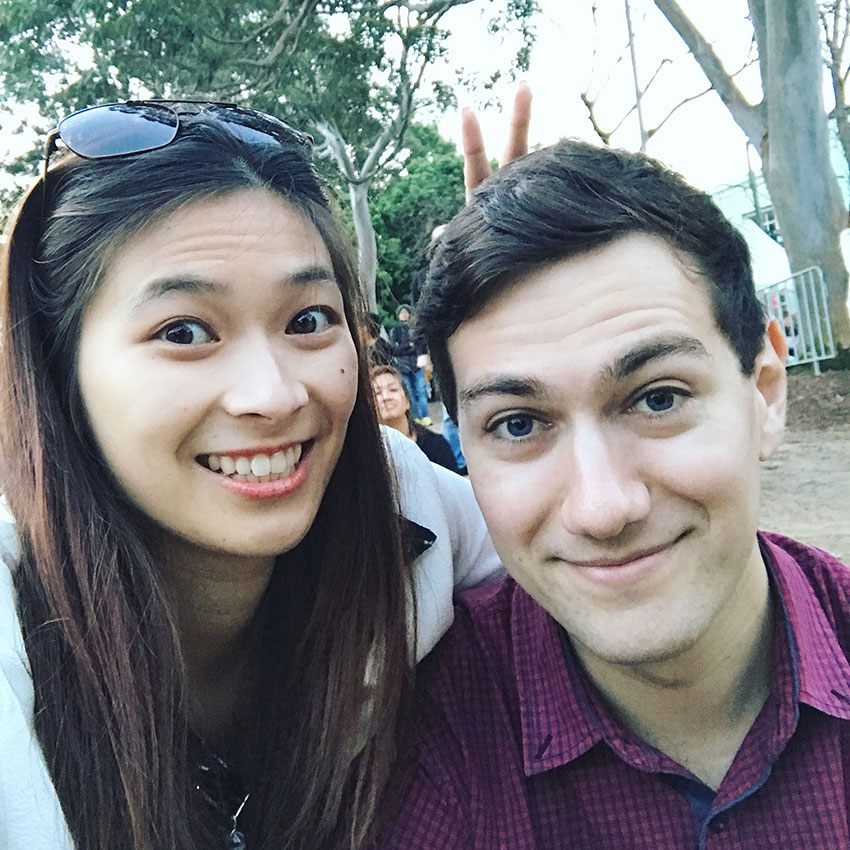 If I had to write a book or record a film about this past month, I would call it:
Walking Literally Everywhere. I walked extra distances to the station, walked long distances to grab lunch, and walked from home to the train station so I could up my steps for Steptember.
After I post this, I'm going to:
Make some more tea. :D
Also see: