Achievement Unlocked: January 2016

Last year I did monthly reviews each month, with the exception of December – I did a yearly review and thought that would suffice. This year I really wanted to do something different that other people could participate in. I planned for this to be a linkup, but I didn't really like that idea after some time. I have decided that people can borrow this format and just link back to my post.
I called this monthly review 'Achievement Unlocked' because it taps into my old gamer days, and I loved using it as a hashtag on Twitter every time I made a minor achievement. This review format is all about quick wins and little things. I hope you enjoy, and if you want to use (some of) the questions on your own blog, feel free, just link back here!
I will be posting these on the second last day of the month so other people get a chance to see and complete it. It also helps that I am in a timezone that is ahead.
Just before writing this, I was:
Actually filling in these questions intermittently throughout the night. Nick and I were just at a Walk The Moon concert, where The Griswolds were supporting. Although I am a bigger fan of The Griswolds, both bands were amazing!
This past month, I achieved:
Yet another presentation at work! It was sort of cheating because I did the same presentation that I did at the SydCSS talk in December, but it was good for practice.
I also, for the first time in a few years, laced up my shoes and went for a run in the morning. I have been to the gym in the past couple of years, but I hadn't run outside of the gym.
This past month, I was grateful for:
Being able to go to Melbourne with the person I love, as well as enjoy some good food and watch some good tennis matches at the Australian Open.
This past month, I learned:
That The Shins are a great band I wish I had listened to earlier.
This past month, I got bored of:
Practising Italian on Duolingo. 😞
But that's OK, because I enjoyed:
Seeing the cute fairy penguins at Phillip Island. 🐧
Today, something that made me happy was:
Getting a reservation on Airbnb for an apartment in Singapore. We got declined by another host because he didn't want to accept reservations after June, but apologised for not updating his listing.
Today, something I could have done better was:
Go for a walk!
Tomorrow, I'm going to:
Hopefully get up early, but definitely go to work.
Next month, I'm looking forward to:
Engineering Camp, something I was reluctant about at first but now pretty keen to experience. It is a three-day camp for the engineers at work to bond, learn and most of all have fun.
Next month, I'm going to make the positive change of:
Sleeping early. Or at least I will try, haha.
One thing on my to-do list is:
To finalise the bits and pieces of the design I am building for Michelle, and a new design I am rolling out to my blog as well.
One happy photo from this month is:
This photo of me and Nick before the sun set and we saw the penguins.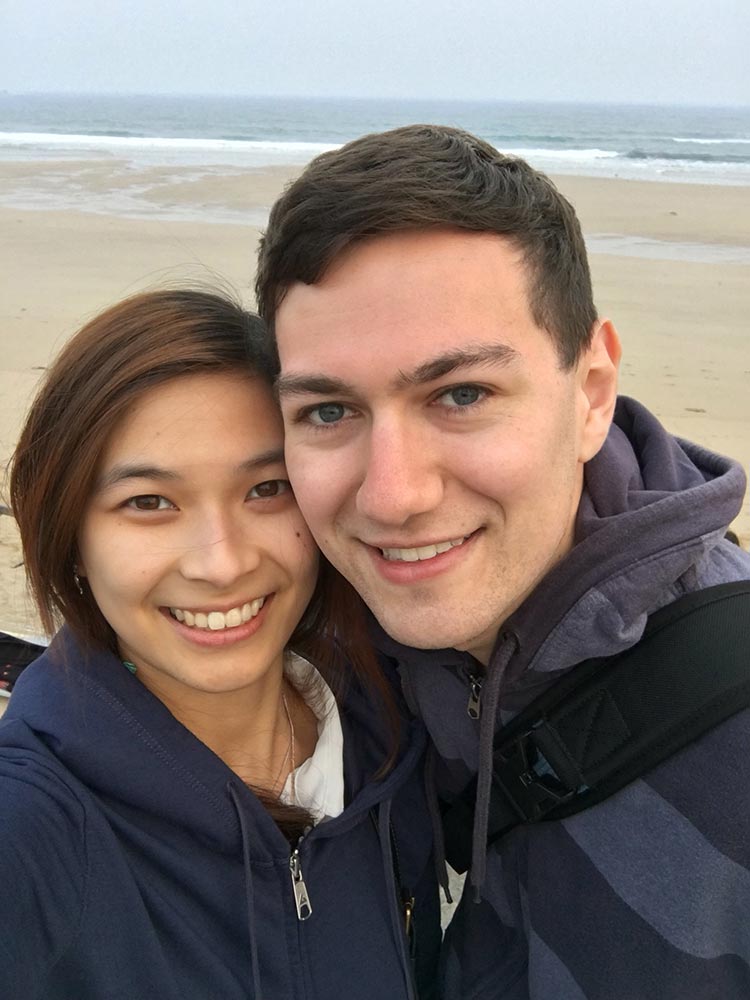 If I had to write a book or record a film about this past month, I would call it:
Simple Song (yes I just stole this from The Shins song)
After I post this, I'm going to:
Stop trying to blog in the car. 😜