Achievement Unlocked: February 2016
Another monthly recap with Achievement Unlocked! The photo from this month's banner is a photo of I took at the CHVRCHES concert earlier this month. If you would like to use the questions I have brainstormed in this post, feel free to do so with a link back.

Just before writing this, I was:
Importing photos that I took yesterday on Hey Geronimo's Longest Shortest Tour. They played ten shows in ten venues in one day in Sydney and Nick and I got to be a part of all the fun. And just peeling some vegetables for dinner.
This past month, I achieved:
I did a successful new presentation for the Girl Geek Sydney meetup, which was held at my workplace. It went really well, people were very entertained.
I managed to start sleeping well before midnight, which led me to wake at quite a reasonable time in the mornings, too. I'm still getting used to it!
I also published a new design to my blog, yay!
This past month, I was grateful for:
Getting a VIP spot on Hey Geronimo's tour bus. I can't wait to write about it and share some photos.
The new shampoo and conditioner I bought. It left my hair so soft, I was amazed. I am excited to use it again.
The flowers I got from work for doing them proud at the Girl Geek event.
This past month, I learned:
Often we undervalue ourselves and there are people who won't always tell you what you need to hear. But there are people out there who do appreciate you and your work.
I also went to Engineering Camp which I found was a valuable experience, I got to talk to a lot of my colleagues who I don't normally get to talk to a lot at work, and learned a lot of things and got to really appreciate the work of other people in the company.
This past month, I got bored of:
Drinking so much chai tea.
But that's OK, because I enjoyed:
Finishing my Charlie's Breakfast tea that Nick and I got from the Vue de Monde restaurant. It was a citrus and oolong blend that I thought was not very nice at first, but it's actually really nice.
Today, something that made me happy was:
Just being with Nick :) 98 days until we go to Europe (yeah, we're counting).
Today, something I could have done better was:
Drink more water.
Tomorrow, I'm going to:
Well, I hope I feel better for work! I have almost lost my voice after yesterday. I feel fine apart from having a really coarse voice, I am wondering if I need more rest. Unfortunately I did not bring my work laptop home so I can't work from home, but I hope I feel well enough to go in. I've also got a meeting with the founder of a startup regarding contributing some content around Sydney's entertainment scene.
Next month, I'm looking forward to:
I'll be featured on the Campaign Monitor blog for International Women's Day. Also looking forward to a good Easter break, though I have nothing planned.
Next month, I'm going to make the positive change of:
Eating more greens. I think I have slumped a bit the past month.
One thing on my to-do list is:
Respond to comments on my blog and also visit some blogs of people who have recently commented on my blog. No doubt they have blogs that I would love to add to my reading list.
One happy photo from this month is: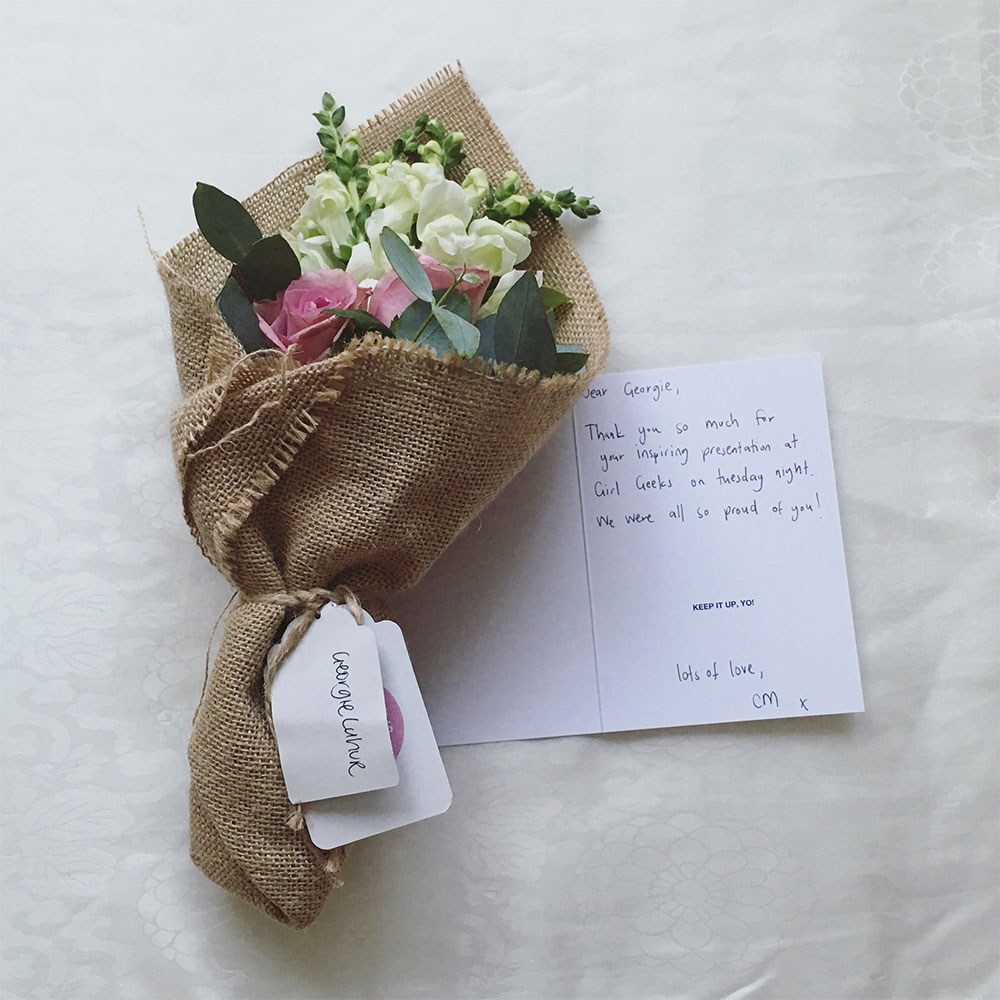 If I had to write a book or record a film about this past month, I would call it:
Maybe I Should Have Gone Back To Video Blogging – those days at engineering camp that I walked the beach were rad, and it would have been awesome to record Hey Geronimo's tour.
After I post this, I'm going to:
Have a shower with my new shampoo. Aw yiss.