Italy: Florence
Our trip to Florence was only for three nights, and it was three weeks ago, but I still wanted to write about it, of course.
We caught a train from Venice to Bologna, to have a little stopover for lunch, before heading to Florence. We didn't see a lot of Bologna but the city is famous for – guess what – bolognese. Then we caught a train from Bologna to Florence. For some reason, two or three entire carriages of the train, including the one with our assigned seats, were missing. As a result there were so many people wanting to find a seat in the other carriages. We didn't find a seat so we got stuck waiting in the luggage compartment. Sucks! It was so hot and I would have loved a complimentary drink for all the trouble… but a crew member said it would only be twenty minutes until Florence, so thought we would be alright.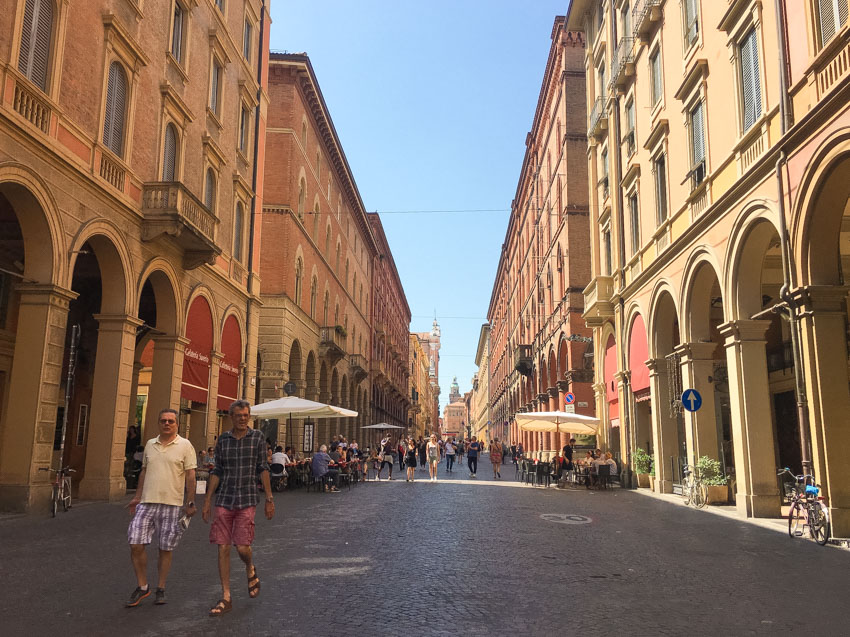 The place we stayed in Florence was right next to the Duomo. We had to take our luggage up five levels of steep stairs, as our apartment was at the top. It was very hot and I really wanted to be able to carry my suitcase myself. I only got about halfway alone before I let our host help me. Oh well, I tried. :P The apartment was quite nice and had an amazing view on top, where we ate breakfast at every opportunity. We decided that buying some food from the supermarket was the best option – it was cheap and we could fit more in our days, including food. :D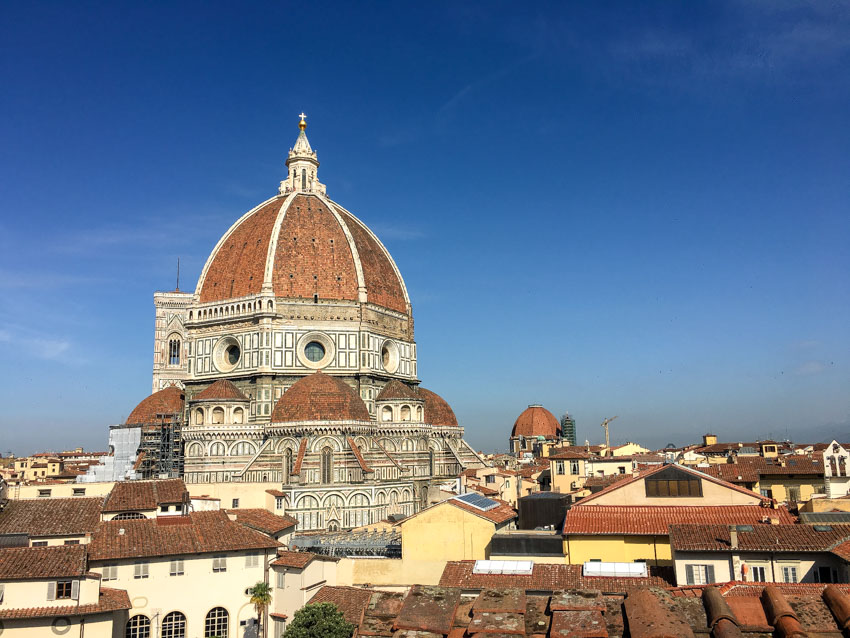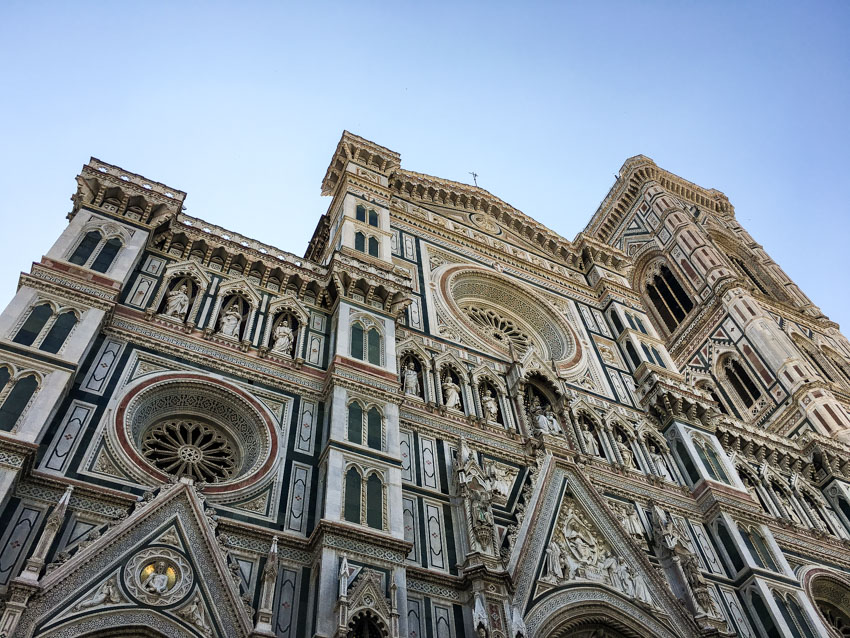 There was a gelato place downstairs and around the corner from our apartment. We bought gelato there a couple of times, including just after we arrived. I was glad to see some vegan gelato there too. Since we arrived in the afternoon, we just explored the town. There were a lot of designer stores and a lot of tourists. We went to the Ponte Vecchio (meaning 'old bridge') which had a nice view at night.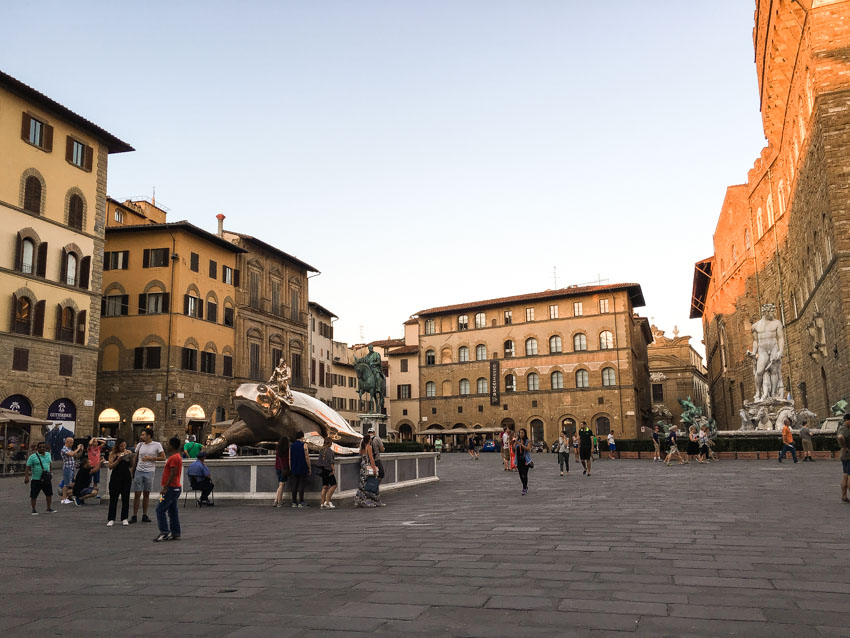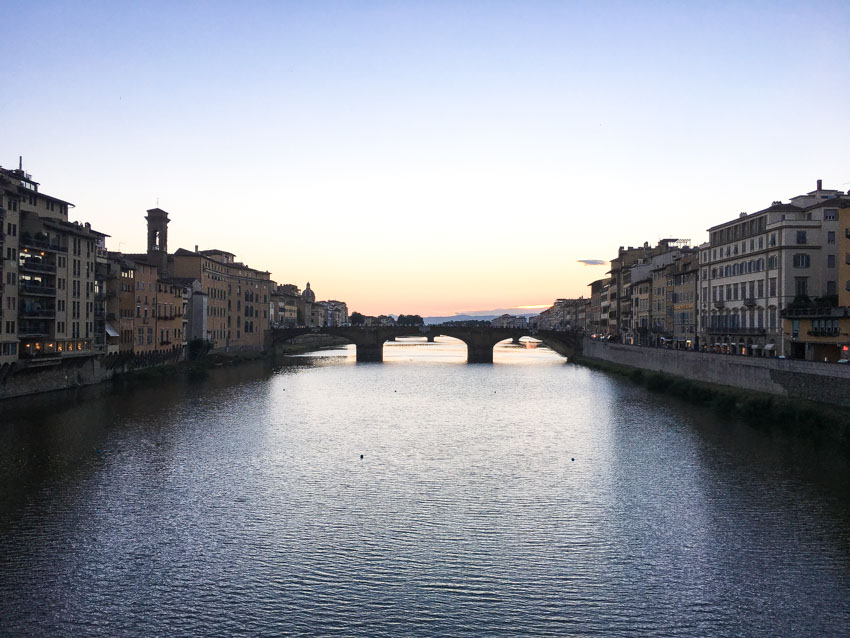 We went to Pisa the next day to see the Tower of Pisa. It's now obviously known as the Leaning Tower of Pisa because of the foundations at the base making it tilt. We didn't do much except see the tower. I've heard that going up the tower can be claustrophobic and dizzy, and the view of the town of Pisa isn't that fantastic anyway. I've got a square photo on Instagram, but I didn't have a better one to post here.
It was funny seeing people with their hands up in the air trying to take the cliched photo of themselves pushing the tower over. One of my colleagues at work asked if I saw anyone actually trying to take a photo the other way. That is, taking a photo of themselves trying to push the tower back up to a straight position.
One thing that a fellow Twitter friend shared with me was a video of a guy trolling some people around Pisa by giving them a high five. 😂
We went to Lucca, a quiet, nice town where we had a really nice lunch. I had some fish and a really nice frothy cream dessert. Unfortunately I cannot remember what it was called but it was some kind of float. We climbed Guinigi Tower to get some good views as well.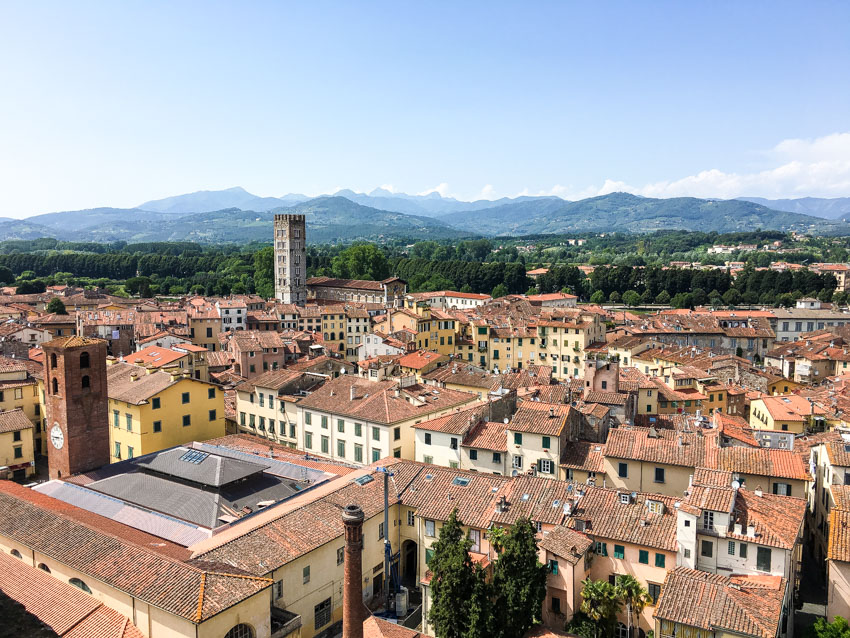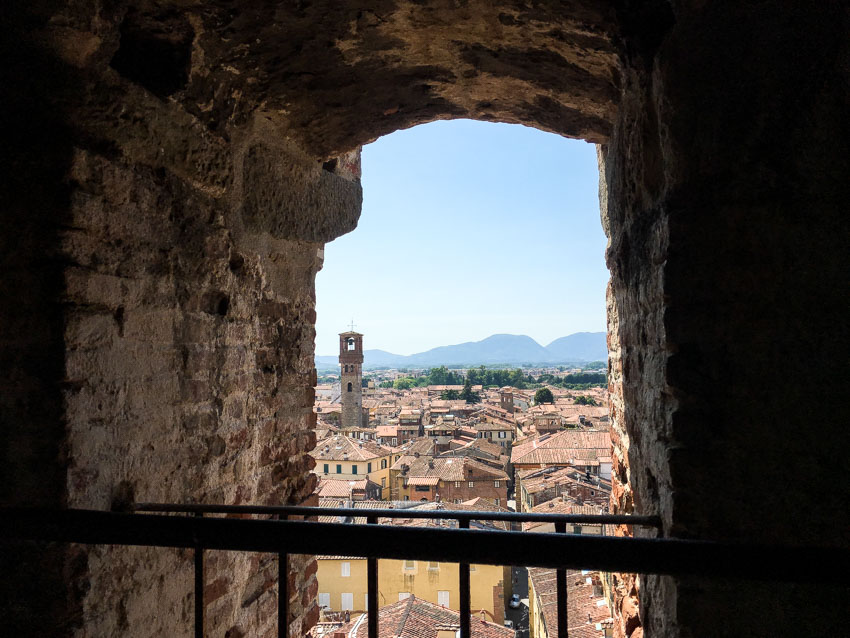 We went shopping and I bought some plain sleeveless tops – something that is lacking in my wardrobe at the moment. Then we headed back to Florence by train, super excited to buy some shoes. Yep. Nick and I bought some Italian shoes in Italy! I bought a pair of brogues, which are yet to make their way into a Fashion Friday outfit, but I can't deny that I have been wearing them a lot lately. We read a few reviews on the place we went to, and it was recommended by one of our friends. My brogues were 240€, and Nick bought a sexy pair of dark brown oxfords for 260€. We actually got a tax refund which was good. But yes, loving my shoes and the quality is tops! 🙌
The next morning we got up early and went to the Accademia gallery. It was already packed before 9am. I would recommend buying tickets beforehand, too. It definitely makes things a lot easier if you plan out your days. The only thing that was interesting in the Accademia was the famous statue of David, and a room of various sculptures of Narcissus and some others. I only remembered Narcissus because the story is somewhat interesting. Unless you are into religious artwork, the rest of the gallery may seem same-same.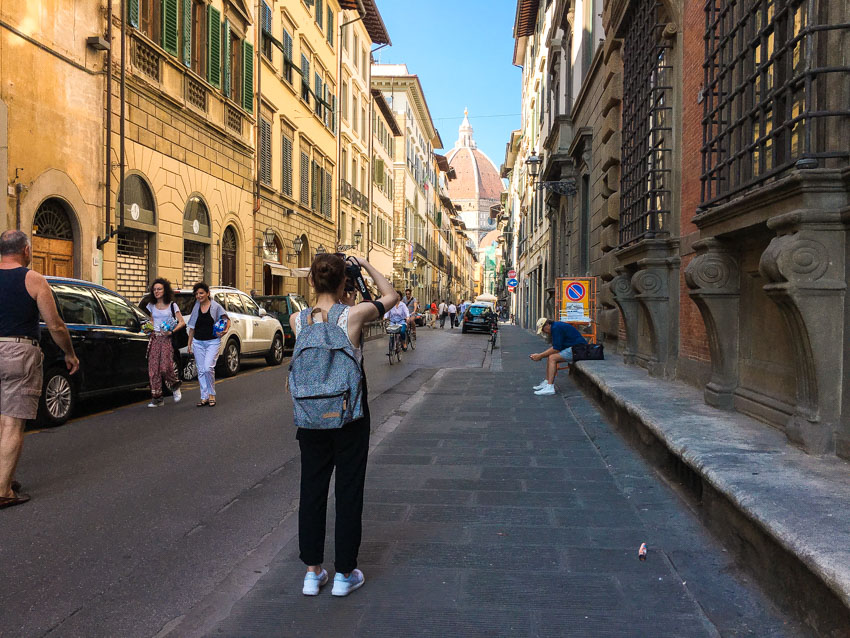 Our next stop was the Precious Stones museum. It was small and quiet and we were the only ones there. Nick found it boring, but I found it very enthralling. The style of artwork in the museum is all mosaics, except each piece of the mosaic is made from a precious stone. And if you look really closely, you can see the detail in it. There was also a second level showing some stones, rocks and tool samples.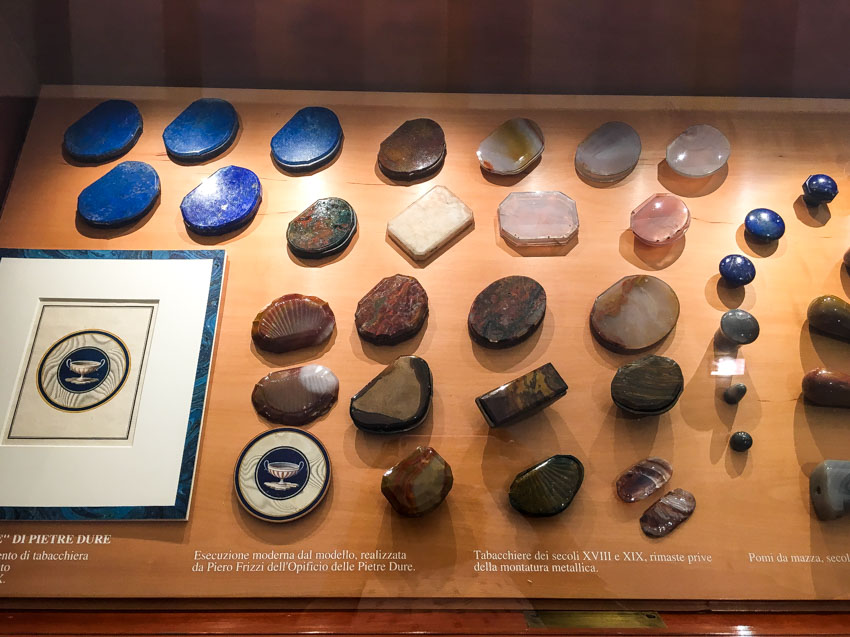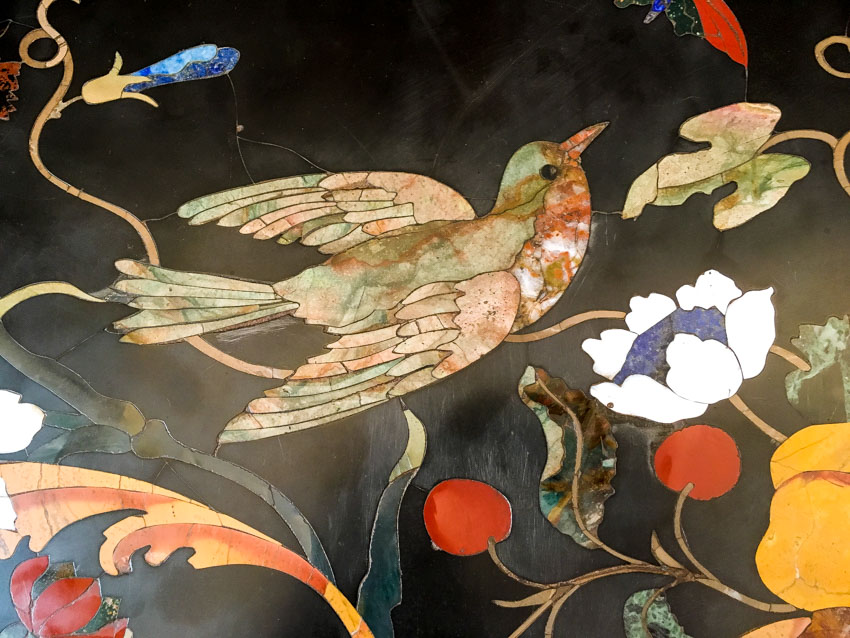 We visited the Uffizi gallery after that, and again I got a dull feeling of being 'museumed out'. We went through and spotted a hermaphrodite sculpture similar to the one we had seen in France. I don't have much to say about Uffizi but it was one of those obligatory tourist must-dos.
We met up with our friend Andrea for lunch. He used to work with us, before we left the company of course, and now still works for the same company remotely. We spent a while catching up, and he recommended we get a good view of Florence from some gardens about half an hour away.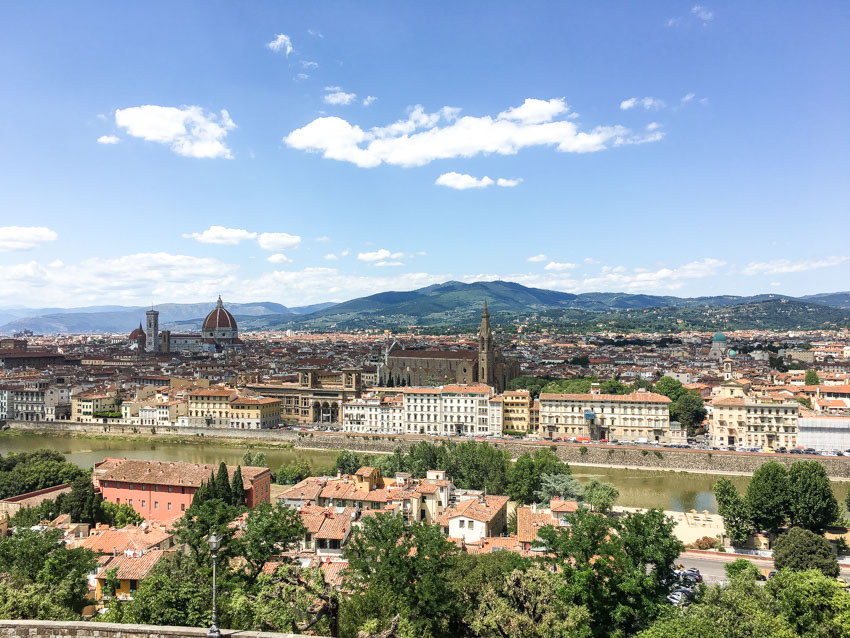 We actually didn't eat dinner at all in Florence because we had such huge lunches! 😳 It's a bit of a shame because we were given some local recommendations by our host.
The next morning we didn't have to catch a train until about noon, so we went to Museo Galileo (Galileo Museum). I loved learning about space and science in school, so I was really keen on seeing the museum. There was certainly some interesting stuff in there. The thing that Nick and I were a bit disgusted and shaken by were the models of babies inside the womb. They were used to illustrate the use of tools for childbirth, but it was just so bizarre and out of place. I think I was a bit scarred seeing that. 😦
That was our trip to Florence! The name of the shoe store is Mauro Volponi. They sell both men's and women's shoes. I would definitely recommend having a look if you want some good quality Italian shoes. It's possible there are fakes elsewhere, so this is the only good one I know about and can trust because it was recommended by locals. I enjoyed our trip to Florence though I would like to go back and explore a bit more and check out some more of the restaurants in the area.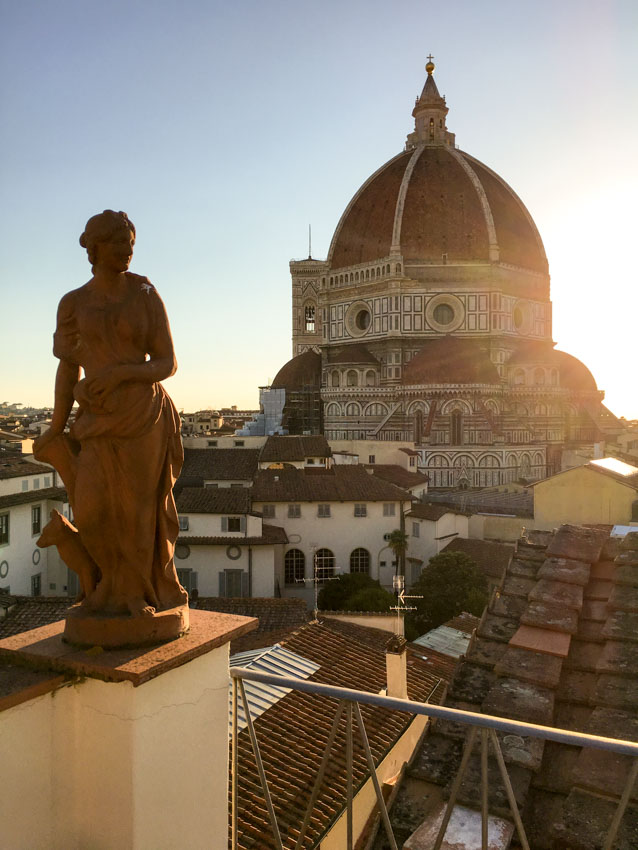 Other posts about our trip to Europe