Fashion Friday: Hey Georgie! 💁🏻‍♀️ | Emerald green + animal print
Hey friends! 💙 It's been way too long since my last Fashion Friday post and I wanted to bring it back! I've missed it a fair bit. The last one Nick helped me shoot was actually over a year ago when we were travelling in Europe, but I didn't publish a post with those photos until last August.
I enjoyed the format that Fashion Friday evolved to become. I still would love to write more frequently about my personal style and my wardrobe, and I think the most enjoyable way that was for me in the past was via Fashion Friday posts. A few of my friends have said that they enjoy my posts because they are different to what a fashion blogger would typically do, and that I actually discuss things I like and the reasons I wear or choose certain items to wear. My friend Jane said that these are actually clothes I wear and repeat – fashion bloggers are not often seen wearing the same thing over and over.
My wardrobe has changed a little bit since my last post, namely owning a few pants and trousers that I wore throughout summer and have been wearing a lot through winter. I'd love to feature those in future posts.
(If we haven't met yet, hi! 👋 I'm in the southern hemisphere and I'm from Sydney, Australia, so I'm a cold koala over here right now. 🐨)
My aspirations for Fashion Friday (before I lost the momentum with it, haha) were to eventually get to a point where my entire wardrobe is documented in Fashion Friday, and the posts in the series get to a point where I'm re-wearing items. As someone with a small wardrobe, I hope to still reach that point. 🙏
If you are interested in why I named this edition of Fashion Friday the same name as my blog, you will have to read until the end in the colophon! 🙂
---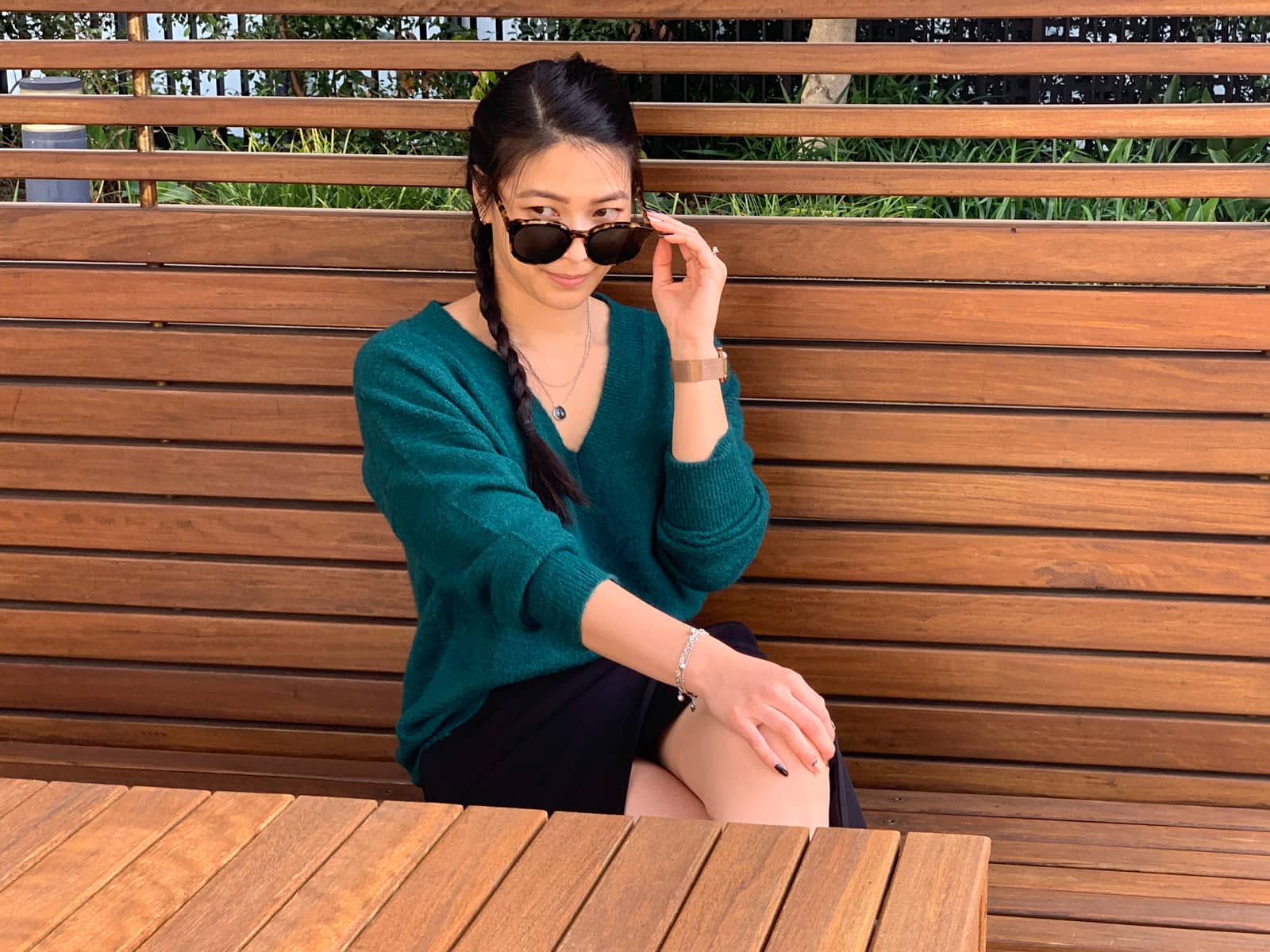 So let's dive into the outfit I'm featuring today and start with the skirt, which is the oldest piece in the outfit. I bought it second-hand and featured it in two previous Fashion Friday posts; you might have seen me wear it on my travels as well. At times I think it is a boring skirt, but I realise it is so easy to wear and that I really like how it drapes. Since I got it, the waist has always bothered me a bit because it's a fraction too big. But since gaining some weight over this pandemic, I'm glad I didn't get it taken in. I think the most it has bothered me is when I wear it with a cropped top in the summer and it reveals too much of my midsection. 😆
I'm actually really glad this skirt is so versatile in that I can wear it in the winter as well. I'm not wearing it with tights or pantyhose here, but I have worn it with black and natural coloured tights before. It usually depends on what shoe I want to wear it with. It was a warm day when we took these photos so I decided the tights were not necessary. 😊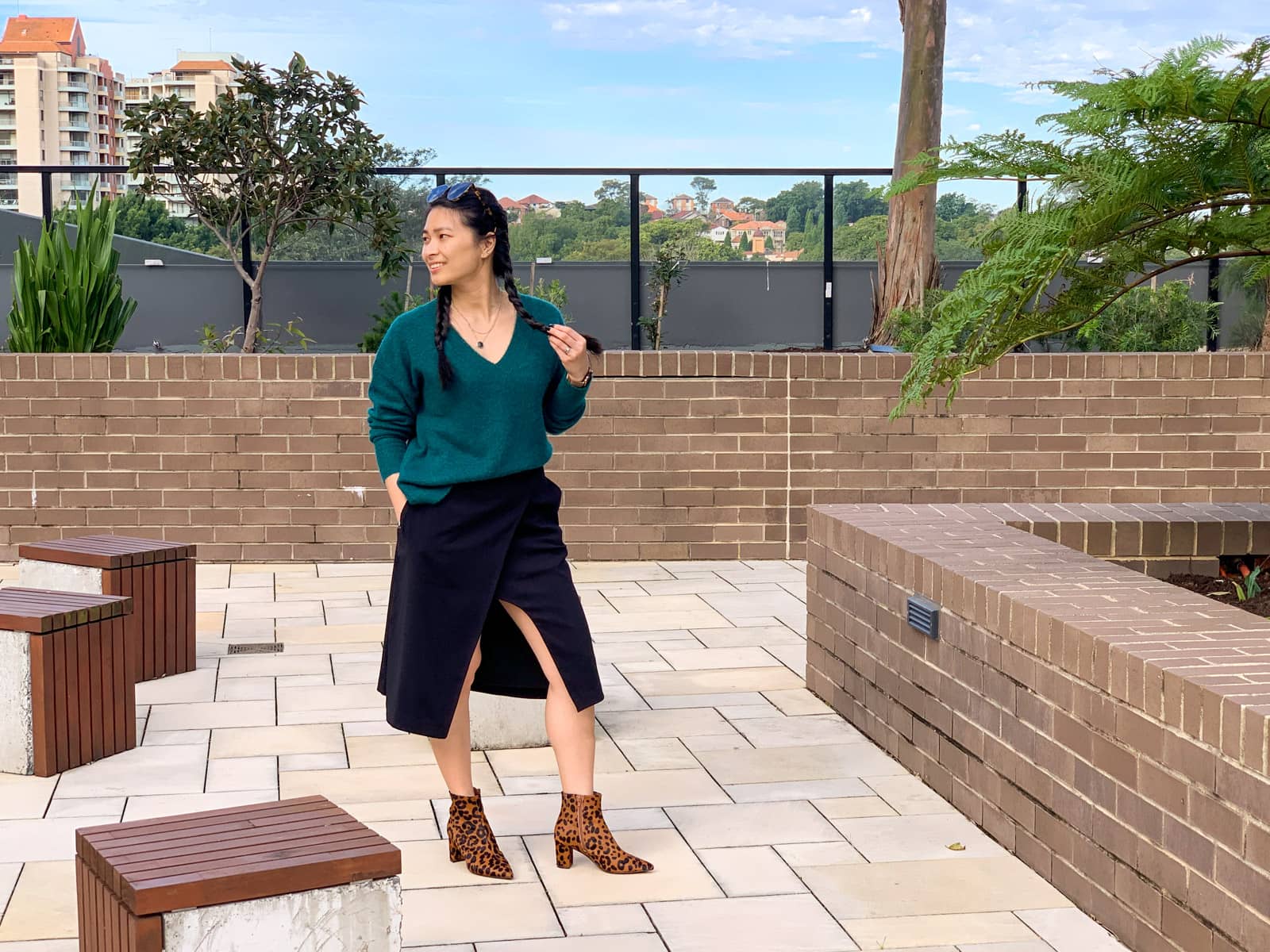 The skirt does have pockets but they are pretty shallow and don't fit my phone properly without it dropping out. If I wanted to get it altered I could add my own deeper pockets, but I haven't really bothered with that, haha.
A journey to find the perfect emerald green sweater
I've been moving towards more loose-fitting clothing, especially in the winter. I used to wear tight sweaters, but I now prefer the comfort of looser ones. I think it depends on the fabric as well, but after some experimentation I think I look better in clothes that are not overly tight. An emerald green knit was on my wishlist for a long time – I showed one in the Faerie edition of this series, but that green knit is more on the tight side, and the emerald green is more metallic and shiny than deep and rich. I also have a forest green cropped cotton sweater, but the colour is a bit dull. Rich, dark colours look better on me, and this sweater turned out to be just what I wanted.
I'd tried to look for a green sweater a lot earlier this year, but it took me so long to find one. Brands release sweaters and knits every year, but they always release them in the trend colours of the season. Looking for vintage or second hand options on eBay was also no luck – everything was olive or khaki green in colour, and I couldn't find a beautiful emerald green.
I ordered a tight-fitting knit in a beautiful colour that I almost kept, but I returned it because I wasn't a fan of the balloon sleeves and the snug fit. It just didn't go well with any of my pants and skirts. I was looking for something open-necked or at the very least, round-necked, and that one didn't work out. So when I saw this and ordered it, I crossed my fingers that the fit and cut wouldn't be too boxy. Turns out it's actually fabulous. 💚
In searching for this perfect sweater, I was looking for open necklines like round ones that were not too high, or v-necks, and no high necks. I was also looking for a sweater made from mostly natural fibres. This one is made of mostly mohair and wool. I was a little concerned it would be a bit itchy because I've tried sweaters with a similar composition and they have felt itchy – this one has not been itchy at all, and I've worn it mostly without another shirt or top underneath. It might have itched a tiny bit on the first try. 😆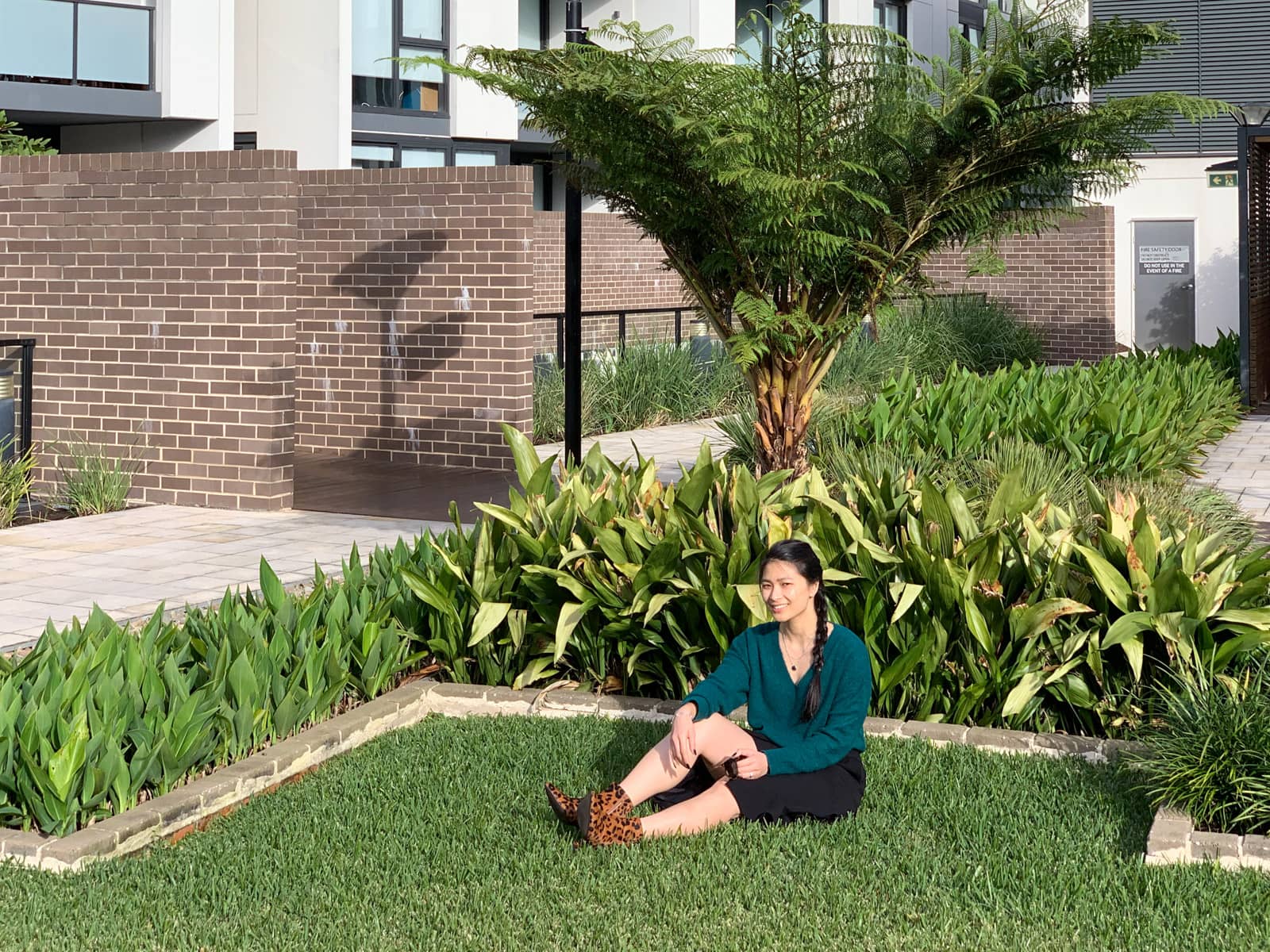 The many times I've worn this sweater is a testament to how perfect it is! It really does match with so many bottoms in my wardrobe. This is something I've struggled with in the past – having non-interchangeable clothes. It's good to know this sweater was a good purchase. I also need to add that after ordering it from an online retailer, it went on sale for over 60% off at the actual brand's online store. So I made the purchase there instead and returned the other one.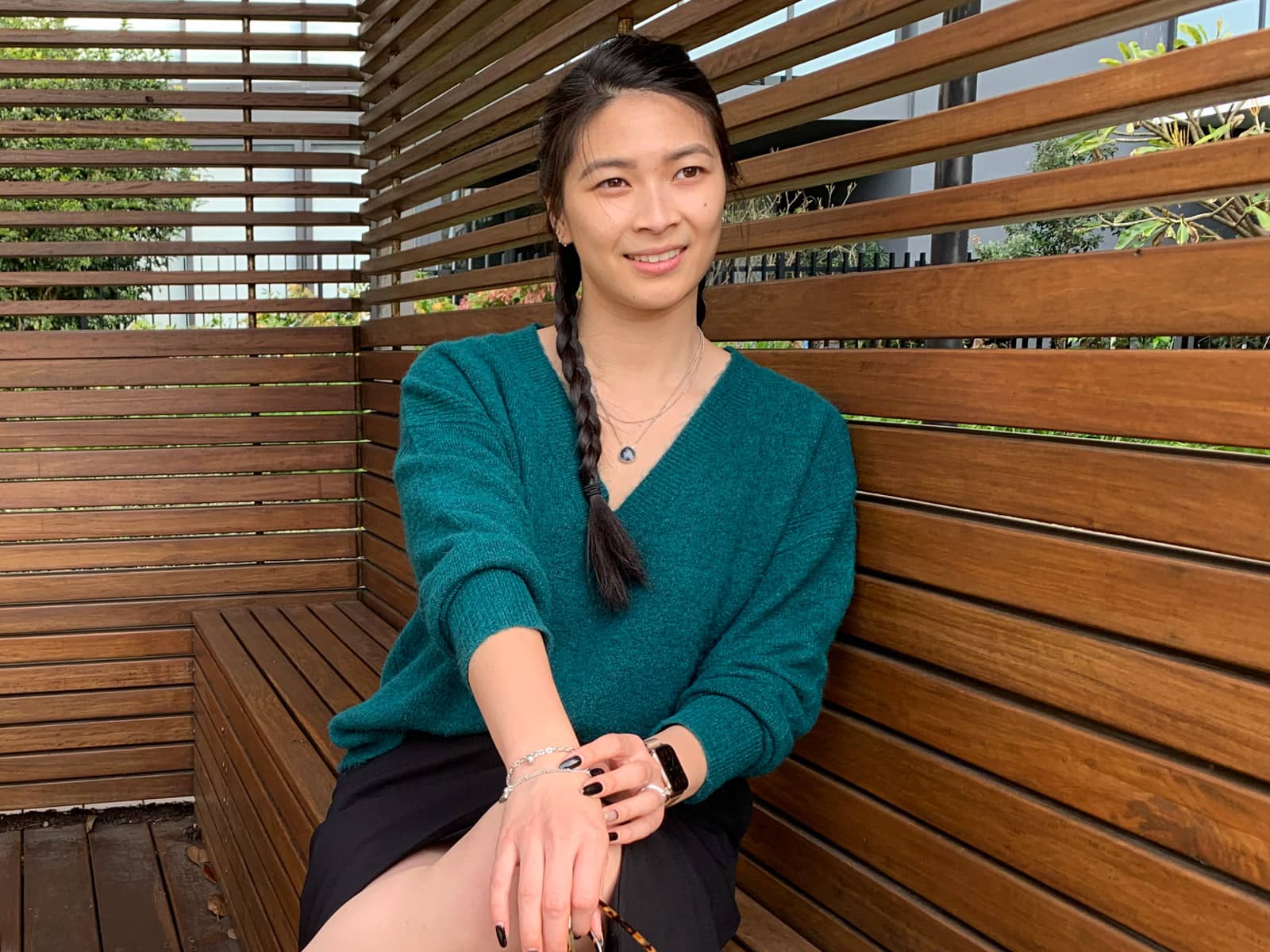 I'm wearing a necklace I bought from By Invite Only, one of my favourite online jewellery stores (use my referral link for 15% off). This particular necklace is not available anymore and I purchased it after thinking about it for a long time. I was actually a little disappointed with the necklace because it was not as beautiful a blue as was depicted on screen. But one thing I've learned recently when buying things is that you aren't buying single items like a sweater or a necklace – you're buying outfits. The item you buy will never be worn alone but will be worn with other things. So when I look at this necklace, I realise it is part of the outfit and matches really beautifully with the sweater, instead of being too fixated on how it doesn't look quite right on its own.
The boots were a recent purchase, which I must admit I bought this month, even though I'm supposed to be on a no-buy July. 🙈 To be completely honest, even though I bought these on the seventh day of the month, I was looking at these shoes (along with another pair of shoes) for over a month. They were already marked down a lot, but there was a further 20% off sale items at Wittner, so I decided to make the order literally 15 minutes before the sale ended at midnight. 😂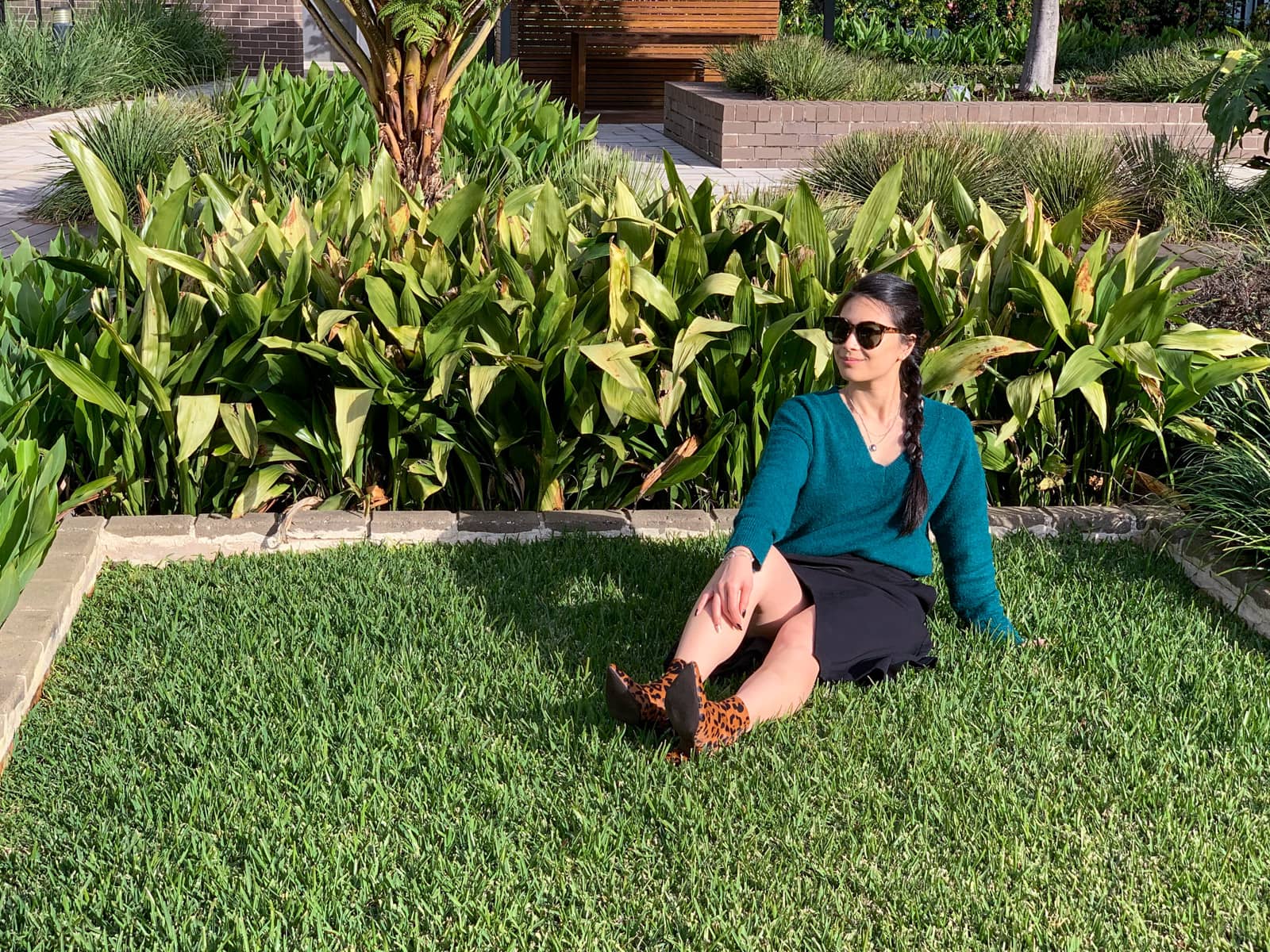 I have worn these shoes a bunch of times, even given the fact that we are mostly staying at home due to the pandemic. The block heel is very comfortable to walk in. I didn't think I was one for dark brown clothes, but dark colours look better on me than light colours, and are a good and interesting alternative to black. I'm definitely bored of black shoes, I'll give you that. 😅
I used to really dislike animal print, but I think what I've learned is that I like animal print that has smoother edges and is not too realistic. This leopard print boot fits that description. I like how the brown and the green give it an earthy, natural, "tree-loving" vibe, but because of their richness and saturation, go with my complexion and look a little more dressy.
Long hair in braids
Let's talk braids! I'm still getting used to braiding my hair like this, in two French braids, in a way that doesn't look like a mess. I've been growing my hair out for the past couple of years, and it can be fun to try new hairstyles and braiding styles, but I revert back to this one because it is the easiest.
It's tricky to do neatly when you can't see the back of your head. But I have particularly enjoyed this hairstyle for working out at the gym since my hair largely remains out of my way when I'm squatting a barbell or lying on my back on a bench. Somehow, having my hair in a ponytail flips around too much depending on what I'm doing – that hasn't been particularly helpful when running, and I've been trying to do short runs after strength training these days.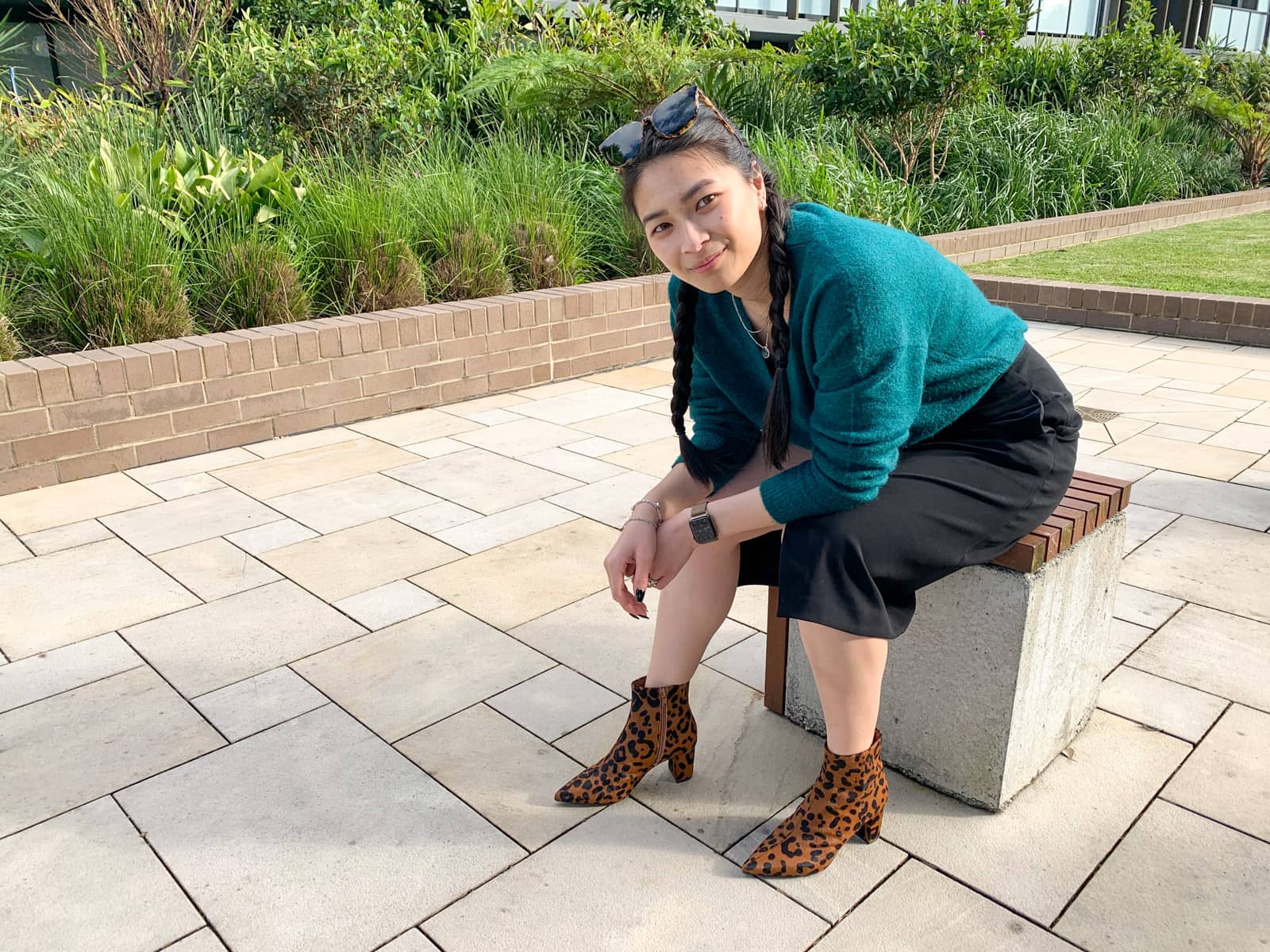 I've repeated this outfit multiple times. That old adage about not repeating outfits just encourages mass consumerism, when there is really nothing wrong with re-wearing clothes that you really love and feel comfortable in. 👗
Other accessories!
I feel like I always forget about the accessories. They should be just as important, but I find myself writing about them last. They do make up the outfit, though.
I never wrote about my new Apple Watch series 5 which I upgraded to (from the series 3) last year. I chose the gold colour because it wasn't a tacky-looking yellow, and it actually looks like a champagne brown, making it rather neutral against my skin. Even though silver jewellery looks good on me, I found the metal of the stainless steel Apple Watch to be too stark and bright. I see the Watch as a fashion accessory and a functional one – not as a statement piece.
The sunglasses are one of two pairs that I own and rotate between; the other being a black square-framed one. I tend to go for that one when I am going for a stark or sleek look. When I wear animal print shoes or fun shoes I tend to go for these ones.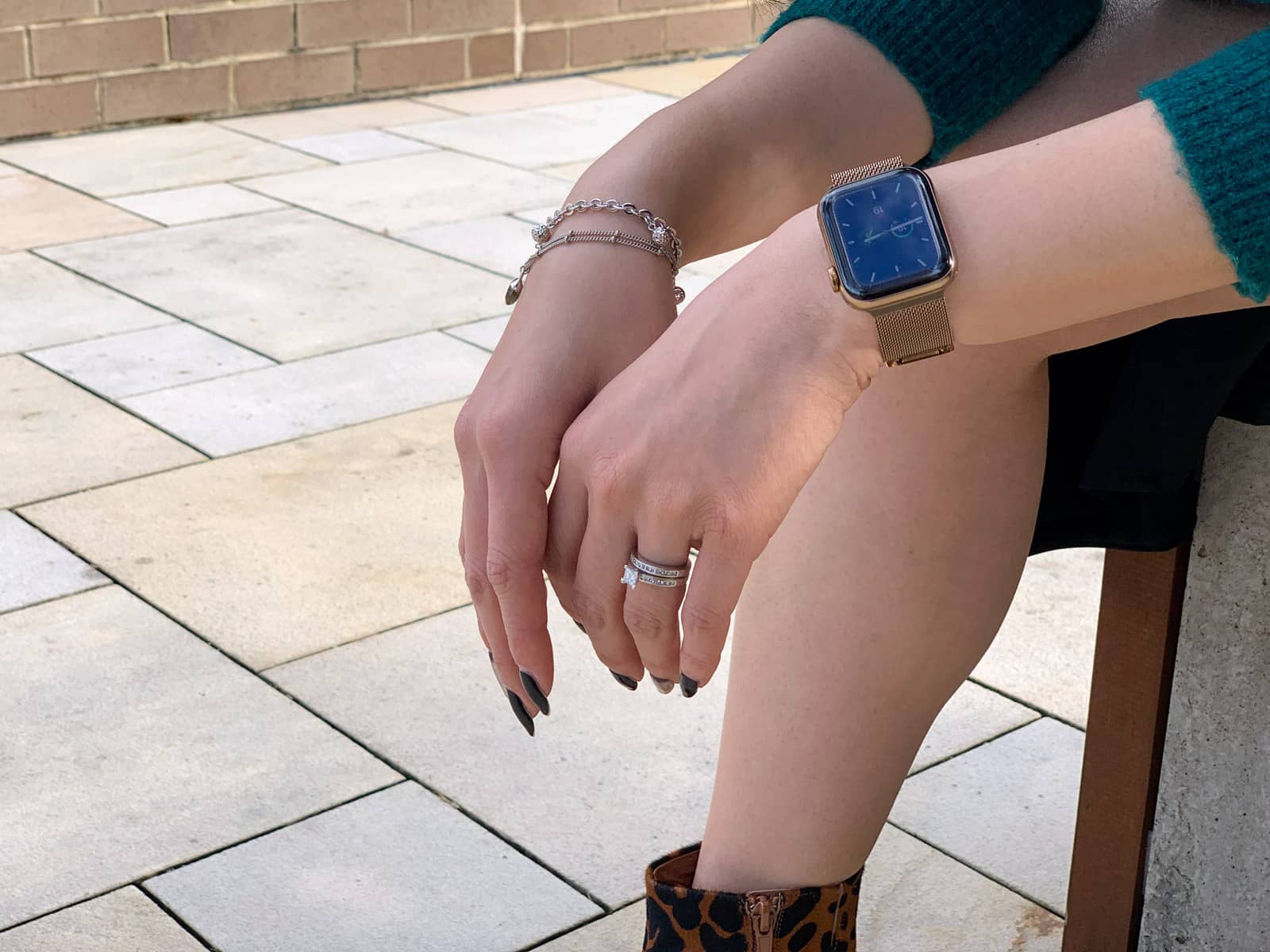 One bracelet I'm wearing is from my aunt, that she gave me on my wedding day, and I decided recently that since it's white gold, I might as well wear it all the time. The other is a labradorite bracelet made from stainless steel, I didn't realise until recently that it's generally alright to wear stainless steel in the shower. I don't love how the bracelets tangle into each other – they are a lovely fit on my wrist, but I guess getting them to layer nicely is tricky and the tangling might be inevitable.
I'm wearing nail wraps from Personail, my favourite nail wrap company! They have the best, longest-lasting nail wraps (stickers) out there. In these photos, my nail wraps have been on for over three weeks and going strong. I ended up having to re-do them after this shoot though, because one of my nails started splitting so I just trimmed them all to be even.
Thank you so much for tuning into this post, my first Fashion Friday post in almost a year. 😂 I can't deny that I enjoy these posts and find them less of a chore than some of my travel posts, to be honest! As for the cadence of Fashion Friday, I'm going to aim to publish every two weeks like I was doing before. I think that during this pandemic/lockdown situation and working from home, it might be a little easier to prepare these posts. But we'll see. 😌
Outfit details
Colophon
📸 All photography by Nicholas Cooke. (iPhone Xs)
We took these photos in the resident-only sky park of our apartment block. I made the choice to get Nick to shoot on his iPhone, because I knew the photos would still come out quite nicely, and I guess we're only just getting back into the swing of this. 😅
I will laugh if you scrolled to the end of this post for the colophon to know why I named this edition Hey Georgie!… but if you read all the way up to here, thank you. 💚 Although I had previously named Fashion Friday editions all the way back in 2014 Where's Georgie? and Hello Georgie (ghastly outfits), this name actually does not reference those at all. It is obviously the name of my blog, but it refers to when I renamed my blog to Hey Georgie in my Hey World! post back in 2012, and also refers to myself. You see, this emerald green colour is precisely the colour of my birthstone, the emerald, which is the birthstone for May. It's probably just a coincidence that "Georgie" and "green" both start with the letter G, too.
So I suppose the name is also a nod to starting fresh again with Fashion Friday after such a long time, and with renewed energy and a new-found motivation to kick-start this series up again. 🌱