Fashion Friday: Hello Georgie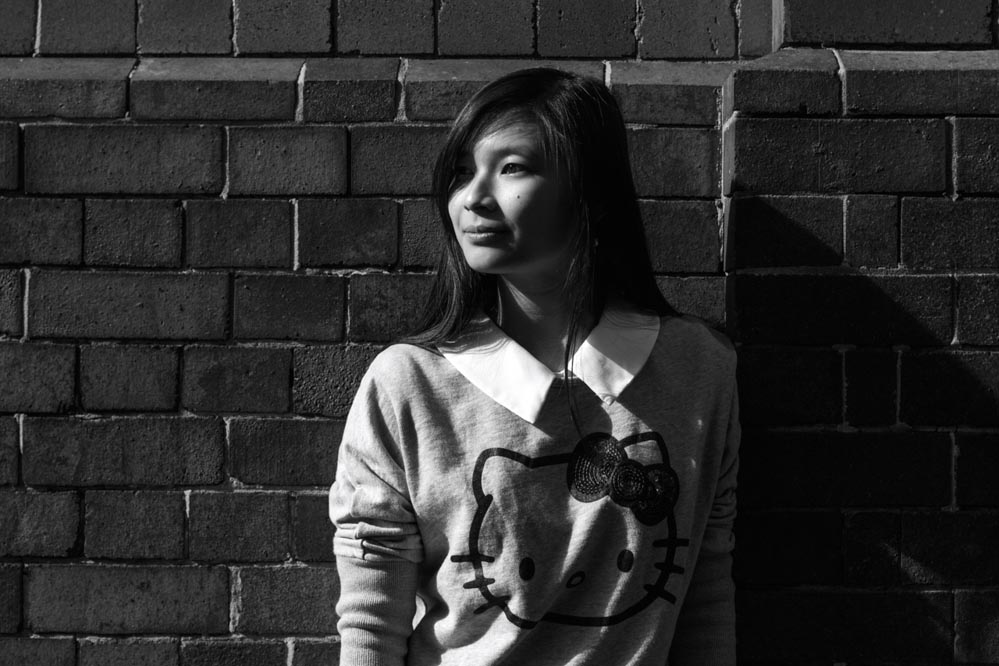 Today's edition of FF was named by Michelle from my preview photograph on Instagram. :3
This is an outfit I wore last week, which I initially thought was pretty cute and funky… but after a week I thought it looked a bit silly and childish. Regardless, here it is. As I've mentioned many times before, I have a pretty quirky style, and I mix formal and casual, but at the same time, I don't always dress in that style. I guess I find it silly because there are occasions I do enjoy wearing something formal, and I look back on my casual outfits and don't like how they are so laid back.
I sneakily love the name Michelle suggested, Hello Georgie, because not only is it a pun on Hello Kitty, but it sounds similar to my blog's name and my email address. I'm filled with glee. Shh.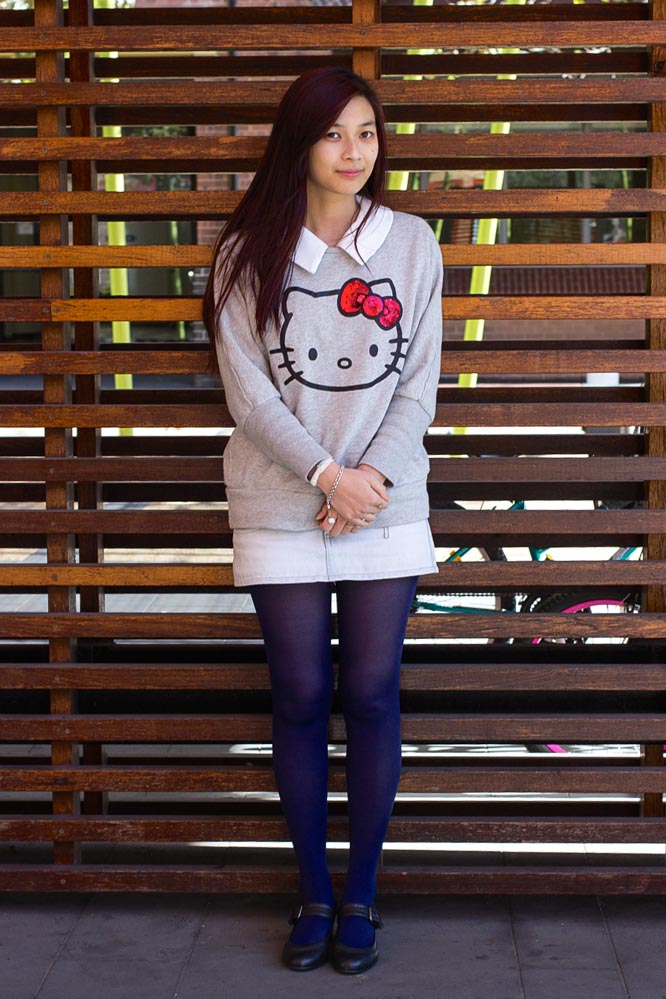 The formal pieces in this outfit are my collared shirt and my practical work shoes. My collared shirt isn't much on its own – my aunt made it for me because I have few collared shirts. It's not the most flattering cut, which is why I didn't get a photo taken with just the shirt. It's pretty straight, and fairly wide, and doesn't really taper in at the waist. It does have very nice stitching but it's quite plain. I do love wearing it under jumpers, though. Paired with my grey pleated skirt, it made me look like a schoolgirl (eek…).
I fell in love with this Hello Kitty jumper when I saw it. I bought it in Hong Kong. At the time, I kept passing stores that had cute winter wear, but were pretty expensive. This jumper was on sale at the front of a store, along with other excess stock, mostly in large sizes. When I spotted this and saw that it was only $30 (Australian dollars), originally $90 or so, I pounced on it. It was the only one left in a medium size, if I remember correctly, and I was in need of a casual but cute jumper. Hello Kitty's bow is covered in red sequins. I love the batwing style of the jumper.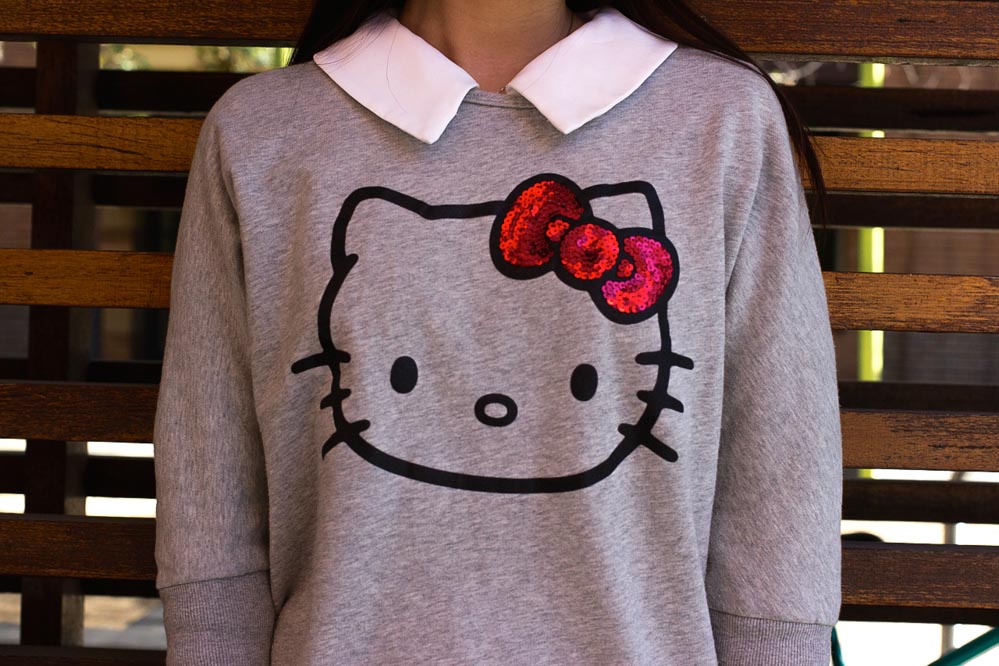 I bought my denim skirt from eBay a long time ago. It's a Playboy skirt and it's honestly too big for me, but I usually wear it with a belt. It's short, but not uncomfortably short… it fit on Lilian, but she didn't want it because it was too short for her liking. Unbelievable. Haha – it's alright. I always wear it with tights or wear small shorts underneath in summer.
I find navy to be a bit strange with black sometimes, but I didn't want to wear black tights. James (jpcs) and Cookie always point out when I wear black clothing, because I have a lot of black clothes. They also point out when I wear nothing black. James said, "You're not wearing any black today, Georgie… what's going on!" I mean, it's not that I have a preference for black at all, really… it's just an easy colour to mix and match with, and most pieces of clothing I buy just look better in that colour. I suppose in essence I'm playing it safe. Lately I have been trying to avoid buying black clothes. I've got enough. :D
I must give a special mention to my friend Vivien, who hand-made my salmon nigiri sushi earrings. She owns an Etsy store called Mostly Harmless Gifts and makes similar clay charm and resin jewellery. I'm planning to write a post about what I ordered from her recently – she does custom orders and really does a good job, and I find the prices to be quite affordable!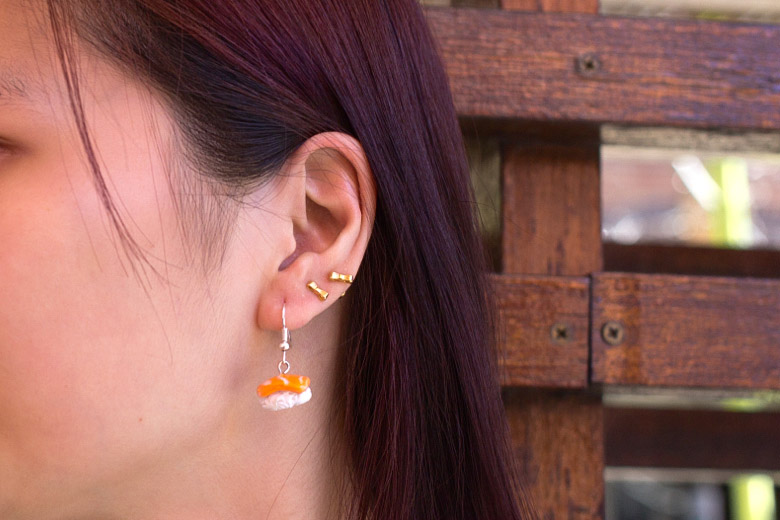 I have a couple of bow earrings from Kitsch, which I chose because they matched with Hello Kitty's bow. Overall, throwing this outfit together, I was going for something cute but quirky.
Another shoutout to Seb for the photographs, we did this one super quickly and organised it on the day! Haha.
That's all for today. I've been browsing Tobi and Popcherry for some new clothes, though I haven't made up my mind yet… What online stores have you been visiting lately?