Review: Helene Jewelry Subscription Box
Some time ago I was wondering if any subscription boxes out there would interest me. I searched far and wide and read many reviews on many subscription boxes, and eventually settled on one that shipped worldwide at a low cost (in this case, free), and was less than $30 a month. I was a bit reluctant to spend any more than $30 because thinking about $30 a month makes me think of giving up a dollar every day… which, let's face it, can add up.
I settled on Helene Jewelry's subscription box, a bracelet-of-the-month-type subscription that sends you a new bit of "arm candy" each month. Owner Elena Schimming has a love for wrist and arm jewellery over other pieces, which is why she started this subscription box service. She creates the pieces by hand, and has a range of basic, bohemian and statement pieces, but with a whimsical and modern edge. Some pieces are available on Helene Jewelry's online store. The subscription box only costs $25 a month including shipping, but there is a small discount if you pay for three or six months in advance. You can also get 15% off your first box with the code GLAM2014.
I was obsessed with bracelets and bangles in secondary school — maybe I went a bit overboard, because I always got warnings for not adhering to school uniform rules (…rebel). This box appealed to me because I don't buy bracelets much anymore. Helene Jewelry asks you to choose between Social, Professional, and Anywhere, then from Trendsetter, Conservative and Bohemian. I chose Anywhere and Trendsetter. I don't really follow trends, but I thought it might get me some styles I wouldn't normally buy myself.
The box ships around the 15th of every month, and you get tracking information. For some reason the tracking number for my first box didn't show anything, but the box arrived eventually so that was okay. I had emailed Elena to ask if my box had shipped because I still hadn't received it a month after paying. She told me that I was their first international customer so it had taken some time to decide the best way to deliver the box to me. She said I would be receiving a fall-themed bracelet so I was excited to receive it. Sure, I live on the other side of the world, and it is winter here, but fall — Autumn, as we say in Australia — is my favourite season. I received the box about seven business days later, which was pretty quick for an international shipment.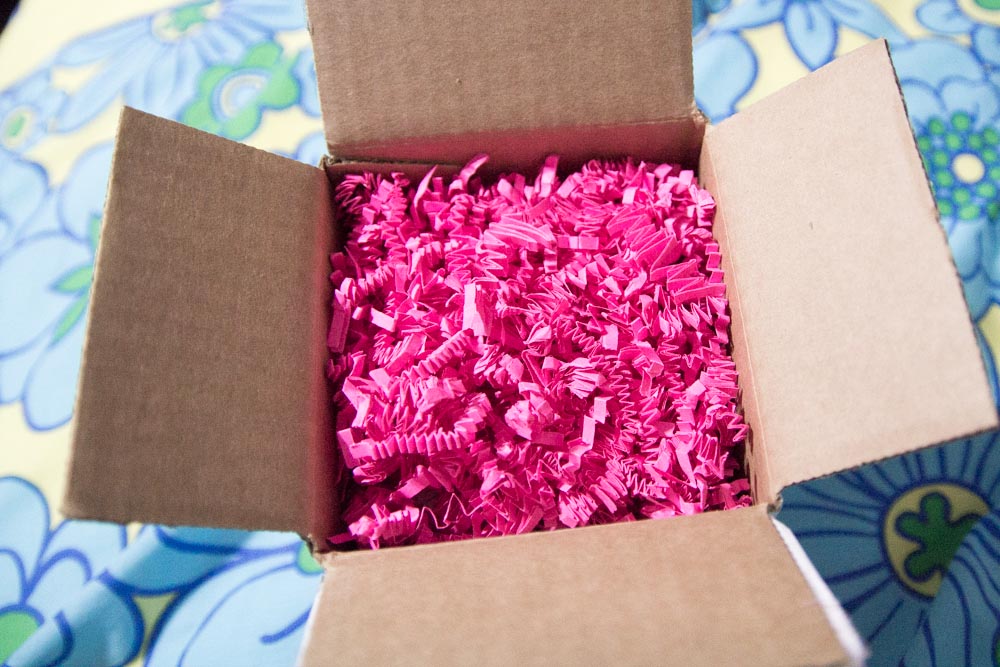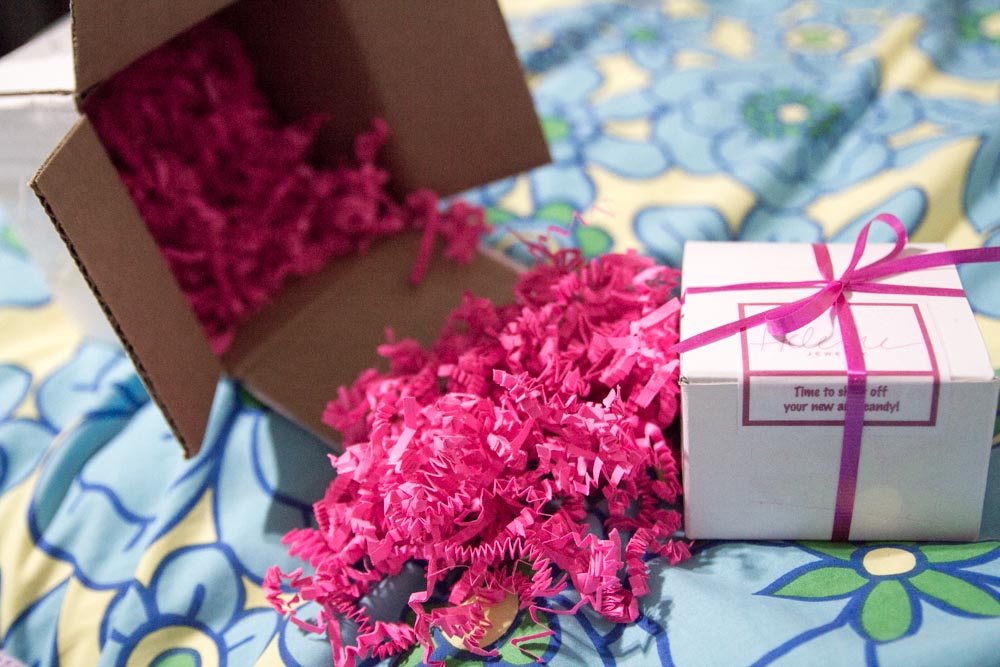 I was really impressed with the gorgeous packaging. The cardboard box was filled with hot pink crinkly shreds of paper. It was lovely! The paper resembled confetti, which fit the "arm party" theme of the subscription box. It provided sufficient cushioning. Inside, there was a box containing the bracelet. After undoing the ribbon on the box, I was happy to see that it was filled with more of the paper as well.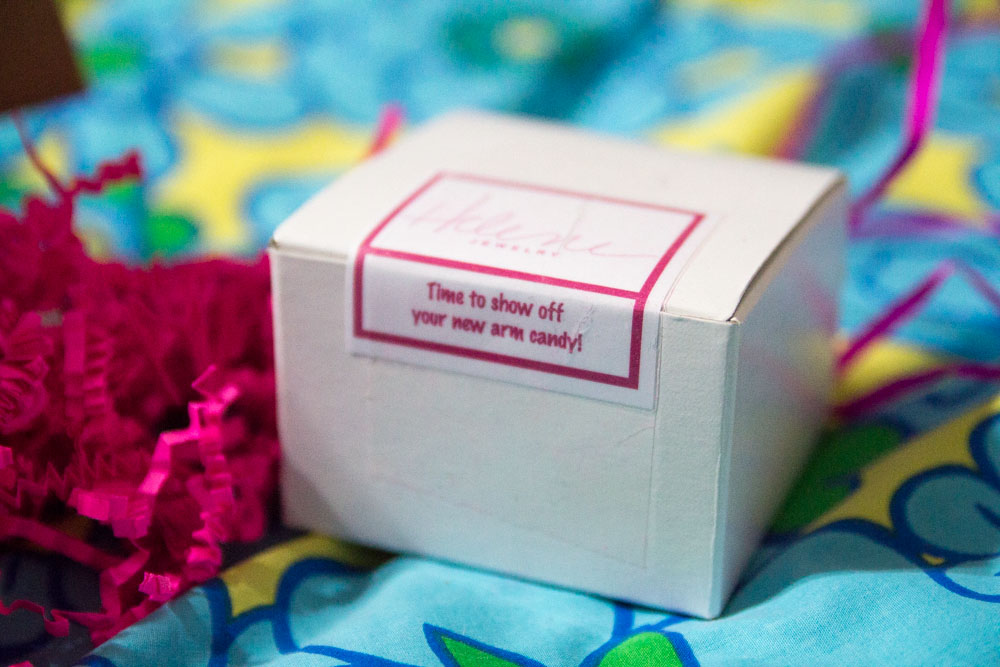 I got this Transcendence Enamel cuff. My first impression was not one of disappointment, but I was expecting a chain bracelet or a bangle. Last time I owned a cuff, it lasted a good while, but as it was not very malleable it kept falling off my small wrist. This one is rather flexible and I can squeeze it a bit to make it fit.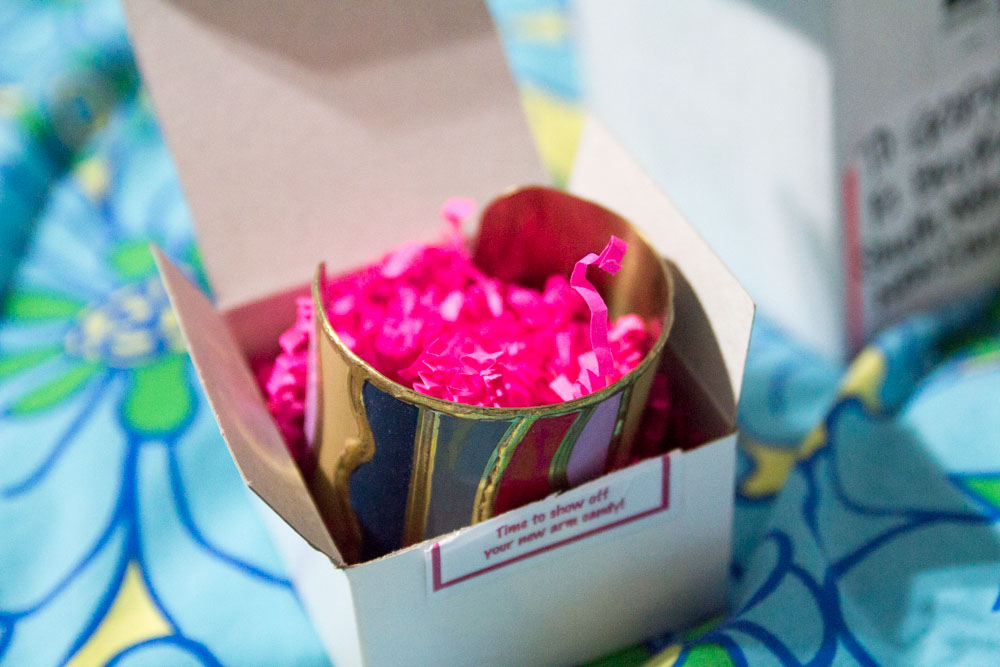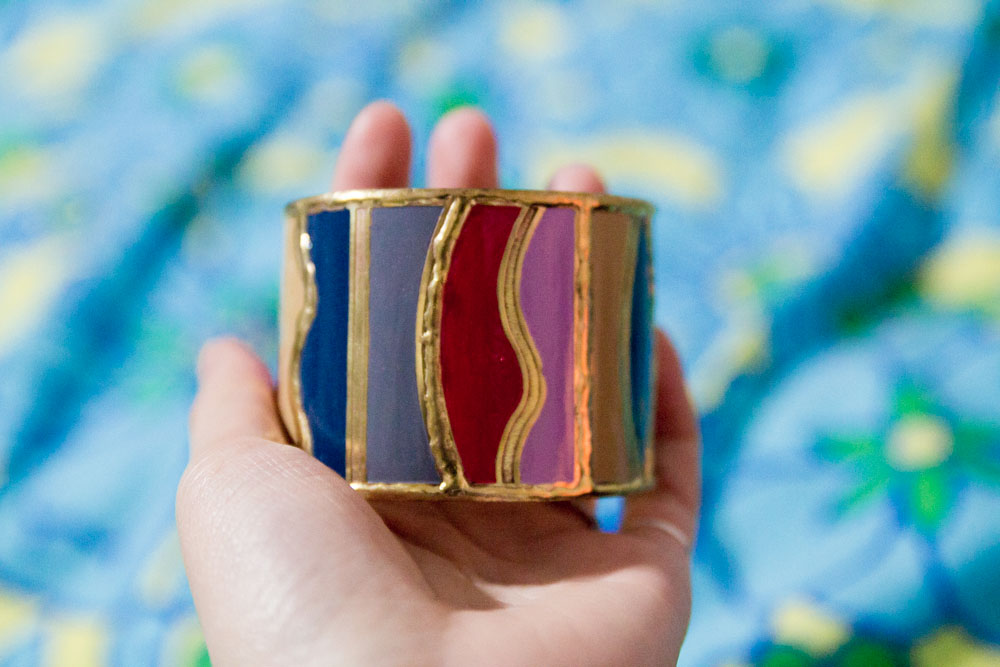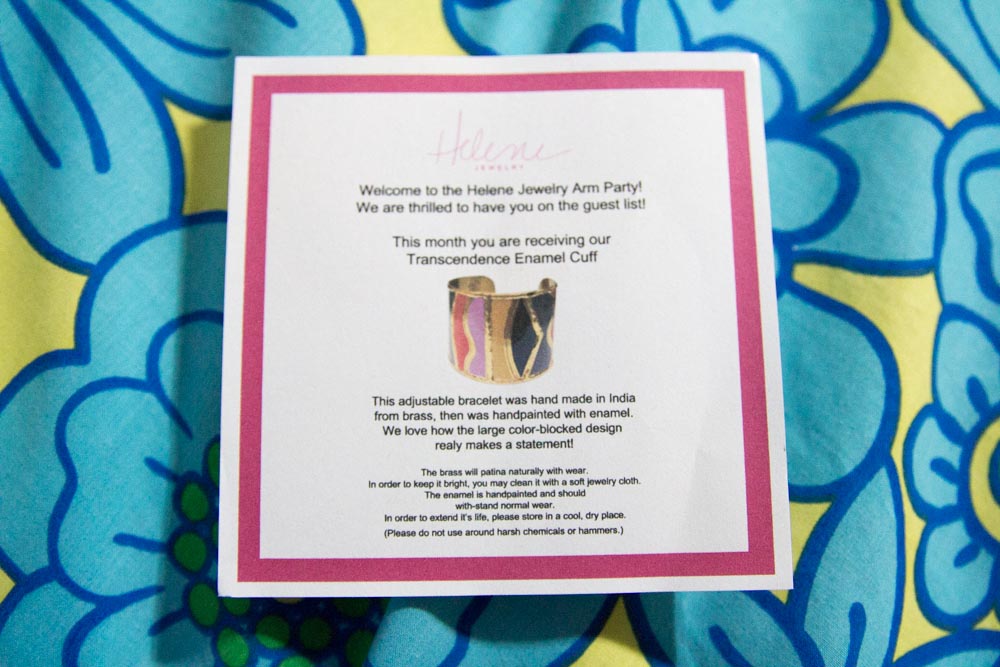 I initially thought the cuff was not my style. It's similar to the colour block large enamel cuff, but in a different colour. Mine has mustard, pink, teal, grey and red (yay! My favourite colour), which I definitely prefer. It would be easier to mix and match with compared to a more colourful cuff (I tend to pair those with clothing that is white). I personally would not pay over $30 if I were to buy this cuff alone, and it's not a piece I would normally buy myself.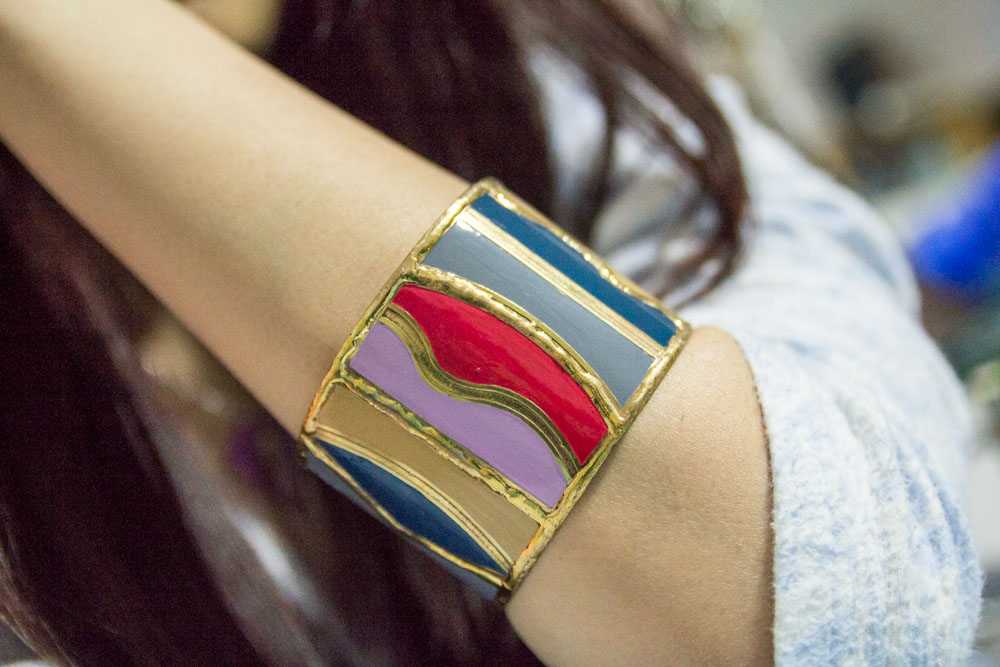 However, even though I didn't initially like the cuff, I have grown to like it. The price is decent for a handmade product. A lot of care went into creating this cuff and packaging it. It sure isn't perfect, but it gives the cuff a unique, rustic and kind of antique look. A lot of thought has been put into the order of the colours and the style of the cuff, as well as the brass edges being applied to only every second gap. It's a statement piece that I will probably try to wear with everything, and since I don't have a lot of bracelets, it won't get lost in a giant mass the way my rings get lost in my ever-growing ring collection. I wore it a few days in a row – once with a bright orange and white dress, and another time with a more formal outfit. I think it goes quite well with a lot of things, even my silly at-home floral pants.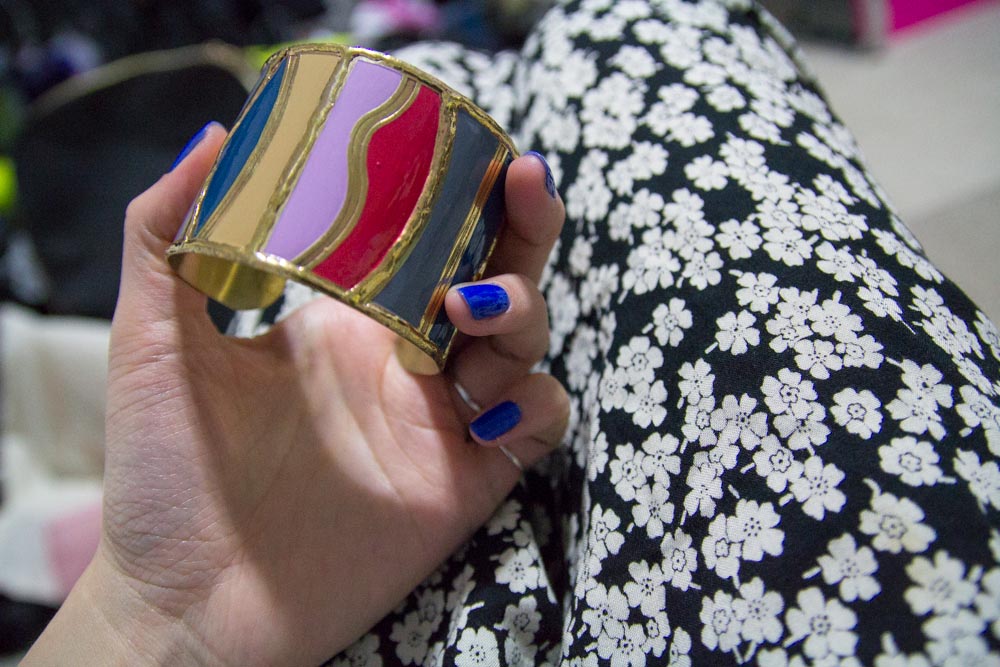 After sharing my photo on Instagram, Elena emailed me to ask me personally about my jewellery preferences and my wrist size, noticing that I had a preference for silver jewellery and also have very small wrists. I really appreciated her emailing me and her genuine care for one of her customers. I also felt pretty special because being an international customer didn't matter in the slightest. She replied to all of my emails promptly and in a friendly manner.
I look forward to receiving my next box! :D
Disclaimer: The opinions in this review are my own. No compensation was received for this review and the box was my own purchase.