World Photography Day: A photo is only half the story
I didn't lug my camera around or anything, but happy World Photography Day. :)
To me, photography was a journey. Is a journey. My own story, How I got into photography, explains just that. Photography will always be important to me, but despite being able to tell a story, I find it hard to write about how important it is in words – how very apt.
Unfortunately, I lost most of my digital photos on my external hard drive due to a converting failure. But it doesn't stop me looking back through what I still have. I'll look back on old photos and see the skills I used to have, and how much they have improved. I'm forever learning. I'm always improving. But I also see the story behind the photo, and that's what I feel is more worth celebrating.
Here is a cherry-picked random selection of photographs and their stories. All were taken by me, except for the one with Chris Daymond.
It's natural to be afraid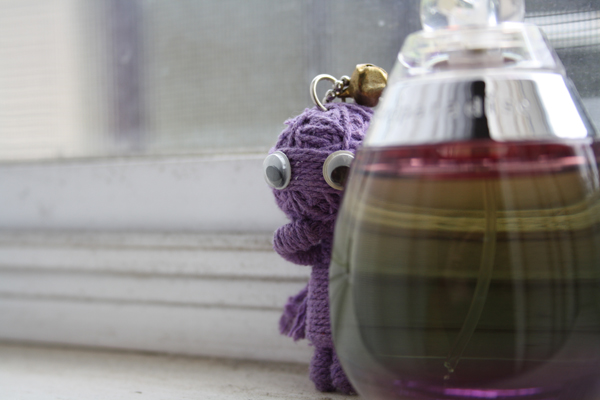 The perfume bottle was a gift from James many years ago – my favourite perfume, Beyond Paradise. The purple voodoo doll was supposed to help me not to cry. But the obvious, material definitions aside, this photo was one that I composed meticulously as part of a photography project in university. I took this photograph in 2011.
I took the photo in Brandon's room. Brandon's room used to be my old room until I was about six or seven years old. The windows were extremely old at the time. Paint was peeling and exposing the wood underneath. We live in a rather old house, and only last year did we replace the old windows.
I took this photo in black and white, originally, on film. I have that photograph in my room, printed on glossy photo paper. But I remember trying to stand the doll on the window sill, because it wouldn't stand on its own. I took a lot of photos with this doll in various different situations, and they became a set of photographs that became my final photography assignment.
The Griswolds, supporting San Cisco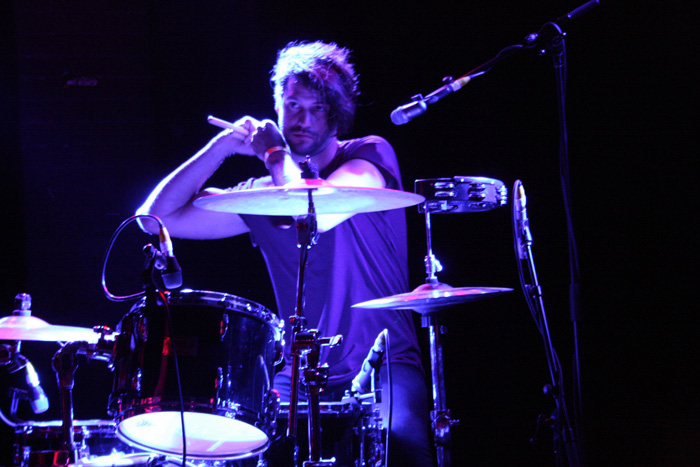 It's crazy how far they have come. Chris Riley is no longer a member of the Griswolds, instead pursuing building/carpenting. He was definitely a fan favourite. This photograph was at my first gig that I went to alone. It was one of the first gigs I took my new camera to. In fact, I think it might have been the second. It was a Wednesday night, and I wanted to see San Cisco, really, but I ended up loving The Griswolds.
It still hasn't changed – and they are finally due to release their debut album this week. I miss them to all hell, I really do. I remember a fond memory of me and Chris hanging out at Homebake in 2012, and all our friends and mates had run off, gone home or just disappeared.
The quiet little town of Gujo, Japan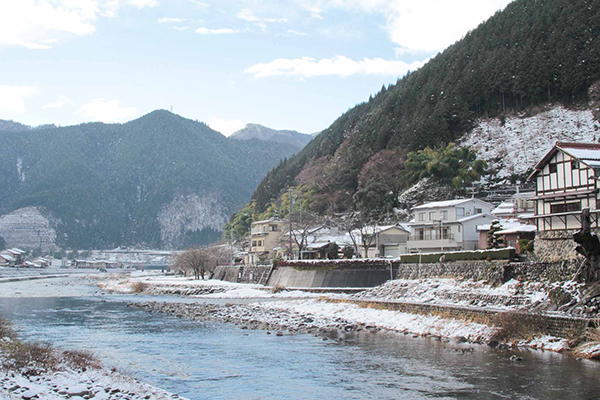 James and I travelled so far to see this amazing rural town in Japan. We caught a handful of trains and subways to the end of the train line, and walked a fair distance to this snowy, quiet place far north of Kyoto. It was incredible. I hadn't seen snow for years. We had only gone to the town to see the warehouse where they make plastic food, but the town itself was beautiful so we stayed there the whole day.
Hey Geronimo, the first of many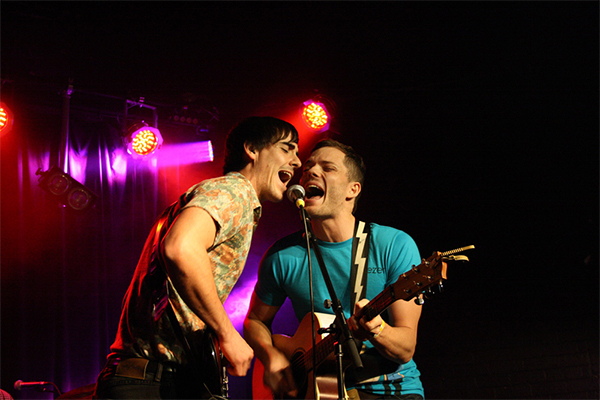 This was from the first time I ever saw Hey Geronimo, back in 2012. Now my favourite band, and I have seen them fourteen times. I've watched the lineup change – I miss Greg, but he's been replaced by the awesome Bingers. I remember my first impressions of Hey Geronimo were strange… I thought they were all a bit too happy, and kind of silly…
Andrew, then-keyboardist, had thanked me for taking photos. I remember I had only been there to see The Griswolds, but I had a wicked time anyway. It was also the first time I saw The Money Go Round, and March of the Real Fly. All in all, it was a gig that I didn't know was my favourite until I walked down Oxford Street with a giant paper pineapple in my hand.
And two years down the road, I still love the bands just as much as I did when I saw them that night.
Meeting Chris Daymond (Jebediah)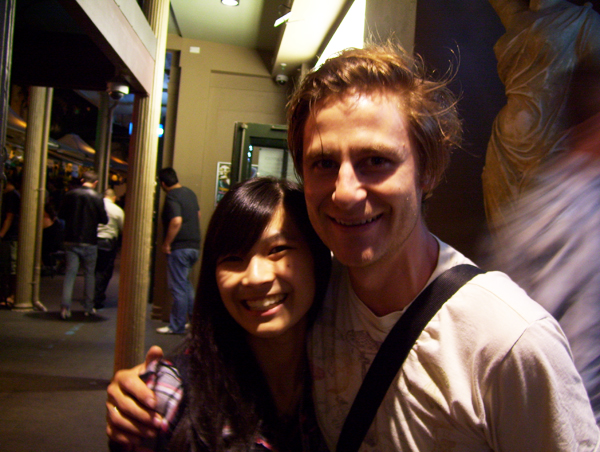 This was the first time I saw Jebediah, if I remember correctly. Either way, while I had met lead singer Kevin before, I wanted to meet the rest of the band. I travelled so far with Dylan to see these guys. It was probably about two hours from home at a beach that wasn't even that popular. I don't remember much, except that I was very, very excited, and the Seabellies supported Jebediah and took ages to set up.
I had waited for over an hour outside, hoping to meet the band. The security guards made us stay well away from the door. Even though it was possible that they exited through a back door, I still wanted to wait. I didn't care whether or not I was going to be home at 4am, or that public transport was going to be nonexistent.
I find it a bit sad that I'm not that desperate these days, and sometimes I'll try to get home as soon as possible. I miss the old Georgie, in that sense. :P A woman said to me, "If I can't see them, neither can you!" I was still pretty determined to see them… and yes, I did meet Chris and Ness, as they casually (but hurriedly) walked out to catch a taxi. I waved at them for their attention and I was just so happy to meet them, that I grinned from ear to ear.
Meant to be friends.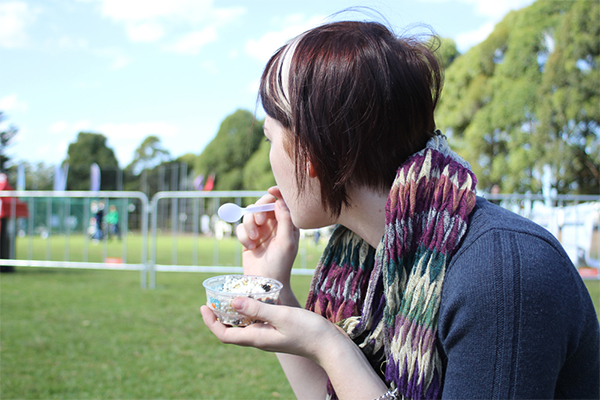 Ahhh, Kim. We met because of one of our favourite bands. The Griswolds. They tweeted to all their followers to follow me, because I had helped them with setting something up on Tumblr. Kim was probably the only person who did follow me. Little did I know we would start a great friendship and eventually meet in person. We share the same interests in music, and as Madonna once sung, music makes the people come together.
We finally met in May last year. In this photo, we headed up north (quite far, even considering Kim was staying in the city) to a suburban festival. The Money Go Round were playing there, and there were lots of other forms of entertainment. We spent all of our afternoon being kids and painting small stone sculptures.
This photo is of Kim eating Dippin' Dots ice cream.
I climbed a tree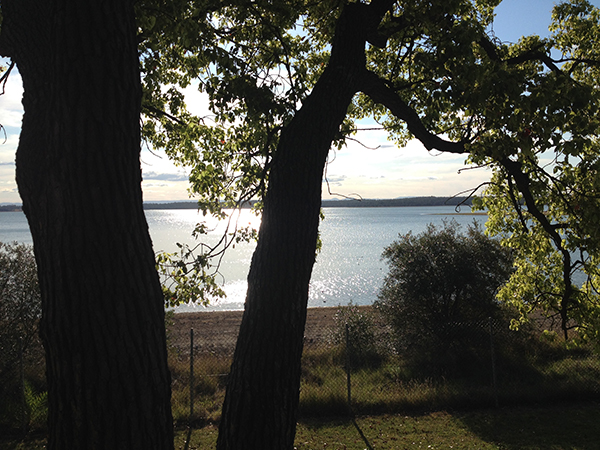 I like almost nothing about living in suburbia, and I have probably disliked my town more over the years. But every now and then I find a gem, or something sticks out to me that… well… is not exactly unique, but it's something to like. We don't have the greatest parks, and there are many parks in every town, but it goes to show that I don't just "live in a hole". It's taken a lot for me to appreciate what you can find in suburbia, and this is the reservoir that isn't too far from my house. It closed for the majority of last year.
I don't think I had ever climbed a tree. Climbing trees reminds me of the time I was in primary school and everyone was climing up onto a wall. It wasn't a tall wall, but it required effort to pull yourself up and sit on it. I couldn't pull myself up because I was very short, and all my friends were taller than me. At the time, while everyone was laughing at me, my best male friend exclaimed, "I love Georgie because she still tries."
Tristan was trying to get me to climb this tree. He loves climbing trees. I remember my high school friend Karen loved to as well. I was just scared, you know… I took this photo from the treetops. It was really difficult and I was petrified of moving at all once I was sitting there. I couldn't even get down. Even if I didn't get up there all on my own and he had to help me, I got up there.
This photo has a story…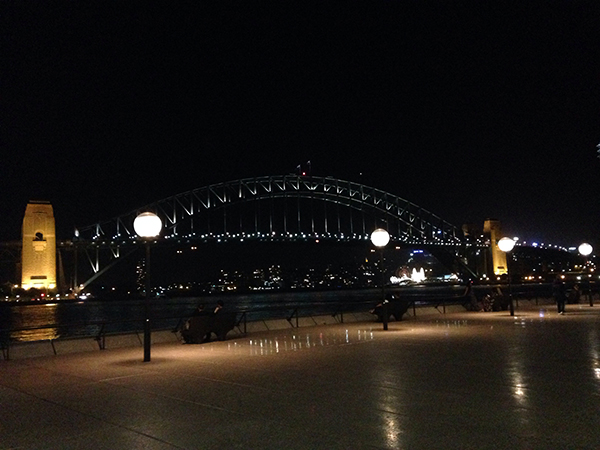 … but not all stories demand to be told.