The Best Friend Lunch #2
Lilian and I had lunch again today! Her boss was bothering her last minute so I had to wait for a while. But that's okay, at least I wasn't sitting down for an hour, I was standing… which is good when you have been sitting in a chair for most of the day. I also did a bit of shopping and bought two skirts – some basic ones that will go with most outfits.
The Place
I suggested Pepper Lunch because I haven't been there in at least a year. It's changed quite a bit, and there are new things on the menu. I used to always get the pepper rice and I loved it. They serve almost all their dishes on a hot plate, so you can stir or mix all the ingredients together yourself. I honestly think that's half the novelty of it. Otherwise you're more or less buying fried rice, or steak and vegetables, or salad.
They used to have television screens showing how to mix your food. I used to think it was really awesome, but now I think it's pretty ordinary now. It seemed kind of fun that you got to "cook" your own food on a hot plate, but I would rather pay the same price for something created by a chef. That said, yes, I would consider the food to be expensive, given its quality.
The Food
We were curious to try the new teppan pasta range, which consisted of pasta on a hot plate. I ordered the seafood classic tomato, while Lilian ordered the chicken classic tomato.
It looked pretty ordinary before I mixed it. It was kinda cute how the pasta sauce came in a little gravy boat kind of thing. But we agreed that the pasta sauce was typical supermarket kind like Dolmio. Dolmio is a great brand, but still, you can buy a whole jar at your local Woolies.
I'll… save you from seeing what the meal actually looked like; the photo I took on my phone was extremely unappealing. Here is a snapshot of what is on their website. Also, Lil didn't get half as much chicken as is featured in this picture.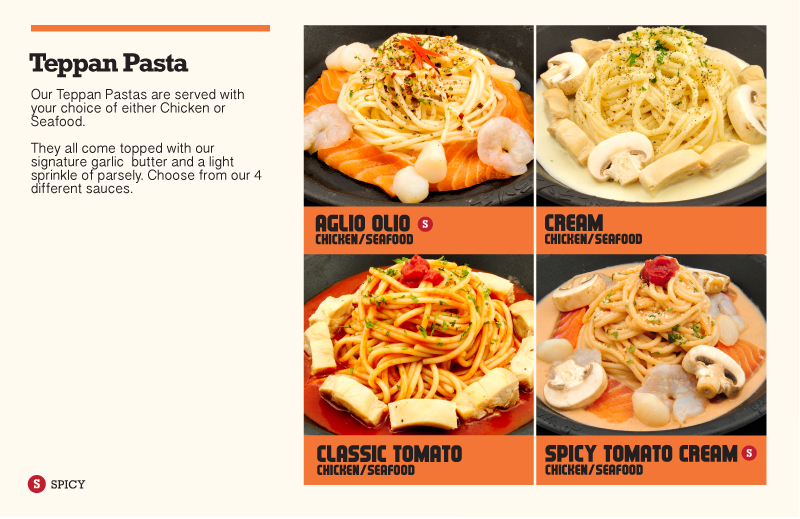 To sum it up, Lil said she was "underwhelmed" by the food. We can totally make this at home; it's more or less tomato spaghetti. :P
The Chat
I feel like we mostly ranted and talked about creepy people again, because an old man looked me up and down while I had been waiting outside. But we also grumbled a bit about Lil's boss, and I talked about what I was up to at work (changing all the buttons across the website… it's a never ending project).
We also weaved in some talk about cold showers and cold shower therapy. I'd taken one that morning, and I remember that my arms felt numb. It was amusing. Lil was not keen, and said that if she was offered money, she still wouldn't take a cold shower in winter. I also talked about how I had cleaned my room and got rid of a lot of old clothes that no longer fit or that I didn't want.
The Selfie
I brought my polaroid camera this time, and we unintentionally smiled the same way in both photos! We were amused that Lilian's face looked really skinny in the first photo.