Fashion Friday: That shiny coat
Since I missed Fashion Friday last week (too busy partying I guess), there's going to be an edition this week and next week, rather than shifting everything a week ahead. I am thinking that once every fortnight works well, but I suppose I need to think about what happens if I can't do a certain week. I don't like saying that I'll post every second Friday but then don't do it!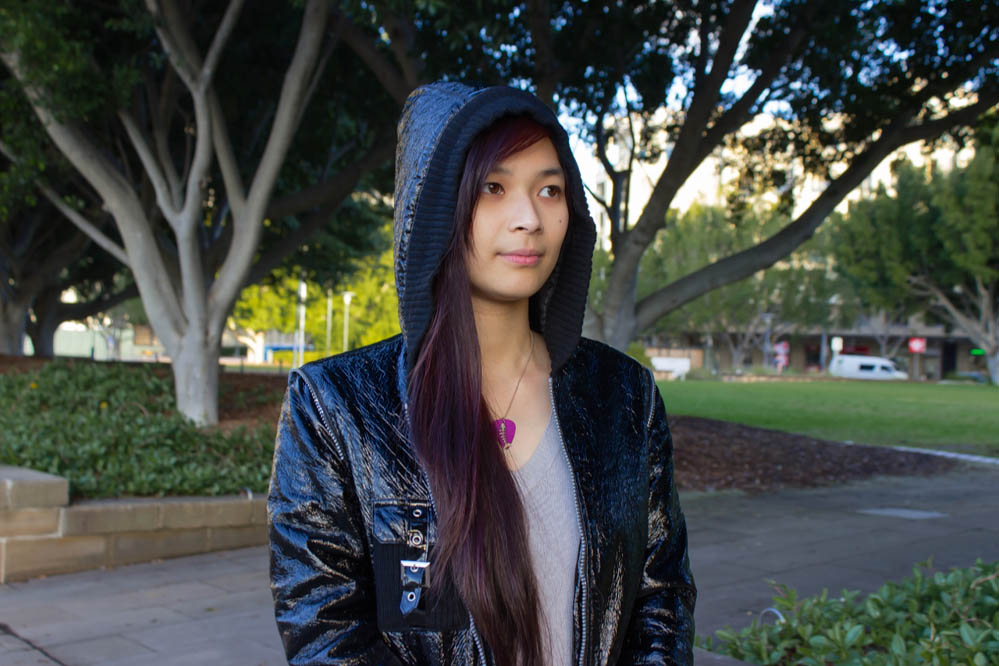 Anyway, again a great thank you to Seb who took the photos for this post. I'm featuring my foil/plastic/garbage bag/Blade Runner jacket, which is a bit old, and honestly hasn't got a lot of wear during the time I've had it. It doesn't last long because it's got a vinyl/plastic coat that is already fraying and ripping, revealing the thin layer underneath. I did once have a vinyl jacket where the entire back ripped off, haha. Let me just start by saying vinyl jackets are not the wisest, so it's a good thing my mum bought this for me when it was out of season. I guess the plus is that I can probably get a bit more wear out of it, because the crinkly nature of the vinyl makes any cracks and peels harder to see.
I've been getting a lot of comments (I wouldn't necessarily say compliments) for the odd texture and the weird look. Everyone at work thinks I'm warm in the "foil jacket". Yeah, it's pretty warm, though it's not lined with fleece or anything.
James said it reminds him of Pris from Blade Runner. A quick Google image search on the character reveals something a bit more – well, revealing (given that the character of Pris is a prostitute) – but it certainly does remind me of a bad-ass girl running through the alleyways of a rainy city at night. The hood is rather pointy, and the pockets are a bit difficult to open because they are buckled, but it is more or less a pretty casual and fun coat.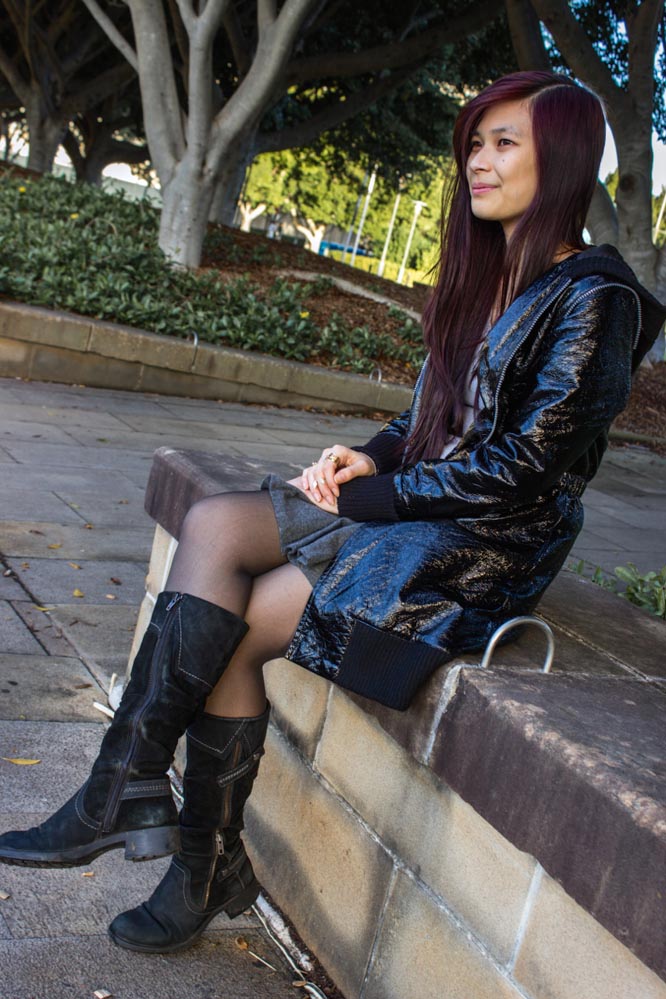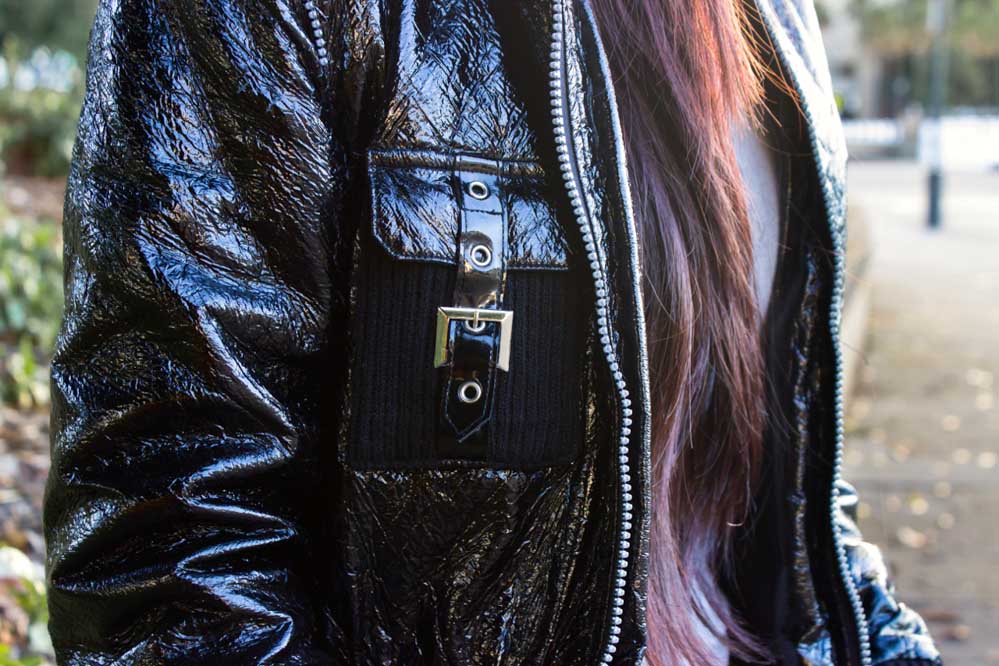 The top is something I've featured in a previous, older post. It's one of those staple long-sleeved tops that is good to have in your wardrobe. It's warm and pretty versatile and you can roll the sleeves up if it gets too warm.
The skirt isn't really one of my favourites, and James says it is made of the same material his curtains are made from (haha). The material is thick and made of some kind of wool blend, so it's good for winter. I like the pleats, and the strap and buckle detail is a nice touch. Overall, it looks a bit like a uniform, but not so obviously.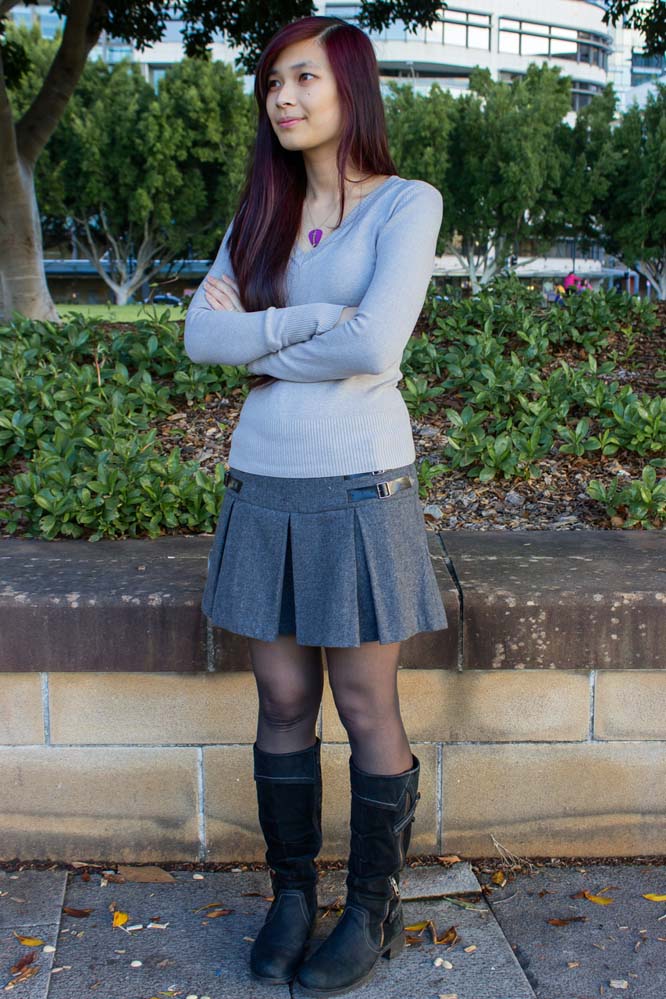 I'm wearing one of my favourite pairs of boots; they've been places. They've been to Japan, in the snow, drenched through; covered in urine, mud, rain, and subsequently washed each time. The worst was probably Groovin The Moo festival though. I thought they wouldn't survive. I was pretty much ankle deep in mud, because it had been raining in the days leading up to the festival. The mud had dried all over the boots. Cleaning them was a load of fun, I can tell you I was sitting out on the grass the afternoon I got back, scrubbing at my shoes with a damp toothbrush and scraping off hard mud with a table knife. I drenched them in soap and water and gave them a huge scrub, and left them outside for a few days to dry and air out.
The zipper is a bit messed up on the left boot. I straightened it from its crooked state, but the teeth of the zipper are still not lining up correctly. I'm still amazed that the boots have lasted after going through a lot, especially since part of the boots are made from suede… and suede is such hell to clean.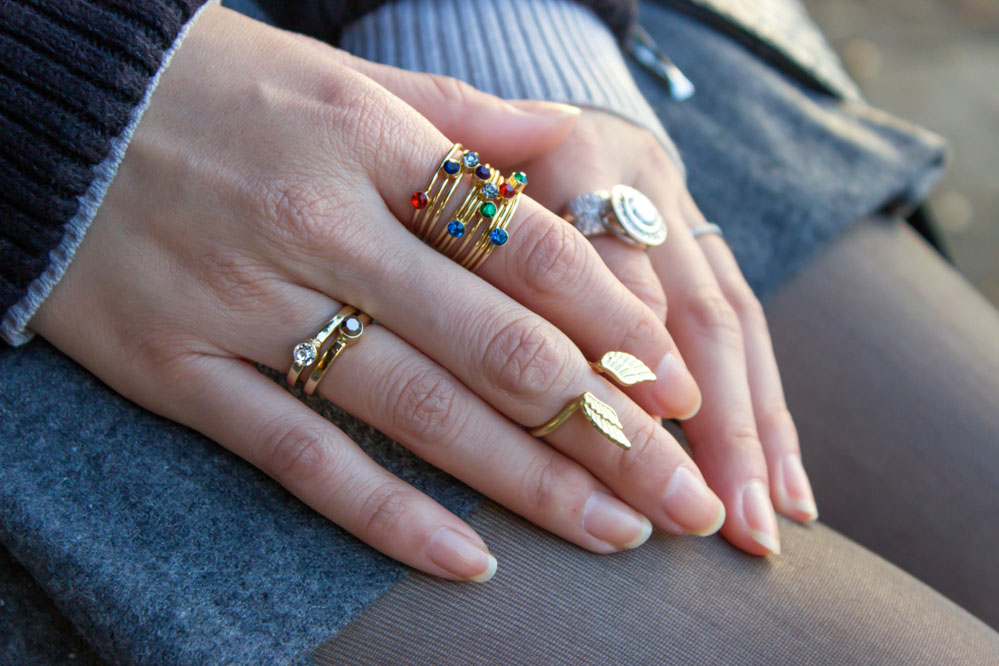 Jewellery is always the fun part! The coloured set of rings is from Lovisa. It was $5 for the set and I bought it on sale. I couldn't resist another set of stack rings, and I didn't have a multicoloured set, so it was a winner for me. The other smaller rings are from Diva, which is apparently closed. I wondered why their website was down last week, and some news articles had stated that they are merging with Lovisa, despite Lovisa being targeted at a slightly older audience. It's true – their jewellery is more sophisticated.
I really like the ring with wings. Wings have meant quite a lot to me for a long time – being a sign of freedom, strength, hope and grace. They have been a symbol for many moments in my life. This ring is a bit annoying to wear because it's a midi ring and is supposed to sit on the knuckle, but feels rather loose. It is one of the best wing rings I have seen though.