Fashion Friday: Faerie
So, we skipped another Fashion Friday because it was raining very badly here. 😬 Today is a bit of an experimentation, because Nick bought the new Sony RX 100 mark VI camera, and this shoot included a bit of practice. 😄 We took photos in Hyde Park in Sydney, which is really just the go-to, haha. This is actually going to be the last one you'll see in Sydney for a while, because we plan to do some shoots on our travels. We're heading to the United States next Thursday for a few weeks! 🇺🇸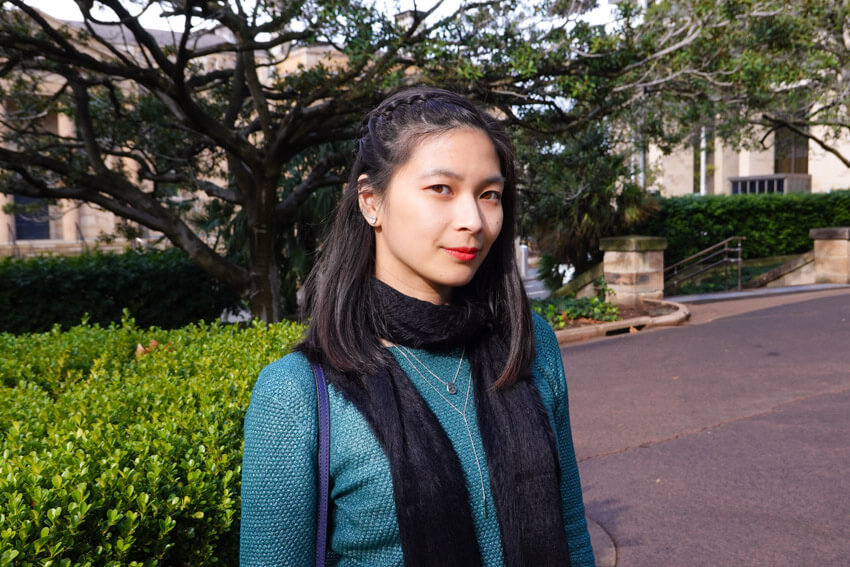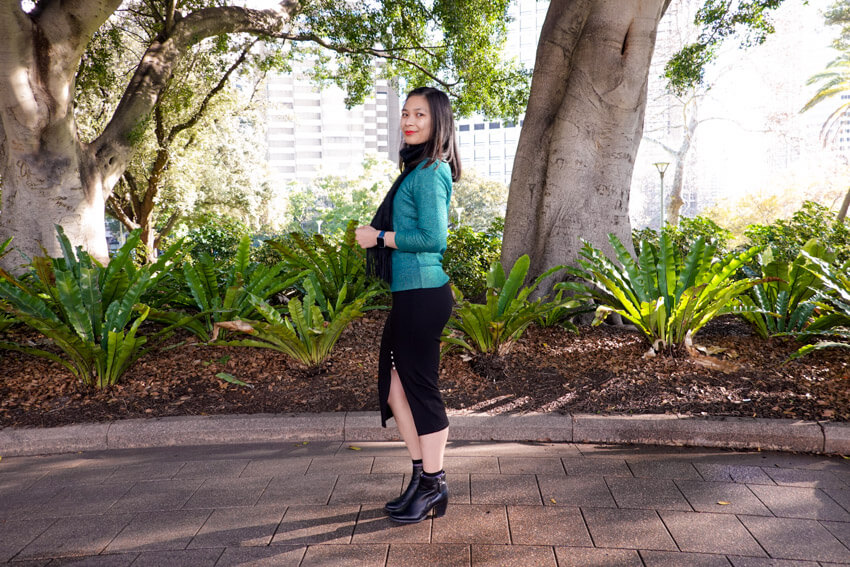 I really like the skirt I'm wearing in this outfit because it fits me well and the slit in it makes it a little easier to walk. I used to love tube skirts before I started working out and my legs and hips and butt grew even bigger. Tube skirts are now hard to walk in unless the material is stretchy. My friend Monica also pointed out that a slit in a skirt can help you to take bigger strides when you walk. And yeah, I take crazy large strides.
The other thing is, it's not just a bigger butt I need to accomodate, it's wide thighs. Therefore, they need more room to move when I walk!
Although this skirt works well, the elastic holding the pearls in place has already started to stretch out. Worst case scenario, I could remove them and the elastic holding them there. But it's a shame because I thought the pearls were really the best part about the skirt.
The top is a bit of a different story. I am wearing a crop top under it but I won't write about it since you can't see it. The top cost quite a bit of money (mmm yeah OK about $150) but I remember seeing it and really liking the colour and style and knowing that the brand had a reputation for having quality clothing. I really tend to go for bright, unusual colours of clothing that are in unusual cuts and styles. Like no, I don't just want a green knit top. I want a green knit top with a bit of sparkle and a mermaid print that also has ¾ sleeves.
I've really felt immersed in the colour every time I wear this top. It does tend to keep me warm, too, haha. I prefer to tuck it into skirts, but I don't find that tops tuck in very well into this skirt. It kind of bulges a bit. 😆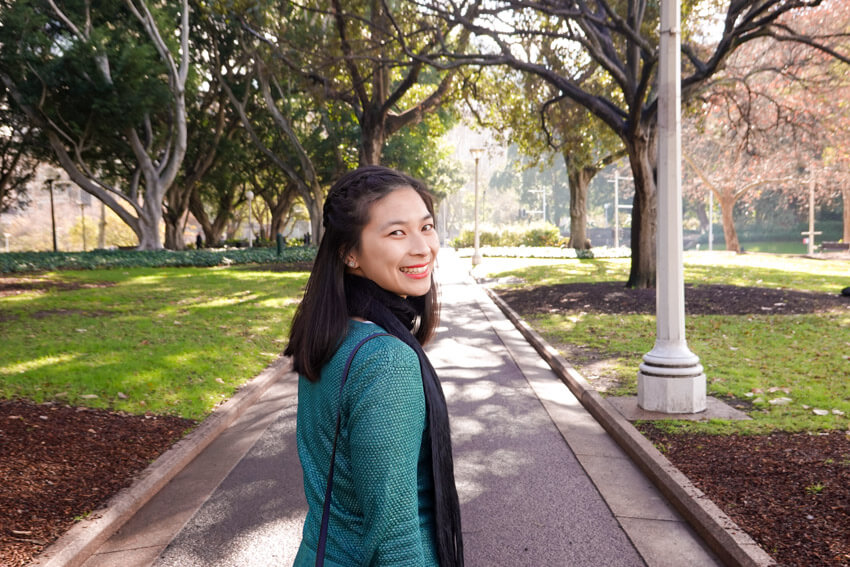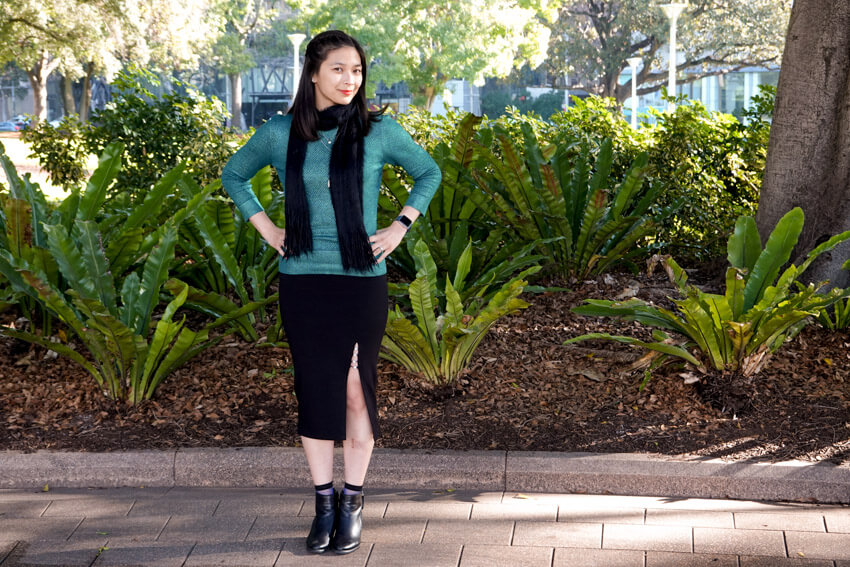 I wore the scarf to match the black in the outfit. I didn't want to wear a different coloured scarf since the green in the top stands out quite a bit already. I got this black scarf the first time I went to Japan in 2013, in a fukubukuro bag (lucky dip bag). Most of those bags were full of junk that I didn't really like (as is the case with those bags), and I feel like this scarf was probably the only thing I kept and still wear. I thought it was boring, but because it's a rather narrow and not-too-long scarf, it's quite versatile. The material is a fuzzy sort of material that doesn't pill with age, either. It's looked sleek for years! 🖤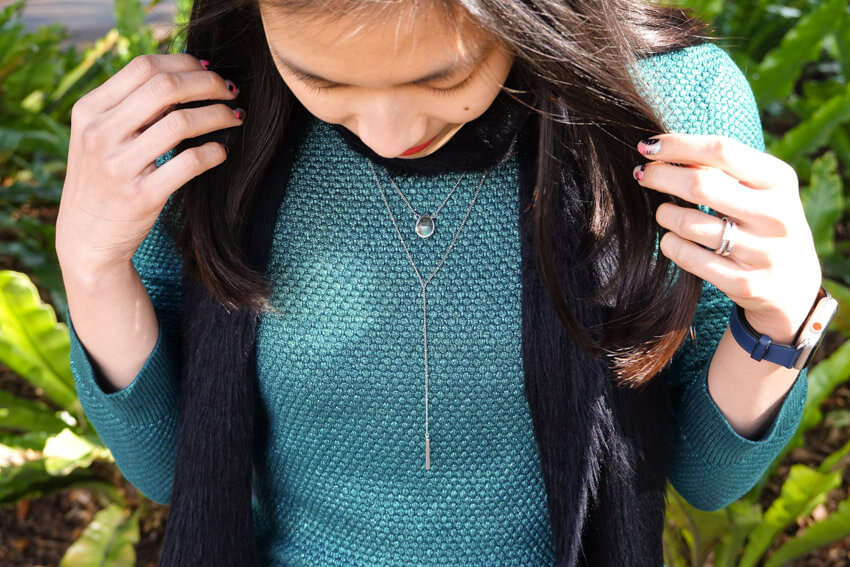 I've basically got nothing to say about the shoes because I wear them time and time again! I have to say, though, that I might be replacing them when the next cool season rolls around. They don't look like they are worn out on the outside, but I feel they are a bit worn out on the inside. And I do kind of want an updated pair.
I'm wearing socks from Hysteria, a range of socks for women, made by Happy Socks. I was very, very excited when I found them because for the past year I've been in a funky-mismatched-socks phase. These socks are perfect for pairing with pump heels in an eclectic way.
The socks are pricey but I did buy them on sale, haha. This pair is made from nylon meaning that it's more susceptible to slipping down. They are also "one size fits all" but I do have very small feet. That said, I will be a little more careful when I buy fancy socks like these. I found that there were some Hysteria socks made of cotton, or a higher amount of viscose, that fit much better. The nylon is also super delicate and can get caught on rough skin around the nails, as well as rugged stitching on some leather shoes.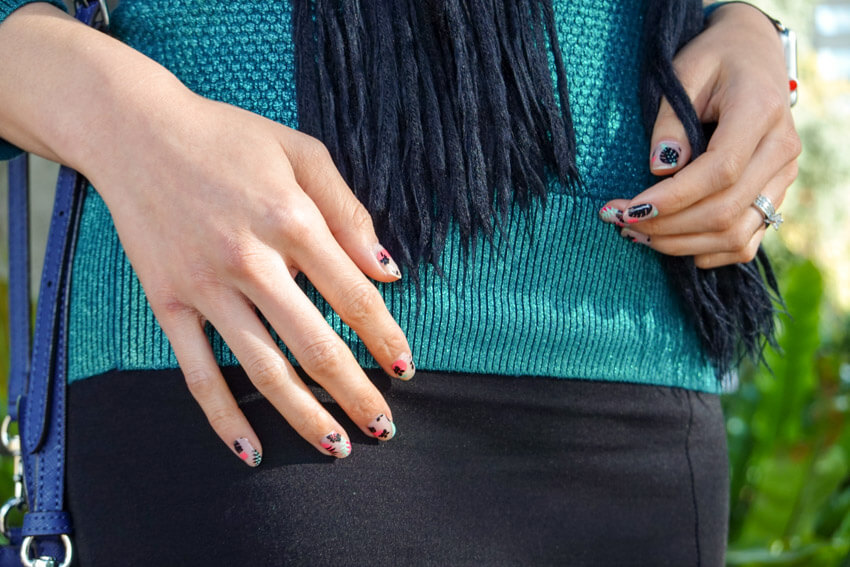 My nails are supposed to have a tropical feel! They have a transparent background. When the nail wraps arrived in the mail, I didn't realise the colours would be so bright and the black would be jet black. I really dig transparent nail wraps that show the colour of the nail underneath, but I don't love this set.
In my opinion, I do like this outfit, but there are some things about it that make it feel a bit all over the place. I don't think I mixed and matched super well and I'd go as far to say that I probably accessorised a bit too much. 😅
I named the outfit faerie because I wanted something that was fairly similar to Mermaid. "Mermaid" was a bit too boring, haha. I feel the pearls on the skirt and the top sort of suited the theme. Somehow I think the braid in my hair adds to it too.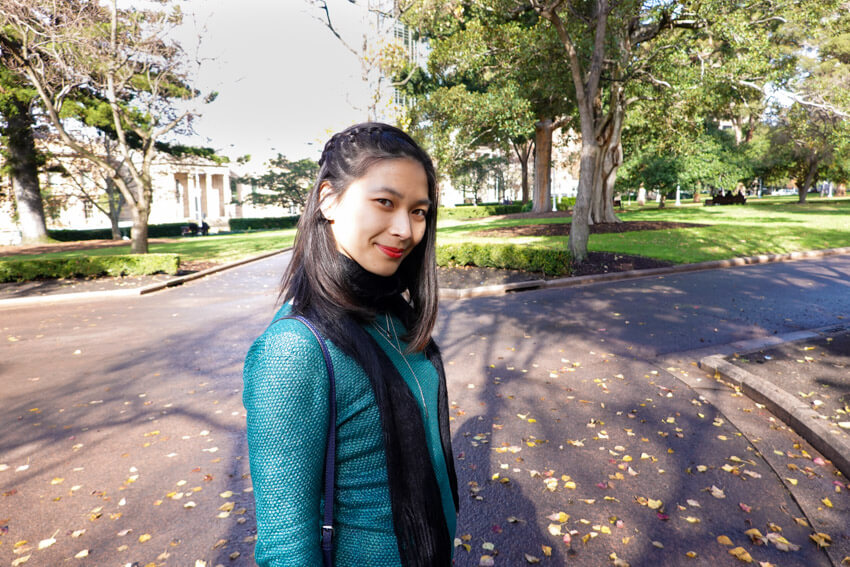 📷 All photography by Nick.
Outfit details