Fashion Friday: Bermuda | Turquoise, Ultraboosts, and chilled-out vibes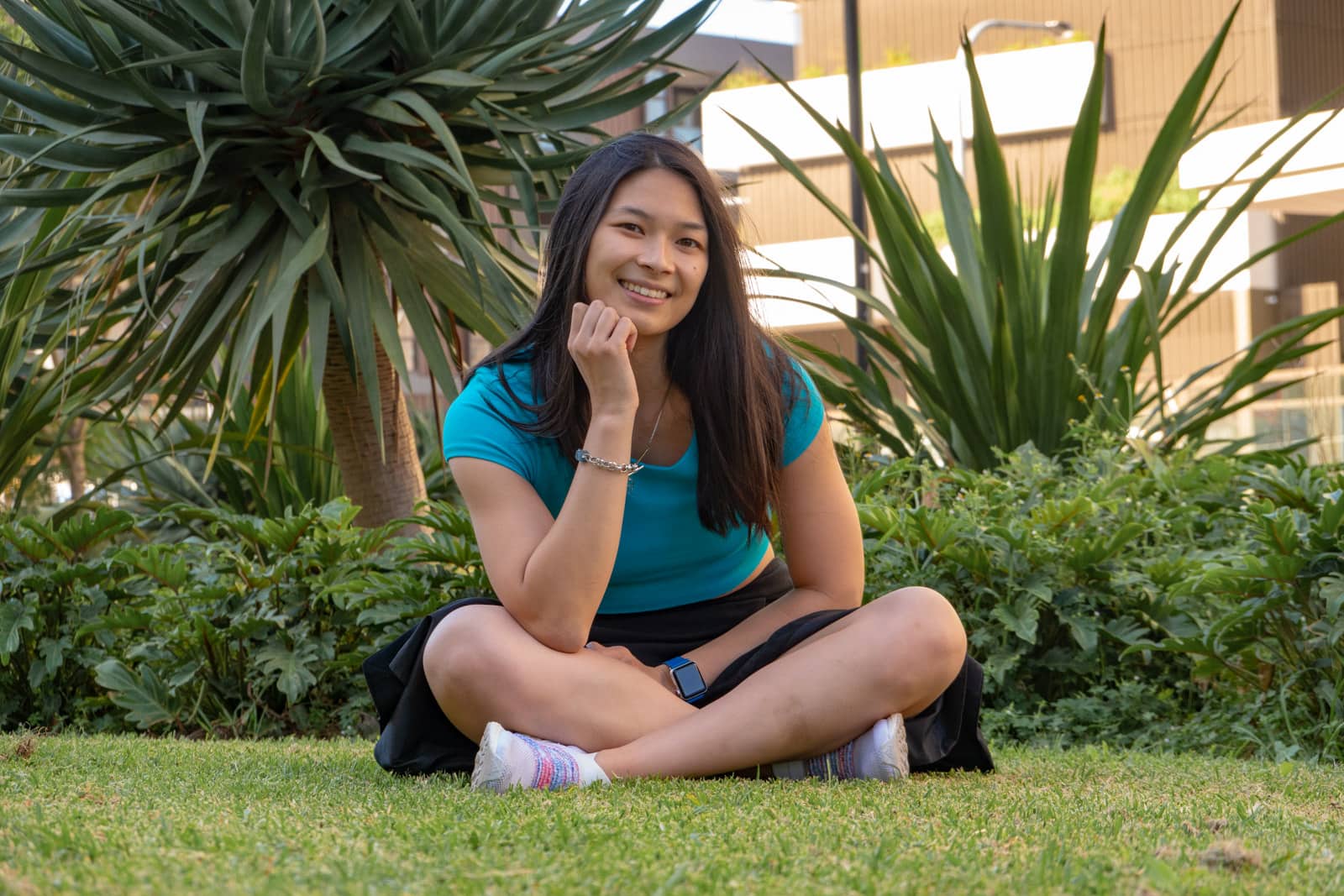 Ooh boy. Today's outfit has chilled weekend vibes. It's been both hot and cold in Sydney, I almost don't know what to wear. You can be safe by taking a jacket, or brave it without one, but it will probably get windy if you're out until the afternoon. You can wear long sleeves, but then risk being sweaty if you dar go outside during the day. What gives?
This was a basic brunch outfit. 👟 I'm wearing my white Ultraboosts (I said chilled vibes right?), which have been getting a lot of wear lately. They are just very soft and comfortable to walk, walk fast, and run in. The fact that they're laceless means I can just pull them on and off. No, I'm not sponsored by Adidas. 😜 But I did happen to get these shoes for $130 when they were originally $260. (I mentioned it in my recent spending and saving post.)
Also, I don't really need to talk about this skirt again since it made an appearance in a previous outfit! ☺️ But let's talk about the other highlights.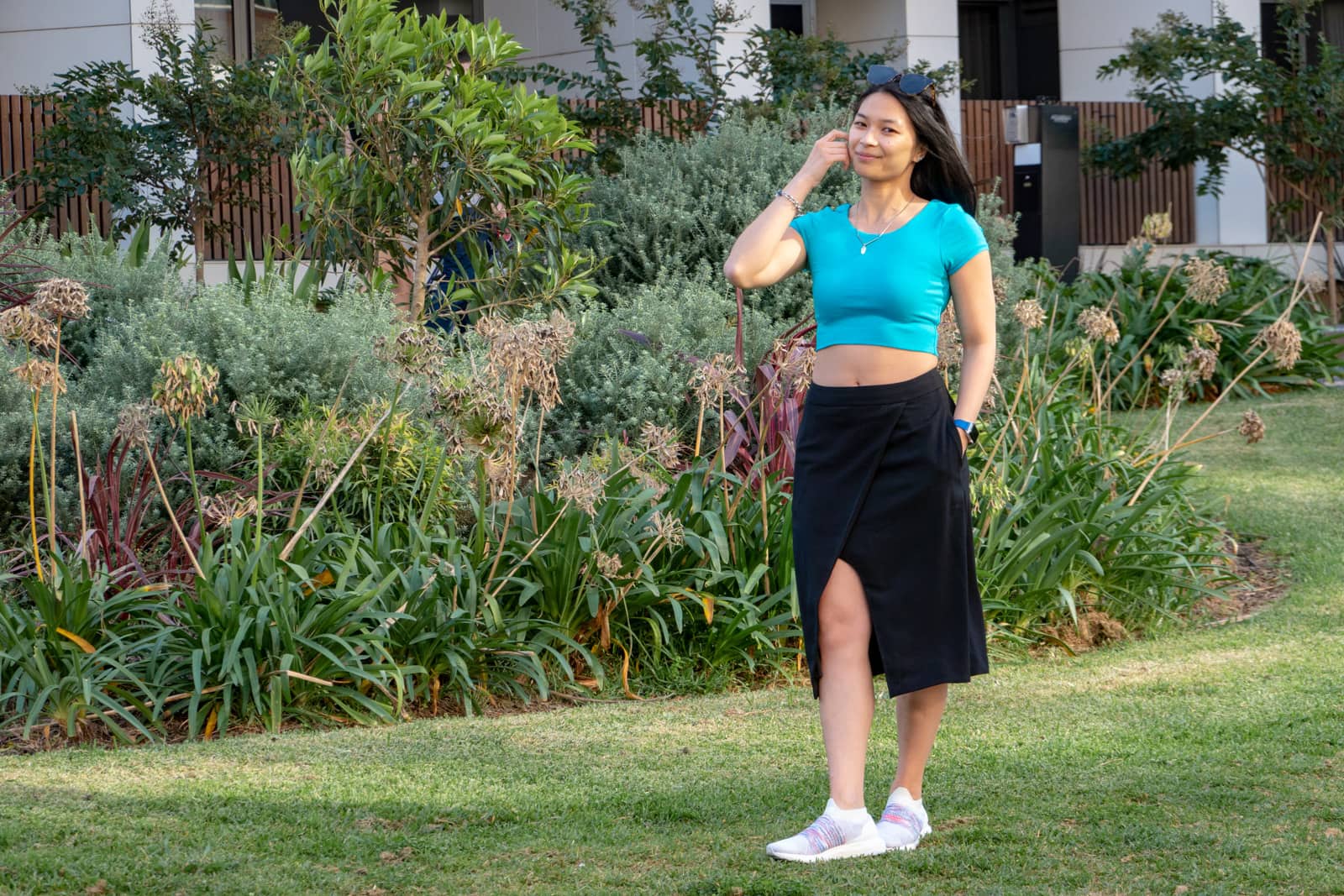 Turquoise top
I really like the colour of the top – it's a lot brighter than I thought it would be. In fact, before I share how I acquired it, can we actually talk about that colour? This is the kind of turquoise-aqua-teal (there is actually a difference between those three colours, but that is a story for anther day) that I used to use on my blog, before I redesigned it over a year ago. Suffice it to say, if you read my blog before then, you would know that I often called this turquoise colour "Bermuda" because it made me think of oceans, of the Bermuda triangle (lol), of tropical islands, and of some kind of summer holiday. Yet – I'd never worn this colour or owned anything quite like it in my wardrobe.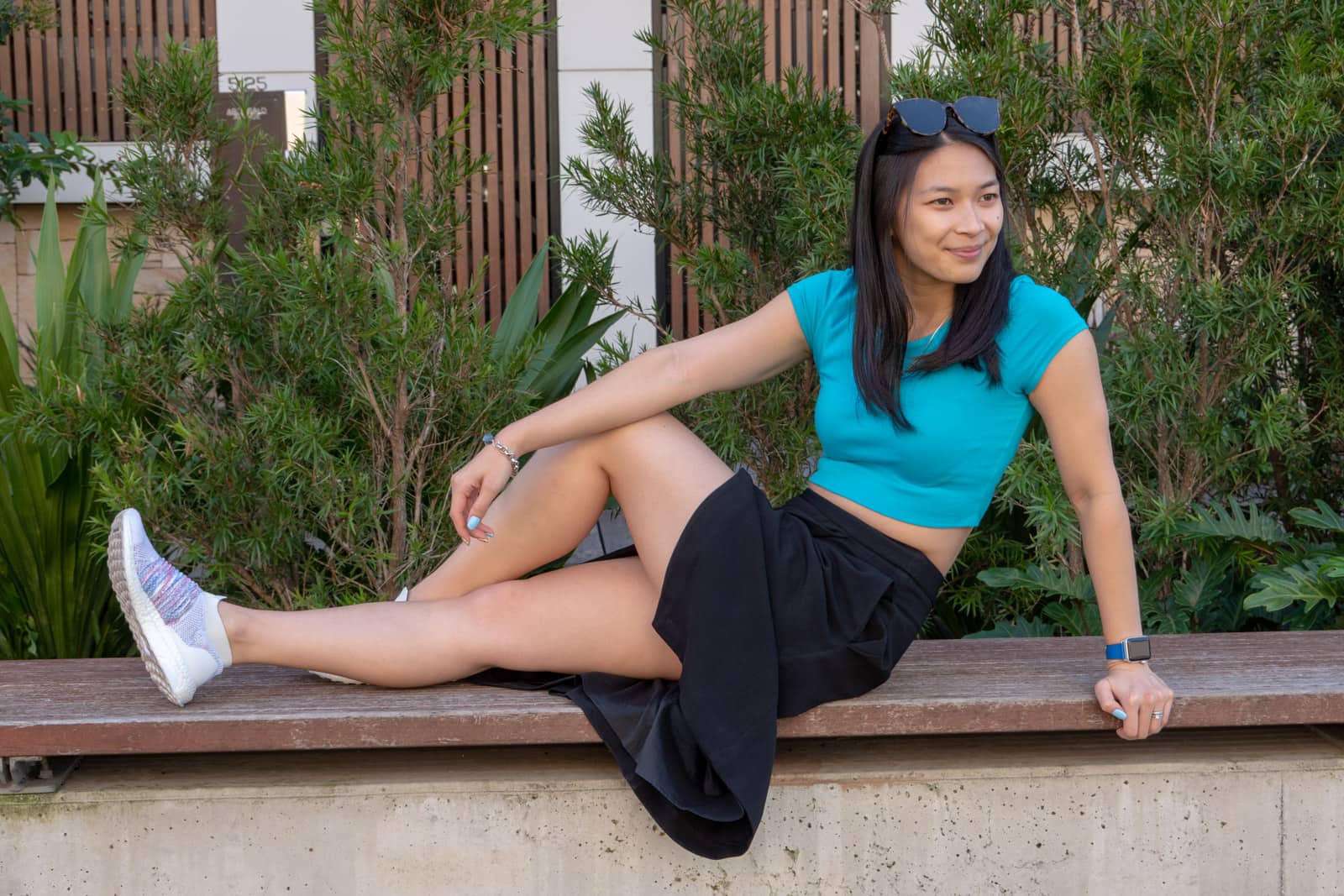 I bought this top from someone on Carousell, after seeing tops in a similar style. I like the style of the cropped tee – after buying the black crop top I wore in my Reversal outfit and liking the cut of the sleeves, neckline, and overall shape, I sought after something made by Kookai that was similar. Unfortunately for the past couple of years all their tops have been crew neck or square neck, and I wasn't after more crew-neck tops, and I don't really like the square neck top that much. I wanted a round or scoop neck tee that wasn't too high or low. Something more open-neck, basically. It also means that I can wear a certain length of necklace without it clashing too much with my top.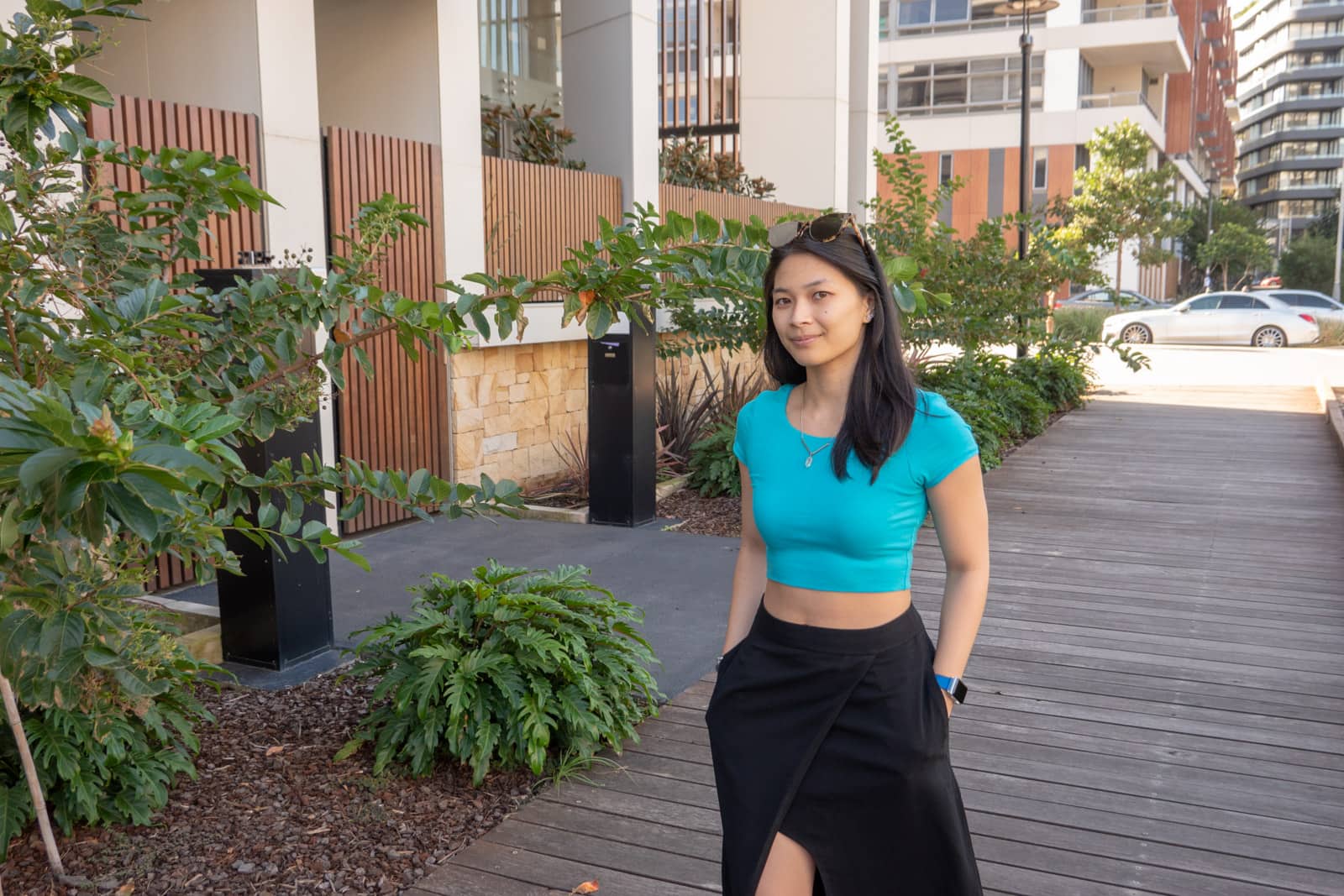 Someone was selling this top in a royal blue colour but it was sold before I got to it, so I grabbed this one instead. I do like the colour even though it's not specifically my favourite shade of blue. I am actually really, really happy with the cut, and the round and more open neck means I can pull it over my head without too much trouble. Perhaps my only gripe is that the shoulders are narrow – or my shoulders are too wide for this particular size. Still, I have managed to find this tee in different colours on second hand outlets, so I'm thinking of potentially getting more. At the same time I don't really need more tops… 😂 I'm 100% certain they will get a lot of wear, but perhaps I should think about if they should be replacing existing clothing in my wardrobe rather than adding to the mix.
Leopard print nail art
I must admit – and I may have mentioned this before – I don't like traditional leopard print a lot, but I found that I like leopard print that is bolder, where the spots have more defined edges, and where the leopard print itself is in unusual colours that aren't brown-and-black or black-and-white. So when I made the decision to have my nails painted with some kind of leopard print, I wanted to choose colours that I liked and that weren't traditional. After searching online for some inspiration I found that my favourite colours – blue and orange – were combined to create some nice nail art.
Despite having a handful of nail wraps I could apply myself, I decided to get my nails done at the salon, which I like doing before I travel so that my nails remain nice and strong for the whole trip. I decided to go all out this time, showing the nail artist a photo of someone's nails with a light turquoise and beige combination. I wanted to go for light blue, though, since I haven't tried a nice baby blue colour on my nails in a while.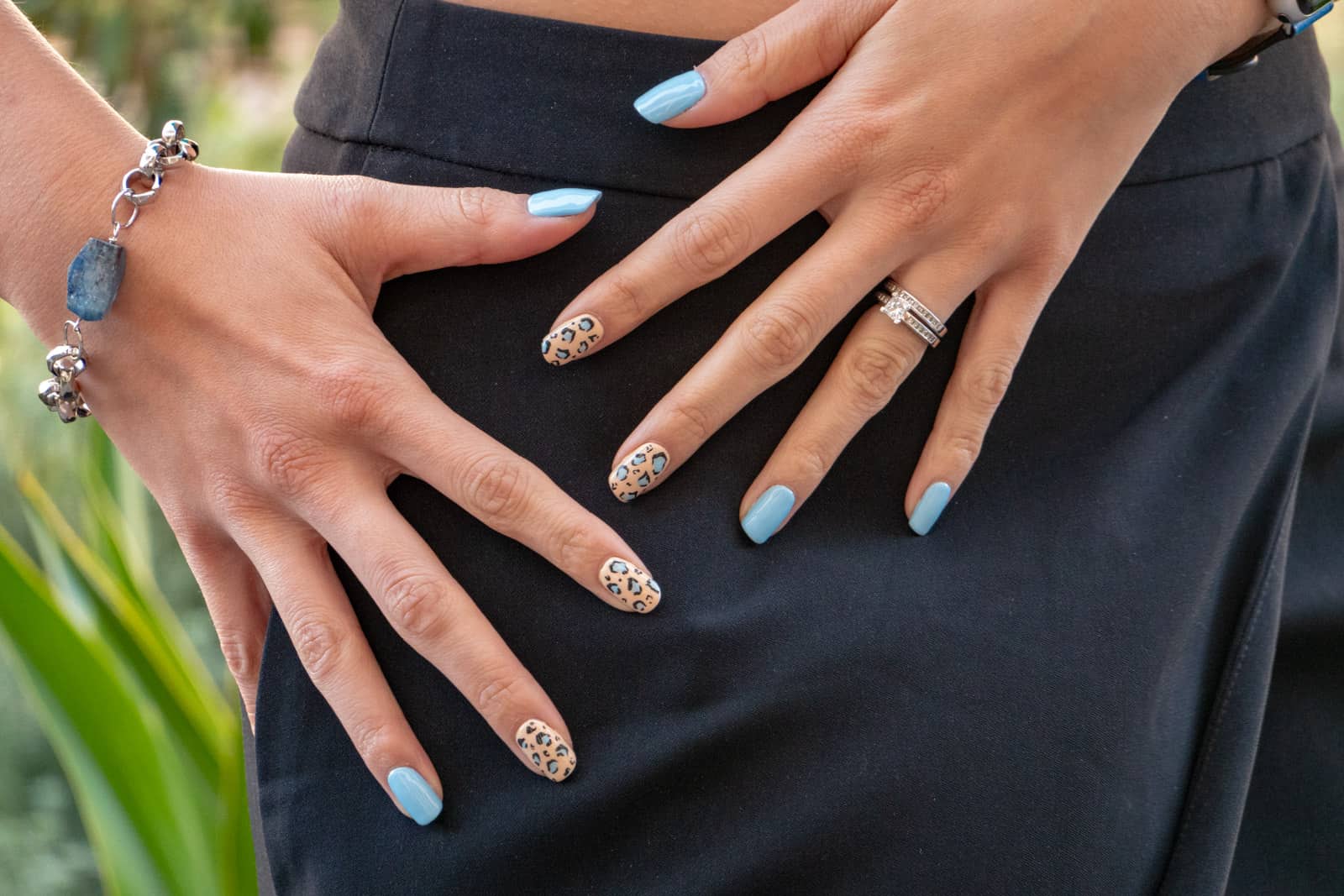 I had one nail artist do the base colours and a different one paint the actual leopard spots. The one who did the nail art was incredible – she did it so fast and without very much thought. She must have either done a lot of leopard spots on nails in the past, so had a lot of practice – or is just damn good. I have such admiration for anyone who can do nail art. It's basically like a traditional artist but the canvas is a nail rather than a piece of paper. 😍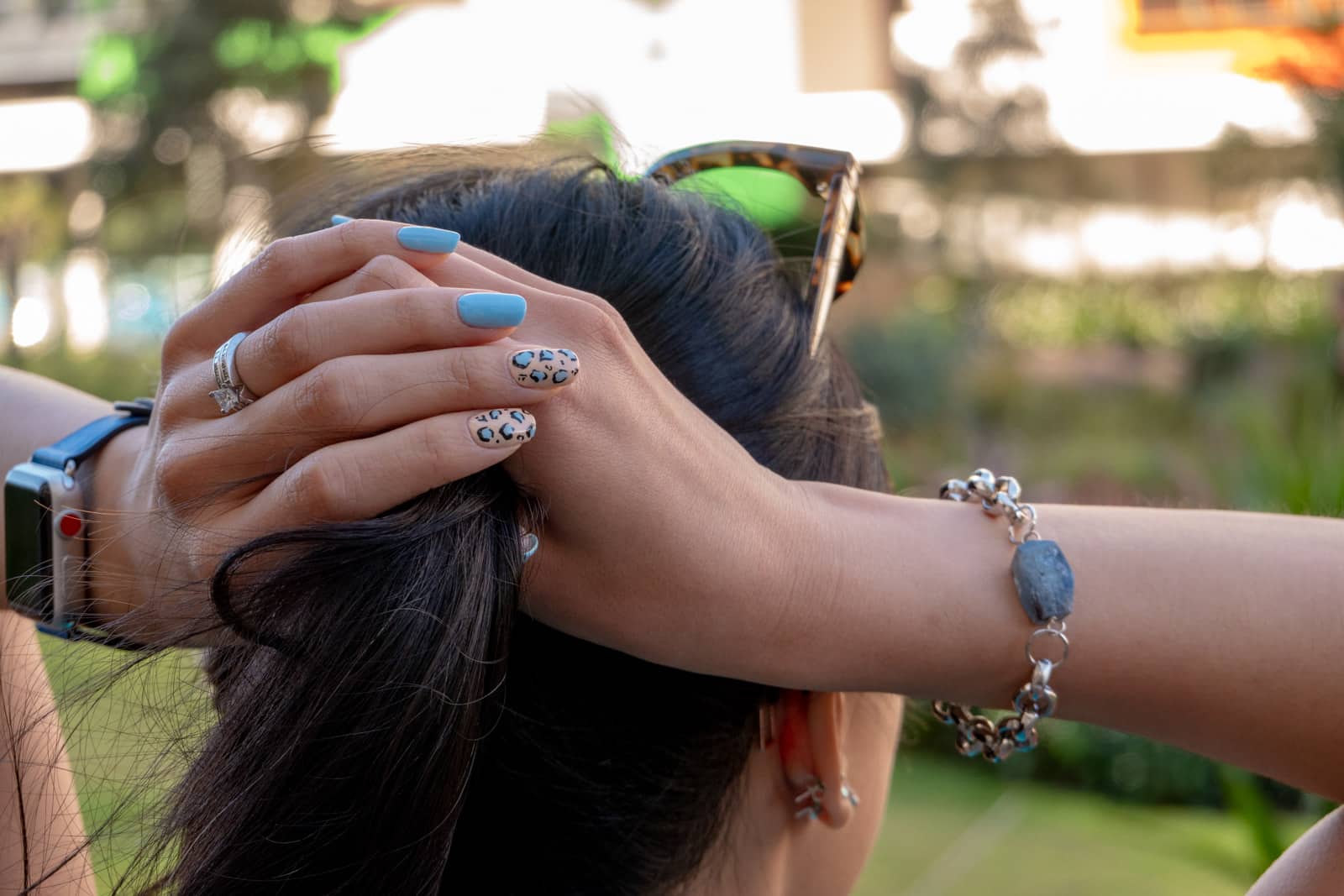 I am really pleased with the result! Of course it cost a fair bit extra to have the nail art done, but I generally enjoy the experience of having my nails painted by someone else. I go to the same place to get my nails done and they do a fantastic job and I'm always pleased with it. I used to be rather cheap about things related to beauty, but over time (and I think part of this has to do with being a minimalist, living intentionally, and more mindfully) I've come to understand that I'm paying for someone's services, and I am 100% happy to pay for that when I can appreciate the work. ☺️
Ball-back earrings
When I got my snonch piercing I settled on a silver piece of jewellery with a baguette-style stone setting. I chose it knowing that it suited me well, and that the extra cost for a piece of jewellery that I would never want to change was worth it. After that, it made me rethink my existing piercings. I have been going for more edgy minimalist jewellery recently, but I didn't like that it wasn't matching my snonch piercing.
I dug into my collection of earrings that I hadn't worn in a while, consisting mostly of cubic zirconia studs that I didn't enjoy wearing anymore. But after looking at old photos of my ears and earrings, I think that silver jewellery with stones and jewels suit me better and look nicer on my ears compared to basic metal shapes.
I didn't particularly like the "stabby" traditional butterfly-back earrings because they have a tendency to pick the side of your head where they stick out at the back. Getting my snonch piercing also made me look into getting ball-back or labret-back earrings, so I hunted on Etsy for ones at an affordable price. Although I try to go for steel or titanium earrings because of reactions to cheap metal and even sometimes silver, four of my lobe piercings are over 15 years old while the others I've had since I was a kid. So I was fine to take the risk in the case something was incorrectly advertised as steel.
I ended up purchasing a few ball-back earrings from a seller on Etsy who was selling them quite cheaply compared to other sellers. I honestly didn't want to spend that much money for fear that the earrings wouldn't work out, so I spent a small $30 on three earrings that I could wear in some of my lobe piercings.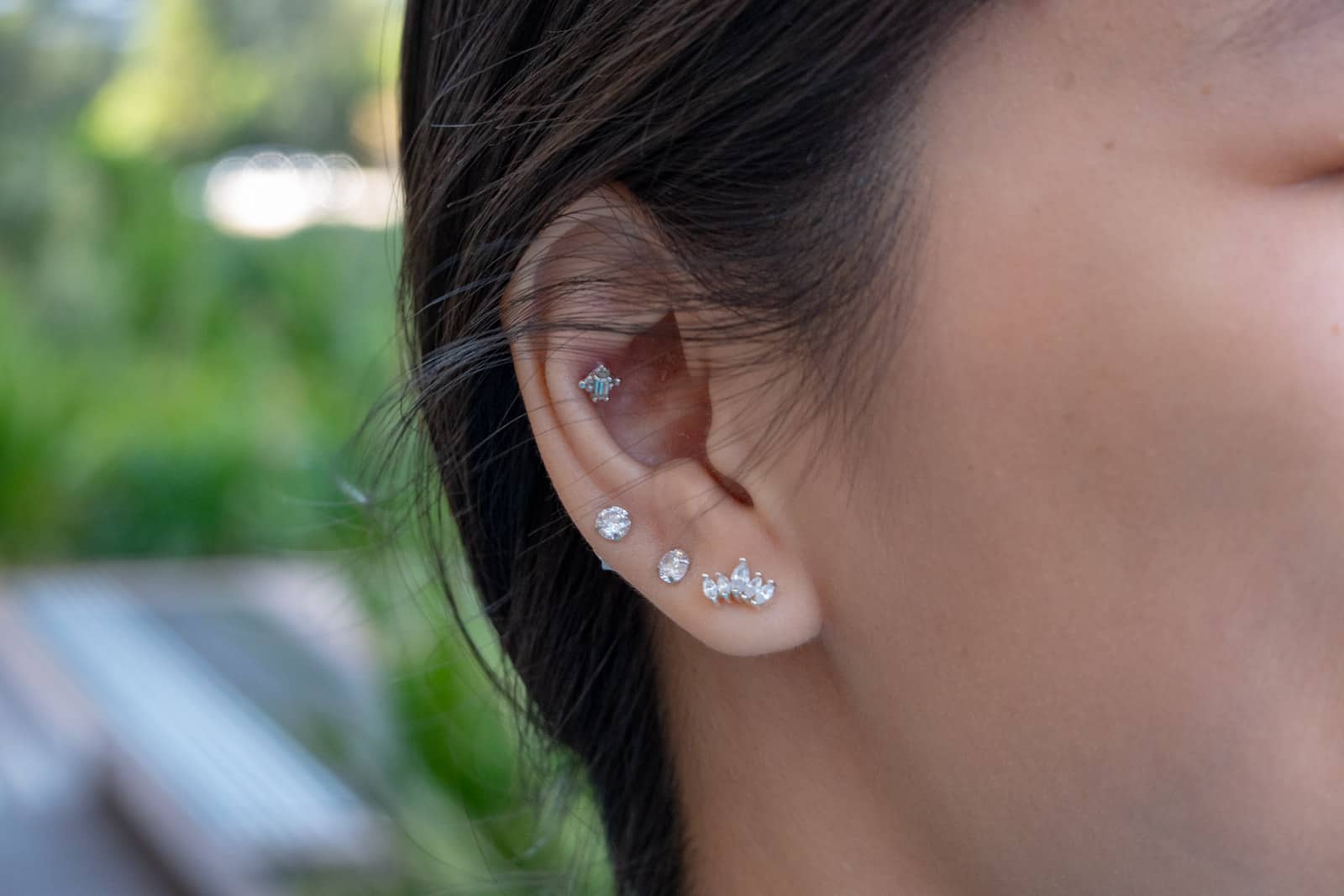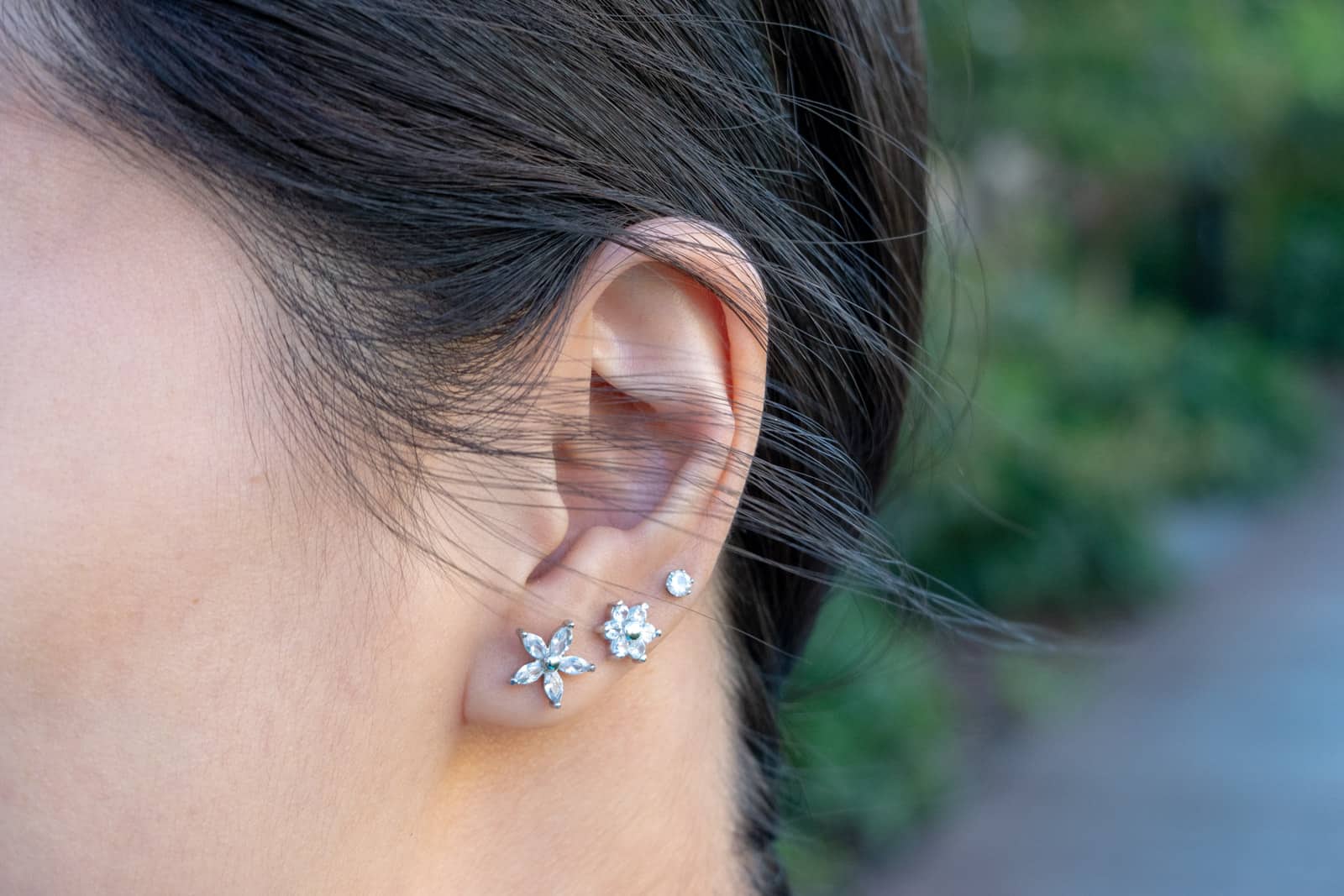 So far it's been a few weeks, and the earrings, which were advertised as steel, have not irritated my ears at all. I've worn them to bed and in the shower (I keep my earrings on all the time). One of them seemed to be a millimetre thicker than advertised, but I didn't have too much trouble putting it into my piercing. 😊 I found that the ball came loose on one of them after I woke up one morning, but once or twice a day I just check that they are secure, and maybe just before I jump in the shower as well. I am really happy with them!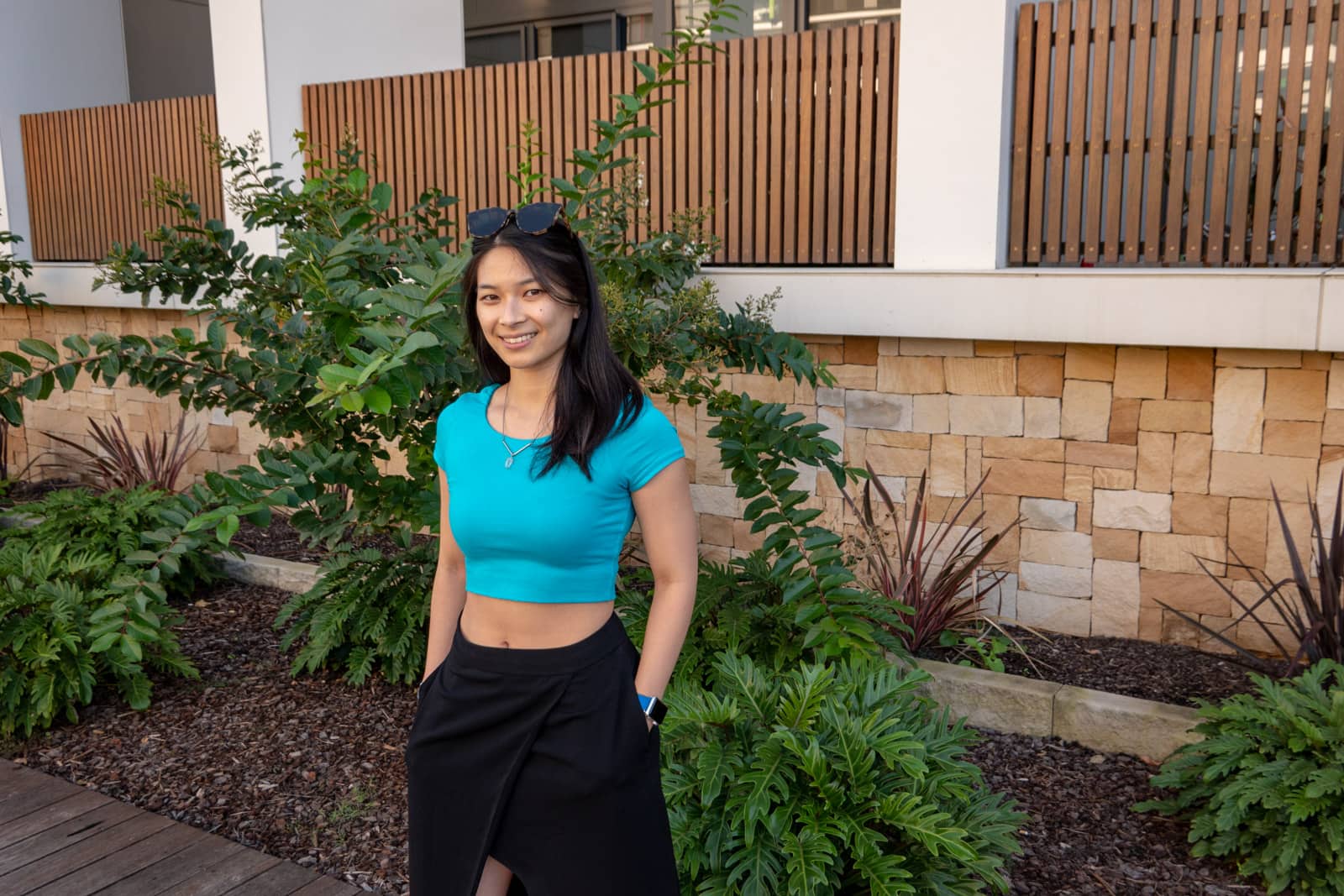 ---
Outfit details
Colophon
📸 All photography by Nicholas Cooke. (Sony RX100 VI)
We took these photos in a small dog park near where we live. I thought it would be a nice place to get some shots, but it's probably a little more interesting in person and doesn't look that interesting in photos. There is some building construction happening nearby too. It does have some nice plants though. 🙂
Can you believe I have never named a Fashion Friday outfit "Bermuda"? As I mentioned earlier in this post, I've simply never owned an item of clothing in this colour that I often called "Bermuda" especially when this colour formed the branding of my blog. So this is purely the reason why it's named so.