Fashion Friday: Apollo | black A-line midi skirt
Hey there! Fashion Friday disappeared for a whole month while I was busy with Devcamp, was essentially down in the dumps 😰, and really didn't feel like writing. You can probably spot that there were a few gaps in what I launched in 2019 as my twice-a-week schedule. But I was really keen to post more outfits, so here we are!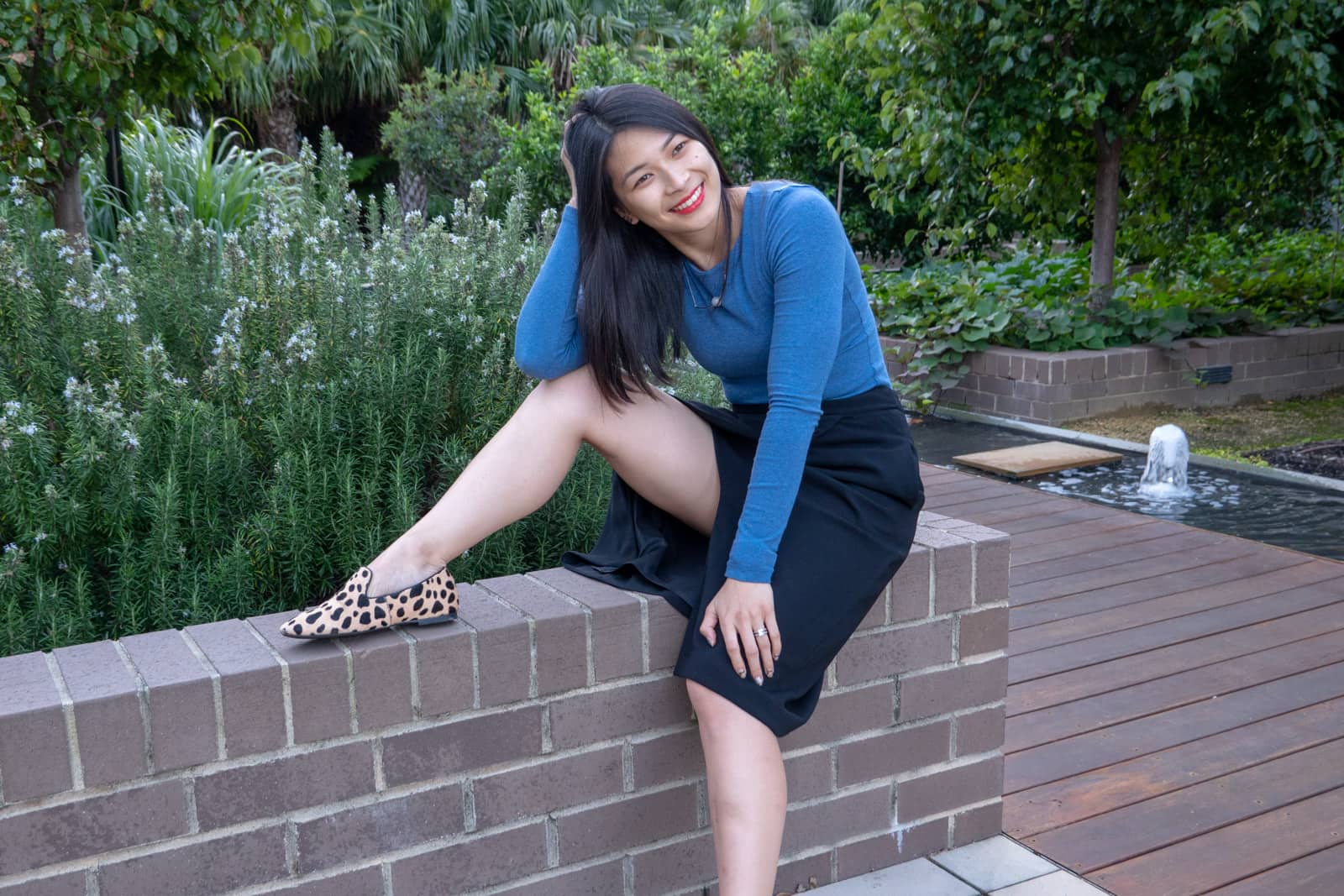 Wardrobe basic/staple: Indigo blue top
I bought the blue top almost a year ago from Kookai after searching for some good quality basics. It was on sale and I had wanted to get a cropped version but they didn't have one. I really liked the colour, but they didn't have any other tops at all in this colour. Since I was absolutely sold on the colour and I was getting a pretty good deal, I bought it.
Not too long after that I realised it was the same colour as a cashmere sweater I bought from Uniqlo, and I felt pretty silly that I now had two items so similar in colour. I ended up not quite wearing the cashmere sweater as much, and successfully sold it on Carousell a couple months ago. I have been using the app a lot recently to buy and sell clothes and both experiences of buying and selling have been largely positive.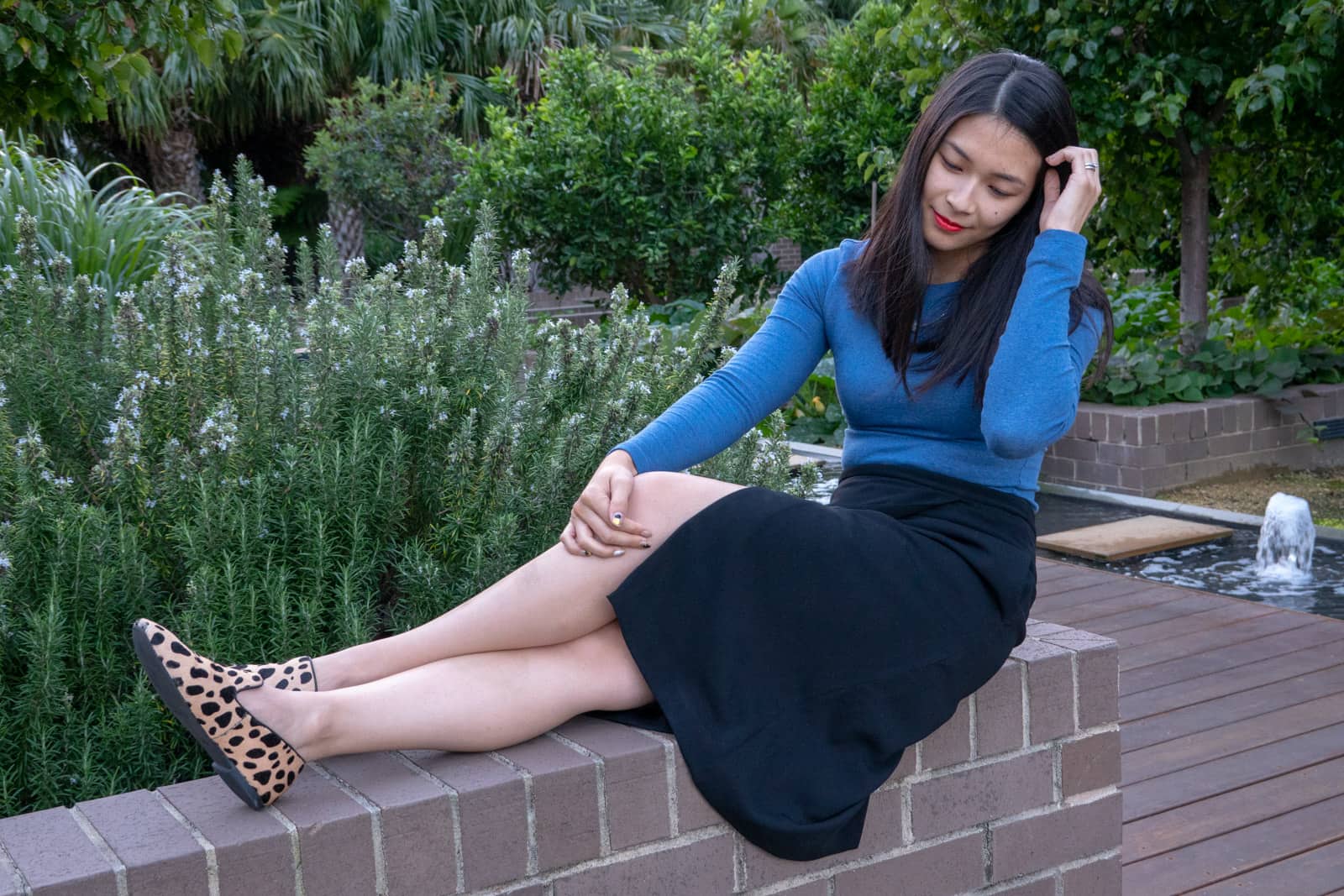 I also happened to buy the same style top, but cropped, and in a green colour, a couple of months after I bought this one. I actually didn't end up liking it that much, both because I don't have a lot of green in my wardrobe, and because the cropped length ended up being a bit too cropped for my liking. So I'm a little glad I didn't end up cropping this one myself, LOL.
I have been wearing long-sleeved tops all week, and I've really enjoyed it because I have been dying to wear some of the things in my winter wardrobe. My winter wardrobe is much smaller than my summer one, too, so I hope I don't exhaust of all my winter things as quickly as I did with my summer things! Also, the main reason I am looking forward to it getting colder is so I can wear some new coats I bought, haha. One of them is bright orange and one of them is blue – obviously I will be showing them off in future Fashion Fridays!
Scouting a second-hand midi skirt
I bought the skirt from a seller on Carousell. I had been searching for an A-line midi skirt for some time, because I had started to get annoyed with the lack of movement that short, fitted skirts allowed. Having big legs often makes skirt-wearing difficult when the skirt isn't long enough, so I wanted to experiment with longer skirts. I was always under the impression that as a short person (5 foot 2, 158 centimetres), I always had to wear shorter, above-the-knee skirts to elongate and show more of the leg. But I thought, fuck that – rules are meant to be broken, and I'm sure I could look shit-hot with a longer skirt. 😂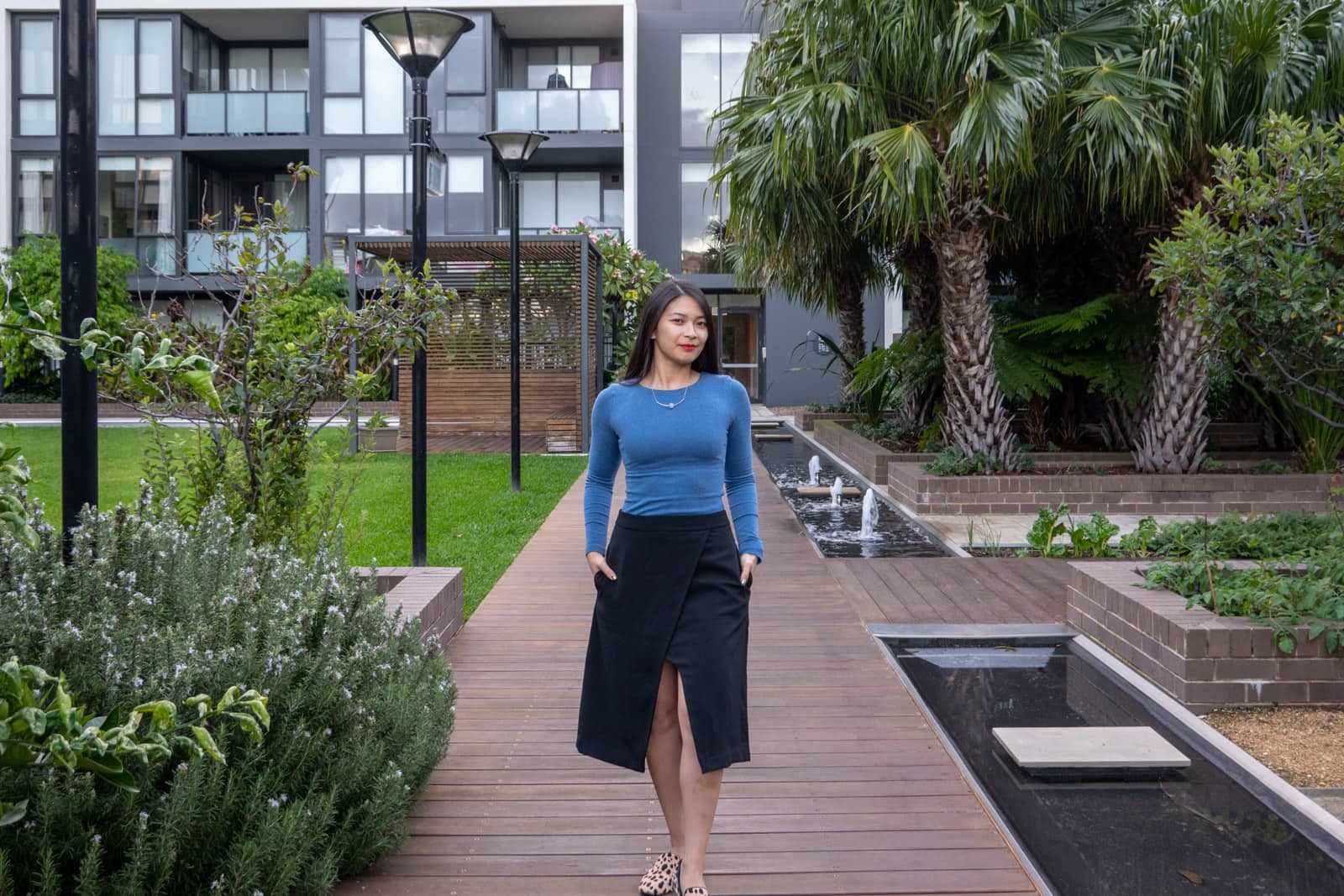 The skirt does have pockets, although they are rather shallow. I thought about getting them altered and making deeper pockets, but I feel like that might encourage me to add more bulk to my pockets and I am not really down with having bulging pockets in what I'd consider is still a fairly structured skirt.
I like the slit in the skirt because it shows a bit of leg in a way that is not too inappropriate, and still provides enough coverage. It's super comfortable to walk and move in, and doesn't really get in the way. Overall I am really happy with it and I consider it a lucky find. Since trying to buy less new clothes and more second-hand clothes, I often find that it's easy to buy new because stores tend to have everything. But because of differences in trends and tastes, I find that a lot of what is in fashion stories these days is really not to my liking. It was thus very difficult to find something that you'd think is as basic as an A-line skirt. And it was equally as hard to find it in second-hand markets, but I am glad I did.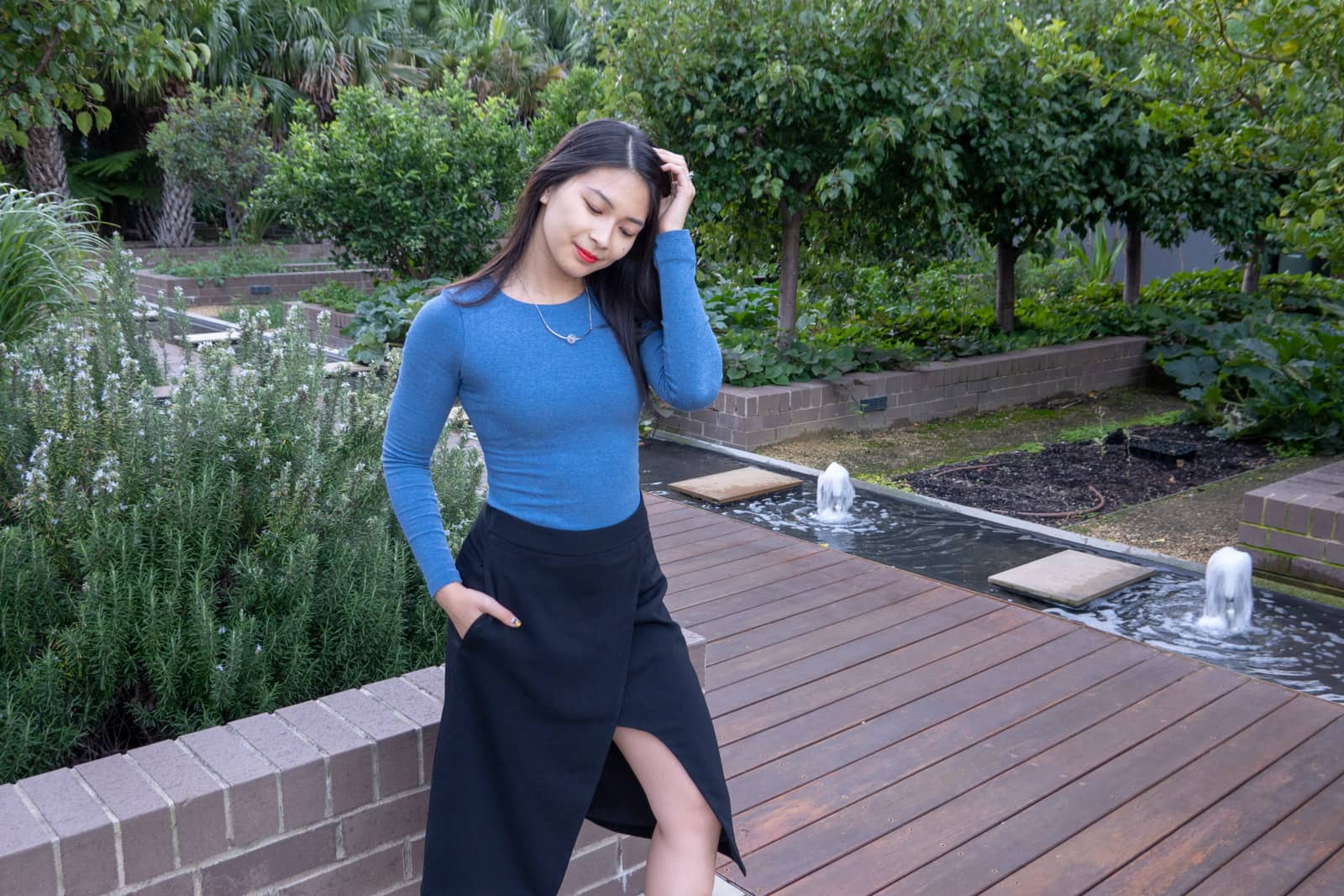 I like the skirt so much! I fact, I liked it so much that I wore it every day for a week. It was an interesting experiment I am considering writing about later, but basically – I debunked the concern everyone has with outfit repeating. No one made any comment about me wearing the same clothes, and also didn't make a comment that I smelled bad (which I didn't!). Essentially, they didn't notice that I wore the same thing. And if they did notice, then they didn't care or had nothing negative to say. 👏 Rules were made to be broken, y'all.
Put on your dancing shoes…
When I first bought this skirt I had a slight concern as to what shoes to wear with it. I had read a really hot 🔥 tip somewhere that French women follow an easy-to-remember rule for what shoes to wear with their clothes:
If the hem is above your knees, wear flats. If the hem is below your knees, wear heels.
This supposedly makes sure your proportions are correct. So of course, in realising that I was making the switch to more midi skirts, I was internally horrified that I would have to wear heels to look like I was in proportion.
Then I thought, you know what, fuck it. I'm just going to own this look, and I don't have to wear uncomfortable high heels if I don't want to. Again, rules were made to be broken. 🤪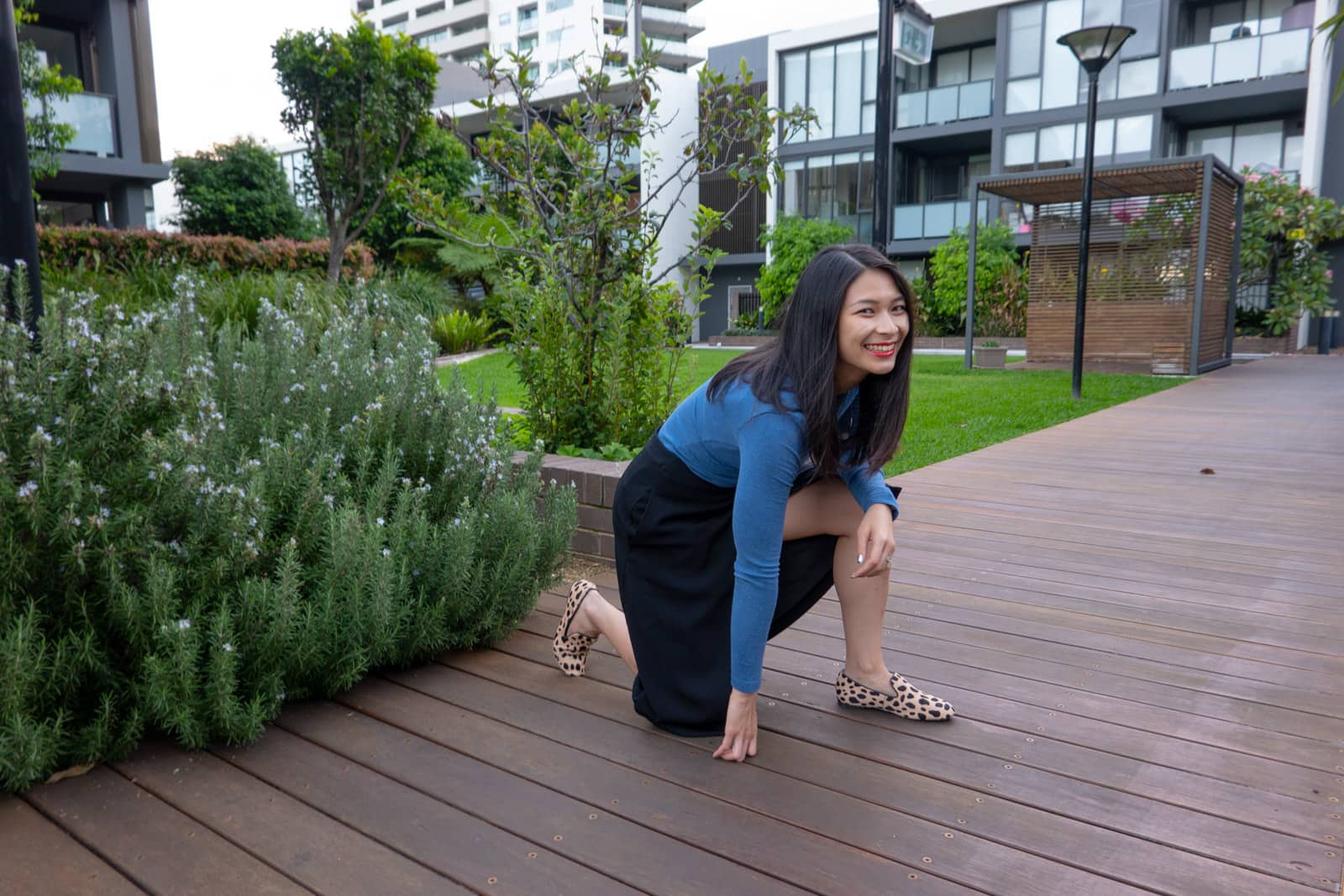 So I wore these loafer flats because they are comfortable, and have neutral colours that pretty much go with anything, even though the print makes somewhat of a statement. That said, I thought it went very well with this outfit – it complemented the black skirt, contrasted with the blue top, and added a bit of pizazz to a simple outfit.
Accessorise!
I put on this necklace – one of my old favourites – because I find that it pairs so well with a crew neckline. It's simplistic and the curve complements the neckline.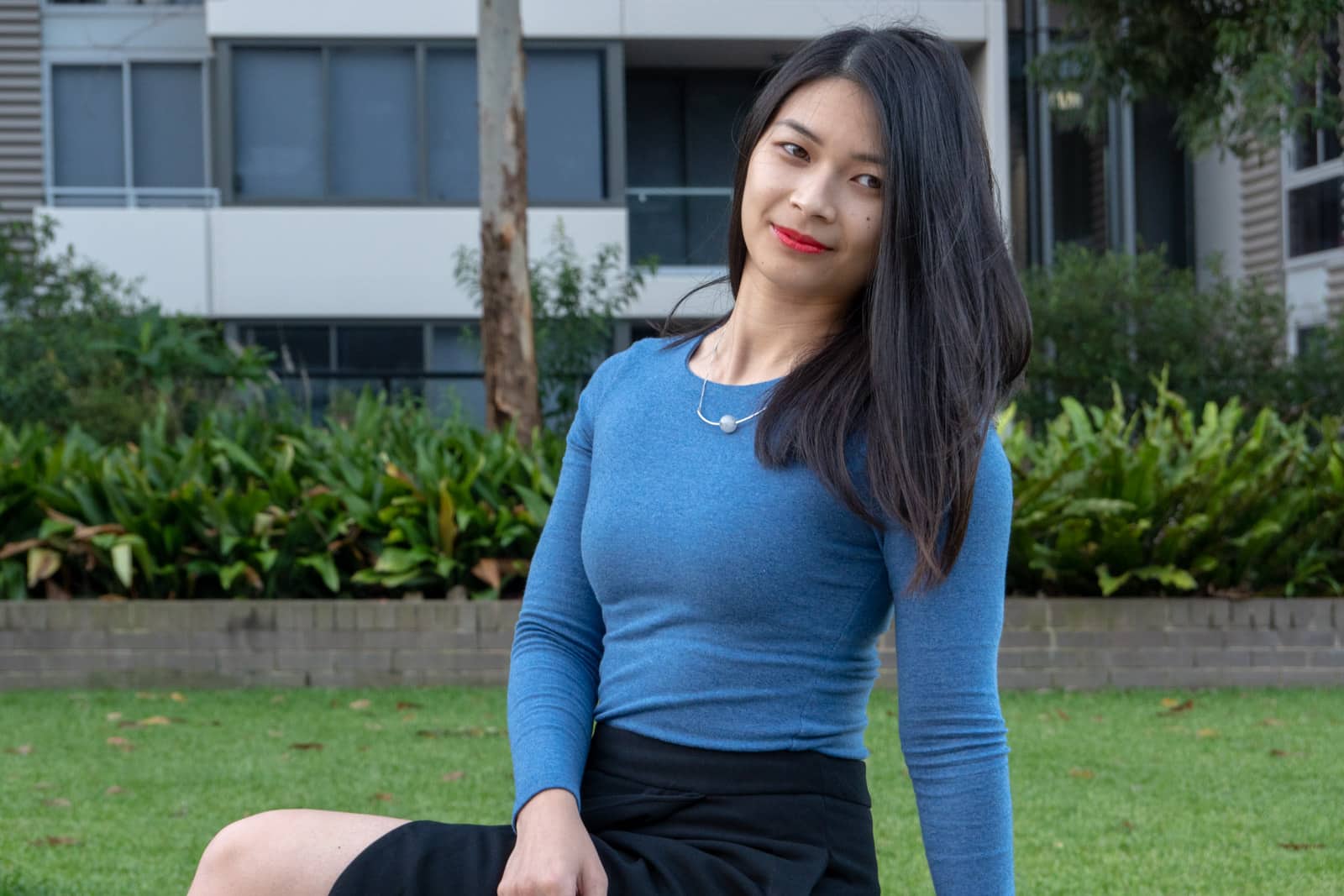 I got the necklace from By Invite Only, which I am proud to say is my favourite jewellery store because of their delicate but very standout pieces. You can use my referral link for 15% off full-priced items on the store. ☺️ They don't have this style anymore but they do have some beautiful pieces in their current collection, which would go well with anything, the same way this necklace does. 🙂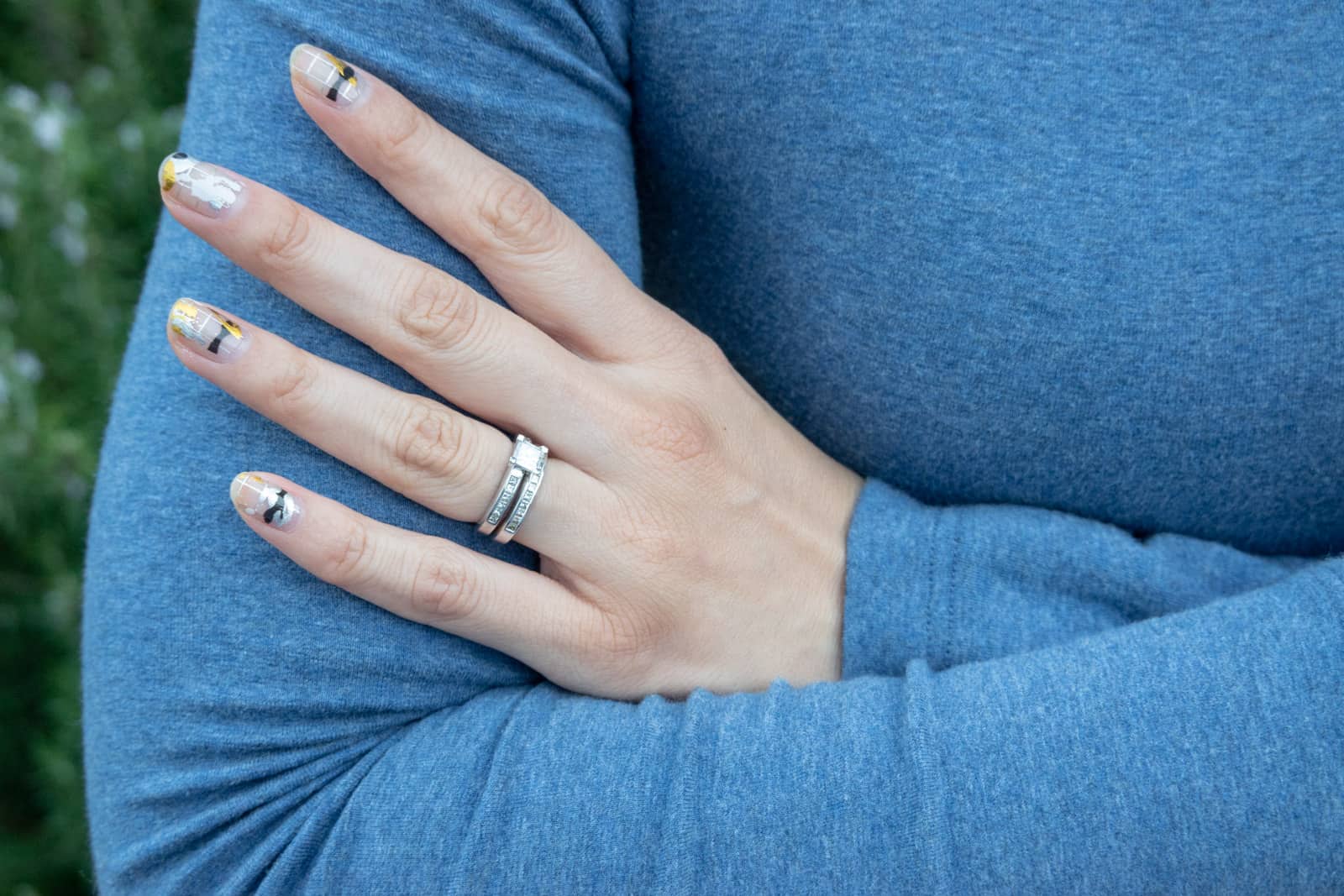 I put on a nail wrap design with a transparent background a couple of weeks ago – these nail wraps have held up quite well. I like that they have a splatter design with silver, white, black and gold. I feel like all these colours work in a way that matches with almost anything I wear. I used to wear funky nail wraps with any design, but now I am more conscious of them being neutral and matching with my clothes.
I haven't been doing much with my earrings lately since getting my snonch piercing. You can actually see it in some of these photos which is really nice! I thought it was kind of hidden, but I like that it can be seen amongst my other piercings. I have been re-thinking the way I wear earrings since I got that piercing. I used to have my ears so cluttered, with jewellery that barely matched or made my ears seem crowded. I'm trying to be more conscious of what jewellery I wear so that my ears look more balanced.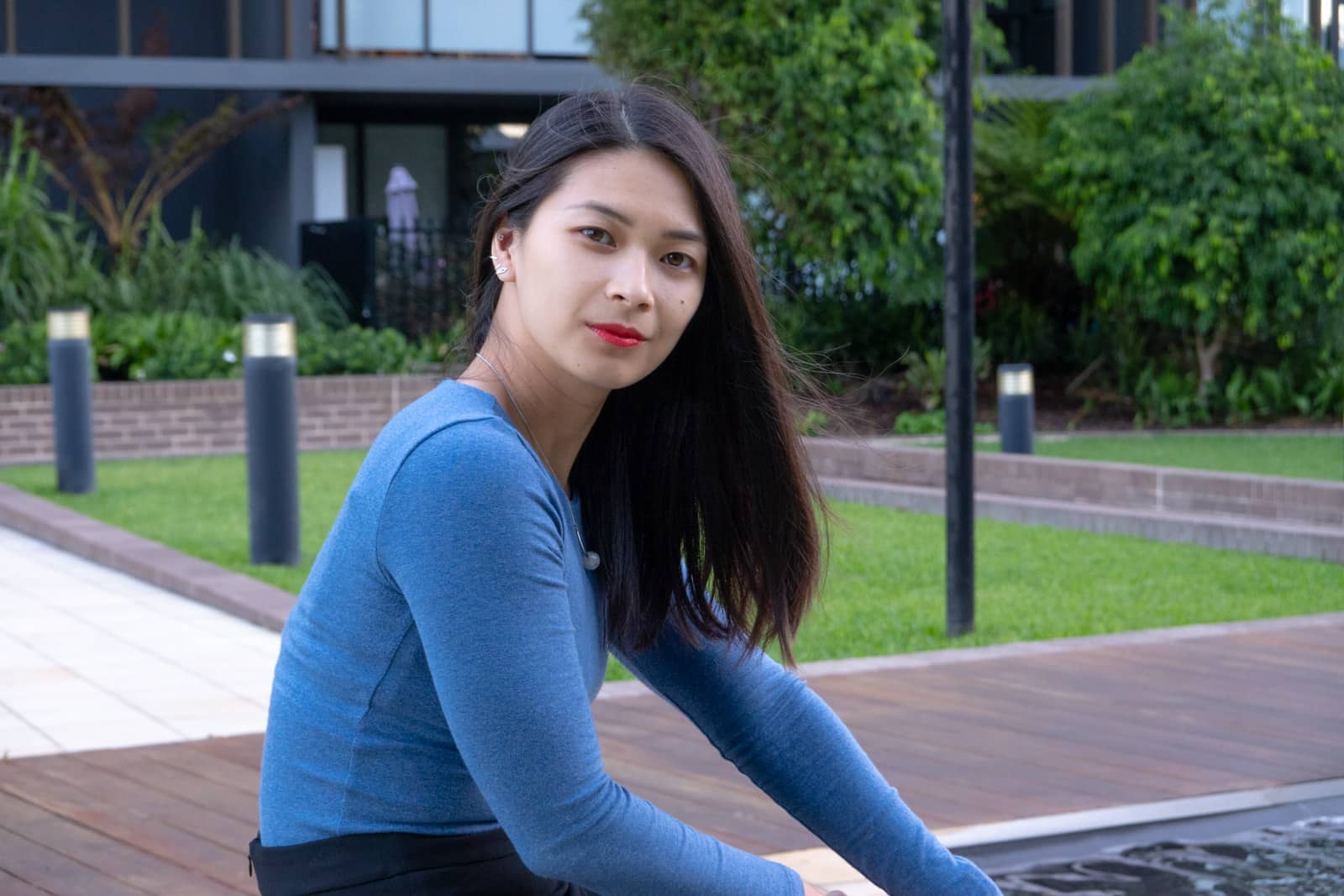 If you have any ideas or know about curating jewellery for ears, let me know! Although I do plan to get another piercing or two in the future, I want to organise my earrings and wear earrings that complement my ear more. 💎
---
Outfit details
Top: Kookai (High Crew top in Indigo Marle – shop in Navy)
Skirt: Kookai (style unknown, purchased second hand)
Shoes: Wittner (Layano Loafer in Giraffe – no longer available – shop similar)
Necklace: By Invite Only [referral link for 15% off] (Stainless Steel Gwyneth Tourmalinated Quartz Necklace – no longer available)
Nails: Personail (Metallic paint transparent nail wraps)
Colophon
📸 All photography by Nicholas Cooke. (Sony RX100 VI)
These photos were taken in our apartment sky park, which is resident access only. We had wanted to try a new park area in our neighbourhood, but at the time we took these photos the sun had started to go down. It was hard to find a time to take photos since Sydney has been enduring some heavy rain recently. The odd thing is, it rains and is really cold in the morning and the temperature climbs by 9 degrees (Celsius) in the afternoon. 🤯
This outfit was named Apollo after the Last Dinosaurs song of the same name. I had not listened to their music in quite some time, but Apple Music reminded me of them when the service rejigged my Favourites playlist and tossed a song by them in there. Their album, Wellness, which Apollo is on, is described as having languid, chilled-out vibes. I can only imagine that it goes well with the muted indigo of this top and the unusual weather we have been having lately.