Hey Girlfriend!: Pariss Athena
I'm excited about today's interview because I am interviewing someone who is working on some exciting community-related projects! In the spotlight today is Pariss Athena. Pariss is a front-end developer, creator of the #BlackTechTwitter hashtag and movement, and founder of the #BlackTechPipeline platform. I first noticed Pariss on Twitter when her tweet, hashtagged with #BlackTechTwitter, went viral.
What does Black Twitter in Tech look like? Here, I?ll go first! ?????

— Pariss Athena | Founder of Black Tech Pipeline (@ParissAthena) December 1, 2018
It garnered thousands of responses from black people in tech, and thousands of retweets and likes. When I read through the responses through that thread, including Pariss introducing herself, I felt really happy to see people sharing their stories, getting hundreds of likes, all getting to know each other and recognising each other. In my experience working in tech, I have worked with only a couple of black people. I knew there were more out there who deserve more visibility and recognition, and Pariss's Twitter thread brought a lot of people together and created a community. I've no doubt that many people who replied to Pariss were happy to see more representation of their background in tech.
I followed Pariss on Twitter pretty much immediately. 😊 I was so sure she would be doing more amazing things after her tweet went viral. I reached out to Pariss and she was willing to do an interview – thank you so much Pariss! This is Pariss's story, and I hope you enjoy reading.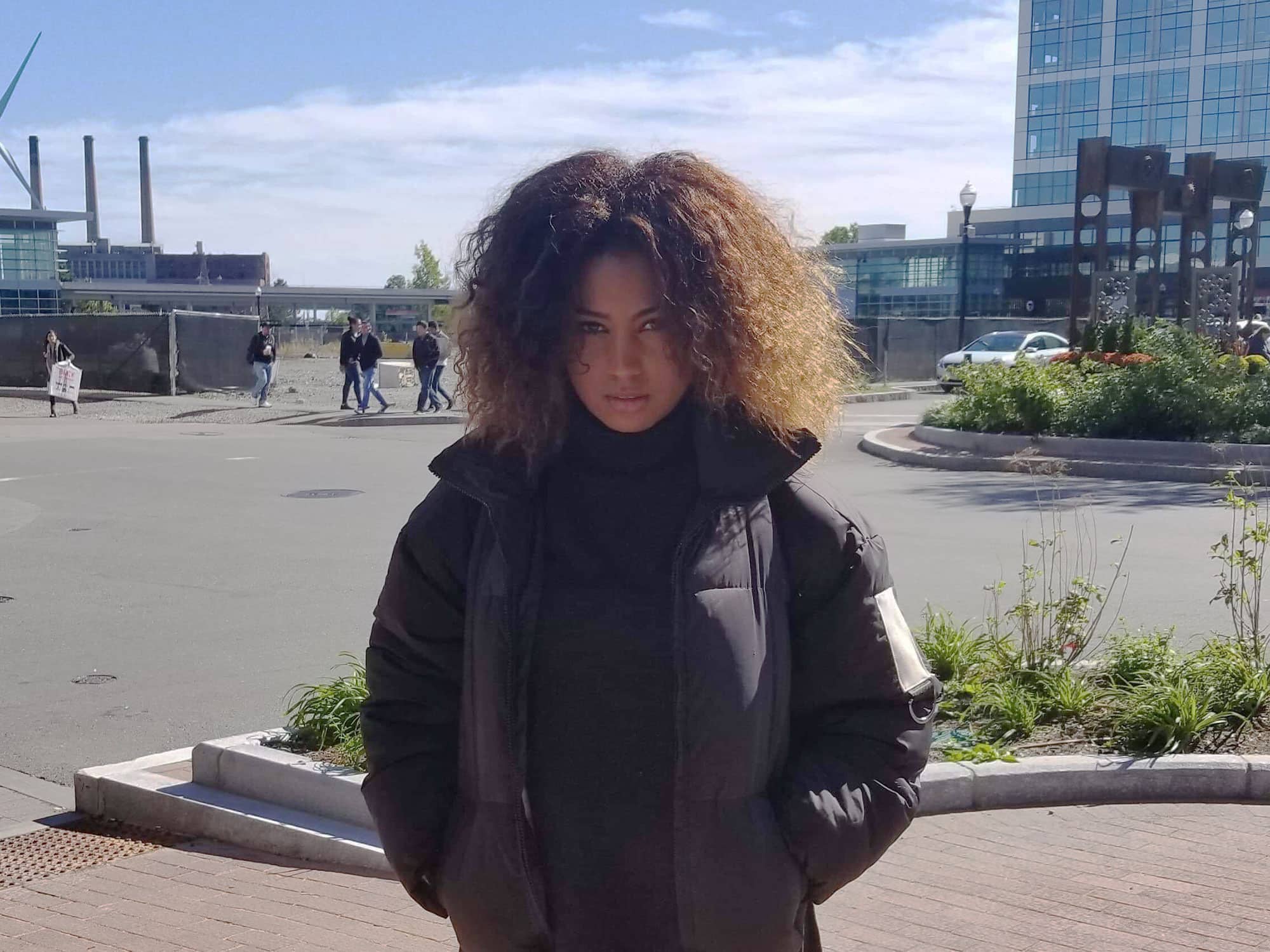 ---
Hi Pariss! It's lovely to be able to get to know you! Let's start by talking about your viral tweet (yup – that tweet!) that invited black people in tech to publicly introduce themselves. What encouraged you to write the tweet, and did you expect it to get the reach that it did? I mean, you basically created the hashtag #BlackTechTwitter! 🙌
Hey Georgie!
The reach that my tweet got was very unintentional and unexpected. My intentions were to just see black people in tech who followed me. Mind you, I think I only had 500 followers then. Instead, I got black people in tech from all around the world to respond. Those couple of days where the tweet was going viral was absolutely insane and a feeling I'll never forget. I was overwhelmed with shock and happiness! It even took me a while for me to realise what I had done. What was supposed to be just a simple tweet, turned into a movement that brought a community together. I couldn't be more proud.
I work in tech as a user interface engineer, and I honestly don't meet a lot of black people in tech. But from your tweet, it's apparent that there are many, and they're sadly not getting the visibility they deserve. A lot of coloured people in tech – not just black people – are fighting their own fight, but what do you believe the community can do to help you black folks out?
Ask, "why aren't there more black people here?" Make that question a frequent conversation. Speak to managers and HR and ask what they're doing to make the workplace more diverse and inclusive for black people. Ask them how you can help and suggest options for where they can start looking. Go to meetups, conferences and organisations who strive to diversify this industry with more black and brown people. When you hire black people, make sure that your company is inclusive and looking at everything through the race lens. Before speaking or acting on something, ask yourself, "would this be offensive? Would this make someone feel excluded?" Don't only pursue things for the majority of the company, think about the minority. Maintain a balanced and respectful culture that is welcoming and wants to understand people from different backgrounds, with different perspectives. Also, don't stop at just hiring one or a couple of black people. Keep going, keep trying, keep fighting.
You've been involved with a non-profit organisation called Resilient Coders, and kickstarted your software engineering journey there. What was it like doing the Resilient Coders bootcamp, and how did that help you get to your current role?
Resilient Coders bootcamp was one of the best times of my life. I am so grateful to have been able to participate in their program, it literally changed my life! To be clear, it was extremely stressful, difficult and brought tears out of my eyes a few times but it was all worth it because of where I am now, the connections and friendships I've made, and the support system I have. Resilient Coders is my family.
Okay, enough of the lovey stuff. Let's get down to my experience! I was in a small cohort of maybe 20 people who were all people of color. We learned HTML, CSS and JavaScript full time over the course of 8 weeks. We also got paid to learn so most of us were able to quit our jobs and solely focus on learning to code and getting assignments turned in on time. Our days weren't only full of learning to code, we also had speakers come in to talk to us about finance, being part of the tech industry and different technological roles that exist. We went to countless meetups, conferences, tech events and tours of big companies like HubSpot, Google and FB. We had lots of practice interviews and white board challenges, mentors who came in to help us with assignments. Resilient Coders did a lot to get us prepared for the real world but they also made it clear that if we wanted opportunities, we had to go out and get them. There wasn't much hand holding which I appreciated.
Leaving Resilient Coders and coming into the real world, being on a real tech team, was very different from a bootcamp experience. Going to bootcamp every day was so fun and exciting but walking into work is not the same. I feel this way because I am not surrounded by people who look like, or have much in common with me. I've always been surrounded by older white men, who are very cool, but it's nowhere close the same dynamic I had with my RC crew. What I took from RC and have applied to my dev roles are just coding and googling before asking for help. Otherwise, they are two very different experiences.
You've given back to the community in a number of ways – can you share some of them and how you encourage more young people to learn how to code?
We're building a platform for the #BlackTechTwitter community, called #BlackTechPipeline. This platform will consist of the main website which will advertise black businesses and services. We have a newsletter launching soon, as well as merchandise. I have lots of plans and a lot of people who want to contribute, help and take lead on separate projects that all revolve around making #BlackTechPipeline successful and impactful for our community.
I've been doing lots of talks and panels at different schools, speaking to young people about what I do and why having some sort of technological background is important. I explain to them that coding is very creative but also that tech isn't limited to coding. There are numerous industries within the tech industry that they can look into and indulge in. It's important for me to express the urgency in needing more black and brown people in this industry. My fear is that we will be left behind, so I want to expose them to how dope being in this field is, in hopes that they go down this path in one way or another.
I read your article on your journey going from acting into tech. I enjoyed reading it – you are a great storyteller. (I'm also 5'2, too. 😛) You wrote about your experience moving from Boston to LA, that you were an extra in some major films, and lead acting roles in short films, and it was obviously a dream of yours to make it big in Hollywood, even though it didn't eventually work out. You obviously still have a passion for acting, though – how does acting fit in with your hobbies at the moment?
Ugh, sadly, I don't act anymore. Not because I don't want to, but because I'm so busy. Luckily, I have an amazing and charismatic boyfriend who enjoys making super short cell phone recorded videos with me. They're mostly all genuine videos that we record just because one of us is always doing something silly or odd. That's my filming/acting fix for now, until I have time to get back to my roots.
There is often great pressure to keep up when it comes to coding and technology – things are moving fast, new languages are becoming more popular than old ones. It's often daunting, not just for people who are new to coding, but for people who have already been working in the field for quite some time, or have even made a career change like you have. What are your thoughts on keeping up with technological advancements and avoiding being fazed by the shiny new stuff?
I think it's important to have some type of knowledge on the latest and greatest technologies. Not so much that you have to dabble in them but at least read on them, understand what they are and why they're becoming so popular in the industry. You might find that this new technology is pretty interesting and you'd like to dabble in it. Maybe this new technology makes something you're currently working with even easier. I say, at least do your research and read. I get my technological news off of Twitter or Reddit.
Your younger brother was learning how to code at school and you went and supported him (also sneakily wanting to know more about what coding was all about). I also have a younger brother, and the older-sister-younger-brother relationship is a special one in itself – what is your relationship like with your younger brother?
Oh boy, me and my brother (Nico) have an interesting relationship. He's basically me – 14 years, as a boy but with slight contrasts. Nico is very sensitive and I'm more chill and not phased by much. We have fun together, at the most random times. We're both funny and sort of weird and animated. We both notice the same things and can look at each other and know what we both just saw. Of course, we can both also annoy each other but that's what it is to be siblings.
You're really close to your family and you do a lot of things together. Do you happen to also have a big extended family? What makes a great family outing?
I'm half black and half Puerto Rican.
My family is huge! I love my big, loud, crazy Puerto Rican family so much and I'm always excited when I know I'm going to see my cousins, aunts and uncles. The vibe is nothing but laughter, love and comfort. When we all get together, there is always food and drinks involved. We make fun of each other, bring up old memories, talk about funny things happening in our personal lives and we're always up in one anothers business. Also, I cannot forget how much we dance! Salsa, bachata, merengue. We blast Marc Anthony all night long (we are big Marc and JLo fans) It's this warm positive feeling that I get when I am around them but even my immediate family makes me feel that way. We're just super family oriented and I wouldn't have it any other way.
I am not in touch with my dads side of the family, but I am in touch with my dad. He had a very rough upbringing and has distanced himself from his family so I've never really been around them.
You said you love writing poetry – so do I! I'm a fan of free form poetry and internal rhymes, but what inspires you to write poetry or what themes do you typically write about? Do you enjoy reading poetry as much as you do writing it?
I love writing poetry! I have to feel inspired to write and most of the time, it's when I'm feeling negative. Writing is definitely an outlet of mine and I've been doing it since I was a child. I've won tons of contests in my city, wrote poems and even entered rap battles back in middle school. I've always been really good at rhyming and metaphors.
I enjoy reading real emotions, deep ones. I love knowing that I'm reading something because this person felt some sort of way in this particular moment and decided to write about it. I'm not so much a fan of, "The flower stood in it's ground as the wind ripped through its pedals", type of poetry. I love that deep, dark stuff!
You enjoy giving motivational talks, and I'd love to know, what are your personal mottos, or the words you live by, that define the way you work and live your life?
Here are two quotes I made up and live by:
1. Sometimes, you have to leverage plan B for plan A. Maybe even plan D for plan C, to get to plan B so you can reach plan A.
2. Life is house and you're locked out. Your dream is right behind the front door. Are you going to stand outside in the cold or will you try the backdoor, every window and crease to find a way in?
Basically, if I can't get what I want at that moment, either because I lack the money and resources or timing is just off, I find a way. It may seem like I'm going off track but I'm really finding a different route to get to my destination. Nothing is going to stop me from getting there and if anything tries, I'll find another way.
---
I'm sure we can expect tonnes more from Pariss in 2019. Don't miss what she's doing for the community – follow her on Twitter @ParissAthena, Medium, or add her on LinkedIn. She is also working on a BlackTechPipeline newsletter – sign up here to be notified of the latest, as well as news on the upcoming BlackTechPipeline website! 🎉 As you probably gathered, she's very family oriented, and you'll find small snippets of her family life on Instagram. 💕
To find out about more women in tech from around the world with different backgrounds and experiences, check out other Hey Girlfriend! interviews. A new interview is posted every month.