Thoughts on organising 🏕️ Devcamp 2019
A couple of weeks ago, something big that I was a part of finally happened. A team of four other people (Mitchell, Pranavi, Farnaz and Courto) and myself organised Devcamp – a three-day event that included all of the technology organisation of Campaign Monitor. The off-site event had talks and workshops by some of the engineers, evening activities, and overall some quality time getting to know each other.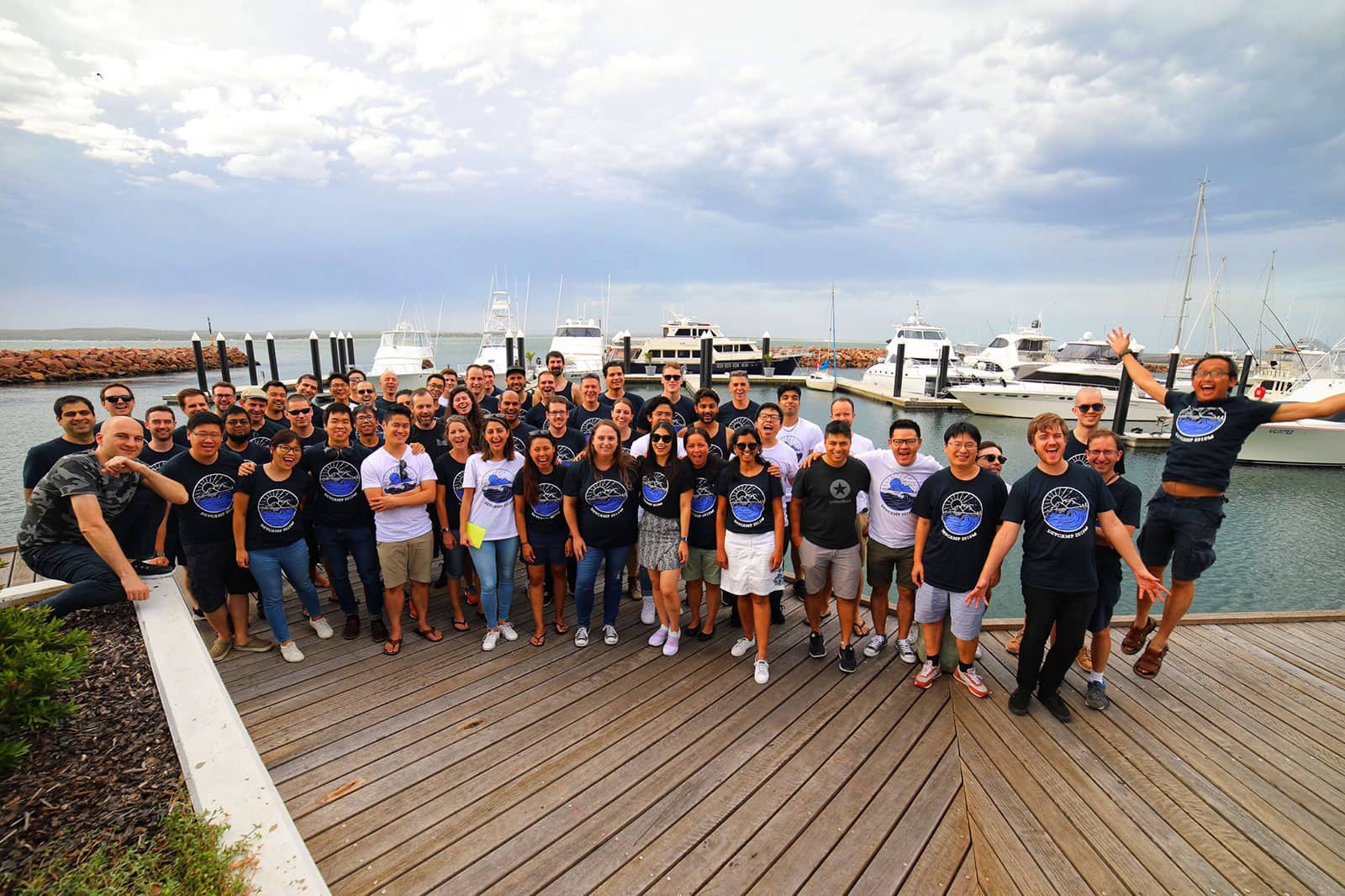 I wanted to write about this before the memory dissolved into the ether – past events in my life, particularly in the last two to three years, have gone undocumented because somehow I had never put aside the time to write about them. I don't have any logical structure for this post, and you know how I am about "simply recounting things", so here are my thoughts in no particular order.
Organising an event with twice as many people as the previous event
Folks in the tech organisation include engineering and operations. The last time Campaign Monitor had Devcamp was in 2016. That Devcamp also happened to be my first one. After that, the event was continually raved about, so when Devcamp didn't happen in 2017, and 2018… we itched for it to come back. There were only around 35 people in the engineering department in 2016, and now we have effectively doubled. The event would undoubtedly require twice the work if it happened again.
After a bit of back-and-forth, we got approval for it to go ahead. But of course, it couldn't happen on its own, so I was one of five people who put up our hands to help out.
Organiser ≠ organised?
If someone asked me what it takes to be a good event organiser, I don't have a solid answer. I don't speak highly of myself as an organiser in general. The word "organiser" suggests you are organised, which I believe I used to be, but as I've gotten older I don't associate that term with myself. But during Devcamp, and after Devcamp, we got so much positive feedback about how well-organised the event. I was overwhelmed and surprised that people were so impressed. So what did we do right?
We've been collecting feedback with people's thoughts. It hasn't really told us about what we did right exactly. But people were impressed with everything – from the t-shirts, to the variety of talks, to the evening activities (we had a cruise one night, and a games night the next), to the accommodation. My conclusion is that it was seen as well organised because of two things:
most things happened without anything going seriously wrong, and
I believe we communicated effectively enough for people to feel that all their questions were answered.
On communication
When you have a lot of people at an event, communication is important so people know what is going on. We made sure we communicated through weekly Tech meetings, Slack channels (including a dedicated #devcamp channel), email, and answered people's questions privately. We tried very hard to make sure no one missed out on any information. We invited everyone to contact us with any questions, and I think they felt like it was easy to approach us. We had some remote folks come to Sydney for the event (a couple of them speaking or presenting!) and they reached out to us privately as well. It was the first time in Sydney for some of them. ☺️ We also had a website with some of the information!
On the contrary, someone gave us feedback that it was a bit hard to locate some of the information. I don't think we over-communicated, but we did have rather frequent reminders for everything, and perhaps it would have been useful to have everything on the website. I was really pleased to see that a handful of speakers and presenters even had the agenda from our website open on their screens just before they set up their presentations. 🤩
Put your hand up, and delegate when you can
I think one of the most important things about being an organiser is putting your hand up. You don't want to be the person putting their hand up for everything, but you want to offer to do something if it's in your limits. There are some zealous people who will want to have a hand in doing everything themselves. I used to be like that. I didn't want anyone's help. But when you surround yourself with people – in this case the Devcamp team – you realise that everyone there wants a turn. Everyone wants to chip in. So you should take the time to listen, communicate, discuss, and put your hand up and offer to do something when it feels right. Not at every single opportunity.
What you're good at and what you're passionate about matters as well, and understanding the strengths of the others in the team. I think we all ended up picking up tasks we felt comfortable with and that we knew we'd do well. For example, Pranavi made a bunch of phone calls – something the rest of us felt rather anxious about. I did the email communication because of my familiarity with doing it for other events, and I organised the t-shirts because it also required communication and satisfying attendees, something which matters a lot to me. We asked our office manager for help with communication, knowing that we (as engineers, lol) would be strapped for time.
The other important thing is delegating. We got busy, other things came up, and some things were forgotten about. We made sure to communicate well with each other and ask for help. It's not shameful to ask for help. We are a team for a reason.
Would I organise it again?
I probably would. Organising an event and seeing something from start to finish and doing administrative sort of stuff runs through my veins sort of naturally. At the same time, I value spontaneity. Funnily enough, I'm not the one who usually organises things for travelling when Nick and I go travelling. He does a lot of the organisation of our travels, and I appreciate that a lot. I get a bit lazy with it and I feel like I leave it in his hands because he is so good at it. I am the kind of person to just have a rough idea of what I want to do, prioritise them, and work around those important things.
Since this was a company event, we all spent time at work and less – if any – of our spare free time to organise this. When you're given time at work to do something other than your usual thing, you are probably more inclined to do it. For instance, the team I am in at work have regular research and development time, and we're given permission to spend time working on our learning. The speakers and presenters used time at work to put together their presentations. In fact, I tried to encourage this so that they weren't using their free time or family time.
Like, holy shit, we organised a big fucking event? 😂
It didn't occur to me until last week but… we basically organised an entire multi-day conference. When I think about conferences I've been to, I draw parallels between those and Devcamp. There were three days (well, one half day, a full day, and another half day) of talks, with one day having two streams. Some conferences are only single day, single track, and even those are kind of a big deal.
We also organised evening activities, which happens with some conferences. We also had t-shirts made. From experience, only a few conferences make custom t-shirts a priority. We organised transport.
It still blows my mind a little bit.
Thank you 💕
Thank you everyone who attended. So many of you had a great time and I am really pleased. I'm really glad that those of you who are usually remote or outside of Sydney could come along for the ride, too. 🤗 I also want to say thank you to all the speakers and presenters. Your passion to share knowledge with the team is very appreciated – I know you put in a lot of hard work for your presentations. It's not easy. And I don't think Devcamp could have been what it was this year without your effort!
---
How do I feel?
I don't know if it's an after-effect of such a huge event, but I've been feeling rather down in the dumps for the past couple of weeks. I think it is the realisation that something you have put so much effort in is over. You sort of wonder if it'll be forgotten or if it will still be talked about. You want it to be a slow burn. But it does feel like we're back to the usual groove.
At the end of Devcamp I wanted nothing more than to go home and relax and essentially talk to nobody. But it's funny that when you get just what you want – in this case going from a lot of communication with a lot of people and an overall high-energy event (mentally and physically), to the complete opposite – being alone, doing nothing, with no commitments, no overhead, nothing to worry about – the change is far too jarring. For me, that leaves me with some sort of mental shock, because things didn't quite dissipate gradually, it was sudden.
I will end this post in a similar way Mitchell did in his Devcamp post – what am I going to do next? Well, in an extreme manner, being around people at Devcamp in the flesh made me want to detach my fifth limb – that is, my phone. I spent a good lot of Devcamp never looking at my phone. Not just because I was organising an event and had to give it a lot of attention, but because I was genuinely having a good time. 😊 I don't have many notifications to begin with, just a few Twitter notifications and some Instagram direct messages, but post-Devcamp, I switched almost everything off and regularly put my phone on "Do Not Disturb" mode. I've gone through several long meetings without touching my phone (fuck yes!), and the fact that every time I pick up my phone there's nothing to see except my wallpaper reminds me that I don't need this thing distracting me all day. 🙏
Another thing is that I'm back to organising Bread Talks at Campaign Monitor (the week right after Devcamp? Gosh), pretty pumped to be delivering a Bread Talk myself. My talk's working title is "Things I wish I knew about clothes", and hey, I am keen to be writing a talk about something that I'm not only passionate about, but that is a big part of my life. Next weekend Nick and I are having a weekend getaway, so I think that will be a nice break.
If you're looking to improve your mental health and need some guidance, BetterHelp provides online therapy and counselling options which can help you get started.