Fashion Friday: Once upon a time | Staying warm and stylish while travelling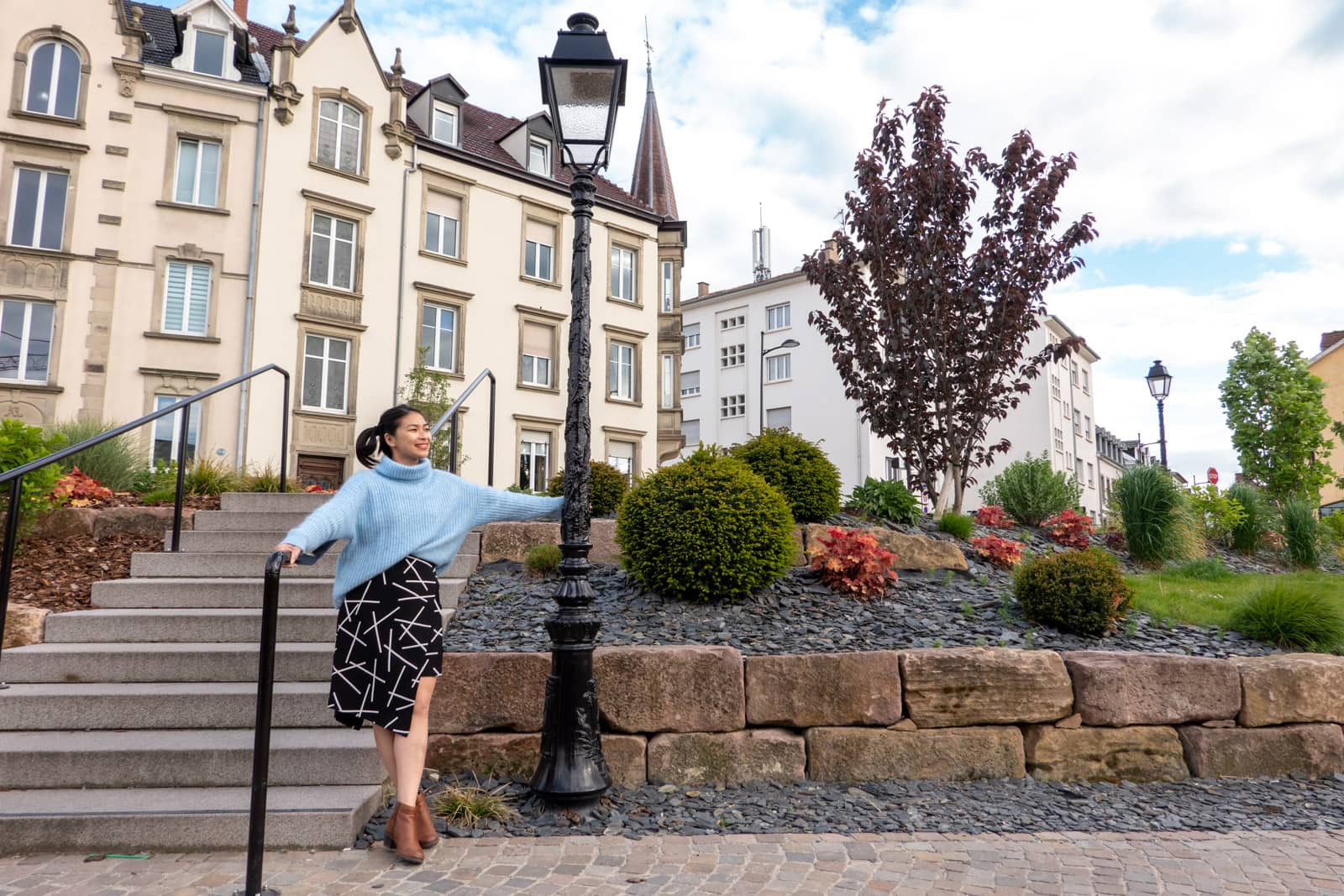 It's been a while since I've done a Fashion Friday that I've almost forgotten how to write these. 😩 A break from your blog will do that to you, aye. I will admit that I have no Fashion Fridays planned after this one – that doesn't mean I'm retiring the series, but I don't think it will be done as frequently as I used to do it. I still enjoy doing it but I want to put a bit more time and energy into writing about clothing and fashion in other ways, not just about outfits. Even though I know many of you love the way I write about outfits because I don't just plug where I got them from – I actually discuss my decisions in putting together an outfit and it becomes more than just "check out my clothes". But that's the whole reason I want to extrapolate these things beyond Fashion Friday. ☺️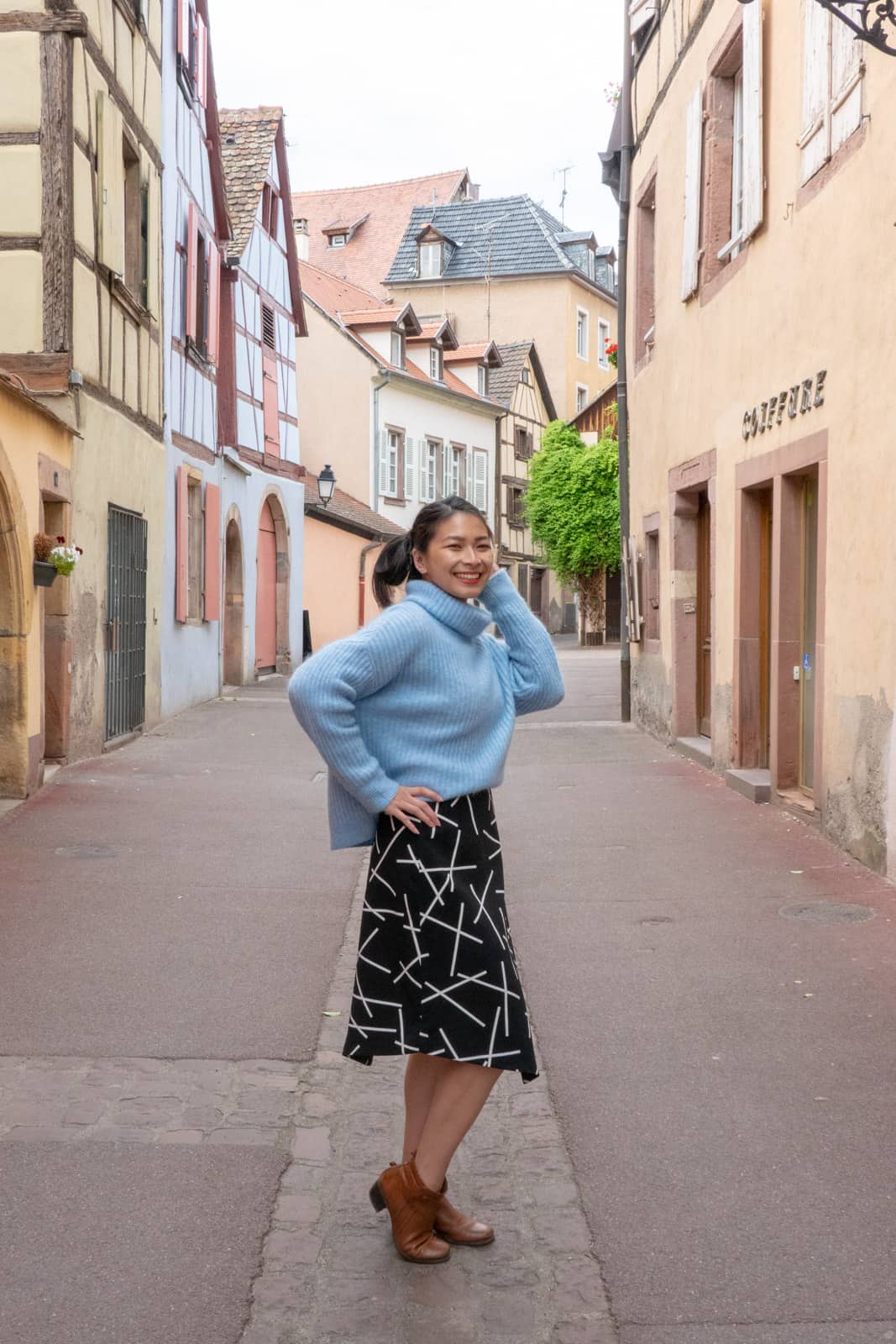 These photos were taken quite a few months ago, trust me, I look the same. 😆 Nick helped me take these photos in the beautiful French village of Colmar, a village commonly visited for day trips, but we stayed there for two nights during our trip to Europe. Although it was warm during the day, we found it really chilly at night. So I had to take my big blue sweater with me almost everywhere.
I bought the blue sweater shortly before we left for Europe. I honestly didn't have much in the way of warm outerwear that wasn't a coat, and because I wanted to pack lightly, and bring clothes that were low maintenance, I decided to look around for a relaxed-fit wool sweater. I didn't really have a plan, but I had originally tried this sweater on in a pumpkin orange, and I had instantly fallen in love with it. I don't really love high neck sweaters, but somehow the relative looseness and roll factor of this sweater's neck made it look a lot nicer on me than a traditional turtleneck. Type of fabric and how it sits on the neck is definitely a thing to think about if you're not a fan of turtlenecks.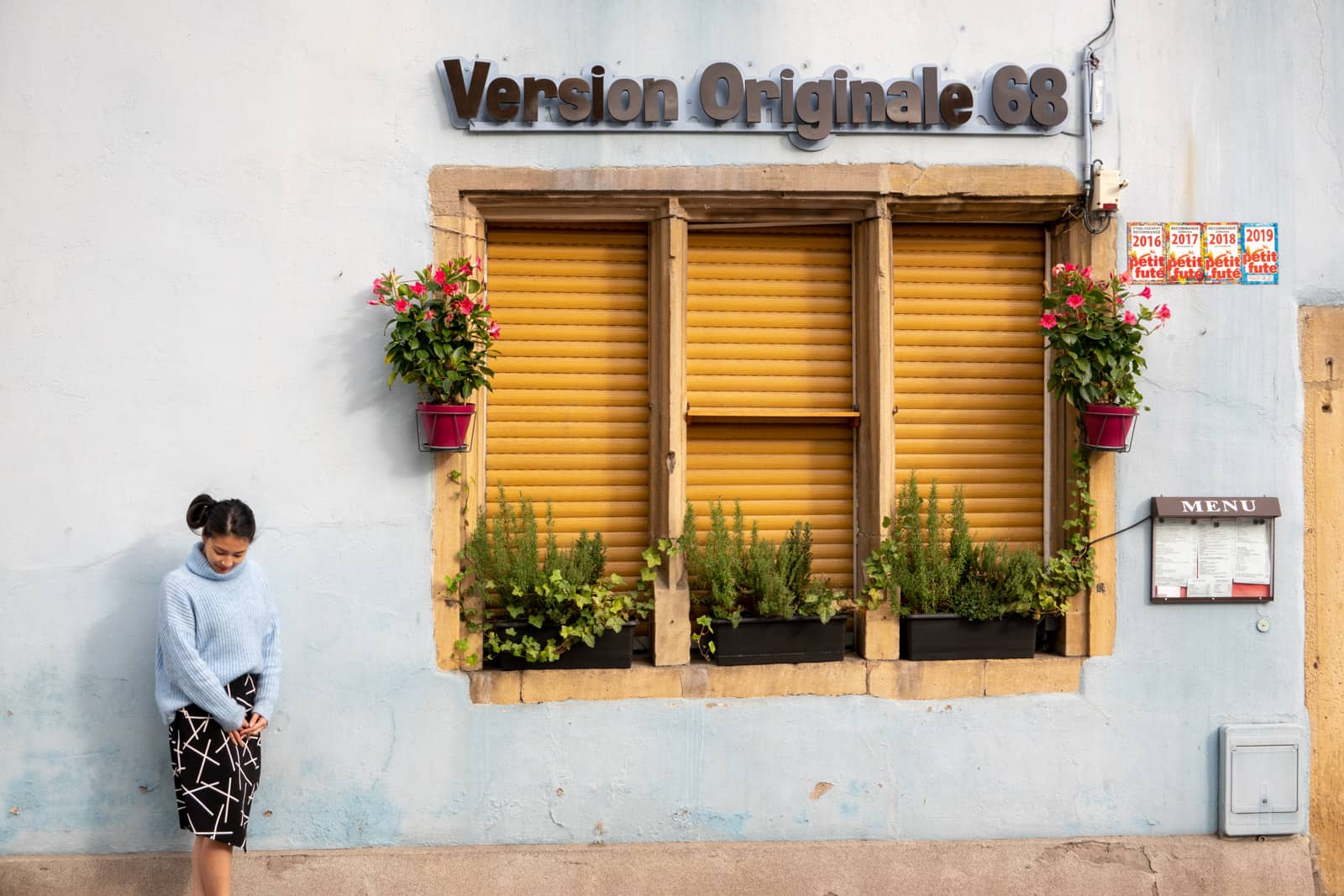 Although I loved the orange colour, I tried on the blue and liked it as well. There was no way I was purchasing both of them. I felt a little sad about my decision, but I decided that the light blue was the best way to go. The sweater came in a dark blue, but I don't often go for dark colours, so I didn't want that because I knew I wanted something that stood out. Between the orange and light blue, I knew I already had an orange coat that was gorgeous enough, and thinking about the high quality wool and how long this sweater would last, I decided that the light blue would be a timeless colour, but still stand out because of the hue.
The sweater's softness blew me away, and the quality really spoke for itself. I put it on again when I got home, after purchasing it, to make sure I'd made the right decision. (I am notorious for buying and returning shit purely because I hate change rooms and because, well, I can.) It was so nice that I didn't want to take it off. And it made me hate every sweater I already owned, for not being this soft, or natural, and made of acrylic or nylon or something that basically felt like plastic. It is worth purchasing good quality!
I will admit to only wearing this sweater once in Sydney since I've been back – because hell, it just doesn't even get that cold here. The one time I wore it, I walked into work and was feeling very much like a toaster. I totally vouch for the awesomeness of this sweater and how much it kept me warm during 3º–10ºC temperatures in Europe. I thought I would need to double up on the sweaters, but I often wore just a long-sleeved top with this sweater over it, and I was mostly fine. I'm so pleased with this sweater, and it was just a bonus that I bought it along with a wool scarf during a pretty big sale, so I didn't spend too much more than $100 on it! ✨
The skirt was one of two skirts I brought with me on our four-week trip. It was perhaps the dressier one of the two. It almost looks like it's too dressy to travel in, but trust me, it was very comfortable. I like when comfort and style fit in the same bucket. 😆 I always wore it with pantyhose as it was really cold, but my legs hardly felt cold which was pretty fantastic.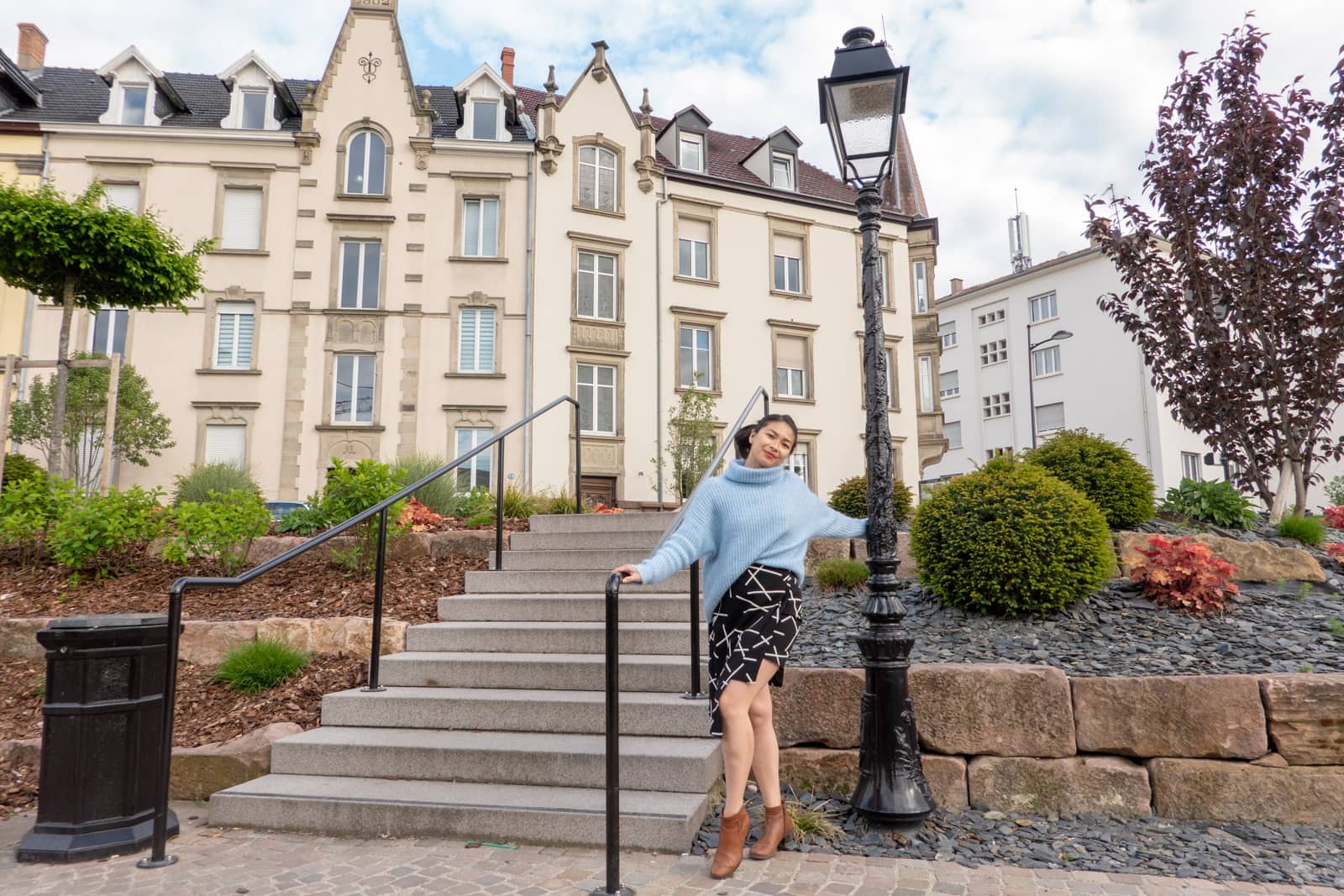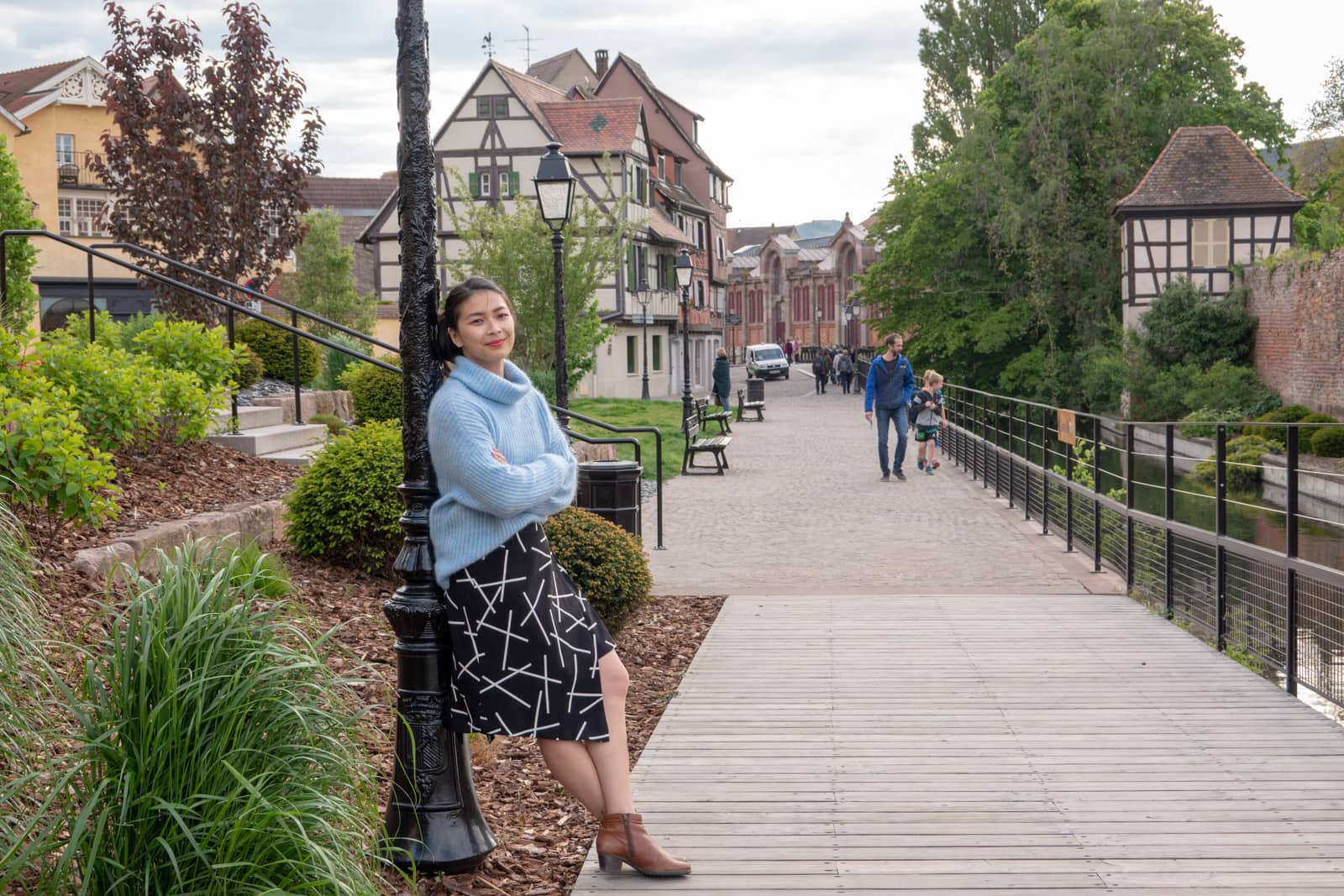 I bought the skirt from a seller on Carousell, who was selling it with a matching top. I'm not really one for co-ordinated sets – I had a top that I wore in Electric Blue that was part of a set, but I hardly ever wore the two together. (I sold that set recently because it doesn't fit. 😢 But really glad I found a new owner!) So I asked for just the skirt and I got it for a pretty bargain price of $25. The seller advertised the skirt incorrectly as being a size Small, when it was Extra Small. Thank goodness it still fit otherwise I would have cried. It's a really fabulous skirt. Definitely one of my favourites.
I have definitely had these brown boots for a long time. I believe the first time I showed them in an outfit was in mid-2017. I really liked them at the time but over the years there have definitely been moments where I hated them. I'm not sure why. I think the toe is too square for my liking, but pointed-toe boots hurt my feet sometimes even though I love them. These shoes are so easy to put on and take off, and they are so comfortable, that I've ended up taking them on almost all my travels since I got them. It's basically my default travel shoe.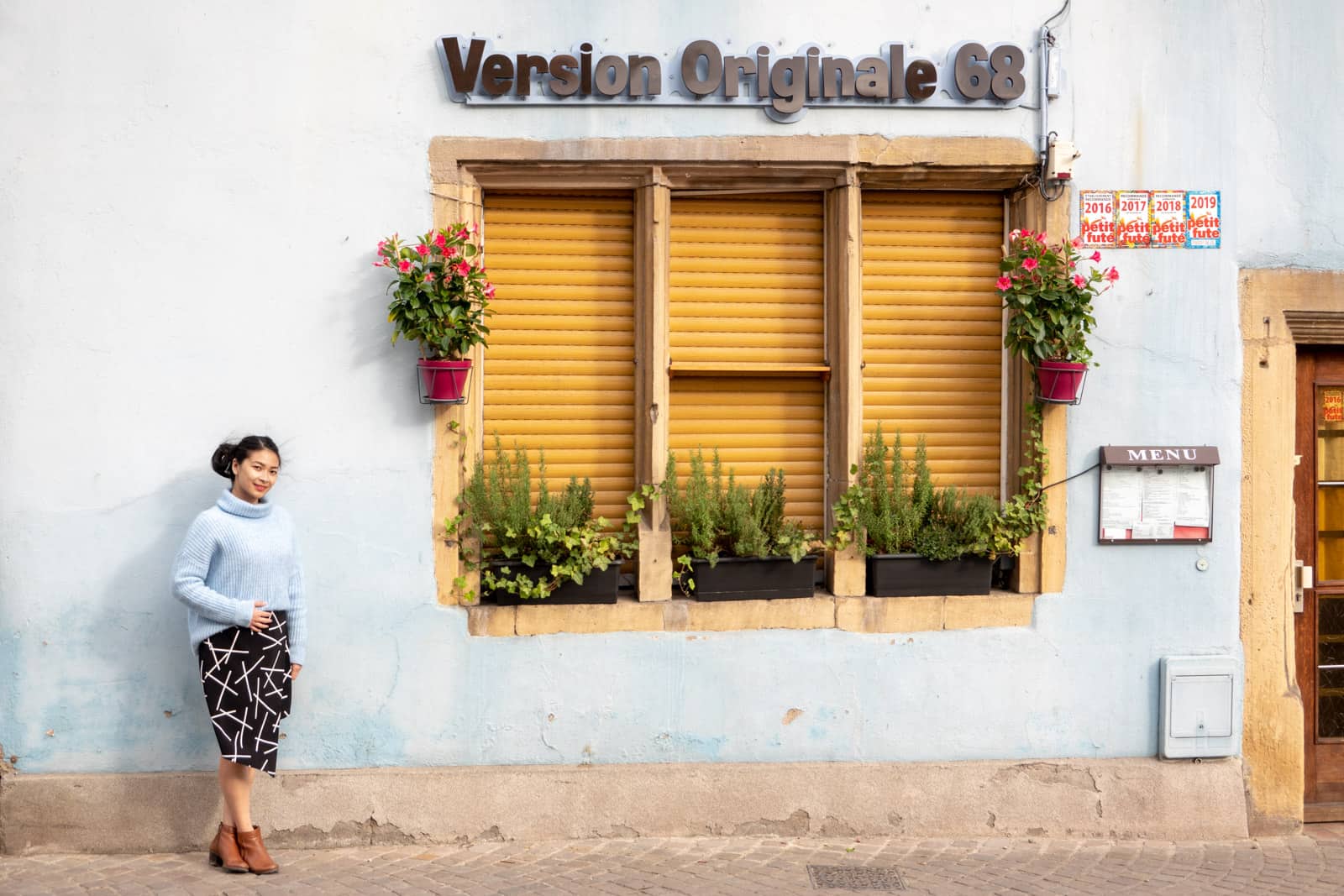 I kind of like how the whole outfit comes together. I wore my hair up because it tends to be less annoying when wearing this sweater – the big roll neck means keeping my hair away from my neck makes the area around my neck look less busy.
I have quite a few patterned skirts and my general rule is that patterned skirts go well with plain tops. As for the colour, sometimes a lighter colour or a neutral colour is best. It's a bit tricky because I definitely have some bright colours, which go really well with a black-and-white print, but you still kinda have to tread carefully.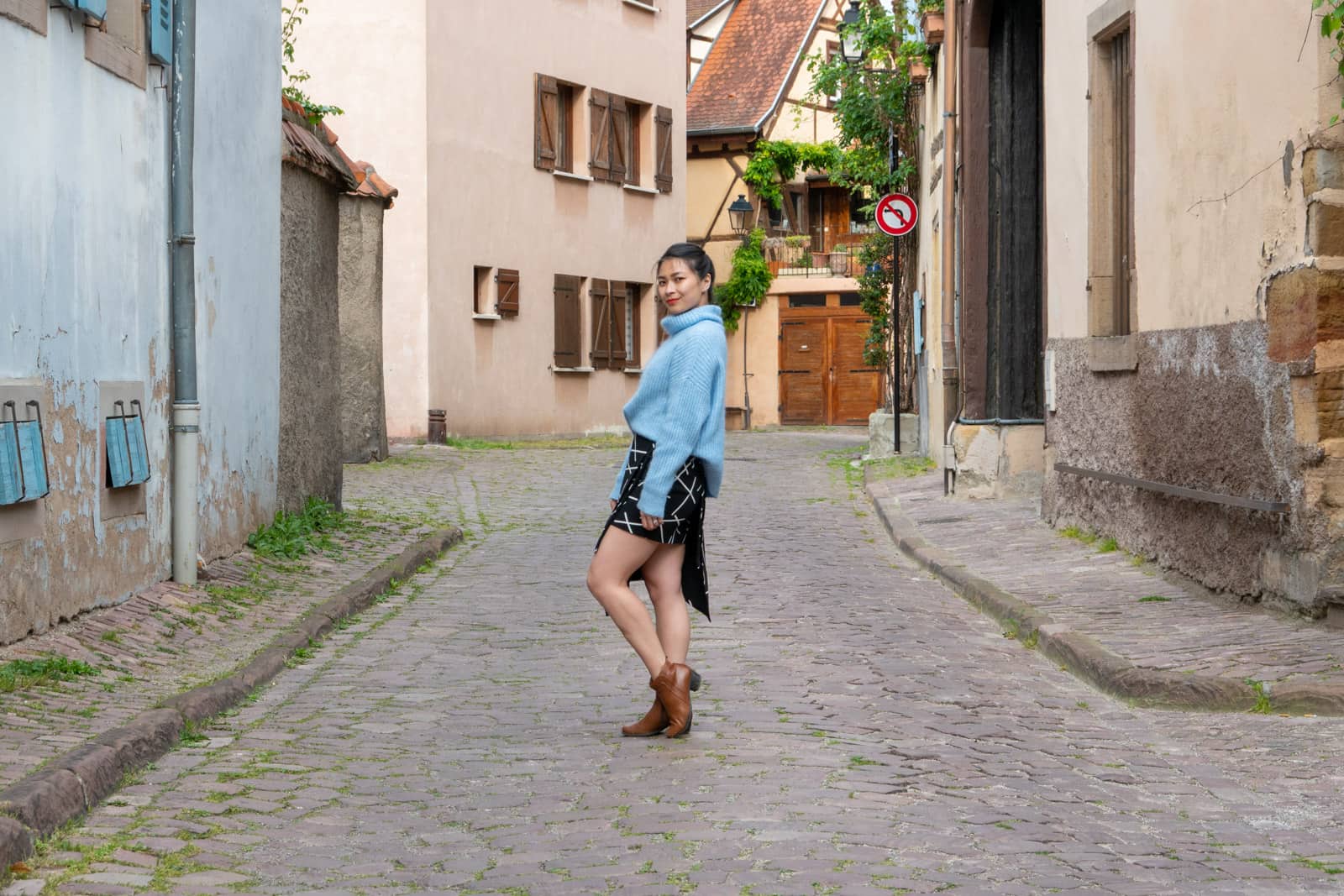 Colmar is a beautiful little village and it's known for its seafood. We definitely had some of that while we were here! I haven't written a blog post about Colmar yet but it's bound to be a short one, and it is the next in the #cookesEU19 series, so stay tuned for that in the next week or two. We only spent two days there but it's enough if you want to explore the town itself.
In case you missed my last post, I am trying to post three times a week for the month of August. 😊 I am focusing on finishing up the posts about our Europe trip, and writing a few things on minimalism and some of my recent experiences decluttering my apartment and my belongings. At this stage I am not entirely focused on Fashion Friday – and as I mentioned, I don't have any planned after this one – but I am planning to continue writing about fashion!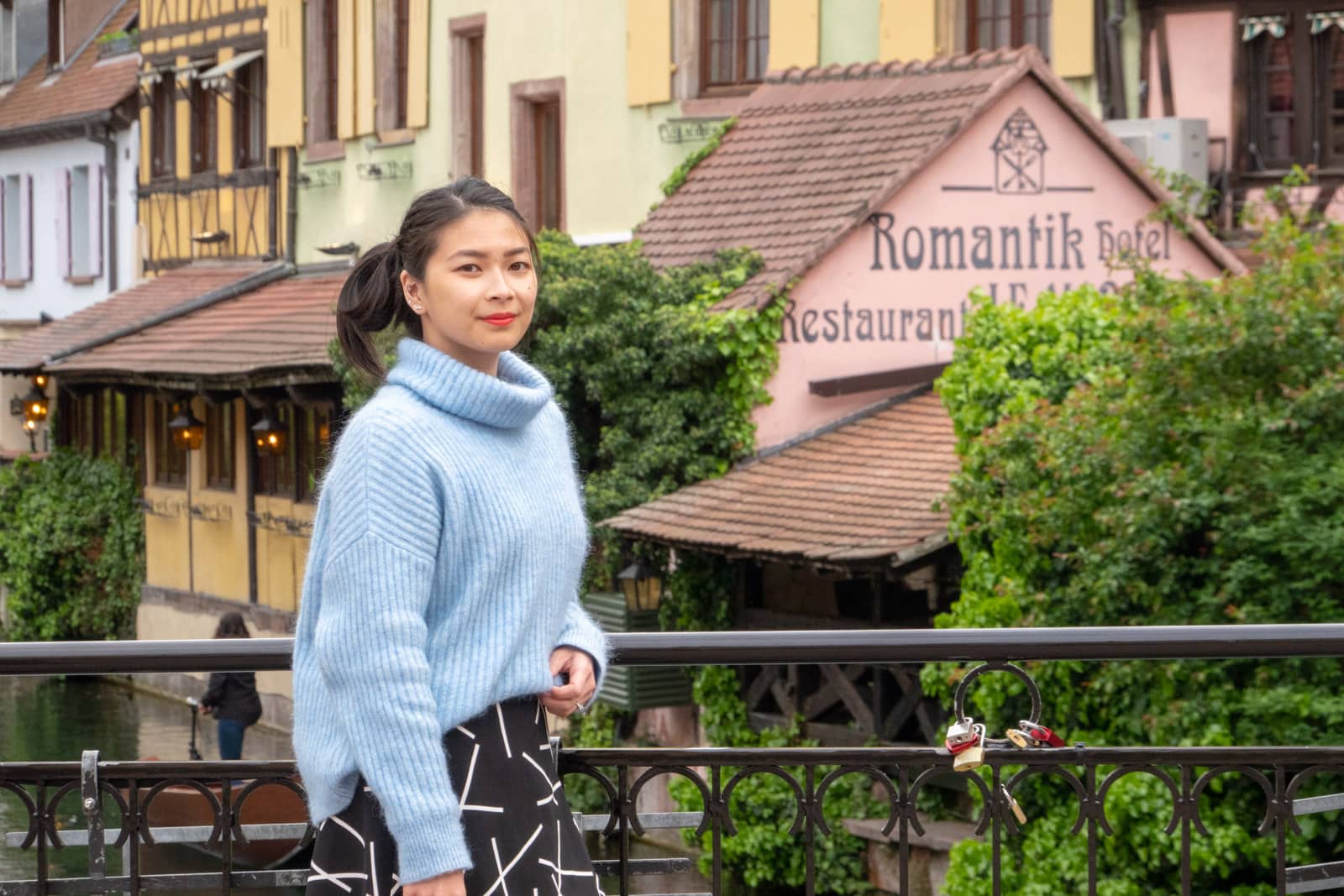 I hope you enjoyed this post, thank you for reading! Let me know what you think of the outfit, and would you ever pay a visit to Colmar? ✨
---
Outfit details
Colophon
📸 All photography by Nicholas Cooke. (Sony RX100 VI)
We took these photos in the small town of Colmar, France.
I named this outfit "Once upon a time" because of how Colmar looks like it's out of a fairytale. I think I somehow fit in with the theme…