Fashion Friday: I guess that's why they call it the blues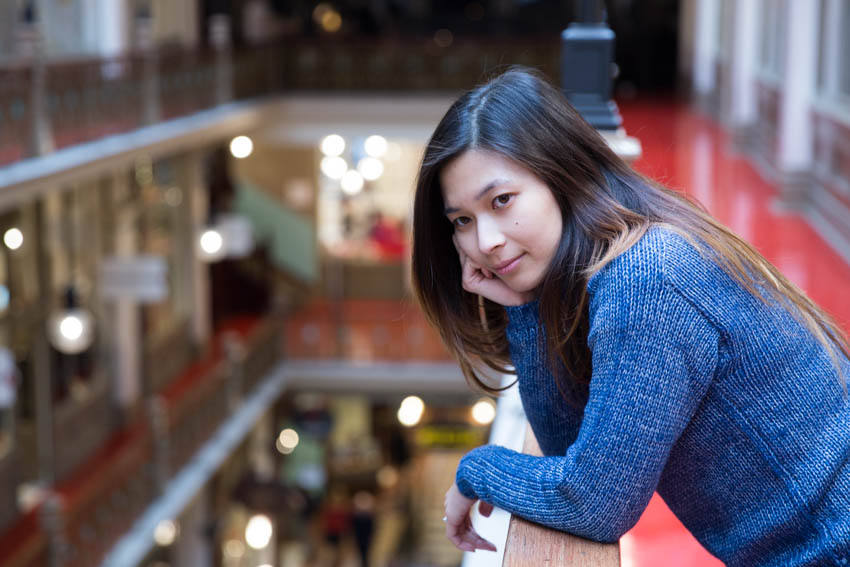 Normally I would be a little weird about having so much blue in an outfit but I just did it anyway. Fashion is about experimentation…!
We took these photos in The Strand in Sydney. It's a shopping mall that still has its heritage in the decor. It looks quite similar to the Queen Victoria Building where Seb helped me photograph an outfit way back. But they are different!
It was a pretty chilly day but I did not feel like wearing a coat. I wanted to wear brown shoes and I don't have a brown coat, and my black one was in the wash. I decided to go for the blue jumper to match the jeans. I thought it might be too much, but I think the brown balances it.
Brown and blue go surprisingly well together. Or it might be that brown just tends to be a good accessory colour. I'm not sure. I only started liking brown recently! I had brown clothes before, but I never wore them because I didn't like the colour (especially not on me). After getting my brown Fossil handbag last year (check out Seeing Squares) I became quite fond of the colour brown.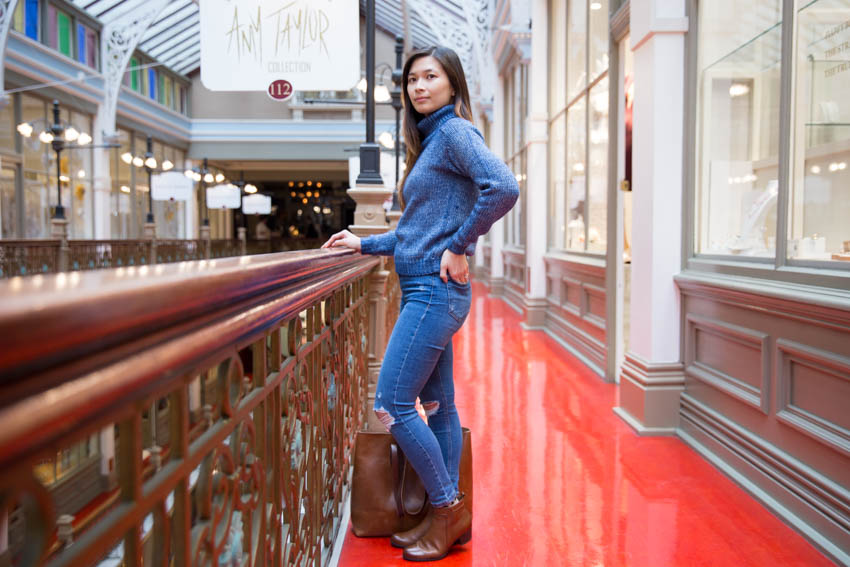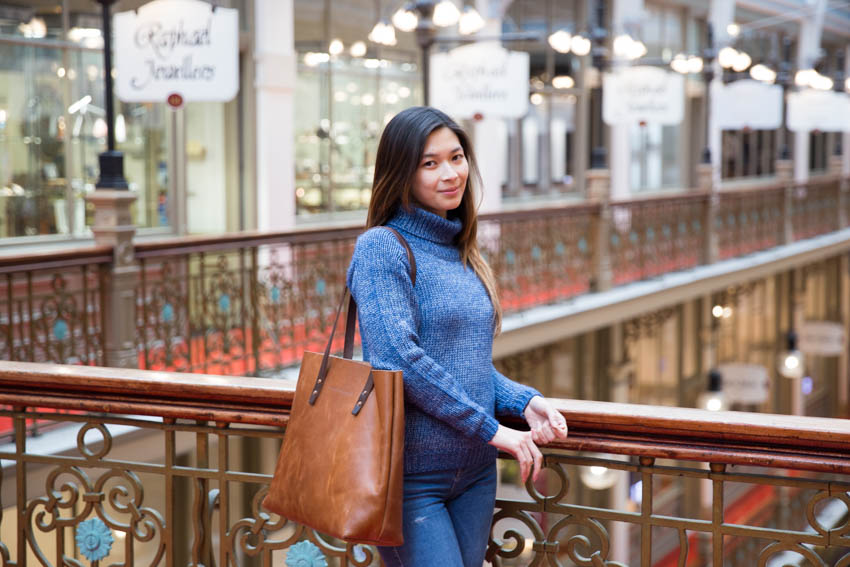 I really wanted some cute brown shoes so I got this pair after browsing a sale at Myer. What I wanted was a short, cute ankle boot. You all know how much I love ankle boots! These ones have a subtle enough heel so that they are still considered "flat", and give enough support to the feet. I did try on another pair that had a more pointed toe, and I liked them, but they only came in a tan colour which was lighter and had a more yellow undertone. That was not ideal – I wanted something to match my existing bag.
And then I got this bag in this outfit! It's a leather tote from Whipping Post. I stumbled across the website back in 2012 and bought a wallet with a guitar pick pocket in it. I loved it because I played guitar a lot at the time. When my birthday was coming up I told Nick I wanted the bag so he paid for it. 😆 There were other colours, including black – which would have been my go-to… but I really wanted this one. It's a pretty basic bag, but it's sturdy and what I need. It fits my laptop! I had not had a shoulder bag that fit my laptop before, other than random tote bags from meetups or conferences.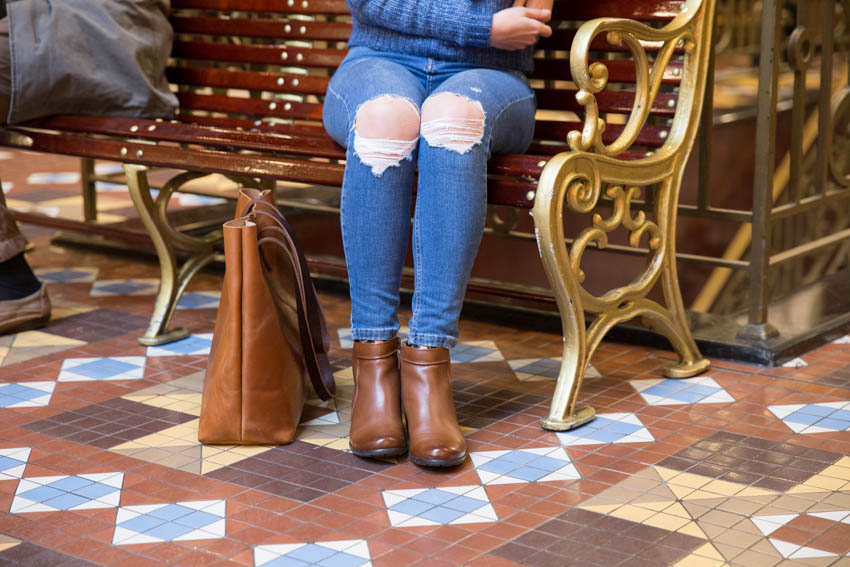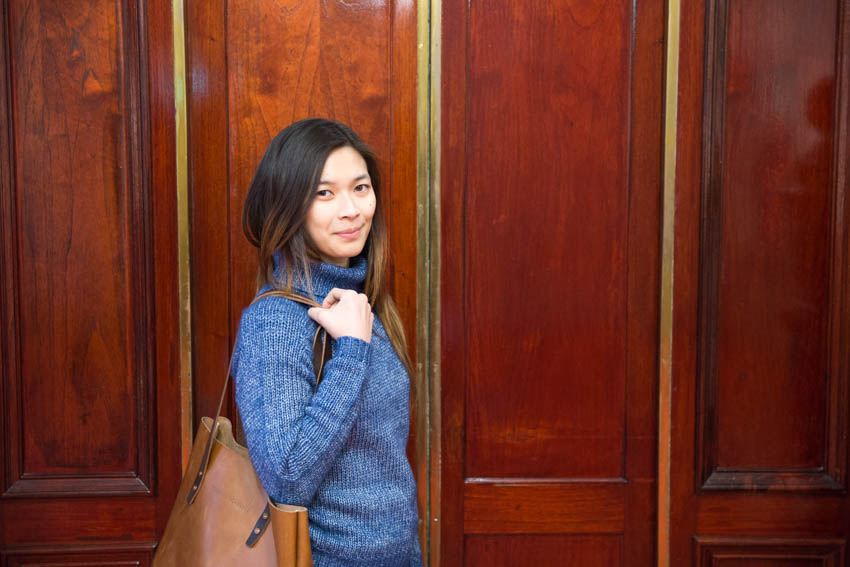 I got this bag to fit two laptops and a camera on my trip to Perth. But I took the laptops out because I was more concerned about snapping one of the straps off because of the weight. Even though it all fit inside, haha.
We didn't get a close-up photo, but I am actually wearing the same blue earrings that I wore in Longitude, two outfits ago. The one with the striped blue dress. ;)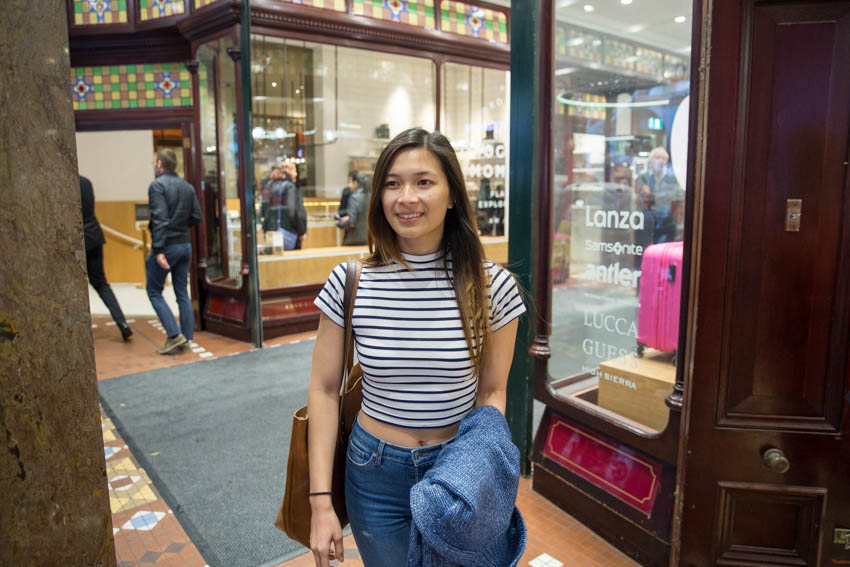 The jumper is not very warm on its own, really. It's the kind of woven material that is a little rigid. It is a fairly chunky knit, so when it's windy, you can feel it through the jumper! I used it as a cover-up for a crop top. Yes, it's winter, but I think crop tops are still allowed! Plus, there are long-sleeved ones out there. And crop tops don't necessarily mean you are showing skin. Although I guess I was just a little bit here. 😜
I gotta admit that I am not sure how high necks look on me. I have mixed feelings about them, and after looking at a few photos of me in them, I am not sure if they are flattering. I mean, they always say short girls shouldn't wear chokers because it cuts their silhouette in half. But rules were meant to be broken right…? That's why I'm blue. 🔵 Da ba dee.
📷 All photography by Nick. ❤️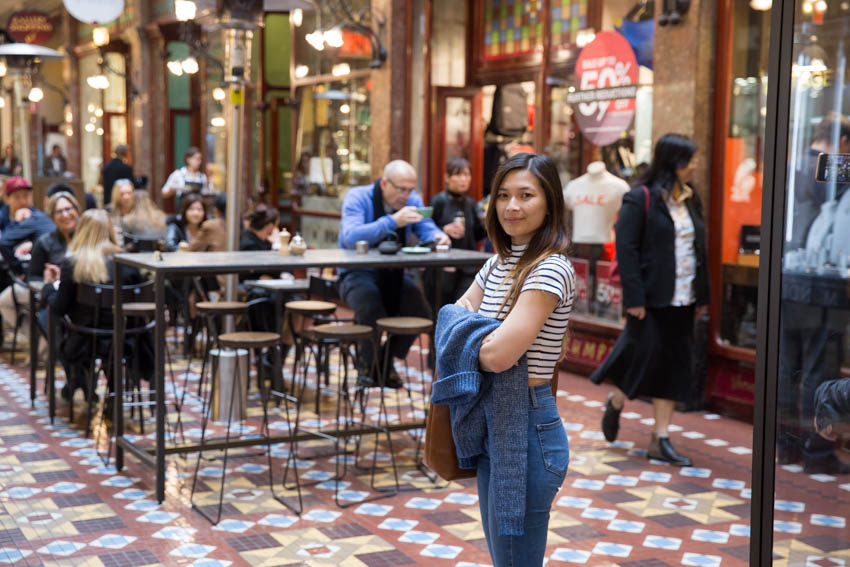 Outfit details