Fashion Friday: Longitude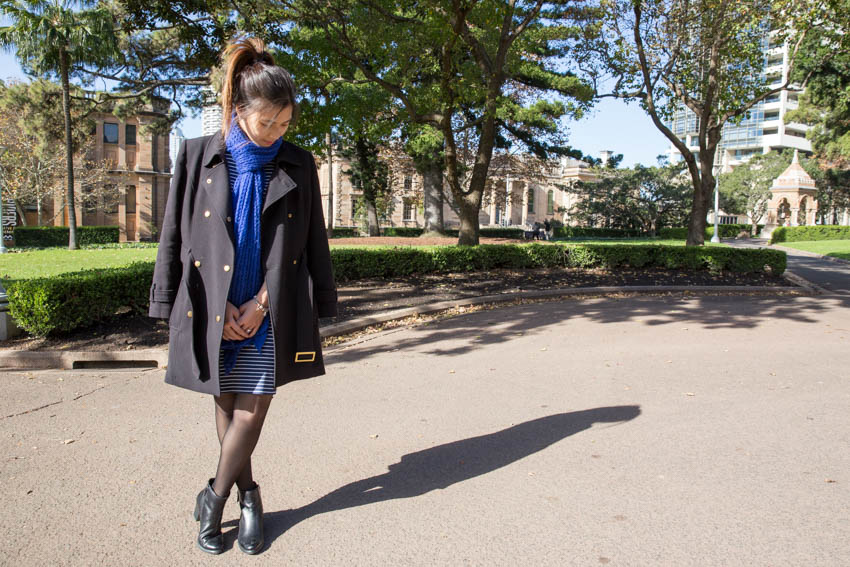 It's getting really cold in Sydney already, with temperatures much lower than 10ºC in the morning. It's definitely coat weather, and I pulled out my favourite black coat. I still like the coat just as much as I did when I first got it. The pockets are substantial and I am still a fan of the style. The buckle belt is quite long so it goes almost two times around my waist, but I just deal with it. 😆
I am really pleased with how this outfit turned out because it's comfortable and I only just realised it contains a lot of blue. I wouldn't say blue is my favourite colour but I do love wearing clothes that are blue as I think they suit me very well.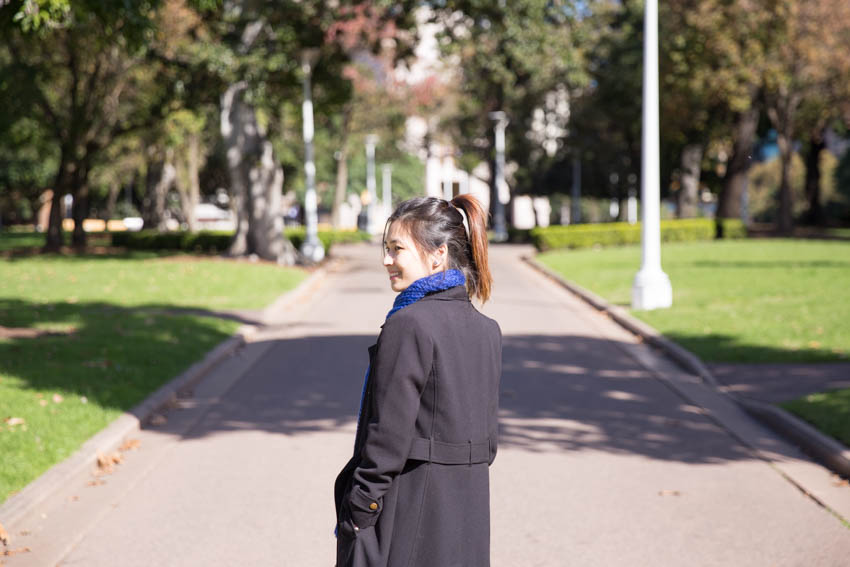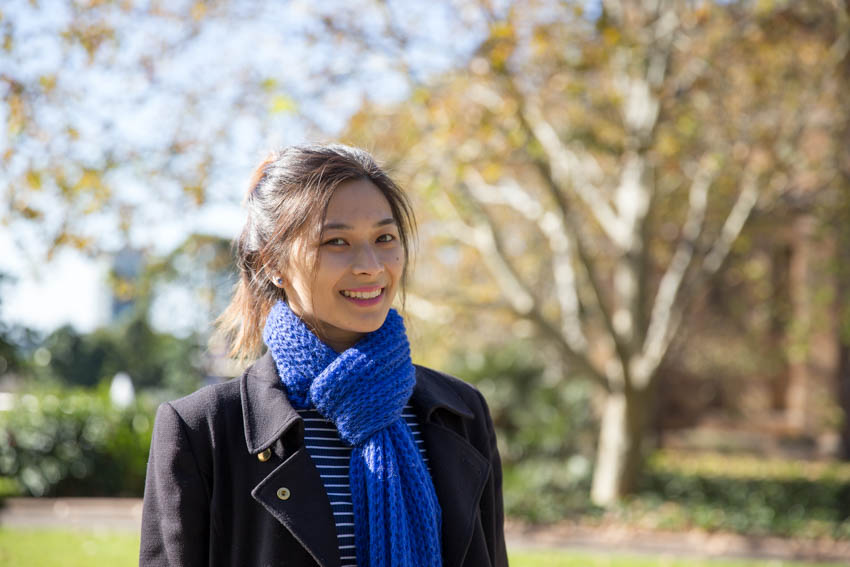 I bought the dress in this outfit because I really liked the thin stripes and the fact that it was more blue-dominant than white-dominant. I had a blue-and-white striped dress that I wore a while back in Between the lines, and I liked the style a lot but the quality was not so great and even the smallest size was too big on me. I liked the dress but it was a shame it didn't hold up. This dress was sort of a replacement for it. I like it better – it doesn't have pockets but I find it more flattering for my figure.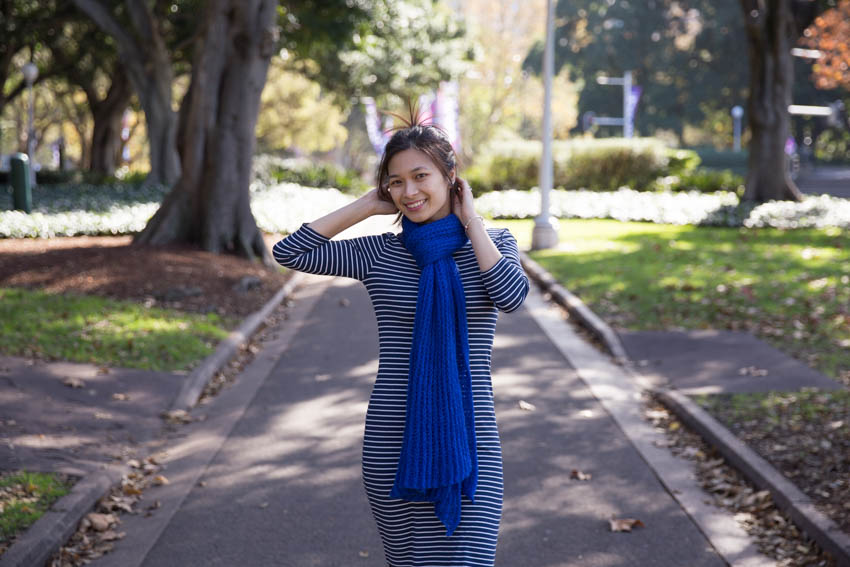 I also adore the three-quarter sleeves. It bothers me when dress sleeves are too long and need to be rolled or folded up – that's a little awkward. I like the snug fit, and the length is great. I was concerned the length would be too long, but if my butt gets any bigger from doing more squats, then that's not a problem. ;) Not to mention, these kinds of dresses have a tendency to ride up a bit so it's better that it's longer, haha. I should mention it only cost $30! I questioned the quality but the website had free returns so if it didn't work out, I would've just returned it.
I got the shoes quite recently after I was looking for a more sturdy heeled boot. I love them a lot and they are super comfortable. The height is just perfect and I can walk for long periods of time without my feet getting sore at all. The inner soles are also very cushiony-soft.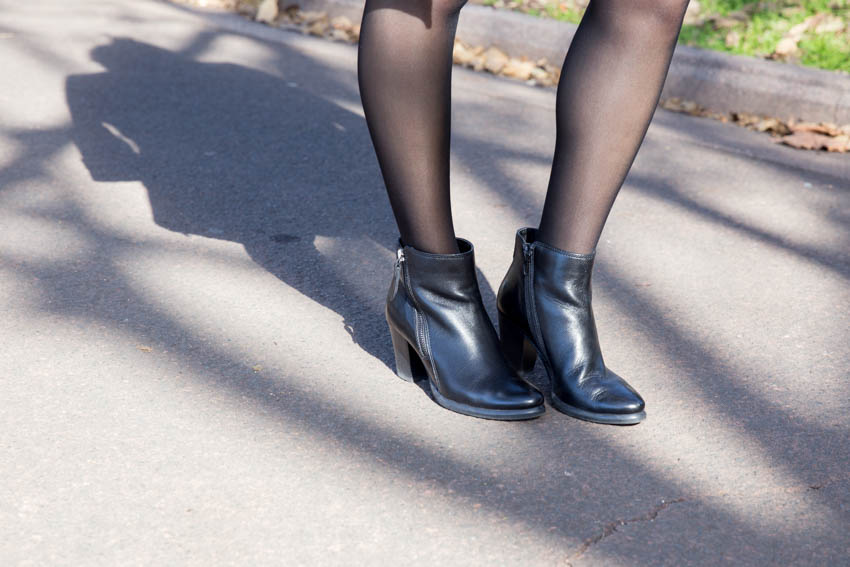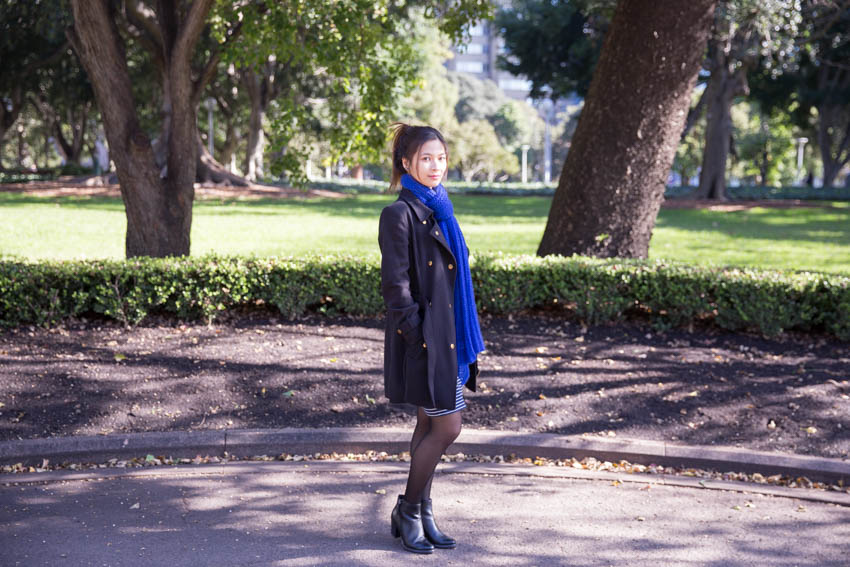 I love heeled ankle boots but most of the ones I've owned have been stilettos or have heels that are very thin. It bothers me when heels get stuck in little cracks in the pavement. Not sure what bothers me more – when there is damage on the heel, or the fact that I look stupid almost tripping over or trying to yank my heel from its stuck position. 🤔 So I'm definitely super happy with this comfortable pair.
The scarf made an appearance a handful of times in previous Fashion Fridays. It's one of my favourites because of the colour and the long length. I really like blue! It was not the same shade as the dress but I thought it wouldn't matter. It still adds a pop of colour and there isn't too much blue.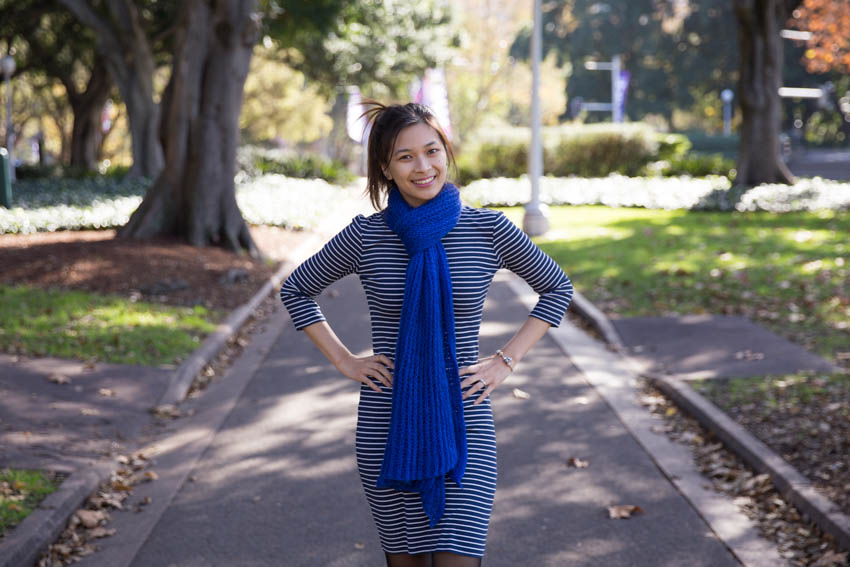 The same goes for the earrings. I do like deep blue coloured earrings. 💙 I have a pair with deep blue stones with clear stones around the blue stones, but some of the clear stones have come loose and gotten lost. I wanted to get these handmade kyanite earrings as a potential replacement for that pair. I like having studs that are small and go well with my other small studs, since I have multiple piercings.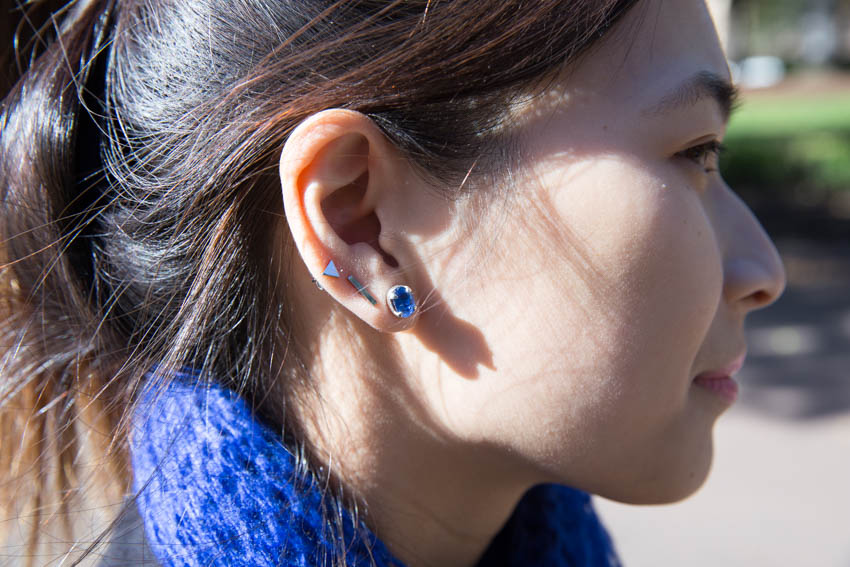 I'd say the earrings were a little on the pricey side but I do like them. I tied my hair up not only to show the earrings a little, but because it sucks to have your hair stuck under your scarf or get messed up by it. :P
I have to admit that during the day I must have changed my hairstyle several times. After I couldn't deal with it being out and in the way and moved around by my scarf, I decided to tie it up and have it out of the way.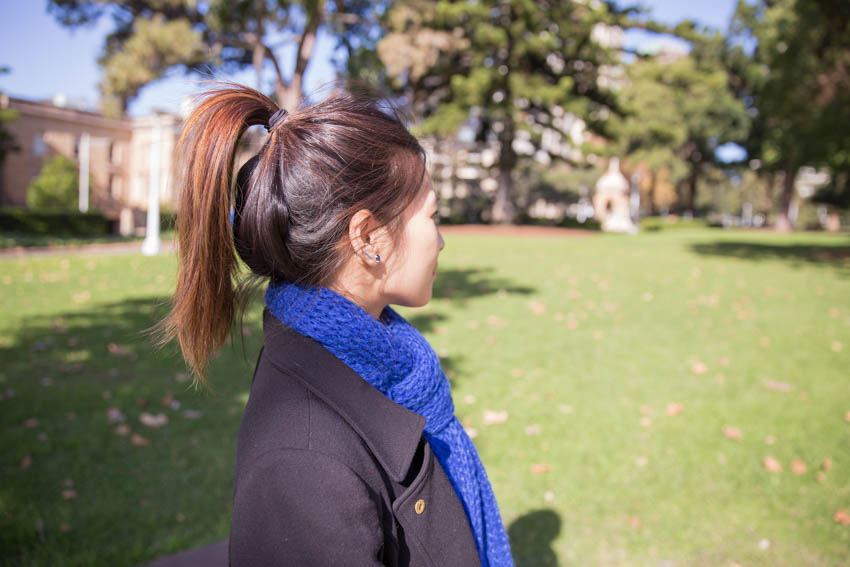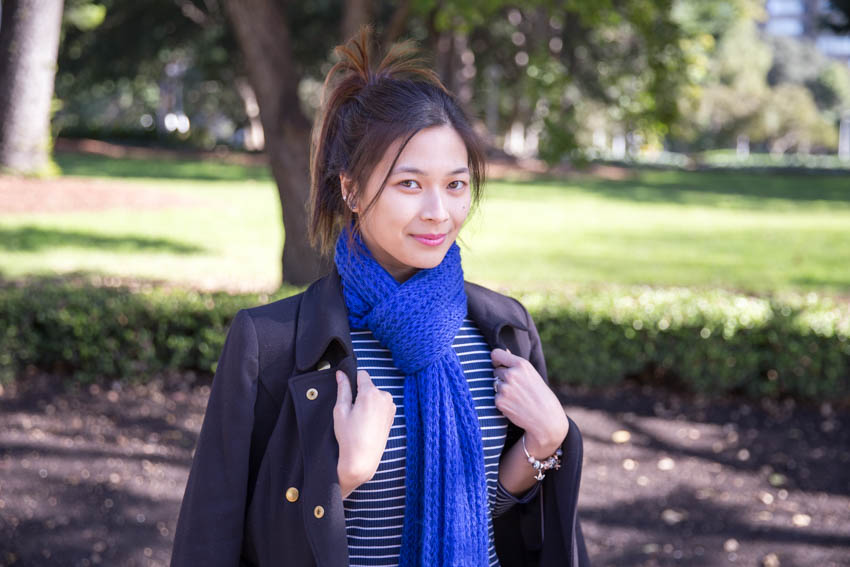 I named this outfit Longitude because that defines east-west; unfortunately although "latitude" sounded cooler (in my opinion), that referred to north-south. Of course, it refers to the horizontal lines in this outfit. Nick said to just call it "stripes", but I felt like being more creative.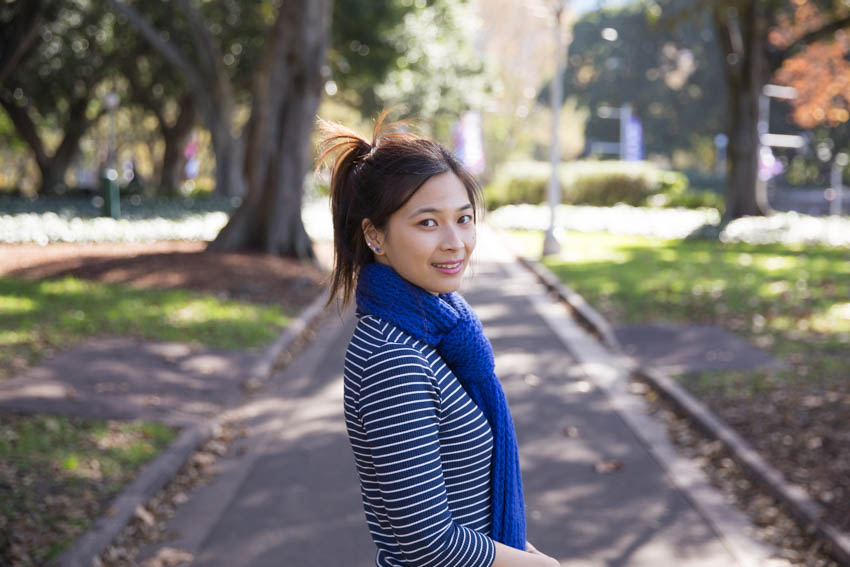 📷 All photography by Nick. ❤️
Outfit details
Dress: NA-KD Nine Dress
Coat: Basque Petite (available at Myer)
Shoes: Sandler "Yates" Black Glove Boot (available at Myer)
Scarf: Design Studio (available at Myer)
Earrings: By Invite Only (Silver kyanite oval studs)
Wristwear: custom Pandora bracelet
What do you think of this dress compared to the blue and white one I modelled a while back? Do you have a particular colour you like to wear?