Fashion Friday: TARDIS Blue
You might have noticed that I have been posting Fashion Friday every week for a few weeks now. When I had my birthday dinner I was a bit too busy to organise a proper shoot with Seb, so we ended up working it out the next week, even though I go for posting every fortnight. I thought about doing it every week, but since then, I have decided to try and weave some non-outfit posts into the weeks in between. Last week I reviewed some products from Kitsch. In future I'll be taking a closer look at accessories, and maybe even going through a few online stores and sharing my picks.
This week's edition of Fashion Friday is really blue. Blue used to be my favourite colour when I was a child, right through to high school when I took a liking to purple and black (ah Georgie, the typical half-emo-almost-goth-why-are-you-into-jazz-music girl), and eventually, red. In primary school, my school colours were yellow and blue.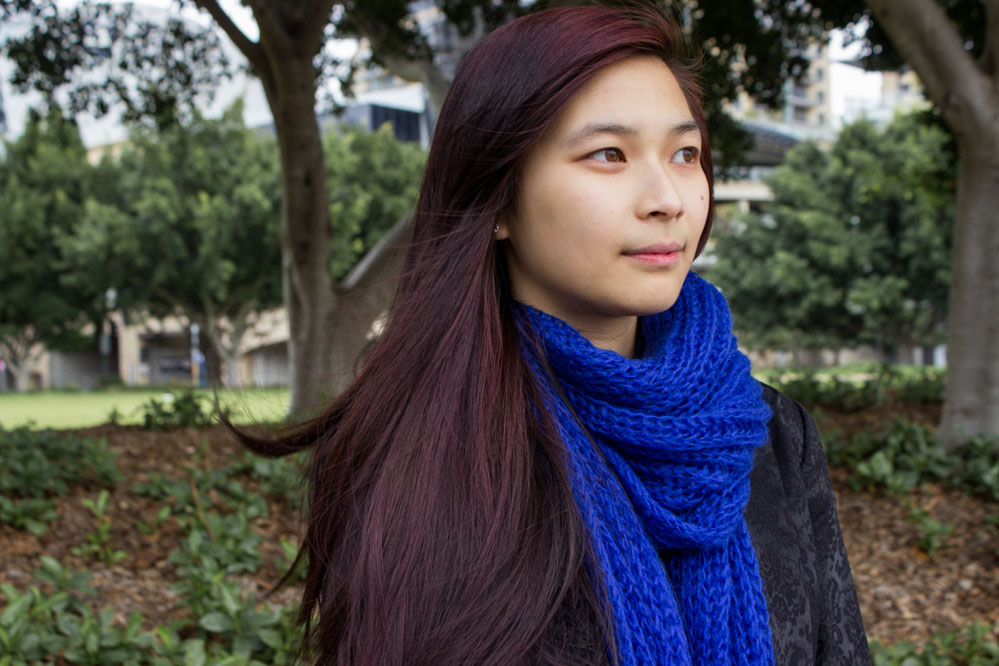 The skirt featured in this post was made by my aunt; I'm not a huge fan of the pleats at the front, and the blue is such a solid, plain blue that reminds me of my school netball skirt colour, but it's a good mix-and-match piece – it goes well with most white, black and blue shirts or tops that I have. It's also a formal, fit-for-work skirt that I did ask for, so I can't complain.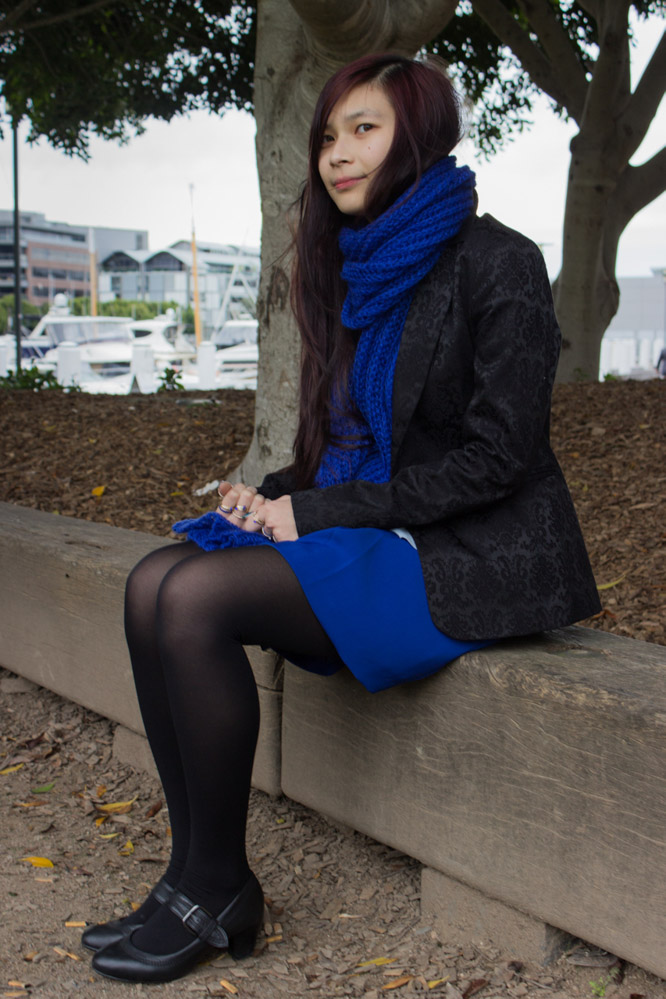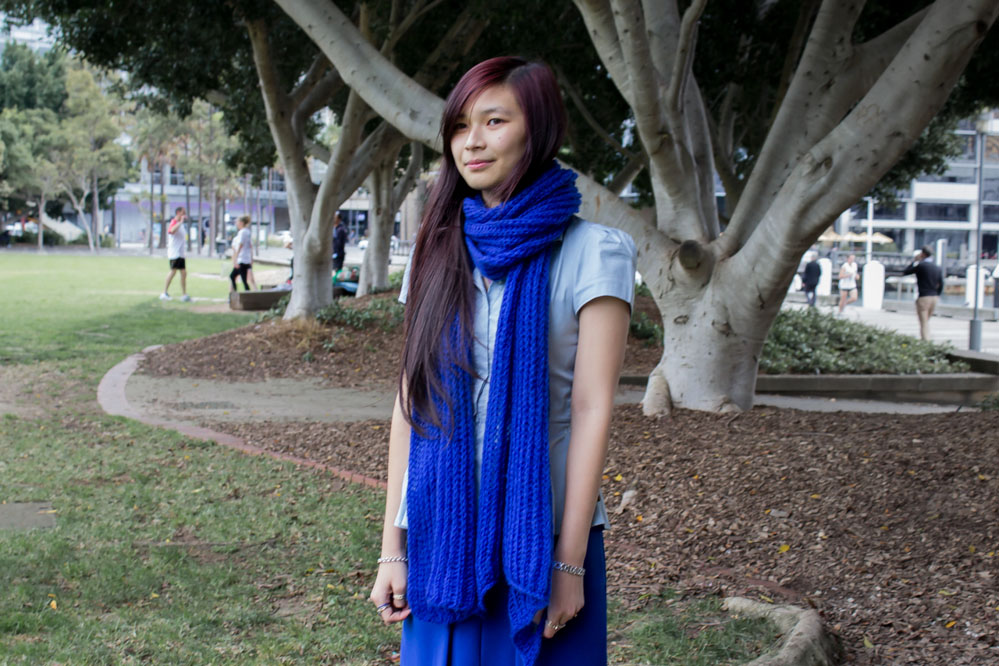 The peplum top is from Cue. I am not a huge fan of the peplum style on tops, since it is sometimes difficult to pick a skirt that goes well with such a statement piece. It would certainly go well with a pair of plain pants or jeans, but I don't really like wearing pants or jeans. I love the shade of colour of this top, though, and the slightly puffy sleeves. One might argue that puffy sleeves are always going to be old-fashioned, but no – like shoulder pads in funky jackets, they might as well be hip, haha.
The scarf is from Myer; my mum bought it for me because she said the colour was marvellous. It is, it's such a beautiful royal blue and goes well with the rest of my outfit.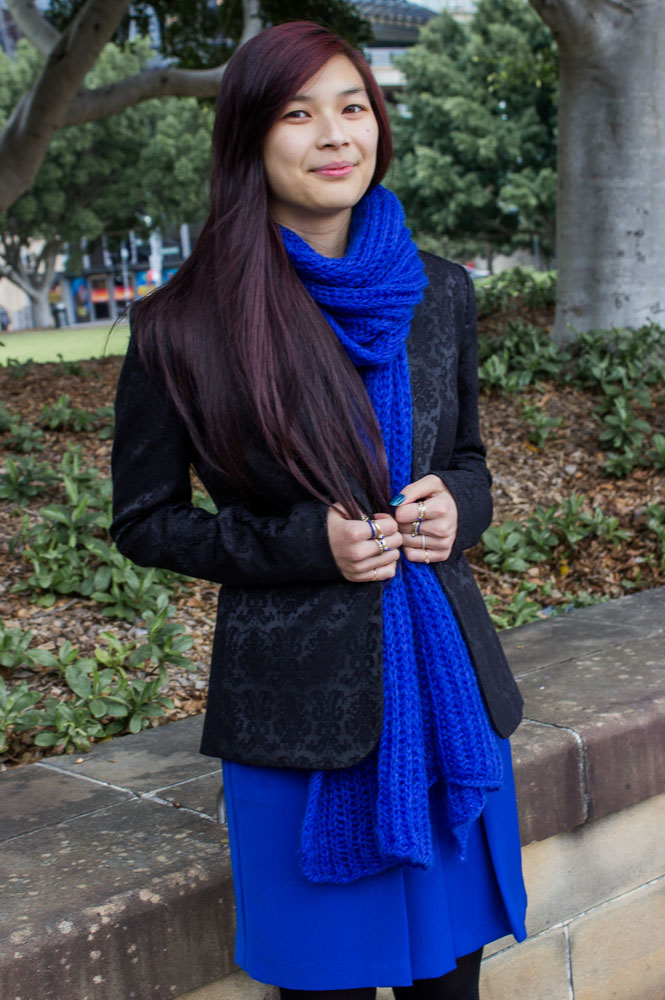 Since there is so much blue, the black Diana Ferrari jacket balances the colour out. With simple black stockings and practical shoes I wear most of the time to work, it stops the blue from being too bright.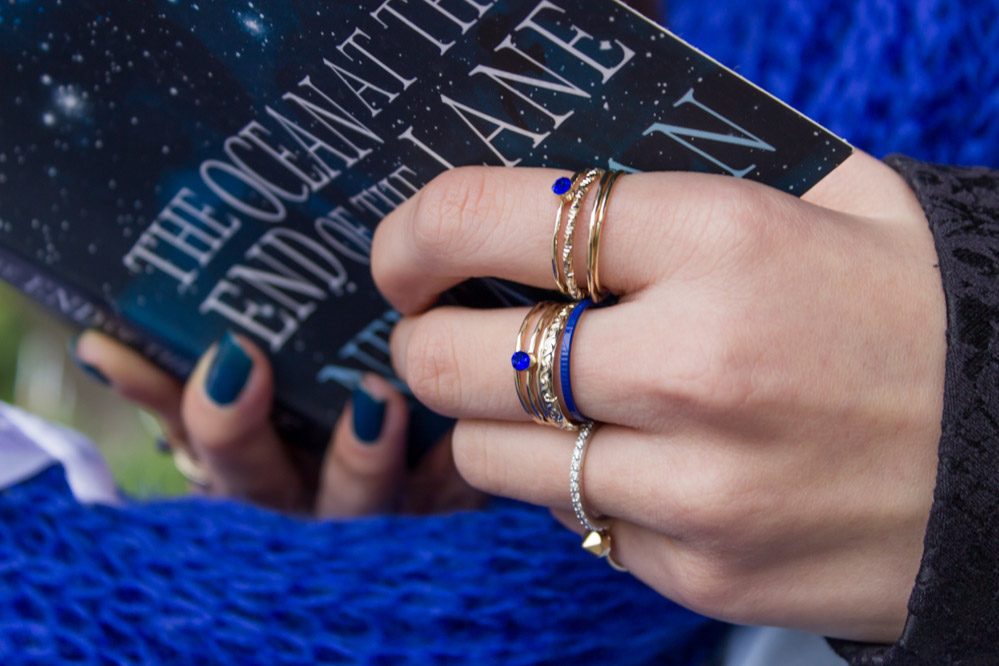 Of course I couldn't resist adding blue accessories to the mix. I chose a ring set I bought from Equip. I had a discount voucher for 30% off on my birthday, and this was one of the purchases I made. The set of rings is supposed to be a large size, and worn just over the knuckles as midi rings, but because my fingers are small, the large size fits fine as normal rings.
And because Seb is smart, he got me to read The Ocean at the End of the Lane by Neil Gaiman while he took some shots. Of course, that cover is blue too… also, it's a really good book.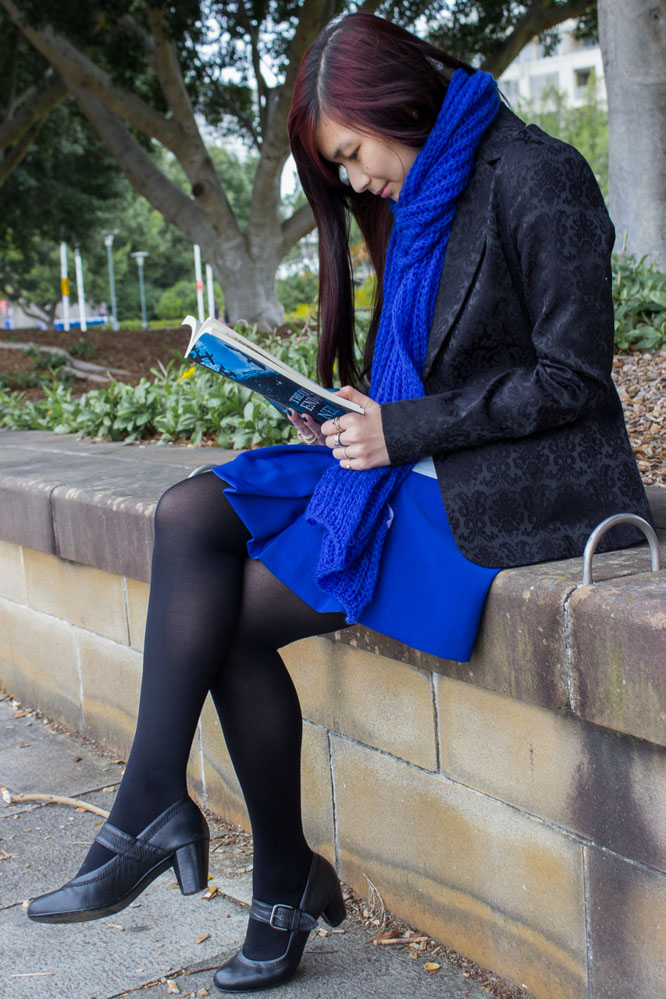 Hopefully I'll have something fun in store for next Friday!