Fashion Friday: Give Me A Try
I went for a more casual look for this FF. I have to admit I don't dress casually very often, and even this outfit might not be casual enough for some. This is the outfit I wore to see The Wombats on Monday. It's rare that concerts are held on Mondays. I know I didn't really feel like putting much thought into this outfit so it's a real mix and match.
The grey jeans (or any jeans for that matter) with the casual boots are a good match. The boots are the same ones I wore in Piña Colada.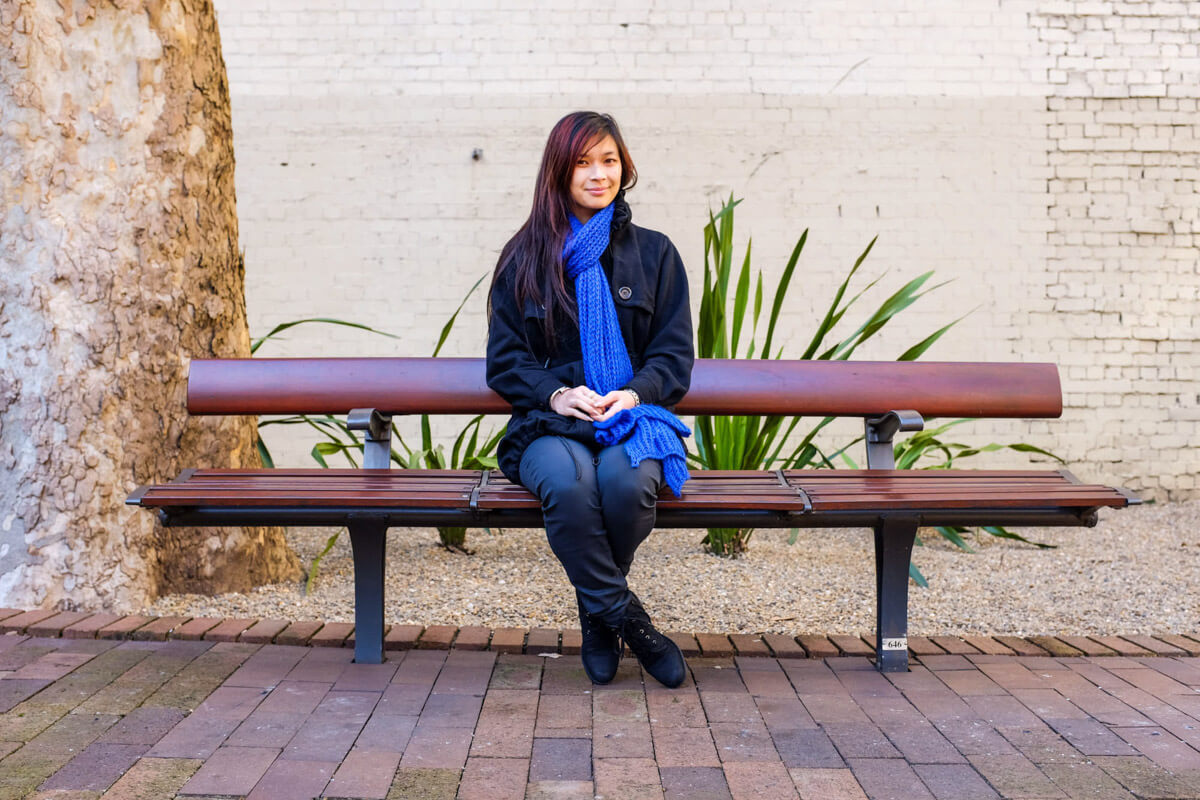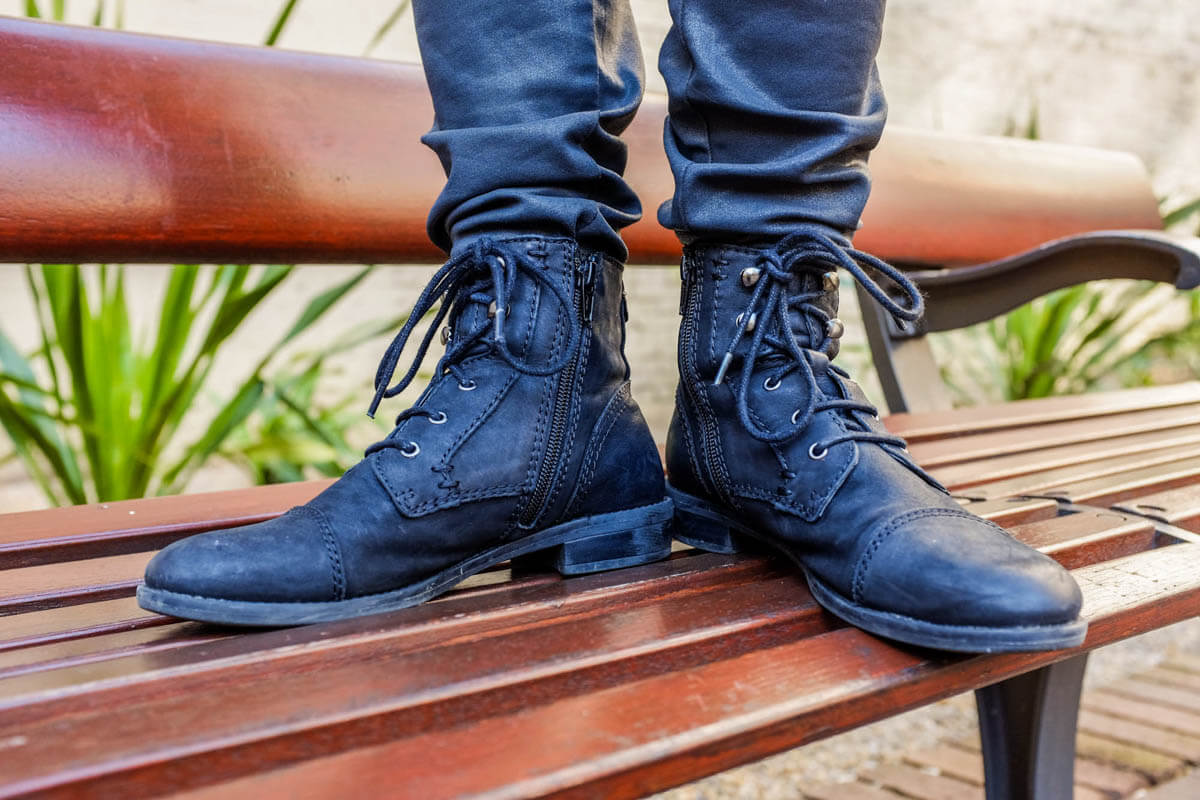 Long time readers will probably also recognise the long blue scarf from last year's TARDIS Blue. I chose the scarf because I needed a pop of colour and the blue matched with the small blue details on my top. The other scarves I owned, mainly black and white, are prone to leaving lint and fluff on my coats and woolly clothing.
It was a very windy day, though I am not sure if it was that cold. I did double up and wear my grey cardigan under my coat, though.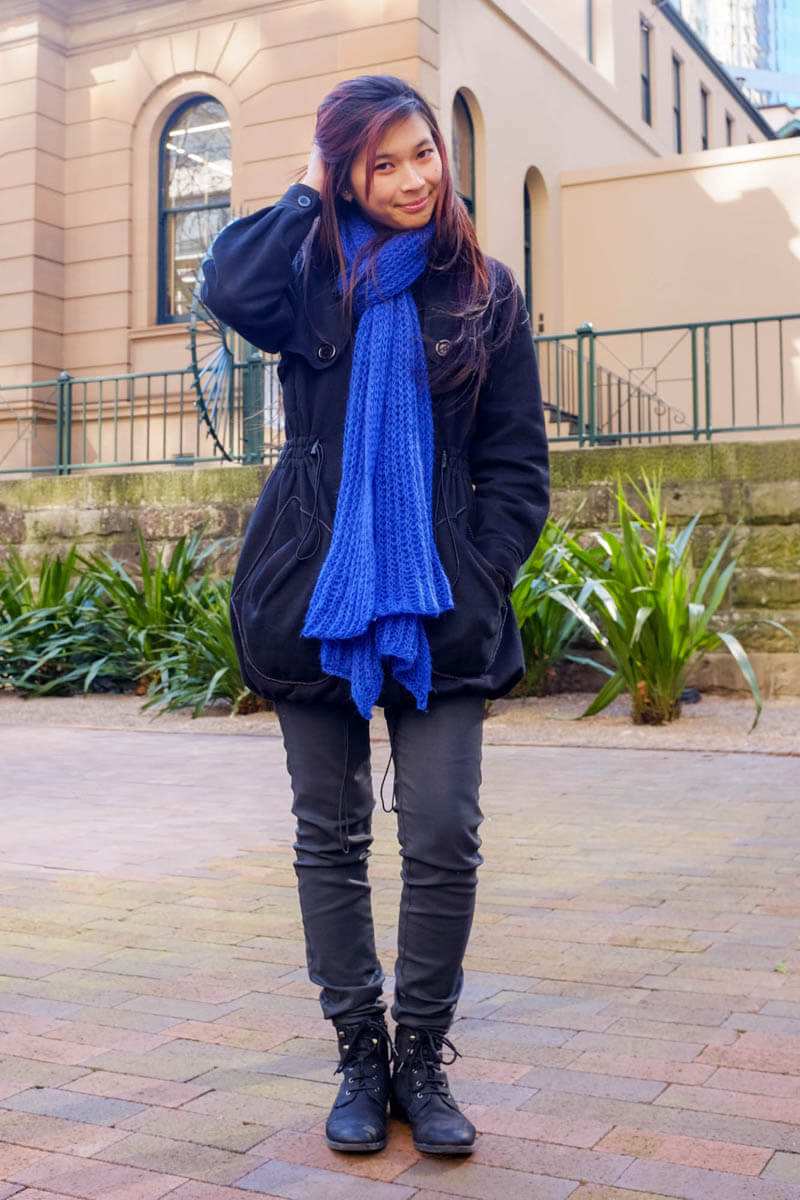 I have been known to call this coat my 'pumpkin coat', named for the way it can be tightened at the waist and at the hem with cord, forming some kind of bubble shape resembling a pumpkin. It's a very casual coat with a bit of a collar as well. The collar can be adjusted and tightened to look more ruffled. The outline of the pockets is visible on the coat itself.
The top is the brand Tokito and I think that it looks better with skirts or leggings because of its long cut. It's also sleeveless. I don't particularly like it in this outfit, but as I mentioned, I just threw this all together. Some people thought the long streaks were my hair because my hair seemed to look like a part of it.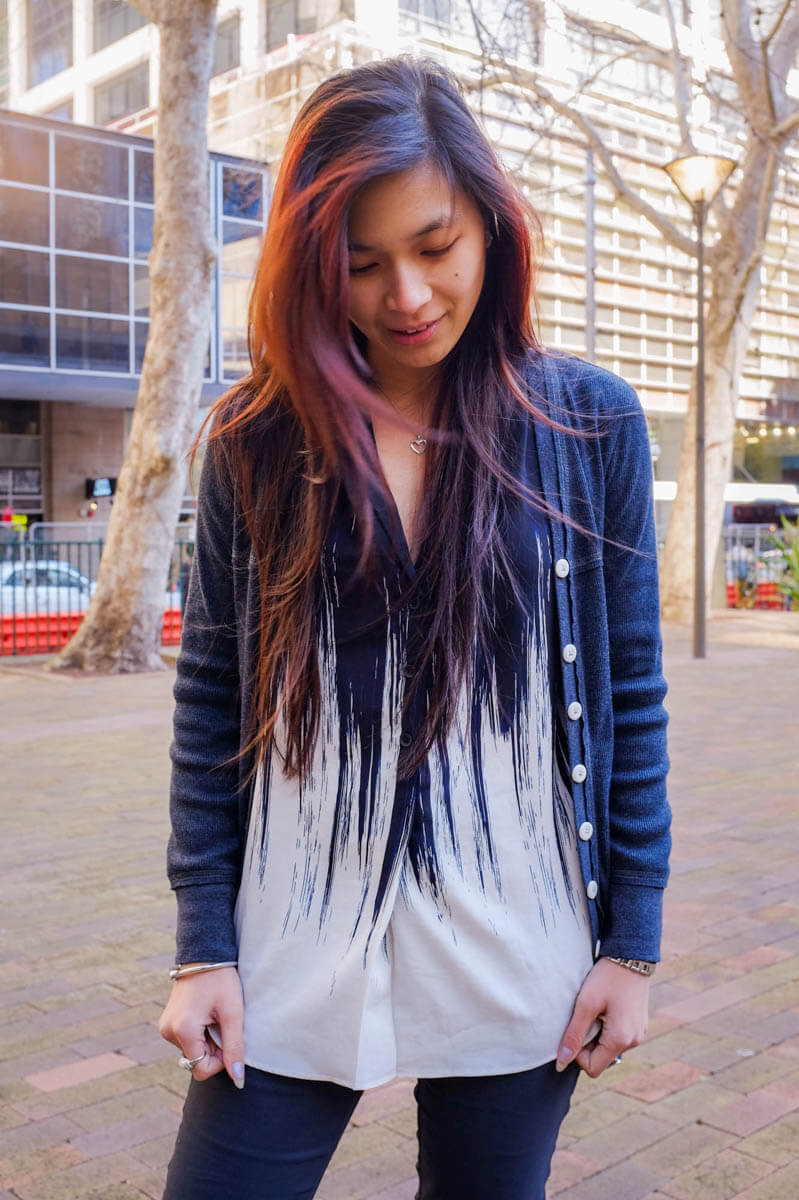 I didn't make any special selections for the jewellery, but overall I did go for a mix-and-match look, but making sure I gave the look some edge with some edgy and bold pieces. The bail bangle was a purchase from a small store that sold bracelets from Taju. I never thought nail bangles were my style and I think they're one of those 'too common' pieces, but I caved and bought this one because the quality stood out to me as being very good.
The same goes for the earrings, which have gunmetal coloured pearls for the back, and cubic zirconia for the stud in front. I dressed down a bit with this outfit, but I like to jazz up these outfits a little with my accessories.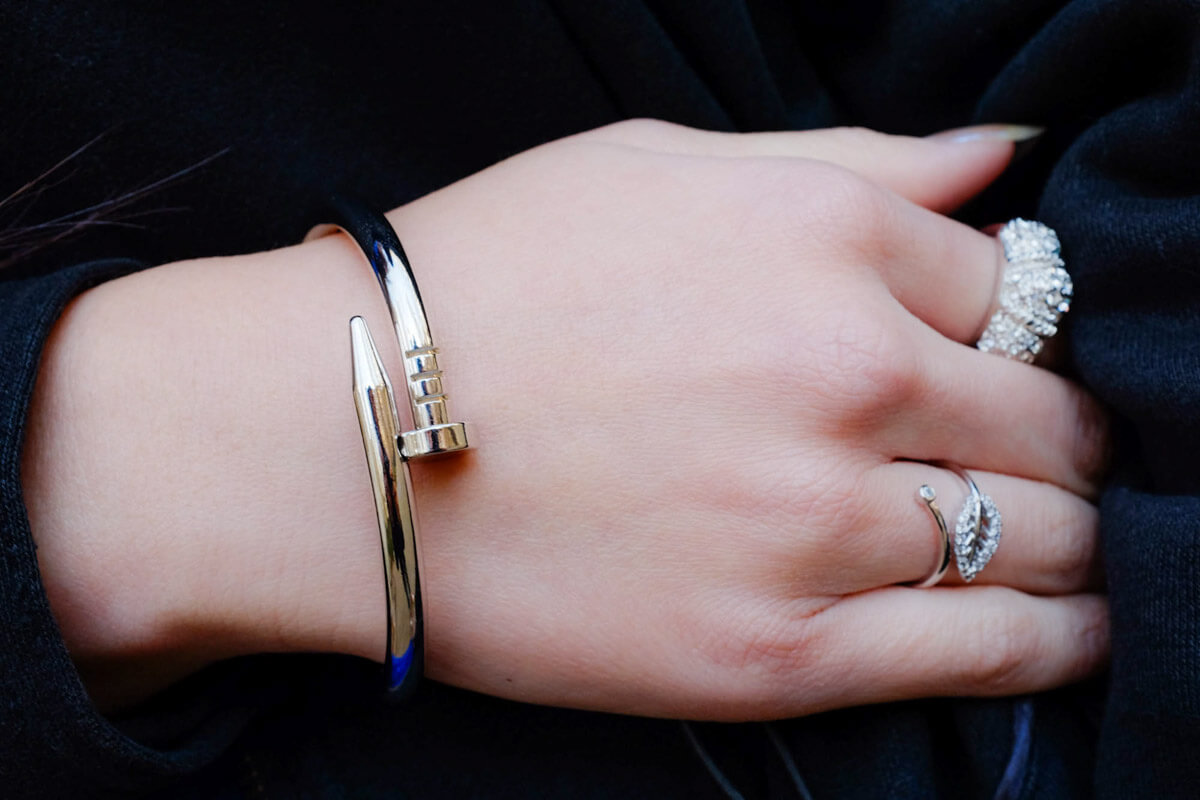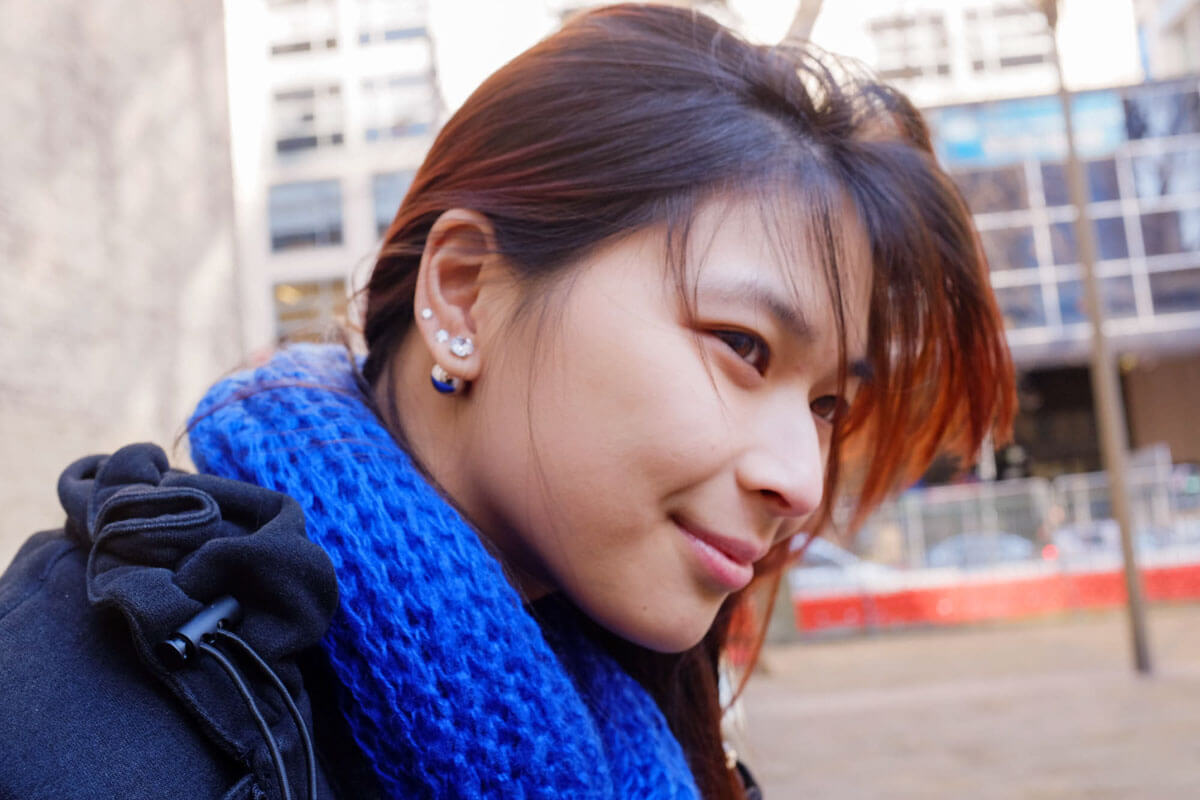 I named this FF after The Wombats' song Give Me A Try. I am happy to say that is probably my favourite song by them. The Wombats were incredible, and I really enjoyed the show. I had listened to a bit of the band's music before, but I wasn't a huge fan so I didn't have much interest in seeing them live. I was pleasantly impressed, and I think some of their songs are more vibrant and energetic when they perform live. I wrote a review and took a bunch of photos, too!
Outfit details
Top: Tokito (available at Myer)
Jeans: Grab Denim
Shoes: Sandler ('Corey' boot)
Earrings: TimeTech
Wristwear: Taju (nail bangle)
Rings: So Good Jewelry (leaf ring)
Coat: Bought from a market
Scarf: Design Studio (available at Myer)
Photography by Seb.