Fashion Friday: Piña Colada
Nick and I have been holidaying in Hamilton Island this week, so today's Fashion Friday was one he helped me photograph on our trip. I have more stories about our adventures here – today we went jetskiing and snorkelling, which was really fun, and we're pretty tired, too. I will write more about our time here in a future post. :)
This Fashion Friday edition is a bit of a change from what we have been seeing recently, mostly because the weather up here in Queensland is like summer (but not ecstatically hot), and back home it's raining and very, very cold. I am not really into the tropical climate and don't like hot weather but around this time of year, Hamilton Island is not too hot.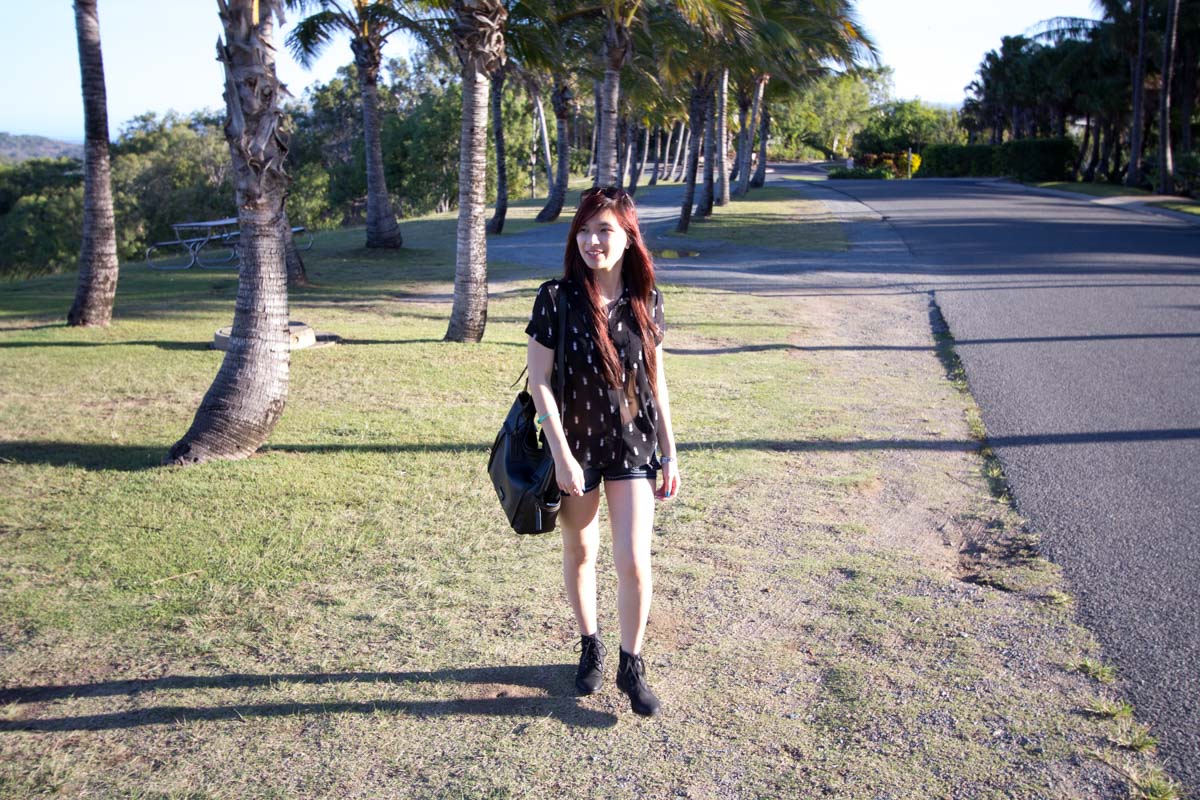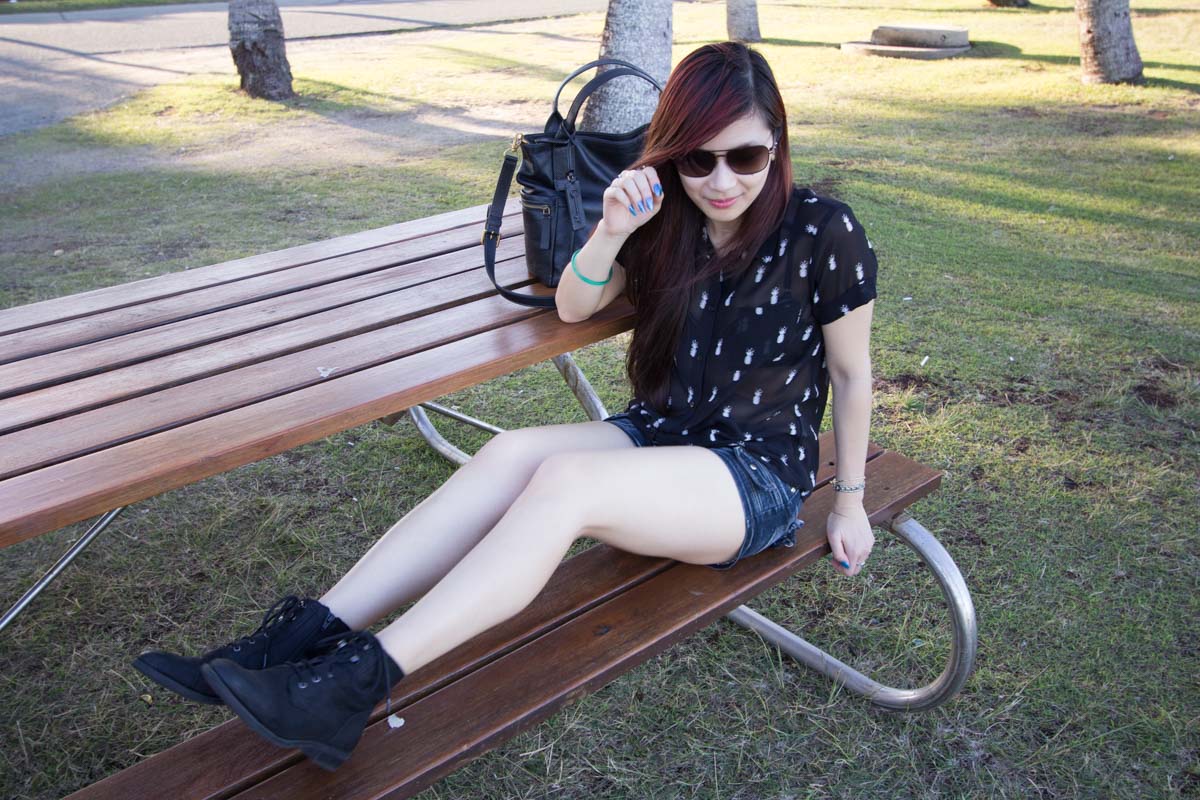 The main item of clothing I wanted to feature in this post is my pineapple print top, but there are a few other exciting bits and bobs. I got the top from Myer, and when I first saw it, I feel like it spoke to me. I don't usually like pineapples, but recently I think I have been taking a liking to it (maybe it is just because Nick likes pineapples…). I really liked the style of the top – a pointed-collar, button-up shirt. I have very few shirts in this style, and I also liked the classic white-on black colour combination. The sheer material didn't bother me.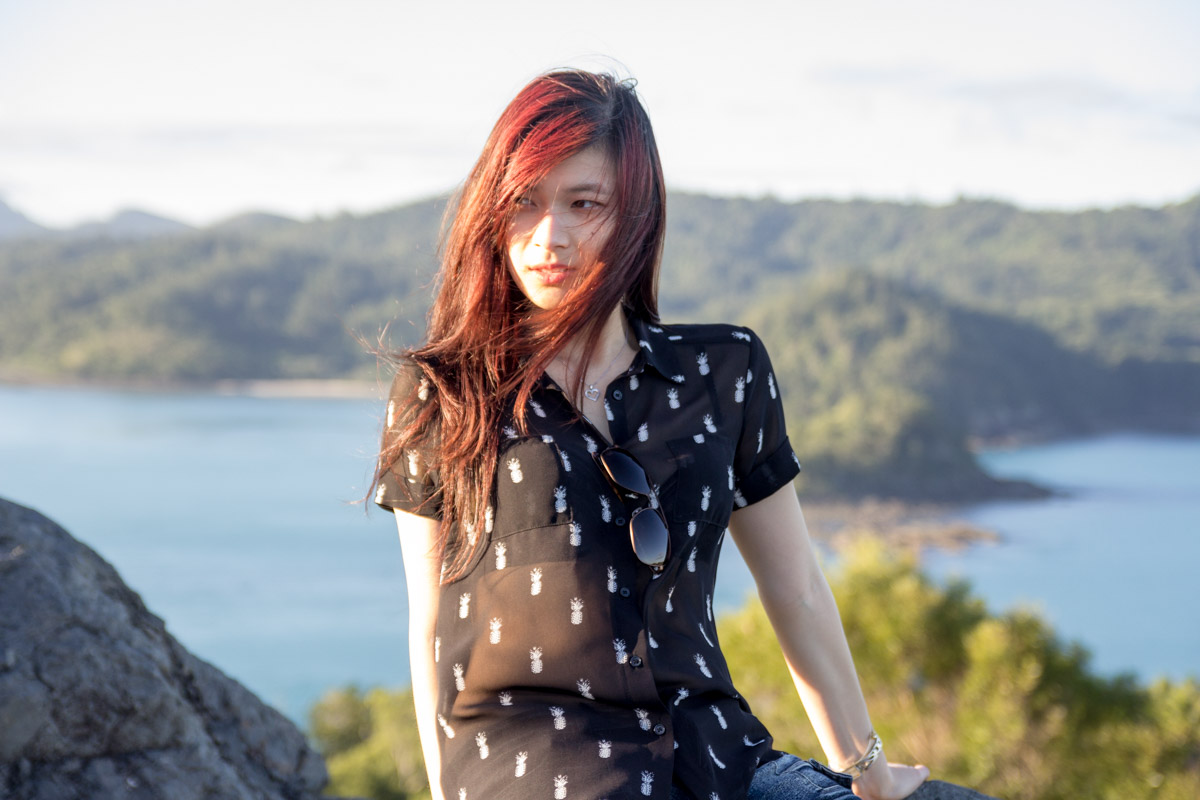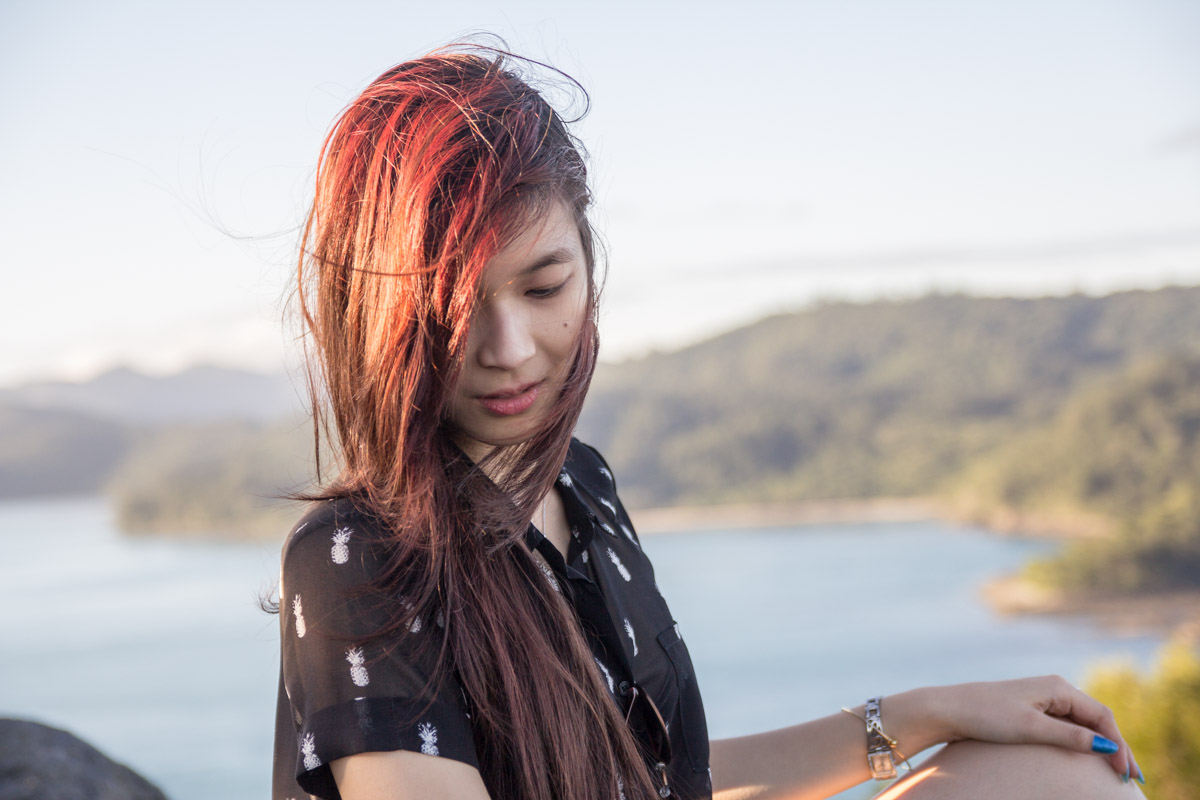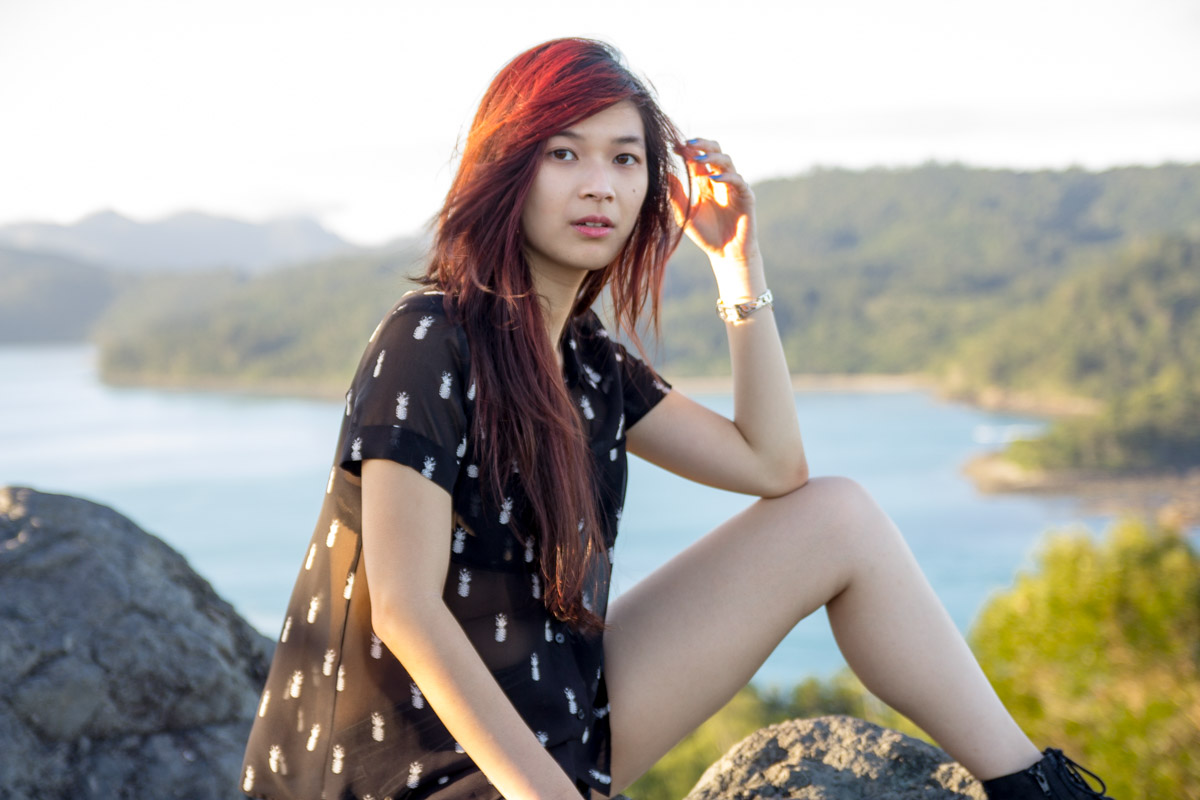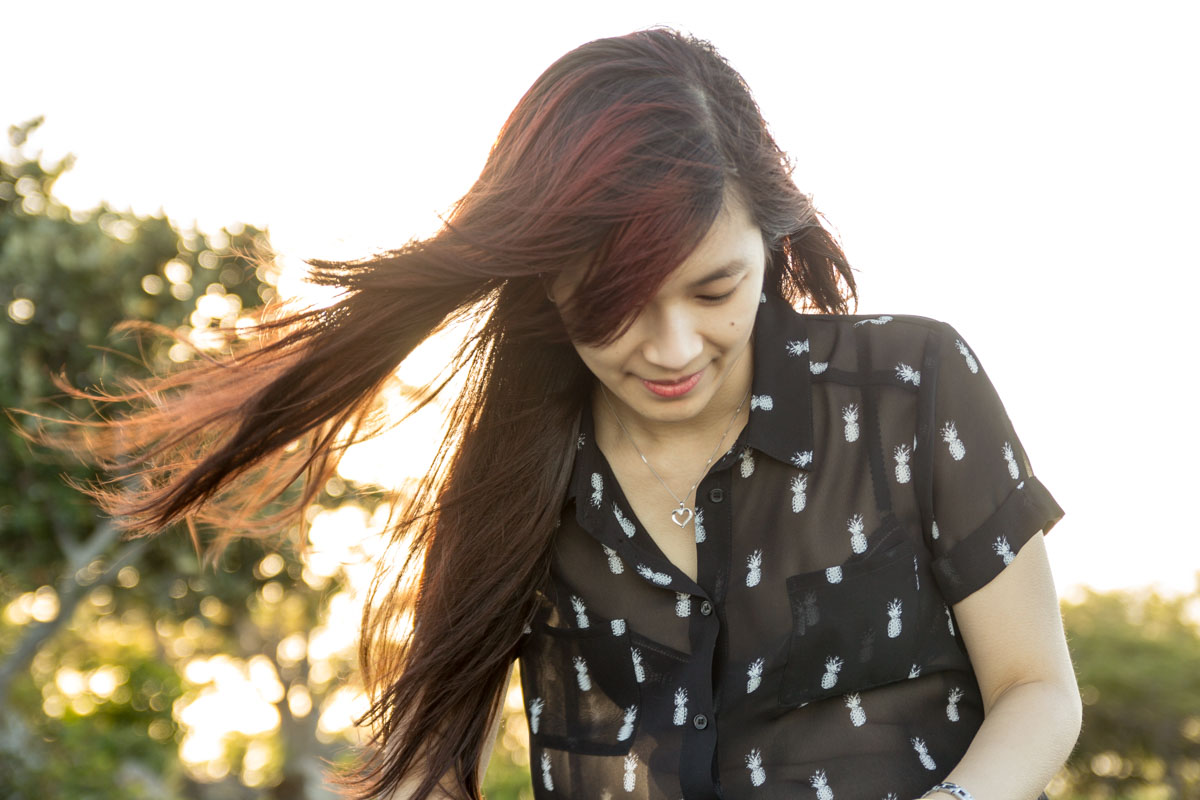 Apart from having a new top, I also have new shoes, a new bag and new sunglasses, all of which I am very excited to write about. Before I write about those, there were a few options for the bottoms for this outfit… but I decided to go with shorts. I'll be honest, I am not a shorts person at all, I don't like how my legs look in them, and I just very much prefer skirts. But I suppose the weather called for something like shorts, so I went for it.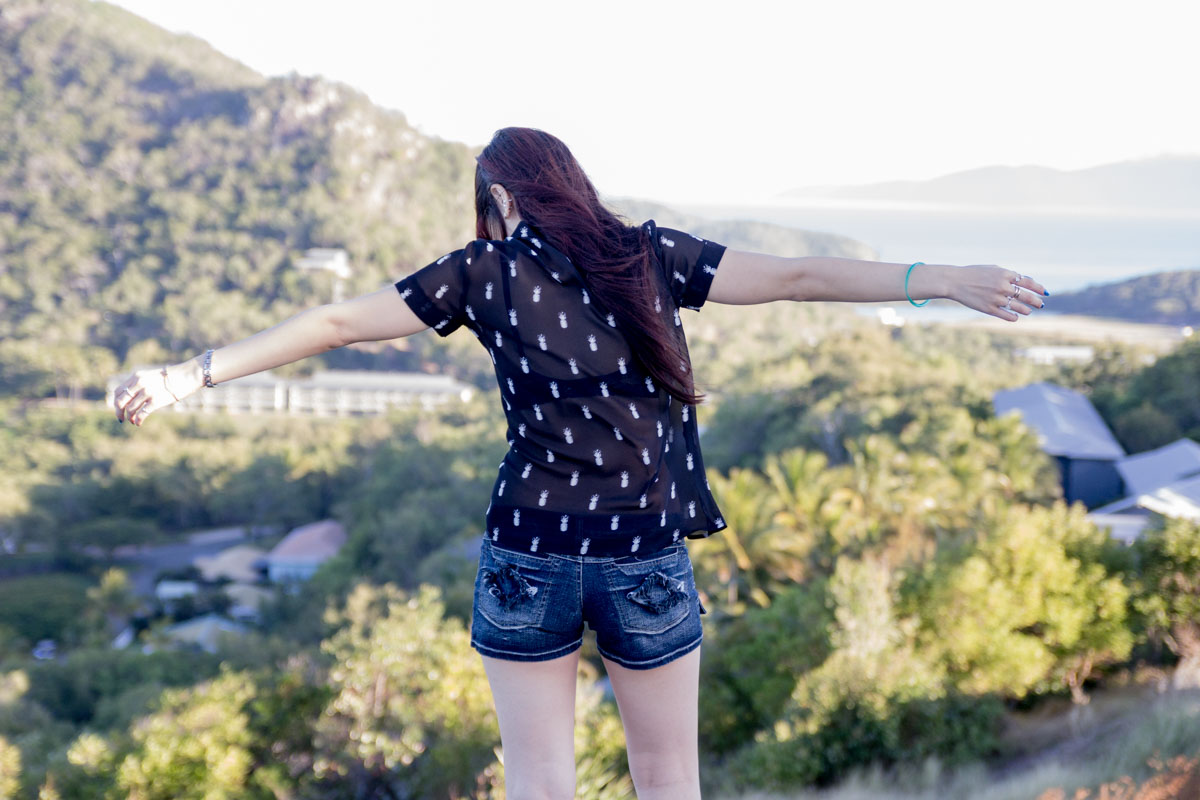 I have owned this pair of shorts for a while, at least five years now, but rarely wear them. The good thing is that they still fit. I believe I bought them on a trip to Indonesia with my family a while back. They have a bit of button detail on the front and stylish rips on the back pockets.
I had been looking for a pair of casual lace-up ankle boots for a long time, but didn't find any that fit the bill until I saw this pair. The smallest size they had just happened to be my size and they were on sale. I was happy with the brand, too – Sandler (and this shoe model is called Corey) – they always have very comfortable, good quality shoes. I love them so much I have worn them to work a lot in place of my high heels.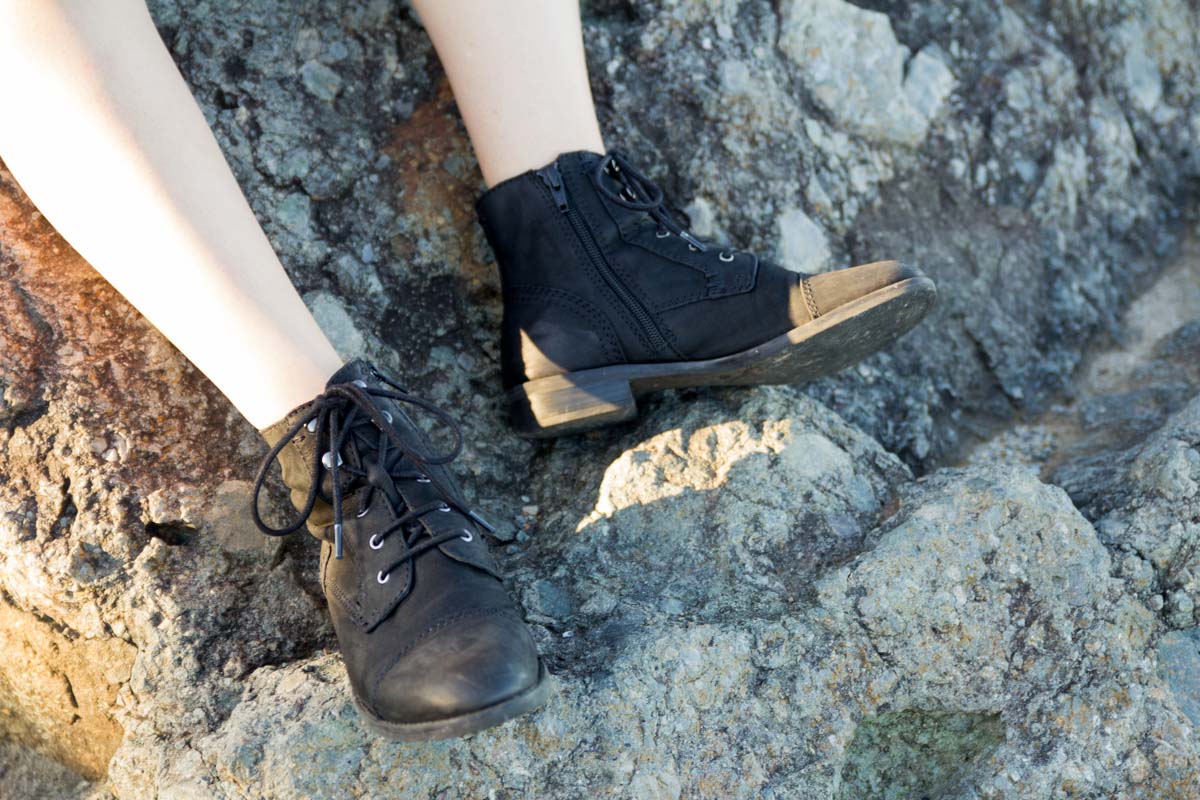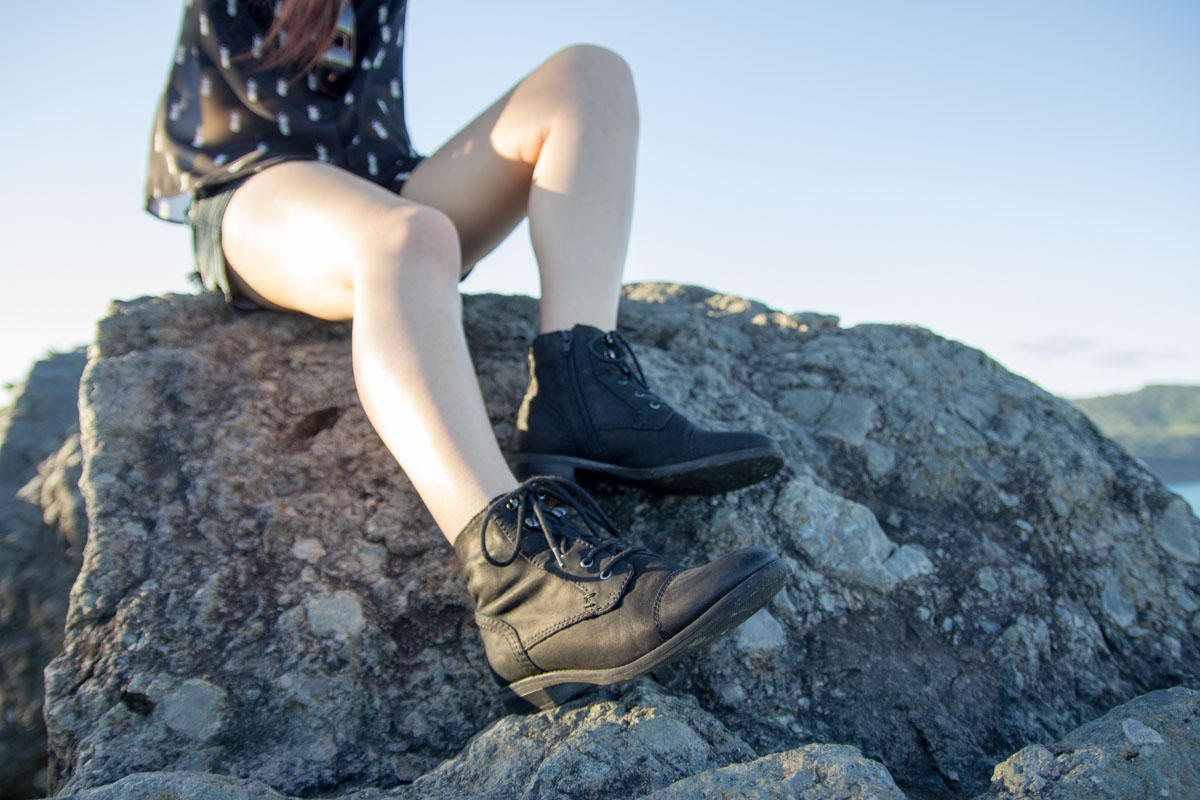 It's a bit of a surprise that I have a handbag in this post, or that I have a handbag at all. For a while I hated handbags, and I tried to carry everything in my pockets or would carry my phone and wallet in my hands. Sometimes, if I had to carry extra stuff, I would put it in this old leather shoulder bag. It fit my camera, iPad, lunchbox, and got used and abused. I threw it around a lot and put it on the ground. I think I stopped using it once someone spilled vodka all over it and the stickiness was too annoying to clean. It was about time I got rid of it.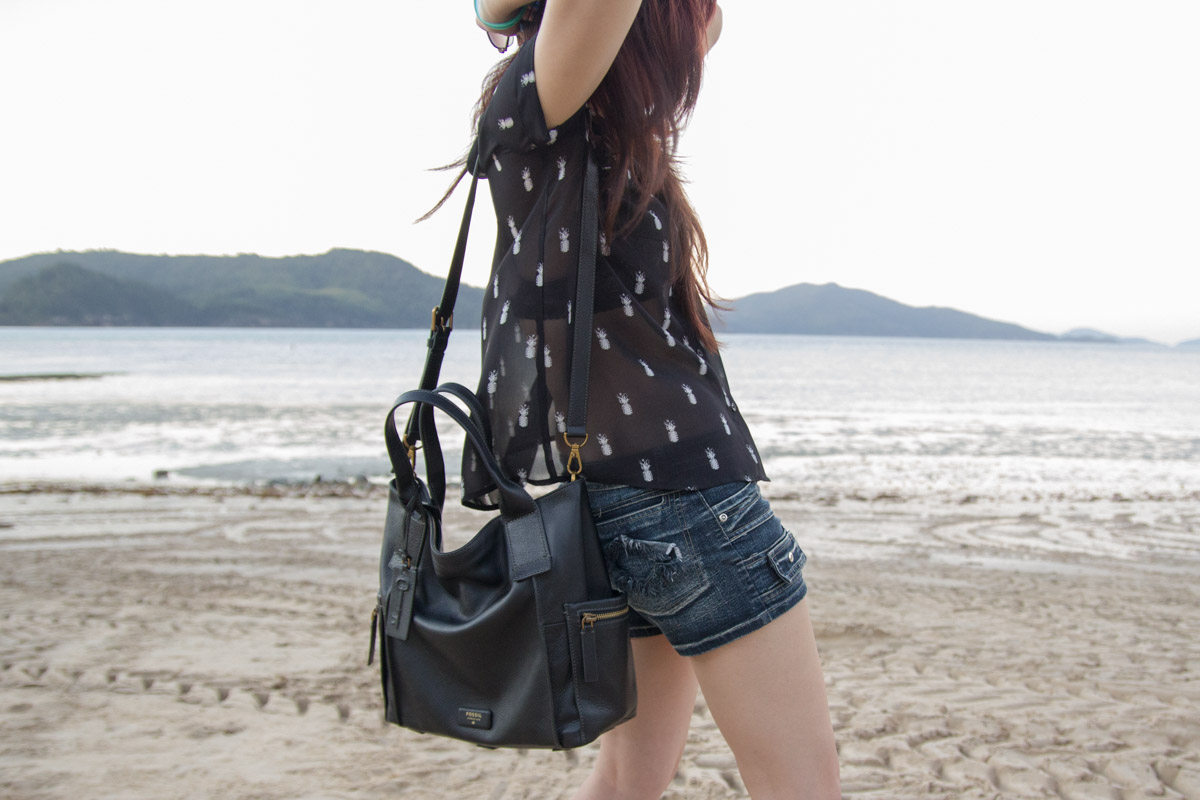 Eventually, after using a grey clutch and getting sick of carrying something without handles, I set out to look for a perfect versatile handbag. I settled on this black Emerson satchel by Fossil, after having bought a Fossil wallet last year. I have always had my eyes on Fossil's products since I saw a girl on YouTube, many years ago, doing a "What's In My Bag?"-type video. She had a really nice Fossil bag that looked like something I wanted in a bag. I love my Fossil bag because it is sizeable, and has an extra detachable strap for wearing on your shoulder. I think that is a necessity for me.
I could never justify spending hundreds of dollars on a handbag but I have to admit this one is good quality and is probably the only handbag I'll ever own…
After buying that handbag, Nick and I made use of a sale at Fossil – he bought a wallet for himself, and I bought myself the pair of sunglasses. Sunglasses were also on my list of "I never really cared much for this but now I actually really do, so maybe I should spend good money on a good one" things. After trying on a black pair and a blue pair, I decided that this brown was interesting and matched my skin tone better, and the lenses were also a fraction smaller so they don't make me look like a giant bug.
You probably recognise the teal resin bangle from Between the lines. It's holding up well! The rings are a small selection from So Good Jewelry, just mixing and matching the bold gold with some delicate silver.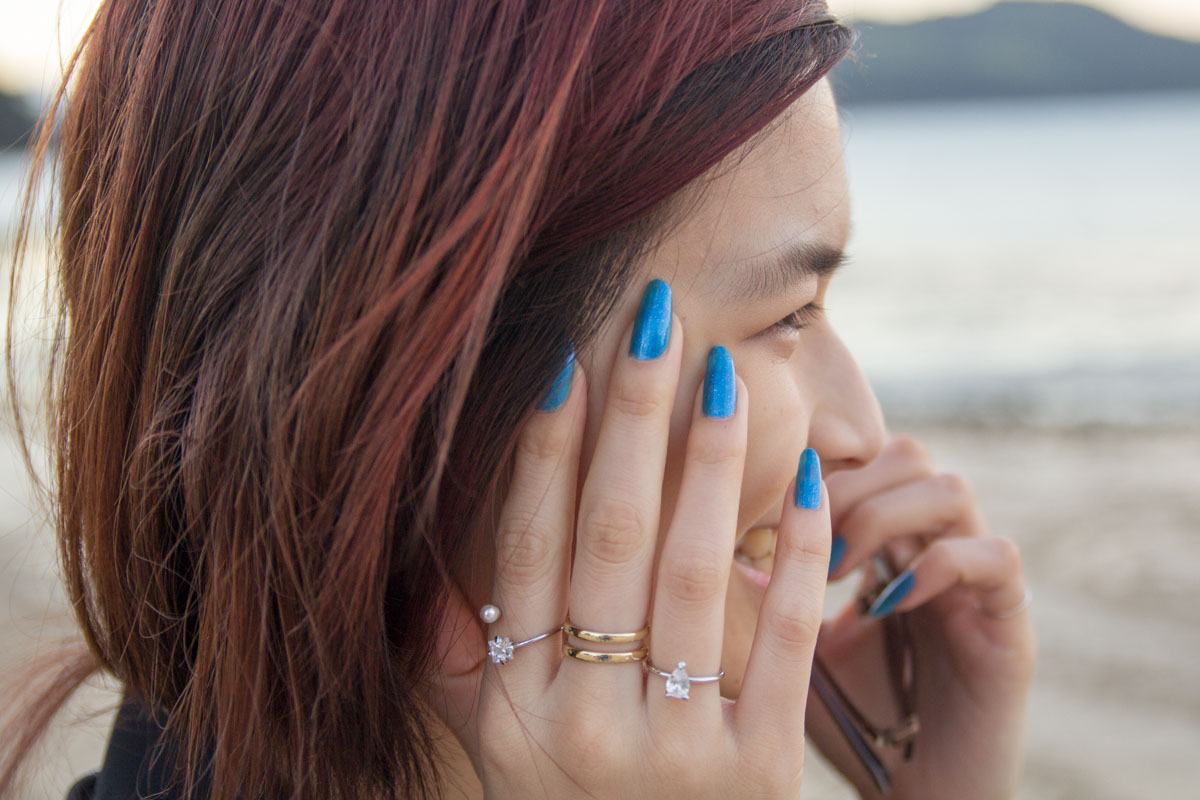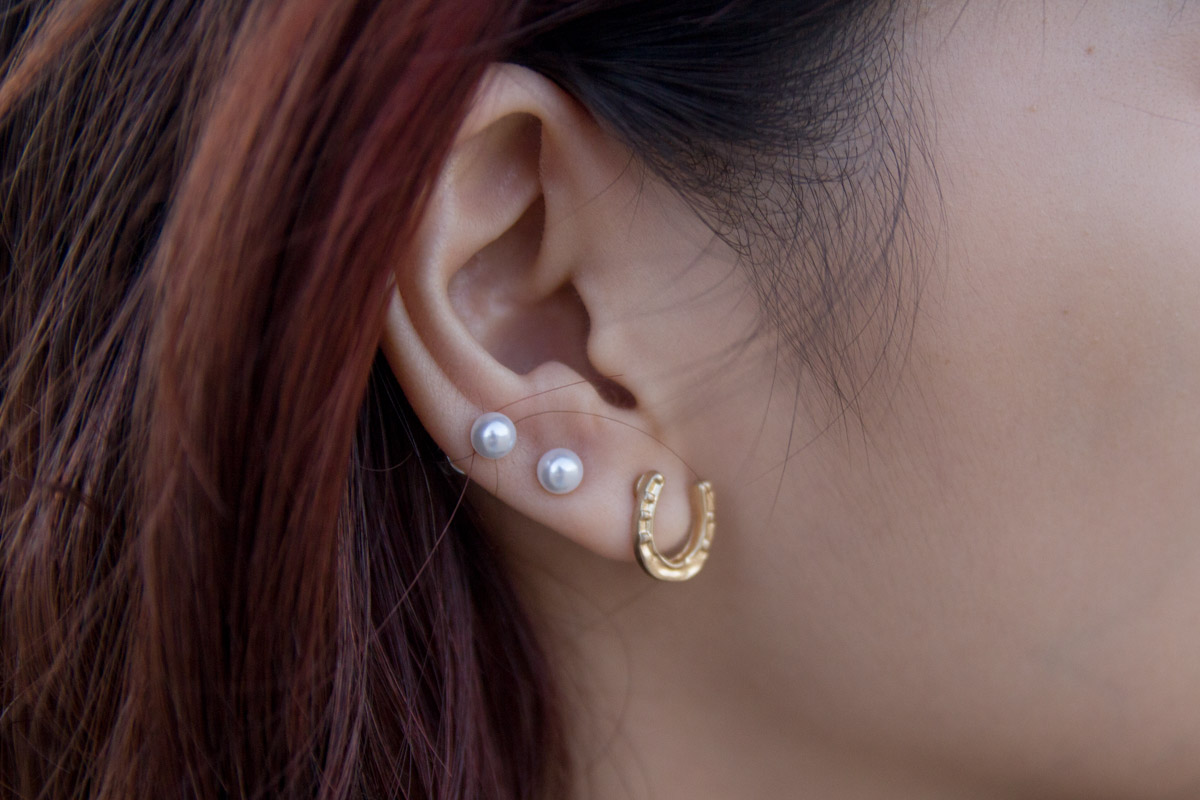 I also mixed and matched the earrings by wearing some small fake pearls along with a quirky horseshoe number I got from my recent Sparkle Box. At first I felt that they would have fit me more a year ago when my style was more quirky, but I think they look alright.
I chose the blue colour for the nails because I wanted something bright and fun.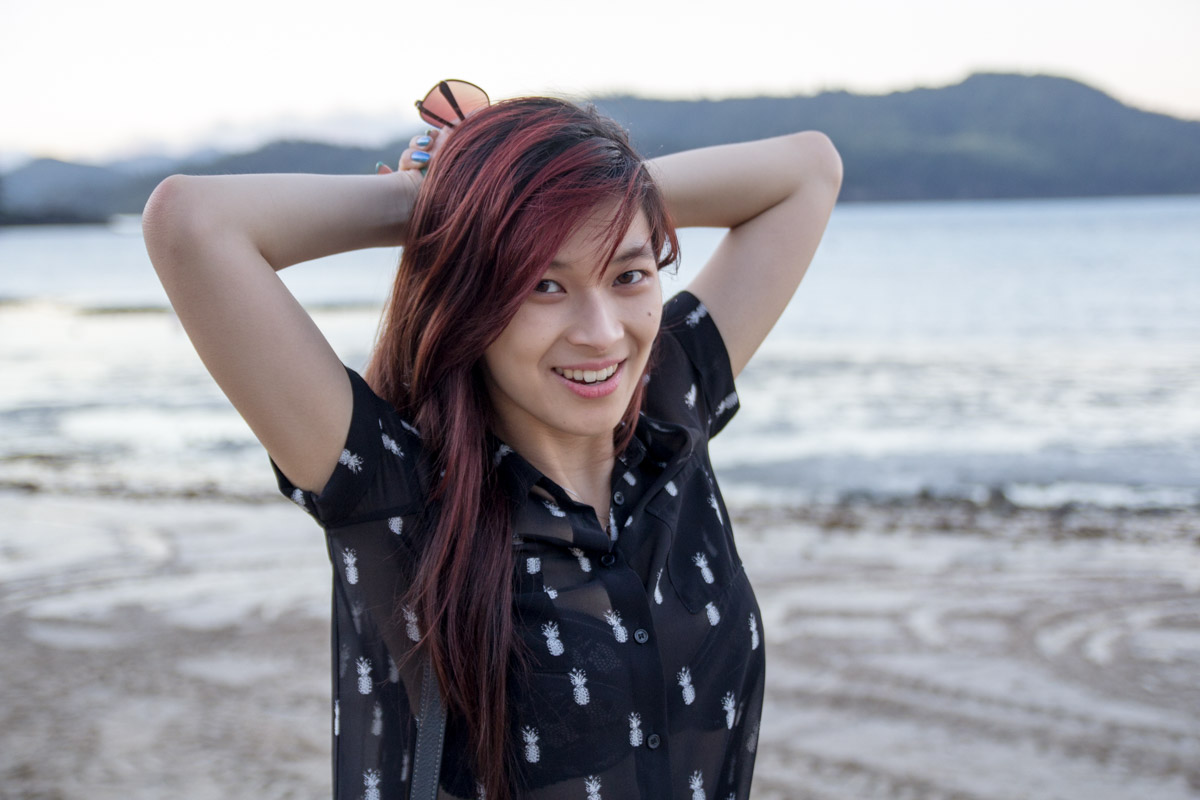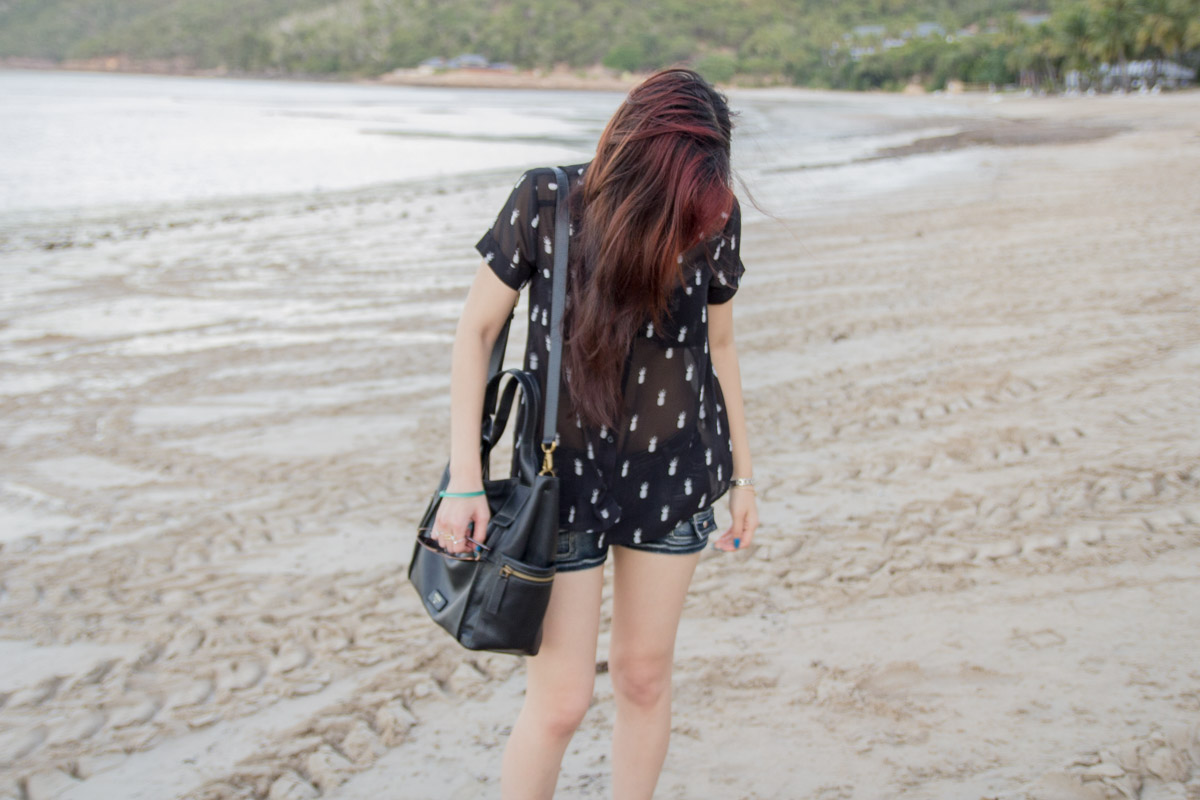 I'm quite happy with this outfit. It isn't something I usually wear but I think it best suits my summer style. I always go for the brightly coloured nails and the casual, almost-sloppy shoes. I'm also pretty glad that my new shoes, bag and sunglasses made it into this outfit and worked together so well.
Outfit details
Top: Miss Shop (available at Myer)
Shorts: Purchased overseas
Shoes: Sandler ('Corey' boot)
Wristwear: KOR by Lisa Gardner (resin bangle); Guess (wristwatch)
Rings: So Good Jewelry
Earrings: Sparkle Box (horseshoe studs); So Good Jewelry (pearl studs)
Nails: Ulta3 in Blue Glitter
Sunglasses and Bag: Fossil
Photography by Nick.