Fashion Friday: The Road Not Taken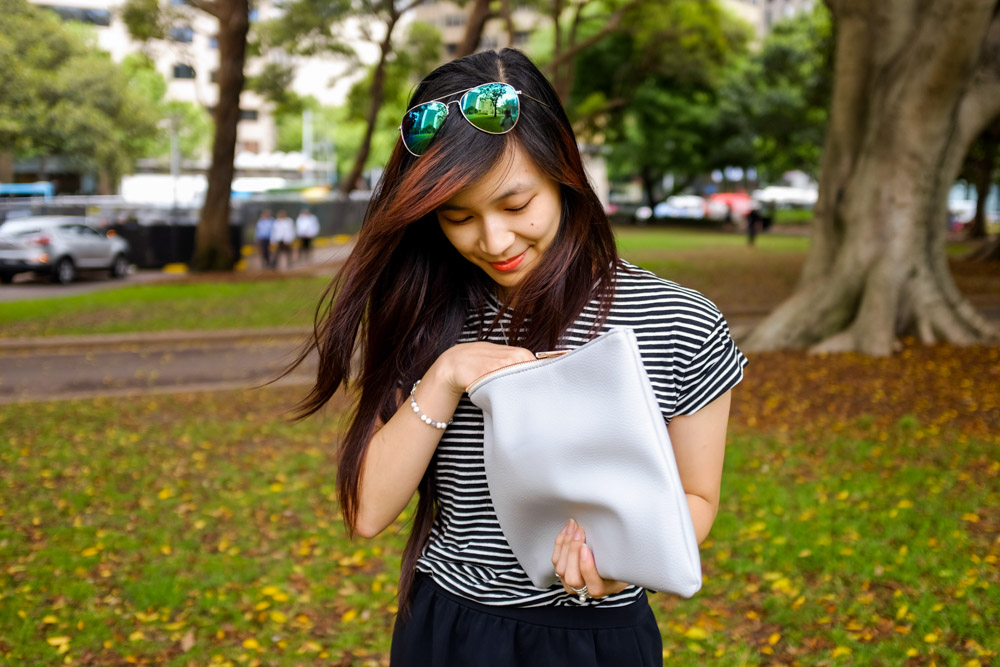 I have been in love with Popbasic recently. Popbasic is a website that is aimed at building your wardrobe with affordable, luxurious pieces. They offer a new "micro collection" each month, consisting of three basic items. They can include clothing such as dresses, shirts, tees, or skirts, or accessories like bracelets, necklaces or scarves. All collections are under $100 but would normally retail for much more. Along with the micro collections, there are also some other products available like their famous Le Breton tees, and their Paloma Leather Clutch. The best part is that the items are Popbasic's own. Not to mention free shipping worldwide.
While I have been following the website for a while, not many of the collections caught my eye or really wowed me. However, recently I have been picking up on the latest releases. I pounced on the Paloma Clutch as soon as it was available again. I'm in love with it! At first I didn't like that it was a light grey colour instead of white, but now I like the muted colour – I know white would be too bright. I use the clutch every day now, and I know it'll last a while because it's real leather. It fits my wallet, phone, earphones, iPad, and anything else I need.
Tristan pointed out that it doesn't look like a bag, it has no handles and looks like a pencil case. I'm a bit amused. Yeah, it does, but that's the style, and I do love it.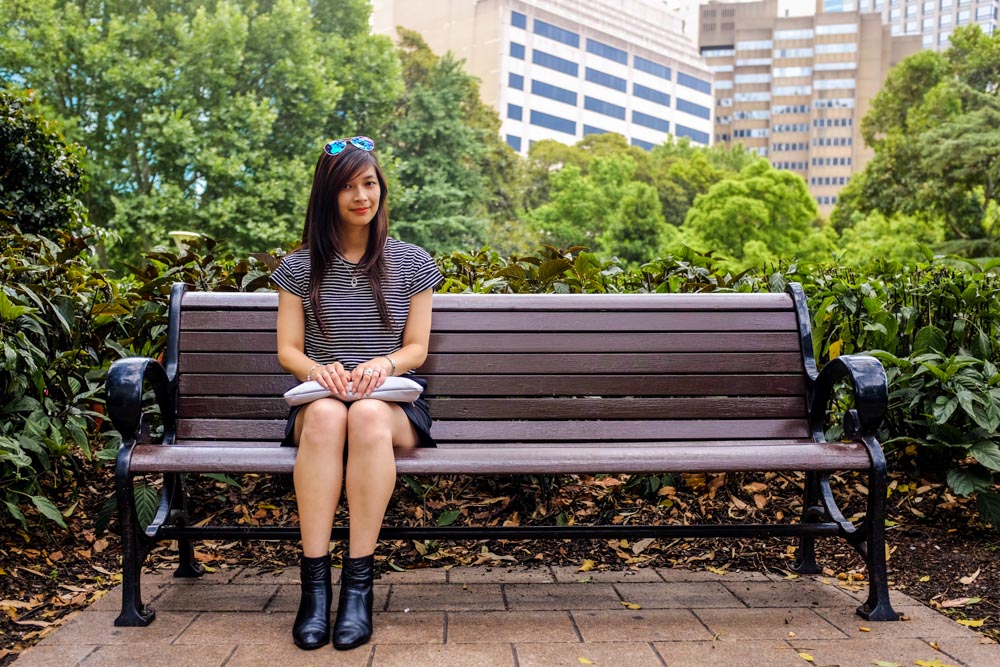 The black and white striped tee is also from Popbasic. It was in a previous collection but I wasn't too fond of the other items, so I passed. When owner of Popbasic, Maddy, posted on Instagram mentioning she had a few tees left, I picked one up right away. I already own a striped tee, but it's a loose-fitting boat neck that has unfortunately been beaten by Popbasic's Traveler tee. I think I have worn it at least five times in the past two weeks. It's so comfortable and soft, and I like the small sleeve detail. I usually love folding up the sleeves of my t-shirts.
I encourage you to check out Popbasic and use my referral code for $15 – that means $15 off any purchase. The newest collection Amelie is still available, and I've purchased one for myself because I just love that stripy dress and the fact that it has pockets.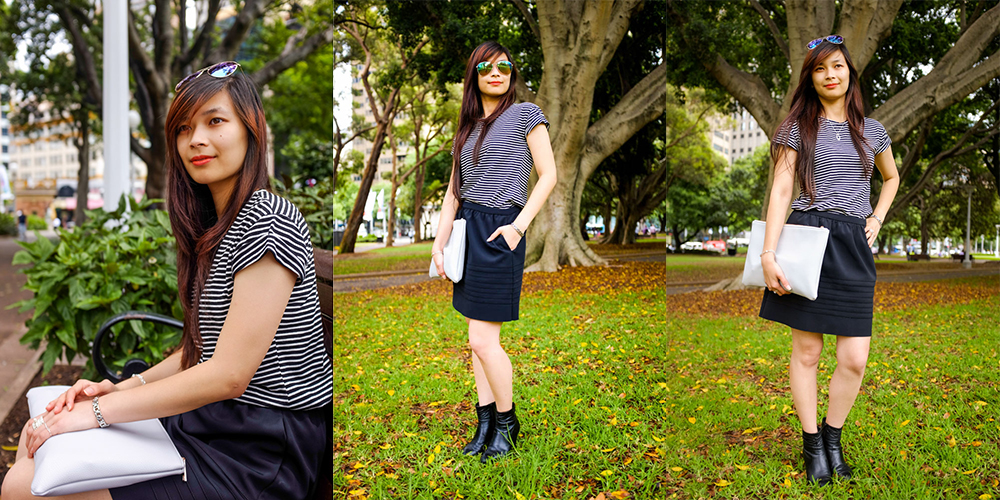 The skirt I am wearing is a rather loose-fitting one, which sits on the waist. There is a bit of stitched detail on it, which matched the direction of the stripes on my tee. Interestingly enough, the hem of the skirt isn't stitched, it's just cut straight. Also speaking of pockets, this skirt has them too!
I'm wearing black boots I wore in a previous edition of Fashion Friday. I actually had them re-soled and fixed up because the heels and soles were pretty busted up. Not many people would bother, but these shoes are worth paying for repair, since they are real leather and it is exceptionally hard for me to find shoes that fit me.
I got the sunglasses from the new H&M store that recently opened here. We only have a couple of stores in Australia, and it looks like they will soon be popping up all over town, along with Forever 21. Uniqlo has already made an appearance in several towns. It's nice to see these stores opening, because I always liked the look of their products when I looked at their websites or saw other people sharing their purchases on the internet. I wanted to buy some new sunglasses because my bold black ones were too big, and I wanted some aviator-style ones. These ones were only $9.95, polarised too. What a bargain. I am sure I will be visiting H&M some time again in the future.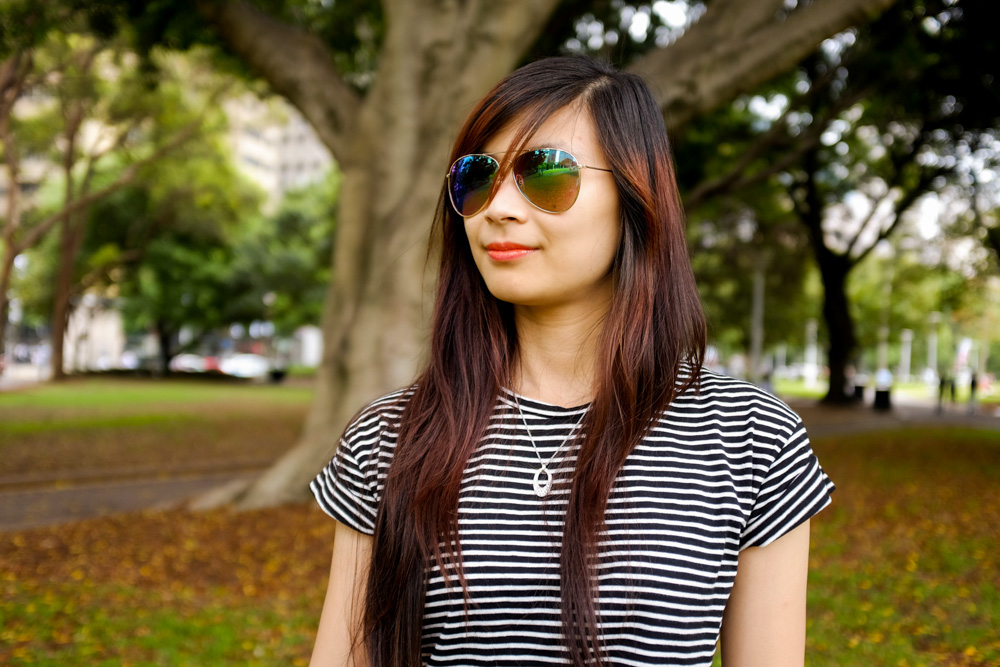 The necklace is one that James bought for me last Christmas. It was a bit of a random choice; I thought that it was a nice contrast to the outfit. I am also wearing the bracelet from my October shipment of my Helene Jewelry Box (it's more visible in the photos above). I'm also wearing a stack of six rings that I bought a while back; I'm not such a fan of them now but I felt that they fit the outfit.
I don't actually have any red lip gloss (and red is my favourite colour!) but this YSL Rouge Pour Couture Vernis à Lèvres Glossy Stain in 21 Orange Fusion comes super close. :D
Overall I really love this outfit, I know there are bits and pieces I will be wearing time and time again. I encourage you to keep an eye on Popbasic (don't forget you can grab $15 off), you're bound to find something you like. It won't just be a one-off piece either, it will be timeless. You can also join the referral program and you can get $15 for every $15 you give to someone. I know I'll be buying a lot more products from Popbasic in the future. I should also mention that owner Maddy is a sweetheart and is super fast at responding to emails. If you ever have an issue, she's keen to help out too – I should mention that she let me swap out the two accessories in the Amelie collection for a scarf from a previous collection instead.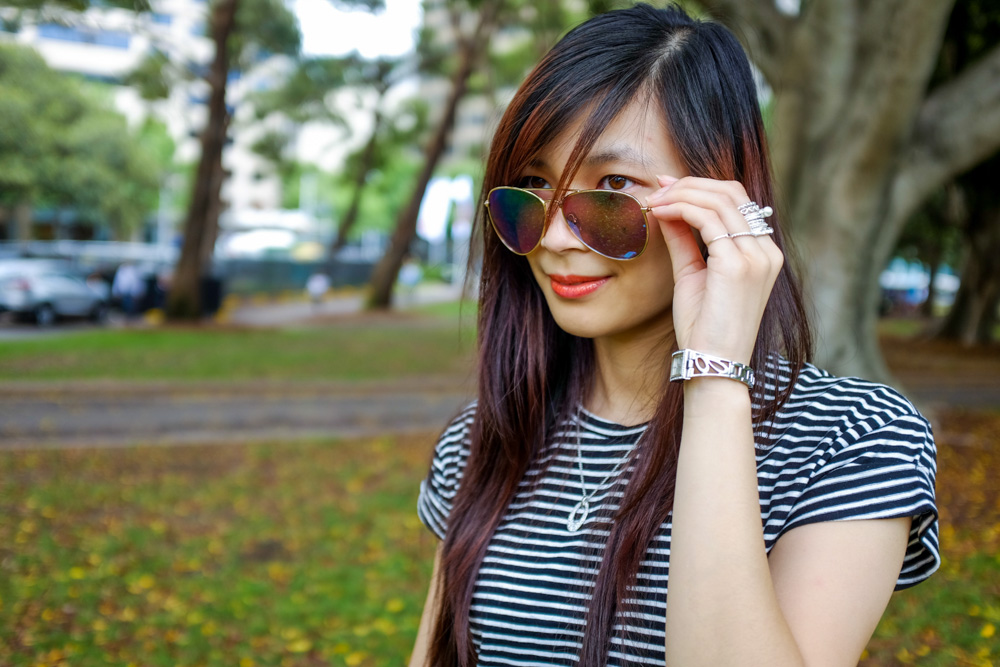 What are your favourite staples pieces in your wardrobe?