Fashion Friday: Polka Dots
Cookie: You're very polka-dotty today.
Me: Well spotted.
We moved to a new office this week, in the heart of the city, in a high-rise building. Better than an old school hall, better than the third level of a small building in a bland little part of town, better than the third level of a bunch of design suites, better than being above a massage parlour and a herbalist (third level again), possibly better than the wharf we were located at before. And it has only just occurred to me how many times – through the various jobs I have had – I have been on level three.
This outfit is from last week. We were having a farewell party to say goodbye to the office by the water, and I thought about wearing something really classy, but I scrapped that idea. This outfit is a bit more playful and bold.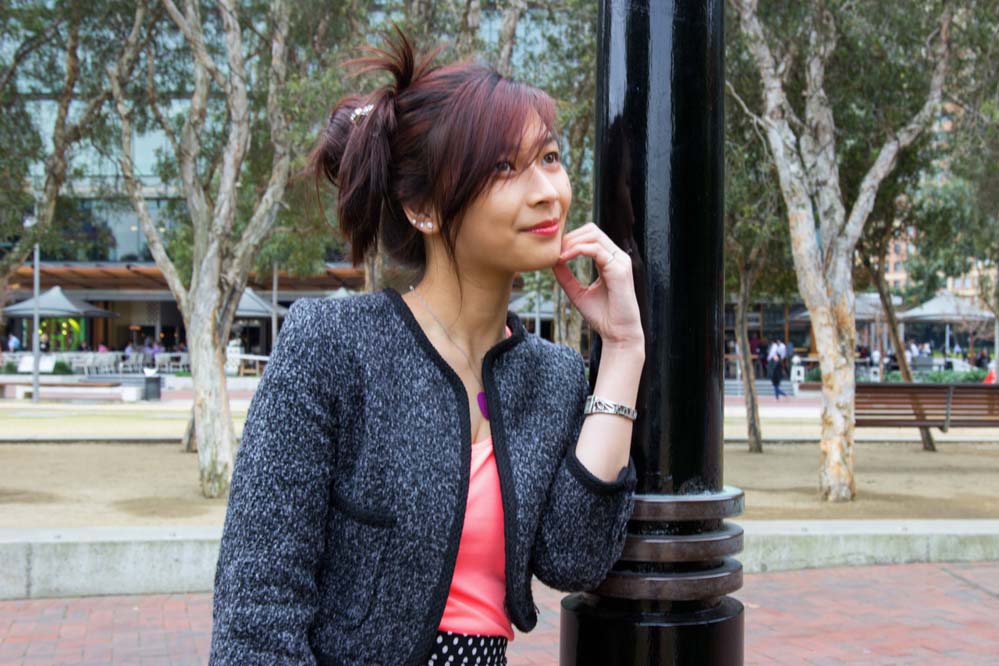 I'm wearing a fluorescent peach top I got from Cotton On. When I bought it, I was excited to have a coloured, rounded neck tee, because I have so few of those. When I received it in the mail, I was pretty surprised at just how bright it was. It's quite a snug fit, and I've found that I prefer to wear it tucked in. It stands out a lot, so I make sure everything else I wear with the shirt isn't as bright.
I'm wearing a cropped jacket with pockets. The pockets are quite shallow (my phone sticks out of it if I put it in) and I keep forgetting that they are there, but if I'm not moving around too much, anything in there shouldn't fall out too easily. The jacket itself doesn't stretch. It's tweed and lined with thin polyester fabric. The little thing I like about this jacket is that it also has cropped sleeves, so it doesn't cover the wrists. I love sleeves that are at this length. You can wear bracelets or show off other jewellery on the wrist without pulling up any sleeves.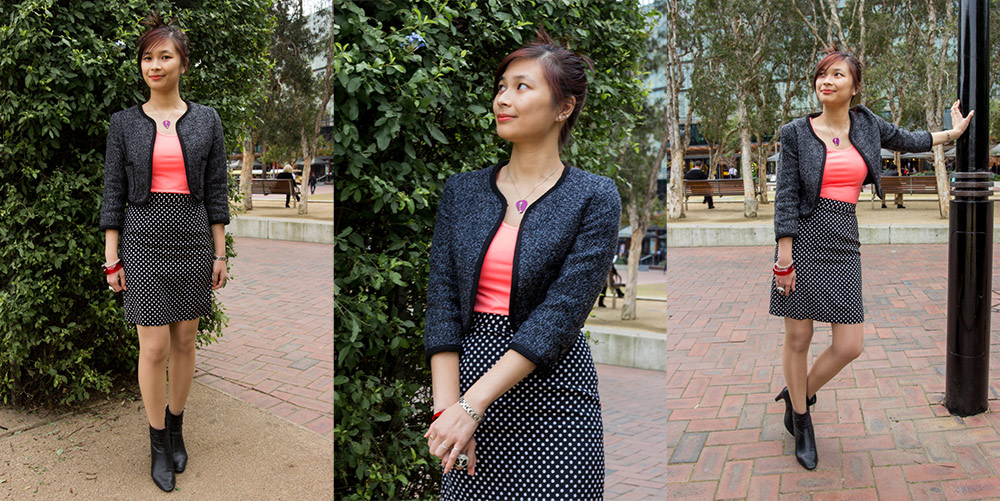 The polka-dotted skirt, another number designed by my aunt, isn't a real favourite, but I have found that it goes very well with cropped tops or if I want to tuck a shirt in and accentuate my waist. The skirt is a statement piece itself so everything else should ideally be simple. I have a black spotted top, but no way in hell am I going to be a walking optical illusion by wearing that with this skirt.
I am quite happy with the print. Being quite petite, I know that large-scale prints can make me look even smaller, so I go for prints that are on a smaller scale. Think skinny stripes, not wide ones, more detailed floral patterns rather than big ones, and in this case, smaller spots/polka dots.
I rediscovered my boots in my wardrobe. They're from Jane Debster, and the page is still on their website if you want to look into the details and check out some better photos. The style is called Egypt Black Glove, and they're real leather, so did set me back a bit, but I also bought them on sale. They are quite a few years old and I remember them getting soaked through one rainy night back home from university. But they have lasted a while. I'll admit they're getting pretty beat up now, though. One of the heels has worn out quite a bit and there is a dent in one of the toes. But I love, love, love this pair of shoes to bits. I had been dying for some heeled ankle boots and these are certainly a winner. Given the chance, I would totally buy another pair. I'm a bit like that with shoes because it is difficult to find ones that fit me. Once I find a pair I love, I stick to them like glue.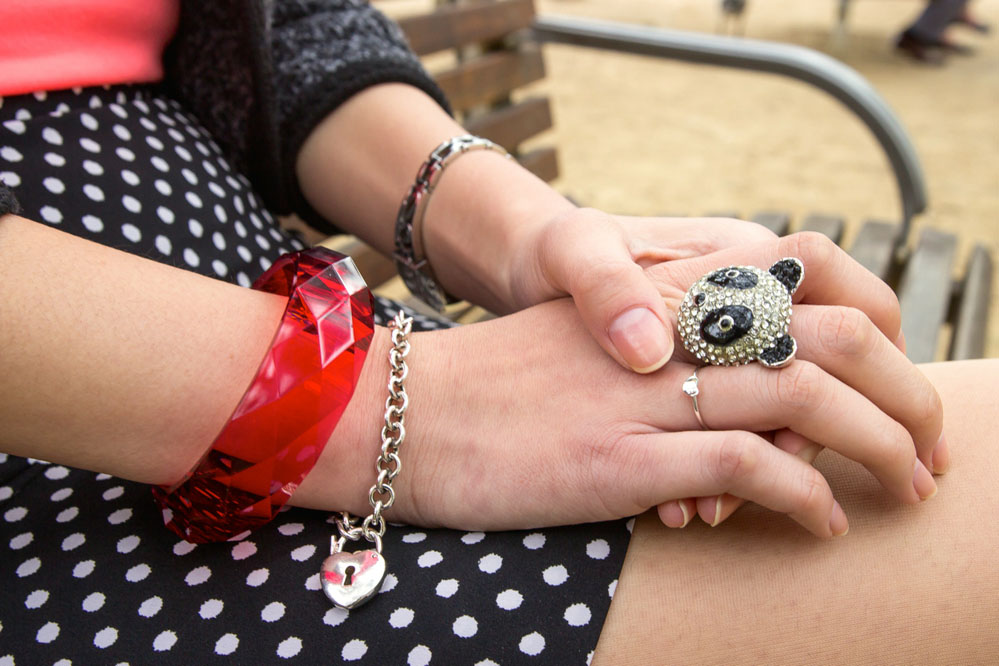 I bought the giant red bangle from Lovisa. When I saw it, it was labelled as new stock, but that wasn't what won me – it was the colour and the style. I couldn't resist the red, and the style was chunky without being too plastic-like or tacky, which I think is because of the translucency. If I really like something when I first see it, and don't look at the price first, that's how I know it's worth buying. Sadly Lovisa no longer have an online store because they decided to focus on bringing better pieces and more collections in-store. I find it a bit unfair; I know they had a lot of international fans, and buying online is quite easy. These days, nearly every store sells online as well as in-store.
I suppose the giant panda ring borders on tacky, but it's definitely a statement piece. If you're looking to get your own you can get it on eBay just like I did. It ships from China and there are a few other listings for the same piece. It costs about the same as your morning coffee. I have had mine for a couple of years and it has discoloured just a bit, but it's doing well. I've found a similar, 18K gold panda ring, made with Swarovski crystals, if you're willing to pay a bit more for something just as cute. It's listed at about $13 AUD but in my opinion, still quite a bargain, from a trusted seller as well.
For the record, I have bought 18K jewellery – or items that at least things that claim to be 18K – on eBay, and I have found about 99% of them to be honest. I think a few of them were only plated, but none were ever complete plastic rip-offs. Just a heads up, if you were ever wondering.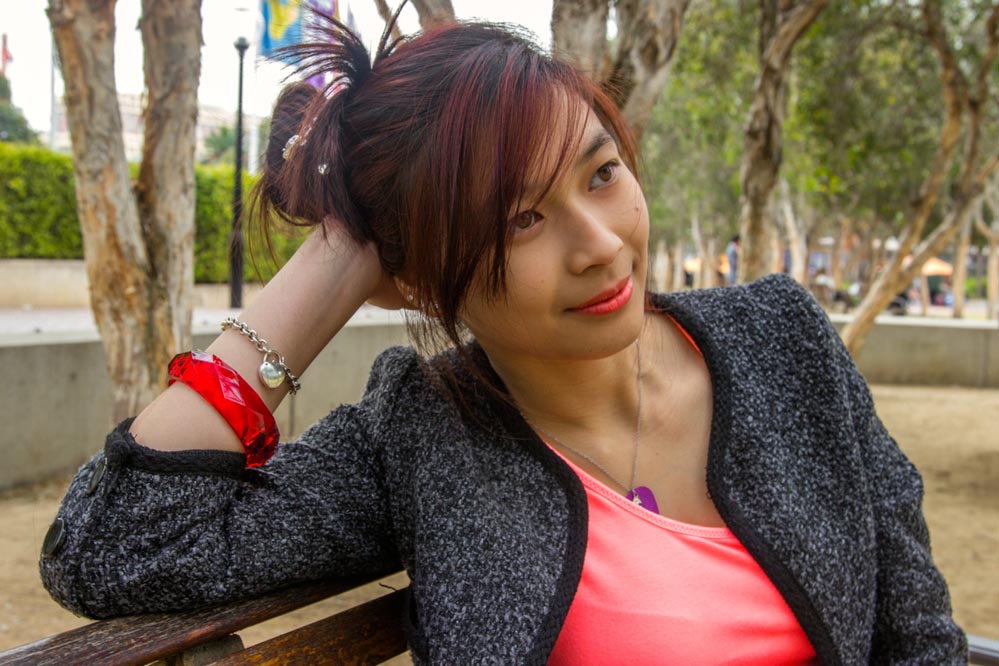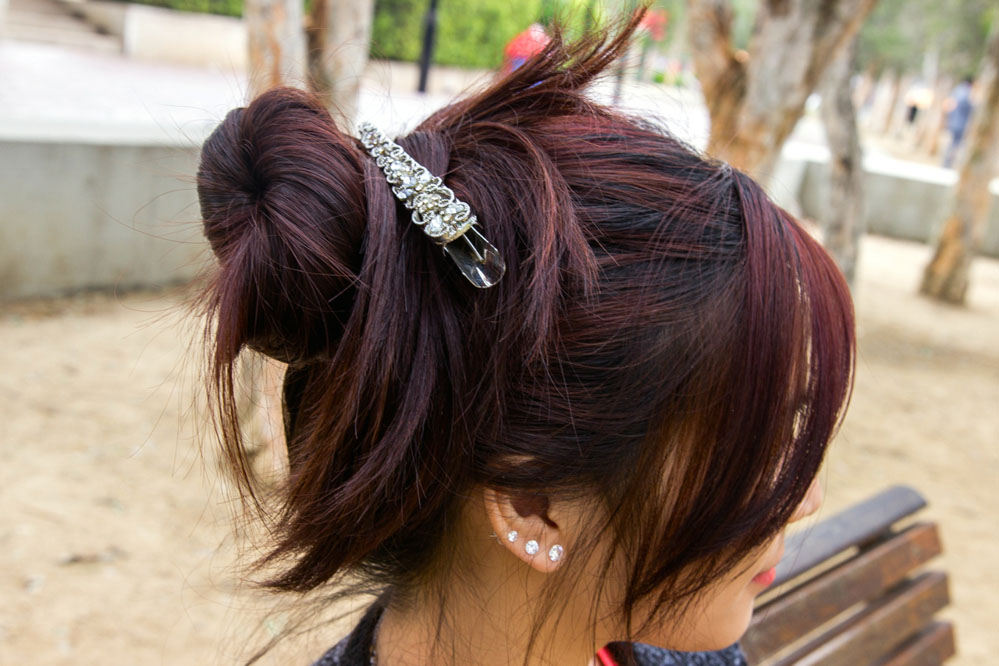 Last but not least, a simple twist bun in my hair. I forgot where I got the jewelled clip from, but it's one of my favourite alligator clips and has lasted nearly a century. I'm pretty sure I started using it in secondary school. Putting my hair up isn't one of my favourite styles, but I felt there would be too much going on in this outfit if I let my hair loose.
I hate makeup and only wear it for weddings or if the occasion really asks. (You may have noticed I don't wear any.) But I like to wear lip gloss from time to time. I have used YSL Rouge Pour Couture Vernis à Lèvres Glossy Stain in #8 Orange de Chine in this post. :)
Are you a fan of bold prints or colours?