2 minutes and 40 seconds with Michelle Govender
I've known Michelle for a few years now, and it never ceases to amaze me the way she broke into the media industry at a young age. As a celebrity and entertainment reporter, she's interviewed Cody Simpson, Charice, and a handful of Disney Channel stars – and her list just keeps getting bigger. Michelle has done over a hundred interviews and was previously featured in Seventeen magazine.
Hi, I'm Michelle! I'm 21 years old and live in Johannesburg (or otherwise known as the City of Gold) in South Africa. I sometimes blog at www.mishinformed.com where I give people a behind-the-scenes look at the media industry, publish my local and international interviews and do event reporting. I work in the television broadcasting industry. I love watching anime and reading manga – I'm currently learning Japanese.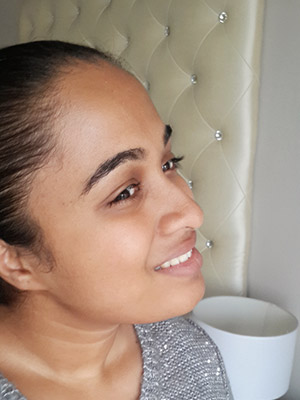 What book are you reading right now?
Fangirl by Rainbow Rowell
What is your favourite item of clothing?
My overly worn studded cheetah print ankle boots.
What is the weirdest trend you have ever come across?
Crocs. Enough said.
If giraffes wore clothes, what would they wear?
Brightly coloured polo necks (or are they referred to as turtle necks elsewhere? Haha, turtle… Giraffe… Sorry, I got distracted!)
You're in a room alone with Barack Obama and there is a food platter of your favourite food on a table. There is also a purple pig running around madly. What do you do?
Head straight to the food and keep an eye on President Obama so I don't miss an opportunity to go and talk to him! Perhaps I'll offer him some of the KFC zinger wings I took a plate of.
If you had to choose, would you rather lose your sense of hearing or sense of taste?
Taste! I'm somewhat half blind and the thought of not hearing and hardly being able to see is scary!
Would you rather eat a hundred peas, a hundred pieces of gum, or a hundred pieces of chocolate?
Chocolate, of course!
What musician are you currently obsessed with?
Ariana Grande
Gold or silver?
Gold
Sun or moon?
Sun – the moon means it's dark… I hate the dark.
Messy bun or French braid?
Messy bun
Short shorts or short skirts?
Short shorts
Skinny jeans or regular jeans?
Skinny jeans
Which celebrity do you most admire and why?
Giuliana Rancic for never giving up when people put her down and for her brave fight against Cancer.
If Taylor Swift was a boy, what would her name be?
Taylor Lautner. No really, it's crazy how they have the same type of eyes and face!
If you were a boy, what would your name be?
Chris
Which of these would you like to have the world record for: longest nails; longest hair; longest nose?
Longest hair
You must eat one of these one hour before going on a rollercoaster, which do you choose: five eggs; a cup of pickles; a bottle of soda; fish and chips; a potato.
Fish and chips
Assuming you didn't throw up after going on that rollercoaster, would you a) assume you have magic powers and go on the rollercoaster again, b) assume you have magic powers, eat something else on that list, and then go on the rollercoaster again, c) go on a different rollercoaster or d) all of the above?
D!
And last but not least, which celebrity would you love to interview who you haven't yet interviewed?
Oh Georgie, this is the hardest because I have such a long list. The person on the top is one of the best British actors around, Alan Rickman. I'd love to ask him about portraying one of my favourite literature characters ever, Severus Snape and about his relationship with his beautiful partner, Rima. Alan is a genius of a man and to have five minutes with him would be an honor!
You can catch Michelle at: