The Best Friend Lunch #1
We recently moved into a new office, right at the heart of the city. We're quite a fair distance from the water, but we are on the twentieth floor – meaning we get pretty cool views of the skyscrapers, and the sunset is not too bad (though we do miss the wharf, because sunset on the water is pretty beautiful). Everyone was extremely excited about the food options, because my oh my, there are so many.
Unfortunately, having worked in the city for two years straight, and studying in the city for my whole university life, I am already starting to find the city a bore, and it's only day two. After all, I was working in the city up until the end of last October, and – can you believe it's almost August already?! I guess the food options that I once considered amazing are no longer amazing, and not many new eateries have opened up. It's back to revisiting old loves, but at the same time, I've quietly gotten over it.
Fortunately, one thing I shall remain excited about is seeing my best friend, Lilian, more often. With very busy lives and clashing schedules, we hardly found time to see each other. Now that we work a block away from each other, there's no excuse. :D We're going to attempt to have lunch together regularly from now on.
The Place
Lilian was sort-of craving ramen, so we went to Ajisen Ramen in World Square. It's a worldwide franchise, so nothing new there. We have been there a couple of times.
The Food
Lil got Chasyu ramen, and I got a vegetarian bento. It's really been a while since I've had a bento box. We shared some edamame and takoyaki. While Lil avoided eating the fat on her pork pieces, I ate my whole bento, and was subsequently full.
(I didn't take a photo of Lil's ramen because she was in the middle of eating it!)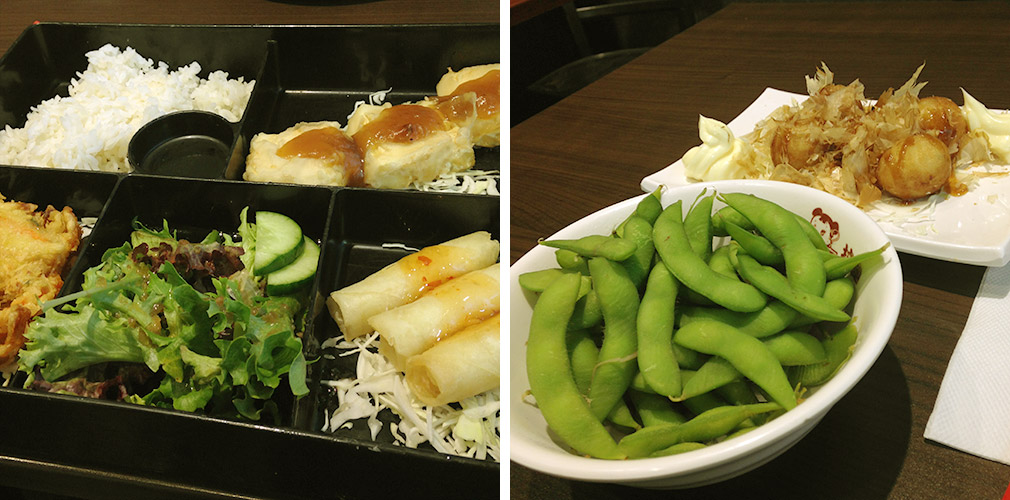 The Chat
No gossip, really… or none that I'm going to share anyway! We talked about a lot of things, most of it was catching up since we last saw each other almost two months ago. I already long finished the two tins of tea she gave me for my birthday last time. We also talked about strange strangers approaching her and being creepy. I also mentioned that I saw two guys on the train this morning who we went to school with. We talked a lot about work, and The Fault in Our Stars.
I returned one of Lil's books (Paper Towns), but I have a few more of hers that I have probably kept in my shelf for far too long. I just haven't had the time or bothered to read recently, so those giant 600-page numbers are sadly going to be with me for a while longer.
The Selfie
Well, I suppose it is tradition for us to take a photo of ourselves together every time. Our collection is growing at a rate of one photo a year (not good, not good!). Lil even had trouble finding a photo of us for a birthday photo post on Instagram a couple of months ago.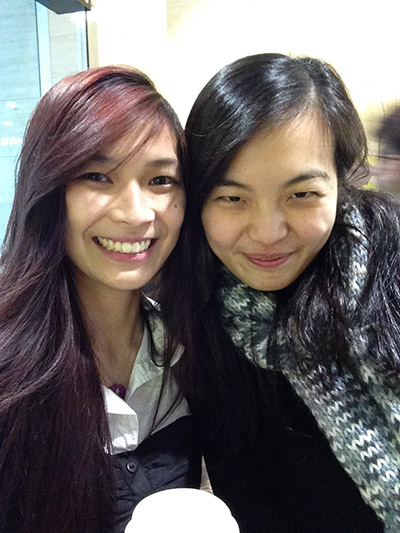 Hopefully we will have many more lunches to come. I am really excited!