Things I Miss: Penpals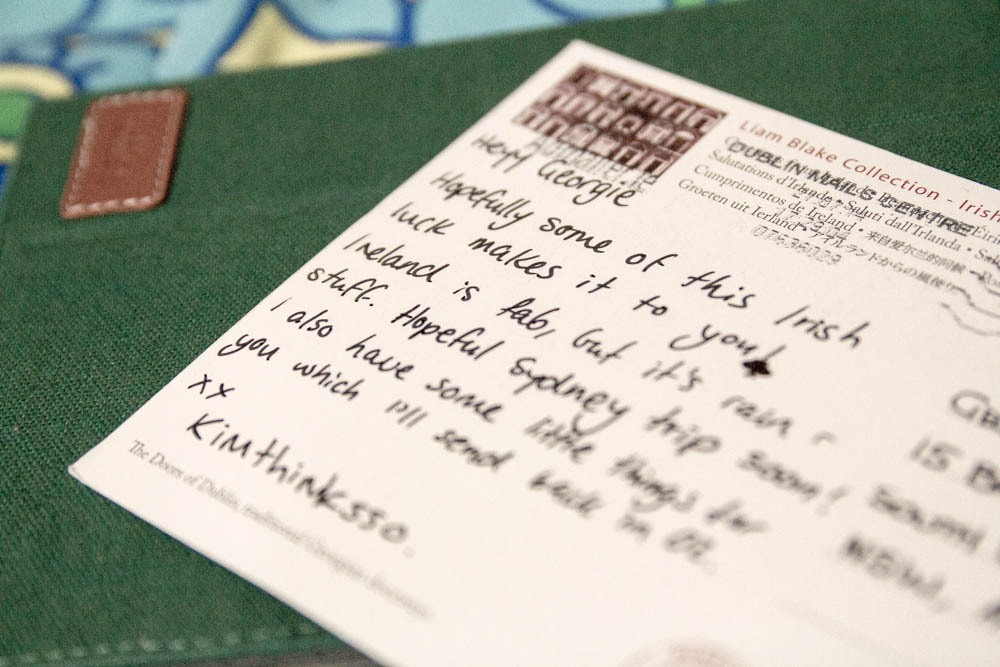 If you've had a penpal, chances are, you've written "Write back!" at the end of your letter, before you signed it with your name, or wrote "PS. Write back!", which may or may not have been followed by PPS, PPPS, and lots of post-post-post-post scripts, with extra notes, usually intended to be amusing.
I haven't ever had someone I wrote to regularly. It's been a while since I've handwritten a note that is more than a postcard – which is usually limited to a few sentences on the back of a picture of one of the wonders of the world, or a colourful or scenic tourist attraction. The novelty now lies in those postcards, and receiving mail from the multiple pieces of jewellery you ordered from Etsy or the second-hand bits and bobs you bought for your computer, or the clothes you spent a little too much on, just to get free shipping.
There's not much heart in it anymore, and we don't often receive personalised, hand-written mail. I remember having a few penpals, but I don't know if they fit the traditional definition, because communication dropped after just a few letters, and sometimes there was no other way of contacting the person.
Hello, Grandma
My paternal grandmother passed away when I was very young. But before she passed, she was someone I learned to write to. It was my first experience writing a letter, or a document addressed to a person. She lived in Indonesia, and I remember writing her a few letters, despite the language barrier. When I visited Indonesia, I found that she had framed one of my letters where I had drawn a few line-drawings of diamonds. :')
My first penpal (2001)
I had my first penpal when I was ten years old. I was heading to a regional camping ground with my school year group, where we would meet students from another school. Before heading on this trip, we were assigned another student from the other school to write to. I remember typing up my letter because I didn't feel like writing, and I had just become accustomed to typing a lot of my assignments. My penpal, whose name was Kate, lived somewhere up north, wrote her reply on blue Looney Tunes stationery, and she had round, bubbly writing. We met in person at the camp, but didn't even talk much. In fact, I don't remember saying much to her expect "hello".
I wrote back to her about the camp, this time handwriting my note. She ended up typing hers back. We exchanged a couple more letters and one day, I never received a reply. Maybe her reply got lost. Maybe mine got lost. I sent her another letter, but I didn't receive a reply for that one either. It's a bit hard to remember now, but I think she may have mentioned moving house.
Dear Emily
I remember reading a book, titled Dear Emily by Maureen Stewart, about a lonely city girl named Maria who writes to a country girl named Emily. Published in 1988, I read the book as a child and I found it very interesting that it was written only from the point of view of Maria – but you could still figure out what Emily might have replied with. I don't remember exactly what happened, but it seemed that Maria wrote something that Emily was slightly offended by, and Maria never heard back from Emily, even though she had apologised many times. Every time I think of losing penpals or never hearing from someone again, I remember this book. I couldn't help but feel sorry for Maria.
Learning Japanese (2005)
I had some penpals in high school, who we were set up with by our Japanese teacher when I was learning Japanese. I believe it was mainly for us to learn how to write to people and how to introduce ourselves to others (likewise for the Japanese students, who were learning English), because we never received any replies. The Japanese students loved to attach purikura photos, or photo booth photos, and cute stickers. Their writing was always so incredibly neat.
Electronic mail: The letters of today
Over time, I guess things moved over to blogging, and people made friends through blogging networks (and now social media). I found myself writing to people who read my blog. It's easy to text and chat to people now, and have a seemingly endless conversation. Most text messages are displayed like a conversation with a speech bubble interface. Even emails differ in length, and can be very short. Some people just use the subject line to send a message. While I do this a lot, Jamie and I email each other from time to time, and our emails are pretty long. I still email my friend Blake, and our emails often have photos. I email my friend Anika, who I tutored briefly in web design last year.
Sometimes you don't receive a response to an email. But now there is always the general understanding that people are busy, that people "have lives", and that they may not get back to you.
But it wasn't like this before. You could always find time to write back to your friend. You weren't always so busy with life. You weren't always busy with school, or work, or anything. Even though it's easier now to open up your inbox and type a new email, it suddenly seems a lot more time-consuming than writing a letter did a decade ago. Even though writing a letter required sitting down to write, addressing the envelope, stamping it, taking it to the post office.
It's a bit sad.
I was writing an email in reply to someone I used to work with. I felt compelled to write "Write back!" at the end, because I had a slight inkling that he wouldn't reply, and felt that "Keep in touch!" was far too overused. I had also written the latter in my earlier email, and I didn't want to sound like I was desperate for a response.
Does "Write back!" encourage people to write back? I don't know.
But I guess I didn't need to worry about it, because I closed my email with neither of those remarks, and he did reply. :)
Have you ever had a penpal?