💵 Low-buy check-in #5: Resisting purchases, and an actual spreadsheet!
Hi everyone 😊 It has been a bit of time since my last check-in so let's see where we are at.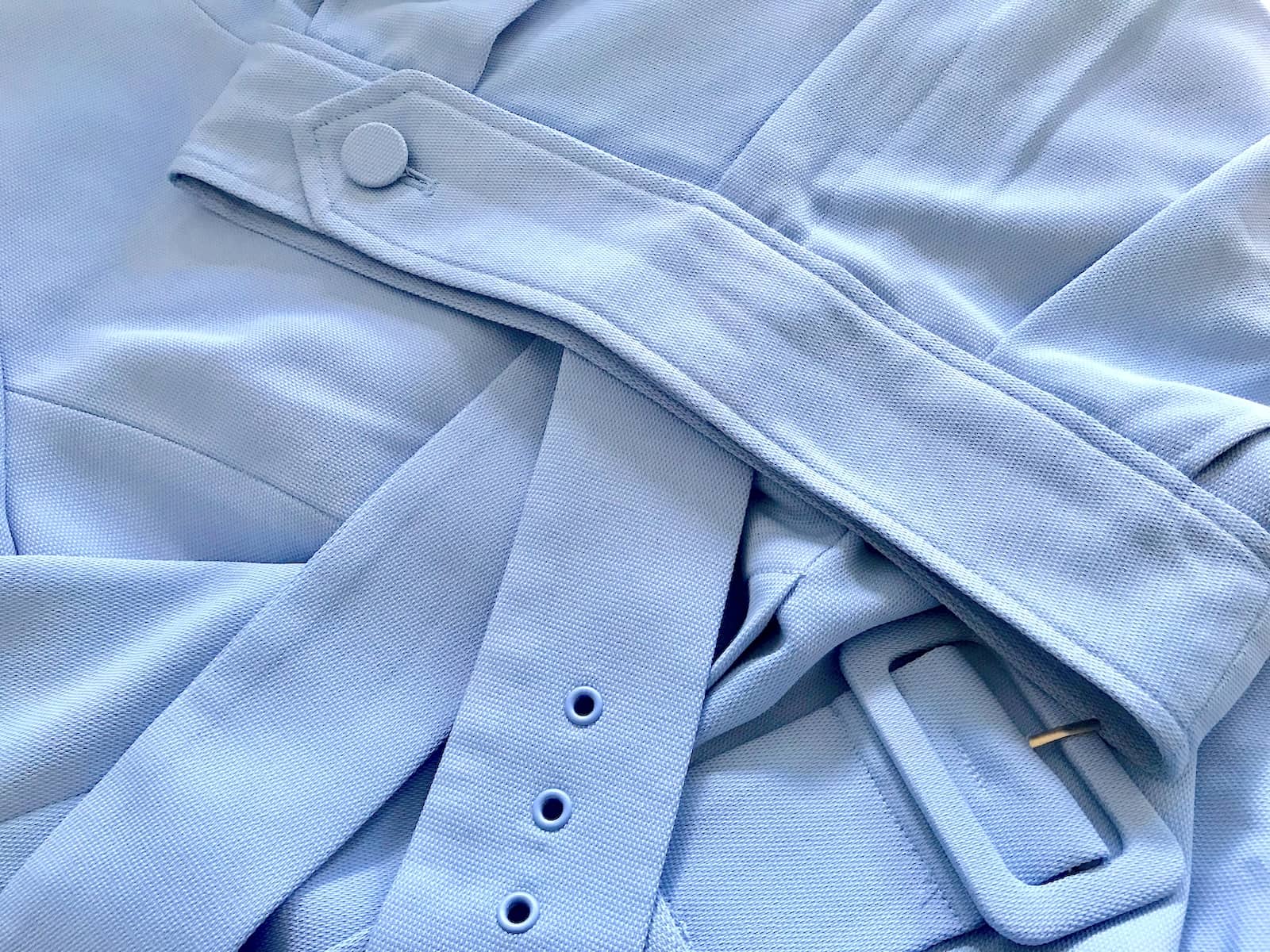 🤑 Savings update
I am still on track with my saving! I'm waiting until my next pay check to move more money in, but I am on track for my goal. I watched a video recently where someone suggested to prioritise saving first, and then use the rest of your pay check to budget for the month and spend what you need. This makes sense to me – but because I get paid around the time bills are due, sometimes I can't do this. At least not for the middle of the month – I get paid twice a month. I roughly follow this principle when I get paid at the end of the month, but the amount I put in depends on what bills I have coming up. I actually regularly monitor what I owe on my credit cards, and sometimes I actually plan how much I will save in advance. Shortly before I get paid, I calculate how much of that will actually go towards bills, and how much I will be able to put aside. I am always looking ahead to make sure I can both pay my bills and save a substantial amount of money.
🚘 Car payments
A pretty big amount of money went towards some yearly car payments, and some money out of my next pay check will be going towards that. No surprises here!
💪 Gyms reopening and membership restarting
Gyms have re-opened in my city because COVID-19 has gradually become less of a concern. I won't go into complete details here, but they have new practices to encourage social distancing (equipment has moved), regular cleaning, temperature checks and the requirement to book an hourly session to use the gym before you can enter. That means I'll be charged for my membership again. We got a small loyalty discount to welcome us back, but now I'll be having $37 taken out of my account per week, so I'll pay attention to make sure my savings and spendings are still on track.
👗 The style reinvention budget
Haha, I am weirdly excited to talk about this. Now, since it's a little over a month before I hastily put together my budget, a couple of things I was thinking about and umm-ing and ahh-ing about, in relation to what my style reinvention would entail, have changed. The pandemic has definitely left me with shifted priorities.
Although I am very much investing in my wardrobe, my style is changing a little to accomodate and prioritise comfort. I'm wearing the same clothes over and over, too – which I don't mind at all. So I'm thinking of how I can get my wardrobe to a more minimal amount, but with maximum versatility in the ability to create outfits.
I'll go into a couple of details about the spreadsheet I put together and the purchases I made so far.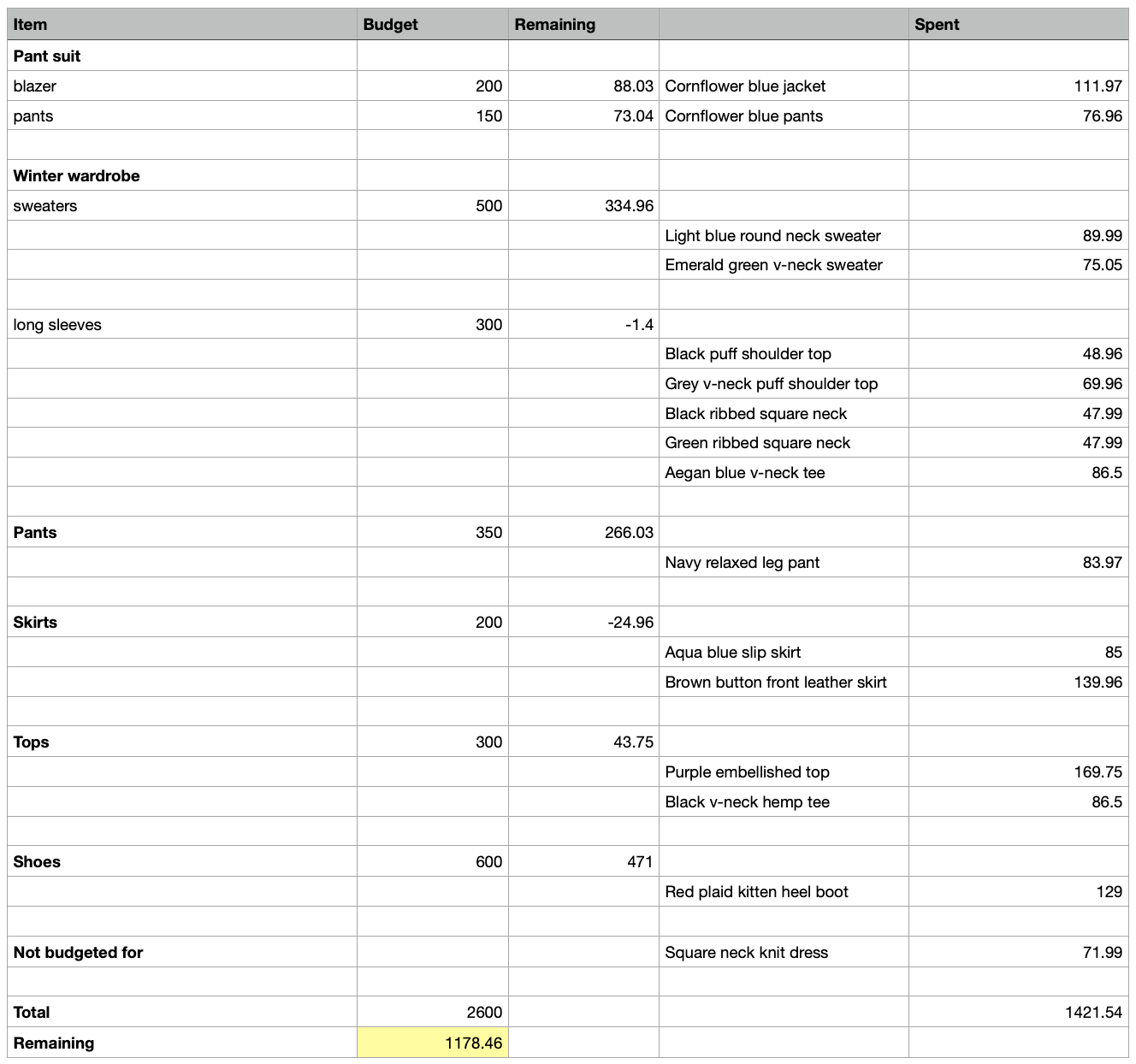 With the pant suit, I ended up going for a light blue one. I didn't want a pantsuit in a neutral colour – I wanted one in a colour that I enjoy wearing that isn't just black or navy. Because I purchased it on sale, I was actually under budget – I have about $161 left of the $350 I'd budgeted. Now that I think about it, I definitely don't want another full pant suit – one is enough!
I have been extremely picky with my sweaters. I was looking for the perfect green one, with the perfect colour and the perfect neckline, and it took me a few tries. It also took me a bit of returning and re-ordering, for both this sweater and a few of the long-sleeve tops, because some items went on sale with another retailer after I'd purchased them. It was a significant saving of money – at least $100 – and helped me stay in the budget.
Something I definitely did not budget for was a knit dress. The square neck and the comfortable length won me over, and I've already worn it a couple of times. It's a nice winter piece. I did, however, include this in my spreadsheet.
Although I had also set aside $350 for pants, I only ended up spending $83.97 on a pair so far. I really, really like the pair of pants I bought. Initially I was going to return it because I thought I wouldn't like the silk/linen fabric combination because it might crinkle easily and I really dislike that… but it ended up being extremely comfortable and not a problem. When I visited my parents, my mum had a couple of pairs to give me that fit me well and I ended up really liking too. My only plans here around pants are to maybe find a white pair, and I'm experimenting with possibly finding a pink pair, but only when and if I find a shade of pink that works with my skin tone. If you know me, you know I hate pink but that I'm open to working with it if it works with my wardrobe haha.
In my last check-in I had not budgeted for shoes. But after thinking about my new priorities with my wardrobe, and the issue I have with fluctuating muscle mass and body weight, and difficulty finding clothes that fit, I came upon a realisation with regards to shoes. My foot size doesn't change the way my body does, so the likelihood of growing out of shoes is really small. I realised I could level up my outfits by way of interesting shoes, and invest in those, instead of clothes that I grow out of quickly and don't get much wear. I find that shoes often cost the same as clothes (they can be really expensive when full price, but very reasonable when on sale) for a good quality pair, but you literally walk on them all day and the soles can be replaced for a fair price, extending the longevity of your shoes. It feels like you wear them for longer and put them under more stress than clothes. So I decided to put aside $600. 😊 Honestly, I'm totally happy to spend $100 on a pair of shoes, but it's very rare that I spend more than $150. I also went to the shoe repair and got a couple of my shoes re-soled. Very worth it!
I'll definitely keep you more updated about my budget in future check-ins!
🙅🏻‍♀️ Resisting things I don't really need
Apart from clothes that I purchased and included (or should I say deducted?) in my style reinvention budget, I didn't buy much else. I did buy some new underwear from sustainable brand Nativ basics, since it is in good practice to replace your underwear about once a year anyway. 😆 You can use my referral link for $15 off. 🩲
During a declutter of my jewellery collection, I realised that I own a lot that I don't wear. I've made some regretful purchases out of experimentation, but I also have some beautiful pieces that I love and could wear and enjoy more. Jewellery lasts a long time, too. So after I caught myself browsing jewellery again, I made an active decision to resist buying anything new because I absolutely don't need more pieces.
I was very, very tempted to buy some more nail wraps, but after looking at my collection, I decided to resist that too. I bought many in a Christmas sale last year, and I estimated that the wraps would last me the whole year. So I'm going to get through my collection first before I make another purchase.
I've been really strict with some of the clothes I'm looking at on eBay as well. I normally trawl the same brands and look for things that match my personal style, but I'm being extremely particular and reminding myself of what I own, because I may have pieces that I will like more than these second-hand pieces. It can be really tough because the second-hand market is sometimes full of gems.
🚫 No-buy July
I have decided to do a no-buy July to encourage me to reduce my window-shopping habits again. Also, it rhymes! But really, after expanding my winter wardrobe, I have enough winter pieces now, that should keep me going for a while. I'm also enjoying repeating some of those outfits. There are a couple of things I am on the lookout for but don't need – a cobalt blue sweater, for example – and I can hopefully wait until I find the perfect one (which is what I've been doing with some of my wishlist items anyway).
So I won't be spending money on anything that I'm not already paying for, or that I am not already buying regularly. And of course, essentials like food.
I'm not foreseeing any big purchases in July at all. Even though there has been talk of Australia opening up interstate borders for domestic travel, I don't think that will happen that soon. And even then, we would want to at least roughly plan a trip – not just jump on cheap flights or anything like that. My company has also stated that we should expect to work from home until at least the end of August, so I'll be home and not going out very much for the next couple of months.
I've just stocked up on a 1kg bag of protein powder, and I have a lot of preworkout to go, so I shouldn't need to buy any more supplements for the next month. I'm running low on coffee, but I've actually had thoughts of slowing down on the coffee – I'm used to having two a day, but I also take preworkout for my training at the gym, and that contains a lot of caffeine as well. So I'm considering reducing my caffeine consumption. 😴 I might order some more coffee just so I have a supply, but still want to be drinking it less. For the past week-and-a-half I've tried to limit myself to just one coffee in the morning, and I've been drinking tea instead of coffee in the afternoon.
---
I'm sort of keen but sort of scared of doing a no-buy month again. When I think about it, I also think, what is the point, because I made a budget specifically for adding things to my wardrobe? I still want to set myself the challenge, but more to encourage me to be more intentional with my wardrobe. Shopping for clothes is my kryptonite, LOL. It distracts me too much from enjoying my current wardrobe, so I want to focus on enjoying what I have.
I think the main intention is to bring better shopping habits into my life again, and to have a detox from browsing online. I'm definitely scared and worried that I'll lapse. Although I am open about this on my blog, I think that I have a shopping – at least browsing, not buying – addiction that is worse than I make it out to be. While I might not spend so much money that I end up in debt, I do waste a lot of time browsing when I could be spending more time doing more useful shit. Like writing blog posts. 😂
I hope you've all been well. Let me know how the pandemic has been affecting your spending and saving habits! ☺️