🌮 Seattle, days 1 & 2: Gas Works Park, Fremont Troll, Pike Place Market, and lots of food (2019)
Howdy! This is a long overdue post which was intended to be the continuation of my Seattle, day 0 post in 2019, but I didn't get around to finishing them. Since I've got a little extra time on my hands, I'm gradually getting around to a small backlog of these travel posts. ☺️ They're sort of part of an unofficial mini-series called Travel Throwback Tuesdays. I haven't consistently been publishing blog posts on Tuesdays, but I hope that I will be able to prepare some of these posts in advance.
Also given that some of these memories were from such a long time ago, and I didn't make notes, I might fail to remember exact chronological details. 😢 Still very much looking forward to sharing a handful of photos and experiences, though, even if it might not all be described to a T. 💙
---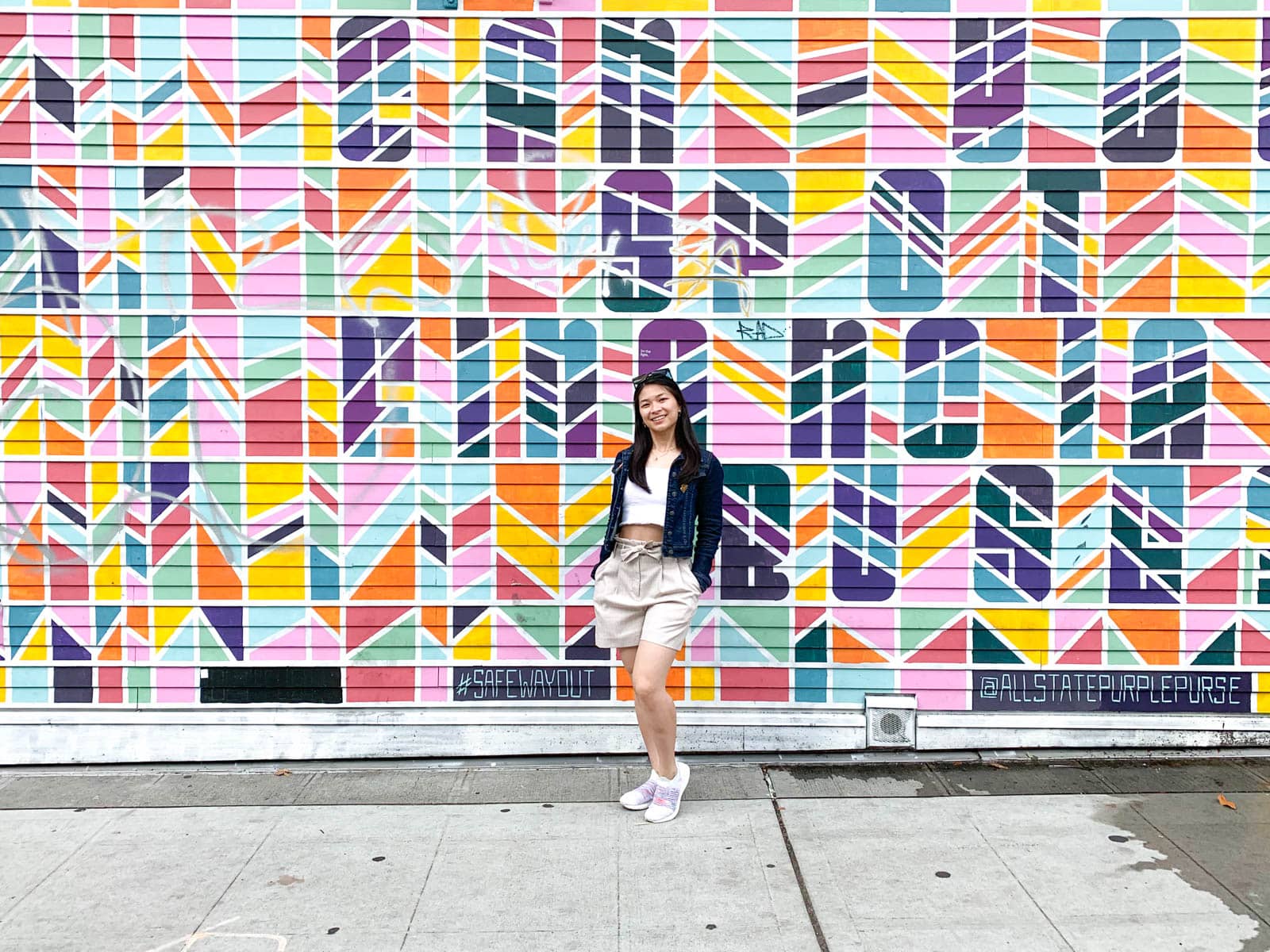 Day 1
Boeing Factory Tour
We had two full days in Seattle after the afternoon of our arrival. We stayed in a pretty nice Airbnb on Capitol Hill, and I dare say the location was much better than the Airbnb itself (even though the Airbnb was not bad). We rented a car, and to be honest I'm really glad that we did. Seattle doesn't seem all that bad to get around in, but it made it easier considering we had activities planned that were a bit out of the way – particularly the Boeing Factory tour – so I'll start with that, since it was the first activity we did on our first full day!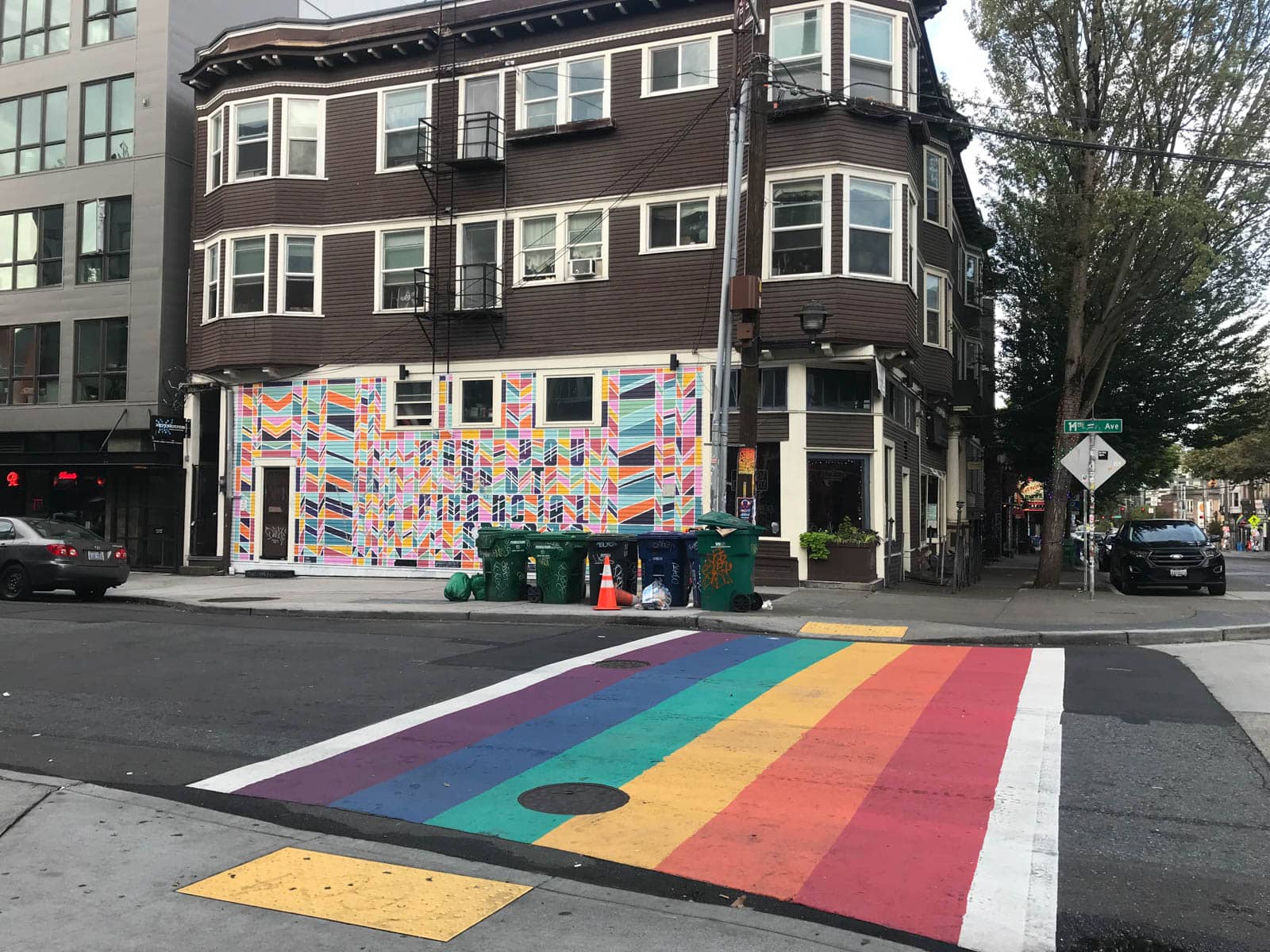 We booked the factory tour in advance, and it's a 90-minute activity but does go by pretty fast! We had to arrive early, mainly because they like to make sure you have enough time to get settled and use the restroom. There are no restrooms available during the tour, and because you're on factory premises, you aren't allowed to carry anything either as it's considered a drop hazard. So they don't allow phones or cameras.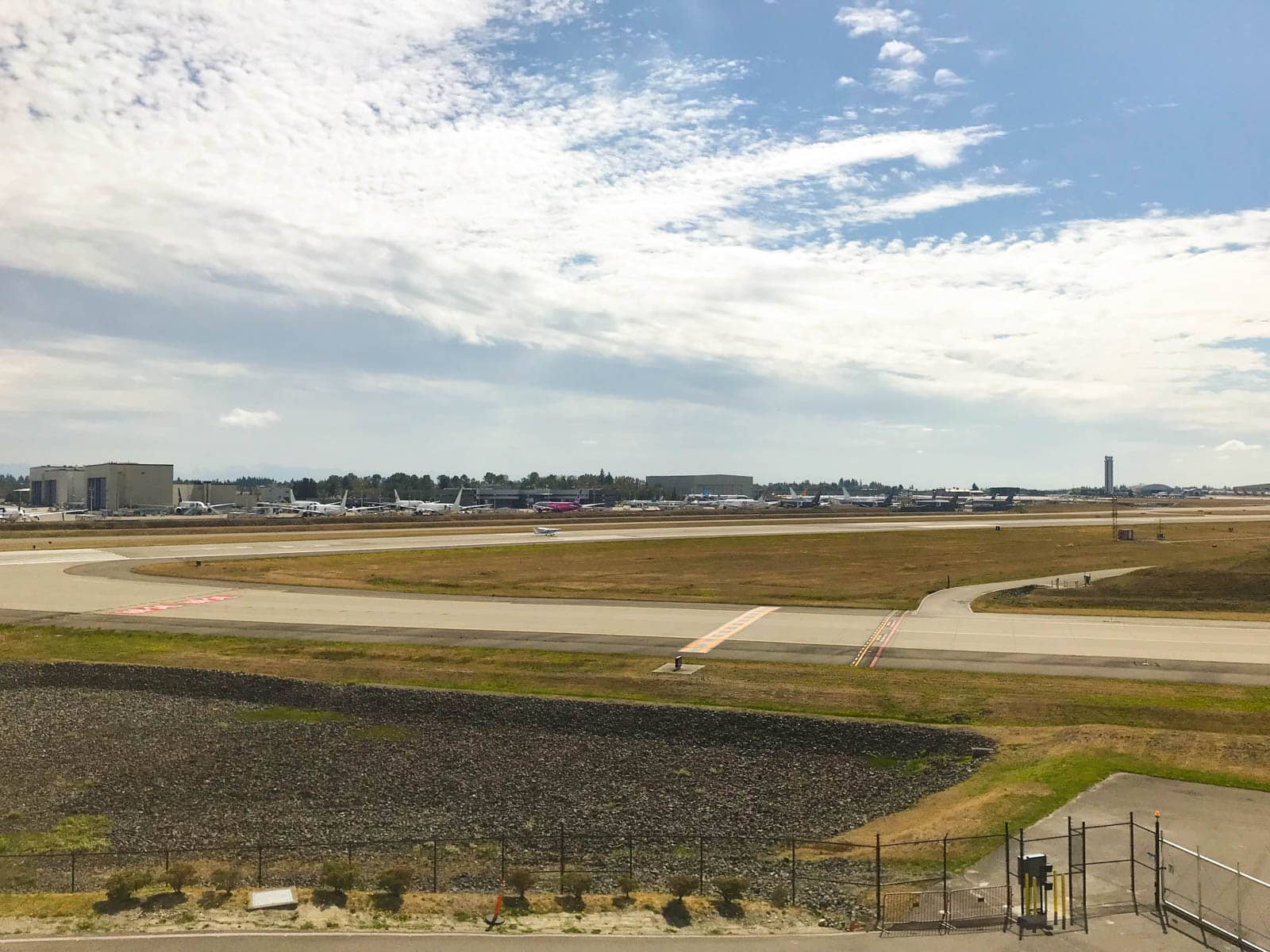 While I don't have any photos to share of the tour itself, I recommend doing it if you happen to be in Seattle and can spare time and a bit of coin to travel north of downtown Seattle for 30 minutes. The tour is only $25 USD and that's pretty decent for the experience you get. Even if you aren't into planes. The Boeing Factory is the biggest single building in the world and it's quite fascinating. We had a really good tour guide as well.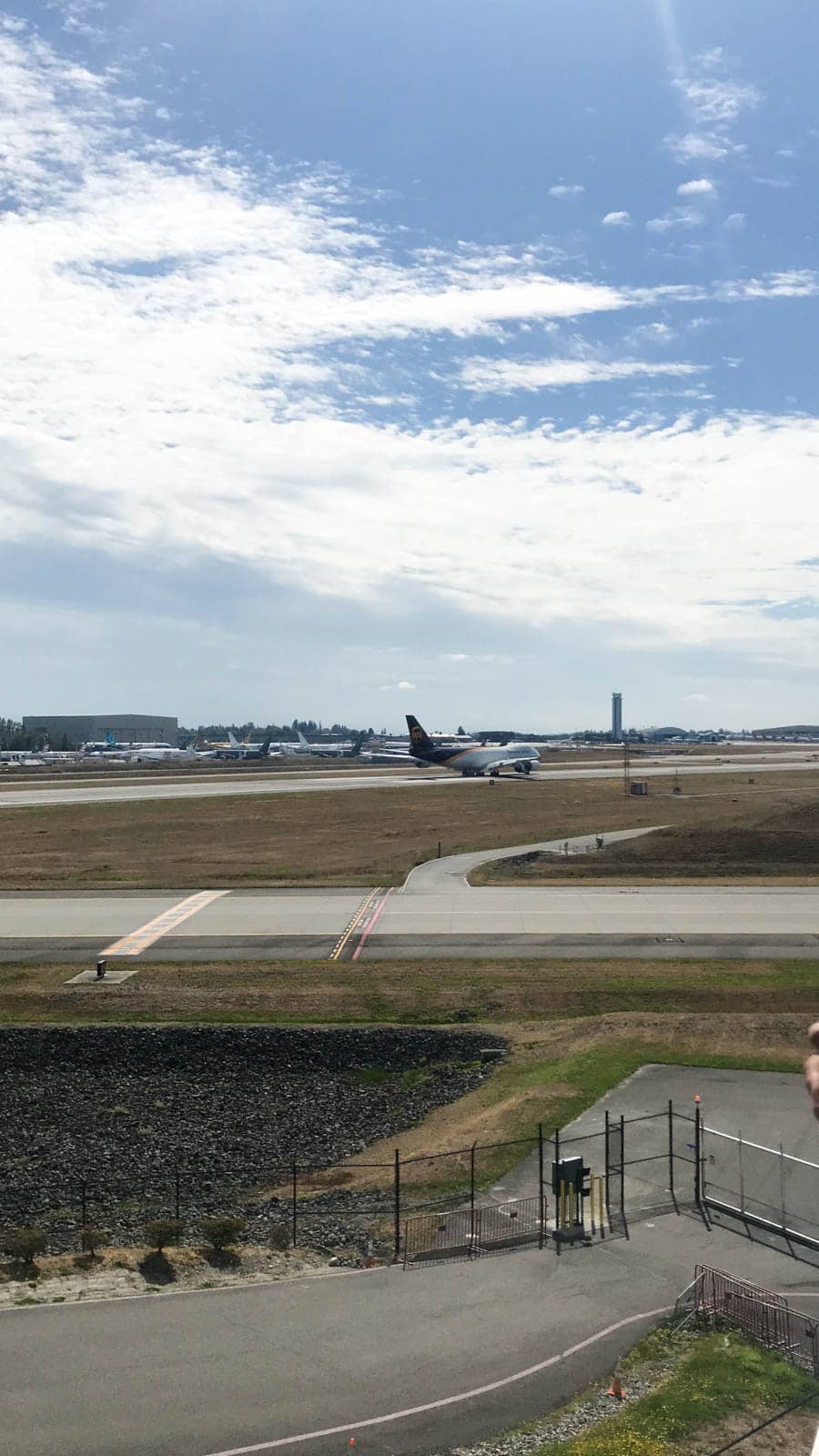 Gas Works Park
After the tour we drove to Gas Works Park, a park that offers really lovely views of Seattle. You can see the famous landmark, the Space Needle, on the skyline, and also catch a few sea planes landing in the water. At least, we saw one! And you get some nice views of Lake Union too.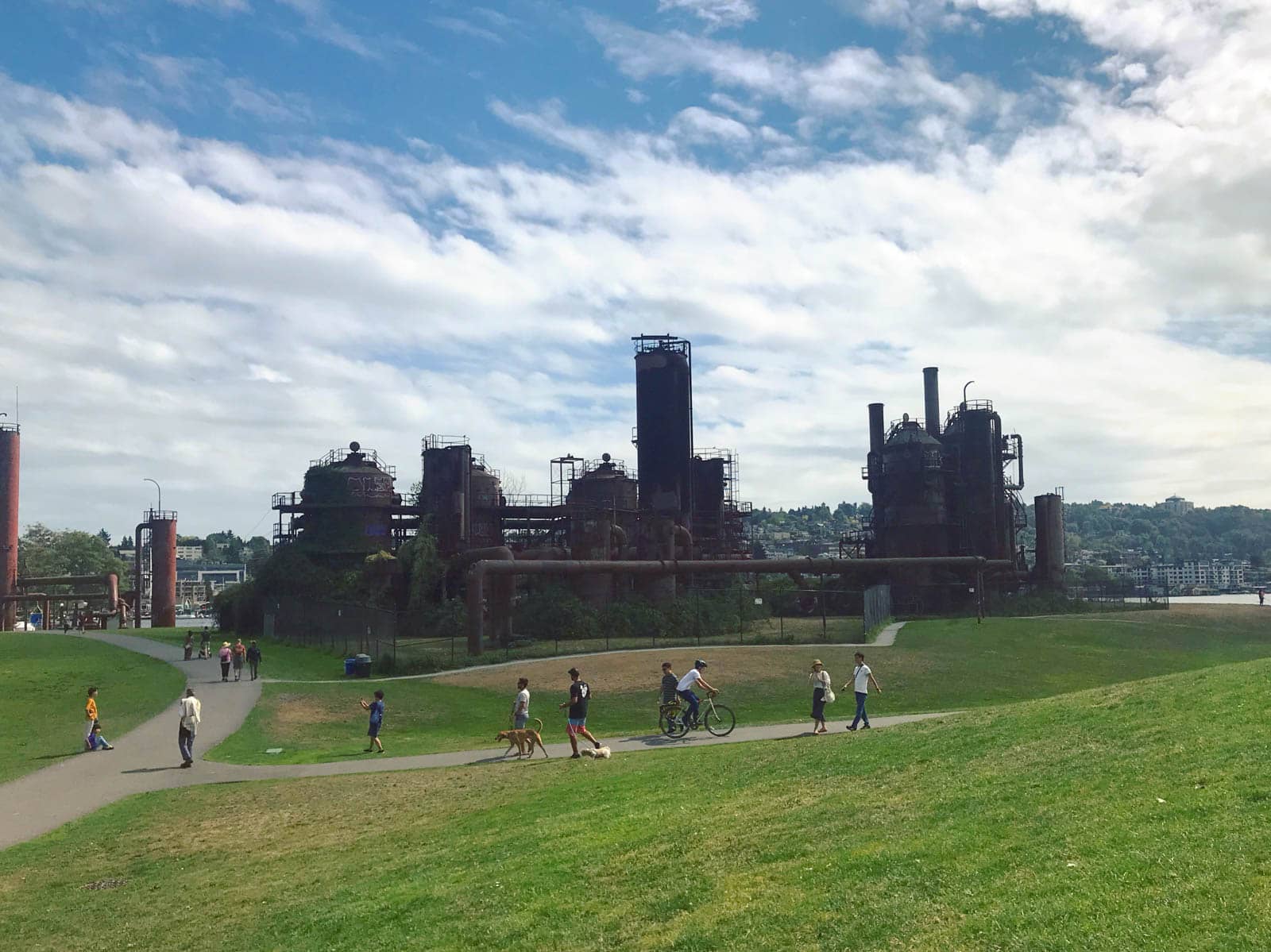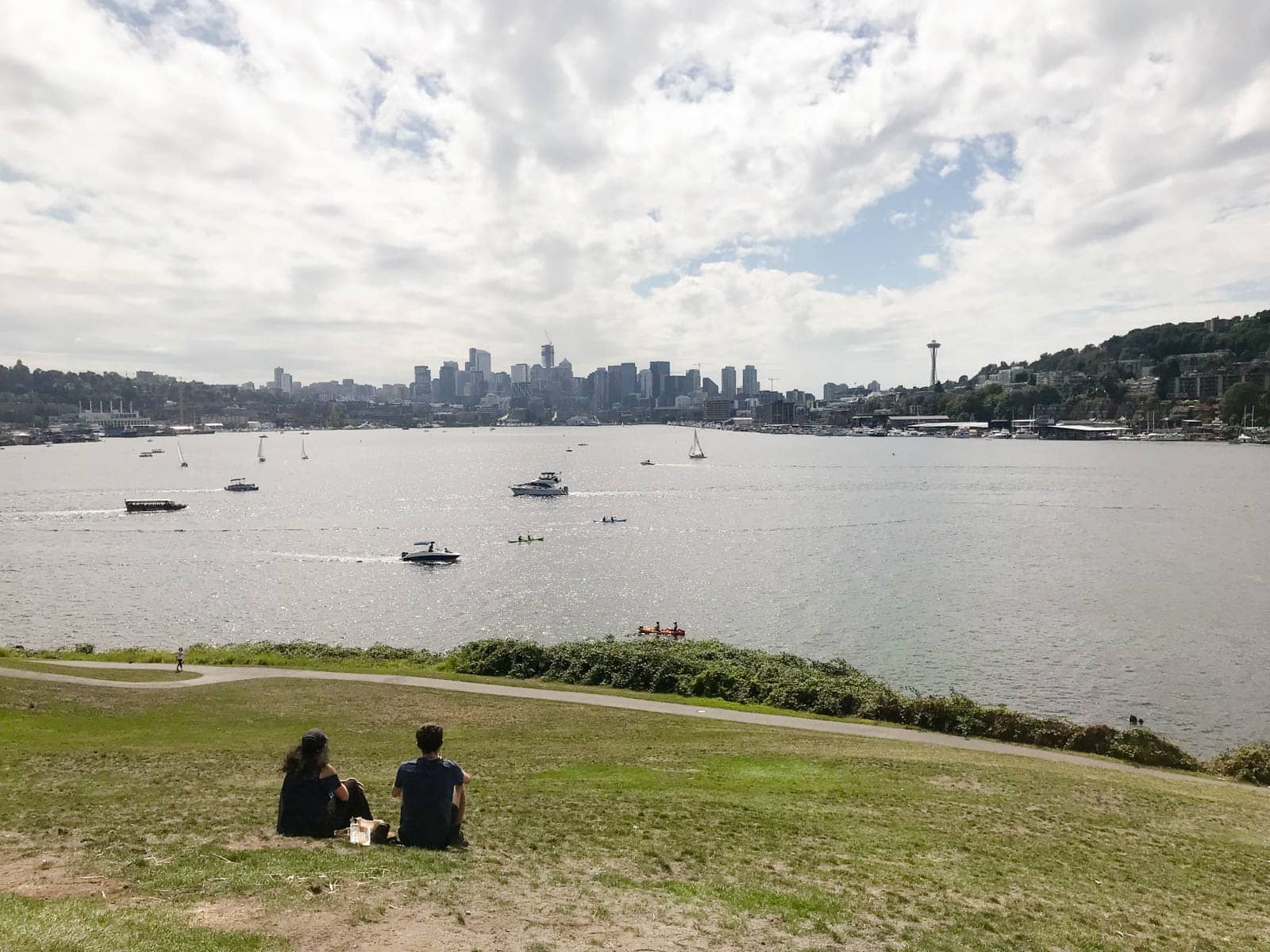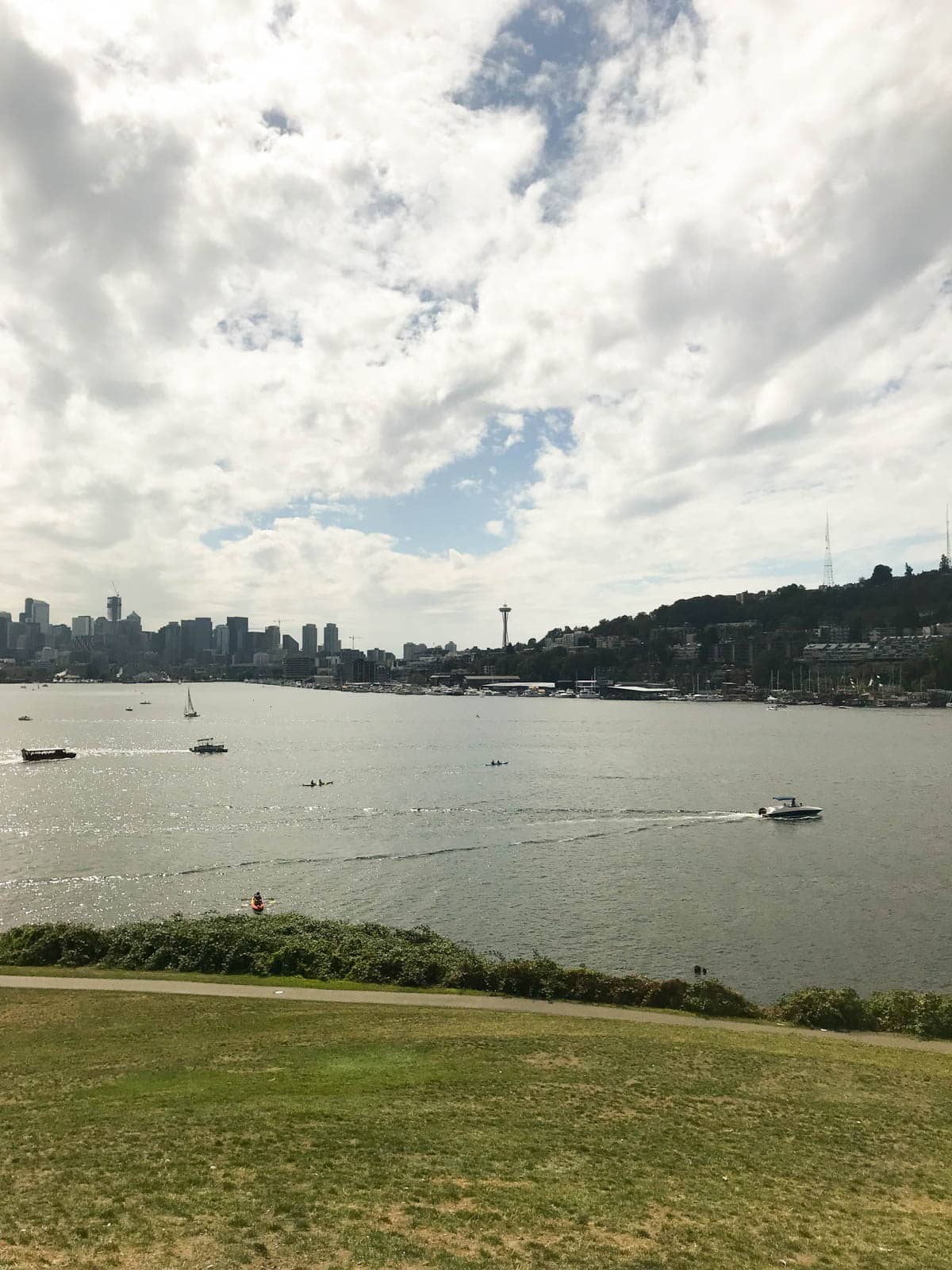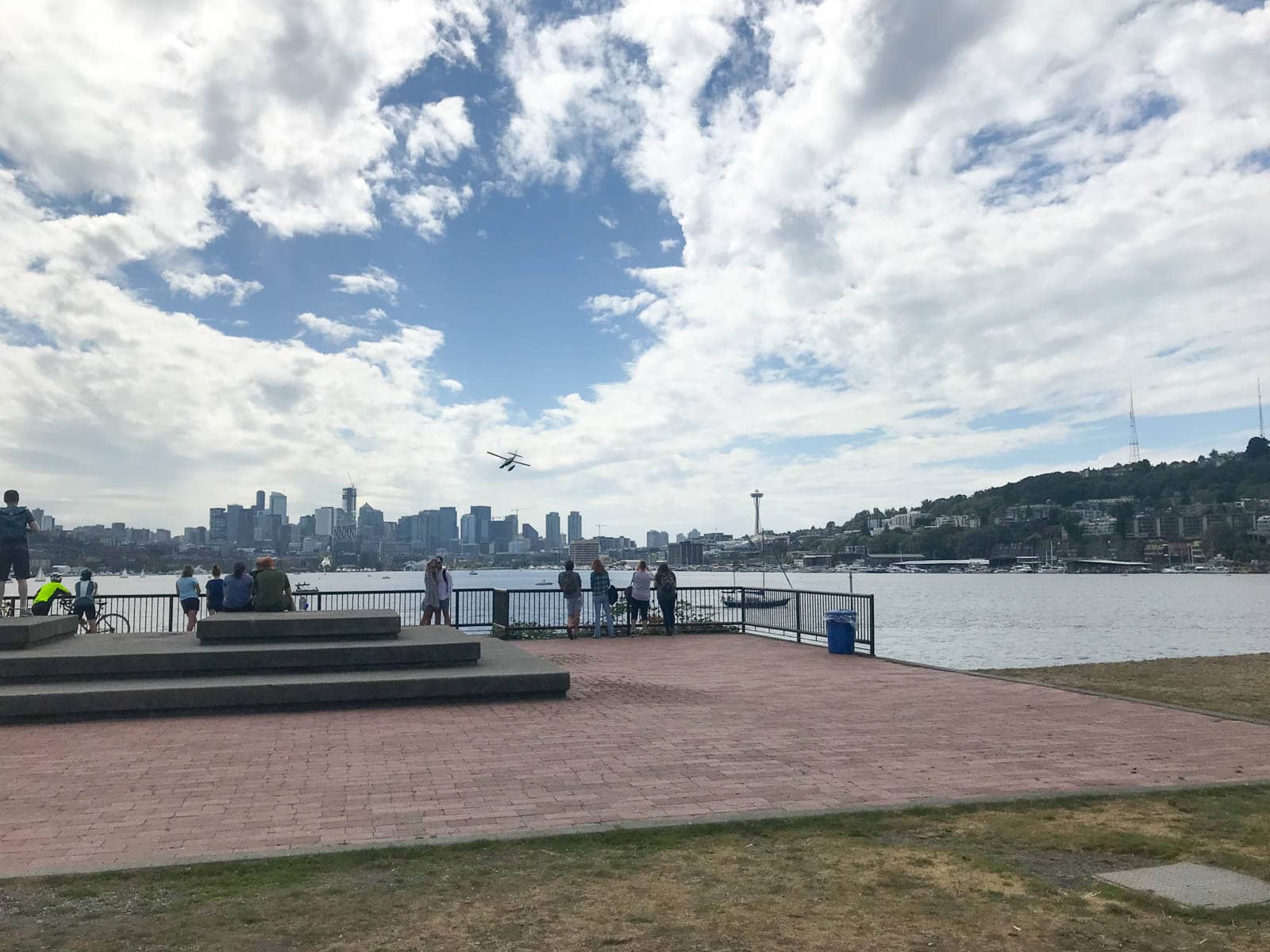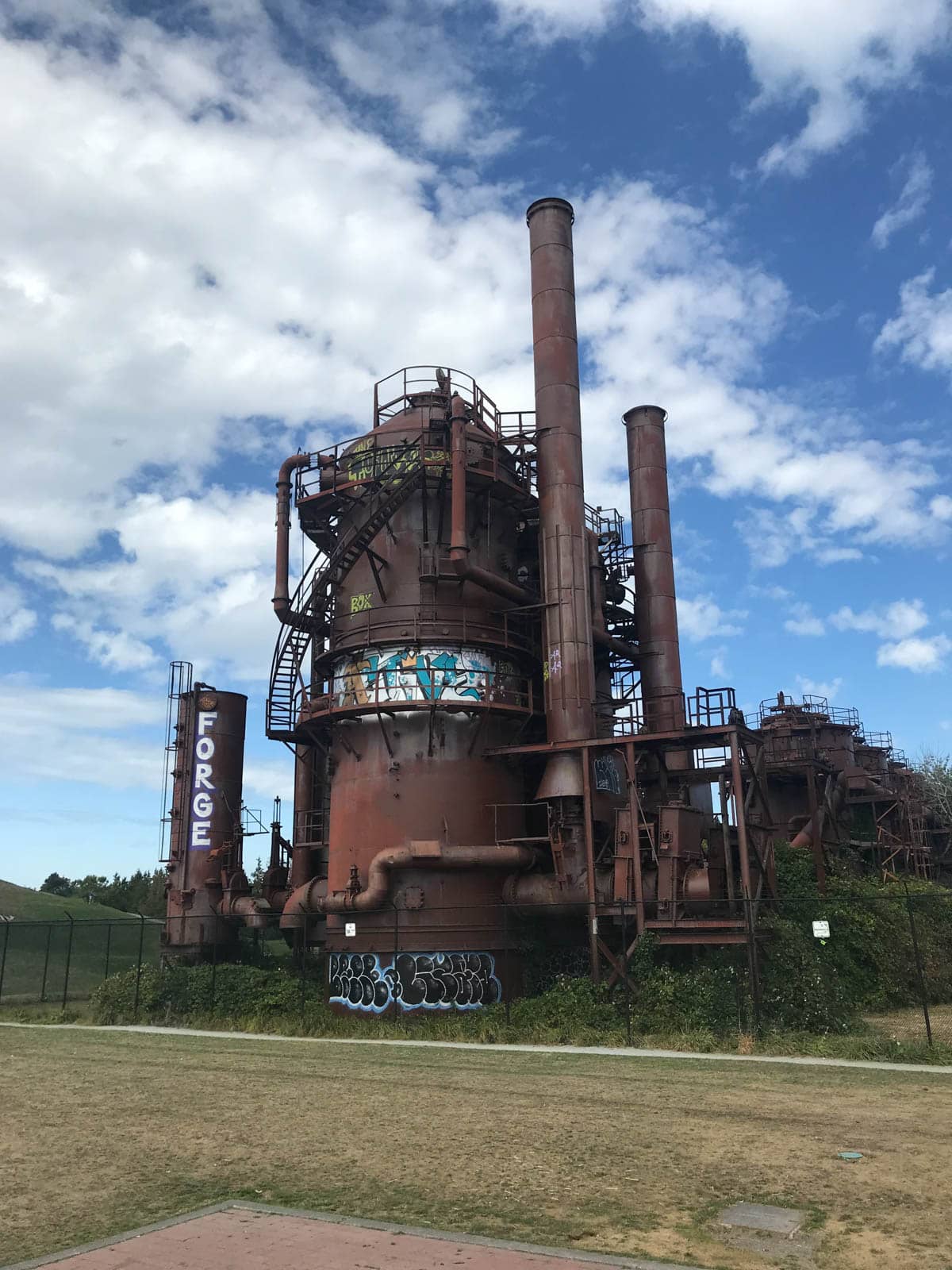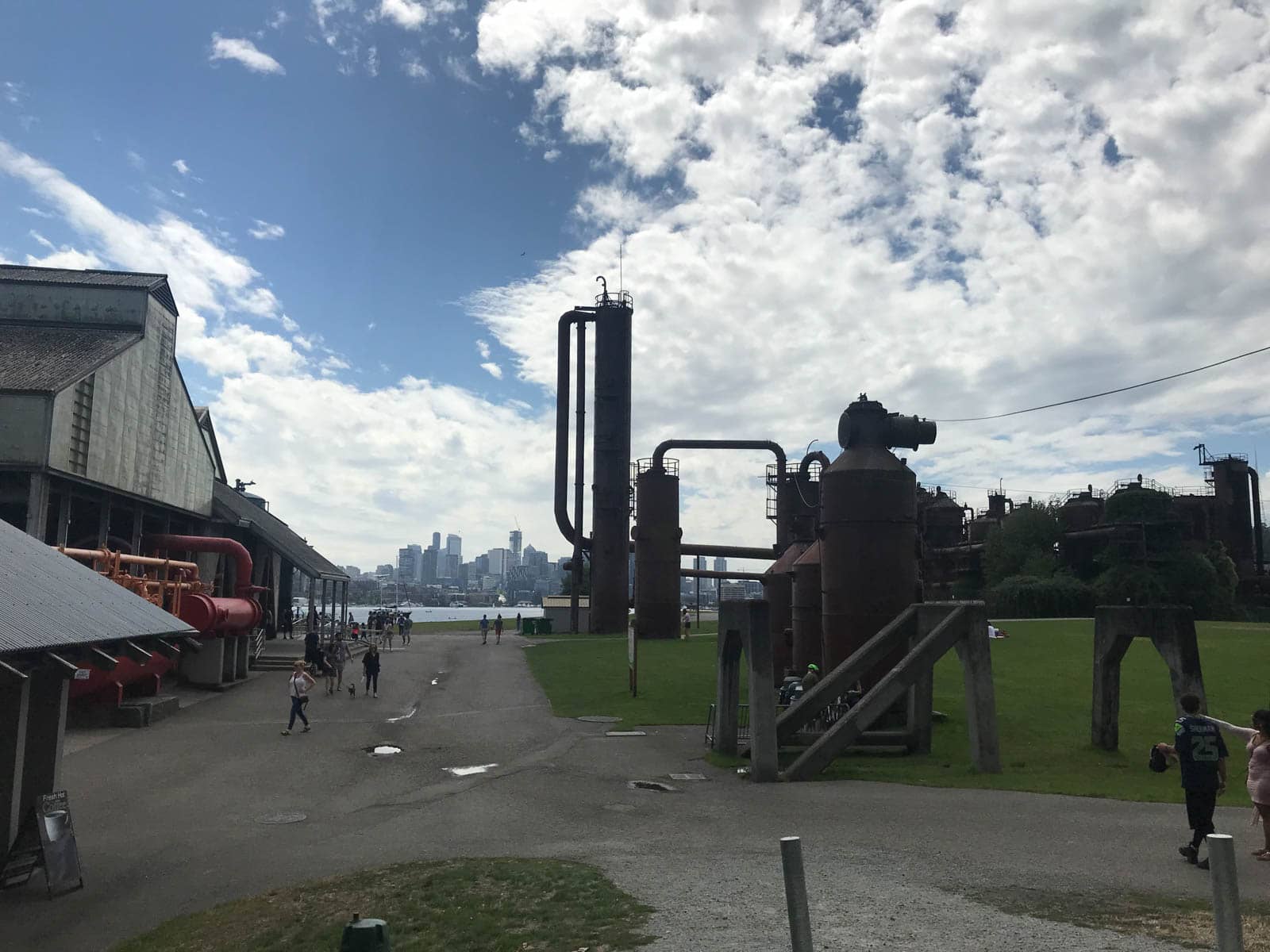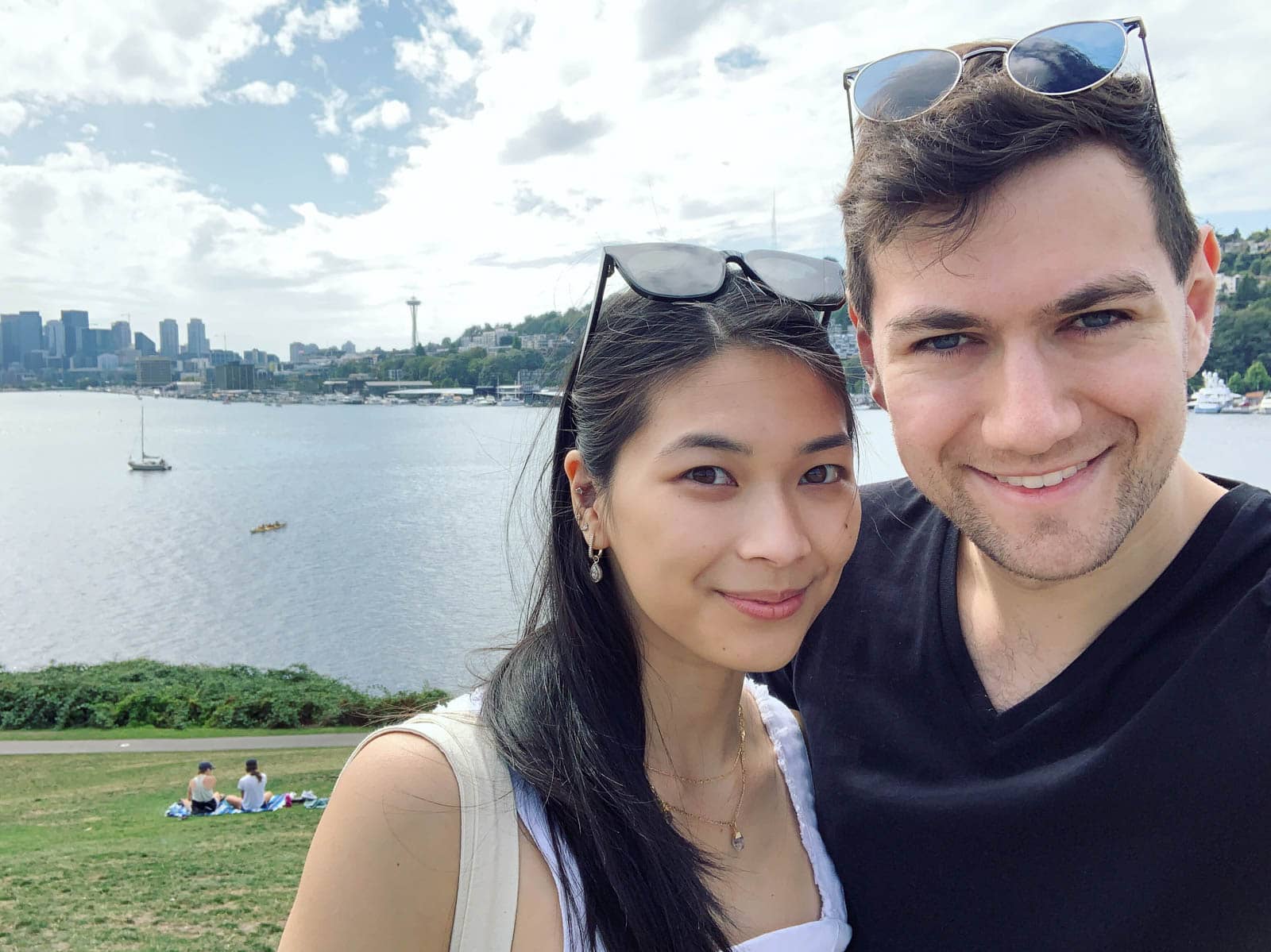 Fremont Troll
Another landmark we wanted to see was the Fremont Troll, a giant art sculpture which was popularised by the film 10 Things I Hate About You (the scene where Bianca and Cameron are going for a walk and having a chat about Bianca's sister, Kat). It's bizarre seeing it in person, as the way it appears in the film made me think it was in a more open spot. But it's literally under the Fremont Bridge and can be seen from the street if you're driving past.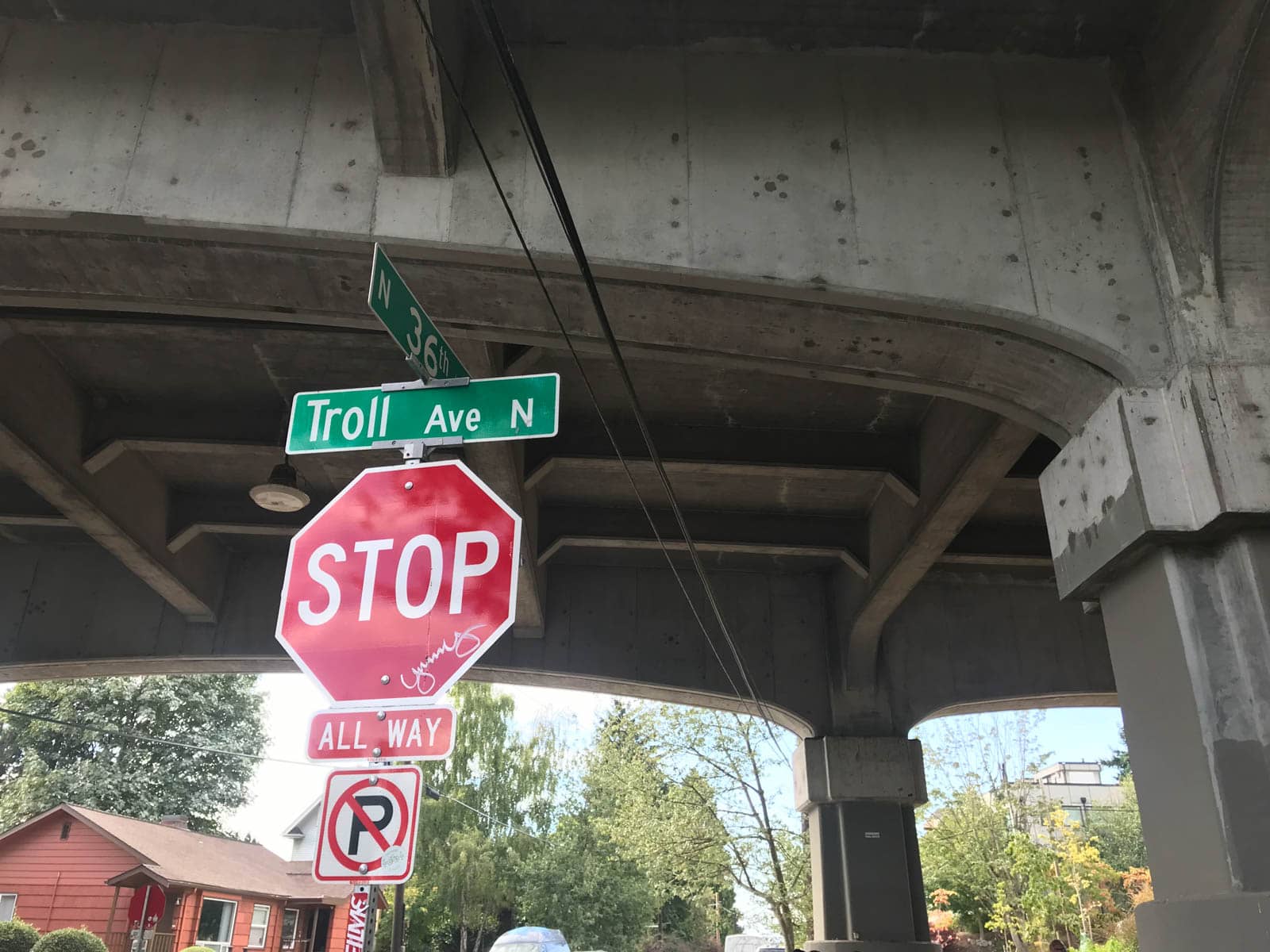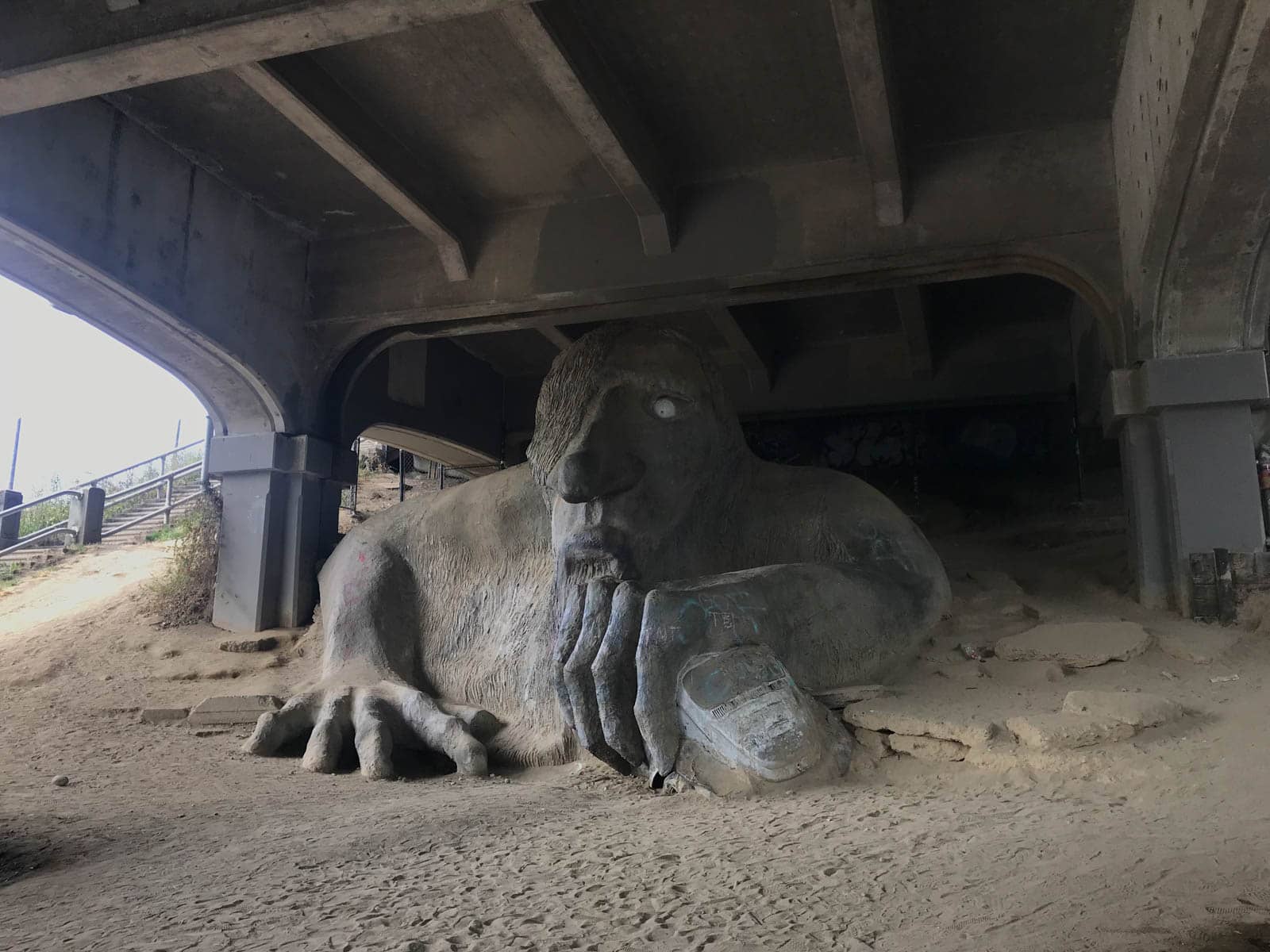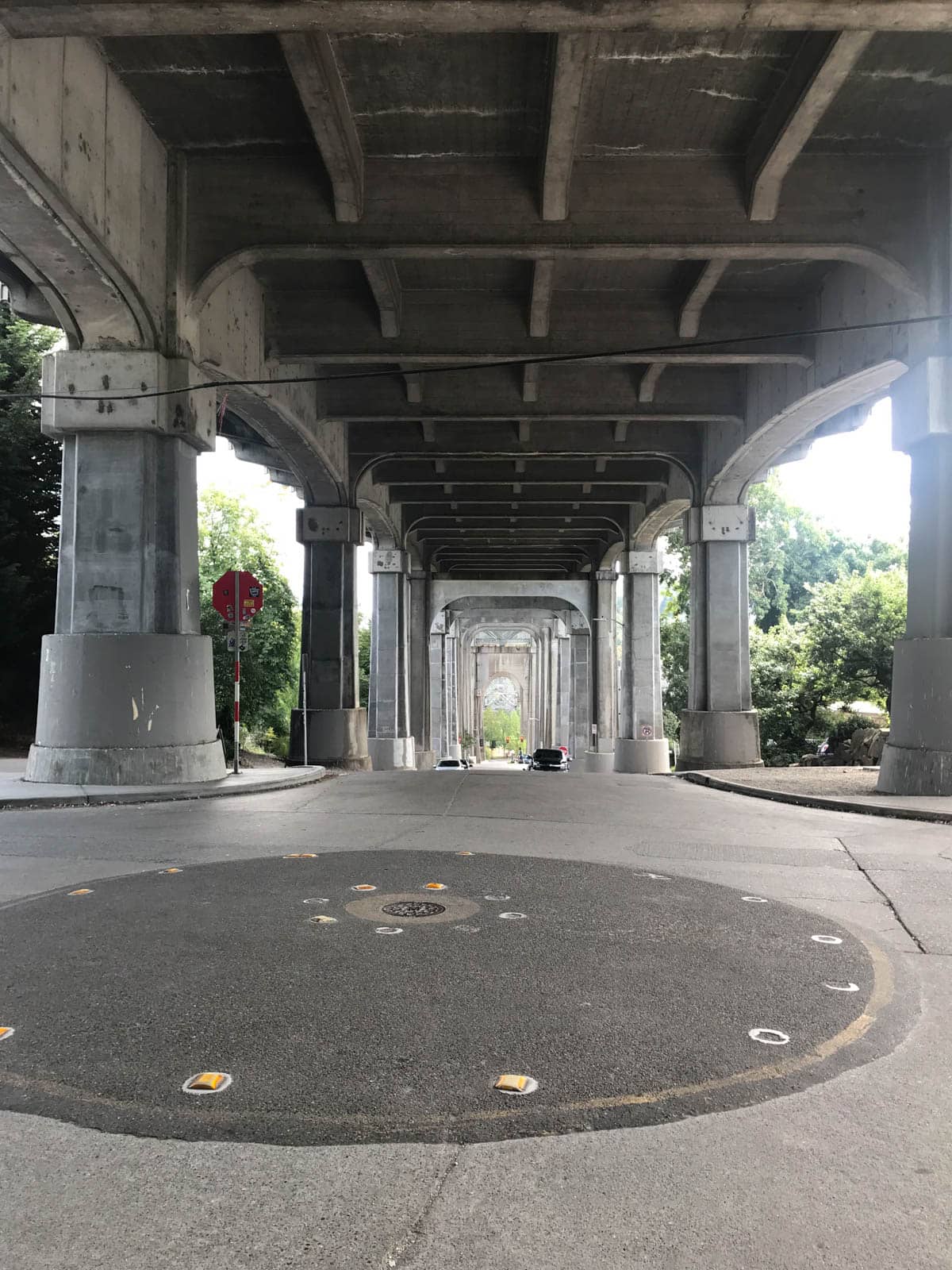 Since we were in the area, we stopped for lunch at a nearby cafe. I'd made the decision to take my (12oz/~360ml) reusable glass coffee cup on this trip, and I've really loved taking it! If I'm dining in, I don't bother using it since they will often supply me with a mug (yay!), but if I don't expect to be around long, I'll get it in my cup. It means I can also take my time drinking it and walking around with it. But, flip side, I do find myself wanting to have coffee and tea more often. Hahaha.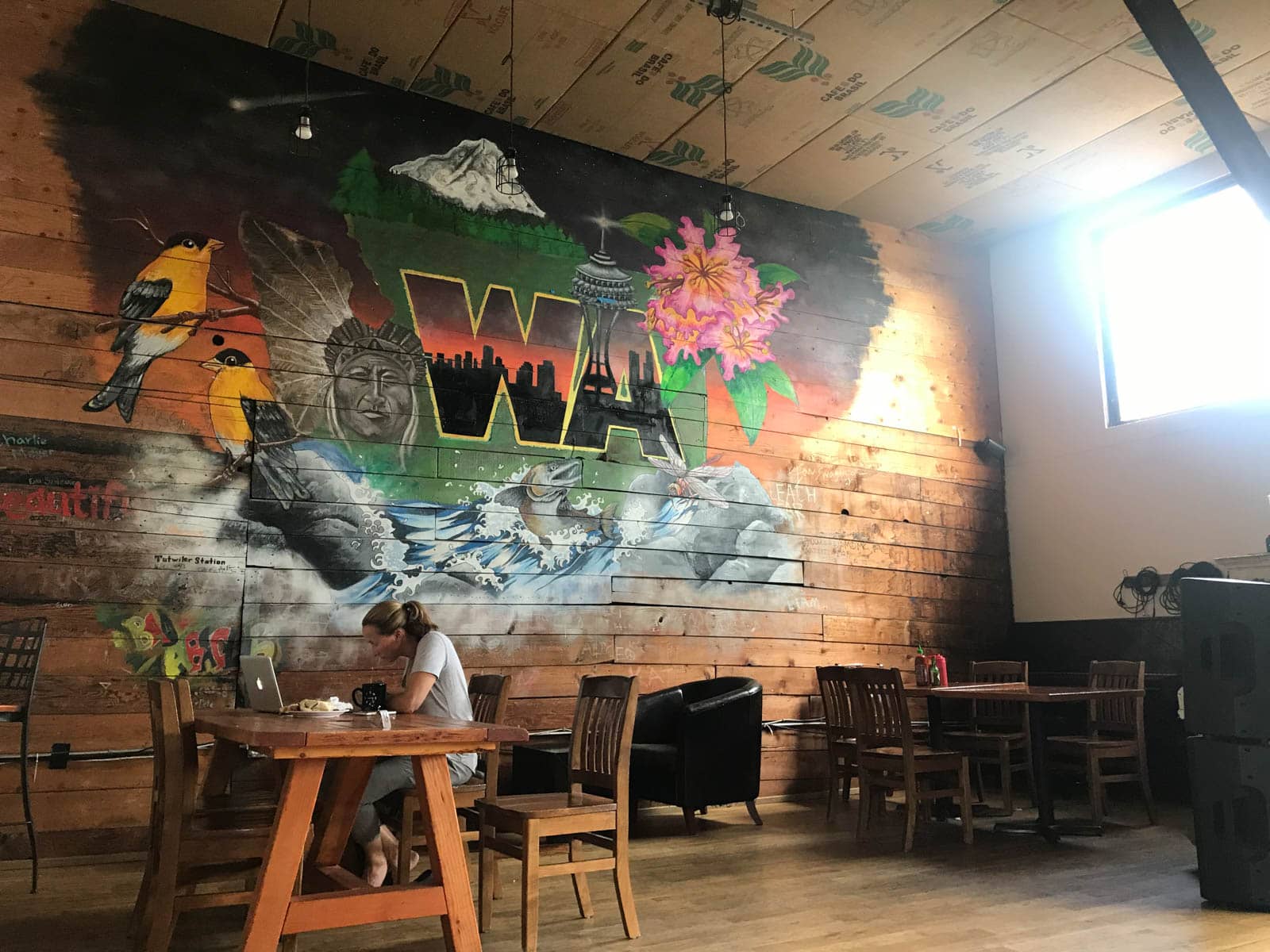 Discovery Park, walking trails, and the old lighthouse
We'd seen recommendations to go to Discovery Park and "see the old lighthouse". To be honest, the lighthouse isn't much to see, and if you're spoiled with yellow, hot, sandy beaches like the (in)famous Bondi Beach in Sydney, you will think of this rock beach by the lighthouse as being rather odd. But that's the thing to do here, apparently! That's where folks like to hang out with their families and enjoy being by the water. However, the walk there is lovely, and there are a few easy-to-medium trails to walk on. We took a couple of different trails to the lighthouse and back. Going there, we ended up walking down a very big hill and were not keen on walking up the hill to go back, so we opted for a trail that thankfully had some stairs that were easier to climb.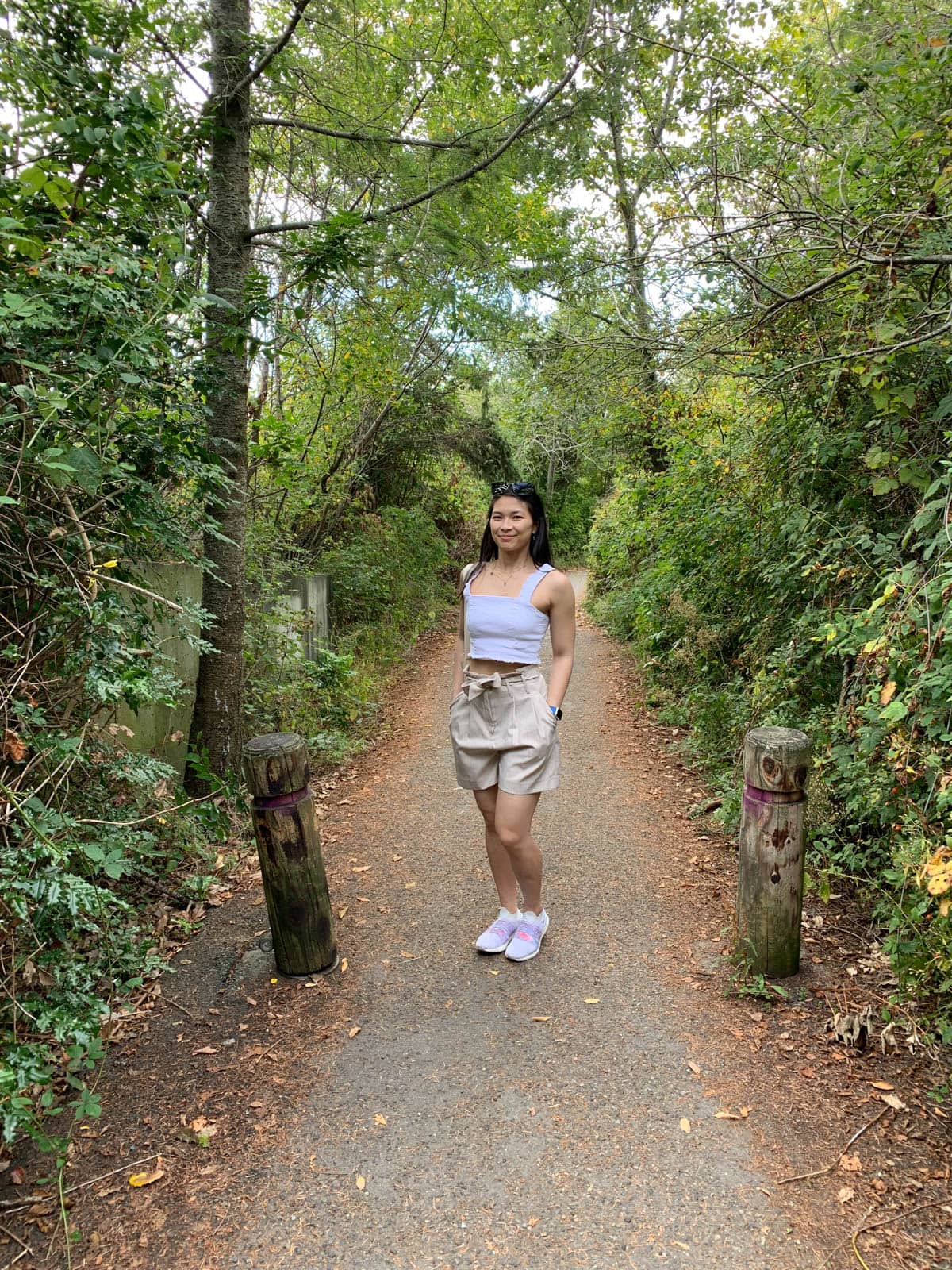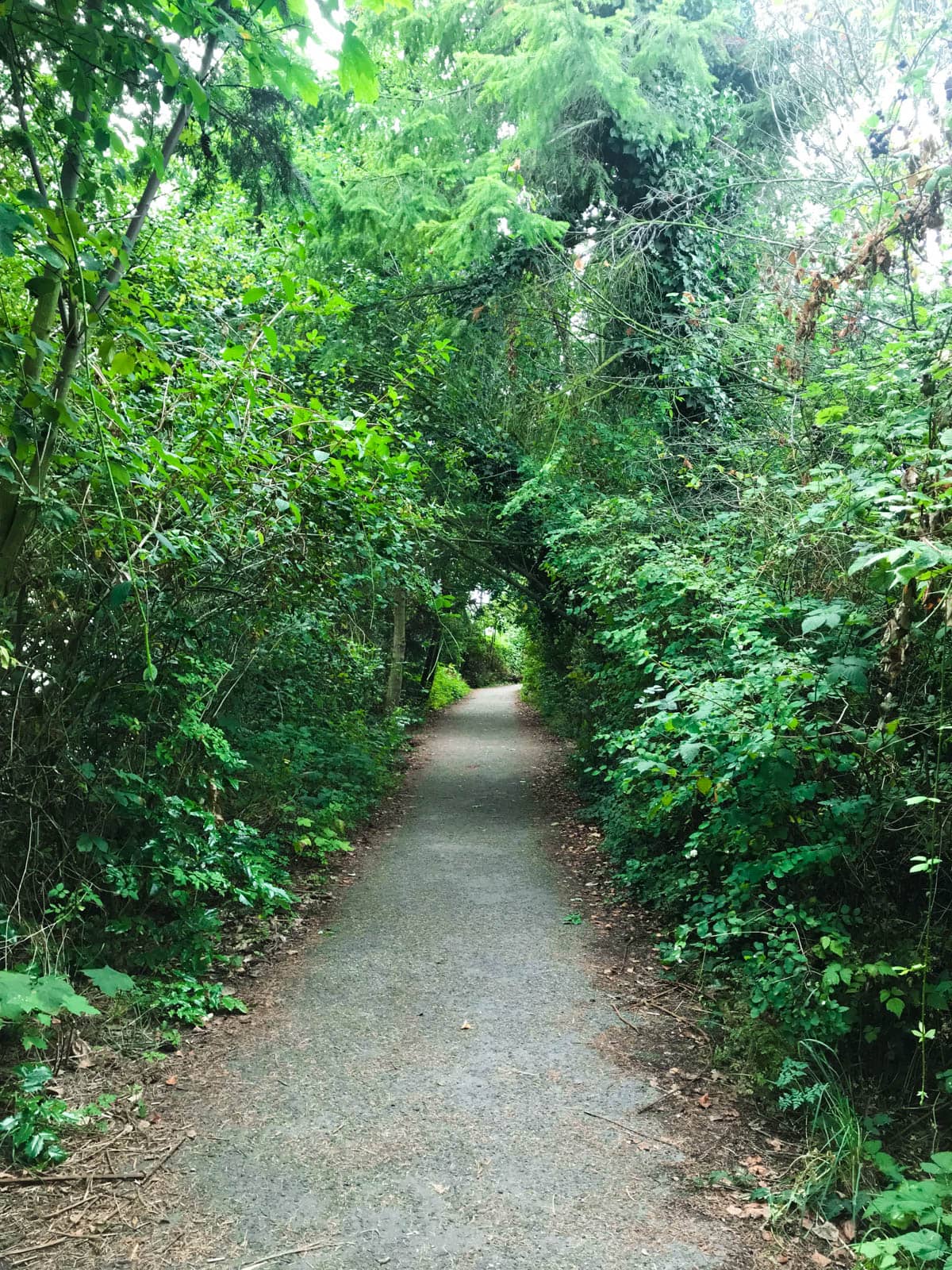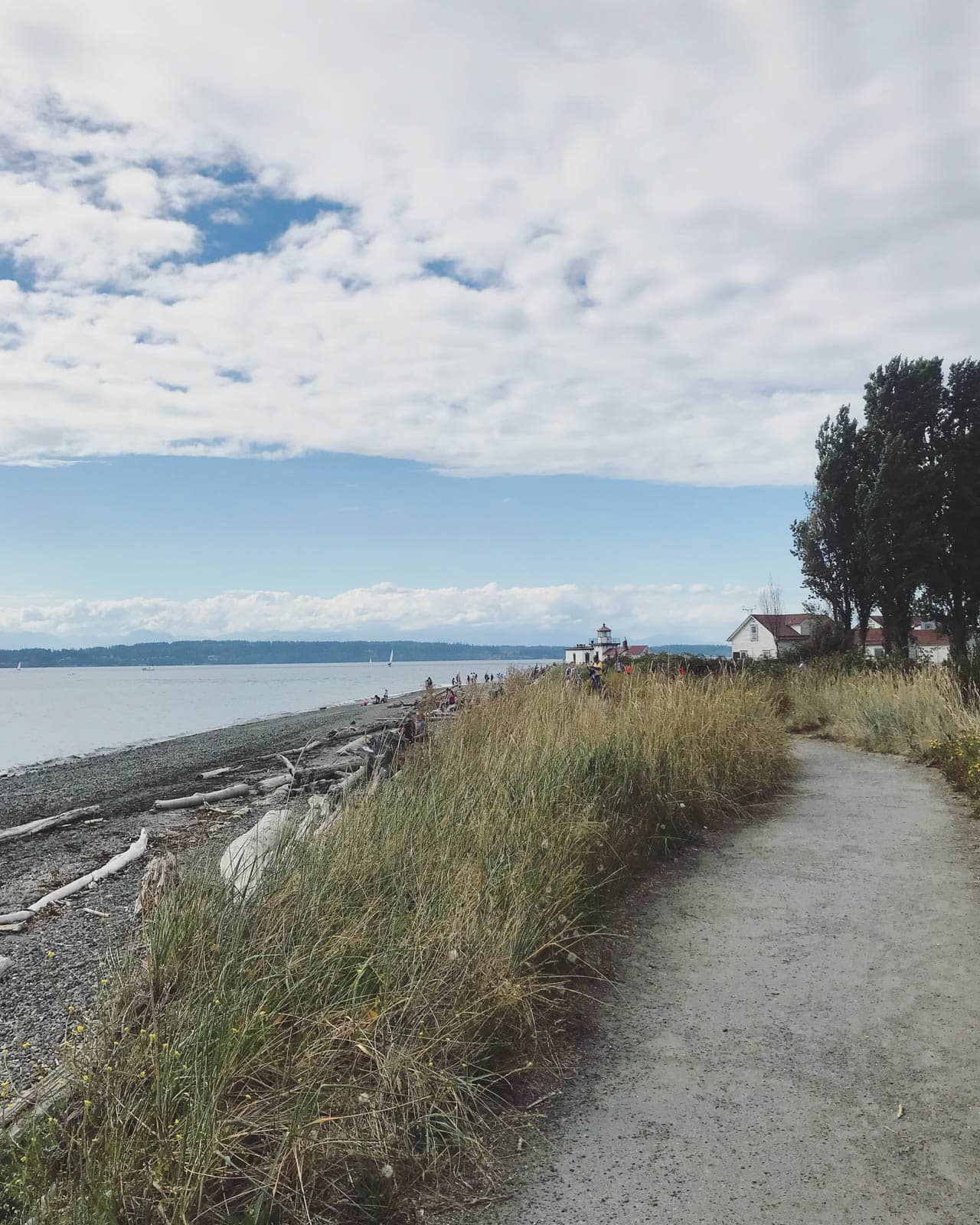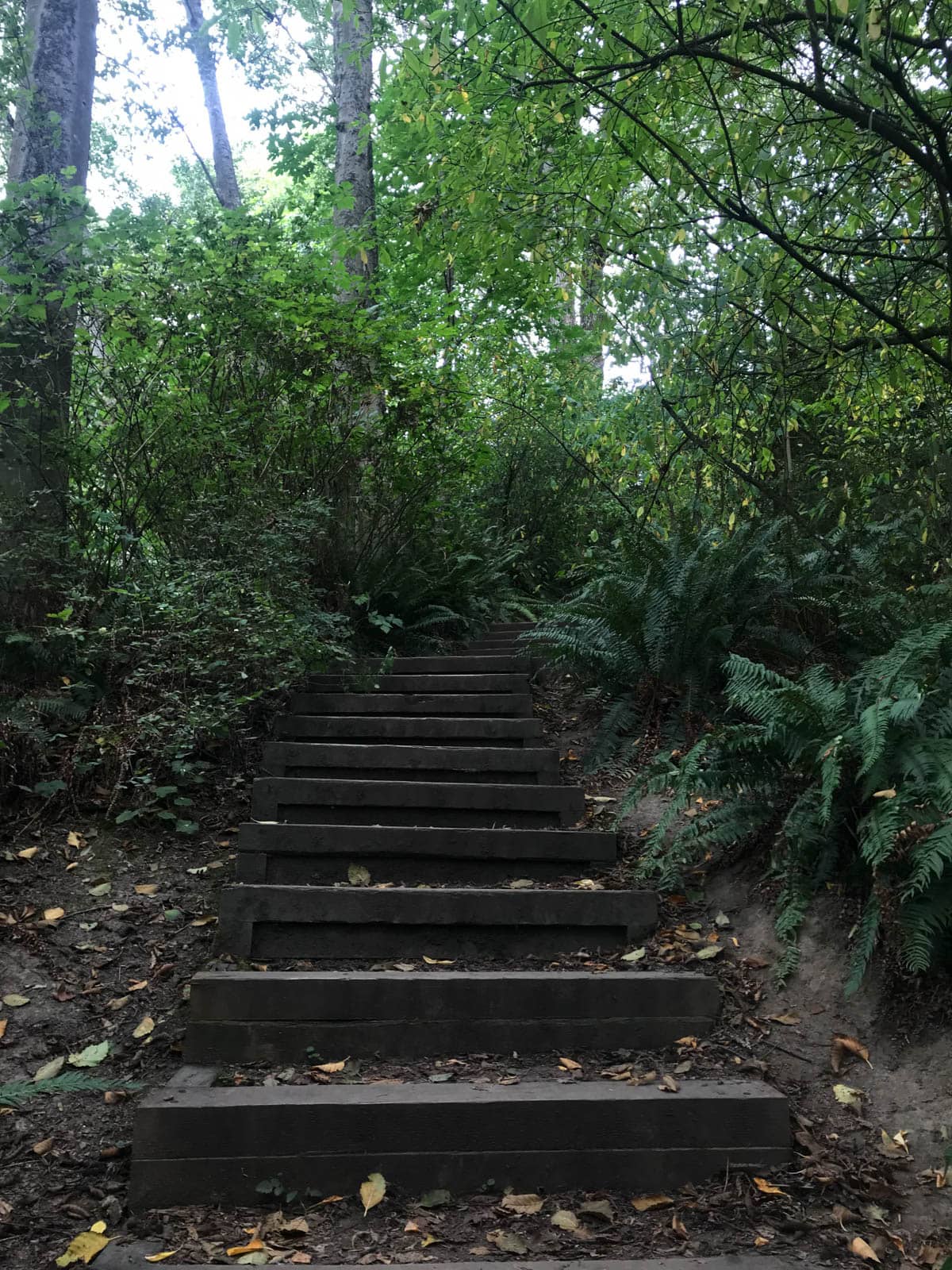 I had really been wanting to do a hike with Nick as we had not done a proper one for… well, since forever. A trail was good enough at the time, and we did end up doing a proper hike in Cradle Mountain earlier this year. But I love any little excuse to do a stroll or a walk through nature.
A Kurt Cobain memorial at Viretta Park
Our next stop was to visit a bench. It wasn't just any bench, though. The bench, in Viretta Park, is located behind a house that Kurt Cobain, deceased frontman of grunge rock band Nirvana, used to reside in in the 1990s. He was found dead in that house after he committed suicide in 1994. It is said that Kurt Cobain sat on this very bench and wrote some songs.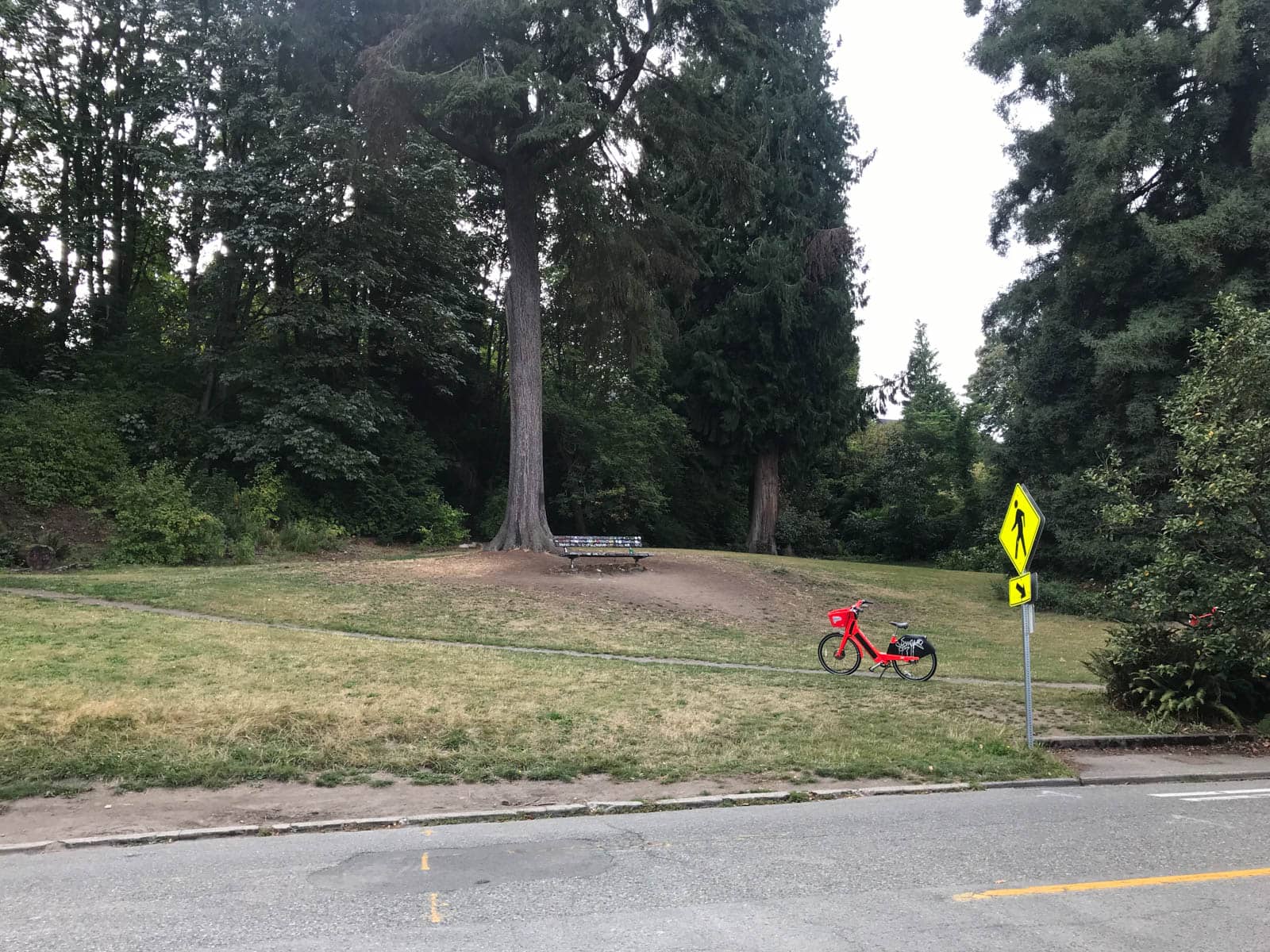 There were a lot of notes and messages written for Kurt to thank him for what he contributed to music, and to rest in peace. We saw one couple at the bench taking a few photos as we looked for a spot to park, but otherwise, there was not another person in sight. It was strange thinking that it was literally the same bench that was there thirty years ago. I sort of wondered how the landscape around it changed, because the park the bench sat in was on a small hilly surface, and the clear view of the road and water didn't make it feel very private. When I read about the bench and imagined its history, I had pictured more trees in the park, a slightly larger park, and hidden from the street.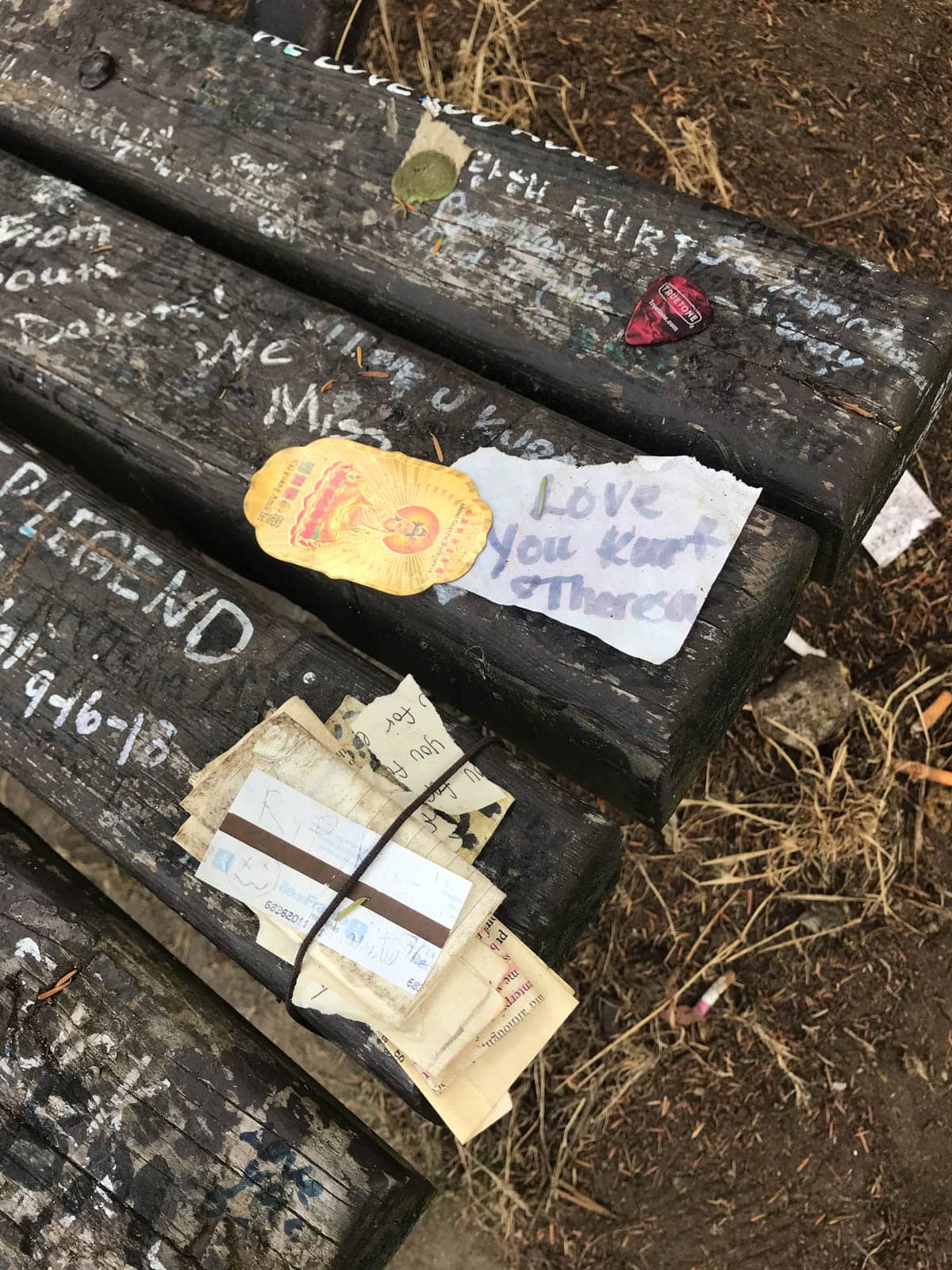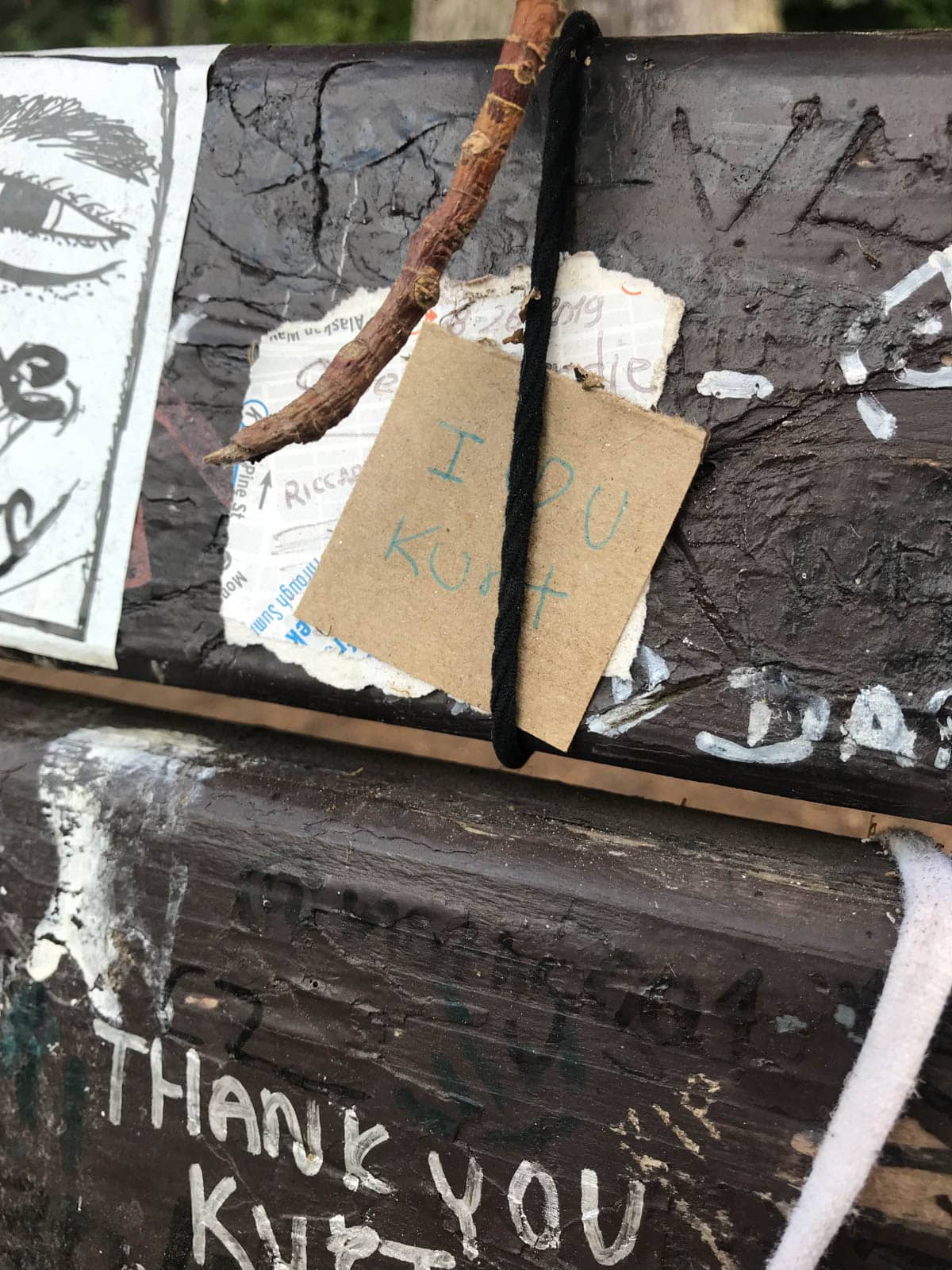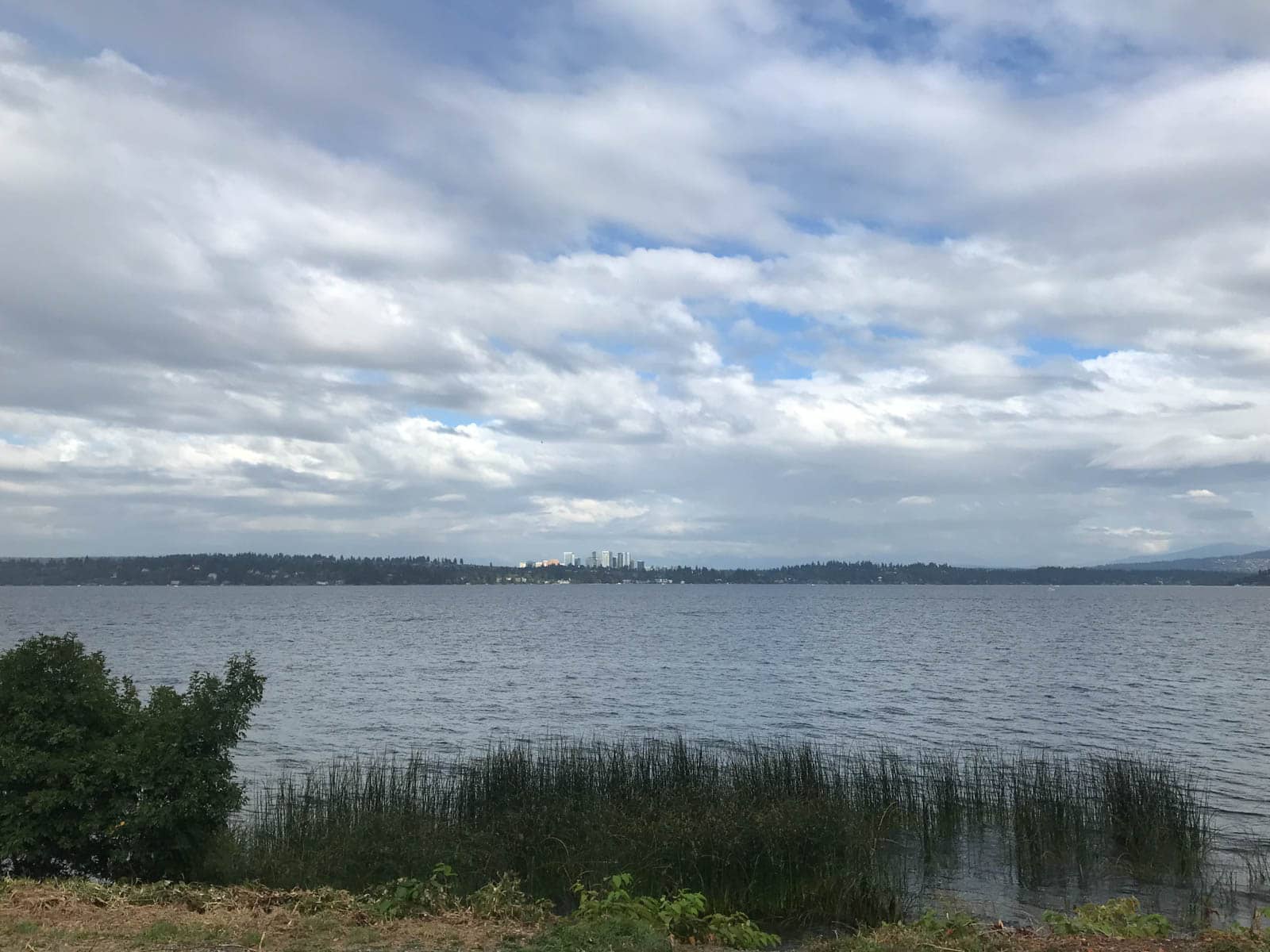 Dinner at Tavolàta
That evening we had dinner at Tavolàta, which was really good! It was another recommendation from my friend Kyle. Since we hadn't seen the Starbucks roastery, and it was nearby, we stopped to have a look. On the way back to our Airbnb for the evening, we stopped by Frankie Jo's, an ice cream parlour that sells dairy free ice cream. Being lactose intolerant, I can't pass up on that one. 😀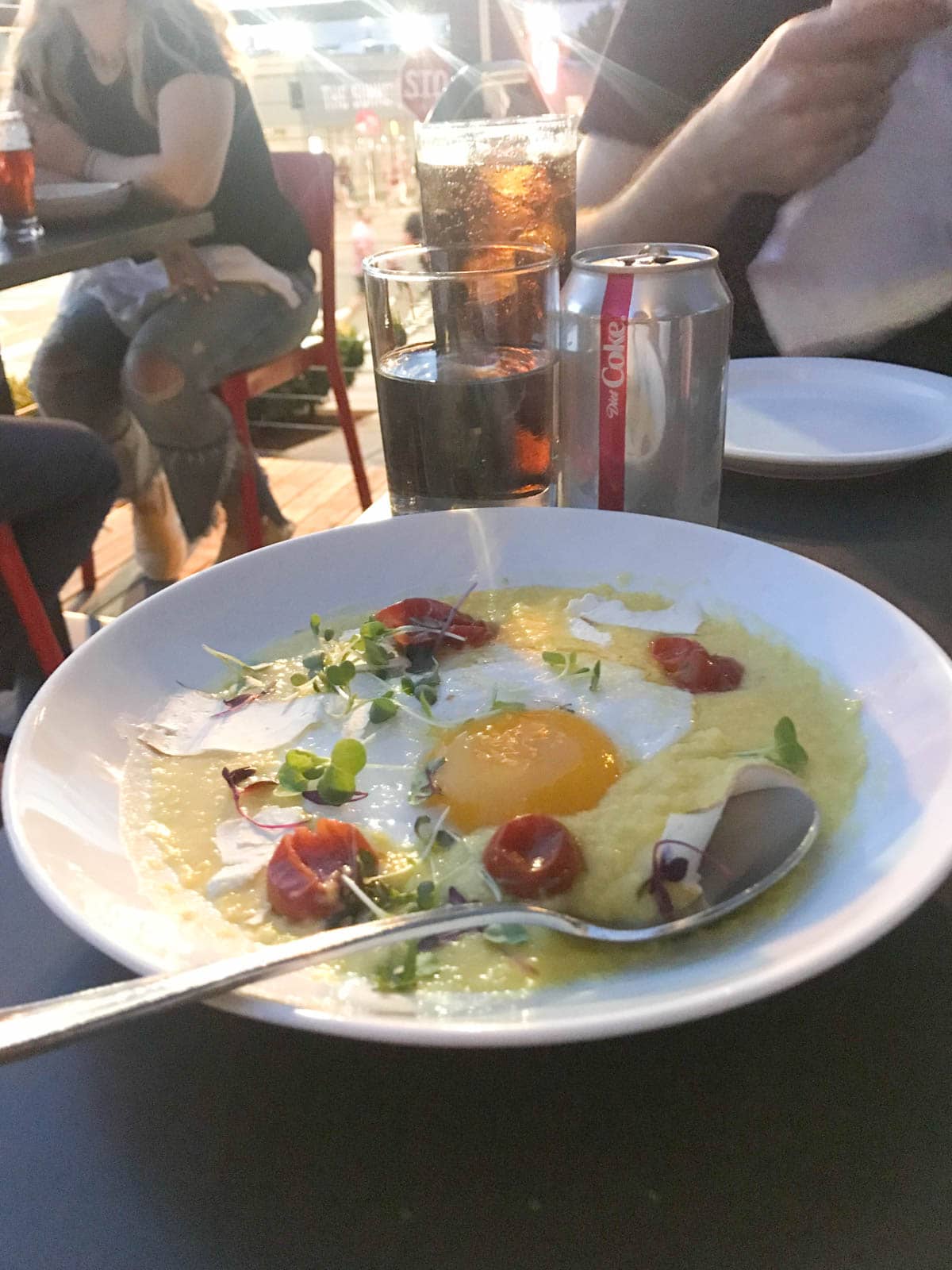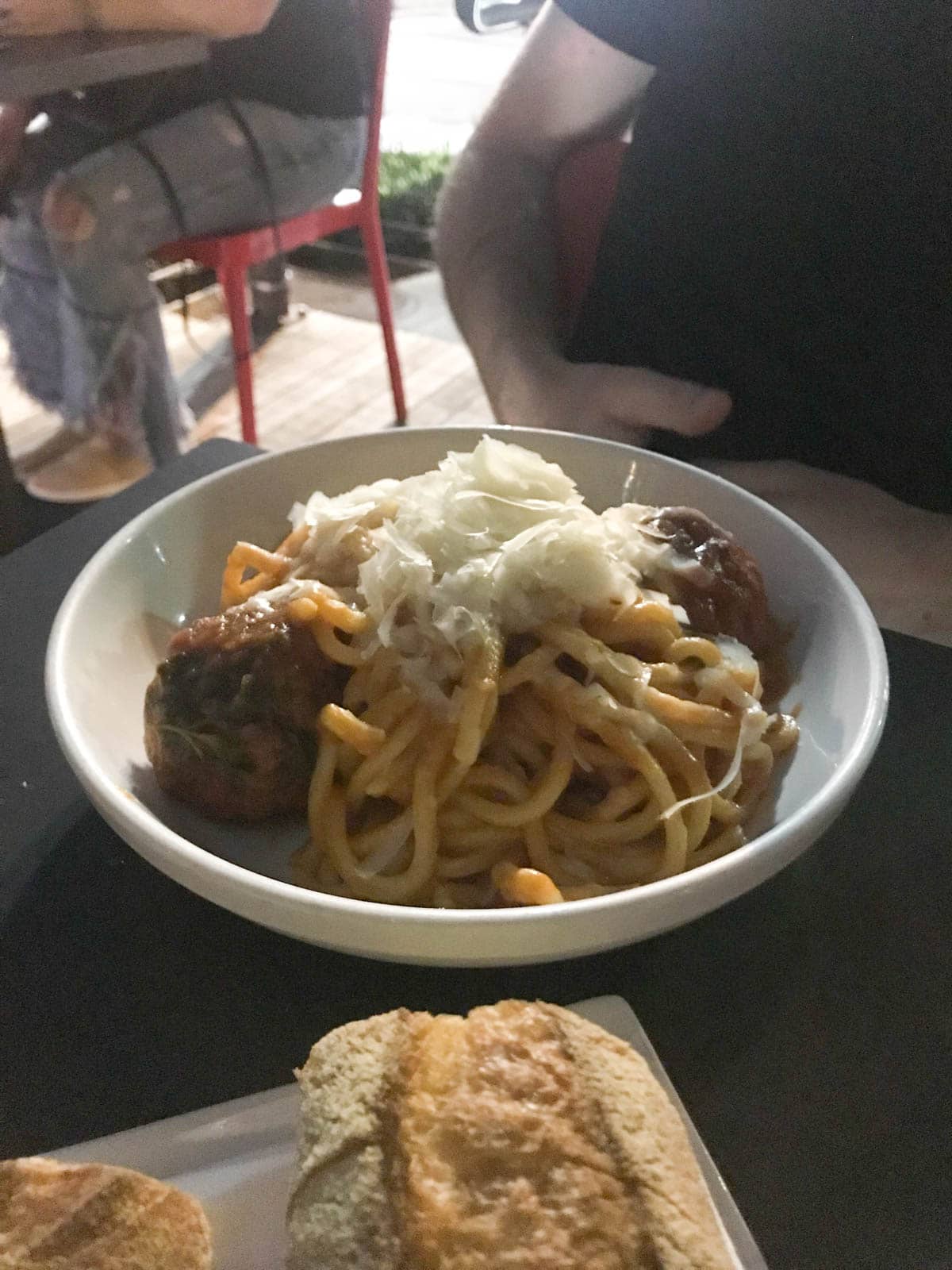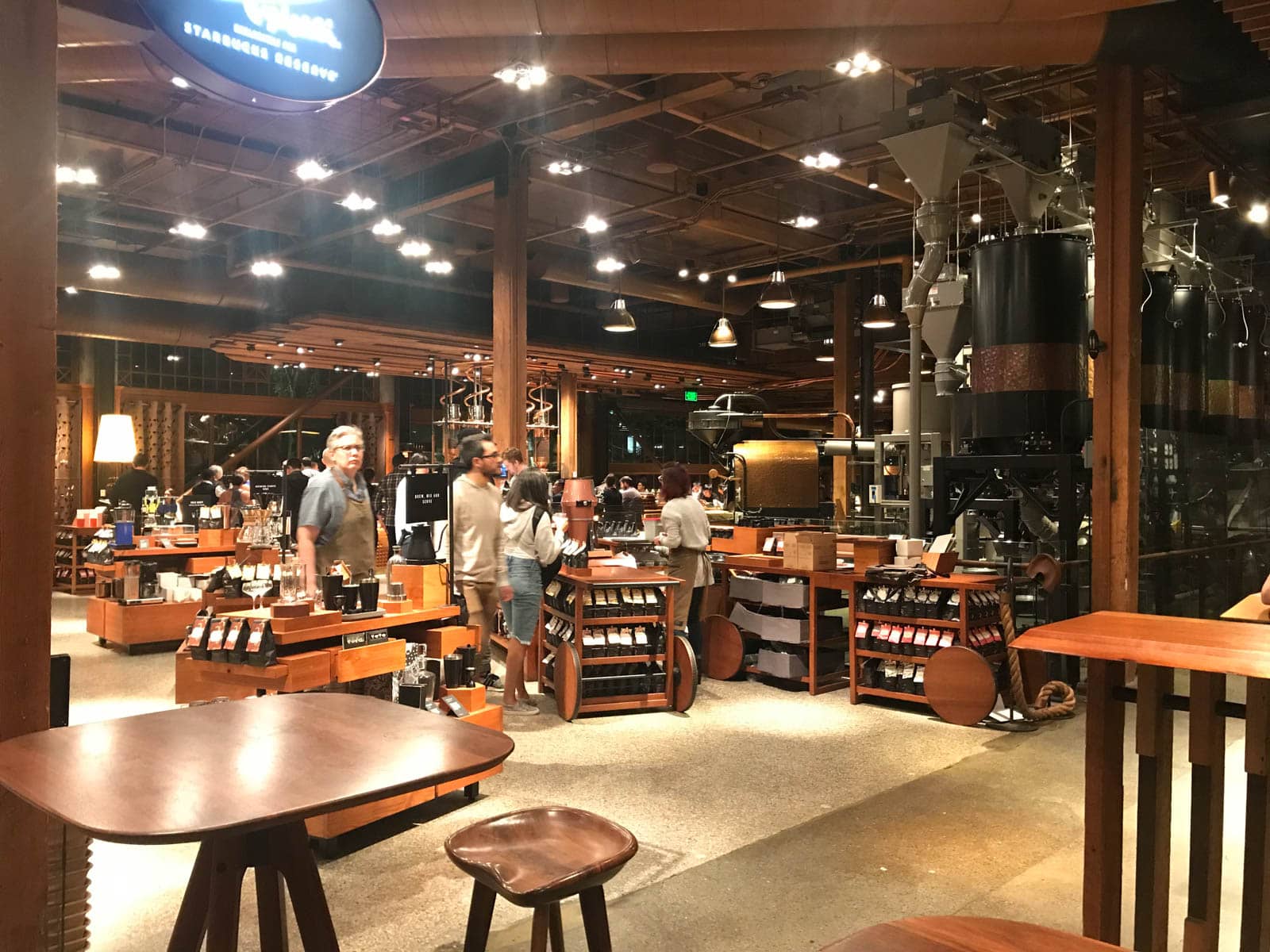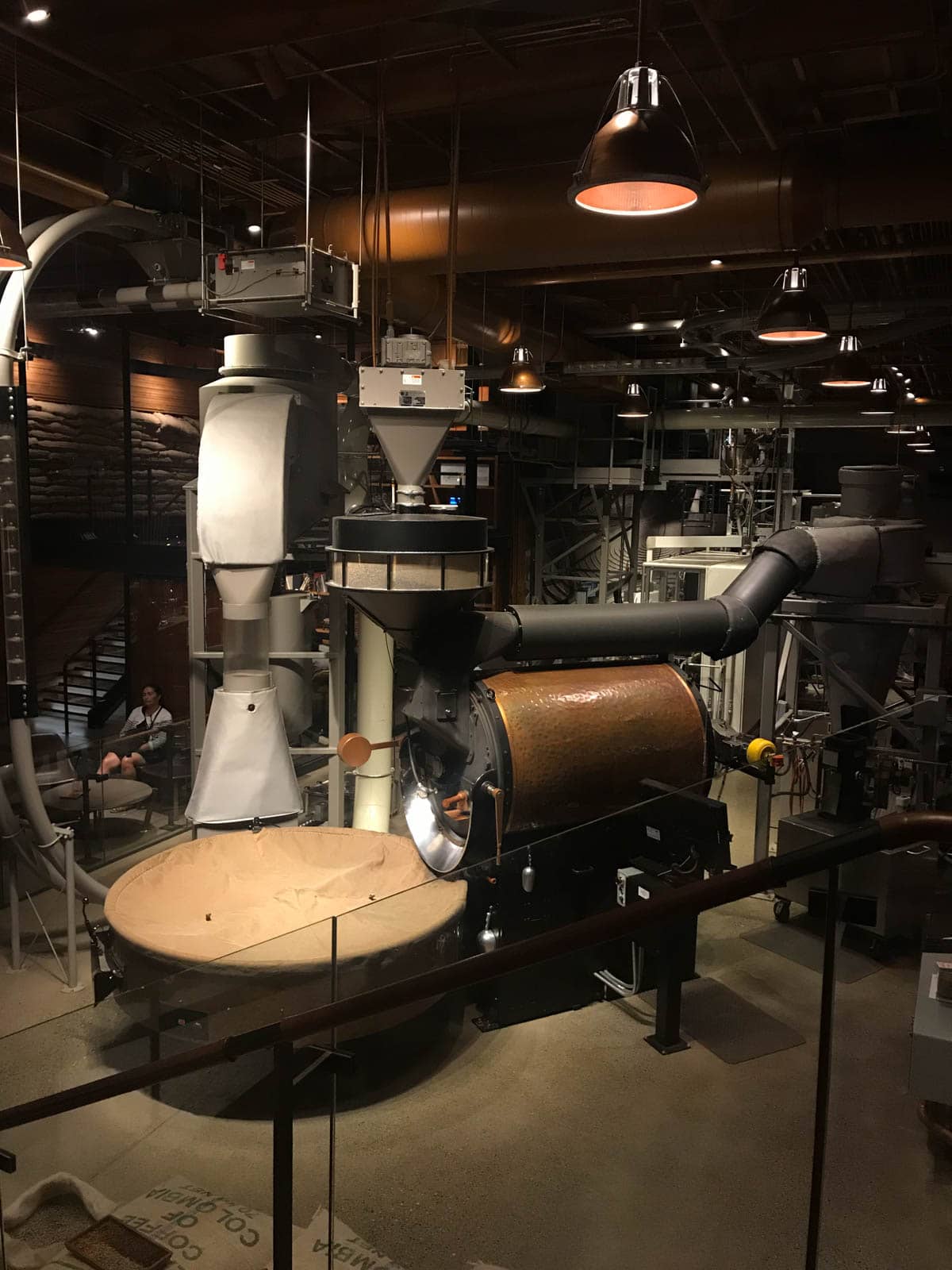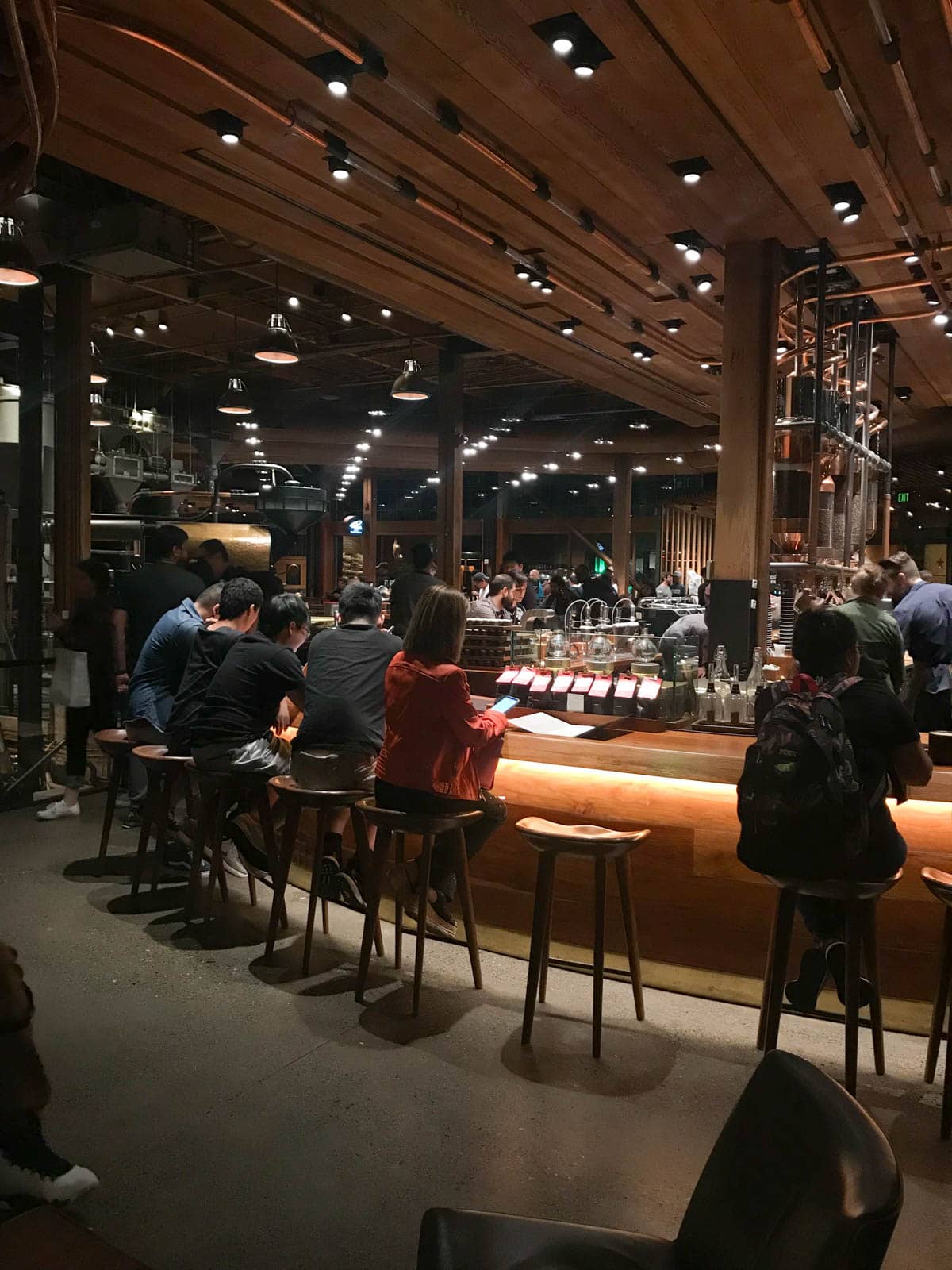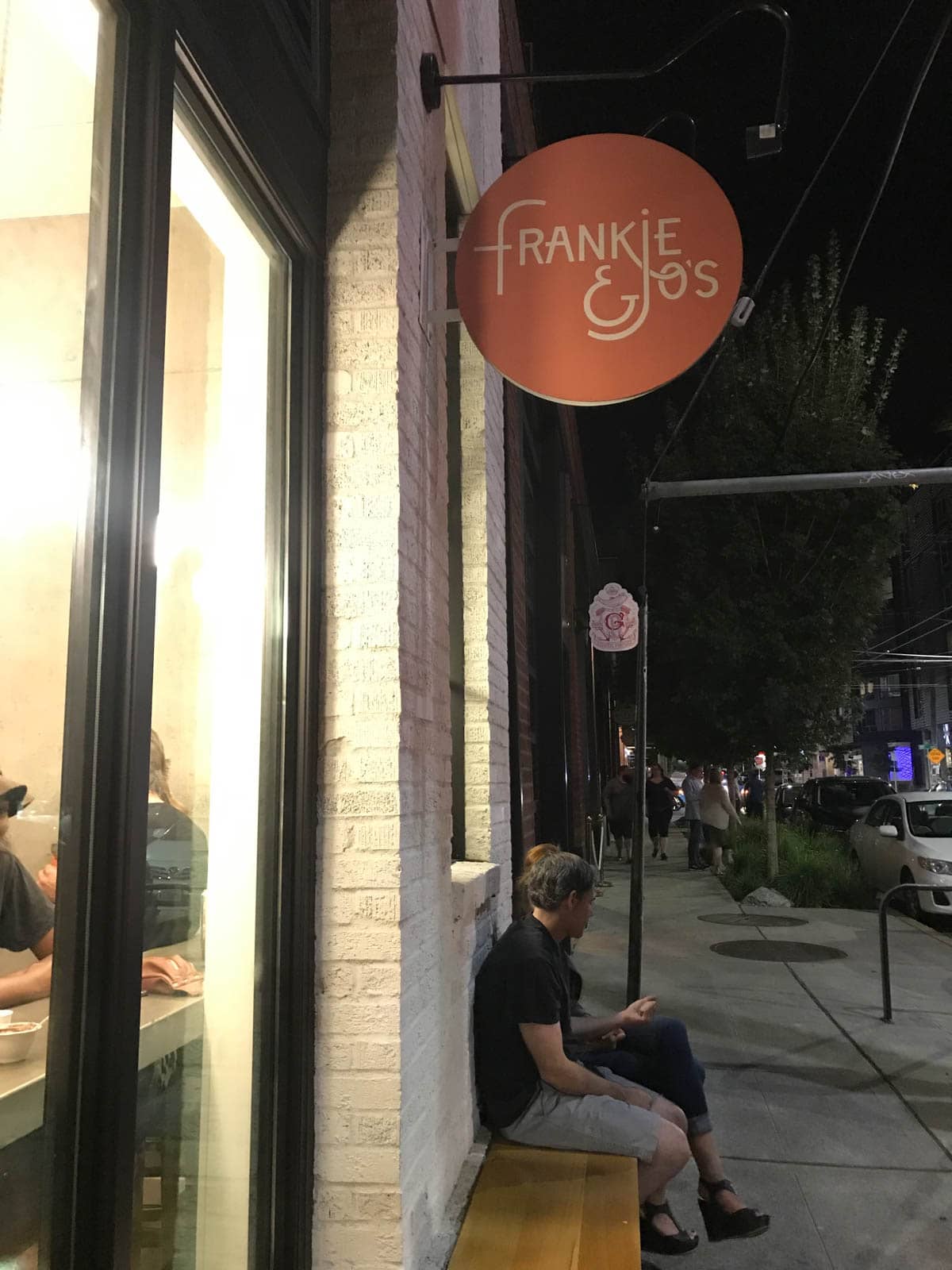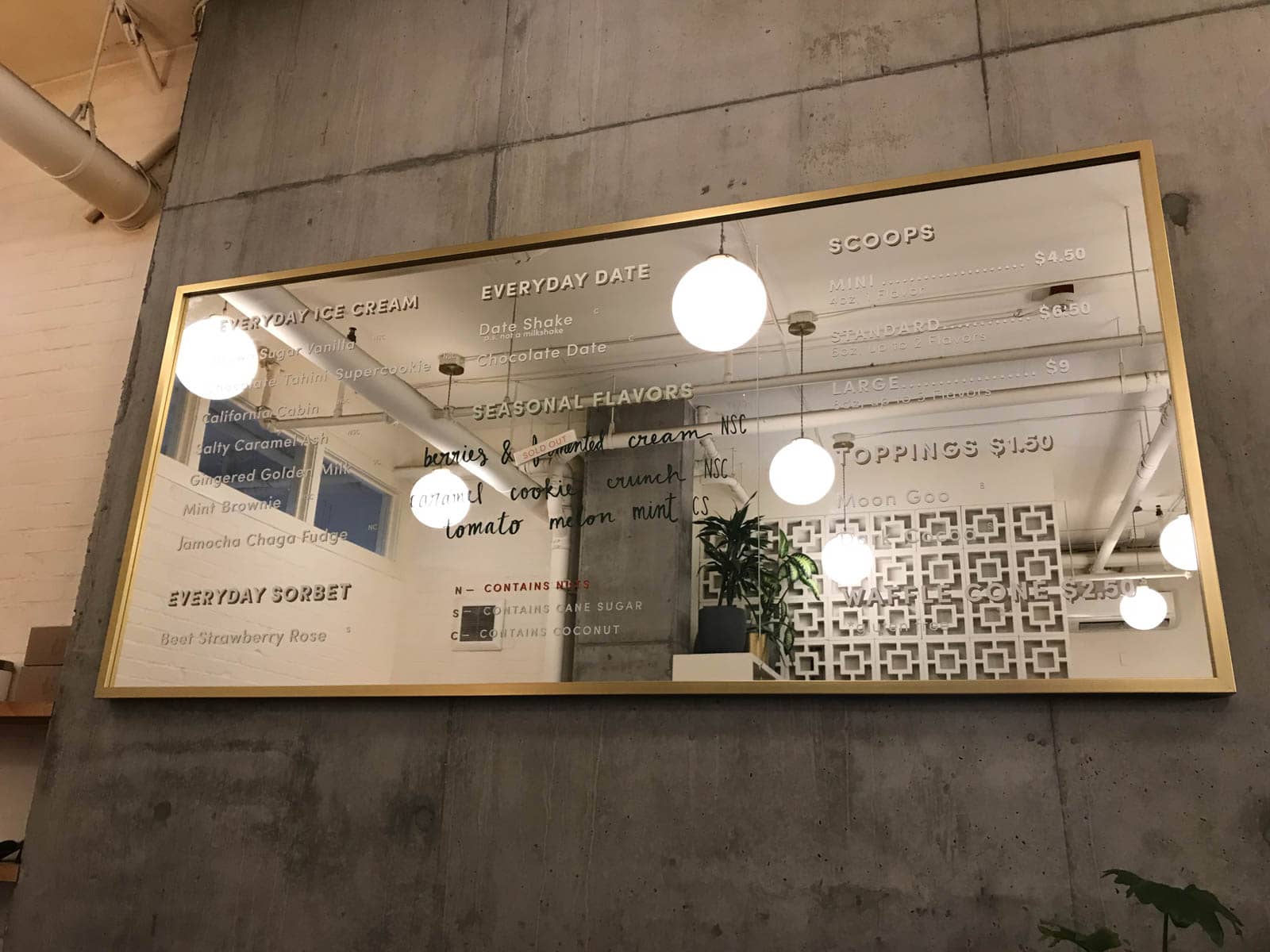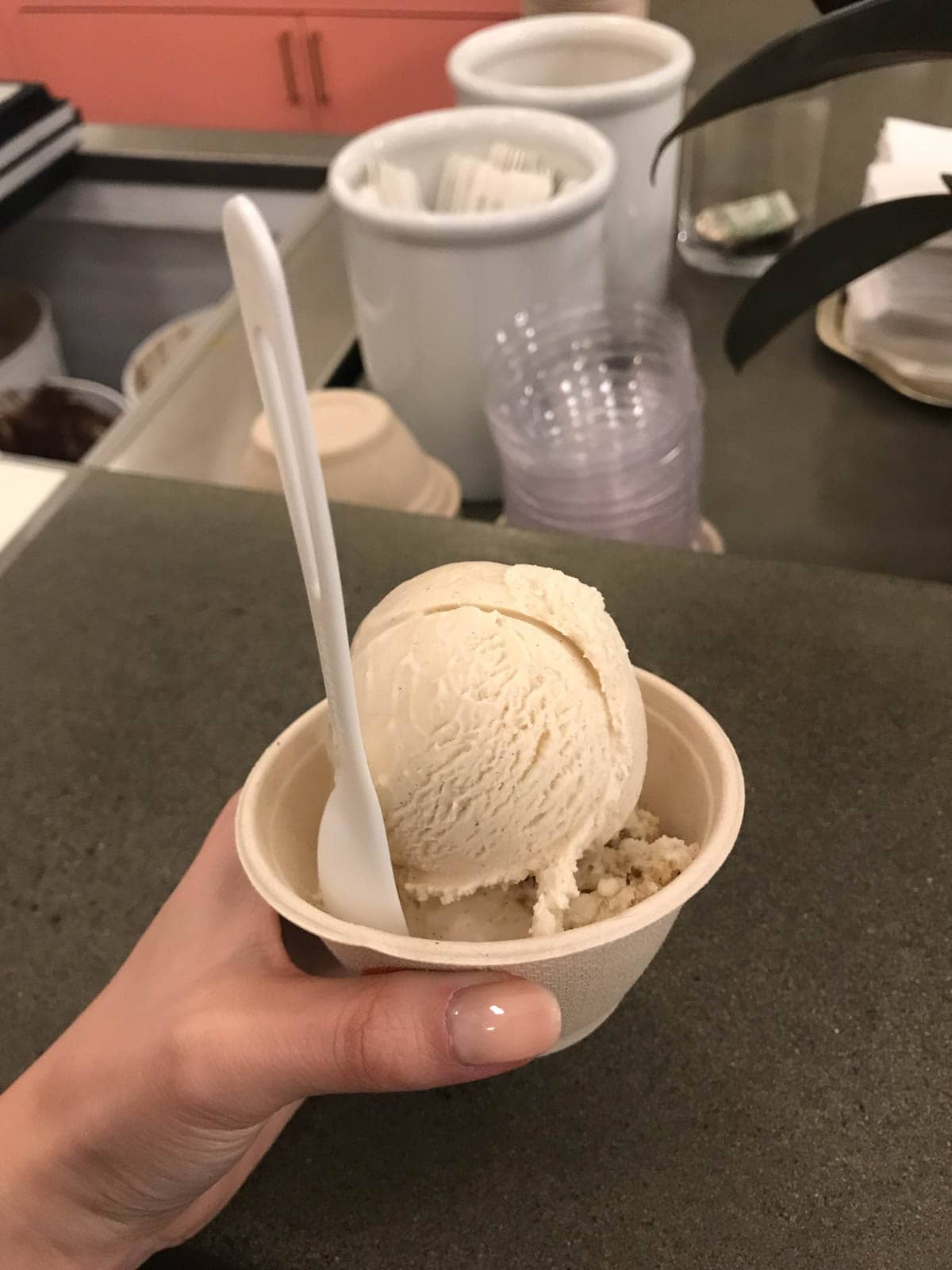 Day 2
Brunch at Nue
The second day started with us getting brunch with my friend Lucinda, who used to live in Sydney but now resides in Seattle. We ate at a cafe she recommended, called Nue, which had some hearty, rich dishes inspired by cuisines around the world.. I was feeling brave so I ordered chicken and waffles. This was my first time eating the famous dish, and I have to say I didn't mind it at all. 😉 After all, waffles don't always have to be sweet! 🧇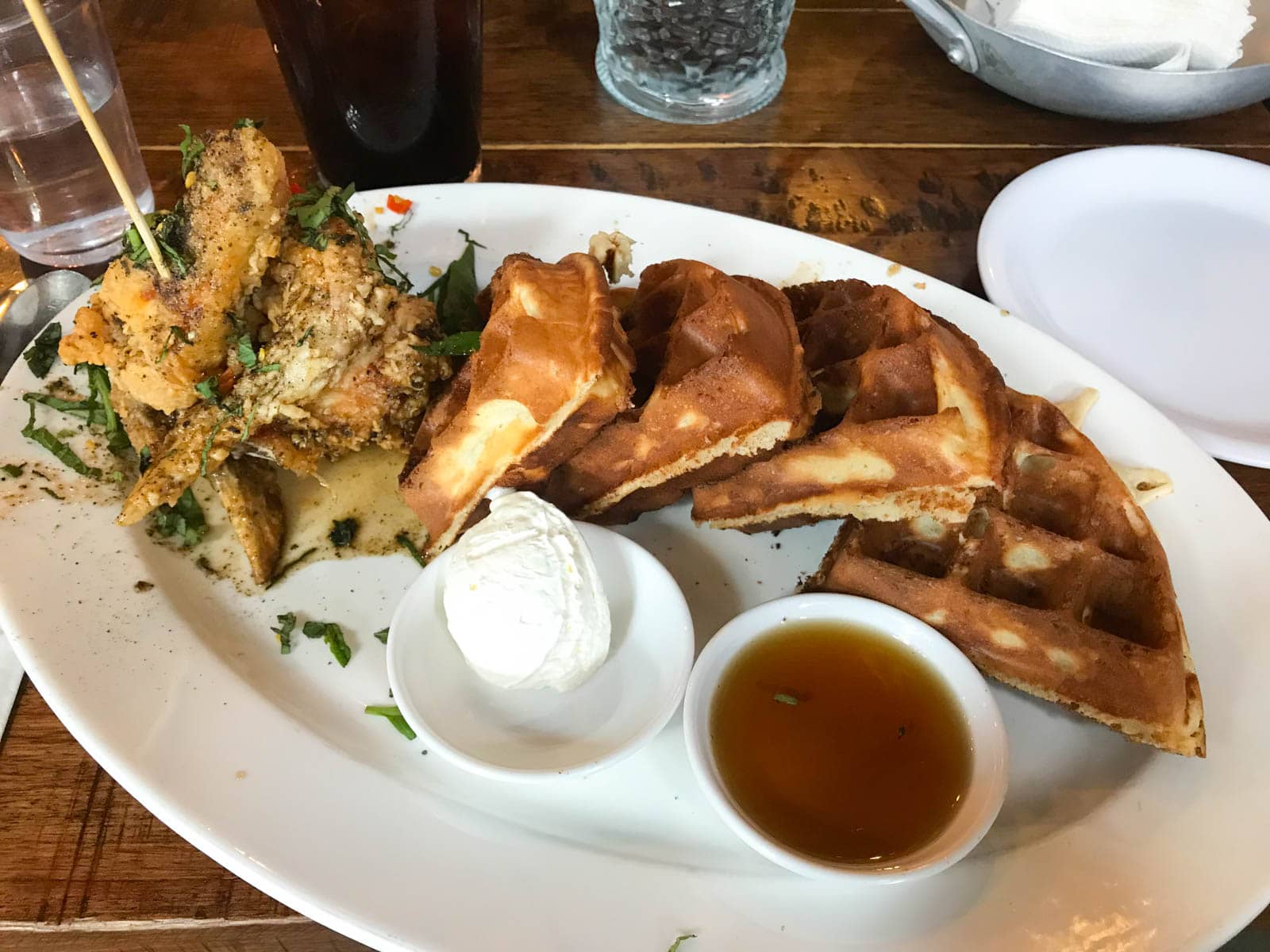 Pike Place Market and the (infamous) Gum Wall
We spent the rest of the morning exploring Pike Place Market then walking past the infamous Seattle Gum Wall. So, I definitely recommend the market, but I don't so much recommend the gum wall. As far as markets go, if you're into them, I wouldn't miss it. I'm more of a market observer than a market "participant", so I don't usually go around buying all the nibbles and snacks, but I love to explore them. This one is worth visiting, and probably more fun if you know someone local who can tell you what's good.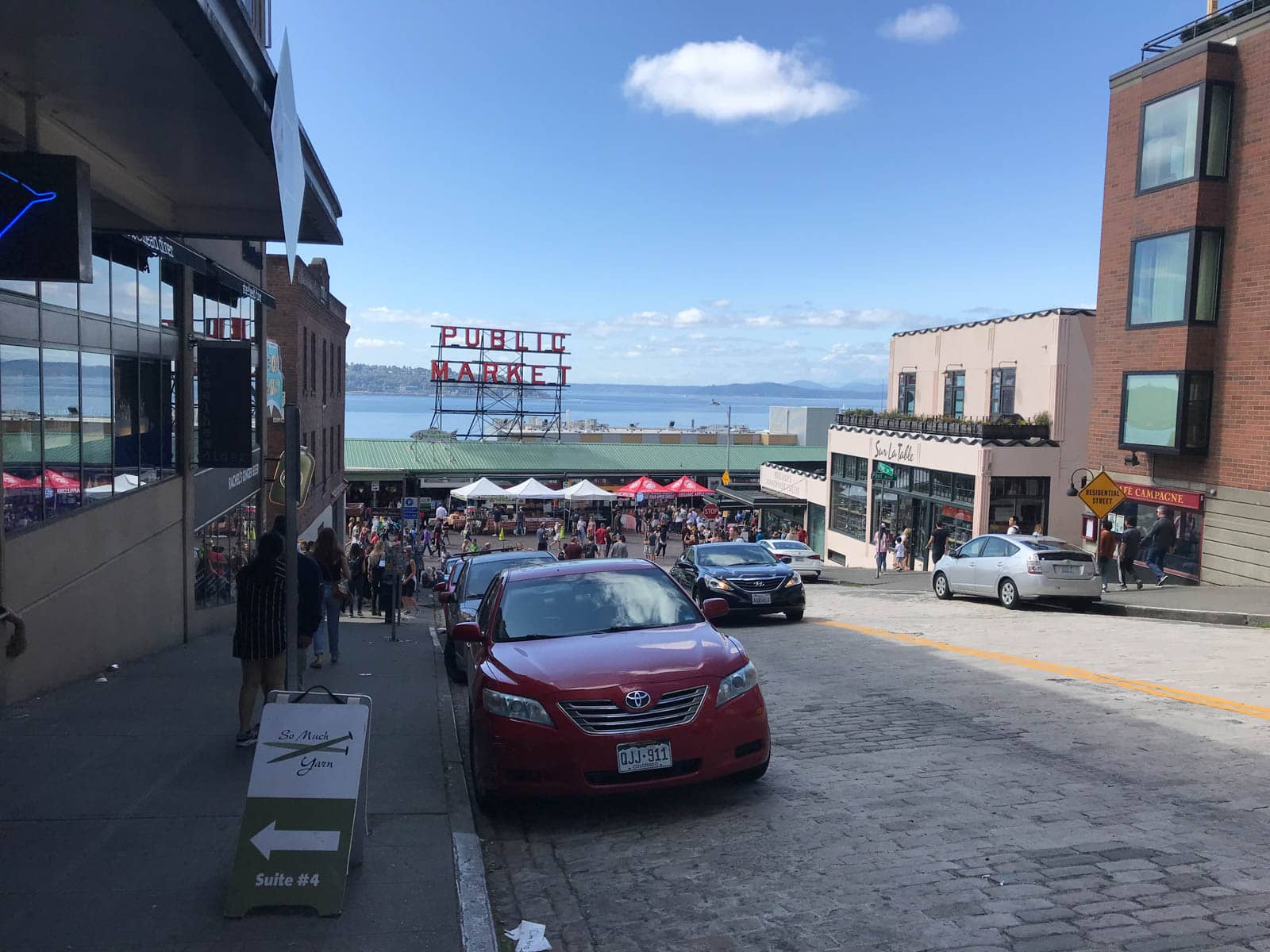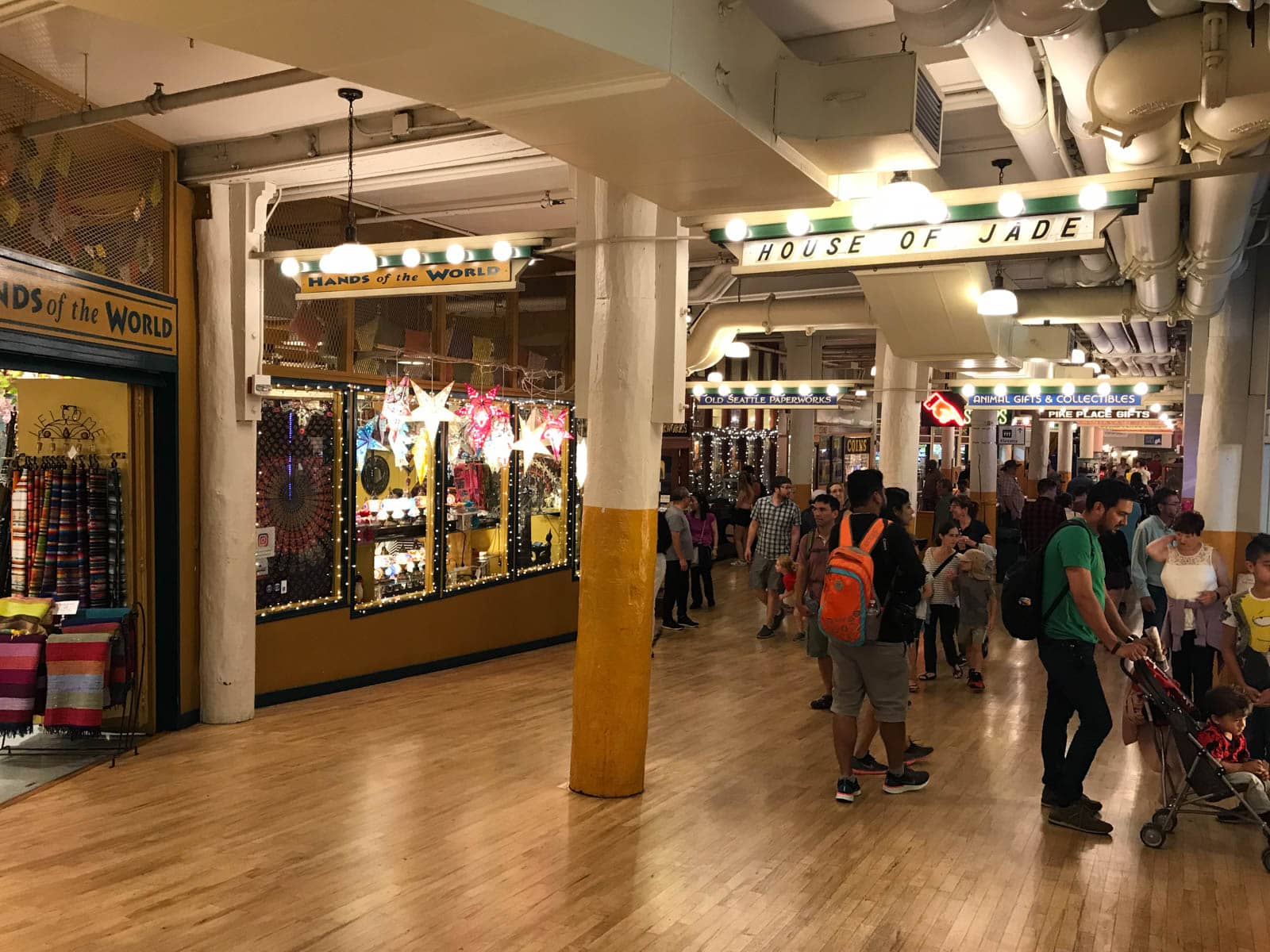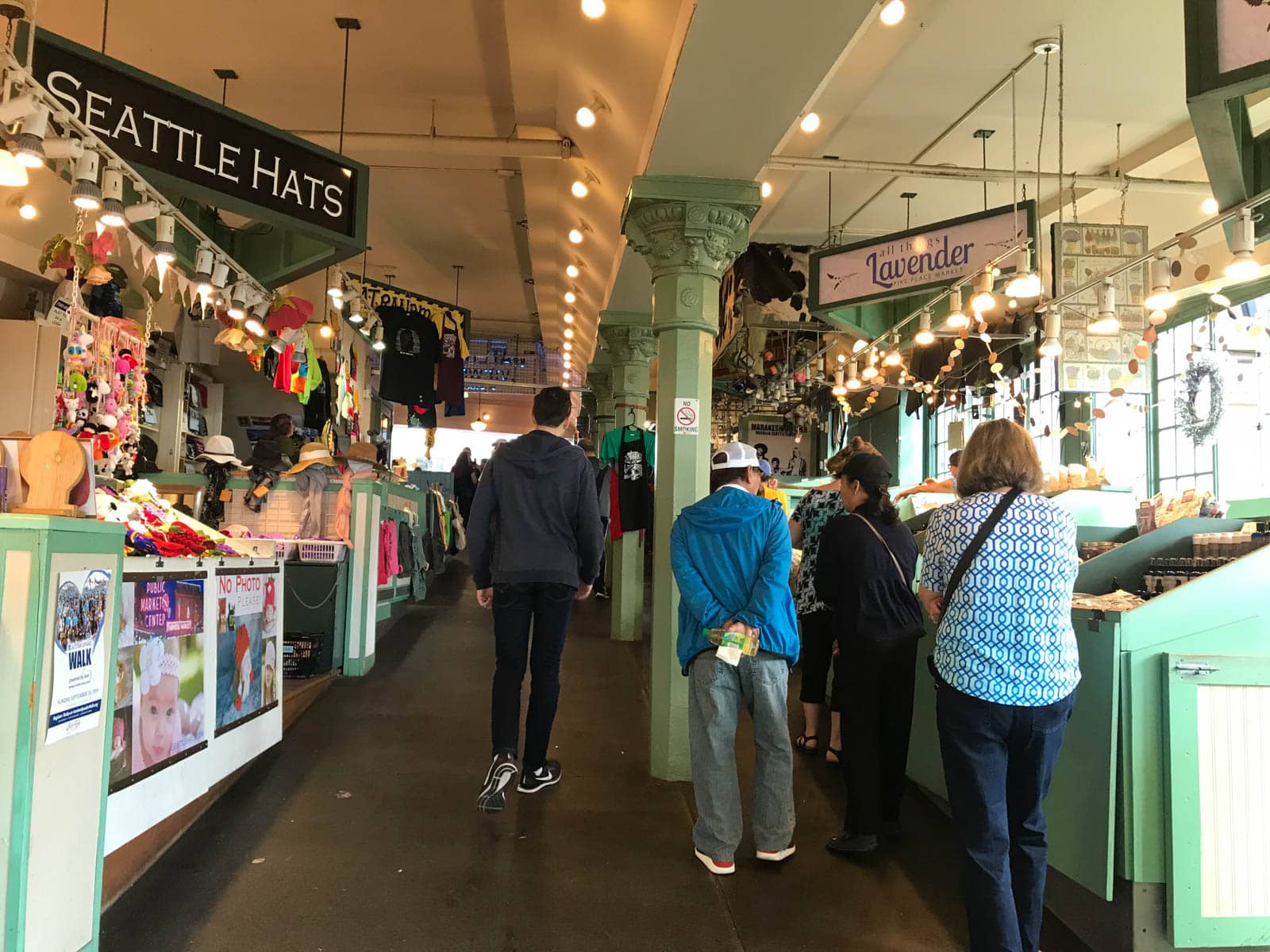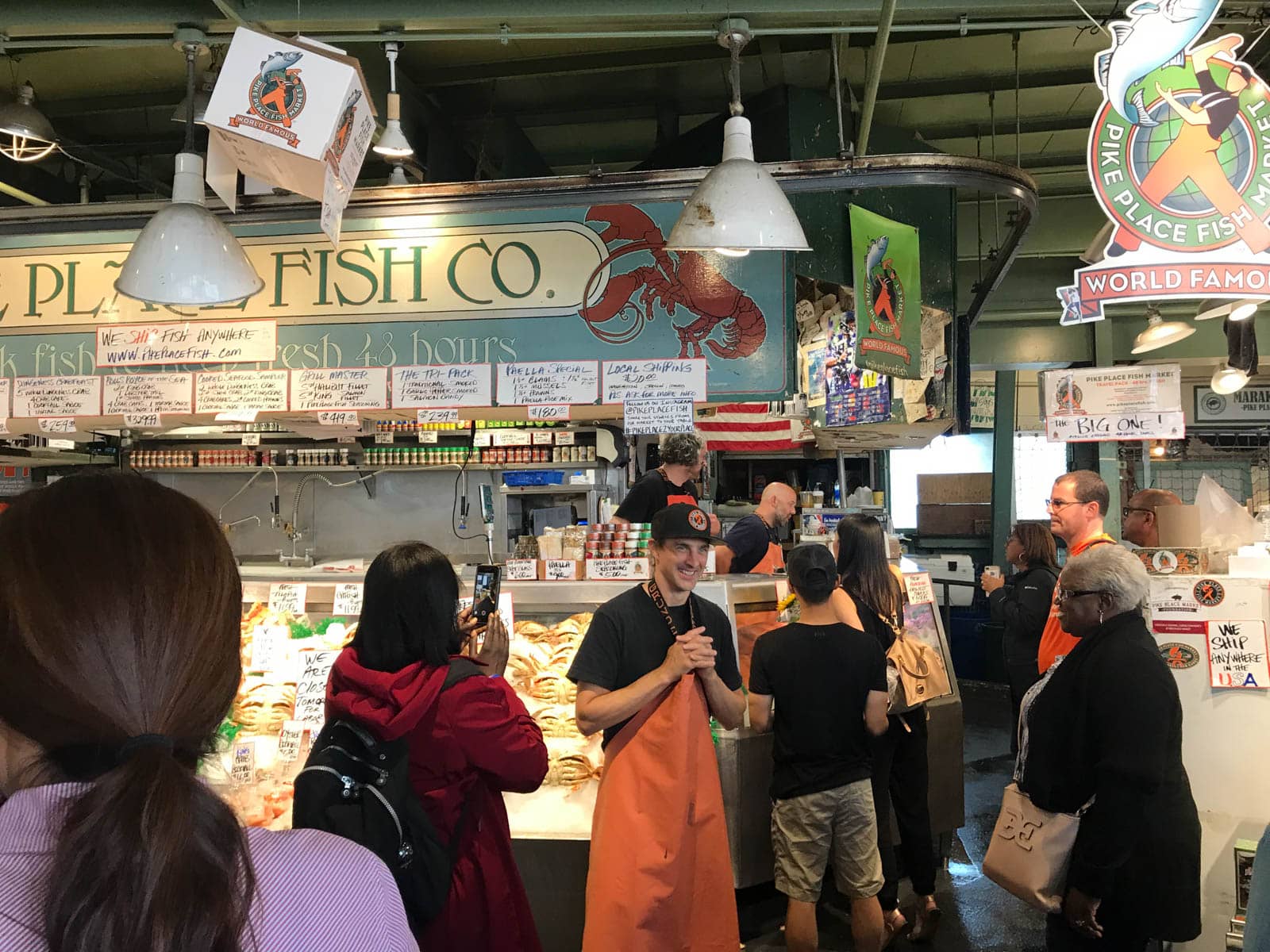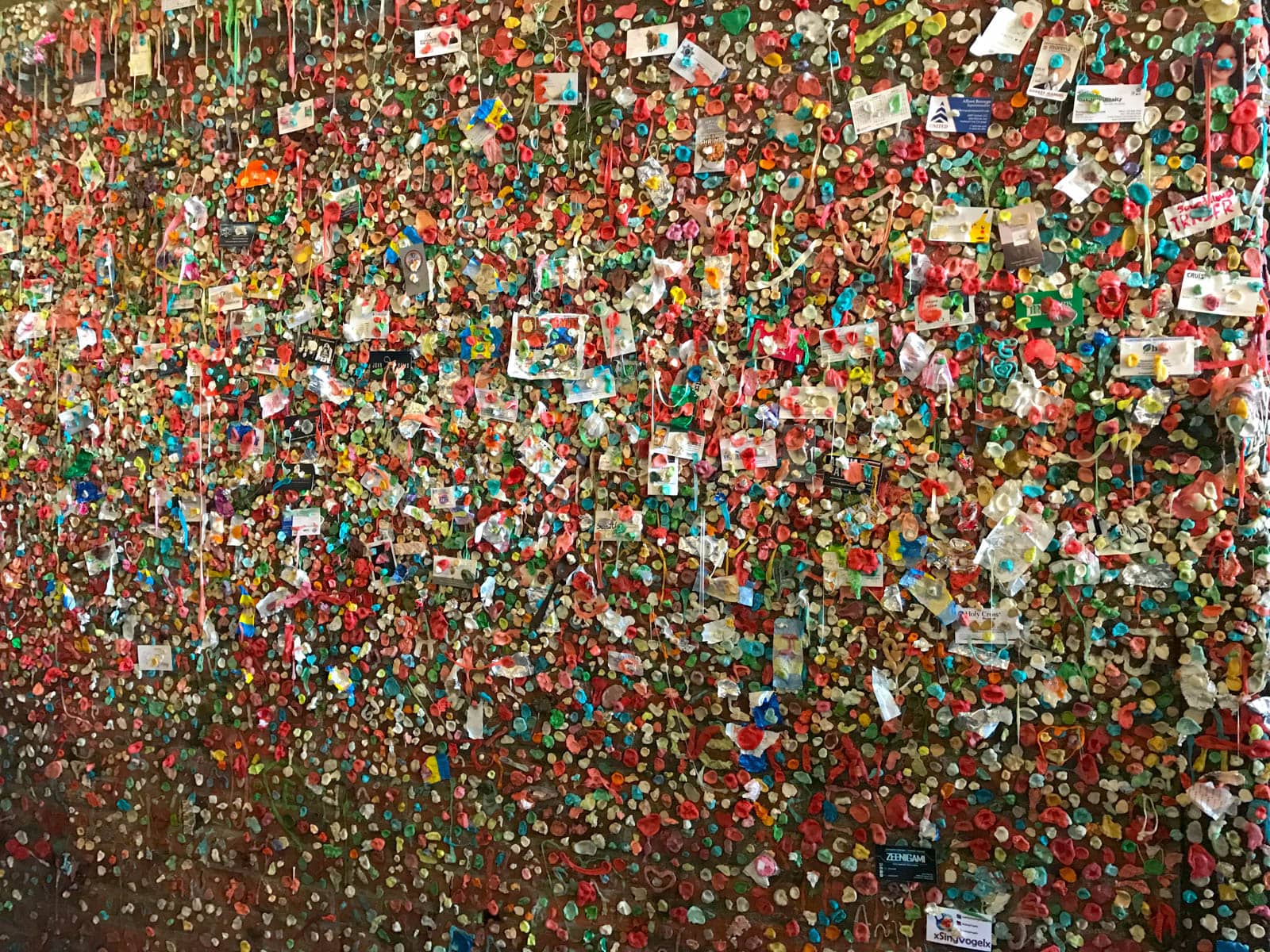 The gum wall is actually a little disgusting up close; I took a photo of it and I couldn't even stand that. 😂
A drive around to see the Space Needle and the neighbourhood of Ballard
After that we fuelled up with a coffee and a qwaffle (croissant waffle) from Anchorage Coffee, also recommended by my friend Kyle. 😆 Then we drove past the Space Needle and explored other areas of suburban Seattle by driving.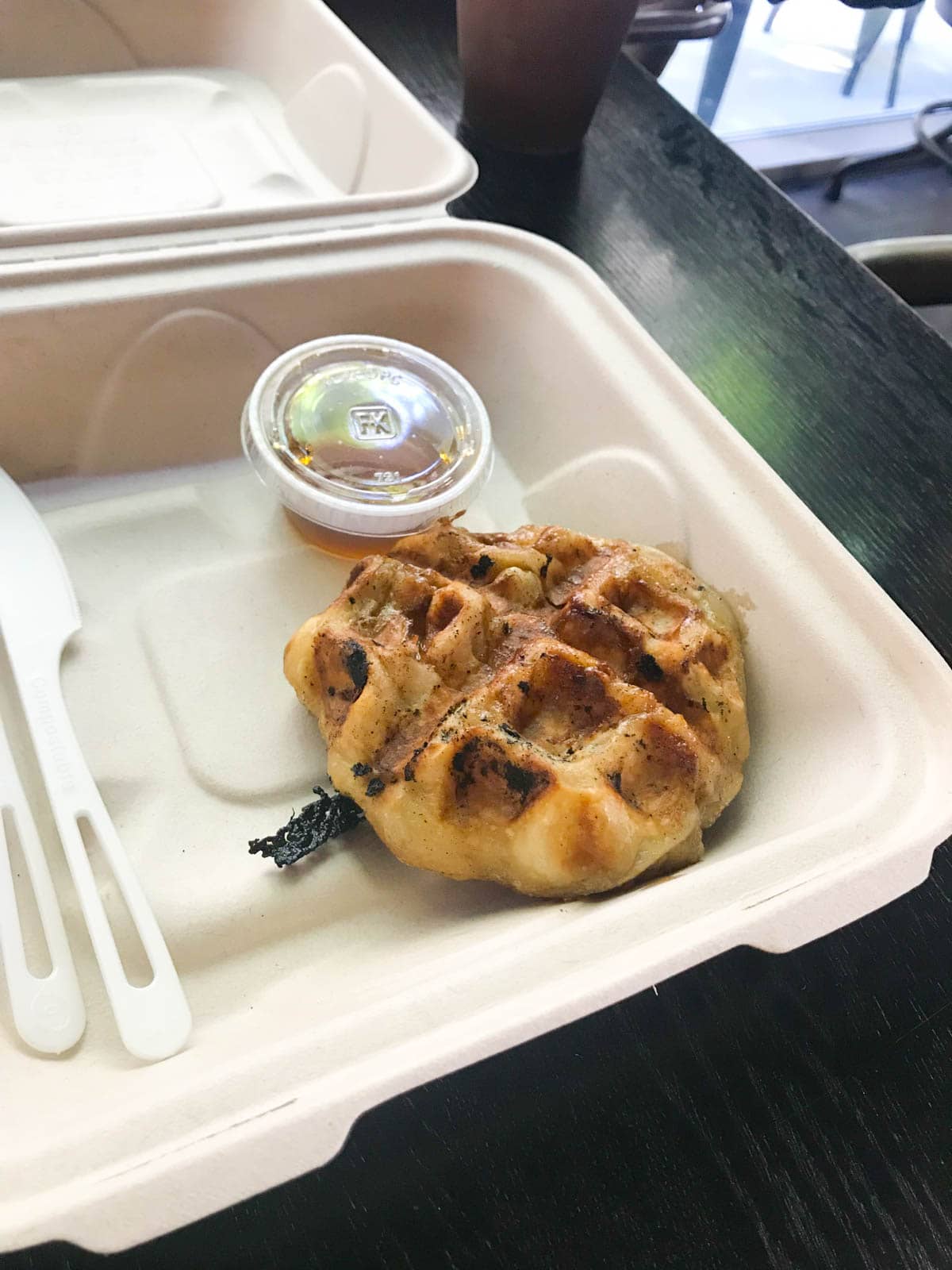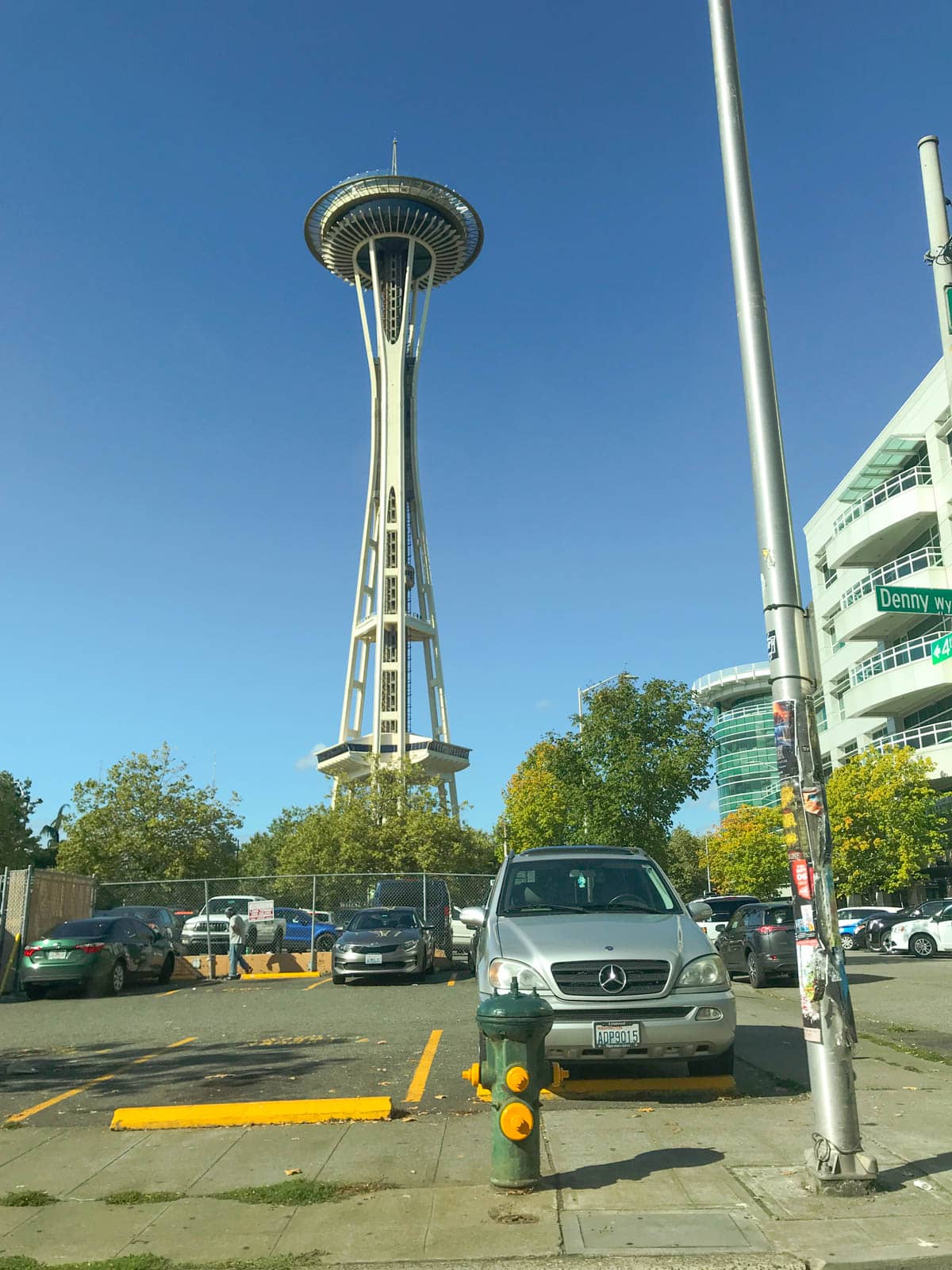 Ballard was an interesting neighbourhood but we missed the farmers street market that they have on Sundays. They were just taking everything down as we arrived. It's worth noting that there are other markets that are around Seattle, so it's definitely worth looking into them or planning your trip around some of them. 😊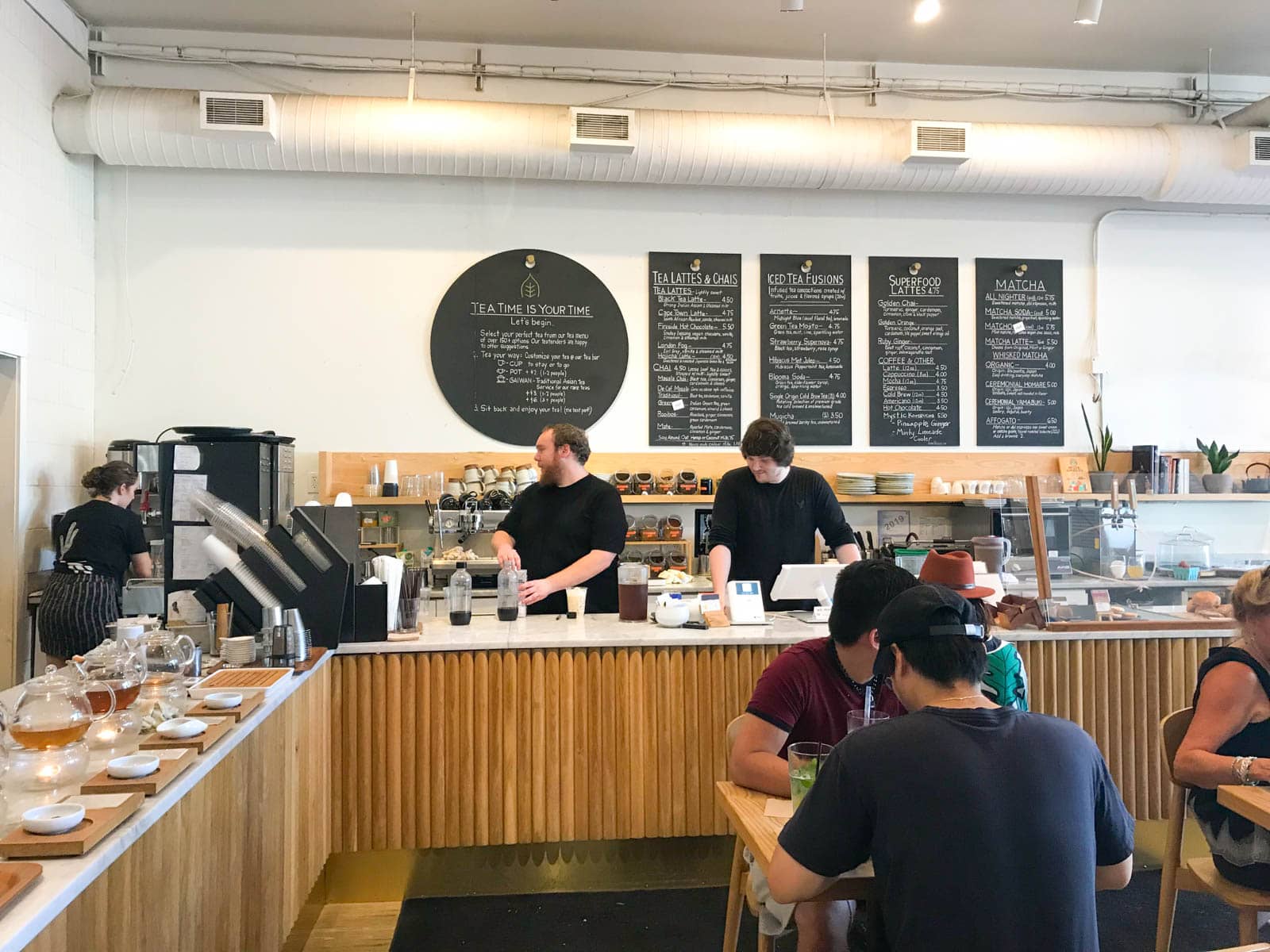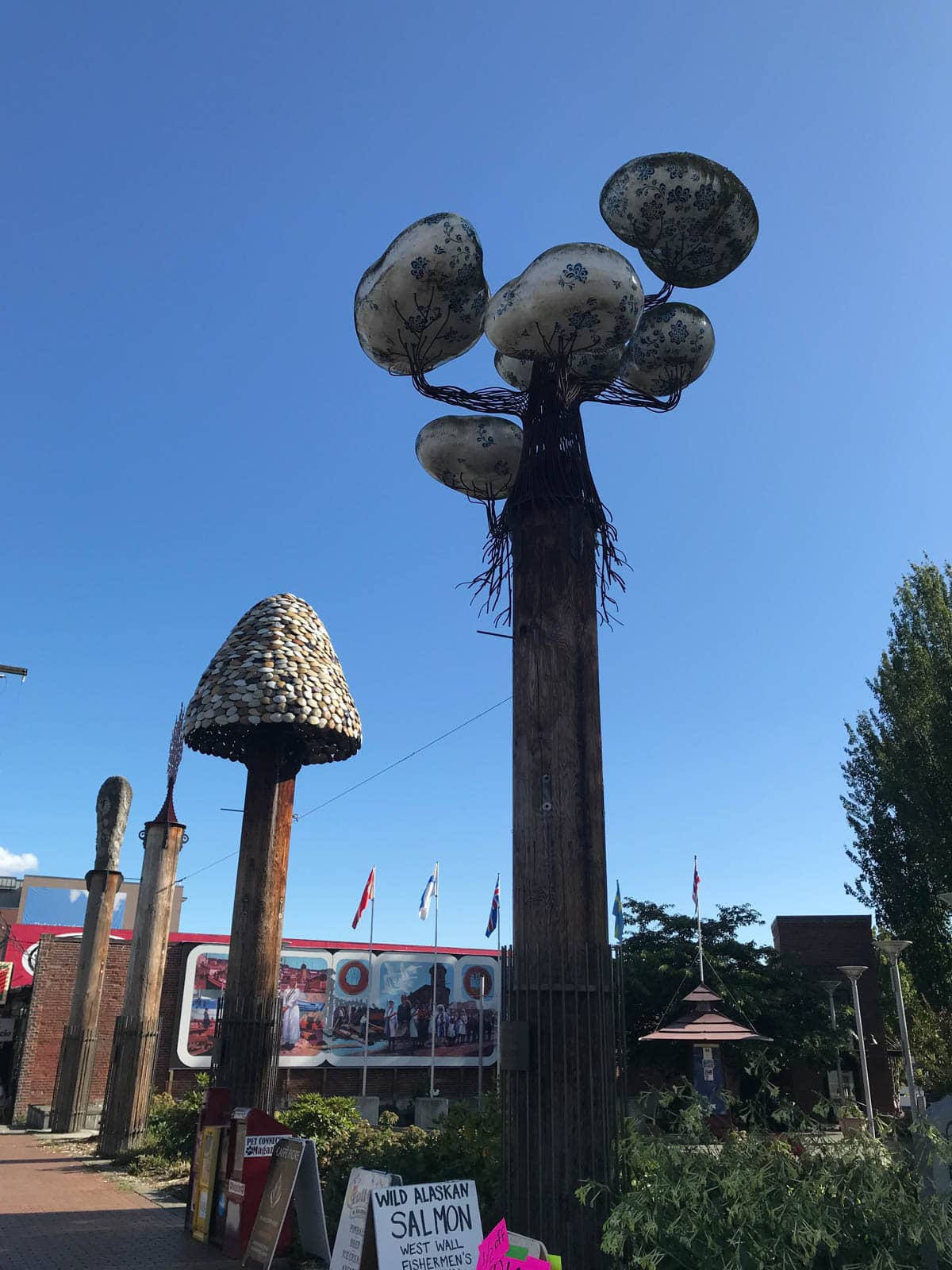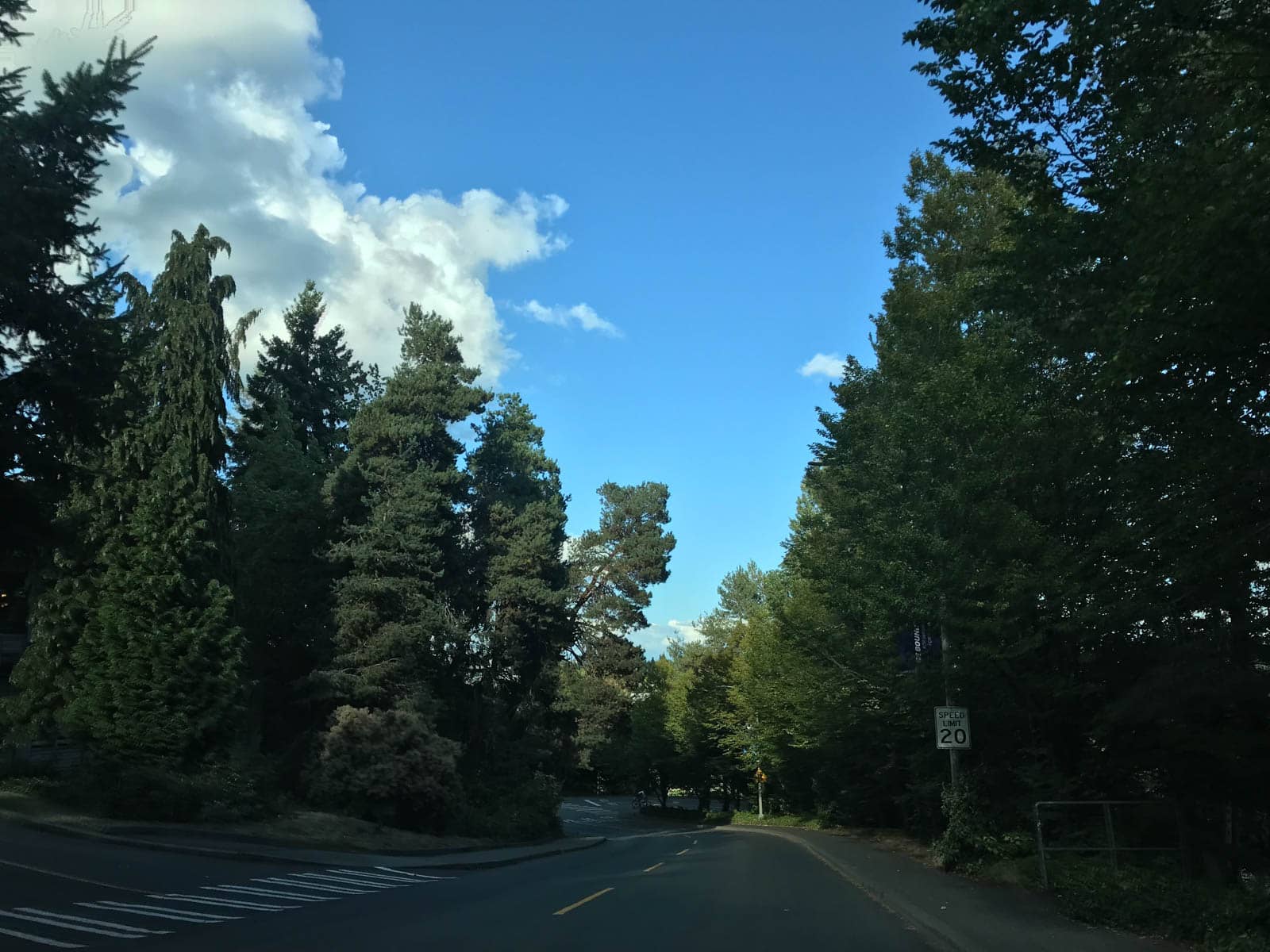 Dinner at Fogon Mexicana
It was a long wait for the Mexican joint we visited, Fogón Cocina Mexicana (yet another great recommendation from Kyle – mate I owe you a couple of coffees next time our paths cross! ☕), but we put our name down and explored downtown. We bought a cinnamon roll from a place that specialised in creating them, seeing as we were expected to wait an hour for a seat the Mexican place. But it took a while to prepare and we had to wait, so we ended up having to hastily make our way back to the Mexican restaurant with the cinnamon roll, and didn't get to eat it until later. 😂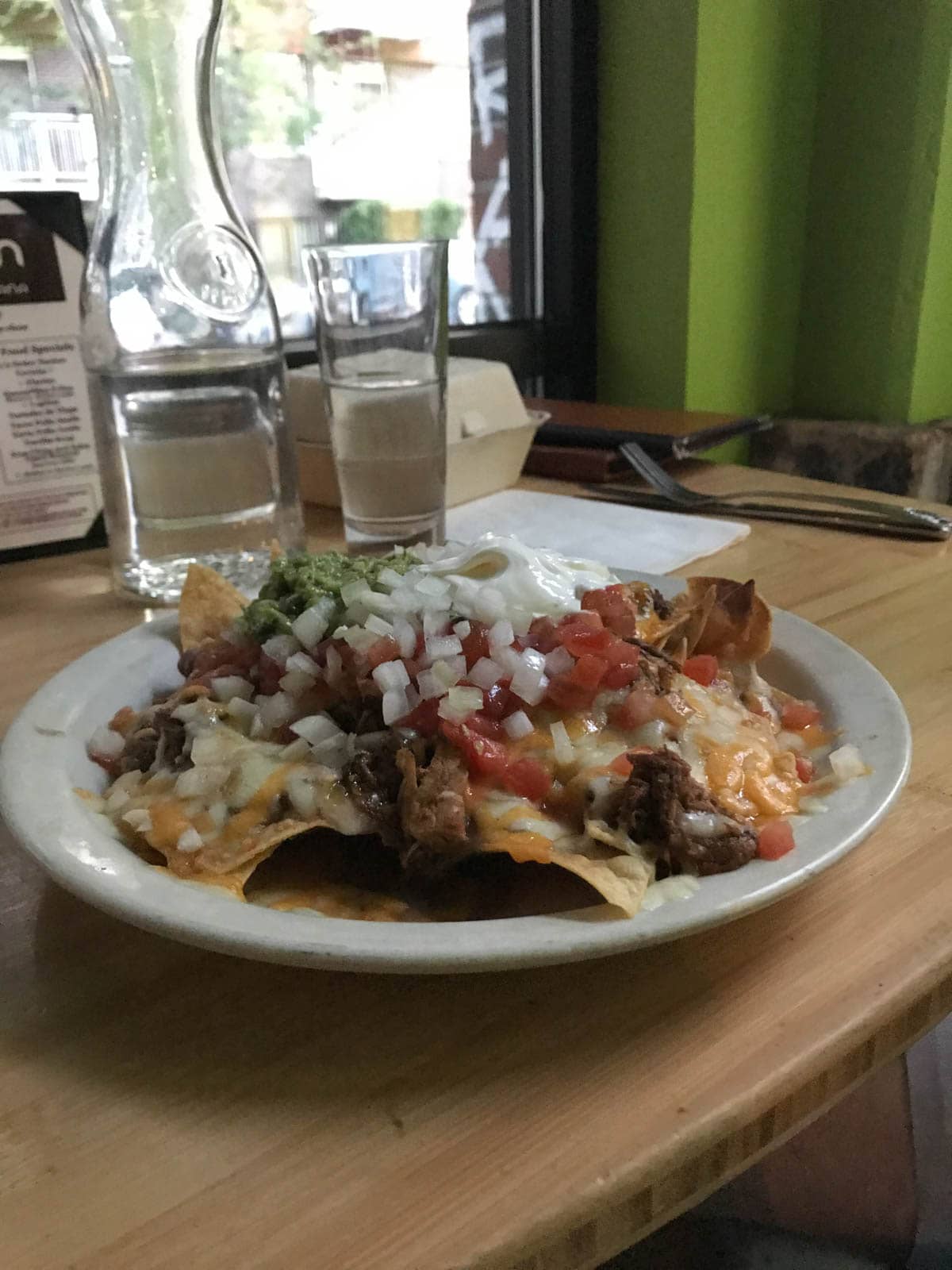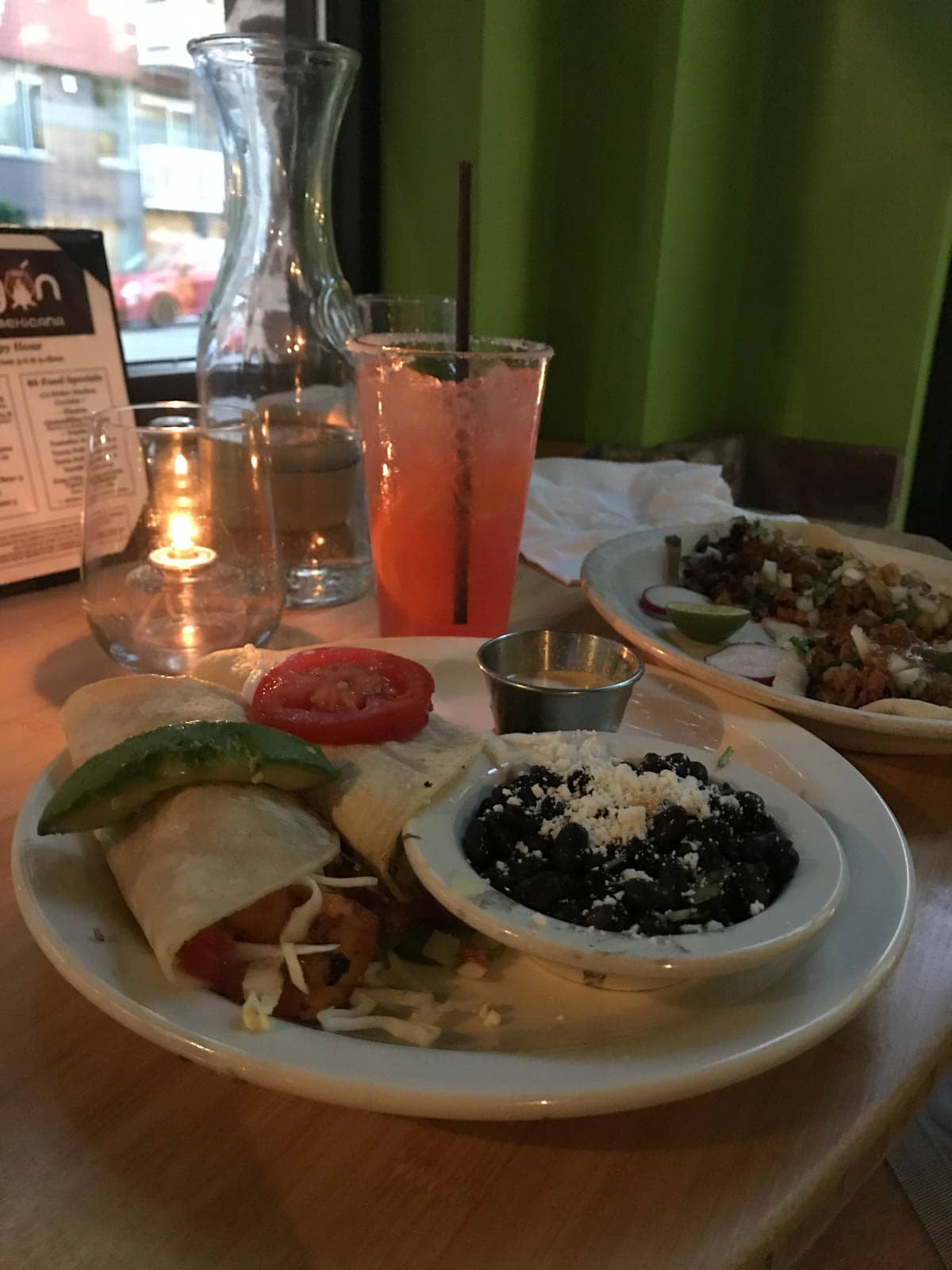 I am scarred by having good Mexican food in the States. It shits on everything and anything we have in Australia. No real tacos down under. 💔🌮
We took a moment to check out the Jimi Hendrix statue before heading back to our Airbnb for the night.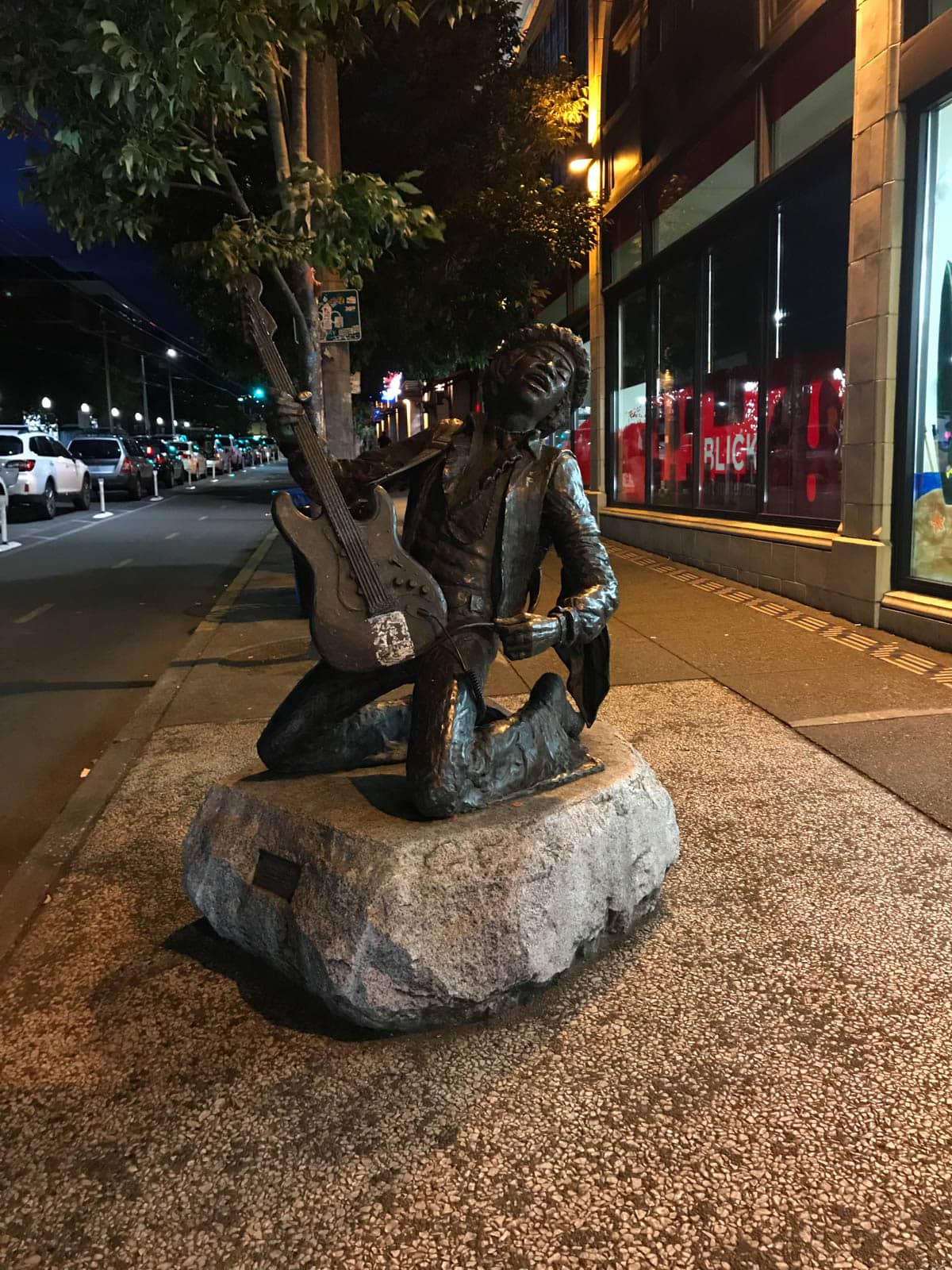 ---
The next morning we left our Airbnb and hopped in the car to make our way to Portland, Oregon! This was where Nick and I spent a couple of days working remotely, then I spent the rest of the week at XOXO 2019 ✨
I really enjoyed Seattle because it was easy to navigate and there were so many interesting places to eat. It was a city that reminded me of Sydney, but a little more relaxed. We didn't go up the Space Needle or do too many other tourist activities, but that's not really how we travel anyway. 😊 I would say, depending on the city, some tourist attractions are worth seeing, and some are not always worth the effort. I would love to visit Seattle again and stay in another neighbourhood, and experience more of what the locals are into.