Tasmania long weekend trip: ⛰️ Cradle Mountain and Launceston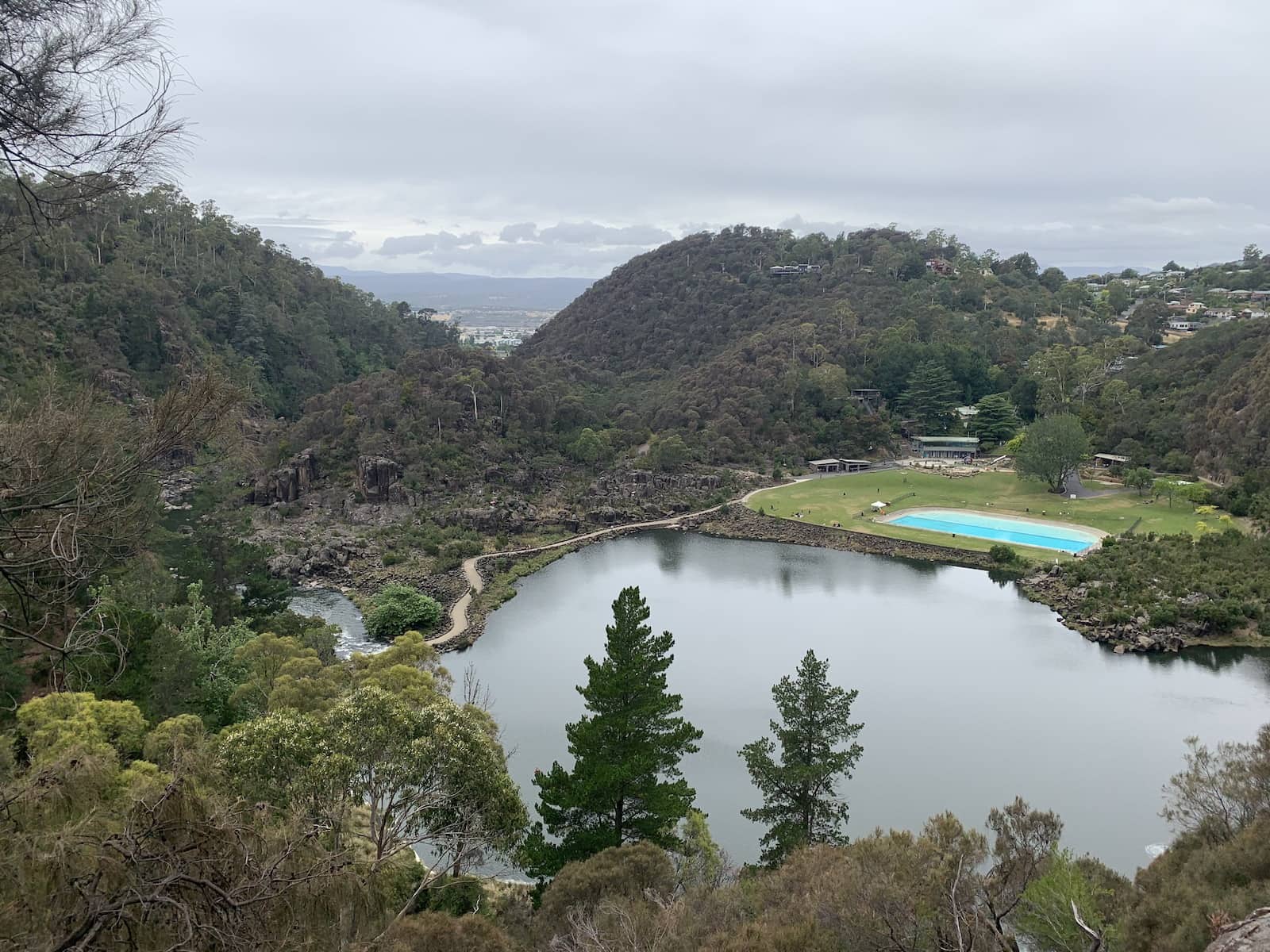 Making use of the Australia Day long weekend, Nick and I travelled to Tasmania, the southernmost state of Australia. Tasmania is an island state separate from the mainland, and is characterised by a lot of natural beauty. It is affectionally known to locals as "Tassie", because, well, we abbreviate everything. 😛 It was our first time there – always a funny thing when you visit cities in the same country, yet have lived in the same country for decades or your whole life – and we had a really lovely time.
We've travelled a lot of big, dense cities, and the occasional quaint, off-the-beaten-path, regional sort of town, but we haven't done a lot of travel to cities and towns that have a lot of outdoor activities. Most people who know me that I'm obsessed with nature and being in it, and Australia has a fair bit of it, dotted around the country. We were looking forward to Tasmania being something kind of different for us.
Cradle Mountain
Our itinerary consisted of two nights in Cradle Mountain, and one night in Launceston, where we were flying into. Cradle Mountain is apparently a common bucket list item – I didn't actually know that. 😅 We flew into Launceston on Friday afternoon and then drove a couple of hours from Launceston to Cradle Mountain. Unfortunately the direct flights from Sydney to Launceston were very expensive so we flew via Melbourne. Our flight to Melbourne ran about 45 minutes late, but we didn't miss our connecting flight. We just didn't have very much time to get lunch!
Nick did all the driving – he doesn't enjoy being a passenger and gets motion sickness if he's not driving. Even though I might itch to drive sometimes, I don't mind being a passenger at all. So it sort of works out. 😛
On the way to Cradle Mountain we stopped in a small town called Sheffield. The road hadn't been very straight but it made for an interesting drive of country landscapes. In Sheffield, there was a family-owned fudge and coffee shop, and we stopped for a snack and a warm beverage. It was only about an hour to Cradle Mountain from there, and already it was raining lightly and the temperature had dropped. Cradle Mountain does get a lot of rain, and last week we were expecting rain for our stay there, but every now and then, there are days when there is little rain while remaining cool.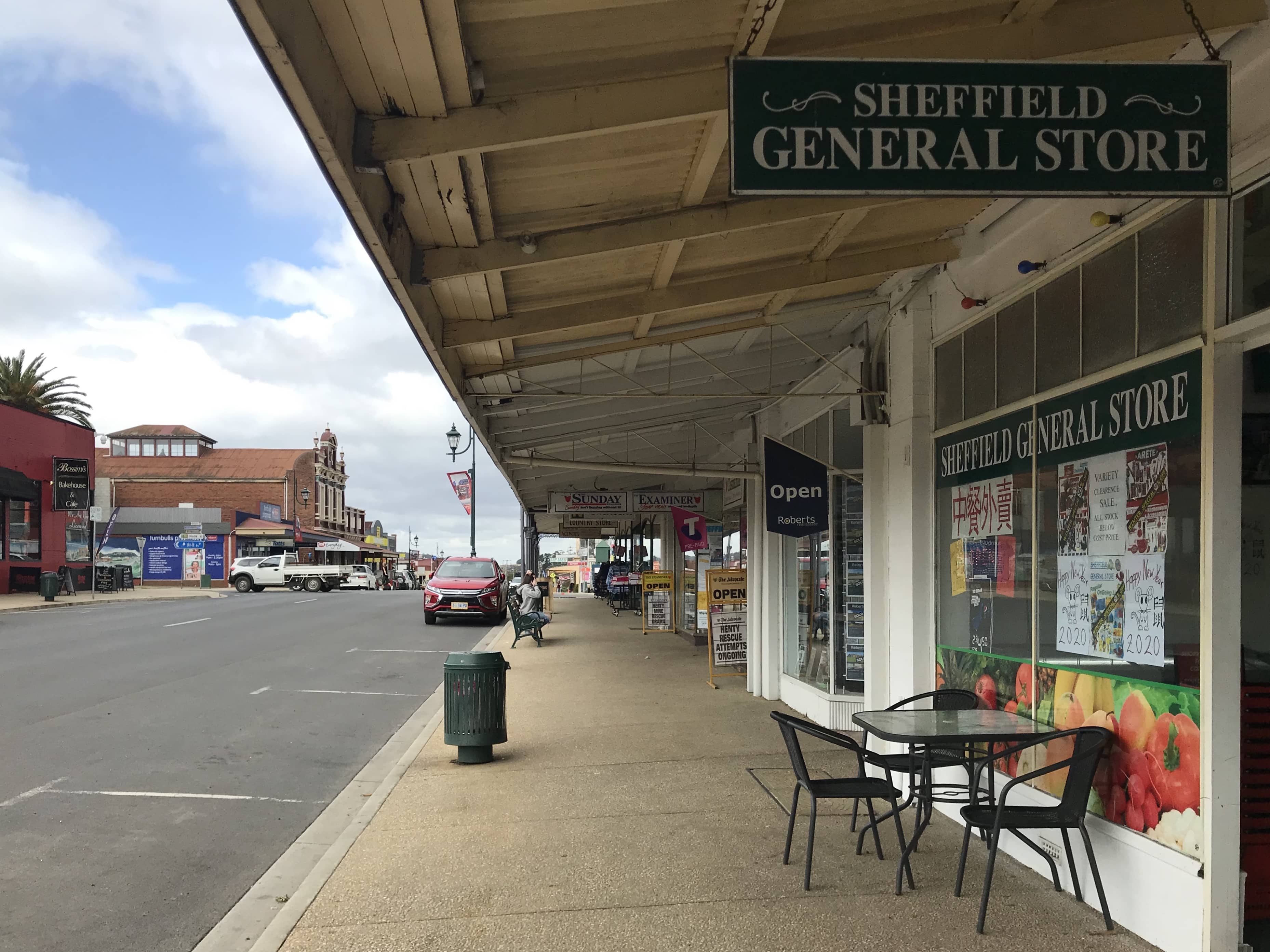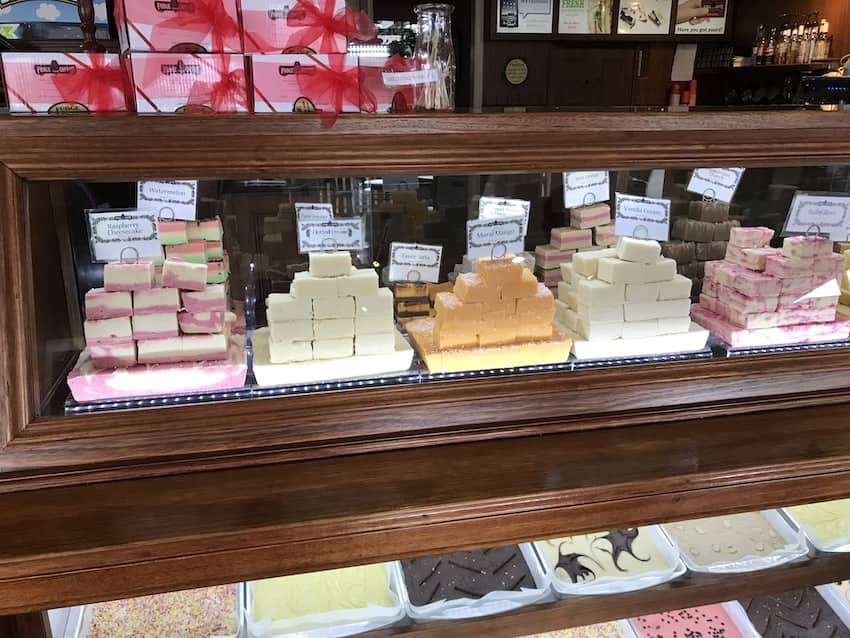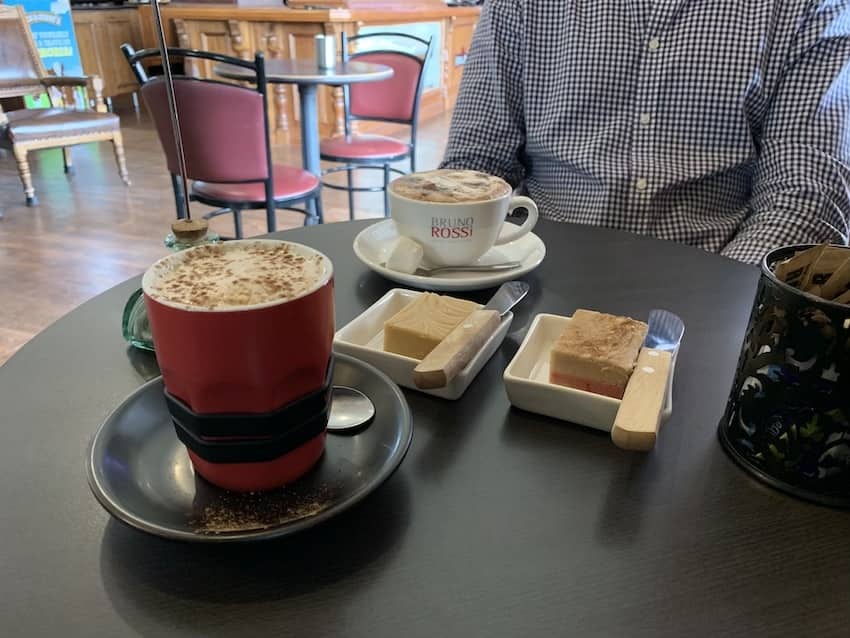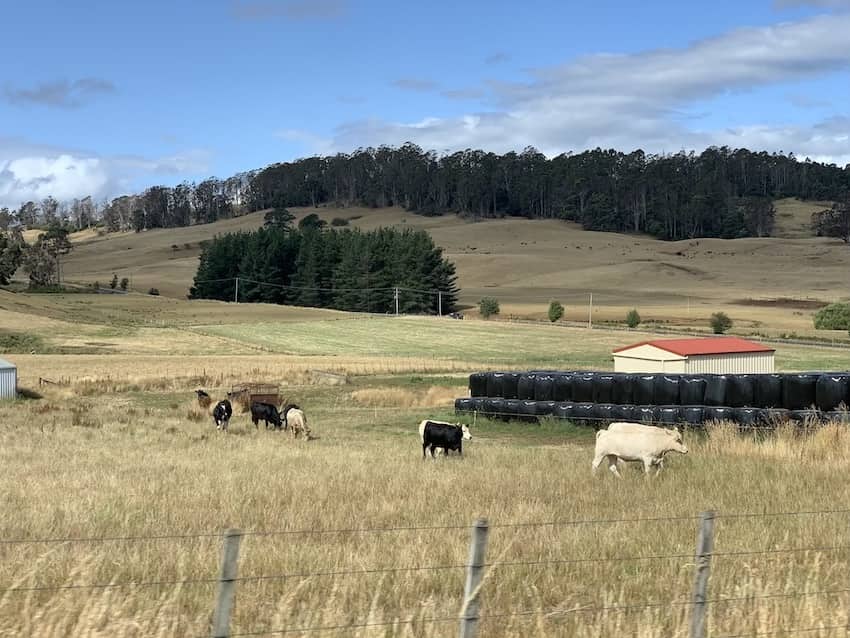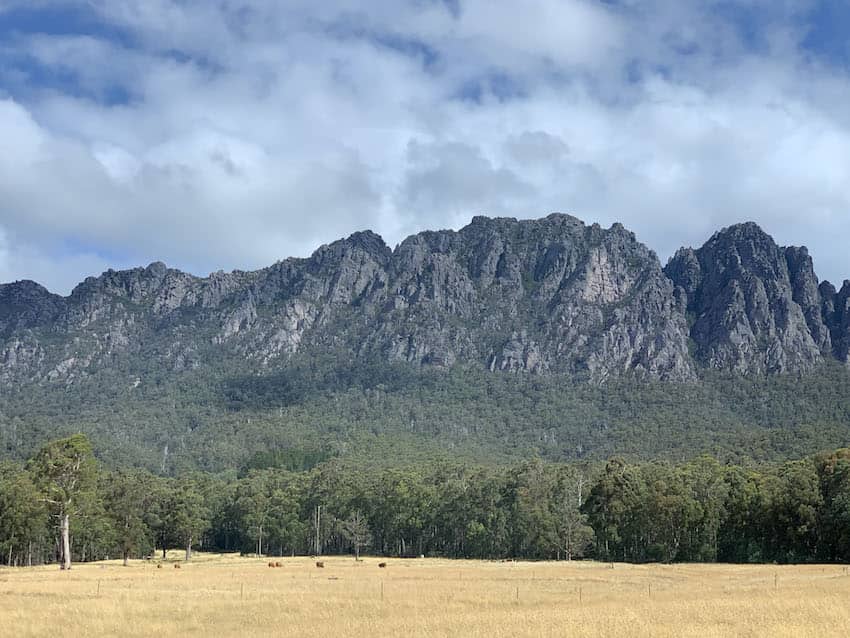 Upon checking in at Cradle Mountain Lodge, we got this insanely good welcome drink – a hot, non-alcoholic cider. It was non-alcoholic but I might as well have been bouncing off the walls because of how good it tasted. Accomodation was in cabins which were spread out across the property, and each cabin also had a dedicated parking space. We drove up to ours, and then walked on some of the trails around the property. There was one walk called the Enchanted Walk, listed as one of Tasmania's Top 60 Short Walks. It was about a 15–20 minute walk around Cradle Mountain Lodge, and a perfect walk to see some Australian wildlife.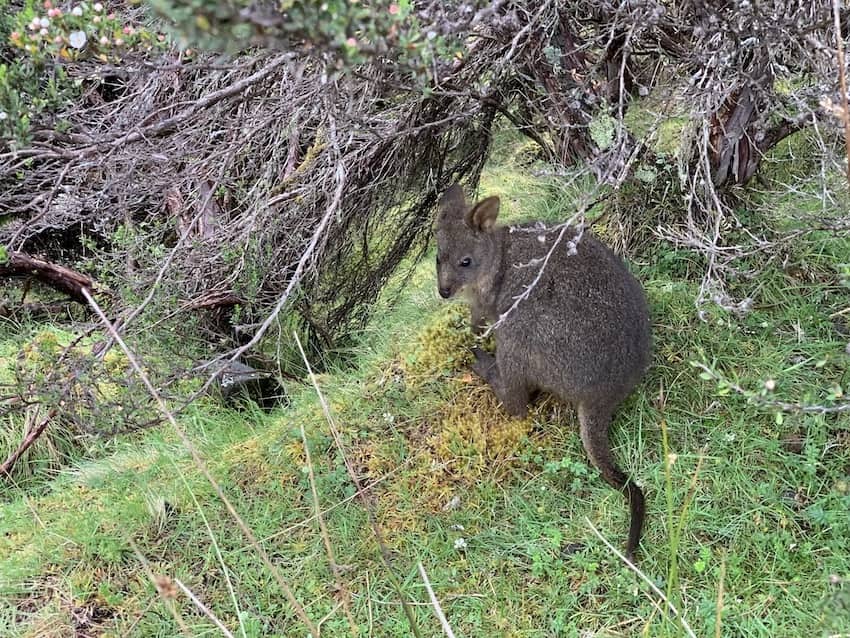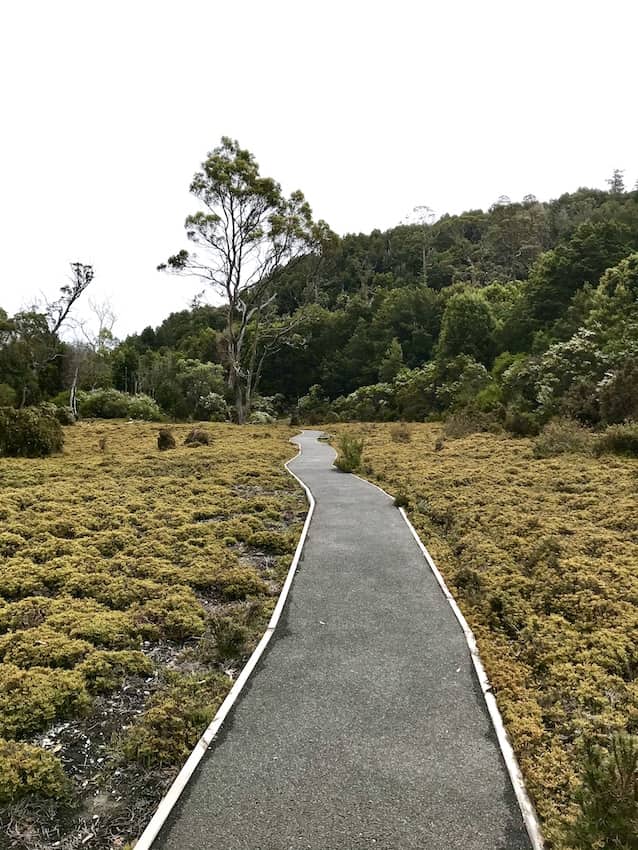 At this point we saw a lot of wallabies, but only one wombat. I was very surprised by the wombat because I'd never seen one in the wild before, and it was so much bigger than I anticipated!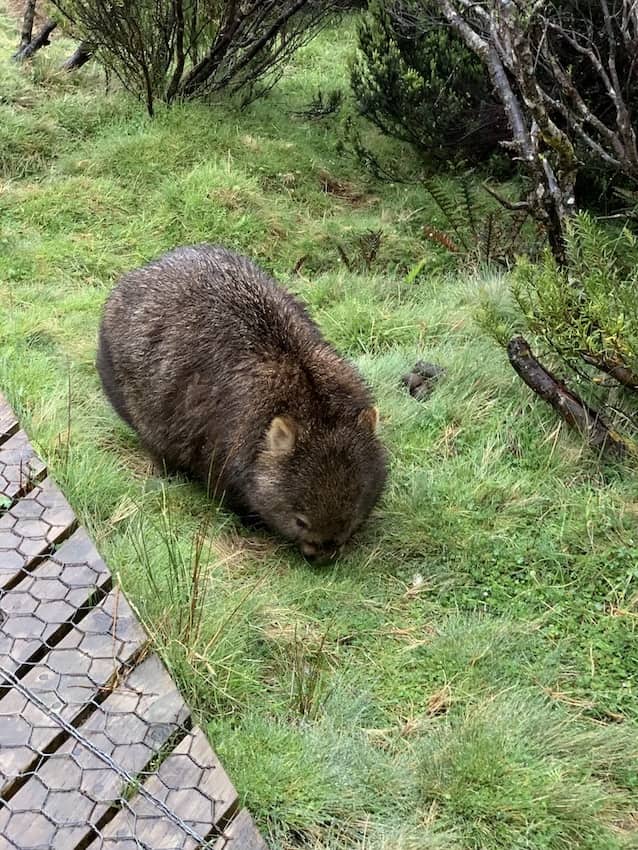 We had dinner at the tavern, which provided casual dining options and a bar. After dinner, we walked around some more, walking part of the Enchanted Walk again, and also making our way outside the lodge property to the interpretation centre. Unfortunately we didn't see any wild animals on the walk there.
The next day we grabbed some sandwiches from a local grocery, filled up a drink bottle, took a couple of protein bars, purchased a 24-hour Parks Pass, and headed on our way to see Cradle Mountain. You have to get a pass to access the national park, and the 24-hour pass allowed us to catch the shuttle bus for free. It picked us up at the interpretation centre across the road from our accomodation, and we got off at the Ronny Hill stop.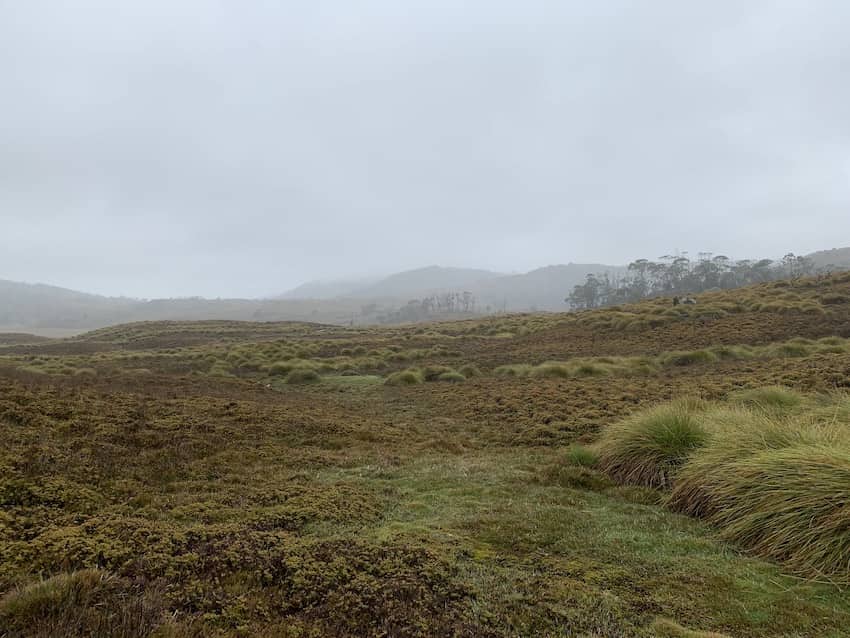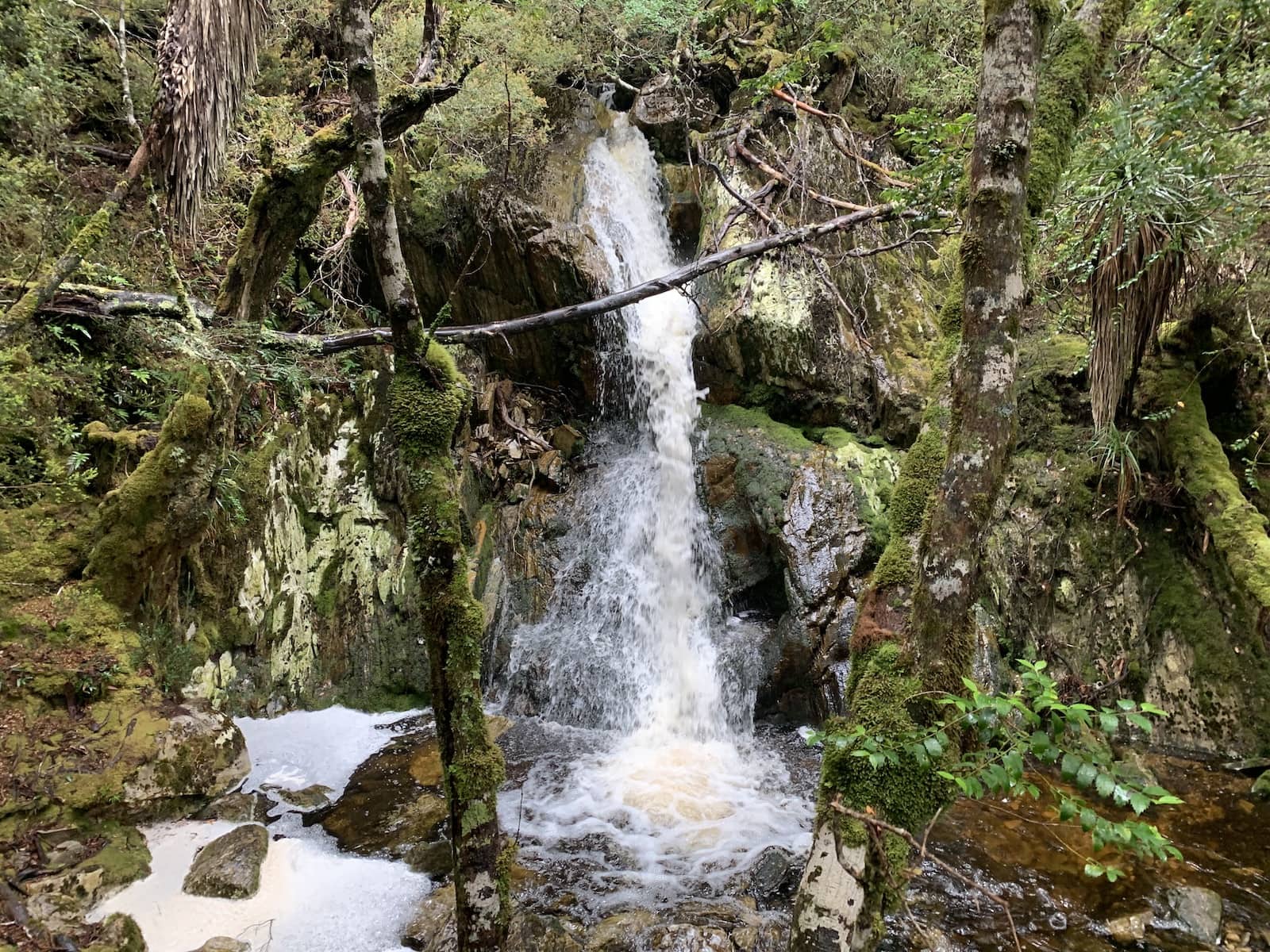 The route we took was part of the multi-day Overland track, then we continued on to Marion's Lookout, then came back down to its link track, finishing up at the Boat Shed on Dove Lake. It took about three hours in total.
Although there was light rain basically the whole route, we saw many a beautiful view and incredible landscapes which I'd honestly never seen in my life. The hike was not difficult, but Nick and I are both at a good level of fitness. We'd brought an umbrella, and did use it, but the rain was so light that it wasn't that much of a bother. You ended up getting pretty wet over time anyway.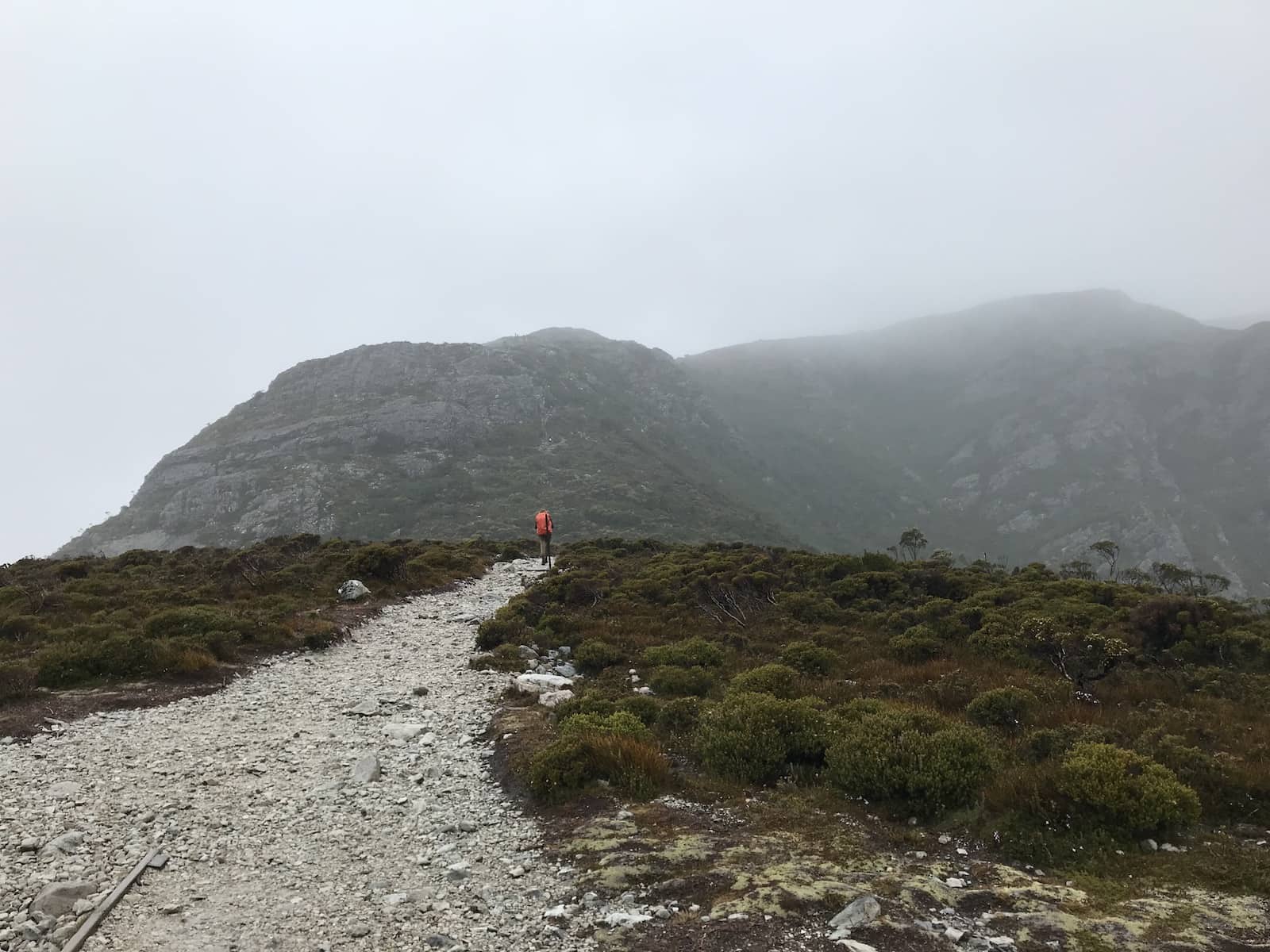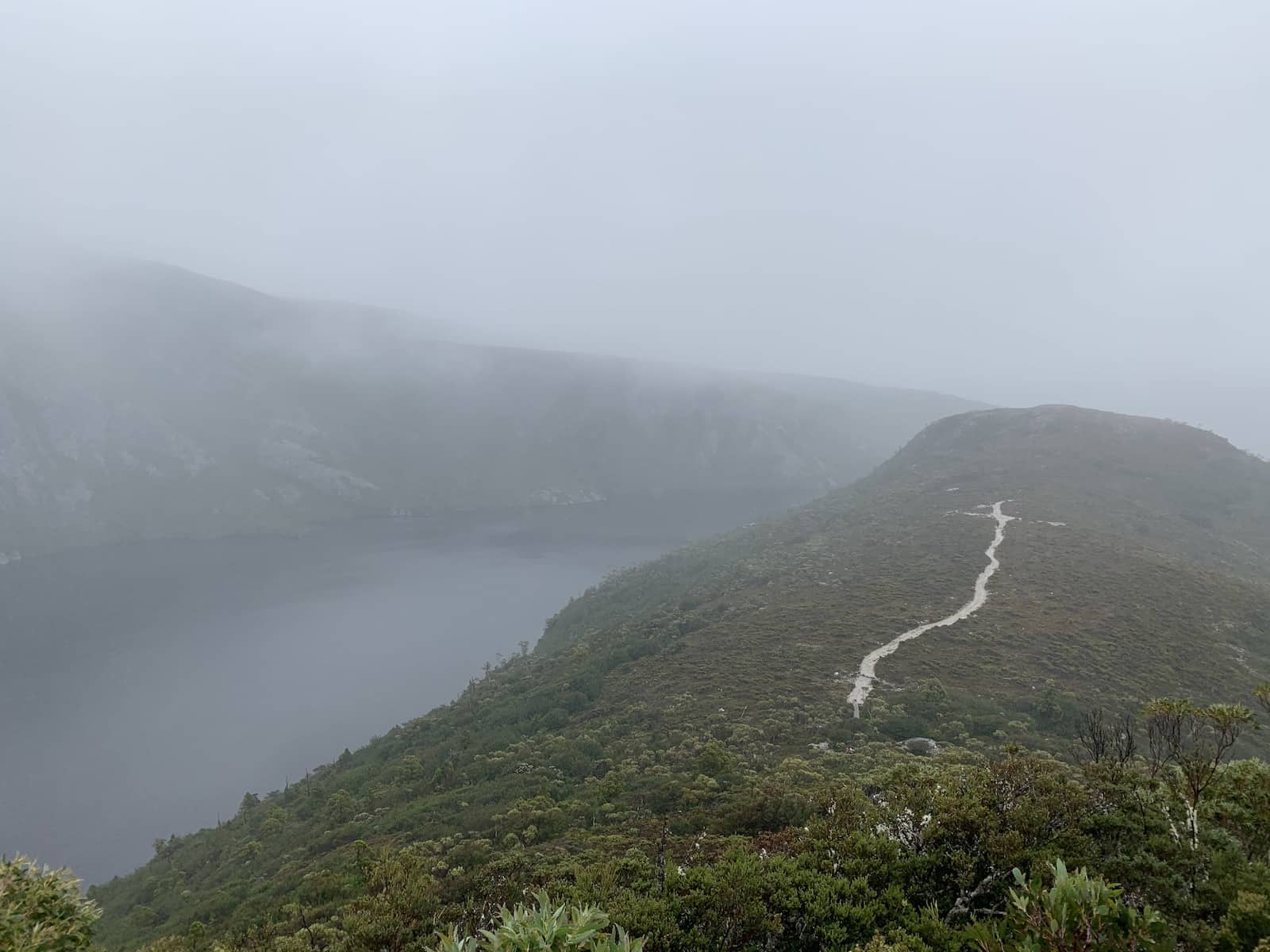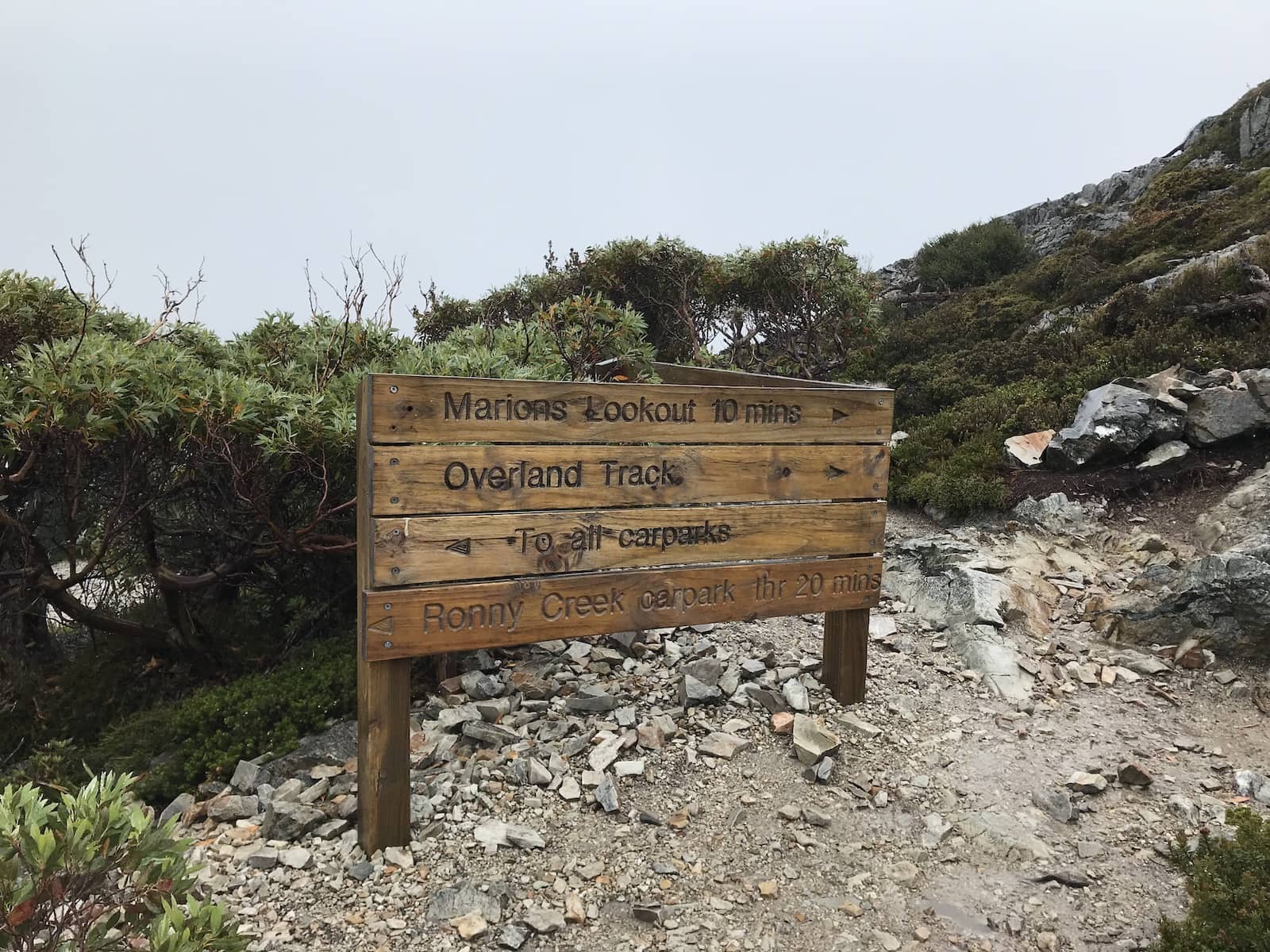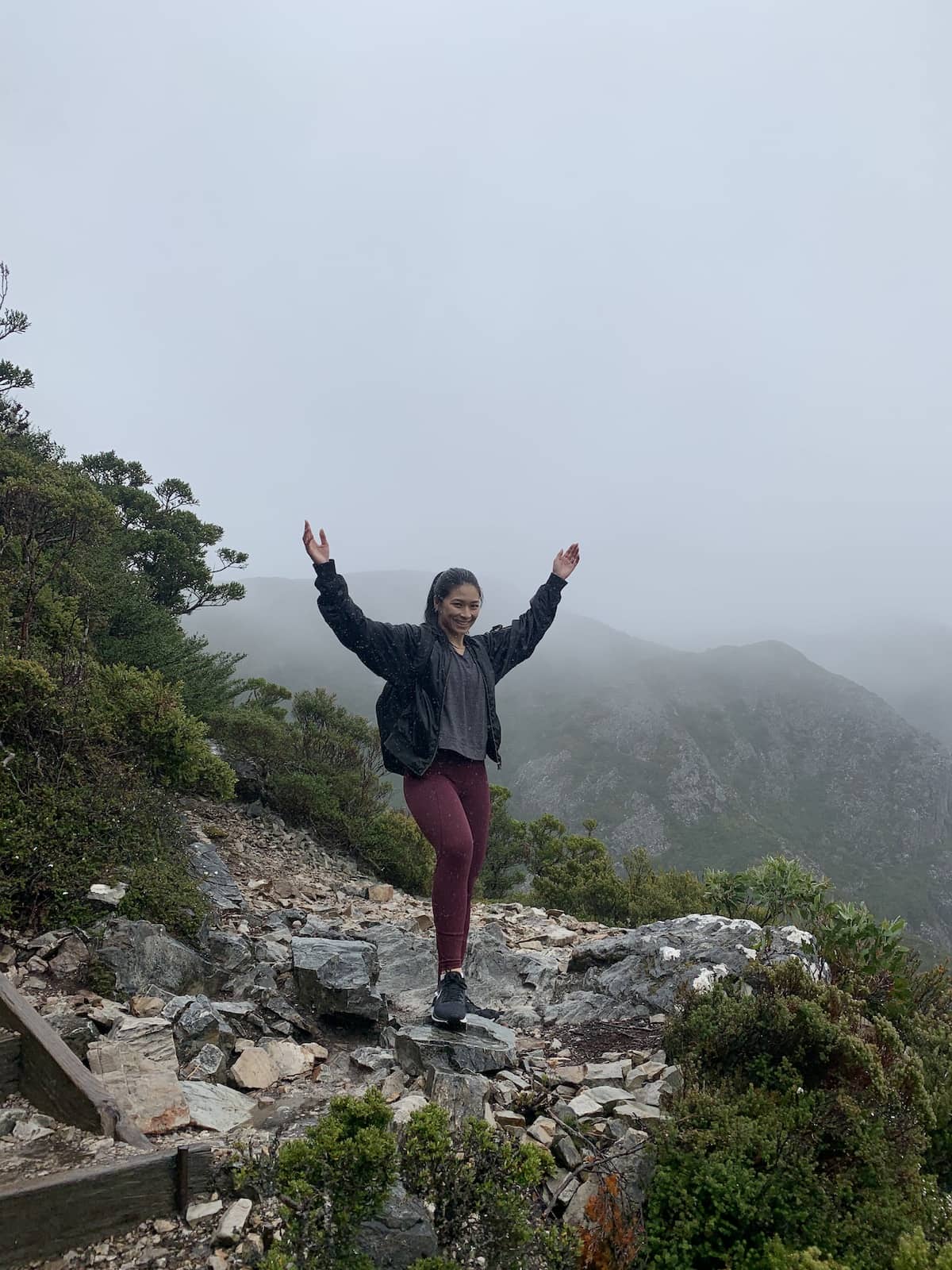 At the top of Marion's Lookout, unfortunately it was still raining and cloudy, and the weather hadn't cleared up at all. There was a huge blanket of white cloud obscuring everything. I got an immediate head cold and a bit of vertigo from looking at it – it was almost two-dimensional and I couldn't see the edge of anything. Even though it was slightly disappointing, I think a lot of the views we saw on the way made it worth the hike. It is definitely a hike I'd like to do again, maybe starting at a different point; possibly doing the entire multi-day Overland hike. 😀 And of course I'd like to go to the peak of the mountain in better weather.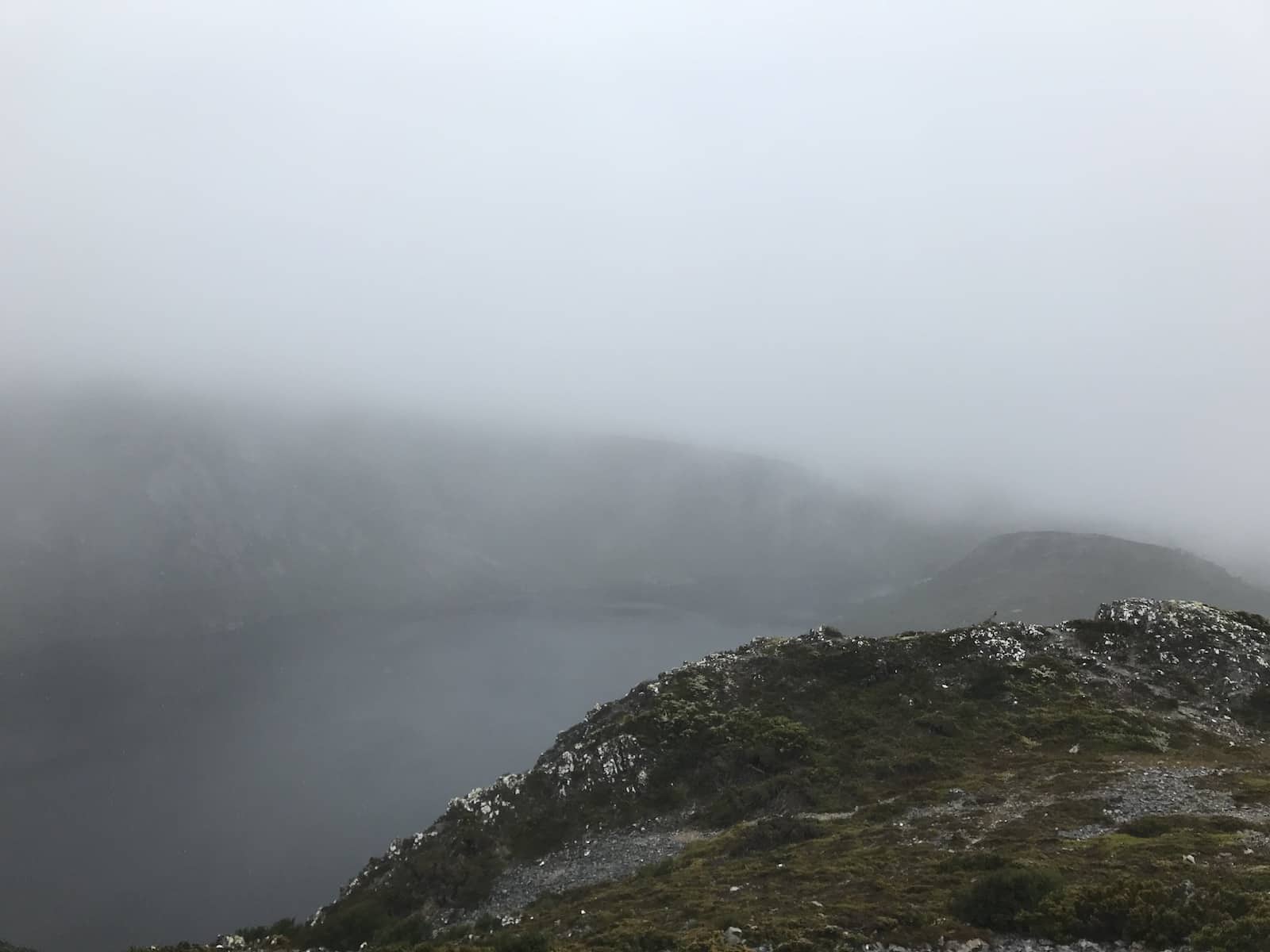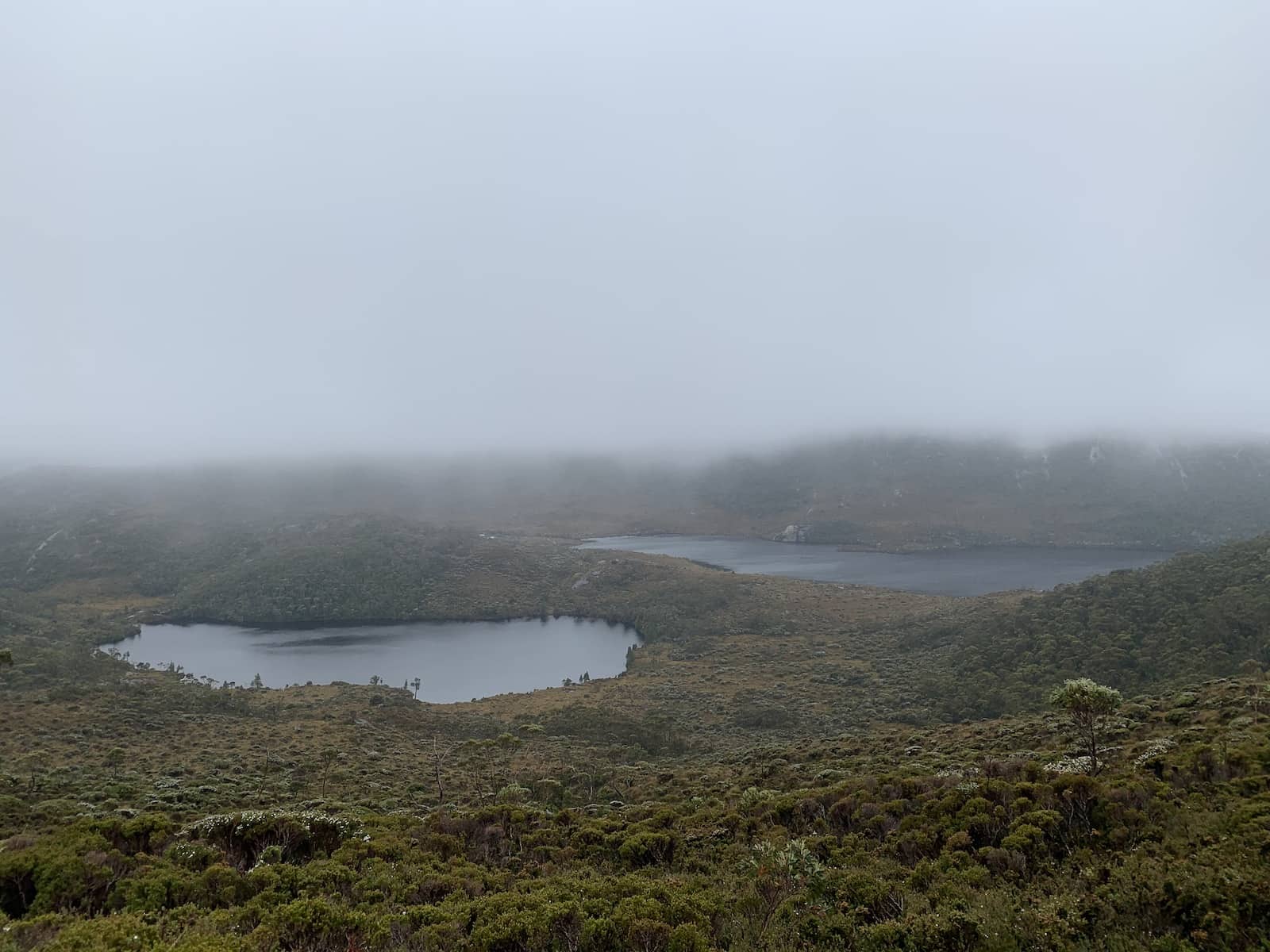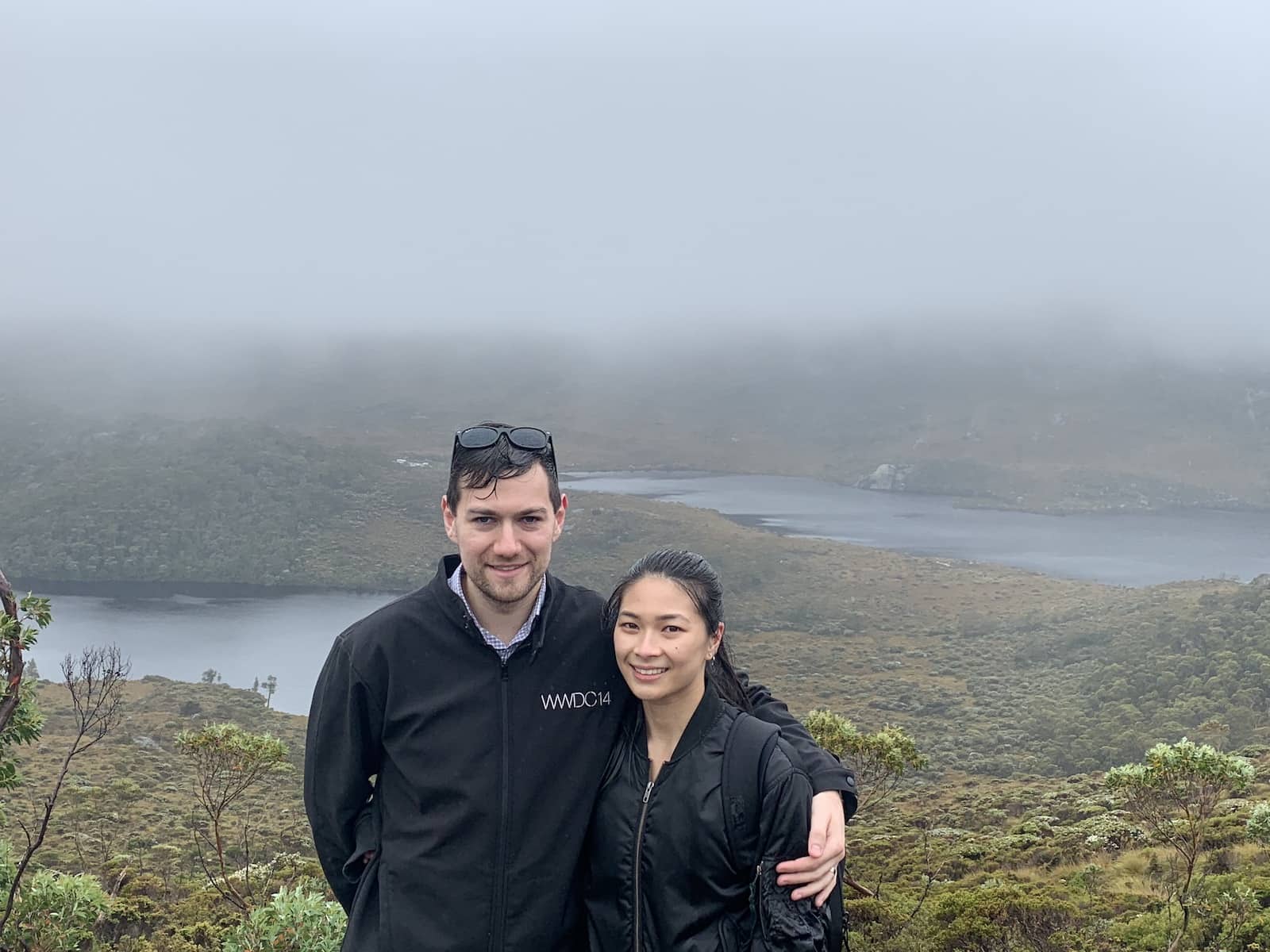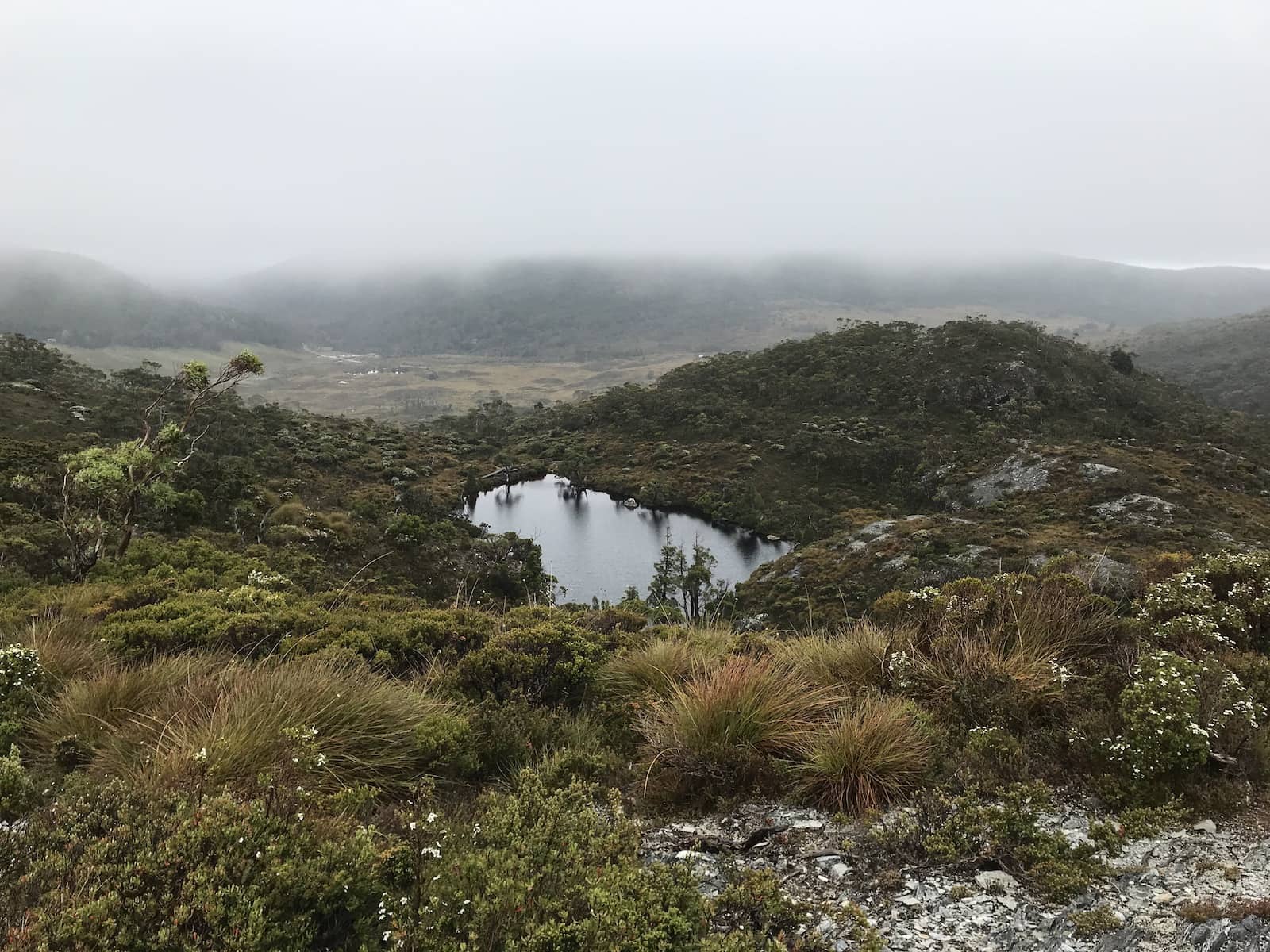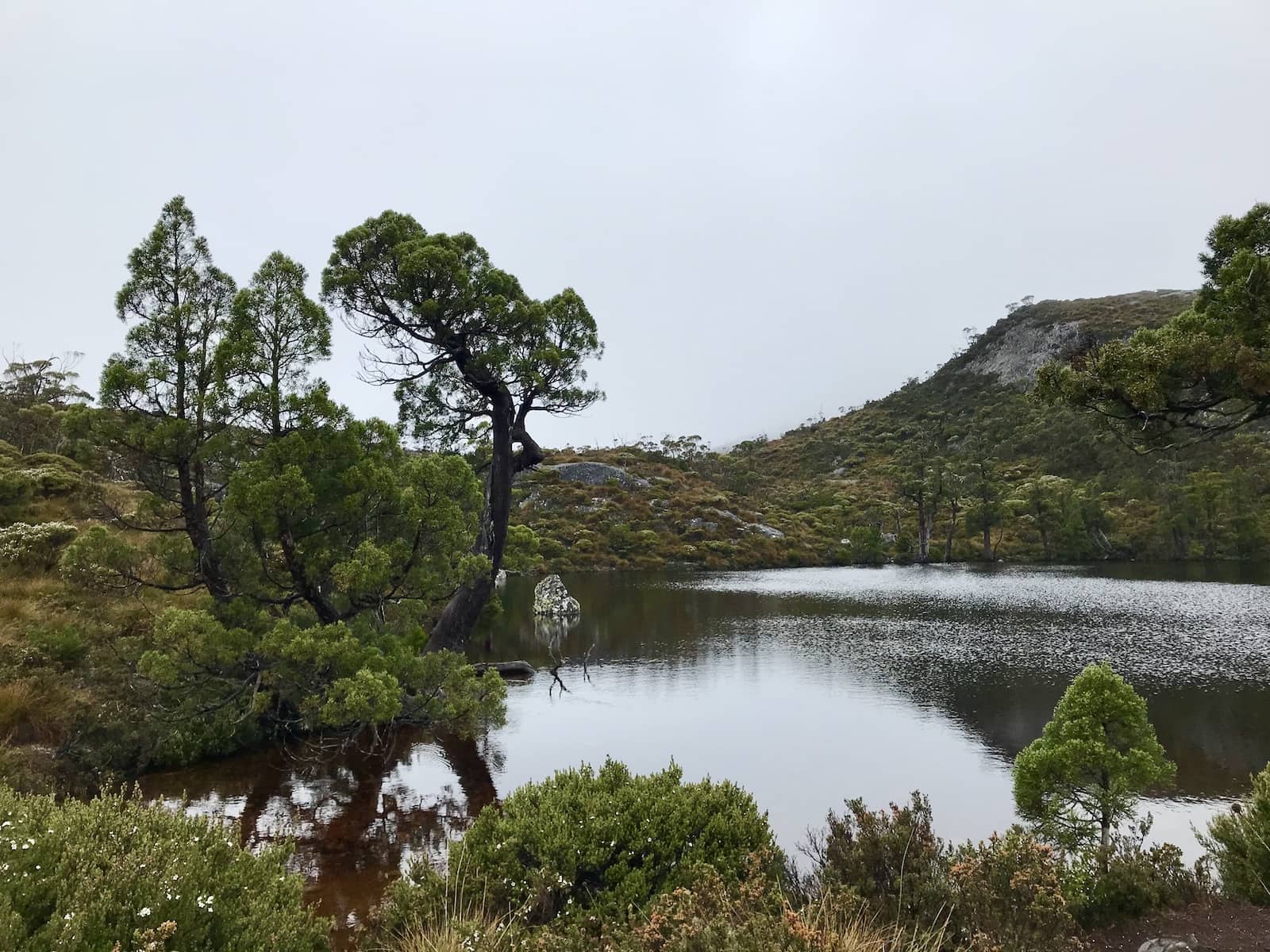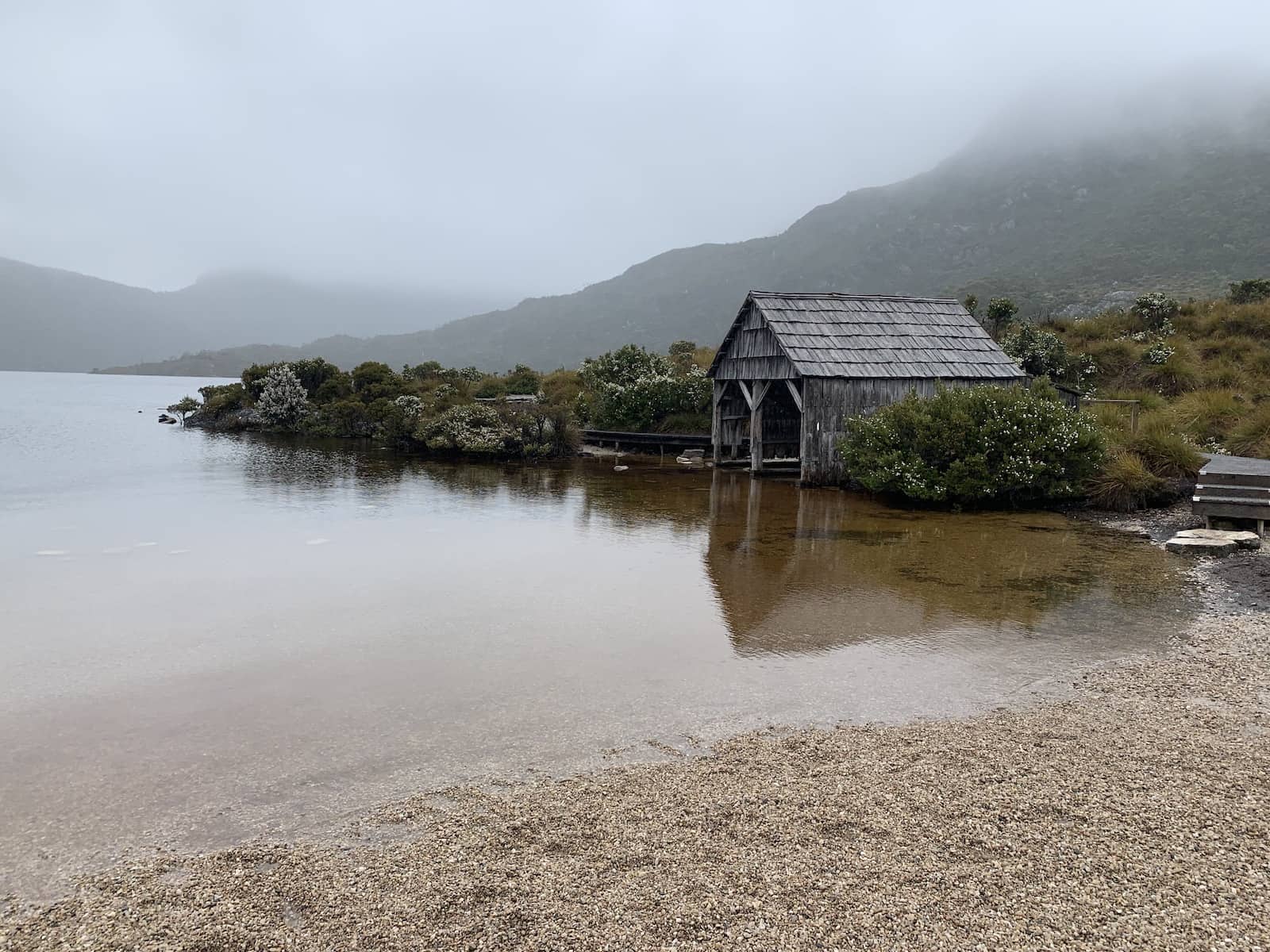 The rain was much heavier the next day, so we're lucky we did the hike when it wasn't so bad. And we did see a couple more wombats before we left! Nick was worried that we just got lucky and only saw one on our first night. We also spotted an echidna in the common area around the reception lodge – a small group of people had gathered around it.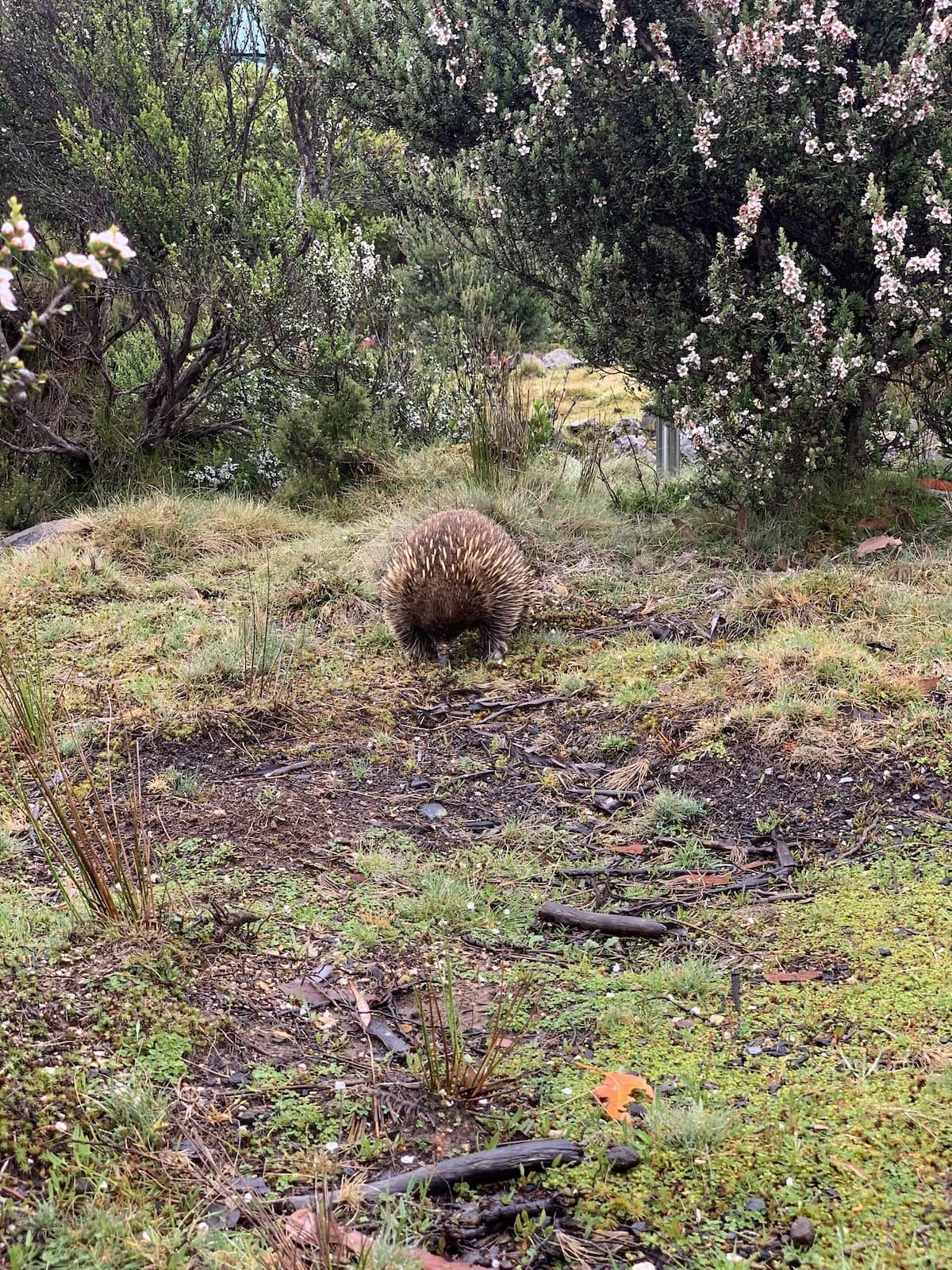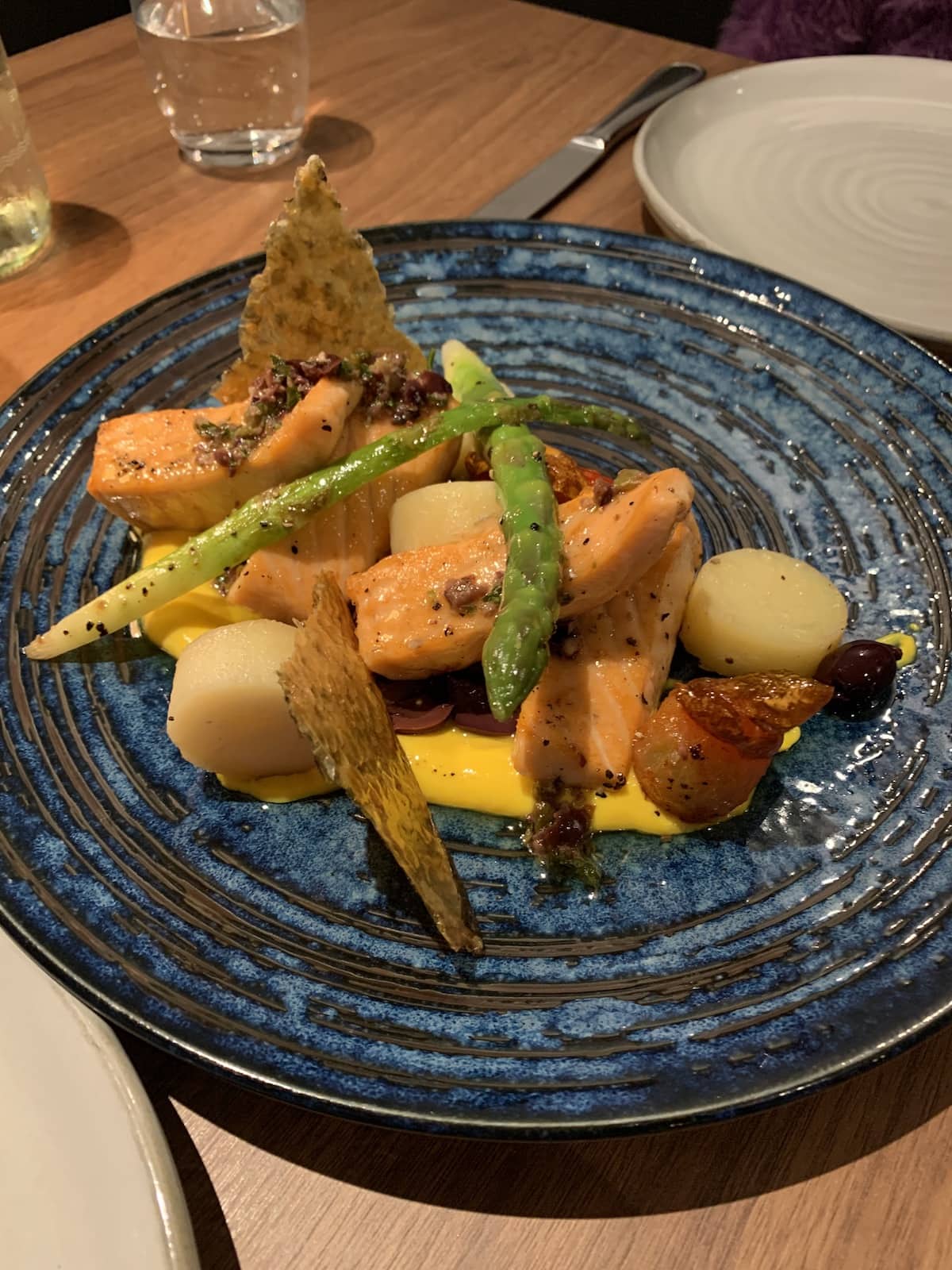 Launceston
After checking out of Cradle Mountain Lodge, we drove back in the direction of Launceston and to Bridestowe Lavender Estate. We were again greeted with beautiful country landscapes, as we passed through more small towns. Rather than passing through the winding road we encountered on the way in to Cradle Mountain, we took the more straight road (even though it was a few minutes longer).
Something we noticed about some of the towns in Tasmania is that quite a few of them have welcome signs that announce the town as the city of a certain type of art or characteristic, such as Sheffield being the Town of Murals, Railton being the town of Topiary (trees/shrubs clipped into ornamental shapes), and Lilydale being the Town of Painted (telegraph) Poles. We passed the town centre of Launceston on the way, and also spotted our hotel where we'd be checking in later.
Bridestowe Lavender Estate
About a 45-50 minute drive north from Launceston's town centre is Bridestowe Lavender Estate, a beautiful plantation of lavender fields. Bridestowe's story started when CK Denny migrated to Tasmania with his family in 1921, recognising its similarity in climate to Provence, France – and dreamed of producing the world's finest lavender. The estate is now privately owned.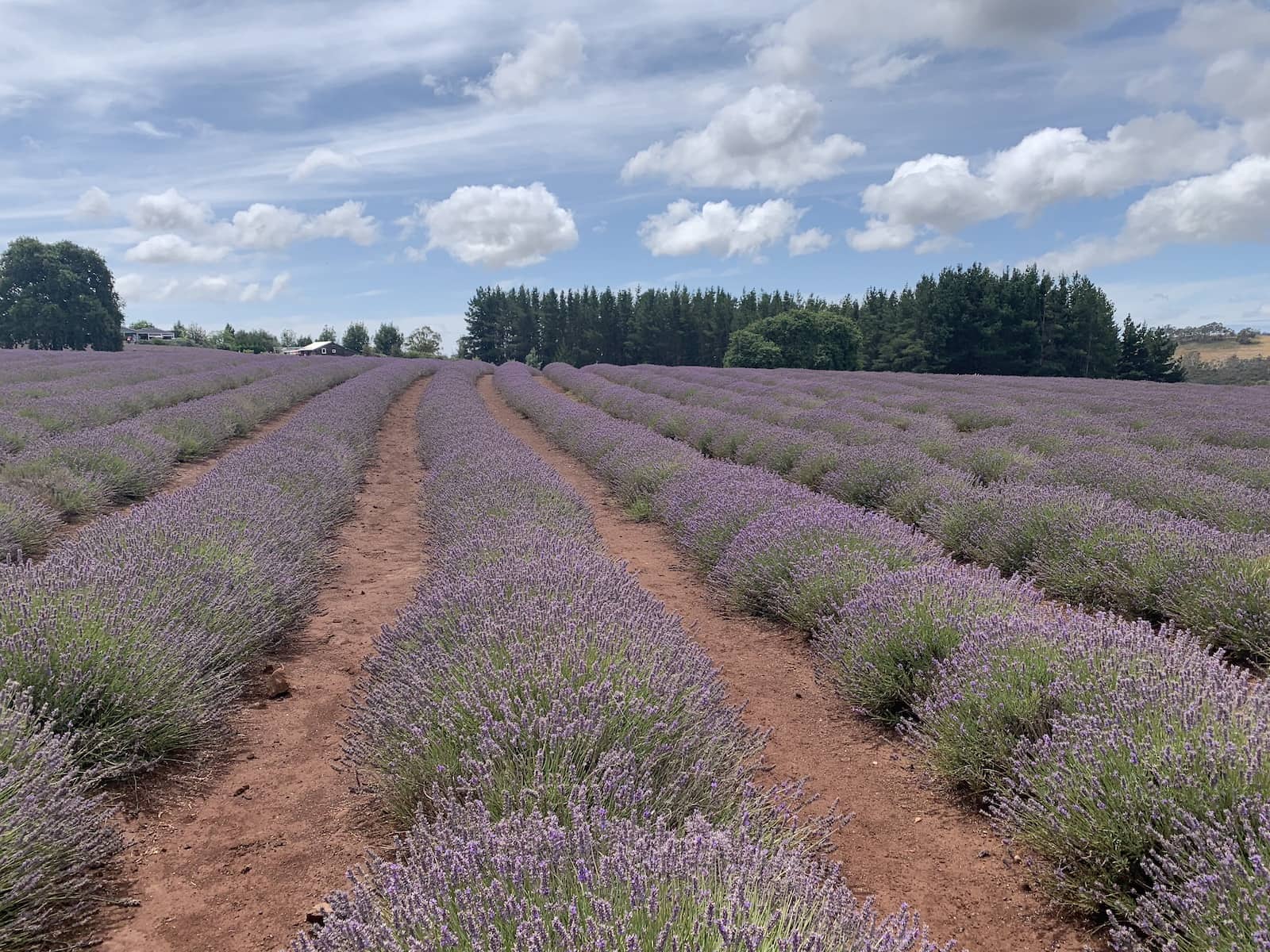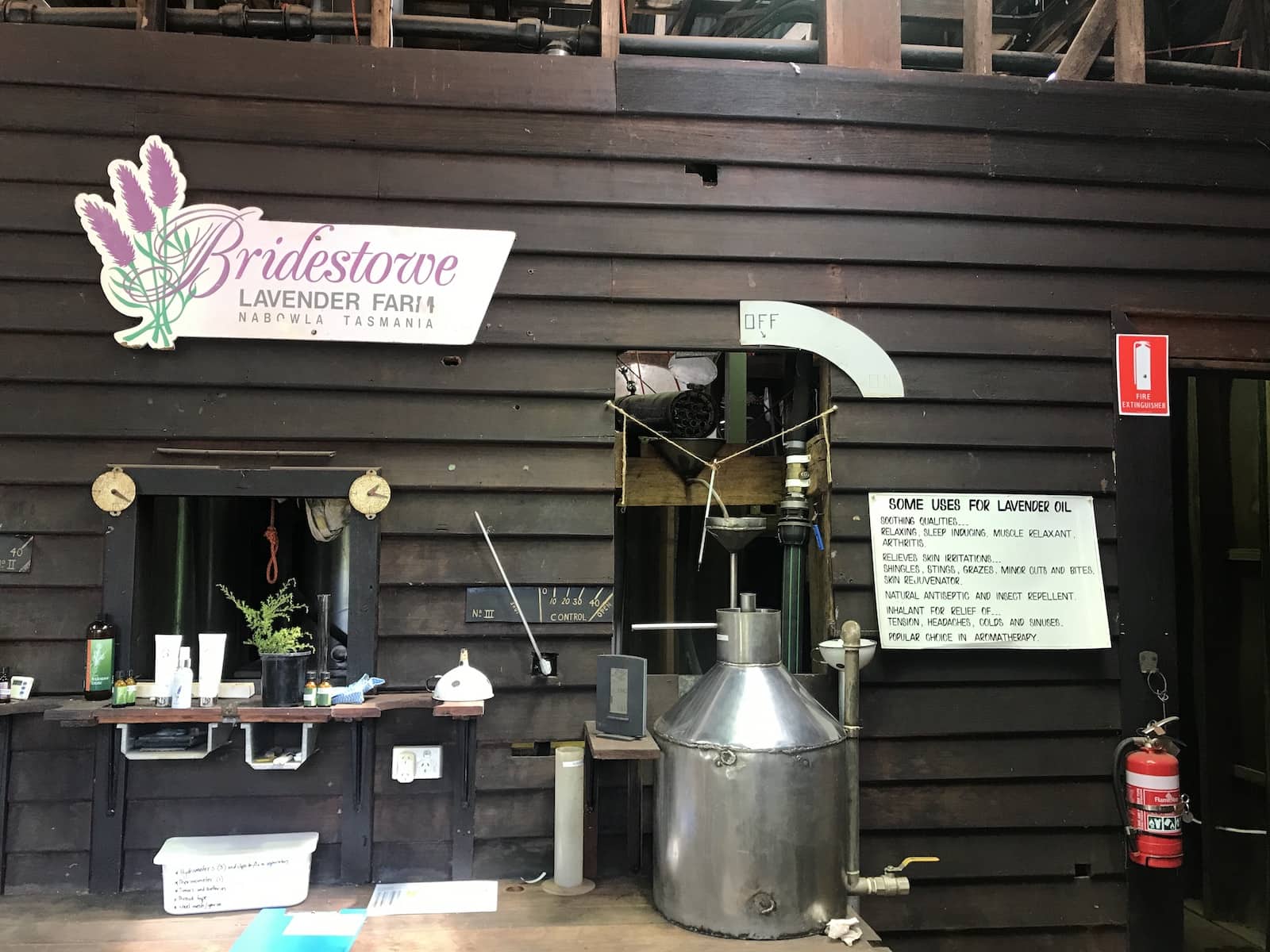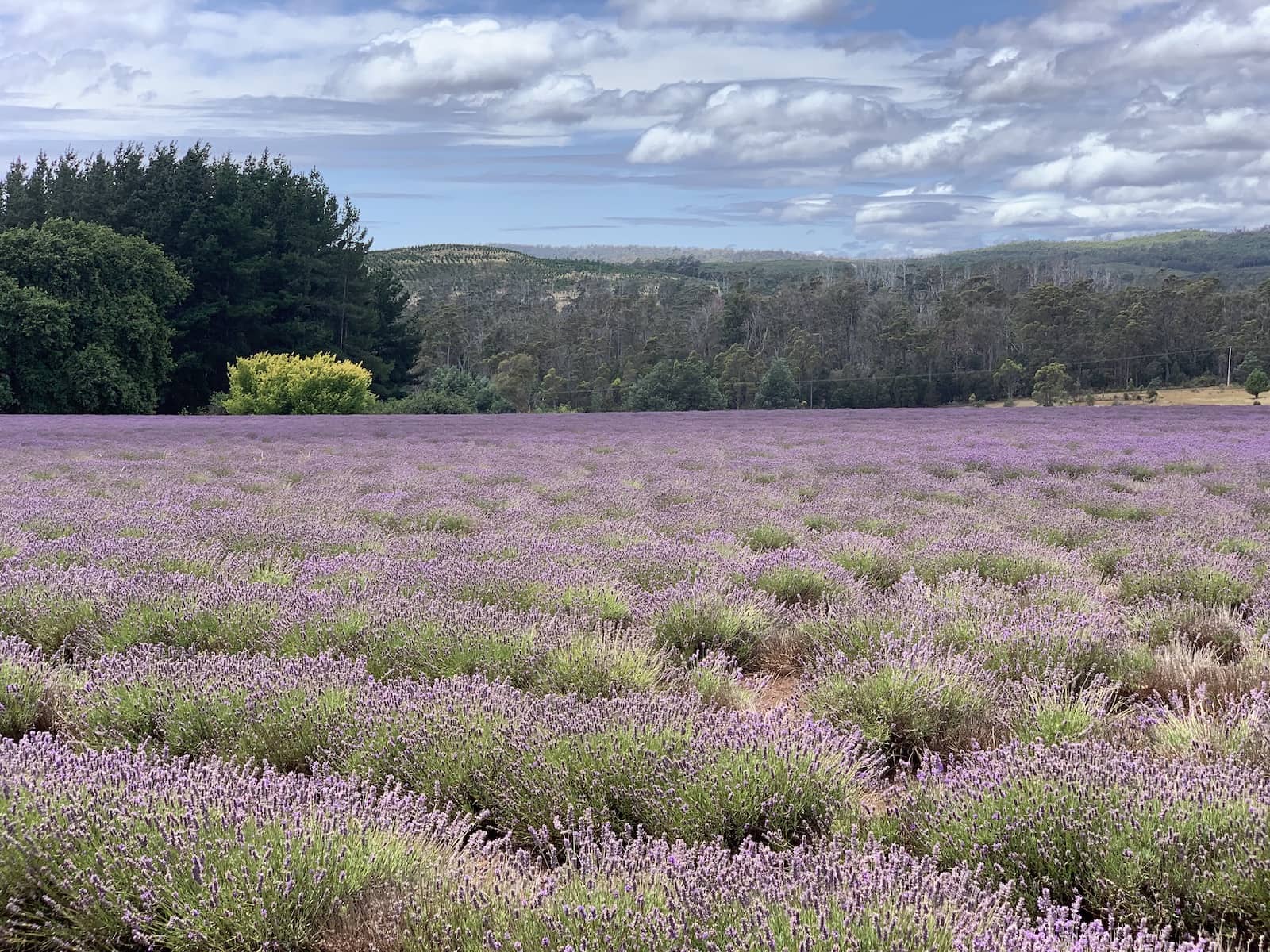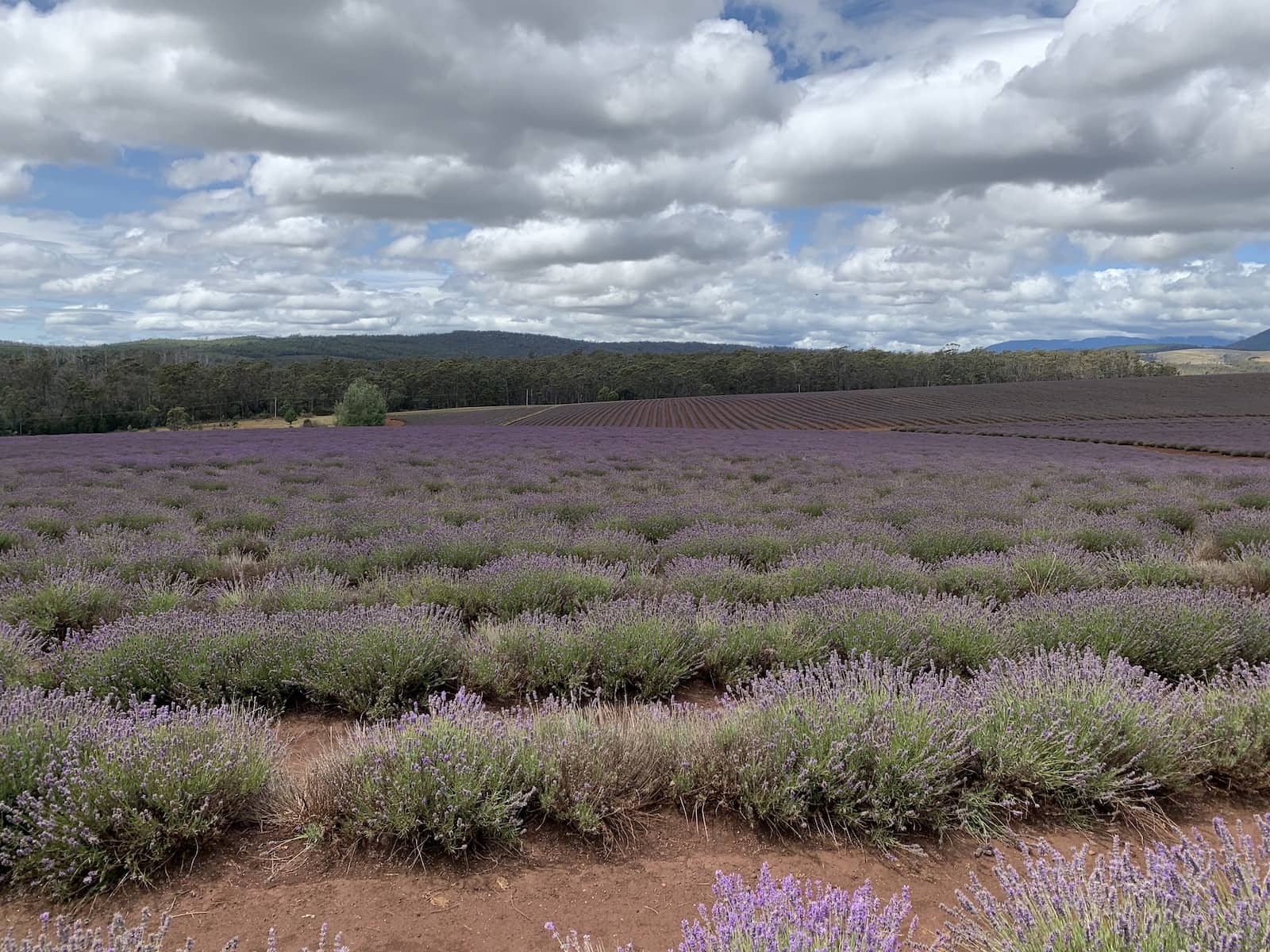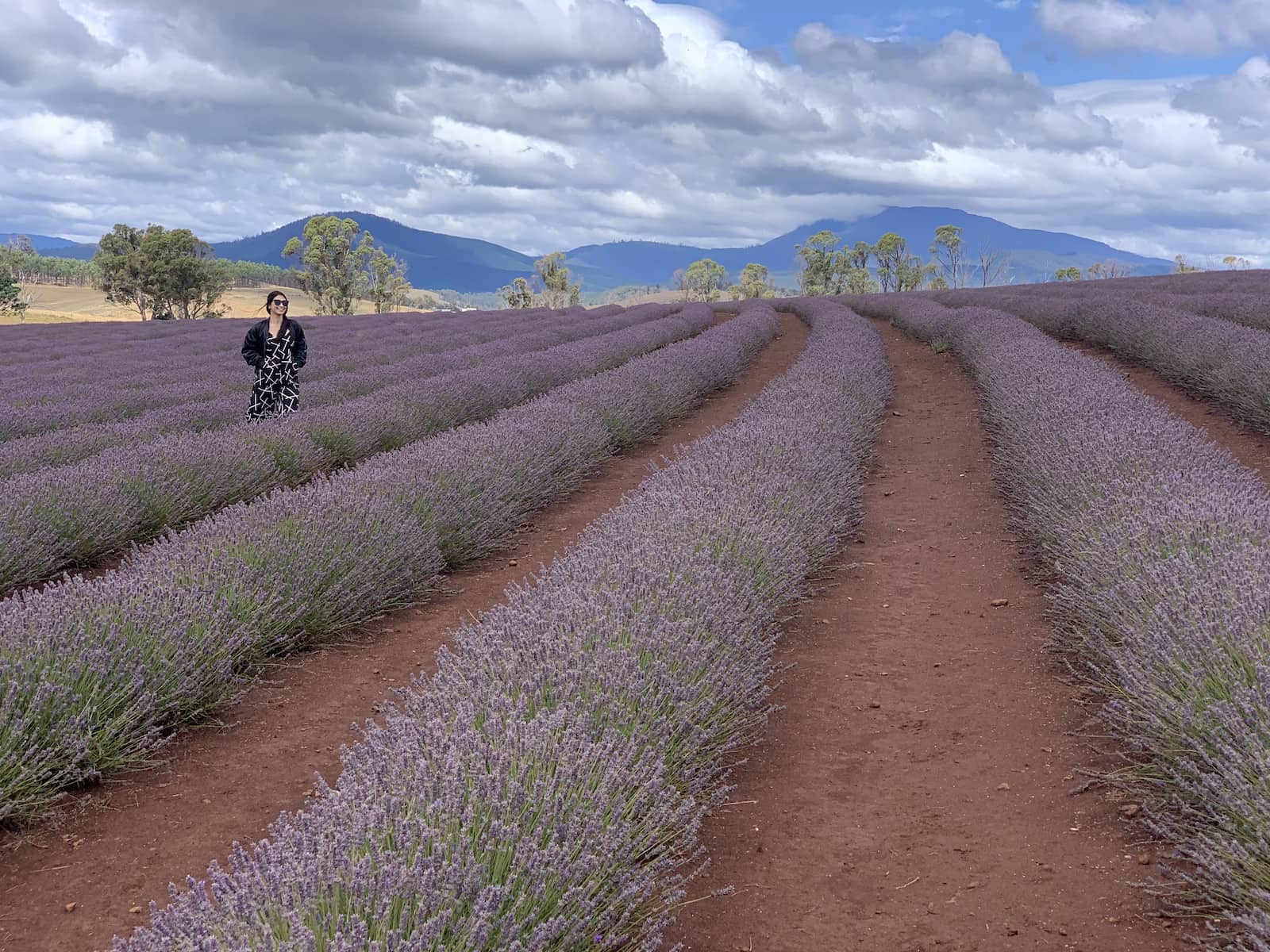 Bridestowe runs over 260 acres and has an estimated 650,000 plants. The lavender rows stretch for about 200 kilometres in total. Entry is $10 per person (and there is sufficient parking). On site, there is also a gift shop and a cafe with lavender delicacies such as lavender ice cream, lavender lattes, and lavender milkshakes. Since we had been on the road for a couple of hours, we had a bite to eat here.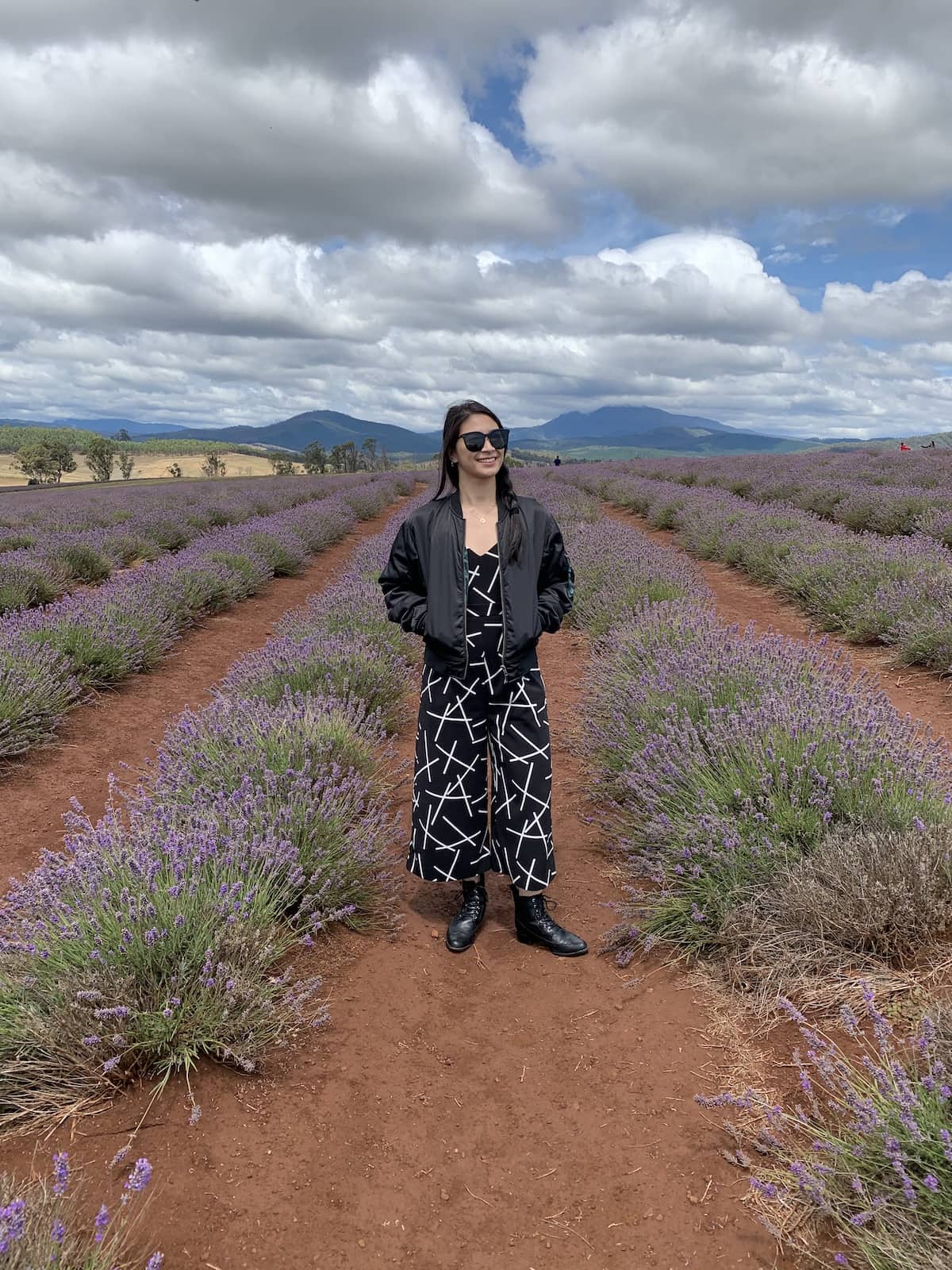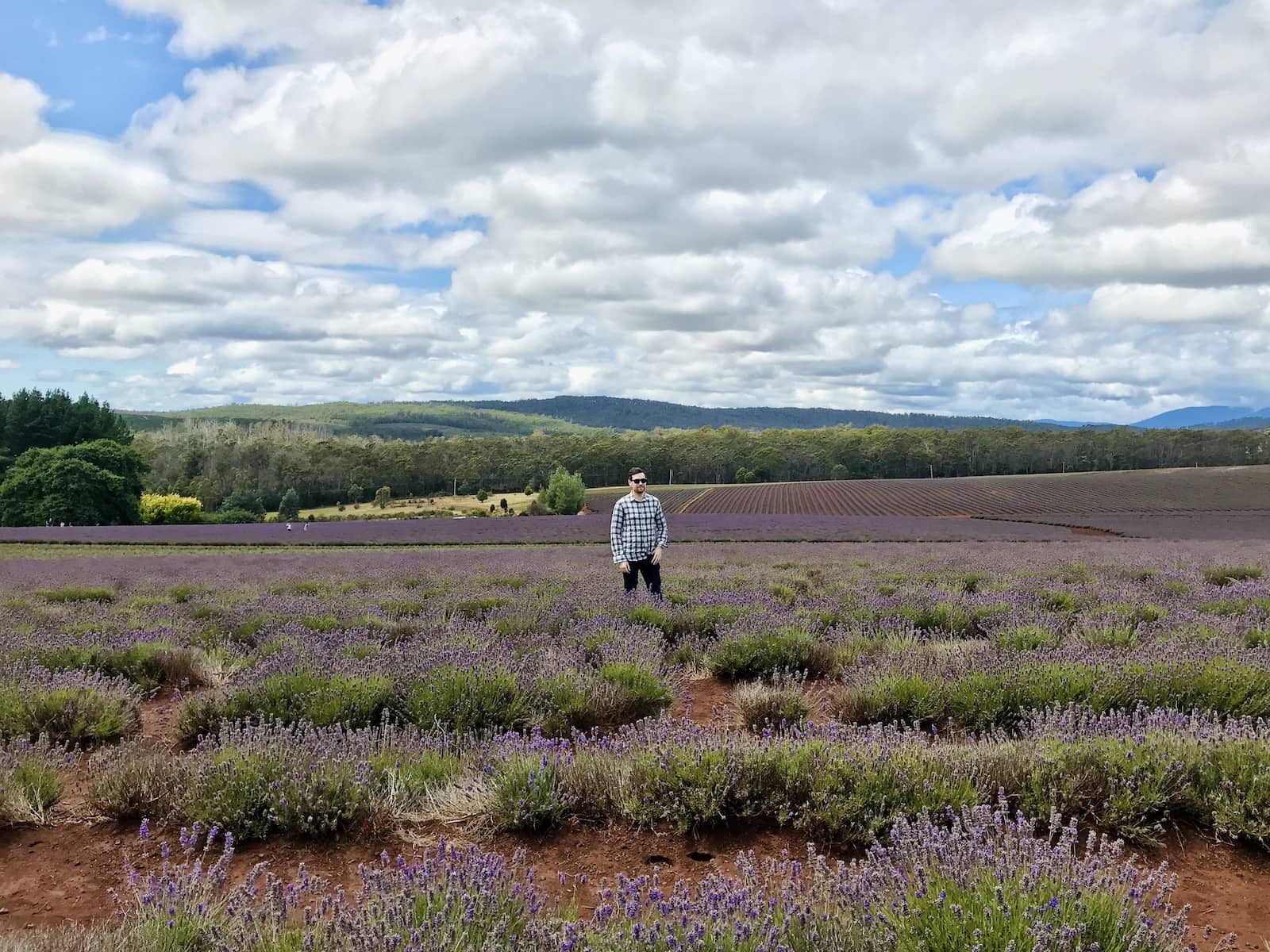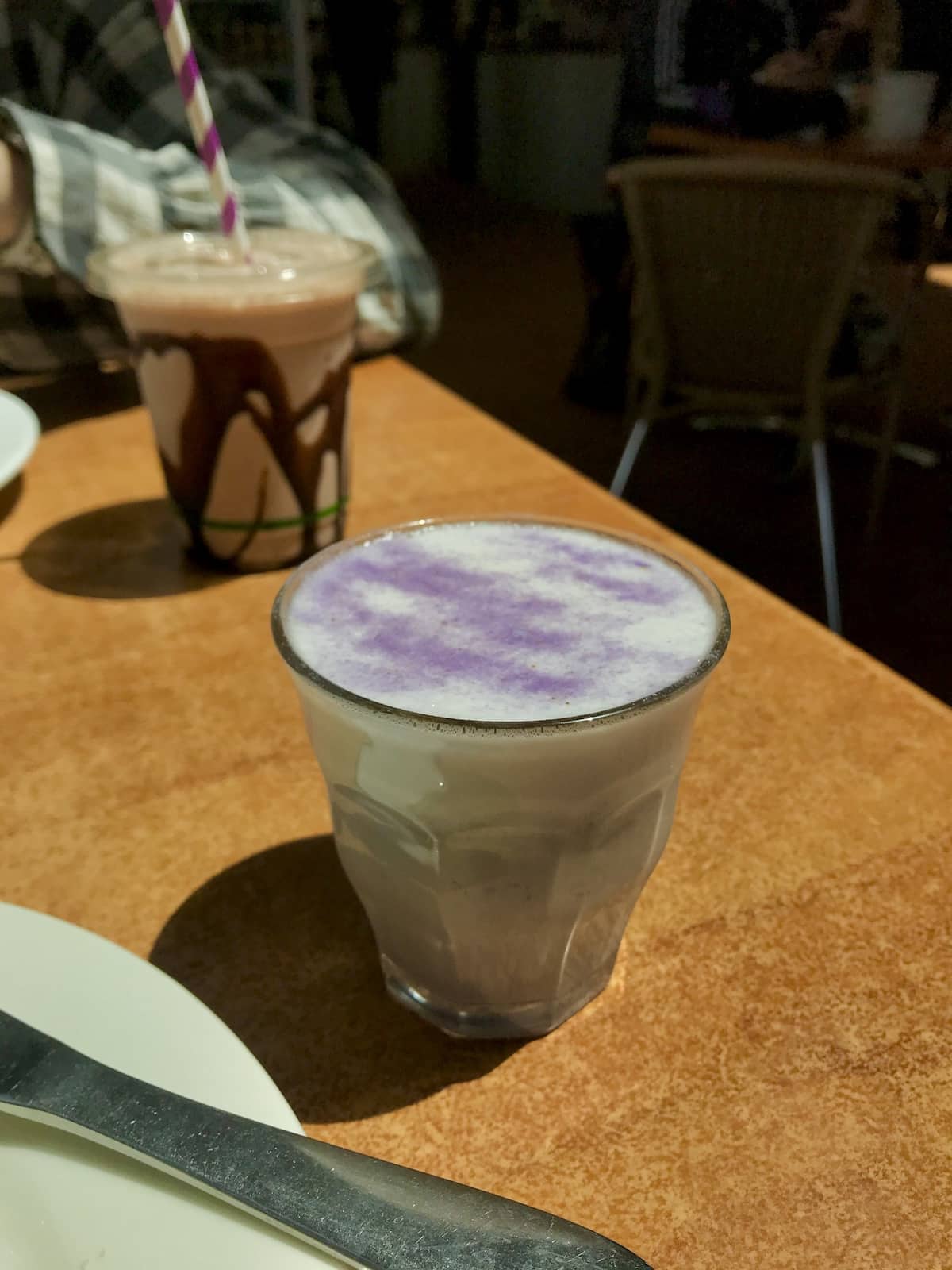 The estate let us see both fully flourished and newly planted lavender. It was all a beautiful sight, and the lavender seemed to go on for ages. As we were driving up the road, we could see the lavender from a while away.
The smell was prominent but not too strong. Later that day I noticed that Nick's shirt smelled lightly of lavender. 💜 You can also sneak a peek into the distillery – the scent is a lot stronger there, though.
On the day we visited, it was not that busy. There were no large crowds. We had arrived at around 1:00pm. Bridestowe is open every day except Christmas Day. Thankfully the weather was pretty good, too – there was a bit of a breeze but no rain.
Exploring Launceston's town centre, City Park, and Riverbend Park
We headed back to Launceston, and checked into our hotel, Peppers Seaport. There was a parking spot reserved just for Nick because of his gold member status. 😛 It was a nice surprise, actually – we weren't expecting that. After recharging for a bit, we walked around town. Launceston appears to be a sleepy town, and being a Sunday, most shops were already closed by the time we took our walk at 4:00pm.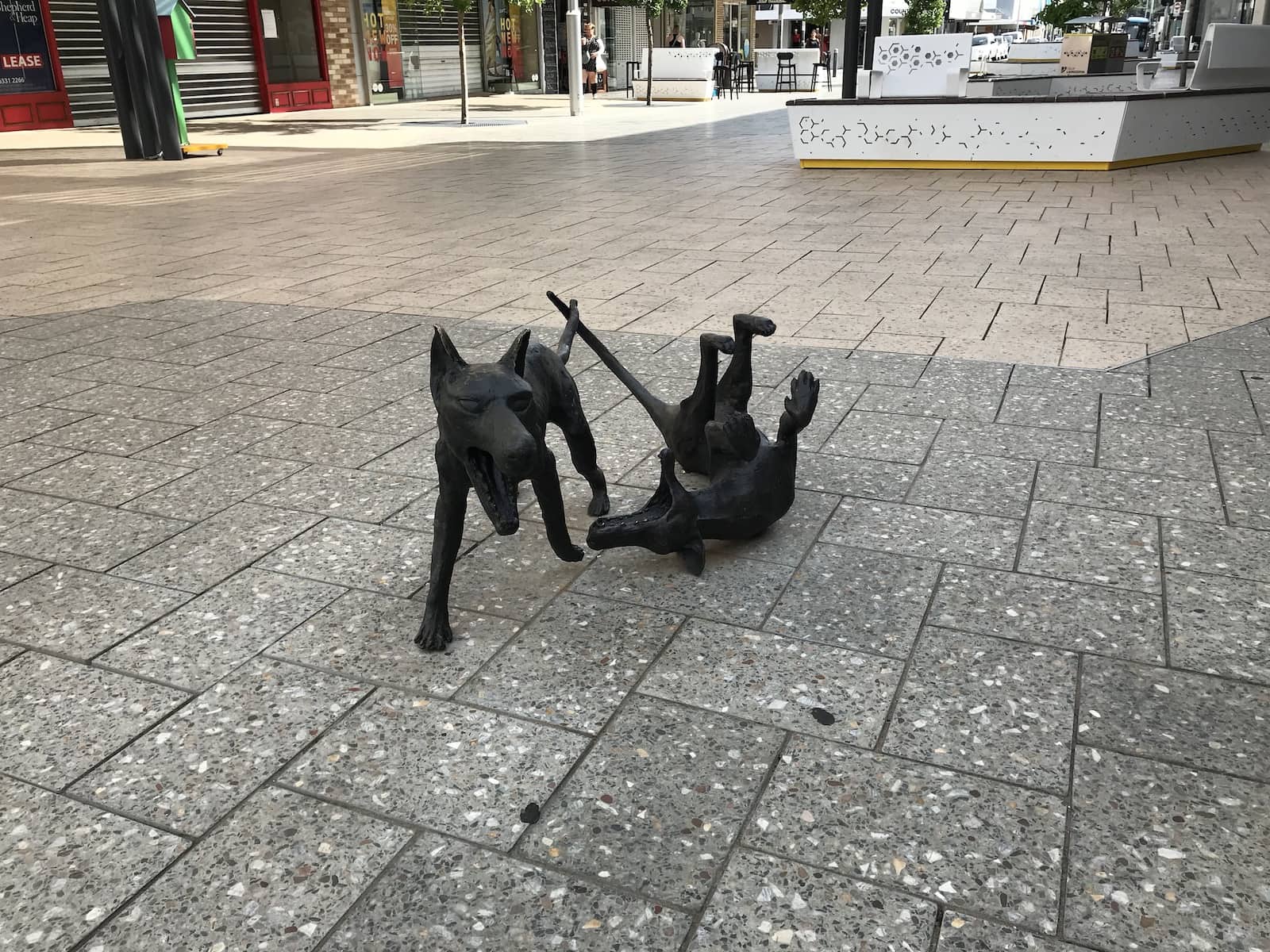 We dropped by City Park, a large park with a conservatory, children's equipment, and a Japanese macaque exhibit. We arrived just in time – the macaques were only on display until 4:30, and we saw them for only a brief few minutes before they all chased each other out of view and the park ranger locked up for the day. It was a slightly bizarre sight – they disappeared right on cue!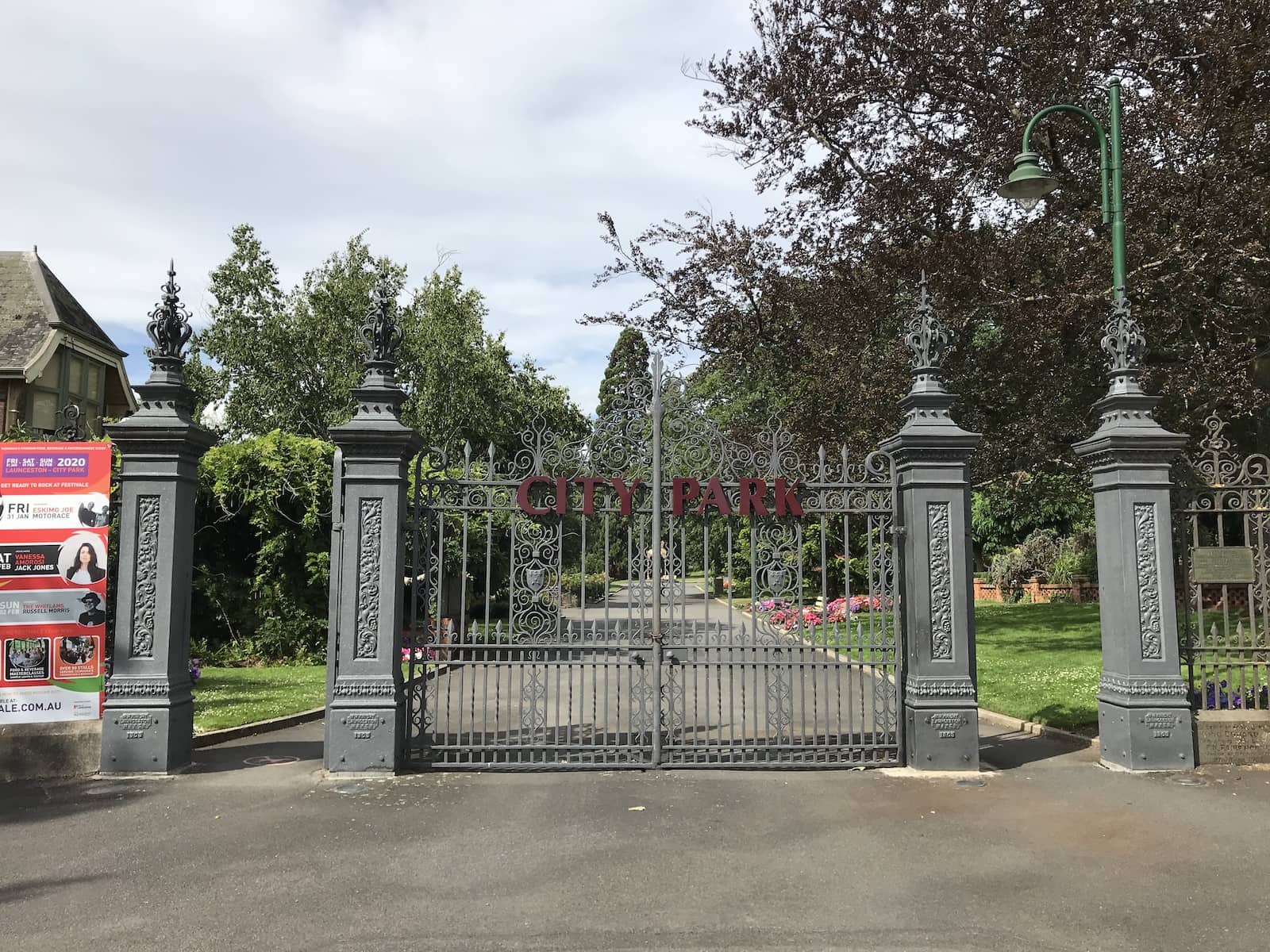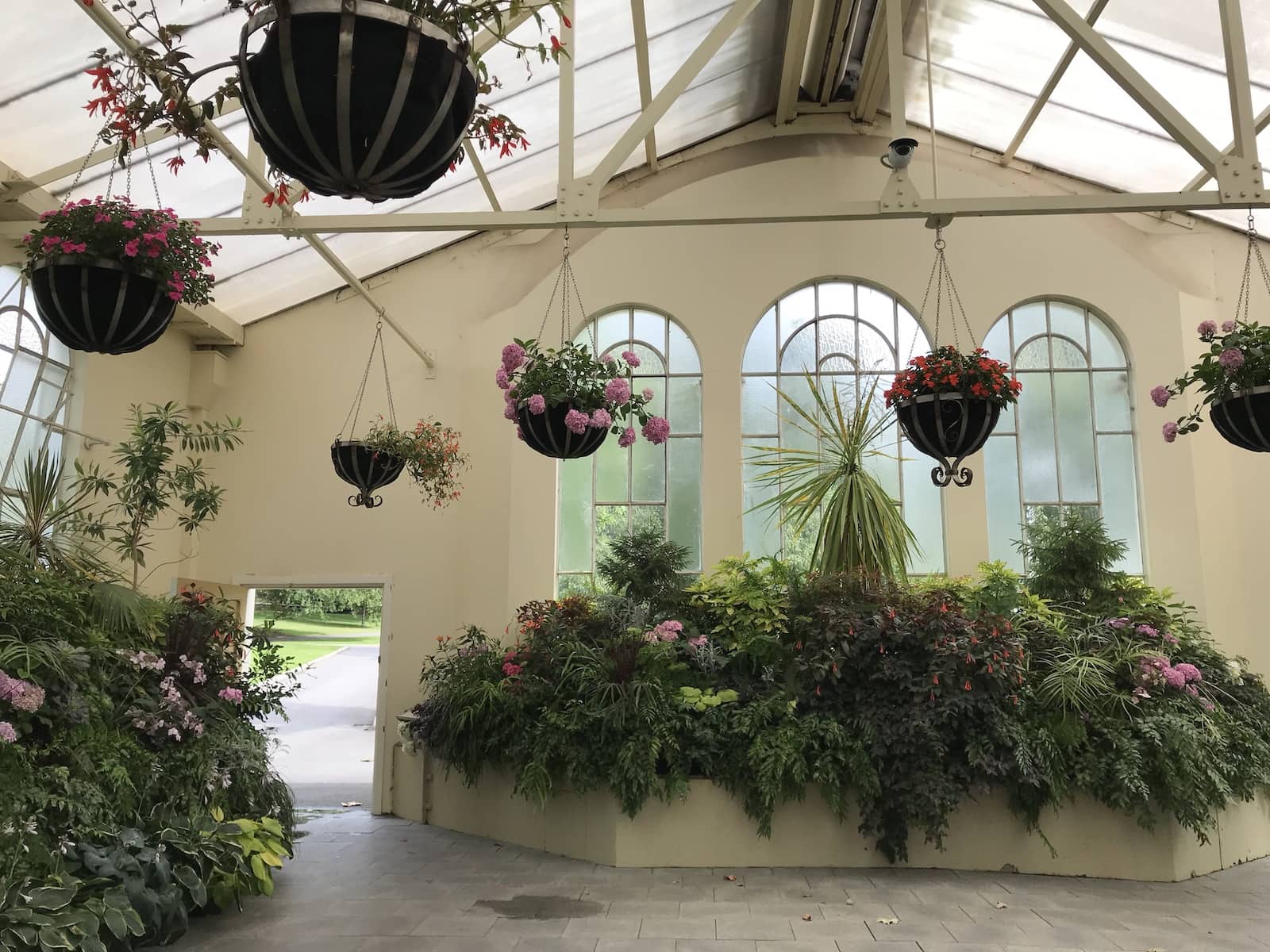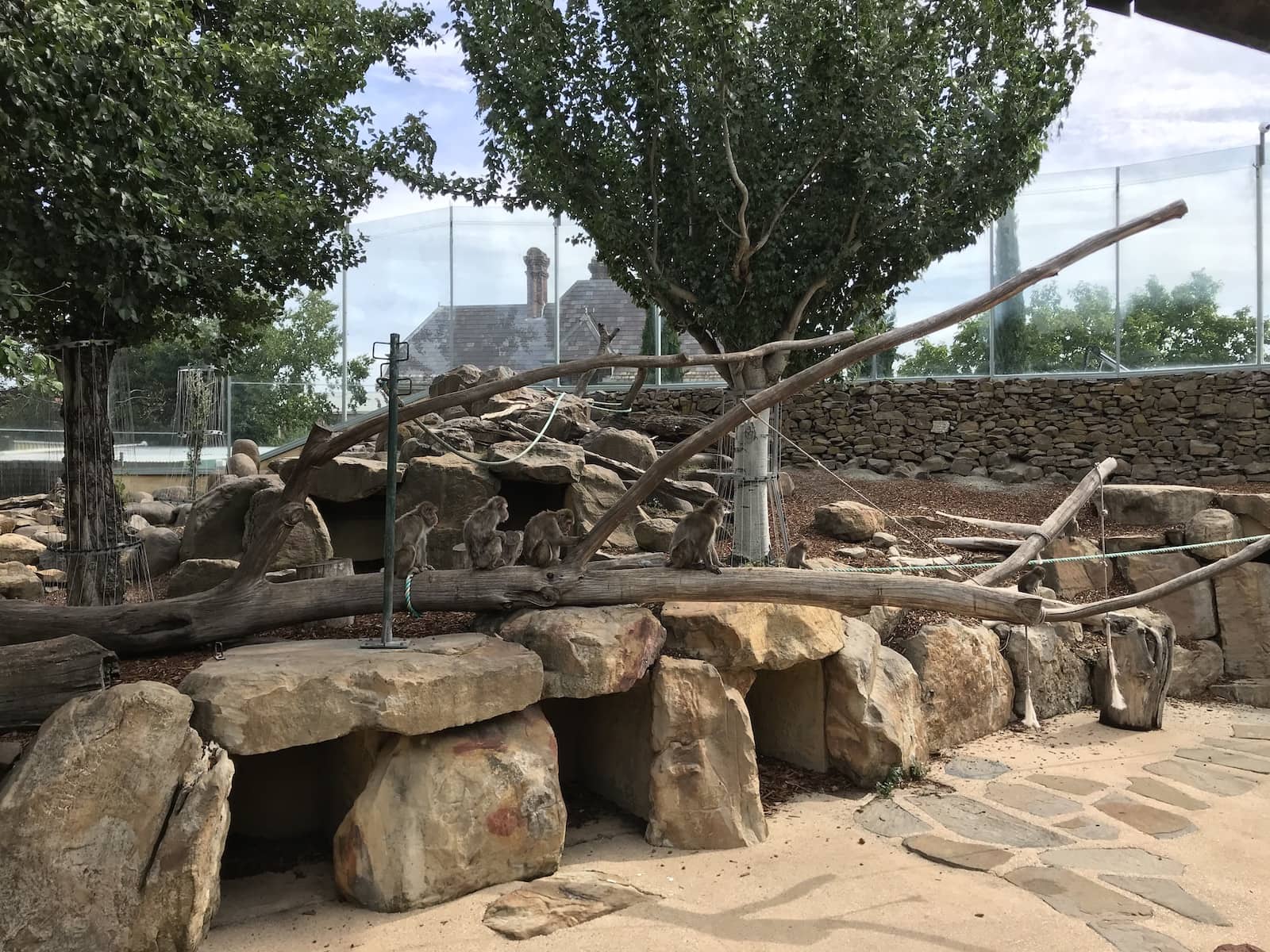 We continued our walk around town before going back in the direction of our hotel. Behind our hotel, across a bridge, was the Peppers Silo Hotel, a hotel that used to be a grain silo in the 1960s. There was also a park called Riverbend Park, which had the most sophisticated children's equipment I've ever seen. There was a very advanced ropes-course like piece of equipment, rock climbing features, and basically more sophisticated versions of traditional children's swings and slides. We ate dinner at Levee Food Co nearby, before retreating for the night.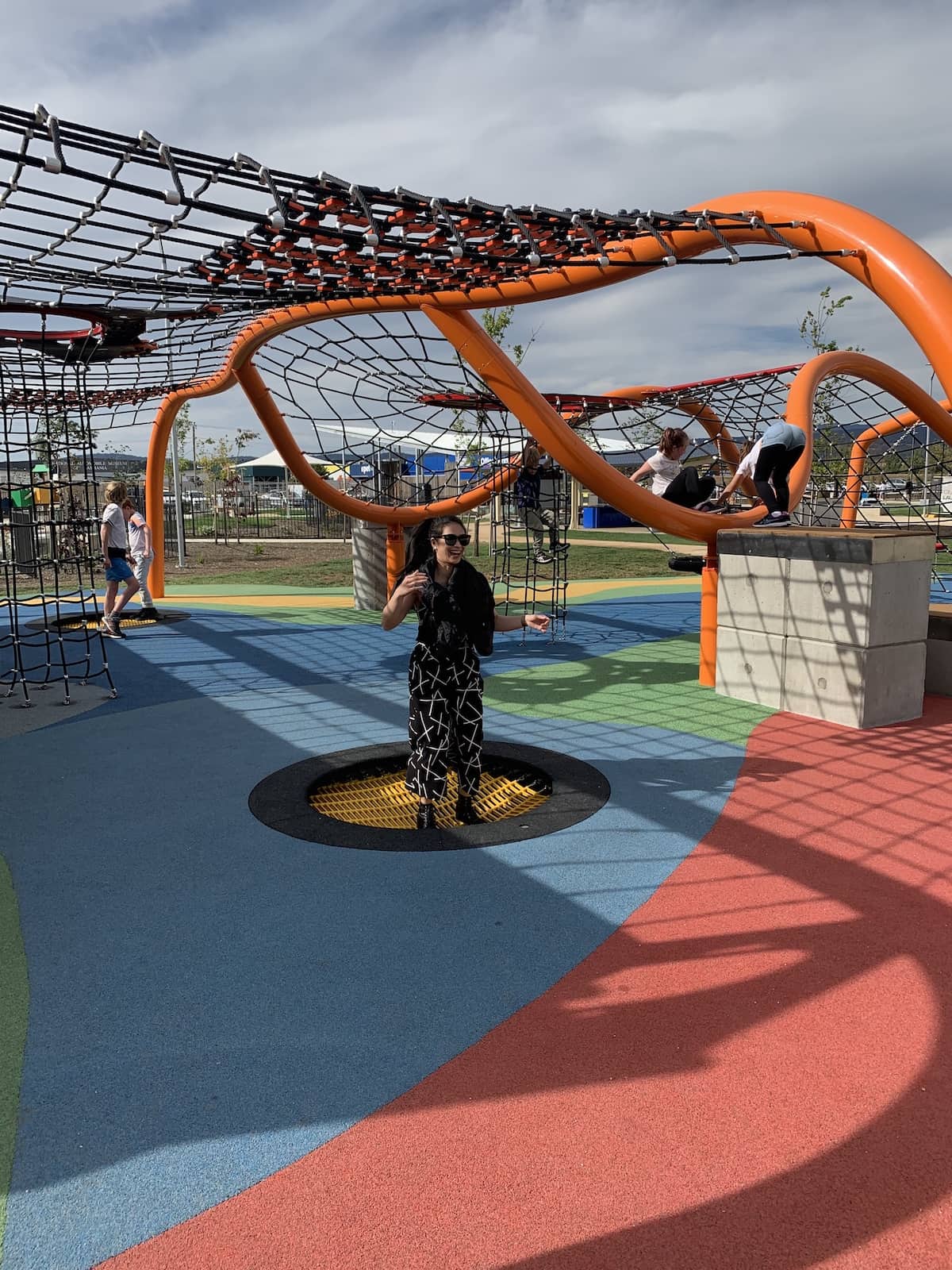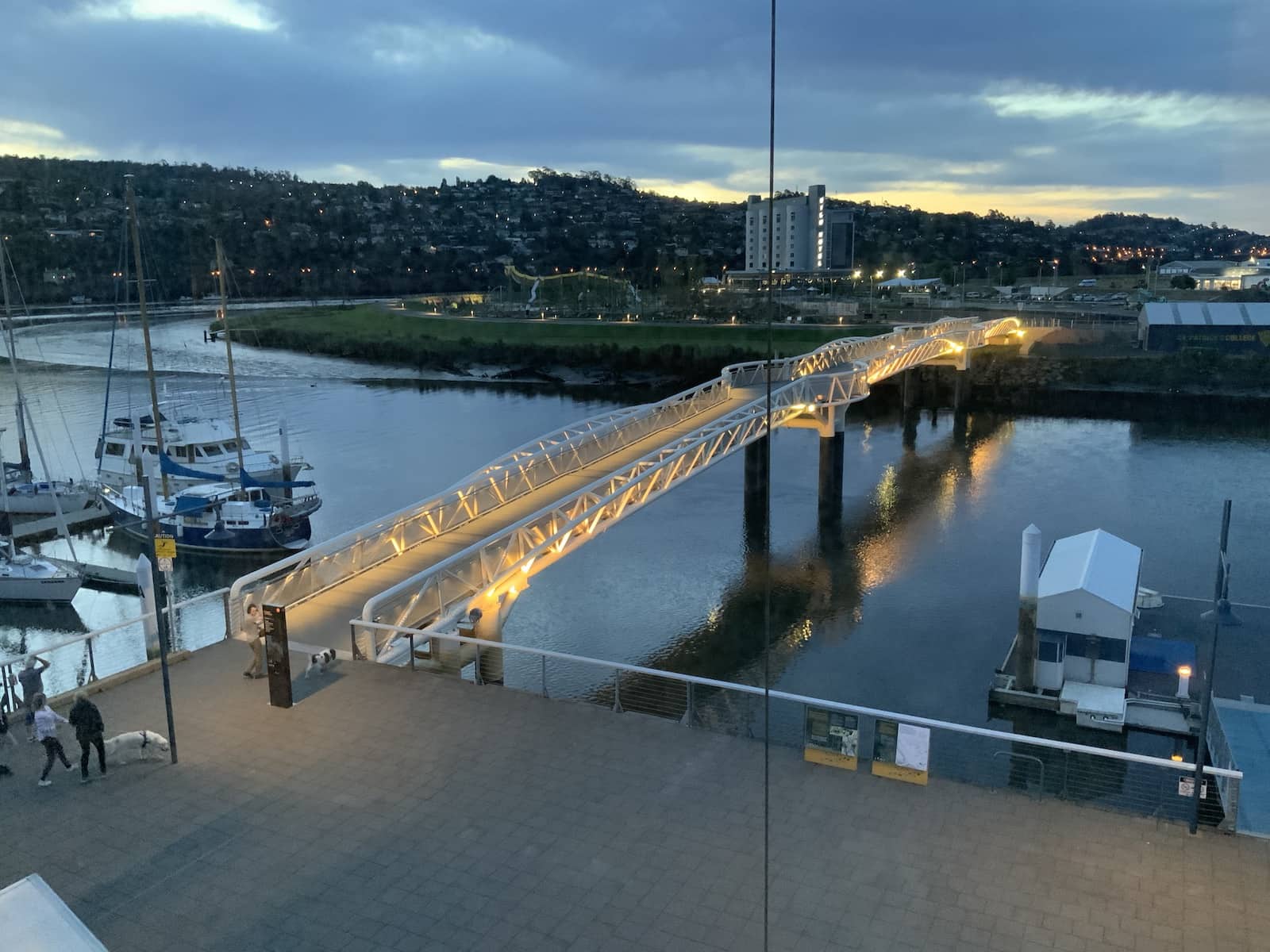 Cataract Gorge Reserve
The next morning was a public holiday, so nearly everything was shut. 😱 We were able to get a buffet breakfast at the Peppers Silo though. After checking out of our hotel, we headed to the Cataract Gorge, at the recommendation of one of the hotel staff at reception. I'm glad she mentioned it because otherwise I would have totally skimmed over it!
The First Basin, that constitutes part of the gorge, was believed to be bottomless. There is also a myth that it's a volcanic plug. It was known in 2008 that the basin was formed by the erosion of two faults in the earth, caused by Dolerite rock shattering and eroding at the intersection. It was not until 2016 that we found out the depth of the basin is actually 20 metres.
The reserve has a handful of hiking trails of varying difficulties, ranging from 1 kilometre to about 3.5 kilometres (0.6–2 miles). It has a suspension bridge, a chairlift (the longest single-span chairlift in the world), a swimming pool (!), and a funicular railway. There are also cafes, options for rock climbing, and a couple of lookouts. You can see wonderful views all around.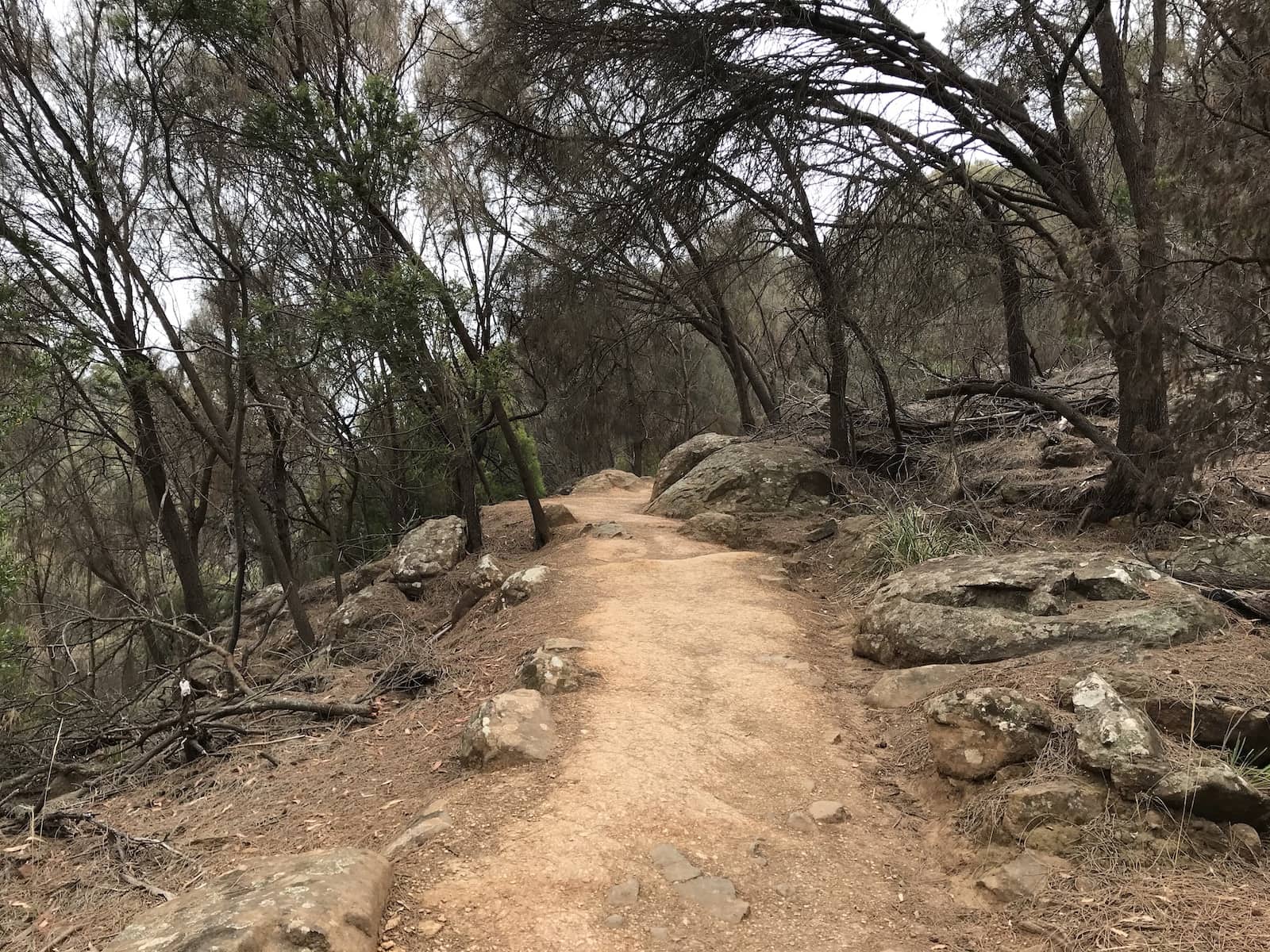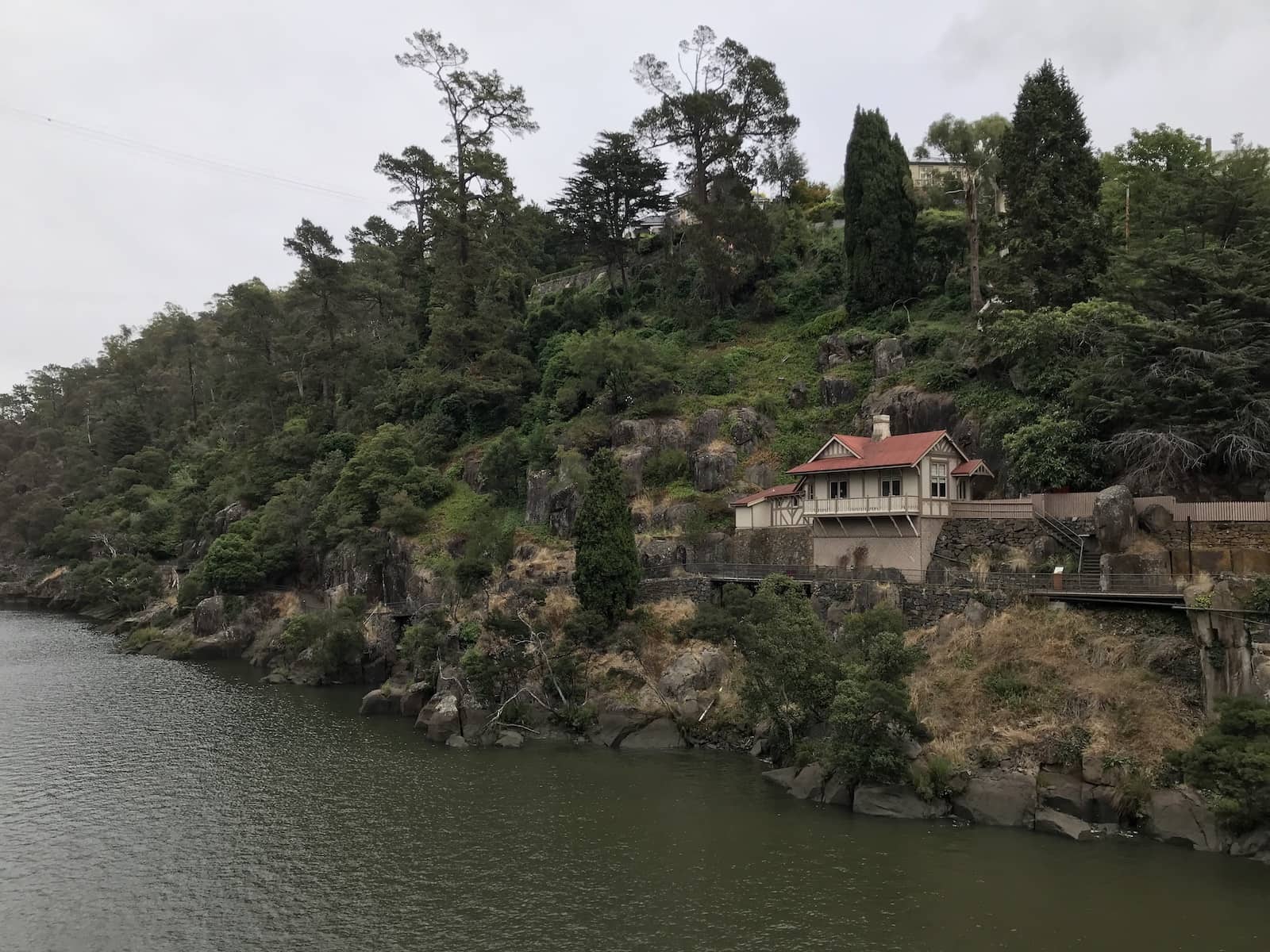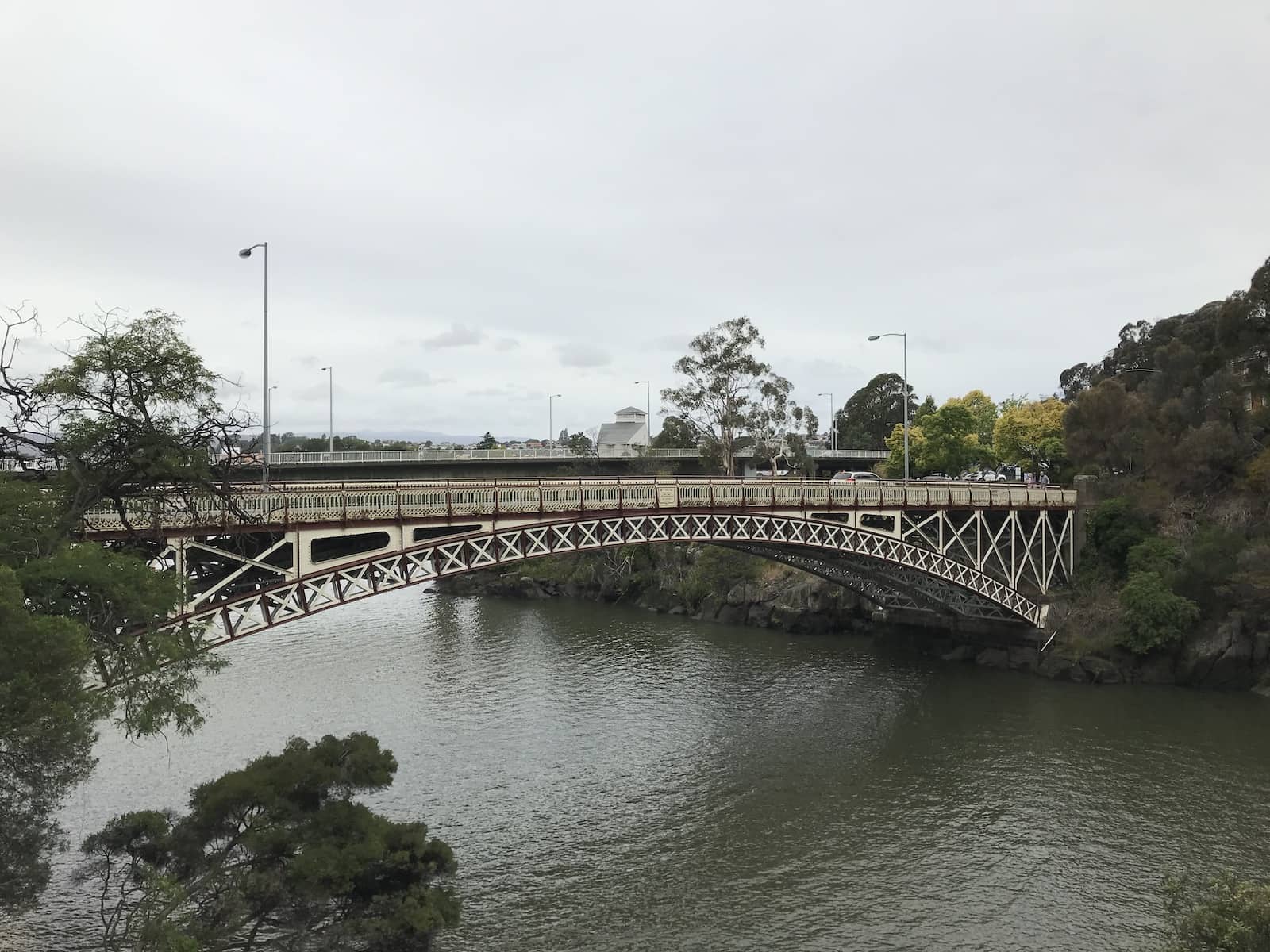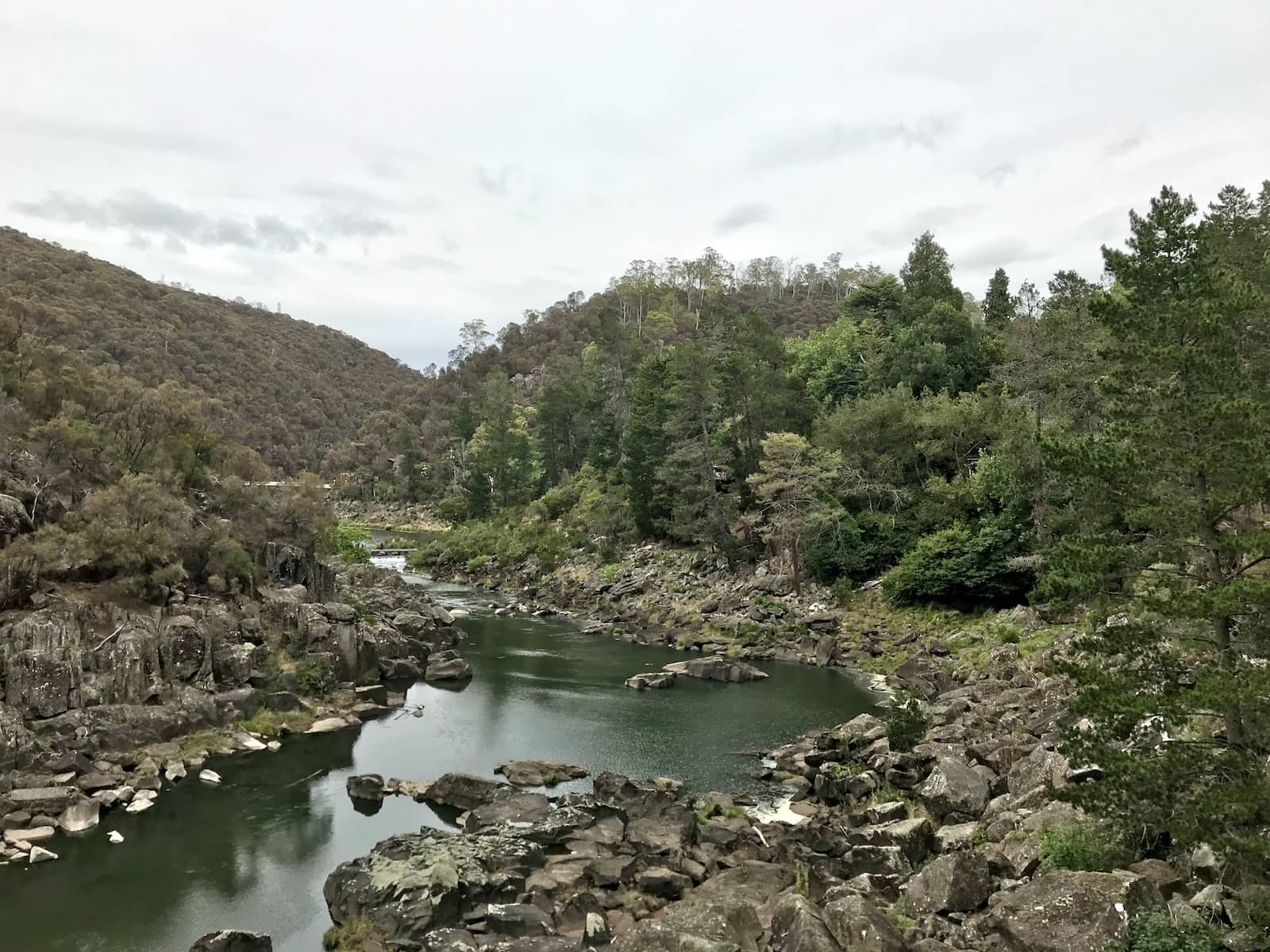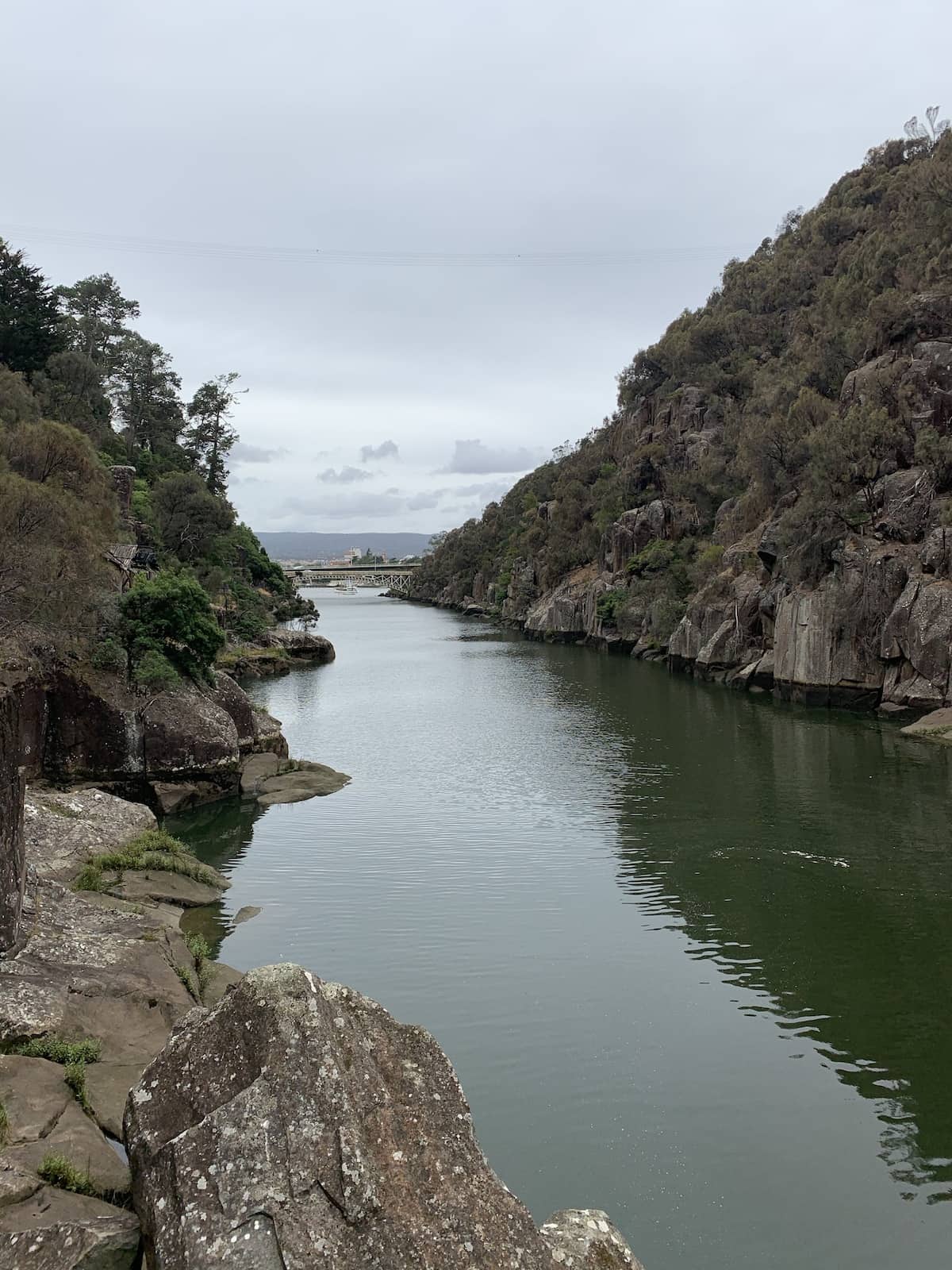 Not wanting to get too hot and sweaty, we did the 1km Zig Zag track, which reached an elevation of around 80 metres. The way we went (which started from the car park) felt like an easy uphill climb with a longer downhill walk, ending at the Kings Bridge before an easy, only slightly uphill walk on the opposite side of the gorge (the Cataract Walk). Had we gone the opposite direction, I think we would have found the uphill climb a lot more tough.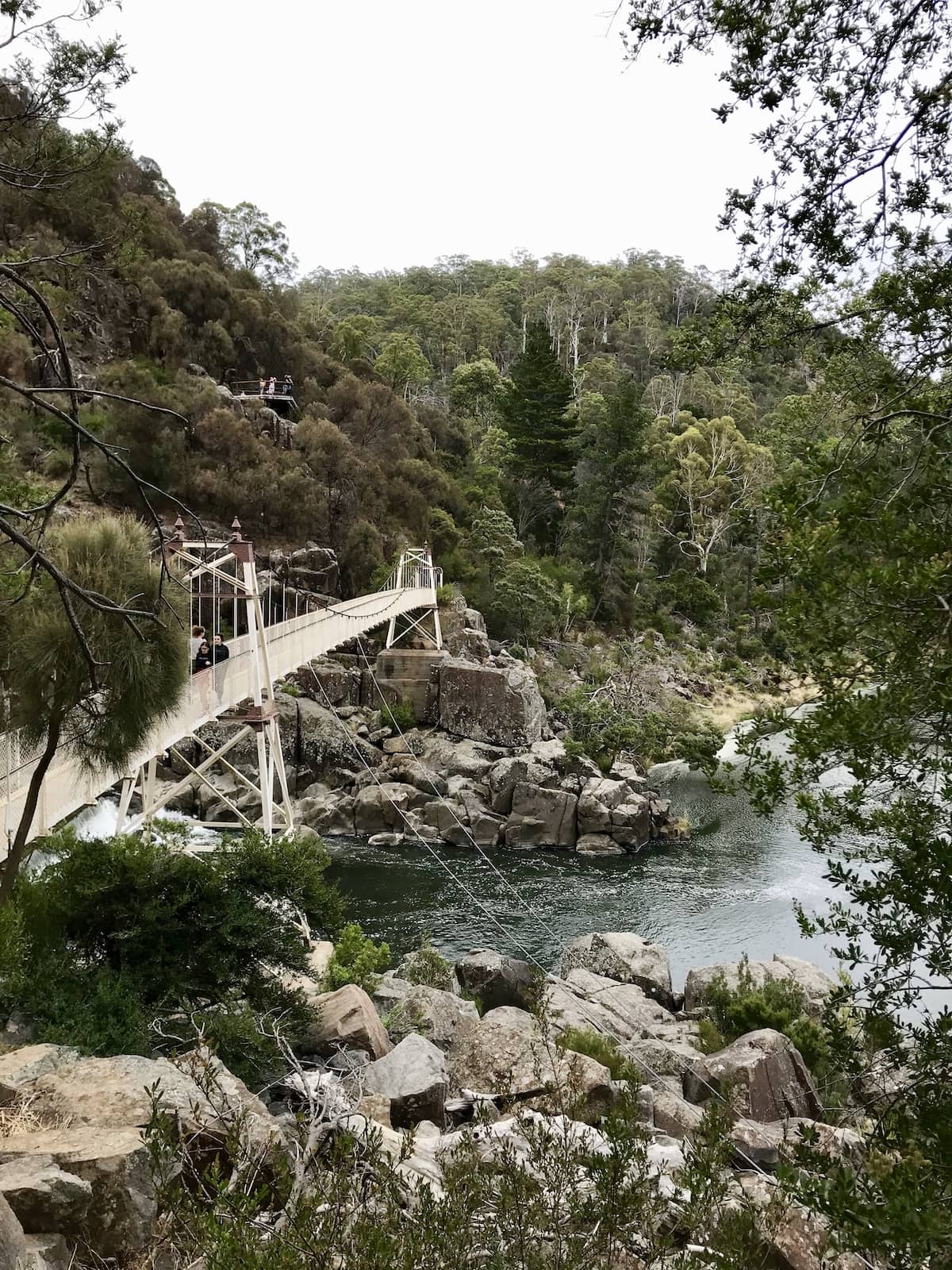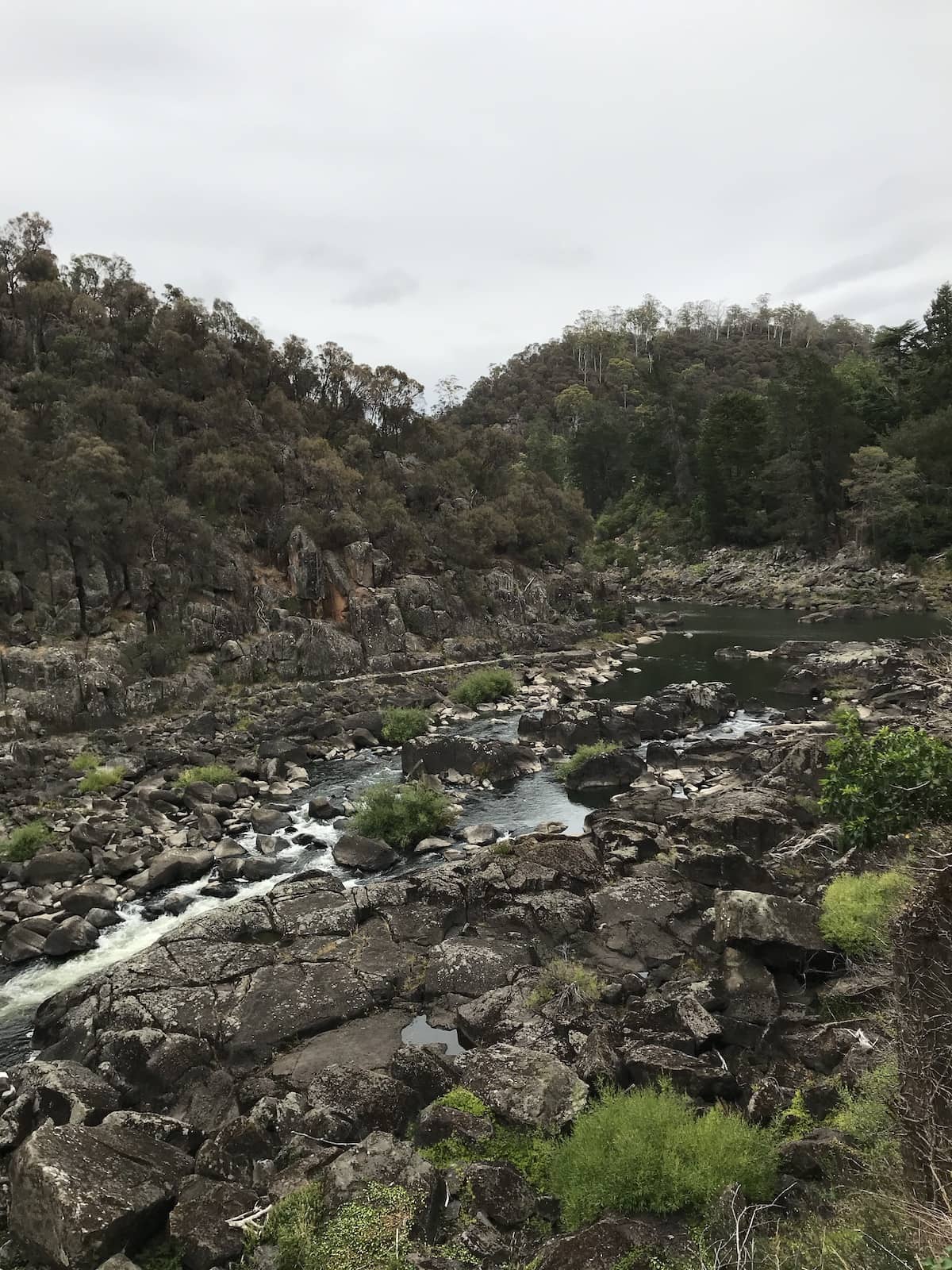 We ended up going to the Cataract Lookout as well, a steep 15-minute return climb. There was at least one other lookout of a similar grade and timing. Although we didn't use the chairlift, the lookouts and walks provided beautiful views. The best thing is that accessing the reserve is free (even though parking is paid). It's a beautiful spot in Launceston and I highly recommend it. You could easily spend a day here with the family and have a picnic and explore, or even spend the whole day doing all the trails and hikes. We were there for under two hours but covered a lot of ground.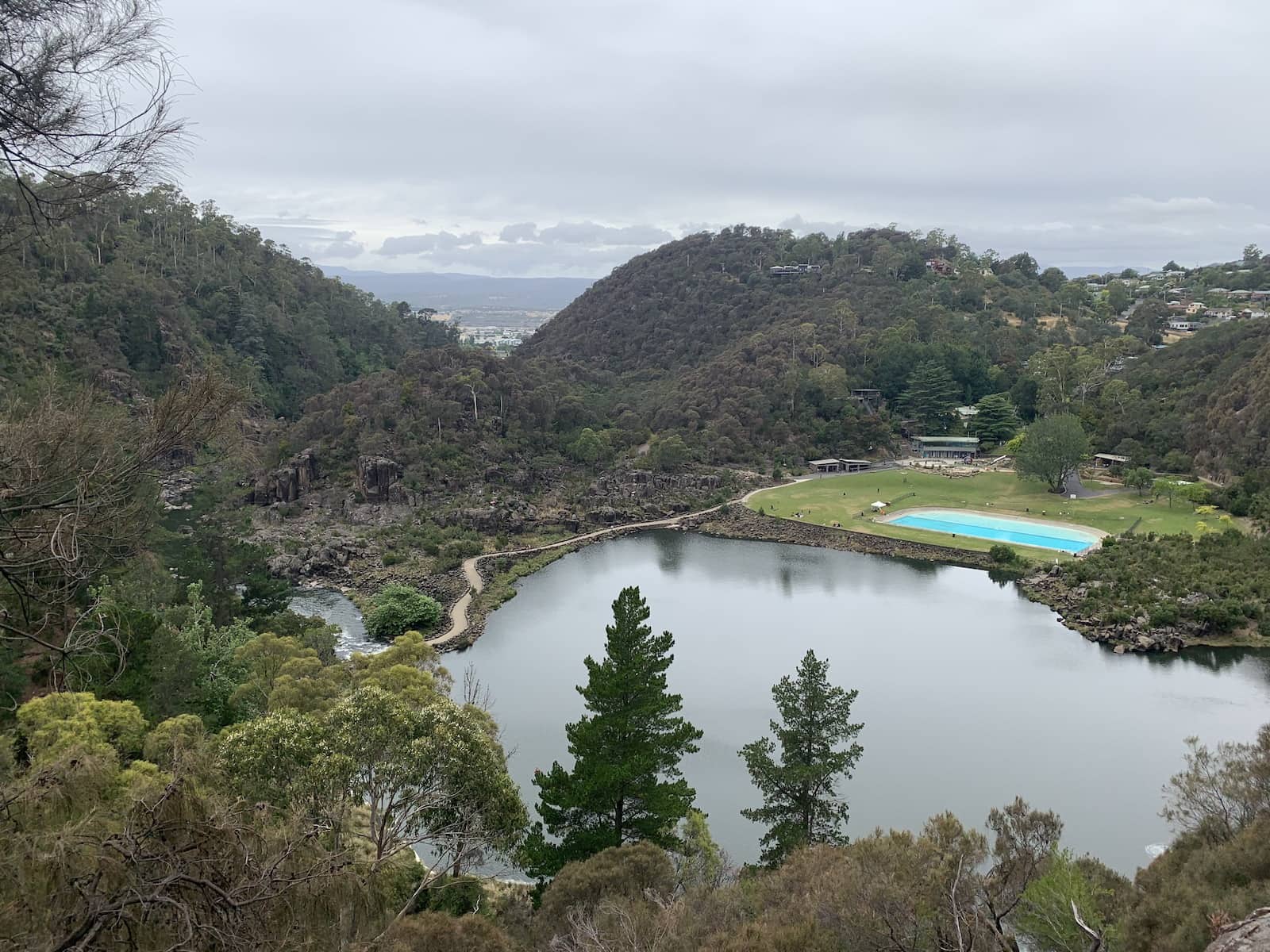 Penny Royal Launceston
We stopped by this little amusement park after seeing it in someone's YouTube video. We paid $2 for parking and we had about half an hour of time to kill before needing to drop the rental car off at the airport. Penny Royal is open year-round and has a handful of entertainment for children and families, but not so much for adults.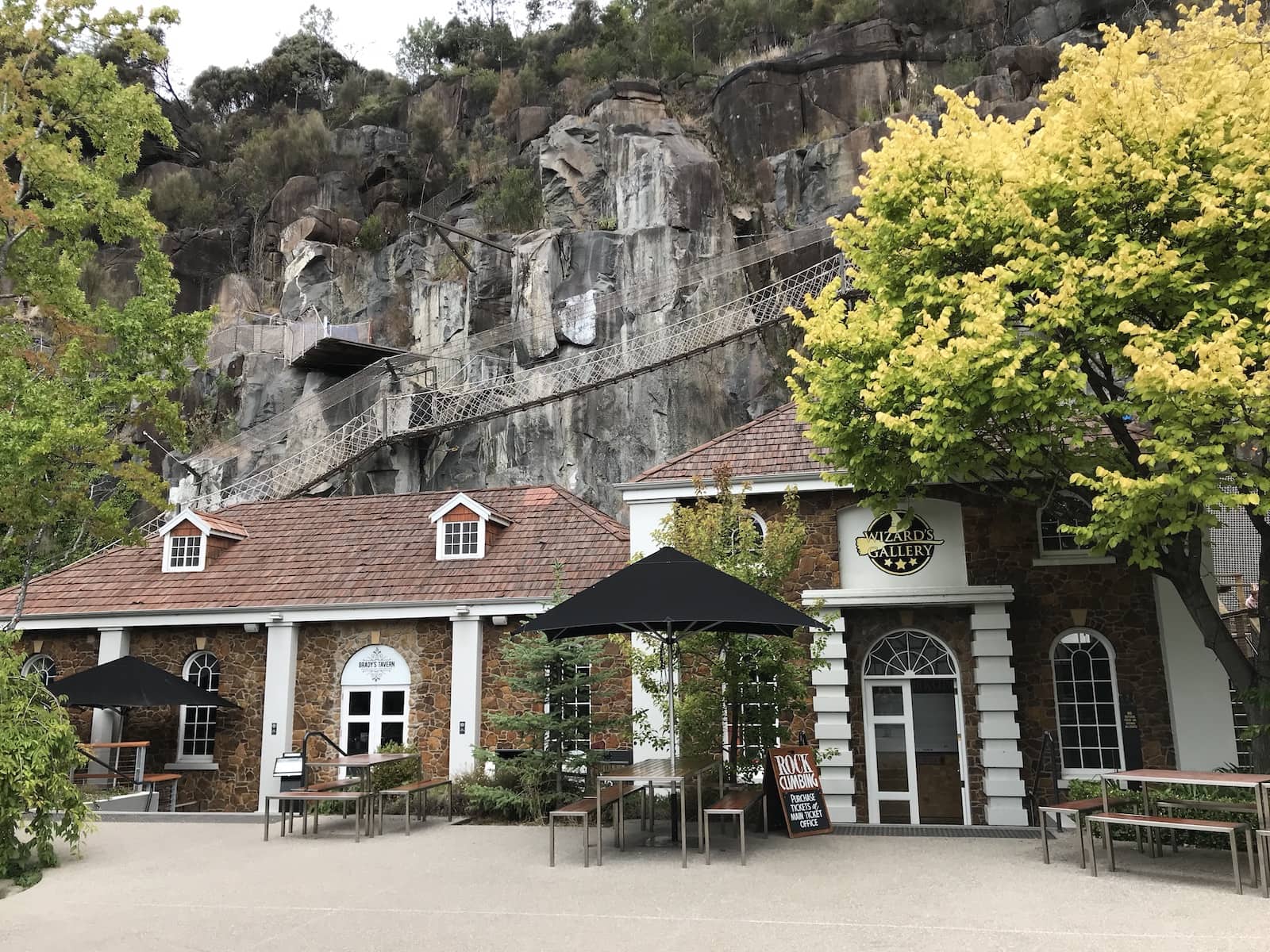 There were activities such as rock climbing, a dark boat ride, gold panning, and zip lining. The boat ride was $15 and it looked really expensive for the price. There was also a small cafe and a couple of shops to eat at, all in the one complex. Although the whole area is themed to look like a village from Australia's past, and there is accommodation on-site, it's quite a small area. We regretted having to pay the parking fee… primarily because the entertainment wasn't worth it for us. 😆 You can walk around and have a look but I doubt you'll be entertained for more than ten minutes unless you are travelling with children and family, or are really that bored.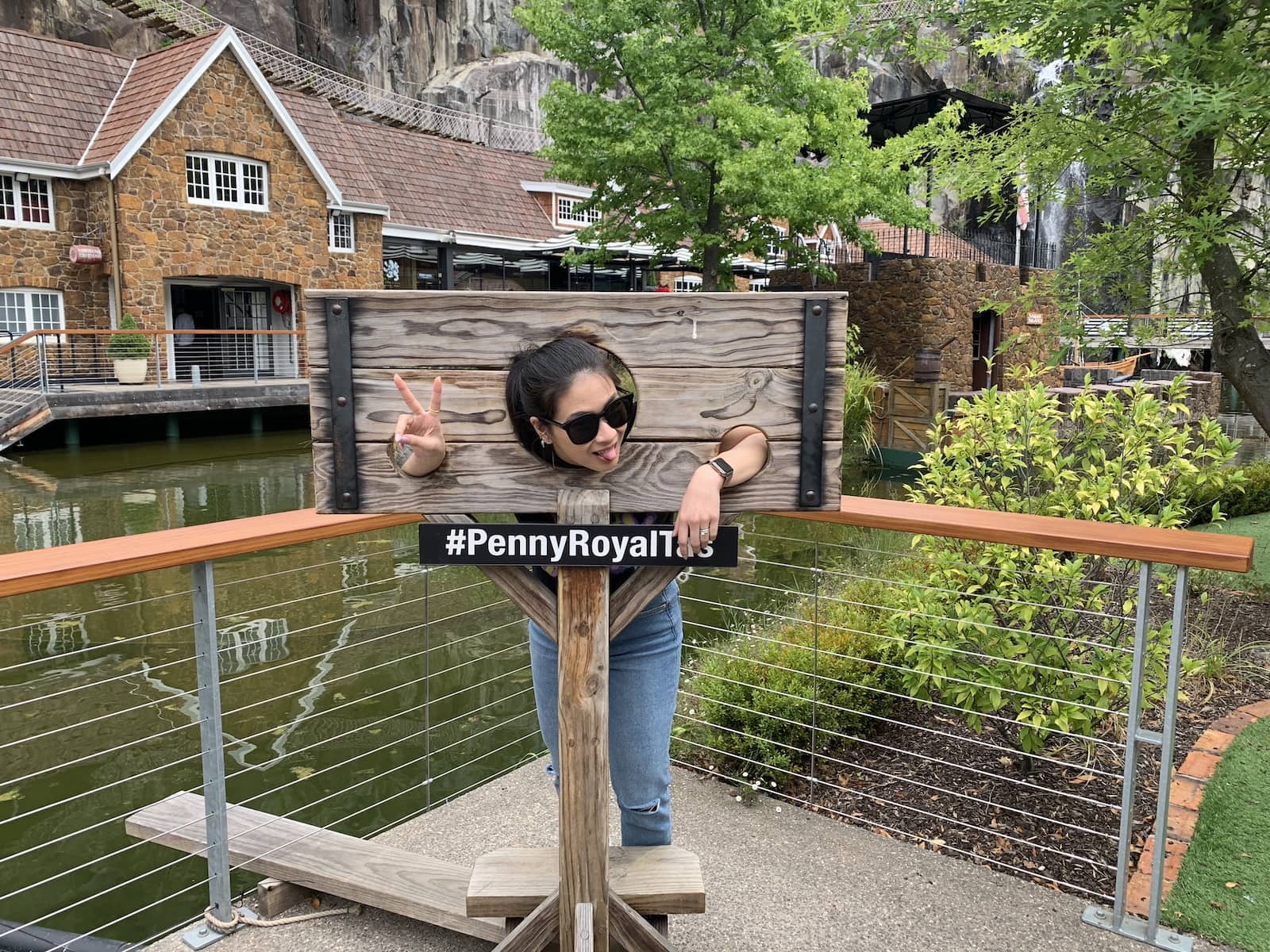 ---
We really enjoyed our first trip of the year and are looking forward to more in 2020. This was a short weekend away but I think we packed quite a bit in. I really enjoyed the hike, and it does make me want to do more hikes. ✨ Thank you for reading and I hope you enjoyed the photos.