🍽️ Best eel in Tokyo, at Obana (尾花)
This post is the twelfth in a series on our honeymoon trip in Japan. My previous post was about visiting many areas in Tokyo, including Shibuya, but also Ikebukuro, Odaiba, and Asakusa. 😉 My post before that was about visiting the Tsukiji fish market. You can find all our honeymoon-related posts on my blog at #thecookeshoneymoon. ☺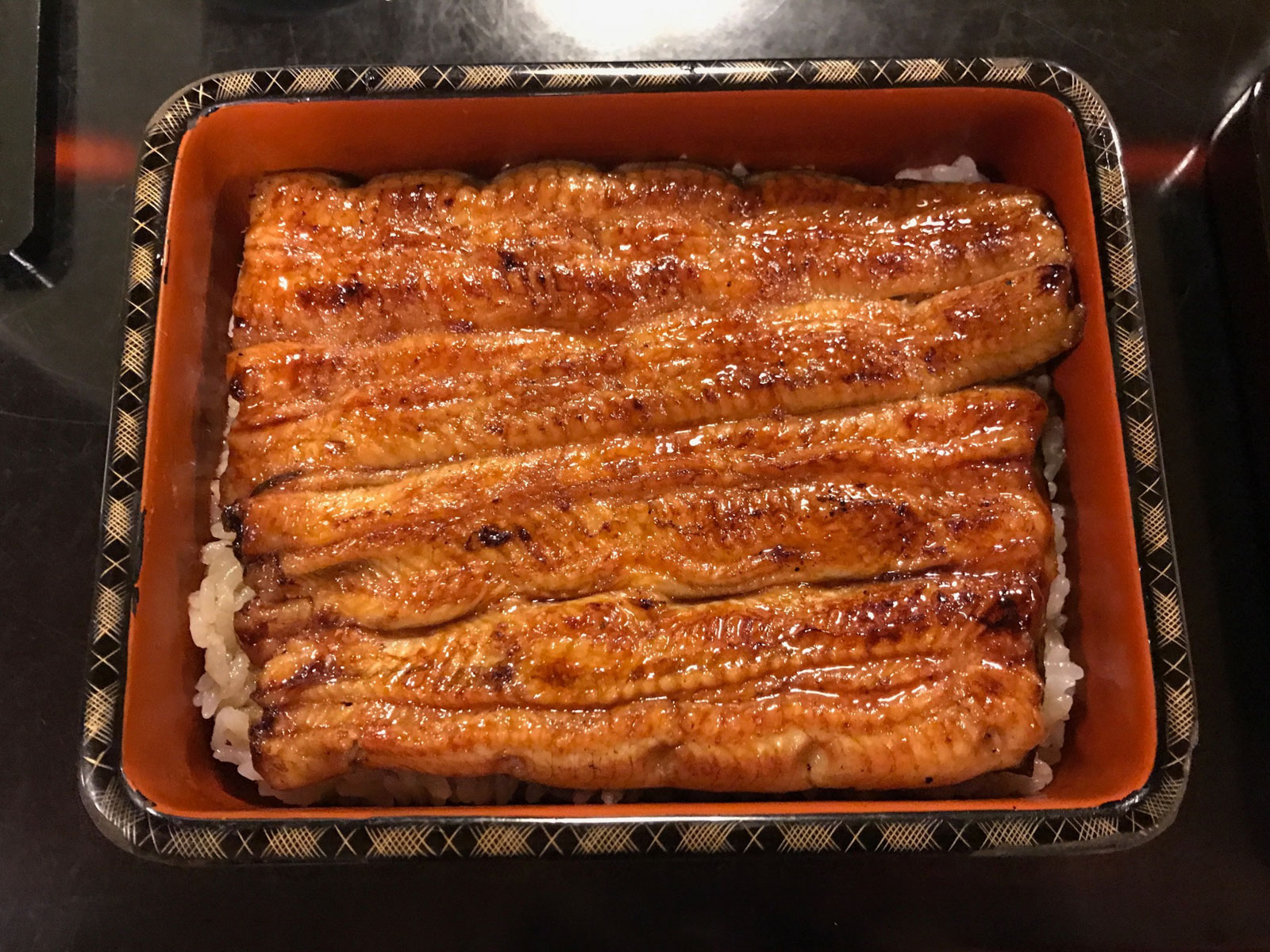 Grilled eel, or just eel (unagi – うなぎ), for that matter, is not everyone's cup of tea, but in Japan it's considered quite a delicacy. The first time I ate eel I realised it tasted like chicken, just oilier. And yes, I do squirm a little bit when I see eels in aquariums, but looking at cooked eel, you wouldn't even picture what eels look like.
Nick watches videos on YouTube by Mark Wiens, who video blogs a lot about travelling and food. His motto is "I travel for food". It was from one of his videos that we found out about a Japanese restaurant named Obana, which specialises in eel dishes. Mark Wiens explained that Obana is highly rated and considered one of the best – if not the best – eel in Tokyo. It also has earned itself one Michelin star.
We aimed to arrive at Obana before their opening time at 11:30am, well aware that a line might already be forming even if we showed up early. The restaurant doesn't take reservations, so you just rock up. Outside of the restaurant there was a small shrine and garden, and small grey stones paving the ground welcomed us when we arrived.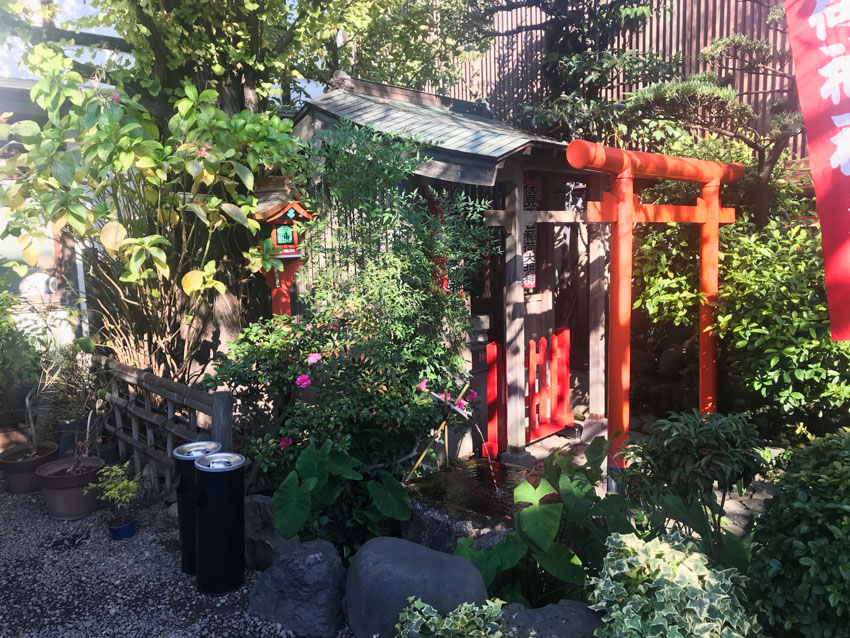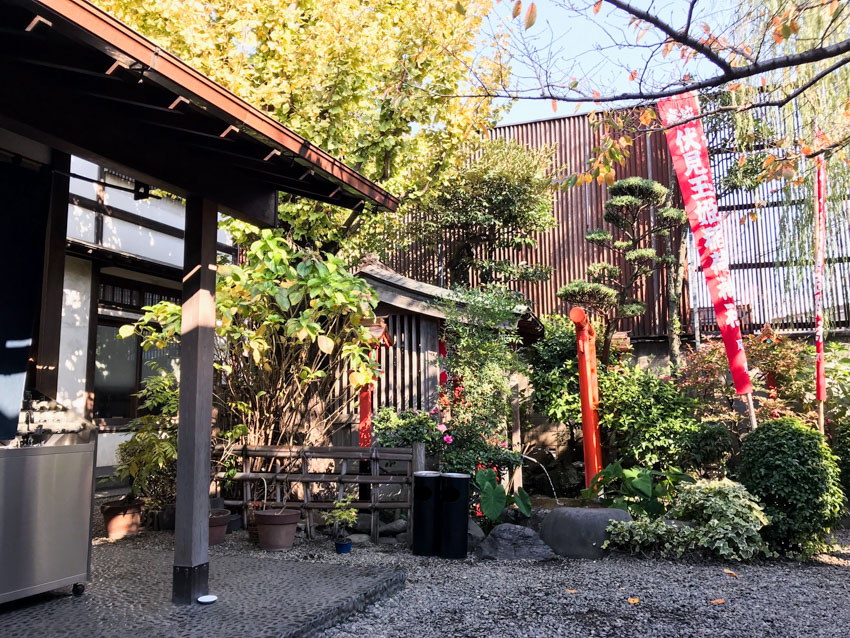 There were probably about twenty people already in line, sitting on the wooden benches out the front. We weren't crazy hungry, but knew that by the time we got a seat inside, we very well would be. I don't remember the wait being that long. It might have been about half an hour?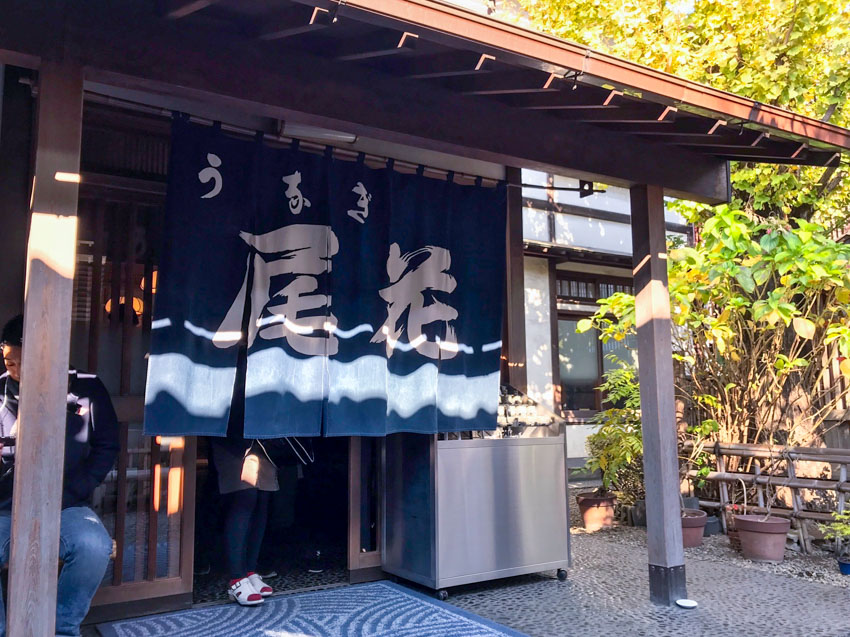 Upon arriving at the entrance, we had to remove our shoes. We got a ticket to collect our shoes later and one of the staff put guests' shoes neatly into a shelf. Then we were seated and given a menu.
Obana had a traditional fit-out with storage behind sliding doors, tatami mats on the floors, low tables and cushions to sit on. Nick hadn't really been a fan of sitting on the floor – because it's uncomfortable for him, having long legs – though I really loved this kind of experience. Quite a few restaurants we visited had an option between a traditional Japanese setting or what they often called a "Western" table, I think, and we usually chose the Western setting for comfort. Unfortunately, at Obana, there was only one option: to sit on the floor.
Nick and I both ordered the same sized unaju (grilled eel with teriyaki sauce on a bed of rice). I ordered an entree as well. I can't quite remember what it was called, but it was eel as well, in some kind of soup, with pickles. It was delicious. 🤤 I think it might have been uzaku, which, on the menu, translates to "chunks of grilled eel with sliced cucumber in vinegar".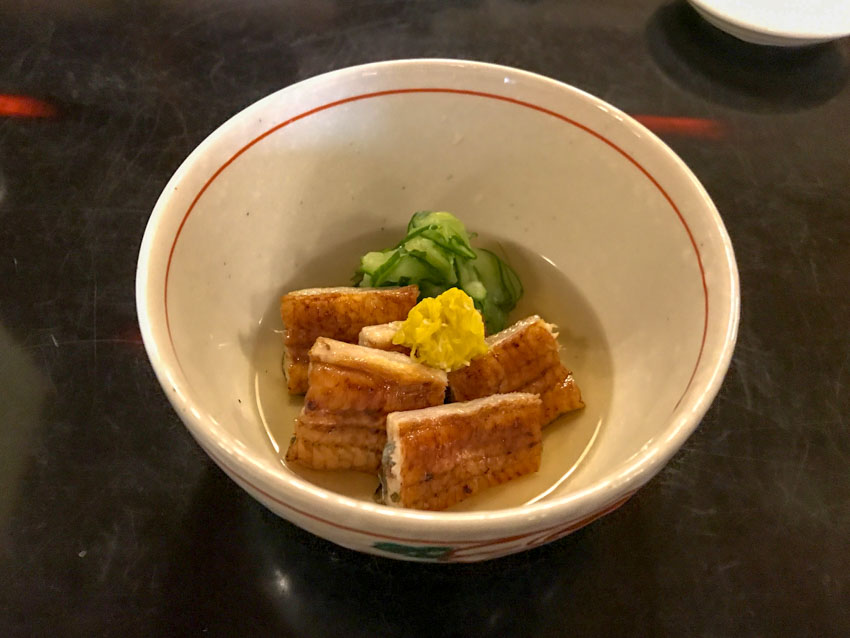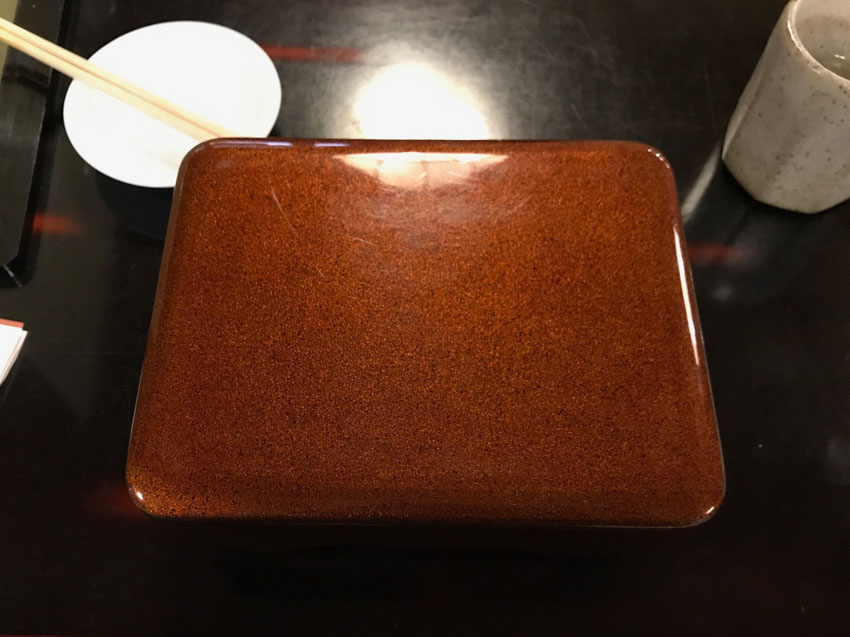 The unaju itself was super, super tasty. 100% no regrets. The eel was buttery smooth, there was no crazy amount of sauce to flavour the rice – it just all worked together very well. I think I really took my time eating it, savouring the flavours in my mouth. It made it super enjoyable, though, I'll be honest with you – I could very well have eaten some more because it tasted that good.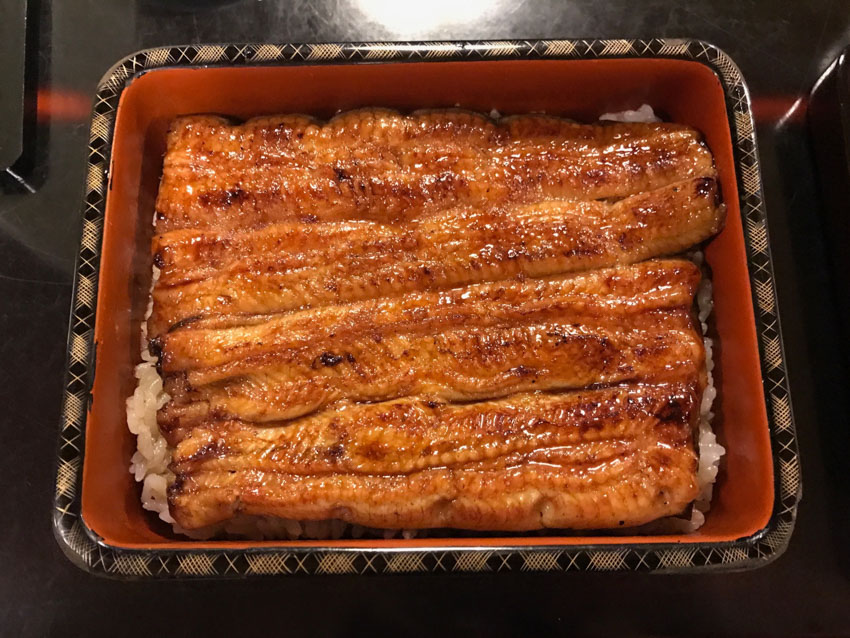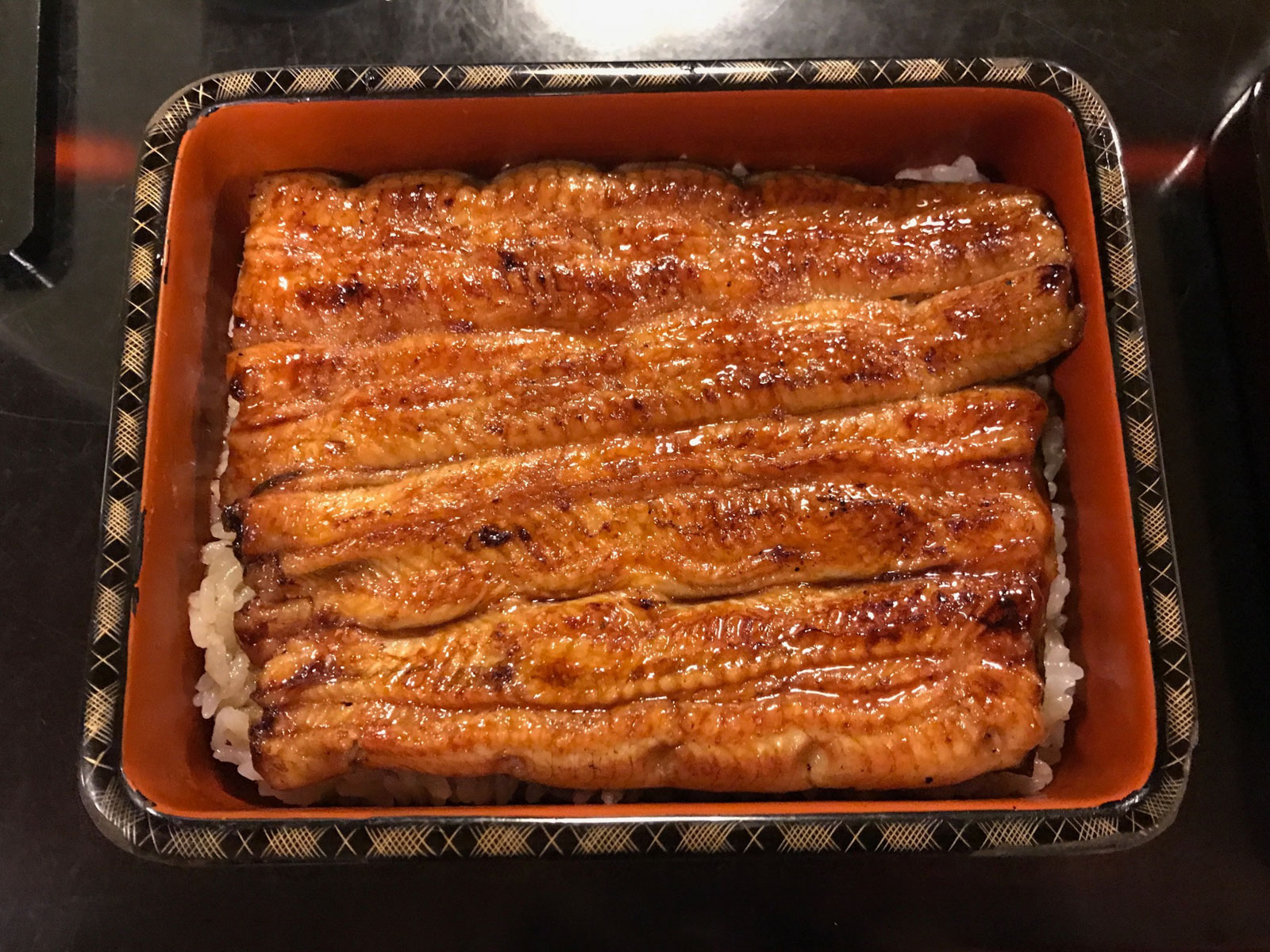 Obana only accepts cash, so Nick had to pop down to a Family Mart convenience store to get some cash. The bill came to over $100, but it was worth it for the quality and taste of the food, and the experience.
I highly recommend visiting Obana!
Obana
5 Chome-33-1 Minamisenju
荒川区 (Arakawa)
Tokyo 116-0003
Japan
Would you try Obana? Or have you ever been to a Michelin-star restaurant?
---
Photos in this post were taken by me or Nick on our iPhone 7s.
Although we returned from our honeymoon four months ago, you can see the rest of our honeymoon adventures with the hashtag #thecookeshoneymoon on Twitter (mostly me) or on Instagram (mostly Nick). 💖
Other posts in this series: