🇯🇵 Harajuku: Takeshita Street and Kawaii Monster Café
This post is the seventh in a series on our honeymoon trip in Japan. The previous post recounted our adventures in and around the Shinjuku area. There is more to come recapping our nine days in Tokyo!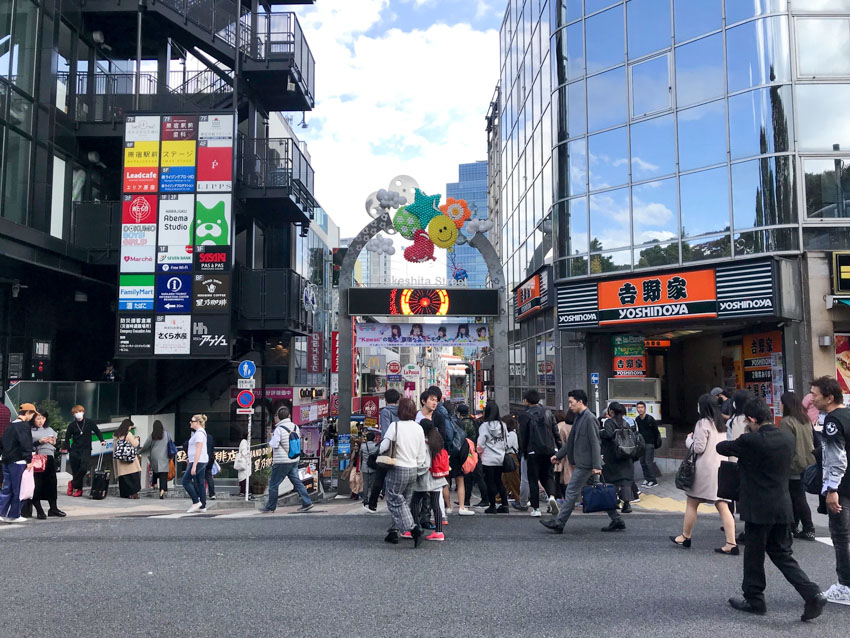 Takeshita Street
I was looking forward to visiting Harajuku again, though at the same time I think a little part of my heart sunk. Last time I was in Harajuku, gothic lolita was within my style, but I couldn't afford to buy a lot of clothes, so my wardrobe was a lot of cheap quality trendy things that didn't last a while. As I've gotten older, my style has changed. I'm not sad about how it is now, but it's a more classy look. I'd never taken the opportunity to embrace and fully immerse myself in some of the very individualistic and wacky styles that come out of Harajuku.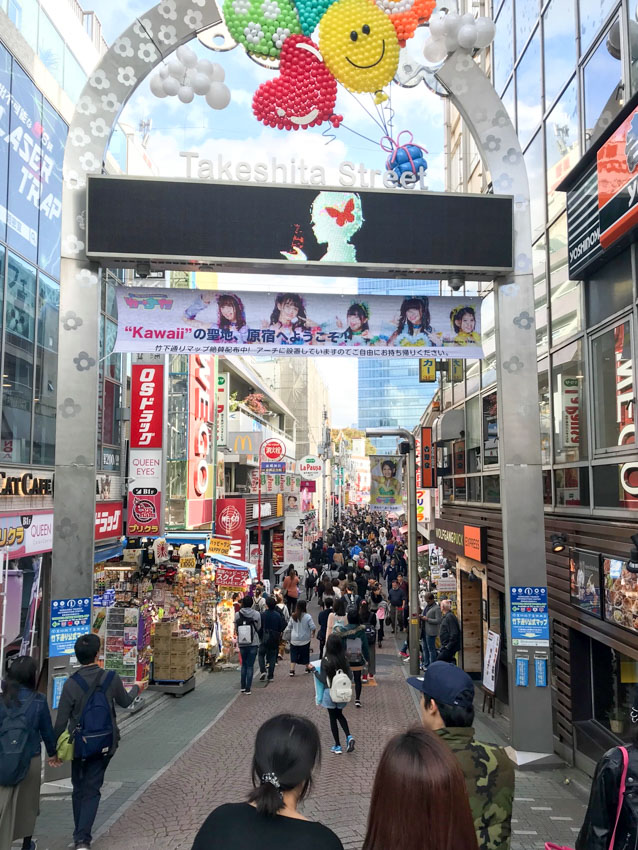 But I let that slide. It turns out that the cool kids around Harajuku have more or less disappeared and the influence has been on the decline since 2000. It's more of a tourist destination now, and you don't see a lot of people with unique fashion sense.
Takeshita Street still has a lot of accessory shops and stores you can buy some interesting clothes. I bought a few pairs of funky socks from a store called WEGO. I wish I had bought more, though – I bought a sparkly pair and a light blue pair with a white cloud print. I really like the sparkly socks and wish I had bought at least a couple more pairs. 😆 I have had the weirdest obsession with cute ankle socks recently.
Last time I was in Harajuku I did buy some clothes and jewellery, but as I mentioned, the clothes were not really to my taste anymore. Nick and I did enjoy crepes, though. I wanted to go for a sweet crepe, but my stomach really wanted a savoury one!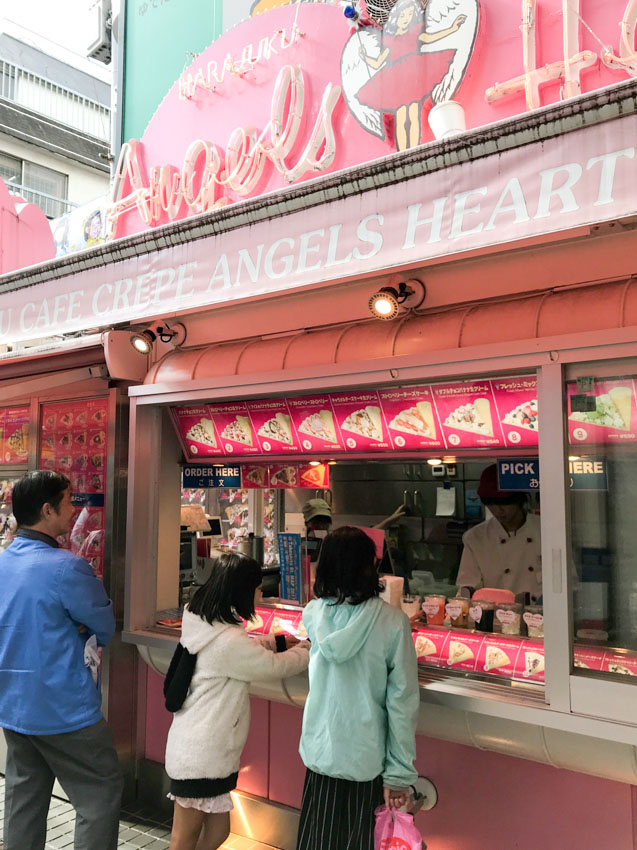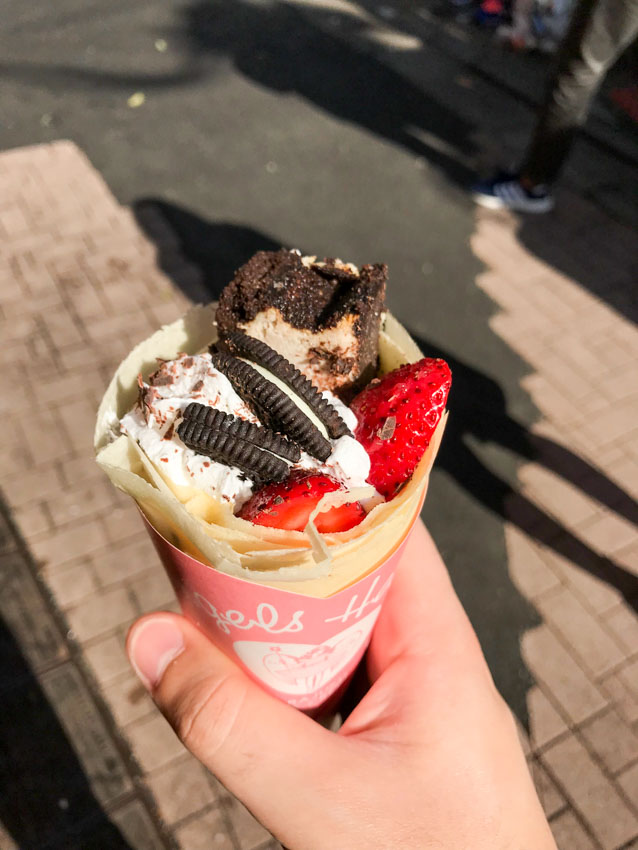 Meiji Jingu shrine
On the way to Meiji Jingu shrine we passed a café that specialised in cookies. I couldn't resist the smell and I actually wanted a snack. The girl at the counter welcome and spoke to us in English. It turns out she was from Australia too. We ate the cookies as we walked and oooohhmigod. They were delicious. 🍪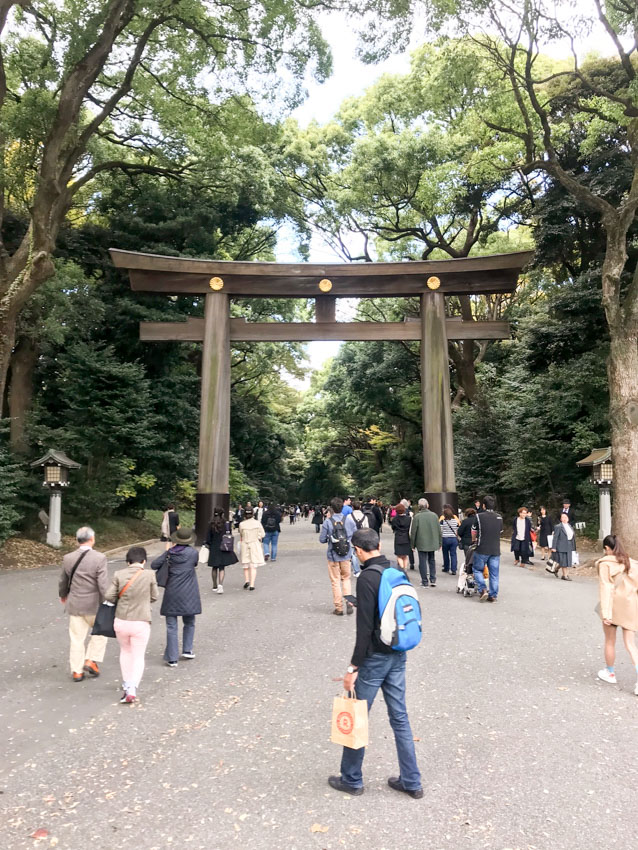 We went to Meiji Jingu shrine after exploring Takeshita Street, and explored the surrounding grounds. Someone was getting married and the couple was in traditional Japanese dress. There were some wedding guests waiting outside a hall, who looked like international visitors. They spoke English and they caught our attention because while we had seen a lot of tourists, we saw a lot of people who weren't Japanese but dressed up in suits. There were even some children dressed up in yukata, and some of them were very cute.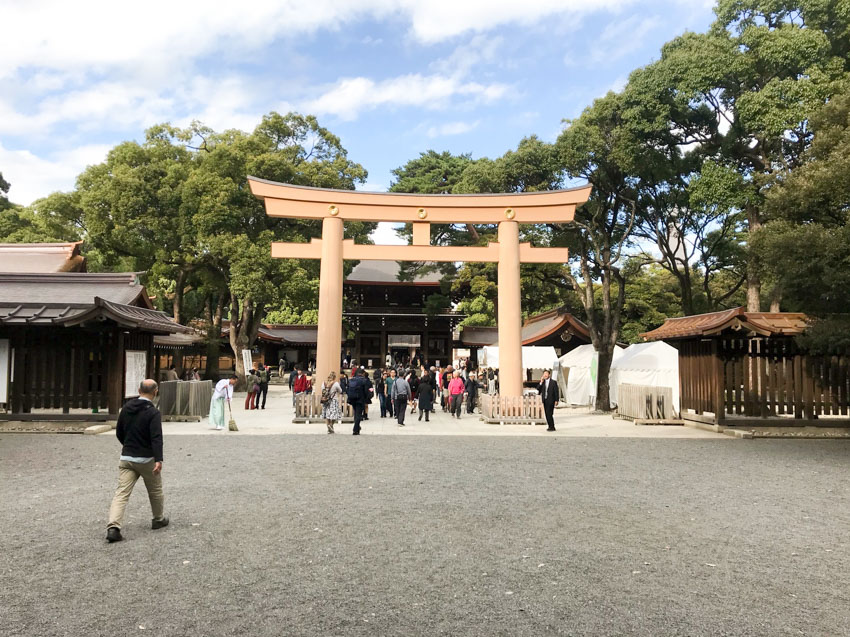 Whilst at the shrine we paid a hundred yen to get our fortune on a piece of paper. I don't really remember what mine said, but Nick's said something about a mirror being reflective of the present. It seemed appropriate at the time. 😜
We passed a bonsai display as we walked around, and overall it was just nice walking on the gravel and feeling the breeze of the high trees.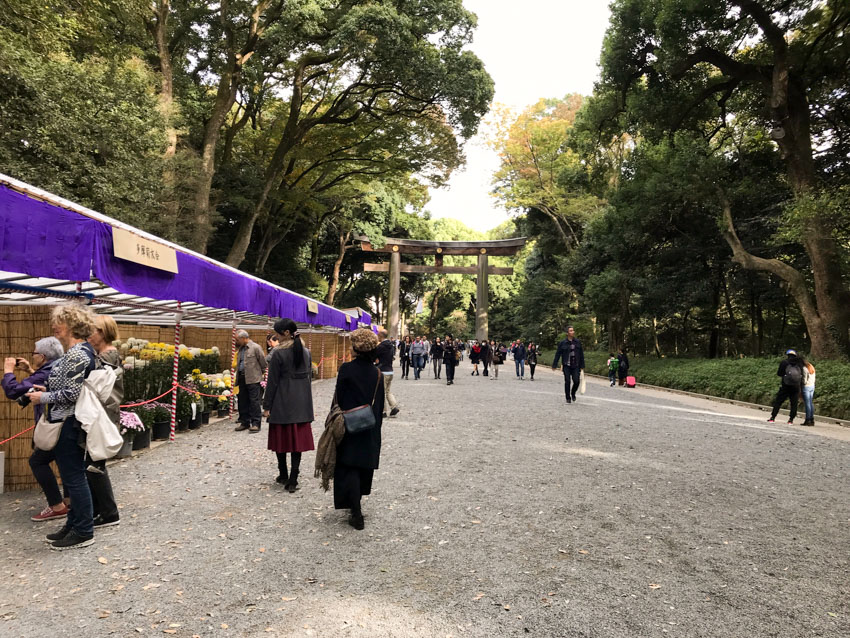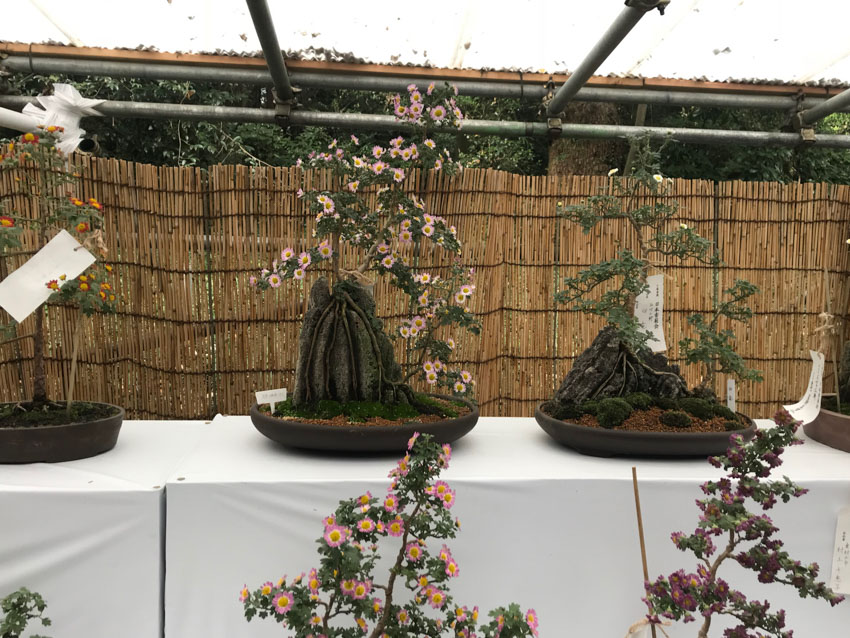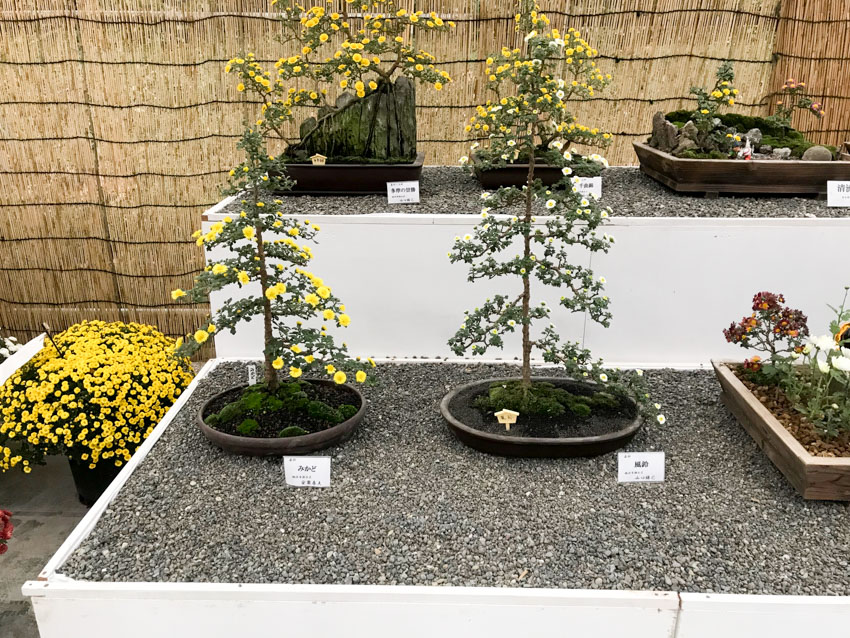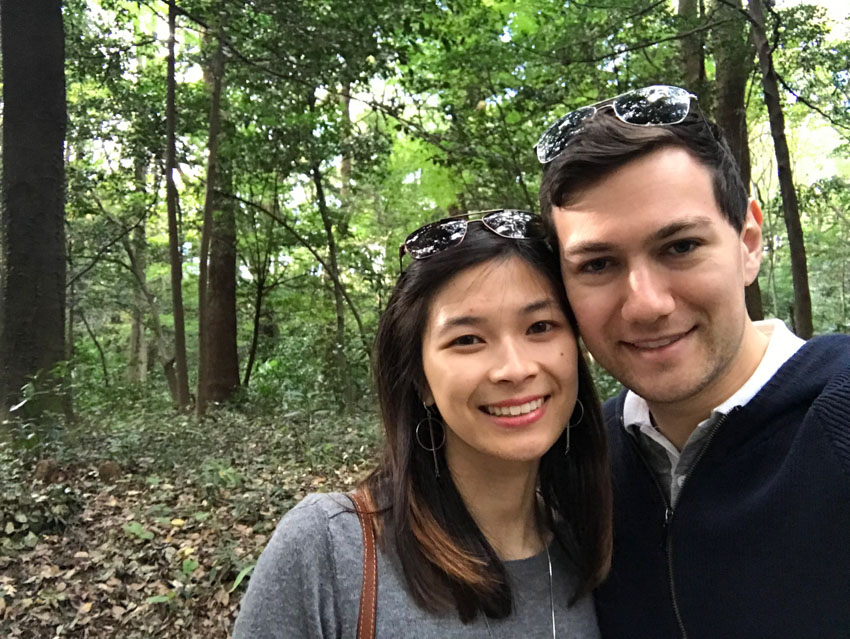 Harajuku Kawaii Monster Café
We visited Harajuku again on a different day, when it was quite rainy. We got a little lazy in the morning, so this was a bit of a late start… I guess we sort of skipped having a proper breakfast and then went to the café. Though, I should point out that breakfast isn't a huge thing in Japan so you won't be finding many cafés or places to eat breakfast at. So maybe what we did was kinda normal? 😛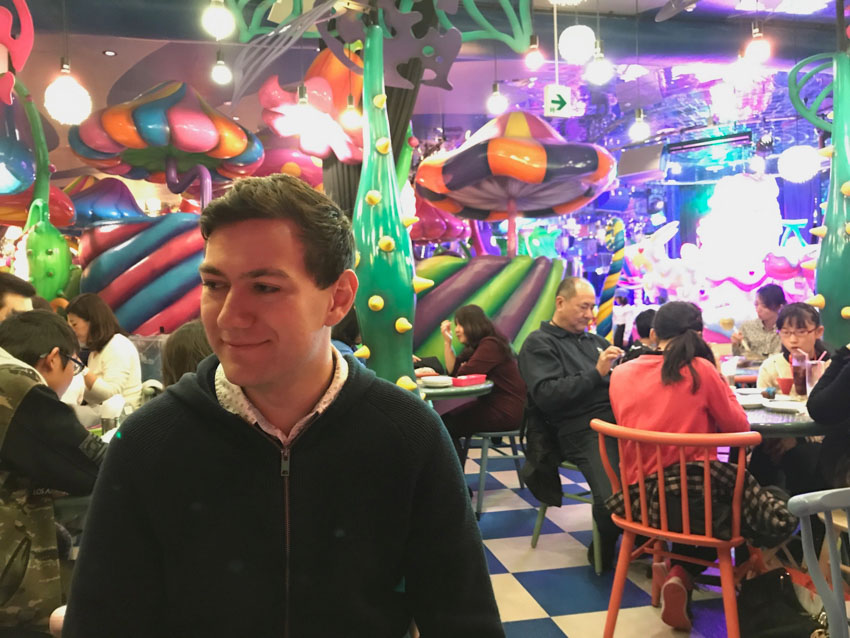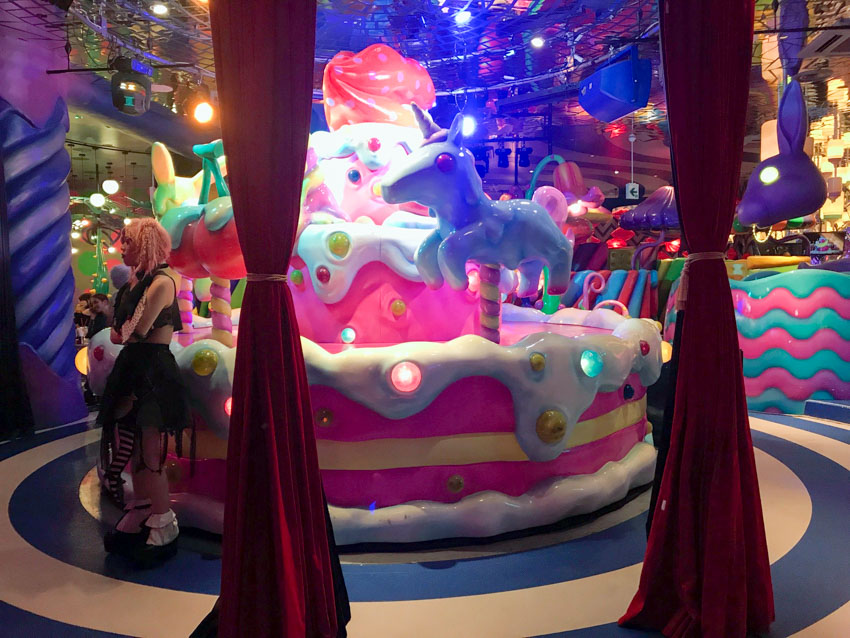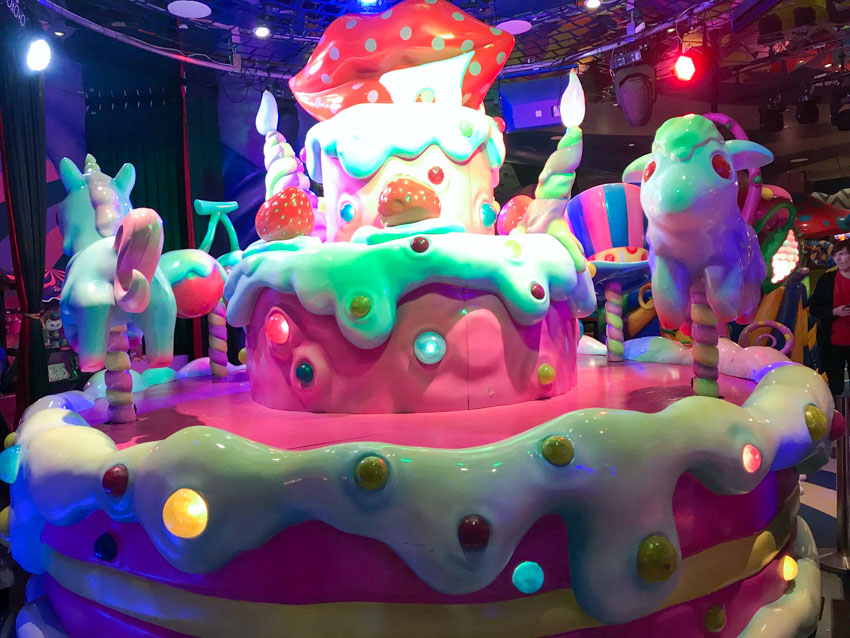 The Monster Café is known for its colourful food and crazy decor. It is considered one of the things in Harajuku that still holds what people know as the "Harajuku style" – big, bright colours, waitresses in eccentric dress, and the overall zany feel that has been lost from Takeshita Street over the years.
When we arrived, we noticed there were various themed areas of the café, but not all of them were available to us. We just made a choice, I can't remember what each area was. I think we chose the one that had something to do with a garden. I vaguely remember the other areas being something like a tea party and one like a bar.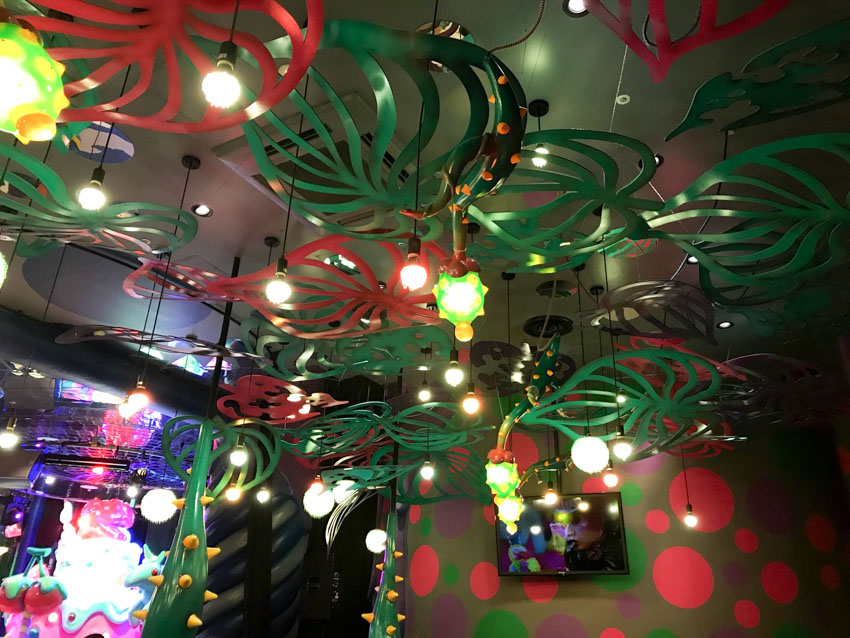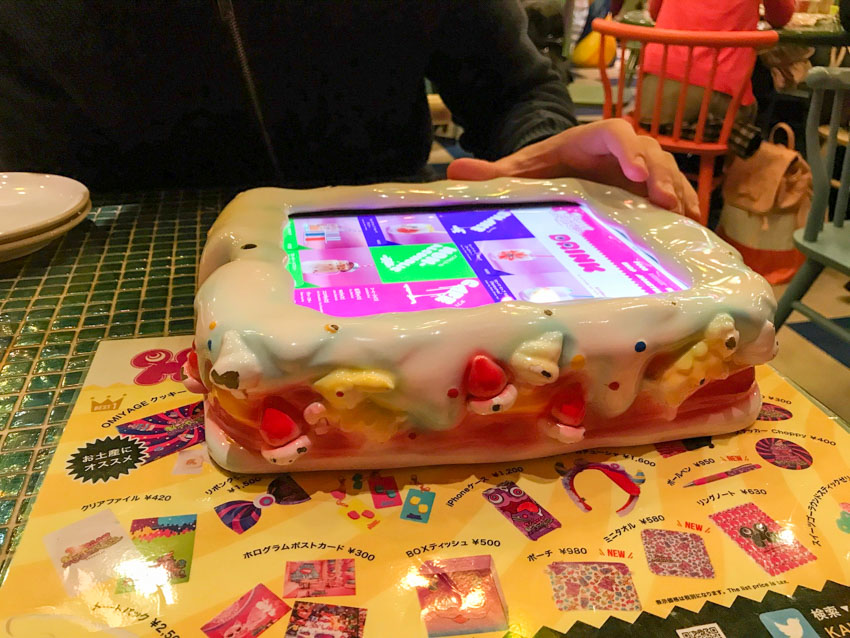 The menu was a big block that resembled a cake. I take it that it was an iPad in cake-shaped housing. Nick and I ordered got some fruity drinks and both ordered colourful pasta. Of course, Nick ordered the white carbonara sauce while I went for the tomato sauce. 😎 It tasted like regular pasta, not top-of-the-line stuff. It was just really interesting that we were eating rainbow-coloured pasta! 🌈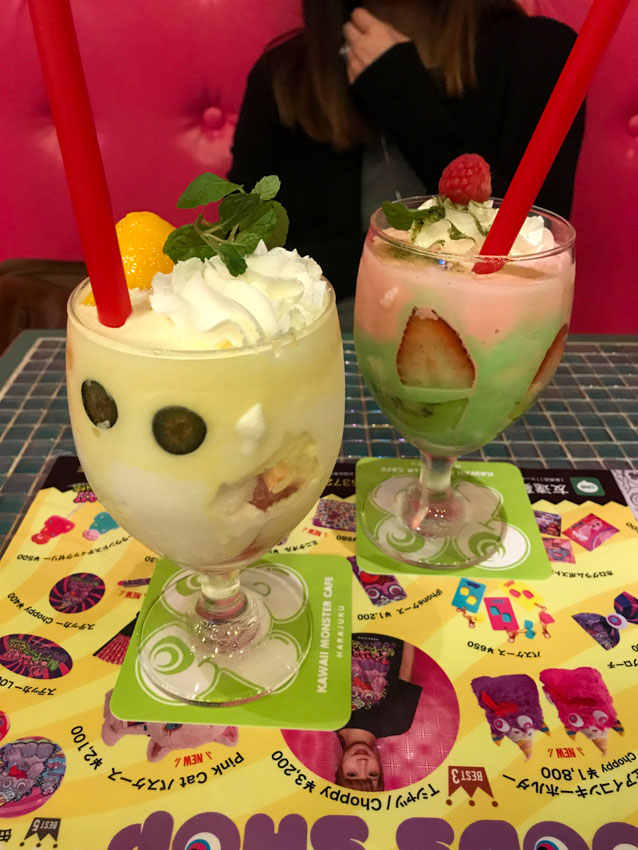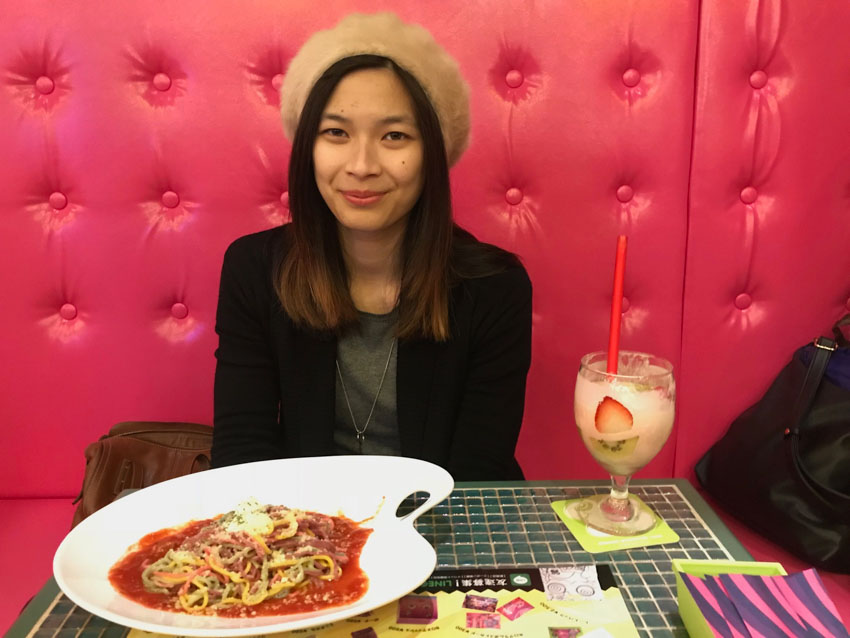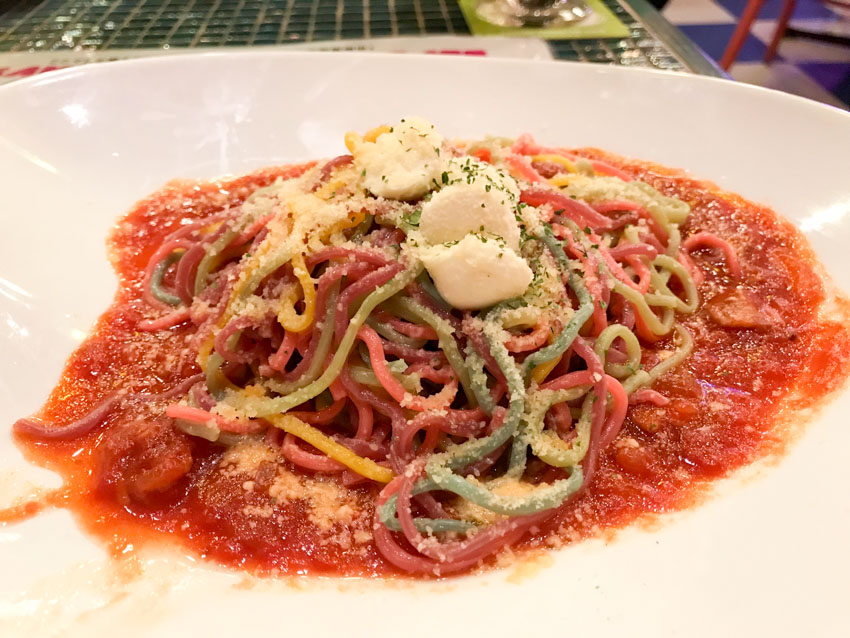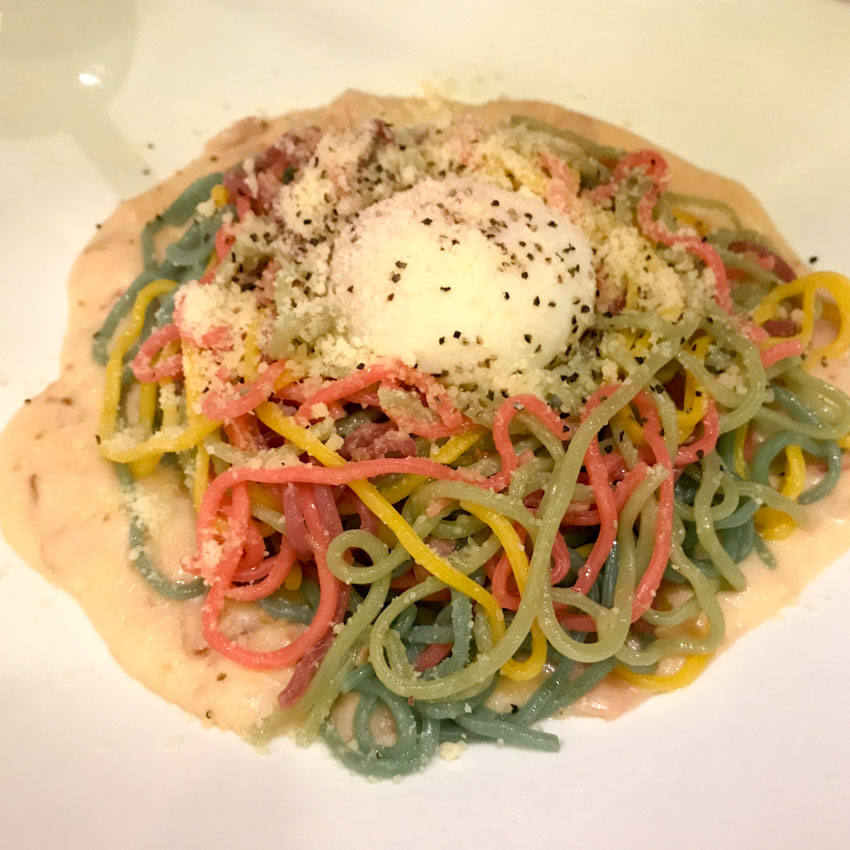 There was a bit of a performance where the waitresses hyped up the people in the café and started playing loud music. Children were encouraged to dance to the music, and colourful lights animated the café. Then someone dressed up in a giant purple monster costume came out. I assume it was the café's mascot. We took the opportunity to get a photo. 🤪
I wouldn't say the café is 100% worth visiting, but if you are in the area and want to add another themed café to your list, go for it. My photos didn't capture the decor very well. I've probably just made it look tackier than in real life!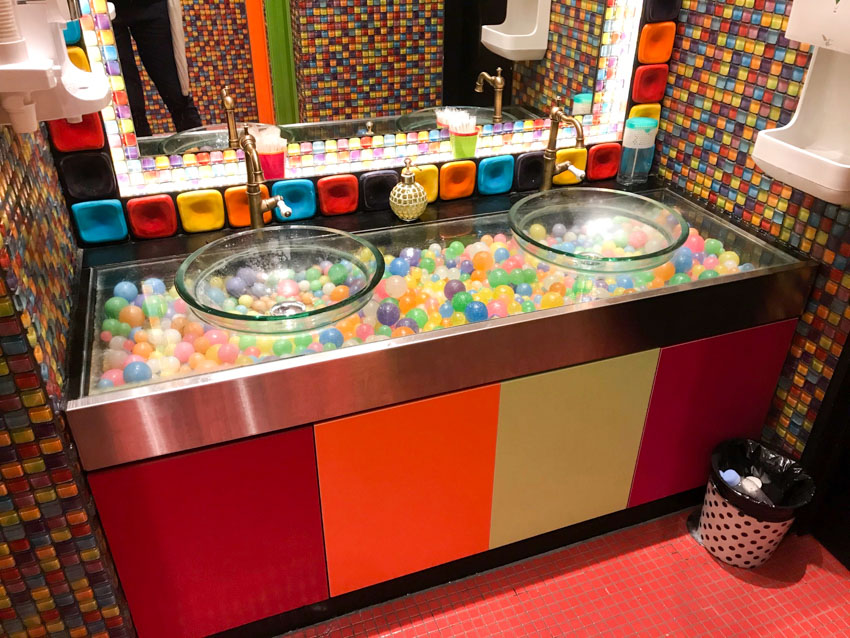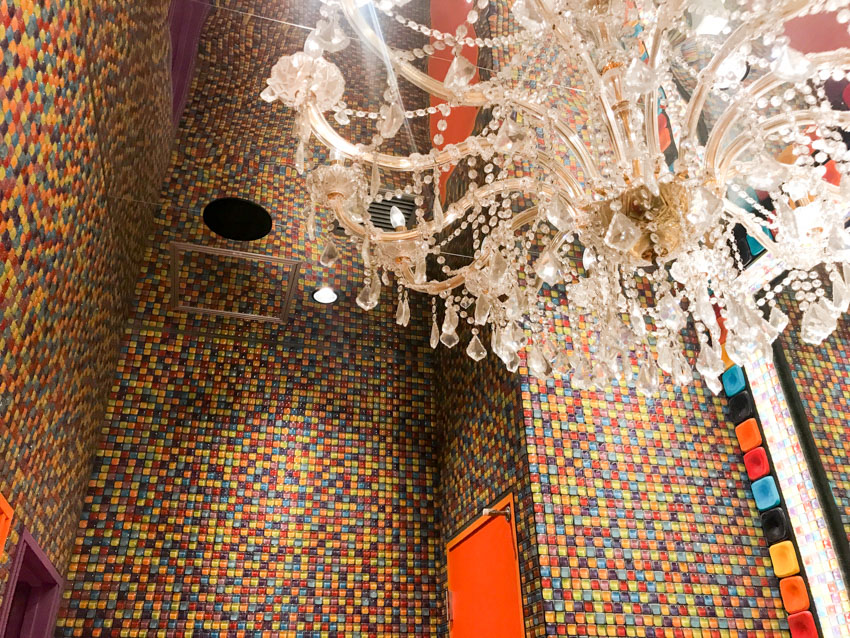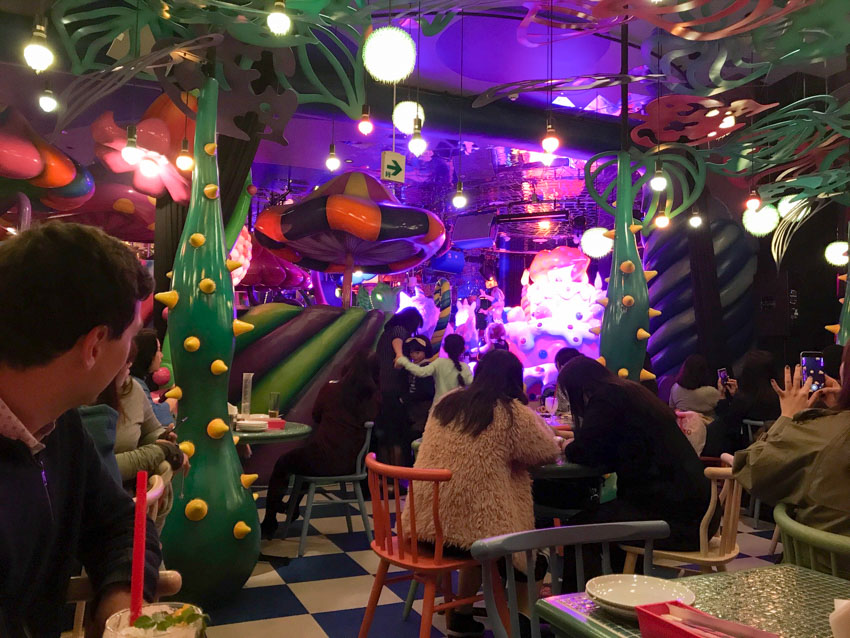 We did actually explore some of the streets in Harajuku, looking for clothes and just browsing. I found a lot of thrift stores but nothing that I really felt like buying. 🤷🏻‍♀️
Stay tuned for another post on Japan soon! 🏯
---
Photos in this post were taken by me or Nick on our iPhone 7s.
Although we returned from our honeymoon a while back, you can see the rest of our honeymoon adventures with the hashtag #thecookeshoneymoon on Twitter (mostly me) or on Instagram (mostly Nick). 💖
Other posts in this series: