🇯🇵 Shinjuku: Golden Gai and "Piss Alley"
This post is the sixth in a series on our honeymoon trip in Japan, and begins to recount the last leg of our trip: Tokyo.
We also visited Seoul, South Korea. Have a read of part 1 and part 2 of our Seoul adventures, read about our first two days in Osaka, our day trip to Hiroshima and Kobe, our three days in Kyoto, our short trip in the rural town of Gujo, and our pleasant stay in Hakone.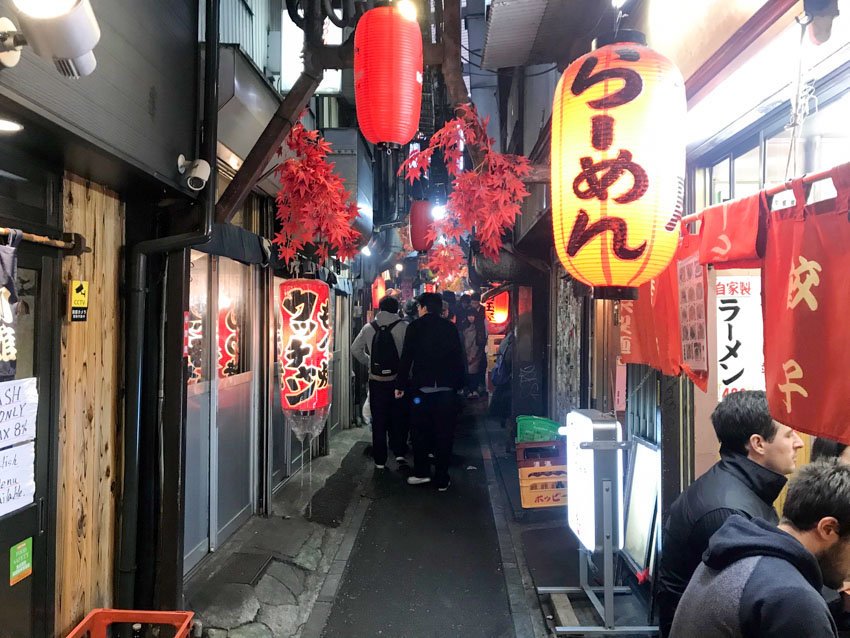 Tokyo hit us like a pile of bricks. Nah, I'm just kidding. Because of length, I've decided to split the nine days in Tokyo over a handful of posts. We visited many areas in Tokyo, sometimes several in a day, so posts about Tokyo won't be the traditional style of recounting the days. I'm aiming to detail the highlights. ✨
Travelling from Hakone to Tokyo
We caught the romance car train from Hakone to Shinjuku station in Tokyo. Since we were staying in Shinjuku, it was convenient and hopefully wouldn't require a lot of walking. We had bought snacks (well, basically lunch) to eat for the ride. It felt like a fairly long trip, even though we tried to pass the time by using our laptops or reading and using the internet. But we all know there is only so much the internet can do. 🤪
Now I should add that I had this brief obsession with the Setagaya family murder. Had? I mean, I'm still intrigued by it… The murders occurred on the last day of the year 2000 – a man and his family were killed – and to this day, the killer has not been found, despite a large amount of unusual and specific evidence being left behind. The mystery intrigued me so much. I pointed out to Nick that we would be staying a ten minute drive from where the family was murdered. Actually, now that I mention it, I'm pretty sure I spent the whole train ride reading in-depth articles about the murders.
Nick had his fair share of quaint obsession too (though probably not as bad as me); we were close to passing Amagasaki train station, where a fatal rail crash occurred in 2005. We had watched an episode of Seconds From Disaster that detailed the cause and events leading up to the crash.
Staying in the Shinjuku area
Anyway, once we got our bearings around Shinjuku station, we managed to find our way to the Airbnb apartment we were staying in. Since the station is really crowded and very big, there are many exits.
Once we located the correct exit, our Airbnb apartment wasn't too hard to find. Our host had left some very detailed directions. We settled in immediately. Our apartment was fairly well-located. There was a Lawson convenience store just around the corner, and a FamilyMart a little further away. It was a close walk to the station and other cafés and restaurants. There was a Starbucks nearby which proved useful for when the internet provided by our Airbnb didn't work very well.
We found that although Shinjuku is a great place to stay in Japan – very central and an easy train ride to other areas – the spot we were in didn't have a large selection of eateries or cafés that were open later into the evening. We often went to Shibuya or elsewhere for dinner.
Blue Bottle Coffee
Blue Bottle Coffee is much raved about in San Fransisco but there is one in Shinjuku. I took the opportunity to get a macchiato one day when we were passing by. Mmmmm some good coffee. I momentarily snickered at the man in line in front of us who pondered the menu and then ordered a macchiato, to which the barista responded, "Do you know what a macchiato is?" and to which he replied, "No", and proceeded to change his mind. 😂 (A macchiato is essentially a shot of espresso with a bit of milk.)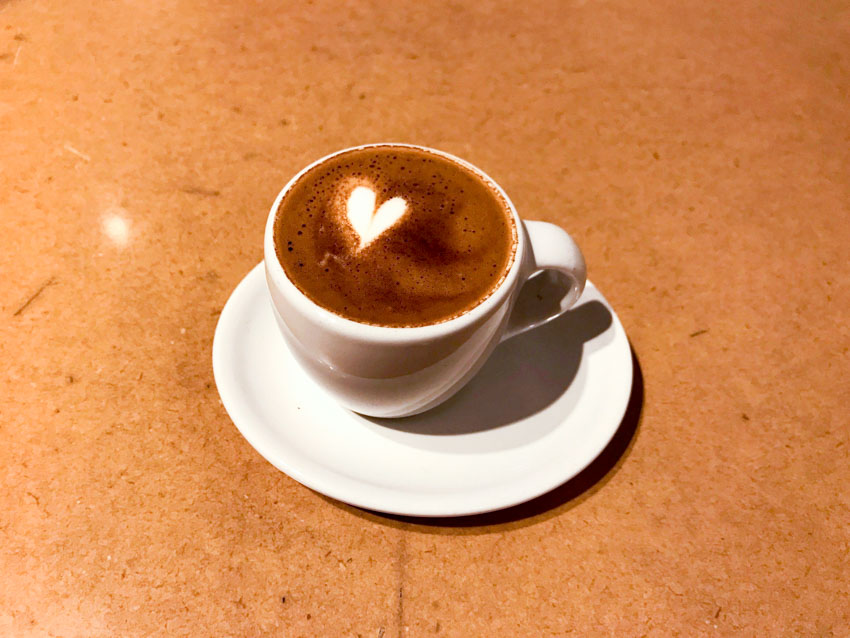 But yes, I enjoyed my macchiato. Nick ordered a hot chocolate and all was well. ☕
Golden Gai
It's hard to explain how Shinjuku Golden Gai feels without actually going there. It seems like a derelict area, extremely foreign, almost shady and suspicious. A handful of narrow alleys in a single block make up Golden Gai, and it is an example of what architecture was like in Tokyo before much of the surrounding high-rise developments were built.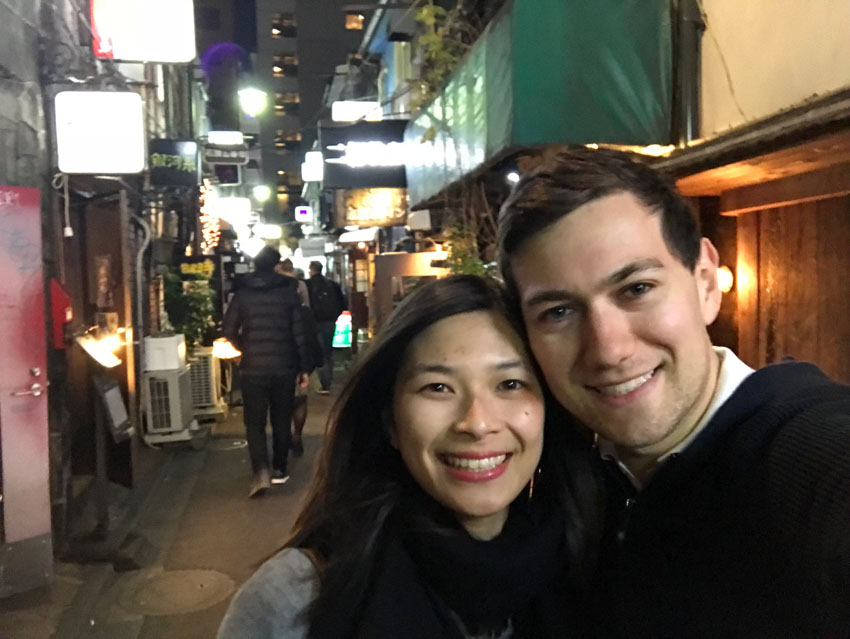 Golden Gai is best described as a drinking area, and more than a couple hundred tiny bars and eateries are squeezed into this space. Each bar only holds a handful of people, maybe 4–6 people maximum, and foreigners have to pay tax in the majority of the bars, or are not allowed in. Some of the bars welcome foreigners. Despite the look and feel of Golden Gai, having a drink will set you back a fair amount, and a lot of people who meet in Golden Gai are musicians, directors, writers, actors, or celebrities, who are quite well off.
Nick and I walked through the alleyways several times in the evening (most bars don't open until later into the night), trying to select a bar that would welcome us. Some of them had people smoking right inside, which turned us off, some were full (at a capacity of six people, you can imagine it would get full easily), and we saw a lot of signs that read, "No foreigners".
We eventually found a bar run by two women, with only two people sitting in it, so there were a few free seats. We had a shot of sake, and our go-to drink in Japan, umeshu (plum wine) with soda. I got loopy really quickly but it set the tone for the night. 🤪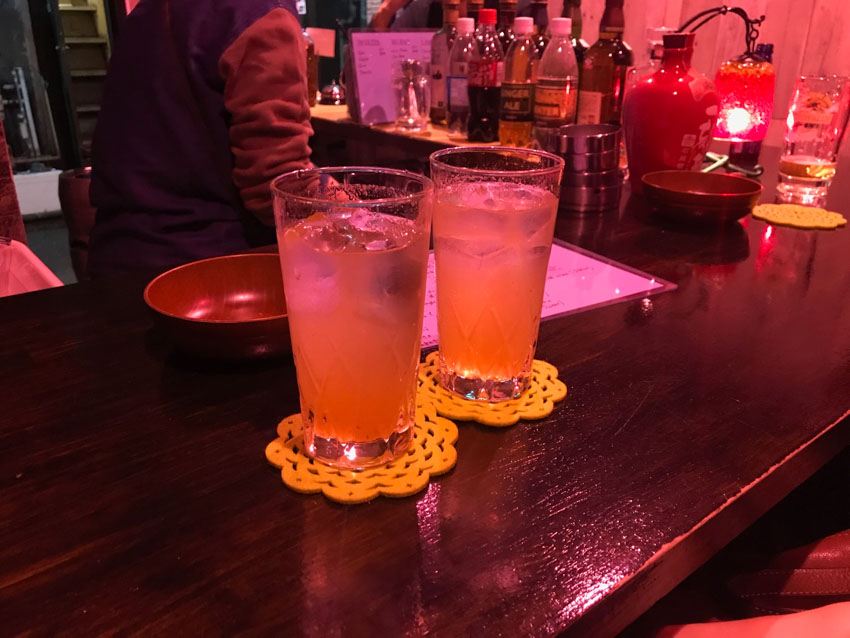 Piss Alley, aka. Omoide Yokocho
Colloquially known as "Piss Alley" among the locals, Omoide Yokocho actually translates to "memory lane". This area feels very local compared to the rest of Shinjuku. We headed straight here after having a couple of drinks at Golden Gai. It's apparently named because of what the area used to be like: a place for criminals to gather and have a drink and relieve themselves in the street, as at the time, there weren't facilities around.
There are toilets now (I used one), but they aren't super sparkly clean. Still, the area is where many people gather to not only have a drink but eat food. Almost everything is izakaya style (think tapas/share plates) restaurants where many meats are served on skewers.
I was feeling extremely hungry so we ordered a good load of skewers, as well as another serving of umeshu with soda. I told you we loved that stuff. 😎 All the food tasted so good. There were a couple of appetisers that came as part of the cover charge, I can't remember if I ordered off the menu as well, but the appetisers were really tasty too. Nick and I had a lot of fun in each other's company. I mean, we're not really that wild… haha… but we enjoy having a bit of a drink together every now and then.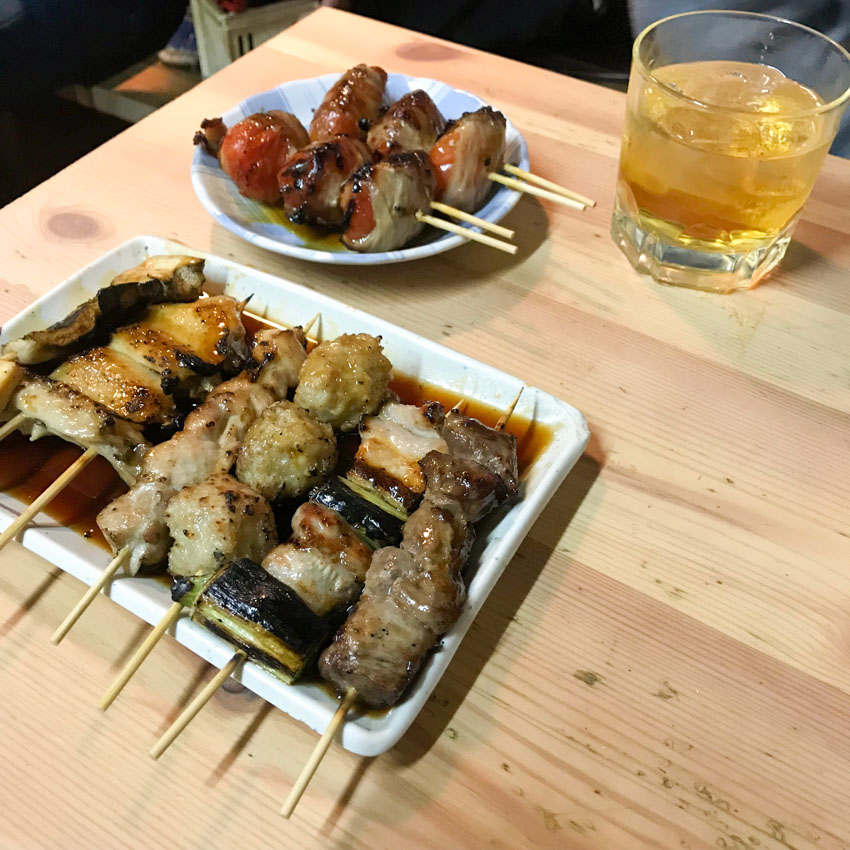 That night I found myself just wanting to eat beef skewers all the time for the rest of the trip. 🤤
Shinjuku Gyoen National Garden
We visited Shinjuku Gyoen one morning. You have to pay to enter the park, and I remember enjoying it last time I visited.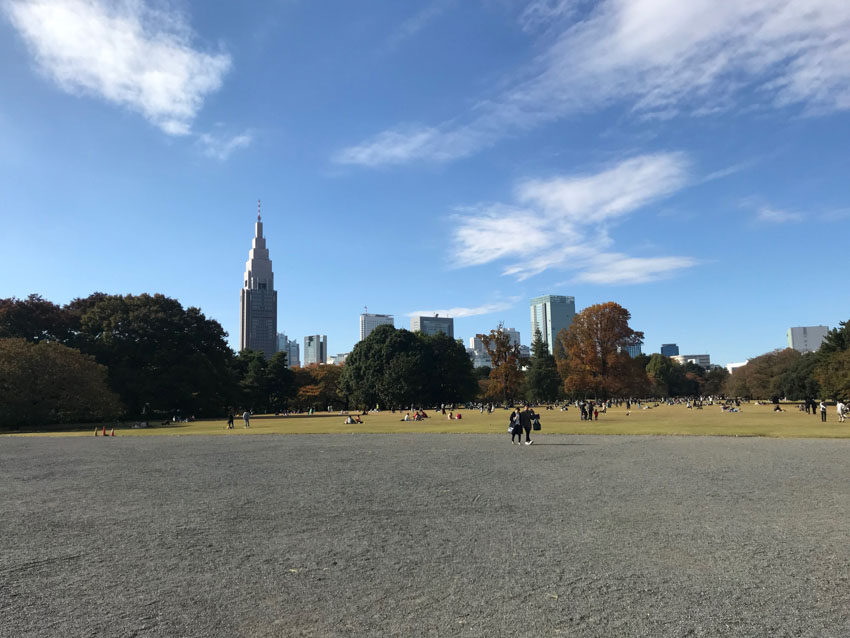 People take the time to enjoy being close to nature, and it's a huge park that is like a green oasis in the middle of the city. We spotted some people playing musical instruments, and families having picnics with their friends. And people on bicycles.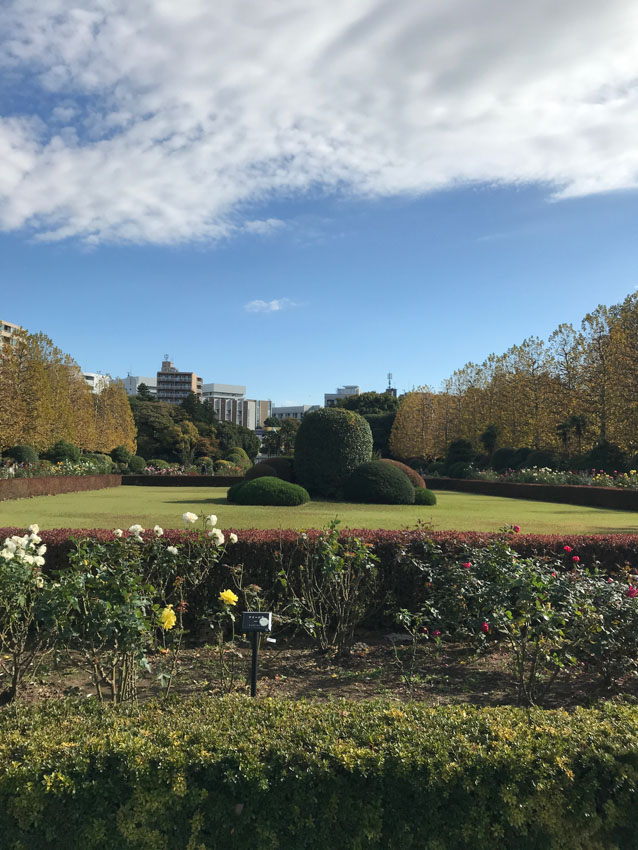 For some reason, this time I felt really underwhelmed by the gardens. I'm not sure why, maybe it was duller than I had remembered, and the first time had felt like the park was huge, but it seemed smaller this time. I'm tempted to say it might have been the time of year and the fact that it was quite cold, but last time I visited, it was almost snowing, so… 😝
歌舞伎町 (Kabukichō)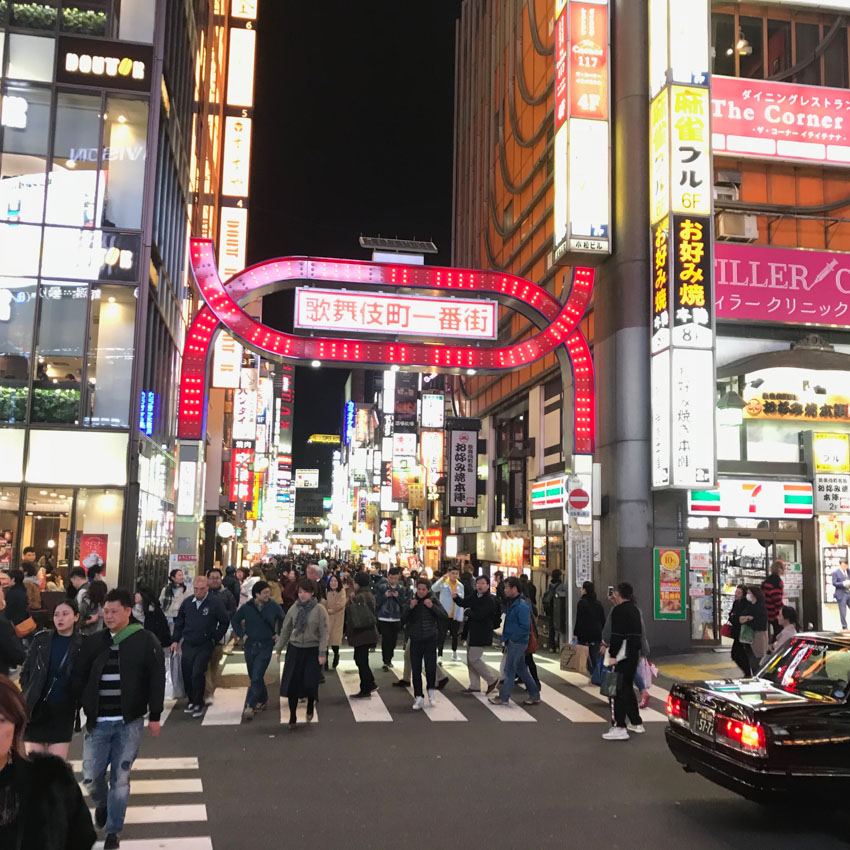 Kabukichō is known as the red-light district in Shinjuku. We did go to the (in)famous Robot Restaurant, but I'm saving those antics for another post. 🤖🍸 The area is considered to be a bit shady, and there can be some tourist traps when it comes to prices, but that's mainly for services (if you get my drift).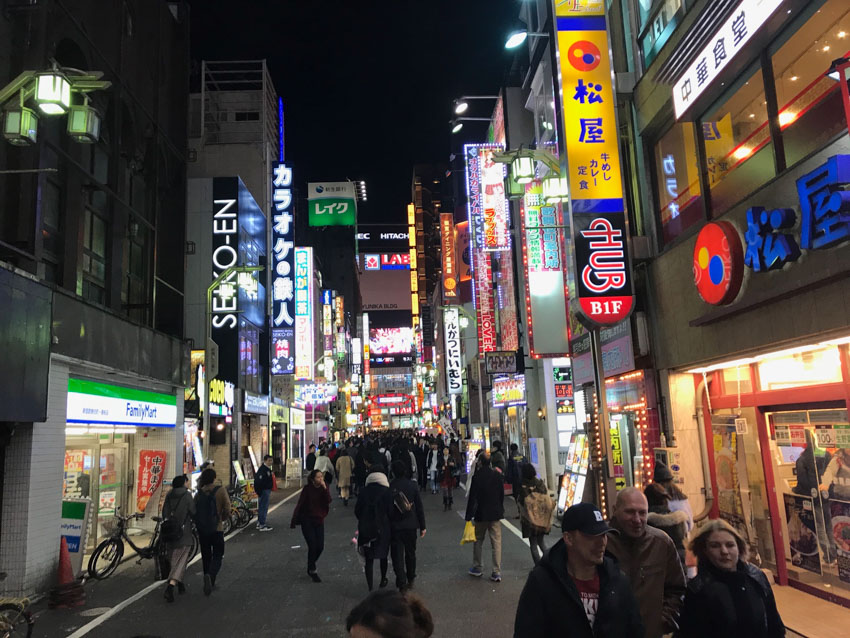 We enjoyed just walking around the area and observing people in the street. It's a very lively area, especially at night. There are a lot of bars and love hotels. The more you see them, the more obvious the love hotels are. Love hotels are a form of accomodation bookable for an hourly rate, several hours at a time, or overnight. It is quite affordable and some people stay in these hotels if they want to save money. As you can probably tell by the name, hotels are often where couples spend private time together. And yes, they have showers, bathrooms and beds just like a regular hotel.
Although we walked around the area we didn't eat or drink in the area because it looked expensive.
I'm hoping to have all my posts on Tokyo done by the end of the month. Hold me accountable, yeah? I promise I'll have another one out this week! Hold me to it 👊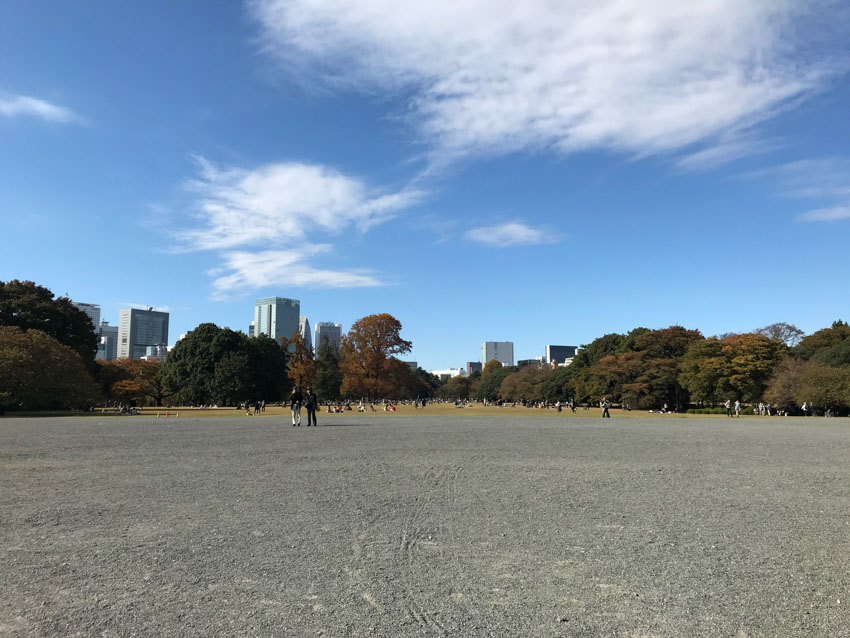 ---
Photos in this post were taken by me or Nick on our iPhone 7s.
Although we returned from our honeymoon a while back, you can see the rest of our honeymoon adventures with the hashtag #thecookeshoneymoon on Twitter (mostly me) or on Instagram (mostly Nick). 💖
Other posts in this series: