This is Gujo, a place in Japan you've probably never heard of
This post is the fourth in a series on our honeymoon trip in Japan. We also visited Seoul, South Korea. Have a read of part 1 and part 2 of our Seoul adventures, and read about our first two days in Osaka, our day trip to Hiroshima and Kobe, and our three days in Kyoto.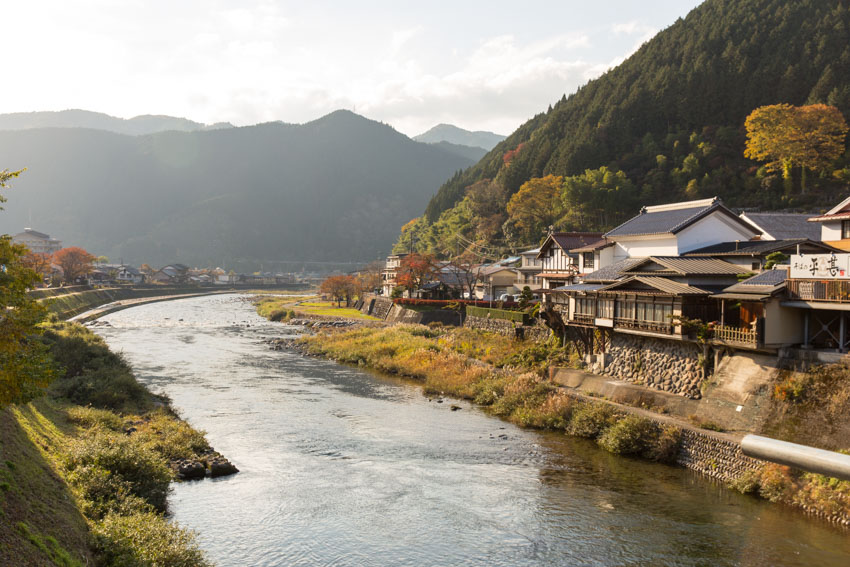 I have a soft spot for Gujō (郡上市). Known as "the water city", all the waterways operate the same way they did in the 17th century. The fresh water that the population of the city uses is used for everything from washing clothes to drinking water. I actually didn't know this until recently, because when I first went to Gujo several years ago, I only really knew it as being one of the cities that produces a lot of the food replicas (plastic food) that is so common in Japanese eateries.
Gujo blew my mind in winter 2013, and this time it was the same. A small fear in me emerged, that maybe the snow-capped town I'd seen would be etched into my mind as the only version of Gujo that was pretty, and the only version I'd fallen in love with, but this visit proved me wrong.
No snow, at all, but red autumn leaves. Clear sky.
---
To get to Gujo from Kyoto, we caught the shinkansen to Nagoya, then caught the Nohi highway bus from Nagoya train station. The bus would take about 90 minutes to get to Gujo. It was actually a little difficult trying to figure out how to buy the bus tickets, but we booked it through Meitetsu.
Getting to the city centre proved difficult from the highway bus stop, though, as it was a two-kilometre walk and we had our suitcases with us. It's not bad if you don't mind walking, but walking with a suitcase can be a bit of a challenge. Not a lot of people in the area speak English (if any) either, so you may have to book a taxi. We ended up getting stuck at the bus stop, sort of reluctant to walk, and noticed a man and woman organising what appeared to be some shuttle buses. The language barrier was tough but the man ended up giving us a lift to the ryokan (Japanese inn) we were staying in. It was very kind of him and I felt kind of bad that my Japanese was so awful that I didn't know how to ask for help. 🙏😩
If you can stand it, it takes about 3 hours to get to Gujo from Nagoya by regular public transport, if you time it well. I did it on my previous visit to Gujo and it involved taking a few different train lines (run by different operators) to what was pretty much the end of the train line. That will get you to Gujo-Hachiman station which is closer to the heart of the town and will save you the two-kilometre walk.
Our main sources of information were Japan Guide and GujoHachiman.com. We were only in the city for one day and that same night, so we were in central Gujo for that whole time.
It was about 2:30pm when the kind man dropped us off at Nakashimaya, the ryokan we were staying in. We dropped off our luggage and went to explore the city. The first thing I really wanted to do upon arriving was go to Sample Village Iwasaki, one of the food replica warehouses. But since we hadn't had anything to eat other than convenience food snacks on the bus in, we ate at Yoshinoya, a popular Japanese food chain that serves up rice bowls, noodles, and lunch sets.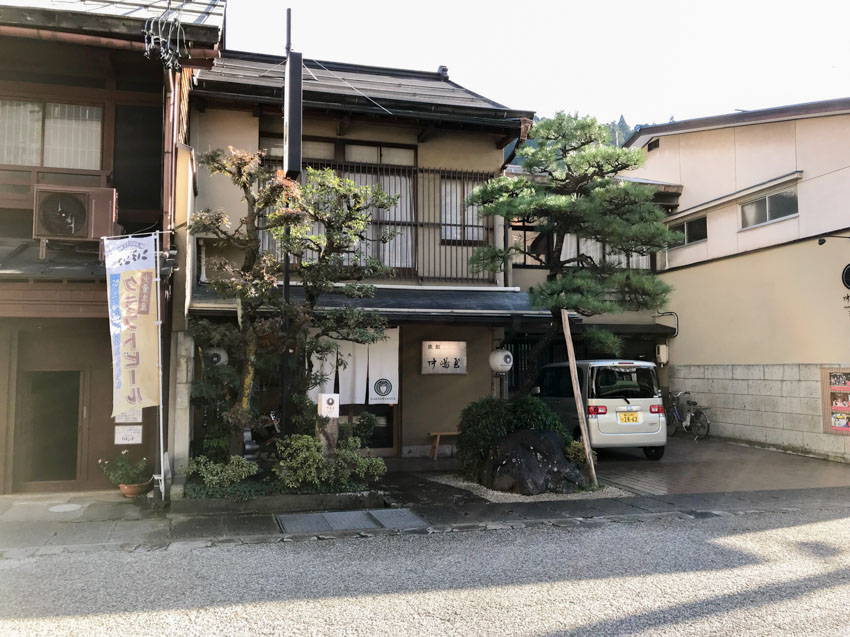 We walked to Sample Village Iwasaki, which I had been to on my previous visit as well. I was excited for Nick to see what it was like inside and had my fingers crossed that we could watch a demonstration and do a workshop to create our own food replica.
We approached the entrance and I recognised it – after all these years it hadn't changed. But it was dark inside and the doors were shut. I thought I heard people talking nearby. We approached the office, which was adjacent to the workshop, and a lady answered the door. I recognised her because she operated the workshop on my previous visit. She was very apologetic and said they were unable to do the demonstration. It was a simple "we cannot", but she later explained that they didn't have any hot water running and they were still trying to fix issues inside the warehouse.
She let us in, though, and we were able to pick out and purchase the food replicas we liked from the store at the back. We browsed the little "museum" they had at the back which had some extravagant creations of plastic food. She told us about Sample Kobo, another food replica place a couple of blocks away and even offered us a lift, but I felt bad so I said "daijobu" (meaning "it's OK"), and she was surprised that I knew some Japanese. 😅 Just like the previous time I was there, she was amazed that we had come all the way from Australia and was curious how we had found them. People in Japan are lovely. 💙
We walked the couple of blocks to Sample Kobo. They didn't have any workshops to create your own food replica, and I was bitterly disappointed, but Nick didn't mind so much because he was happy to just see the places and look at all the plastic food. Sample Kobo had some workers in the back working on the details of sliced raw salmon replicas. The resemblance was unreal!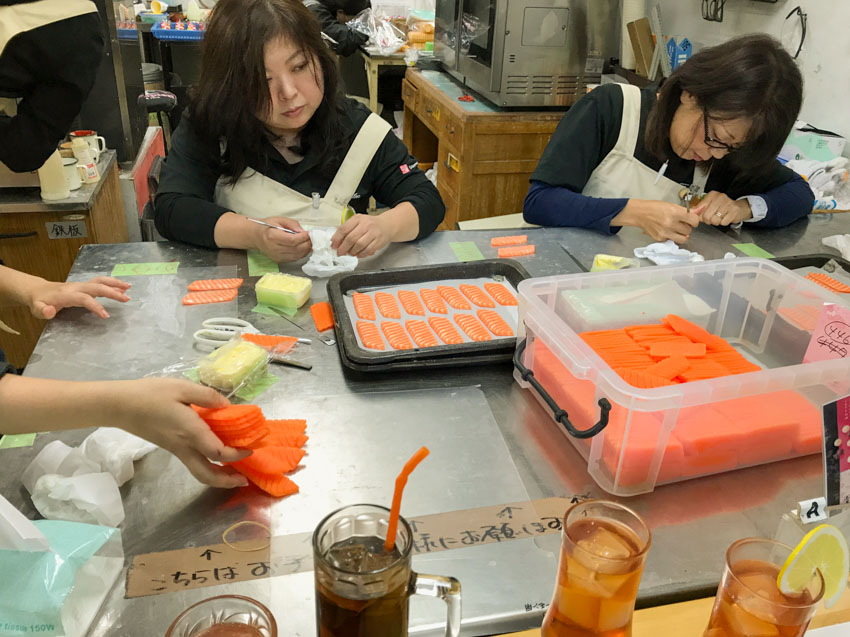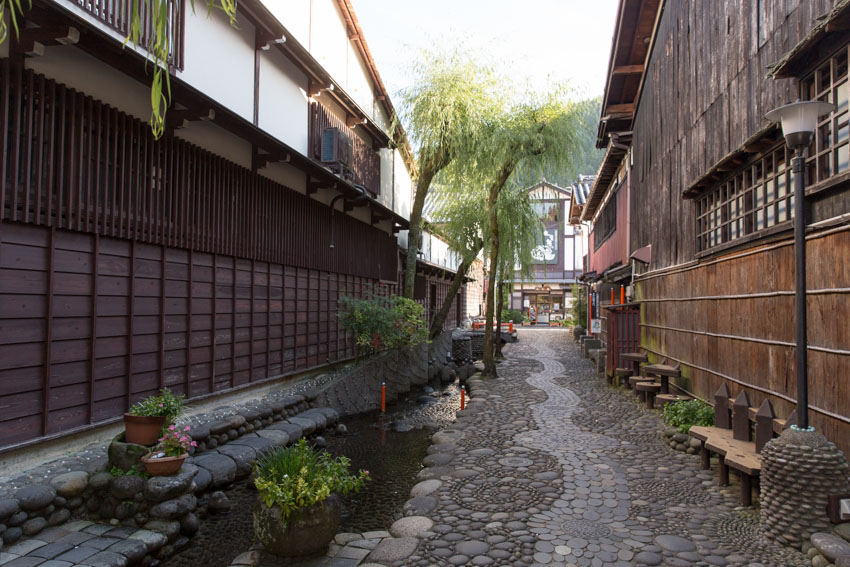 I couldn't resist buying some more replicas as souvenirs. Sample Kobo had more interesting souvenirs, like pocket mirrors disguised as a food replica, and even some earrings. The earrings, though extremely cool, were a bit too tacky for my liking (and more like Georgie's style circa 2010).
As it was already starting to get a bit late, we walked towards Gujo-Hachiman castle and enjoyed some views along the way.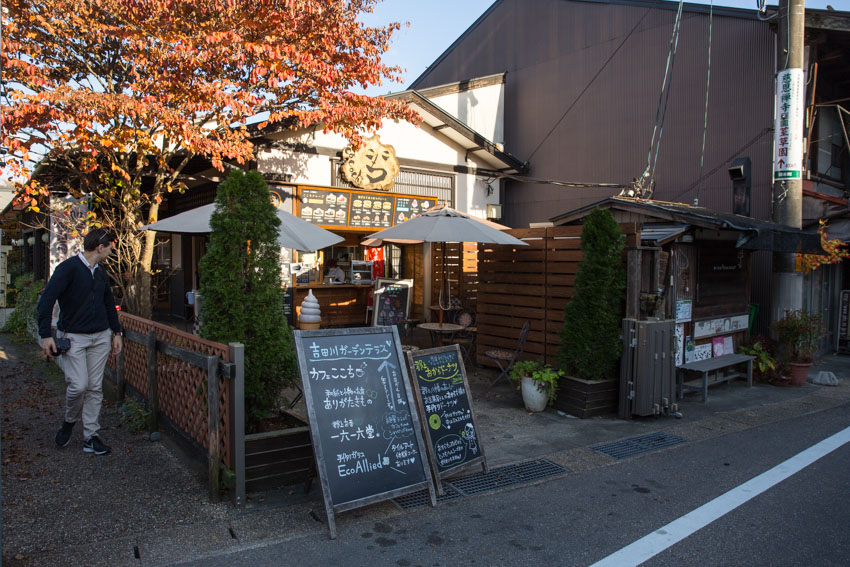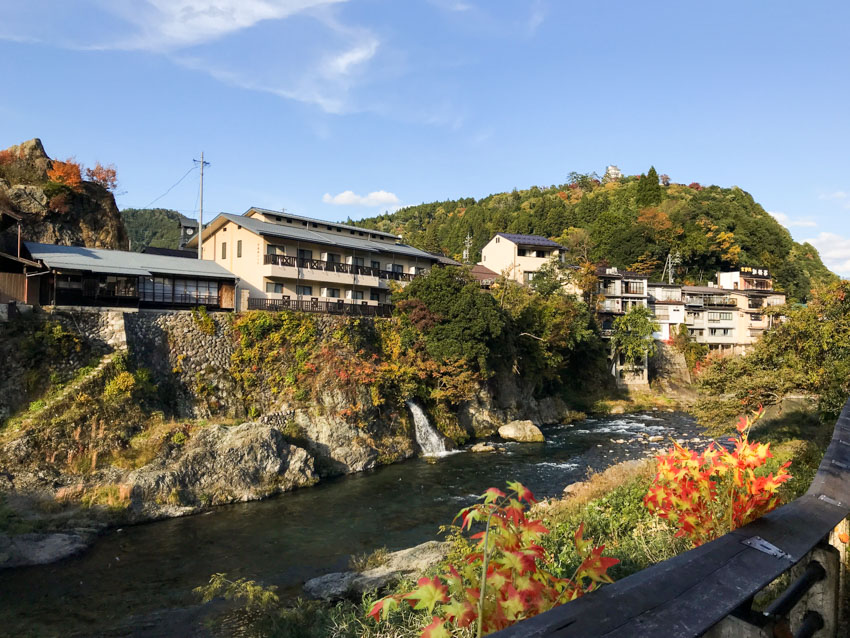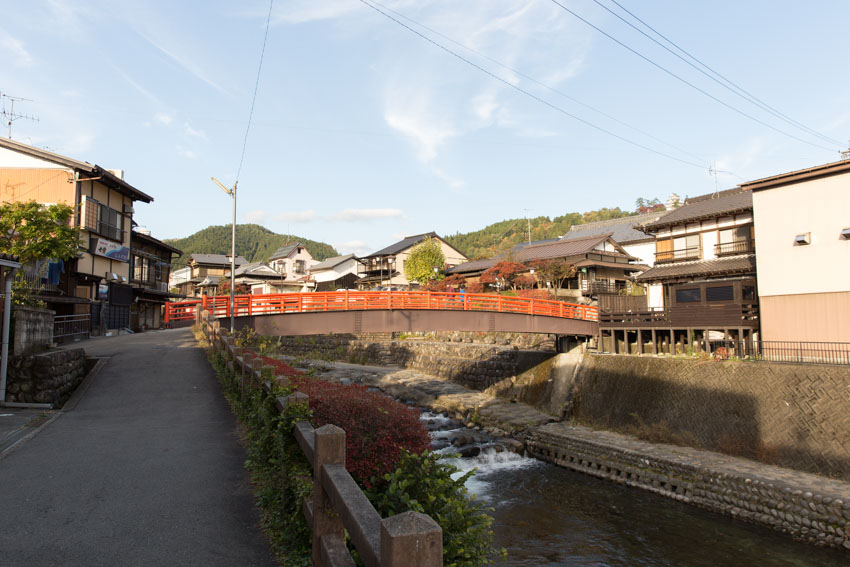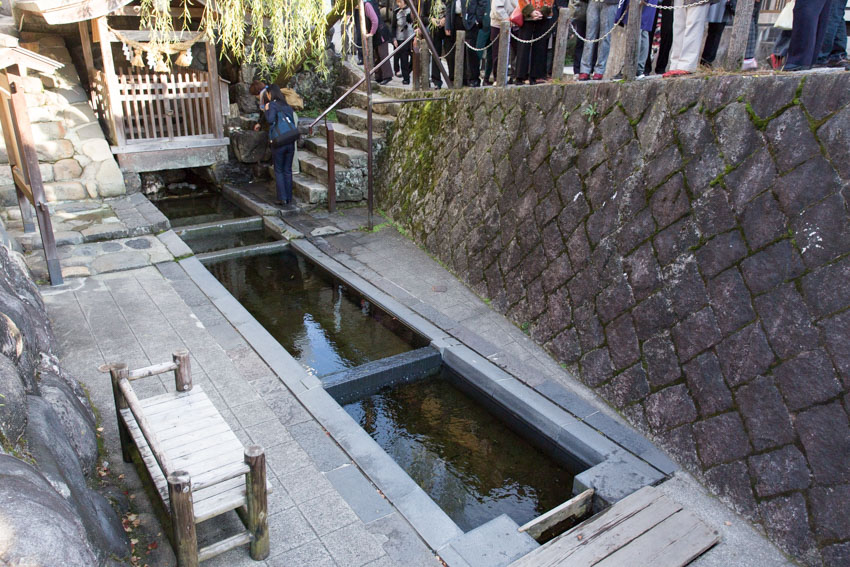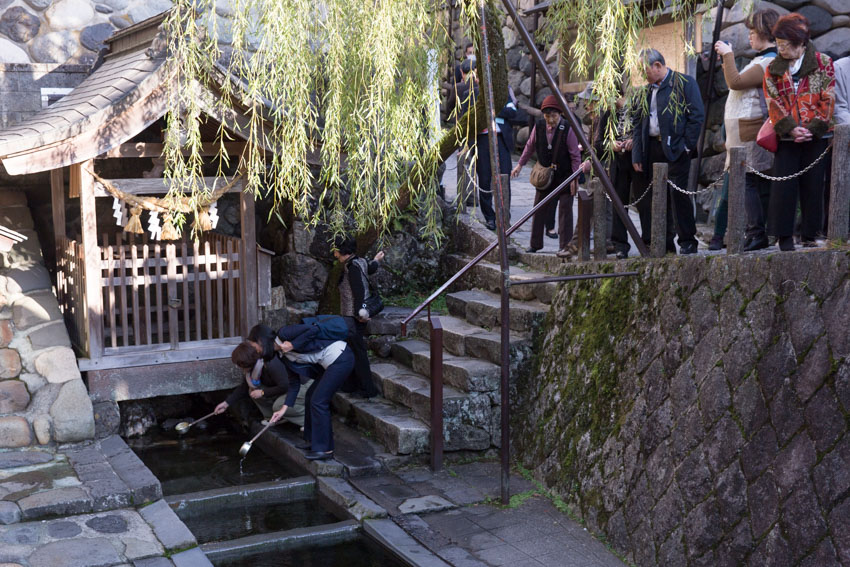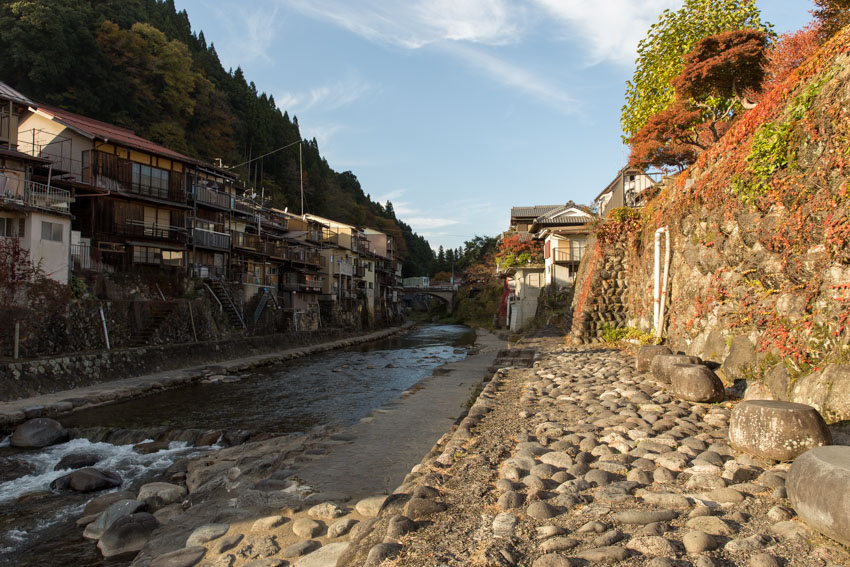 Walking to the castle involved a walk up a steep mountain. I'd been there before. I remember my ex saying to me, "You're not built for travel". I was often tired. I was plagued with an iron deficiency at the time – not that it's any excuse – but I was not very fit. It's not that I was attempting to prove him wrong, but I surprised myself when I walked up the mountain's twisty paths and didn't feel as puffed as I had expected.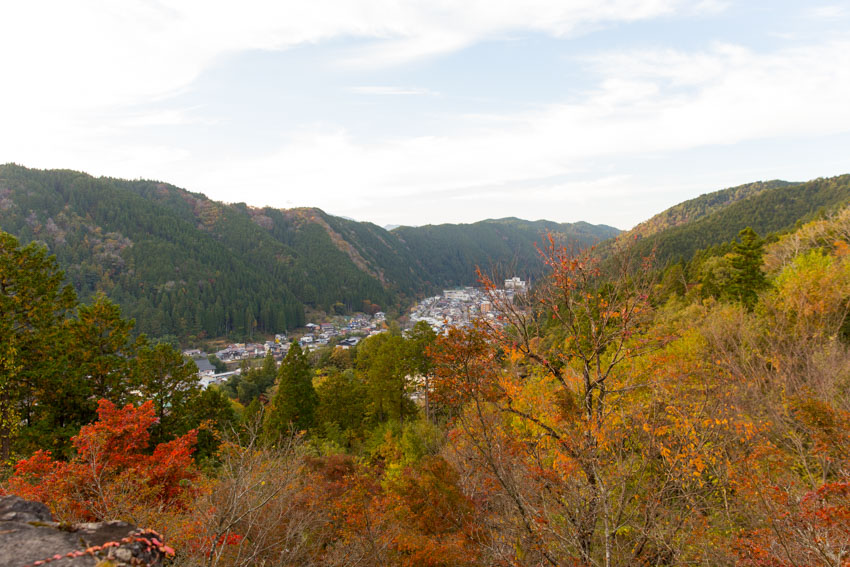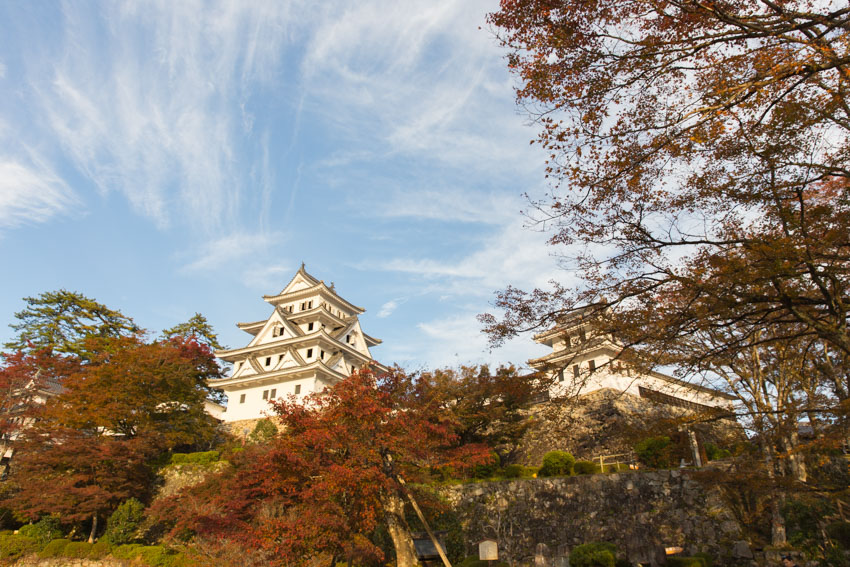 The castle had some beautiful views from the top. But like Osaka Castle, that we had seen a few days prior, it was a castle that was restored to what was essentially a museum with some history about the castle itself. My understanding is that you can expect this of a lot of castles in Japan.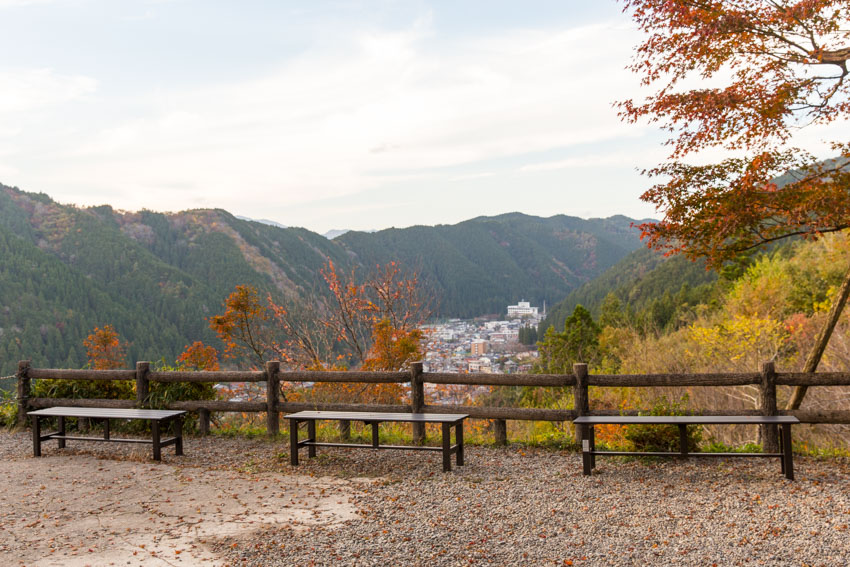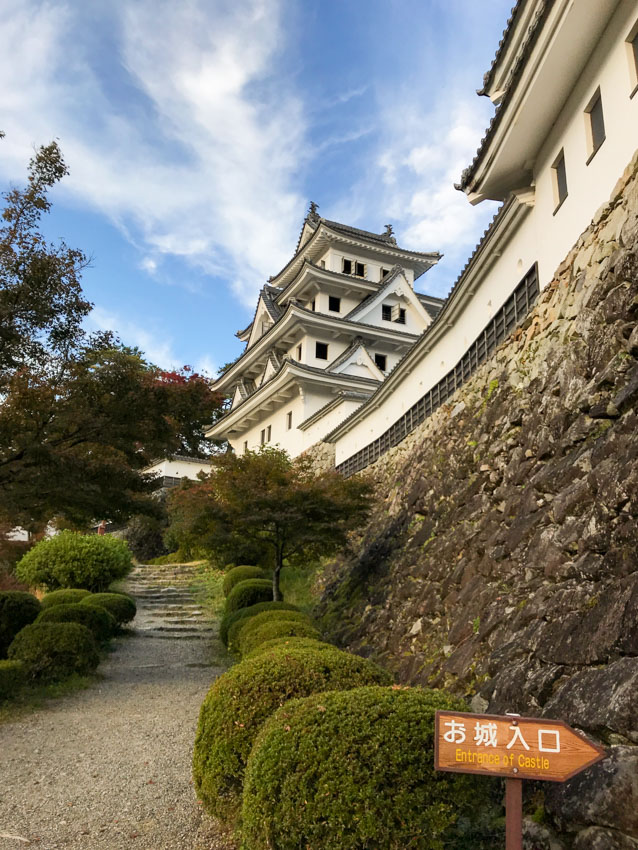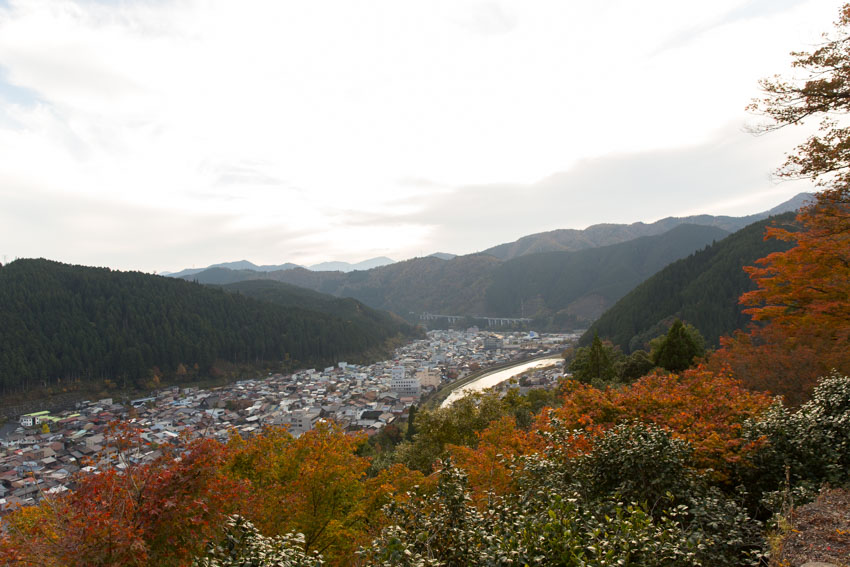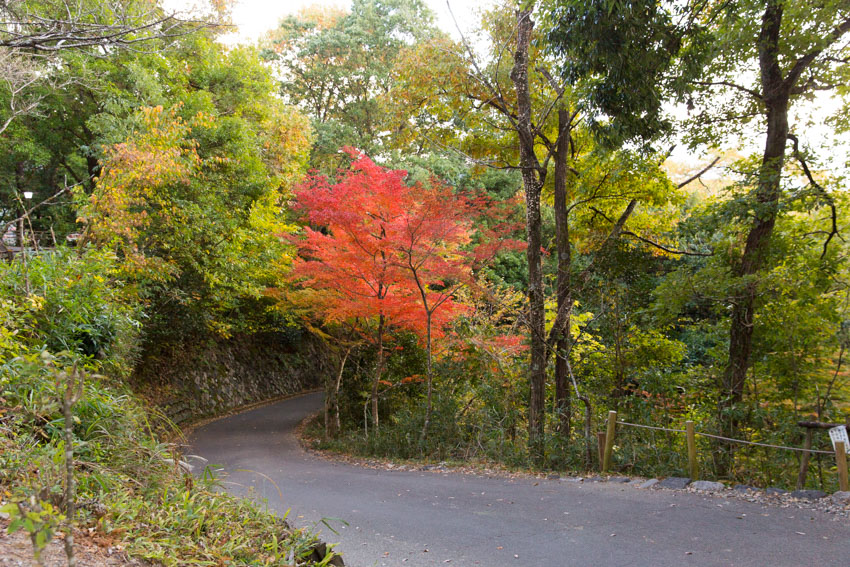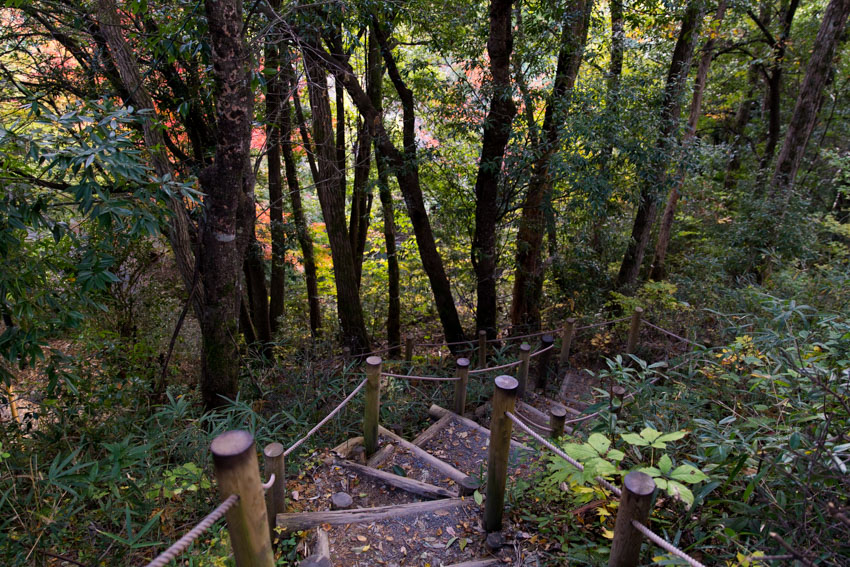 Gujo was as beautiful in autumn as it was in winter. As I stood at the highest level of the castle, after hiking up many flights of steep wooden steps, the soft breeze touched my face. My eyes panned from left to right, and back again. The quiet of the city was evident, there was barely any movement that could be seen from such a height. You couldn't see anyone walking the paths; you could barely see any cars moving through the streets. Yet at the same time, I could feel it – I could feel the quiet of the city in my veins.
It was there, at the top of the castle, that I felt a shiver down my spine, a little lump in my throat, and the tickle of my retinas as my eyes prepared for tears. All these years later, Gujo had the same effect on me – it took my breath away.
---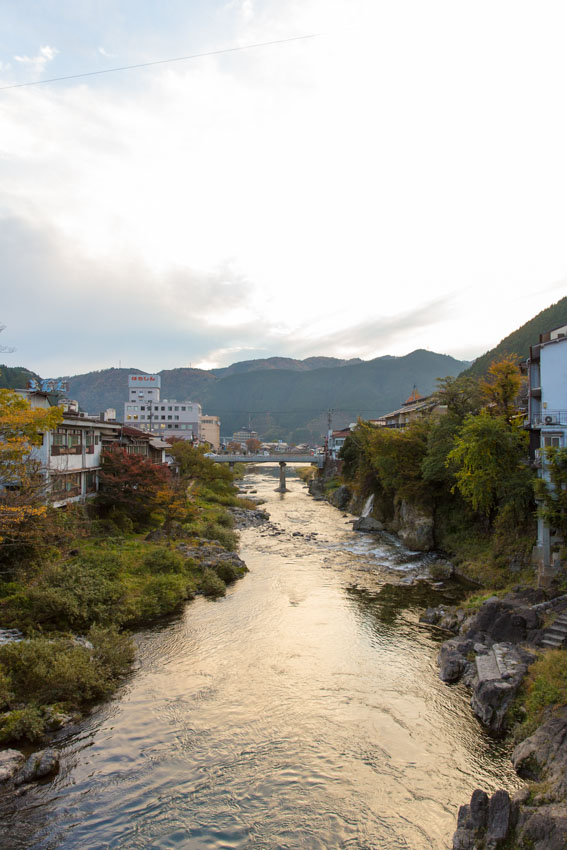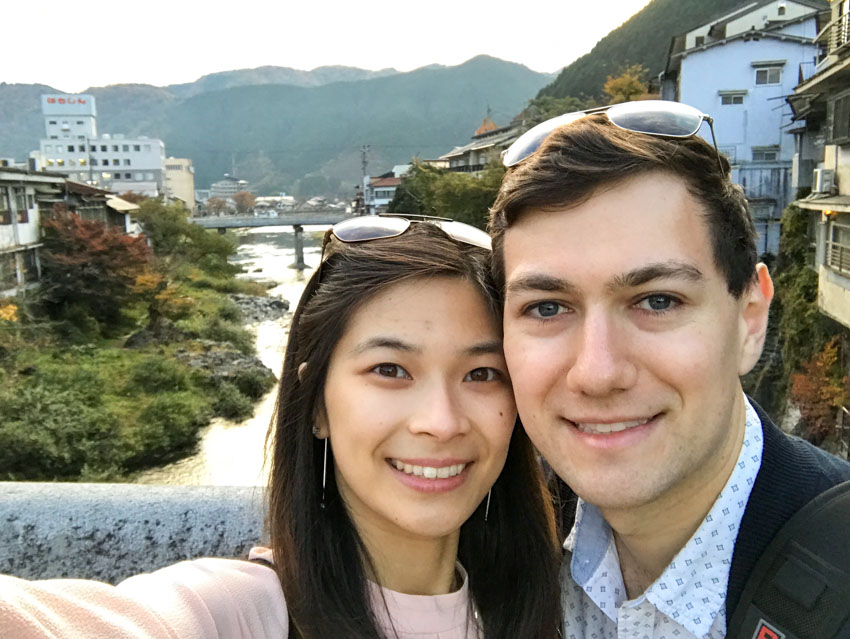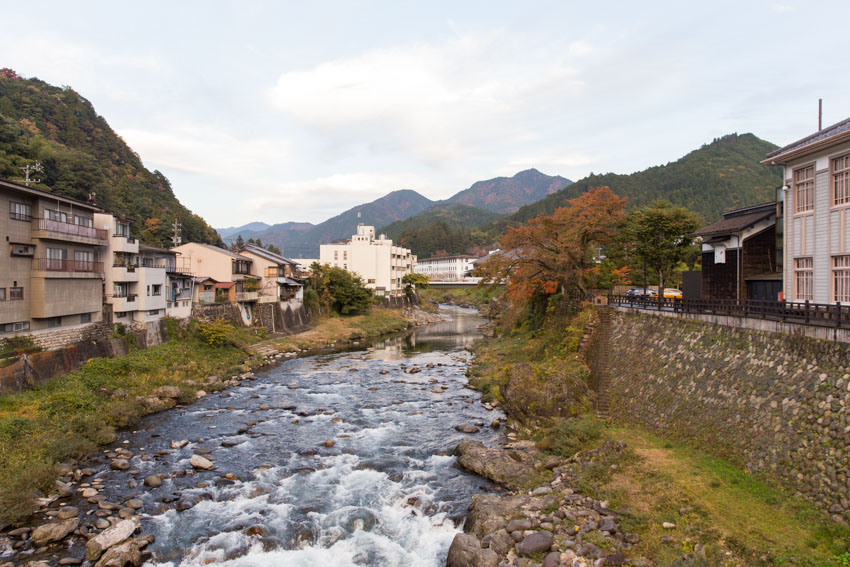 We walked back down the mountain and explored more of Gujo. It mostly involved walking around and enoying the views of the water, but we took the time to walk down closer to the water.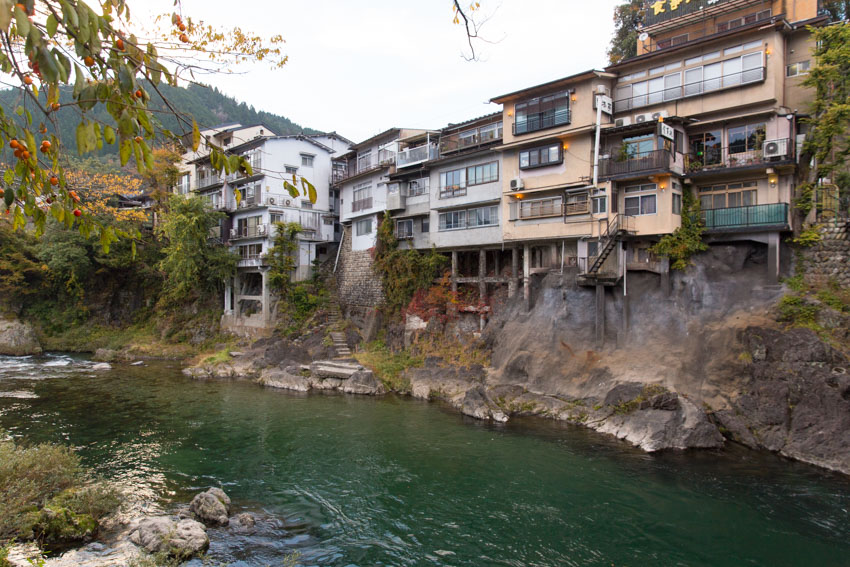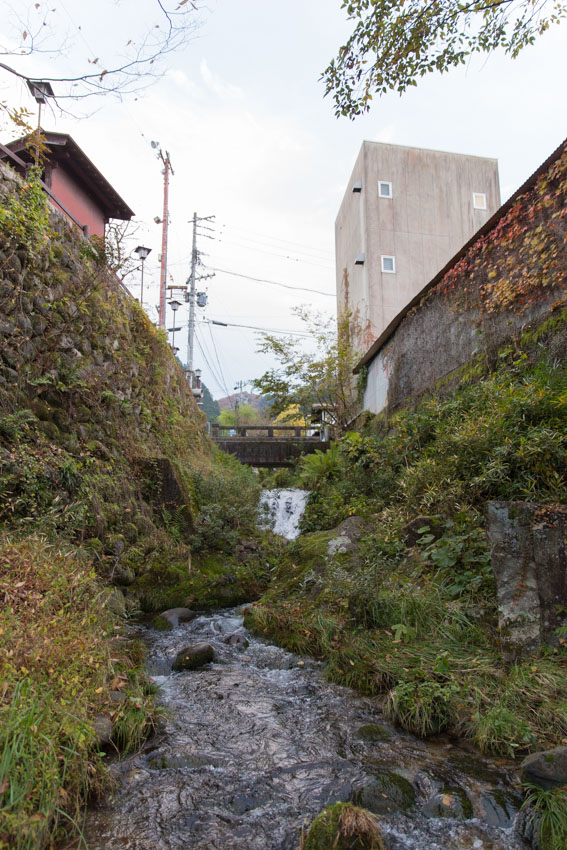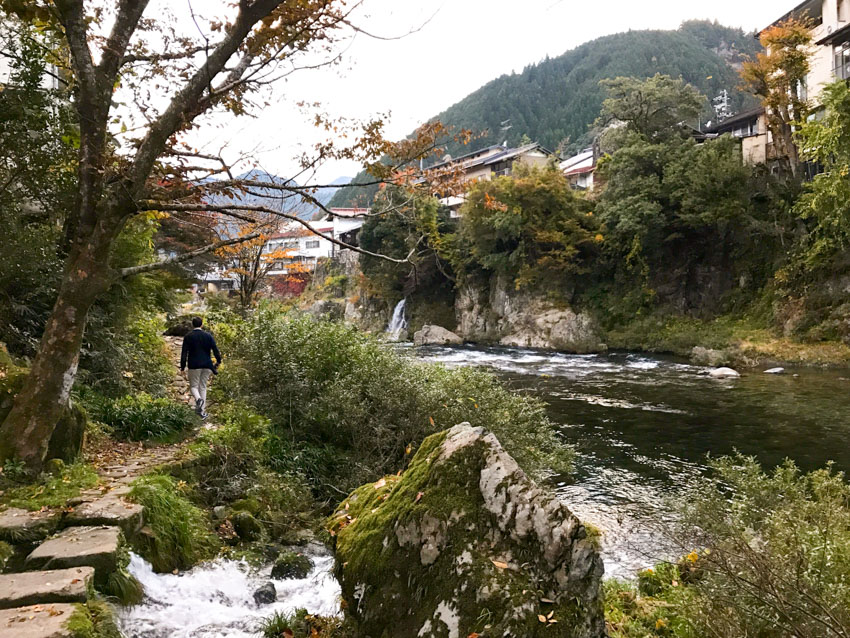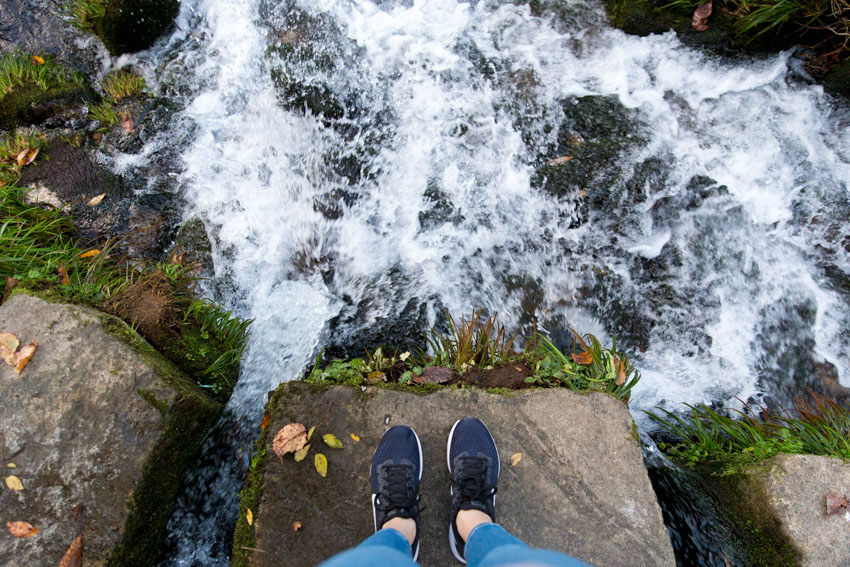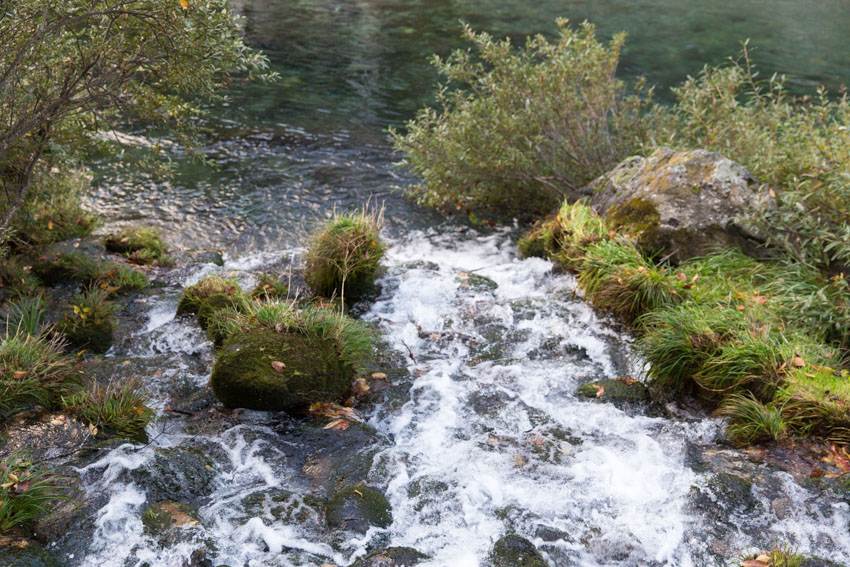 To end the day, we walked through an area called Igawa Ko Michi, where there are some water canals behind some homes. The water is used by the residents for laundry, washing vegetables and other domestic uses. You can find koi in the water, and they are fed by both the locals and visitors.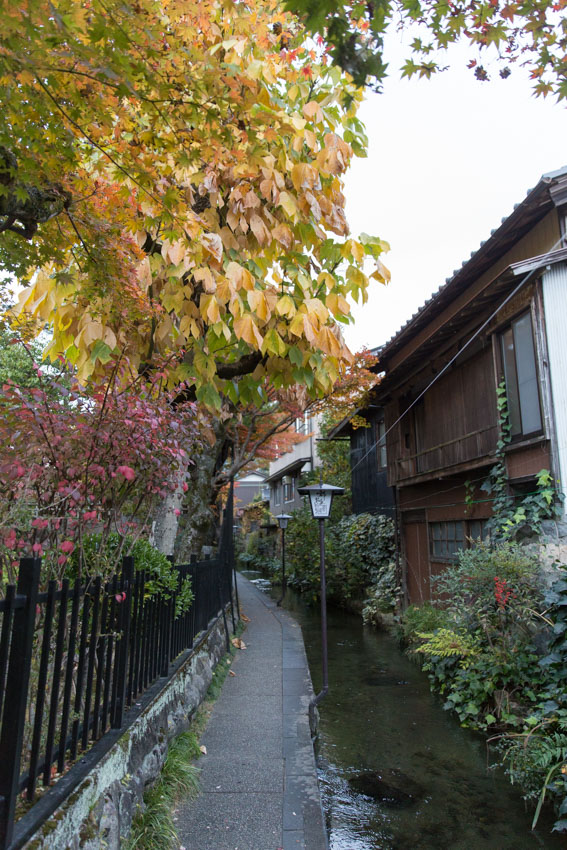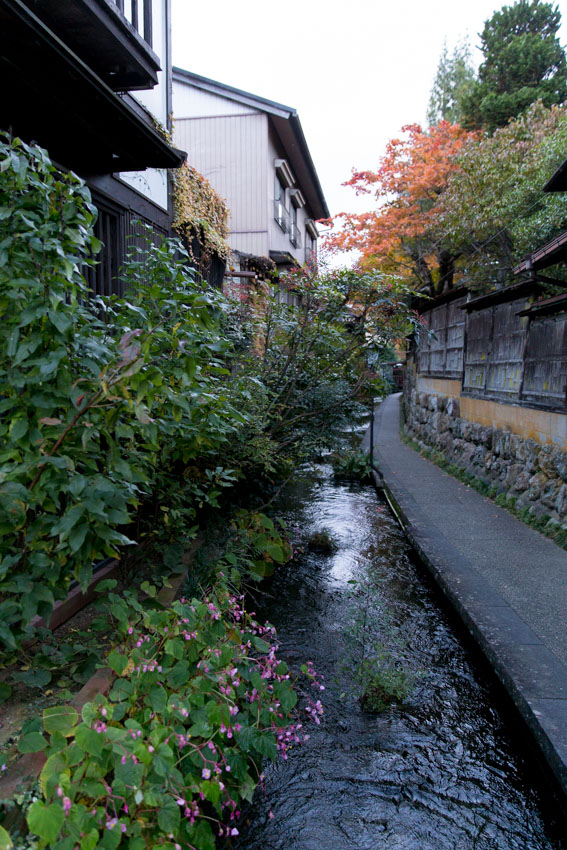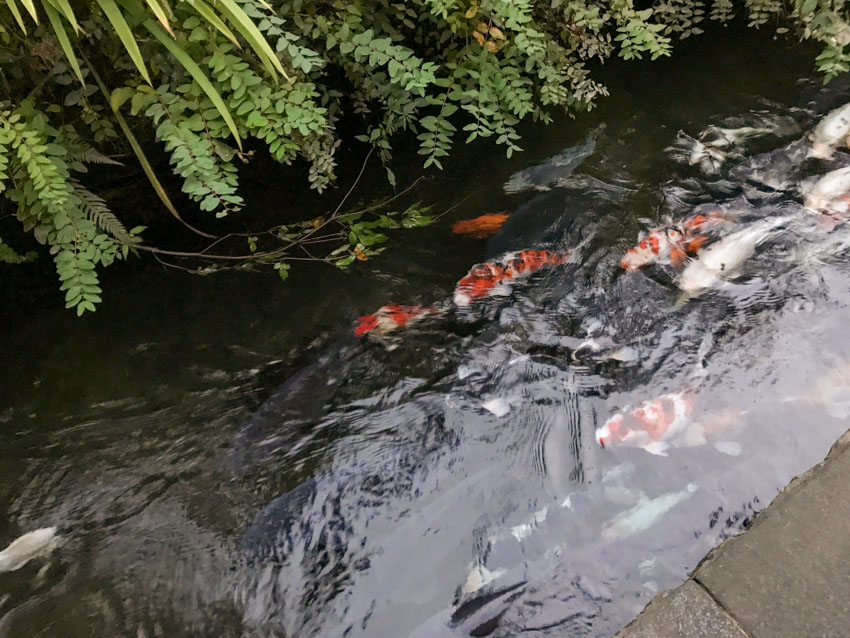 As it was getting late and we weren't sure how to find our way around (again, Gujo is not very English-friendly), we resorted to using the internet to find somewhere to eat. We settled on a soba restaurant a few doors down from our ryokan, without really going by our internet discoveries. I read "soba" in Japanese so we just decided to eat there. We did find it was a recommended restaurant, though, for its handmade qualities.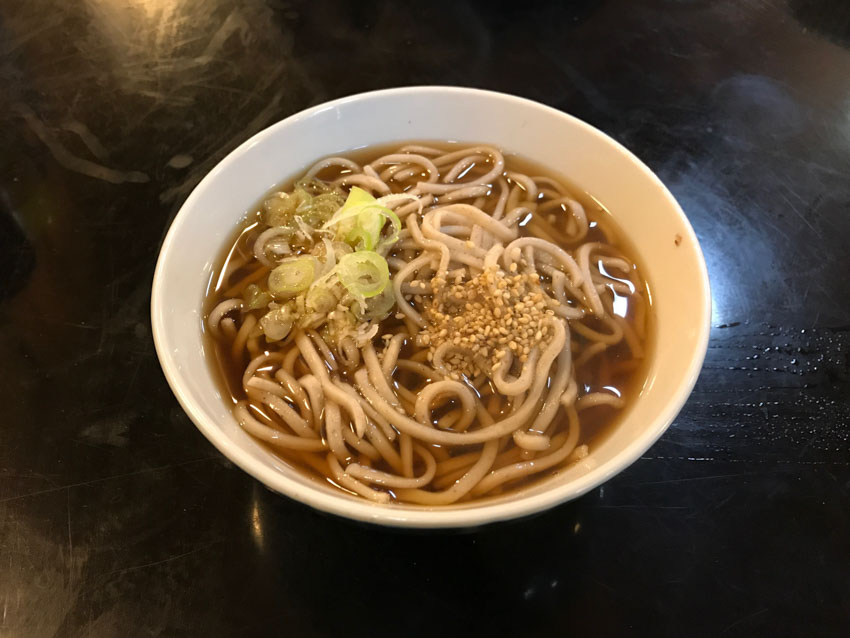 We walked around the city a bit more hoping to find a nice place for dessert, but not expecting anything. Gujo is very rural, and quiet at night, and we didn't really want to hit up a bar. A dessert cafe we had noticed earlier in the day was closed. It was getting dark anyway, so we headed back to our ryokan.
The next morning we had to miss the breakfast at the ryokan, because we had booked an early train in order to get to Hakone, our next destination, with enough time to sightsee. We had to leave just before 7:00am. I was a little disappointed because I had been looking forward to having a nice traditional Japanese breakfast, but Nick reassured me that we would be having that same experience in Hakone, at a far fancier ryokan too. ✌️
I'm so glad I got to see Gujo again, this time with Nick. I don't know if I'll be rushing back, yet again, but I'd love to see more rural, lesser-known towns like Gujo in the future.
---
Photos in this post were taken by me on my iPhone 7, or on my Canon 6D.
You can see the rest of our honeymoon adventures with the hashtag #thecookeshoneymoon on Twitter (mostly me) or on Instagram (mostly Nick). 💖