🇯🇵 大阪市 (Ōsaka)
This post begins the first in a series on our honeymoon trip in Japan. We also visited Seoul, South Korea. Have a read of part 1 of our Seoul adventures if you haven't yet – and stay tuned for the rest of our adventures in various locations in Japan!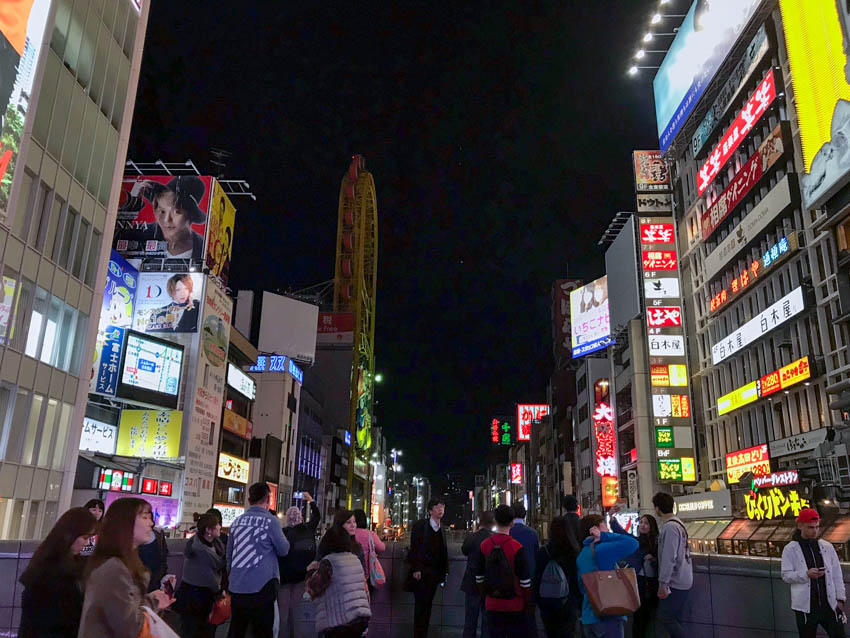 Our flight from Seoul to Kansai Airport in Osaka was not too bad, and we flew by Asiana airlines. The flight was only a couple of hours and we had a meal that was OK by airplane food standards. Once we got off the plane we spent a long time waiting to get through immigration as there were so many people.
We got the JR 7 day rail pass, which we picked up before we boarded the train from the airport to the heart of Osaka. I highly recommend the rail pass, especially if you plan to use the shinkansen (bullet train) to travel between major cities. It's otherwise really expensive without the pass, and flying between cities is a much longer process given that you have to travel to the airport and consider the time taken for security checks and boarding. I got a 14 day rail pass several years ago when I visited Japan, and used that on all the JR train lines while I bought individual tickets for other trips. This time though, Nick and I got a 7 day pass to use mainly to travel between Osaka, and Nagoya (en route to Gujo), then got a Pasmo card for subway and local train usage in Tokyo.
The Pasmo is a rechargeable card you can top up with credit for travel; the Suica is another option. You don't get a travel discount but it just makes travel easier. Both cards can sometimes be used as a method of payment at kombini (convenience stores). For the Kansai region (Osaka and Kyoto, for example), you can use an Icoca card. All these cards work with most major railways and buses but since I won't list them all here, I recommend doing a bit of research to check before your trip! You will just have to buy individual trip tickets for the railways or buses if the card you choose doesn't cover it.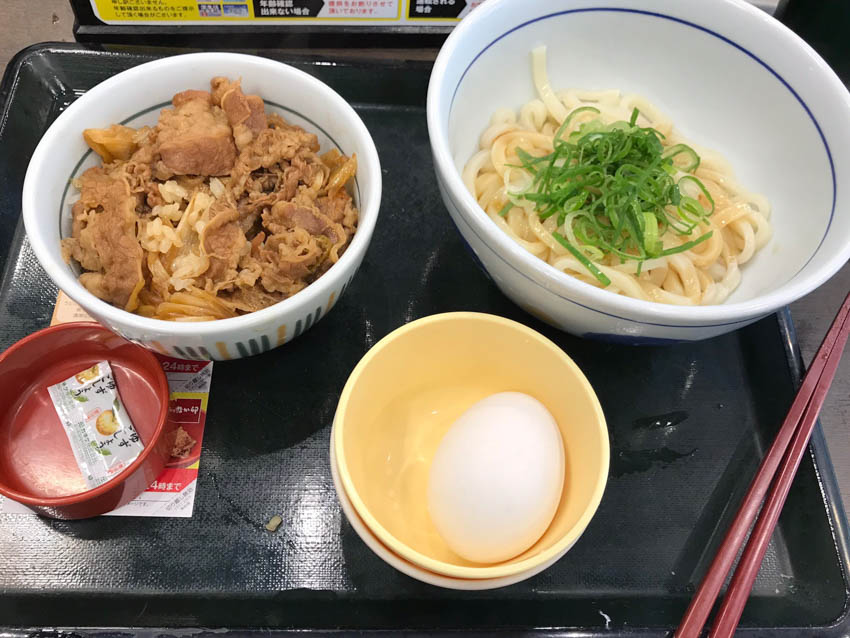 When we arrived we dropped off our luggage at the Airbnb we were staying at, and explored Shinsaibashi for most of the afternoon. We walked a couple of kilometres at least. Shinsaibashi is an area in Osaka which has a lot of seemingly endless shopping streets (thus the walking), the biggest one being Shinsaibashi-suji. It brought back many odd memories of my previous trip and it didn't feel as busy as my last visit, not to mention the stores didn't seem as interesting to me anymore. I guess I had realised a lot of them were repeated clothing and jewellery stores, and my style is not as inspired by Japanese fashion as it once was.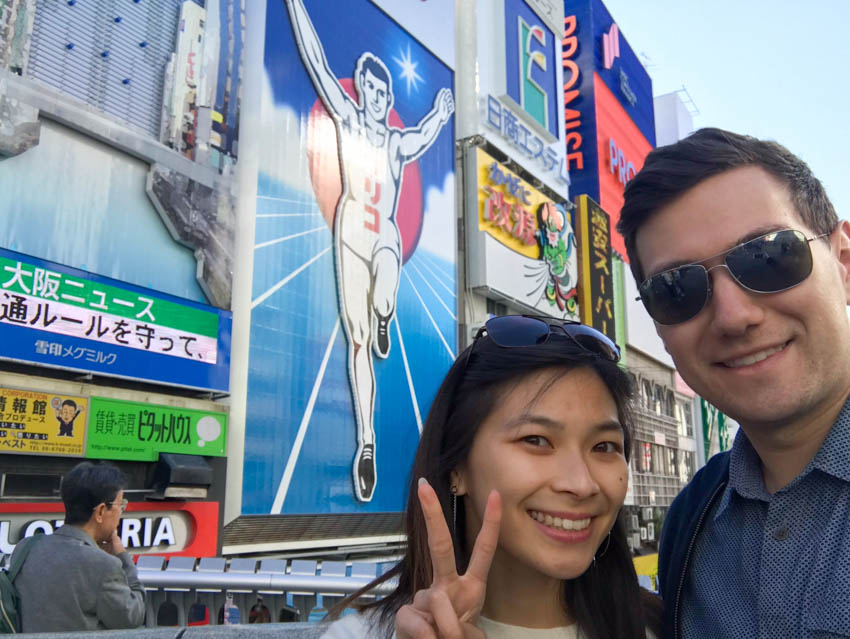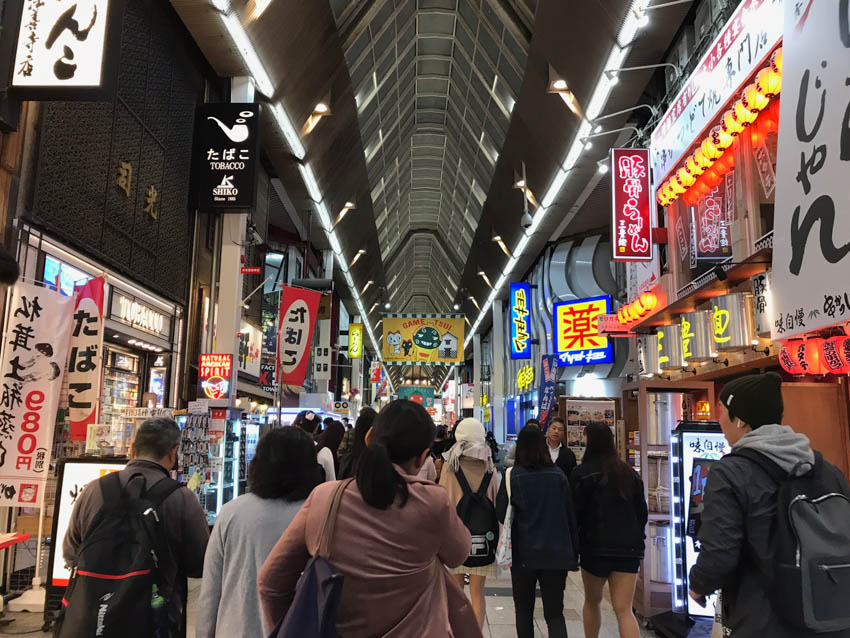 In the evening we browsed Dotonbori, another area closer to the river that contains a lot of entertainment (including purikura – sticker photo booths), restaurants and street food.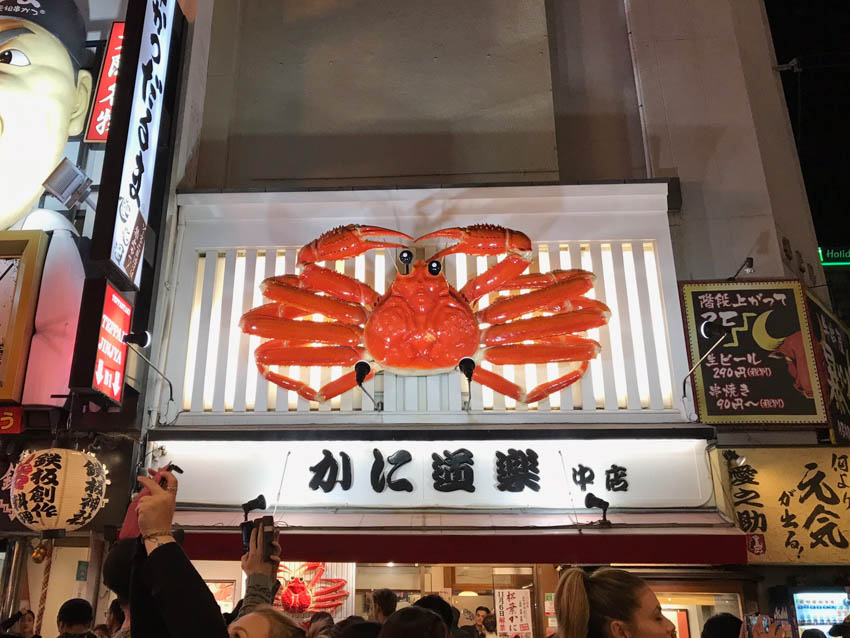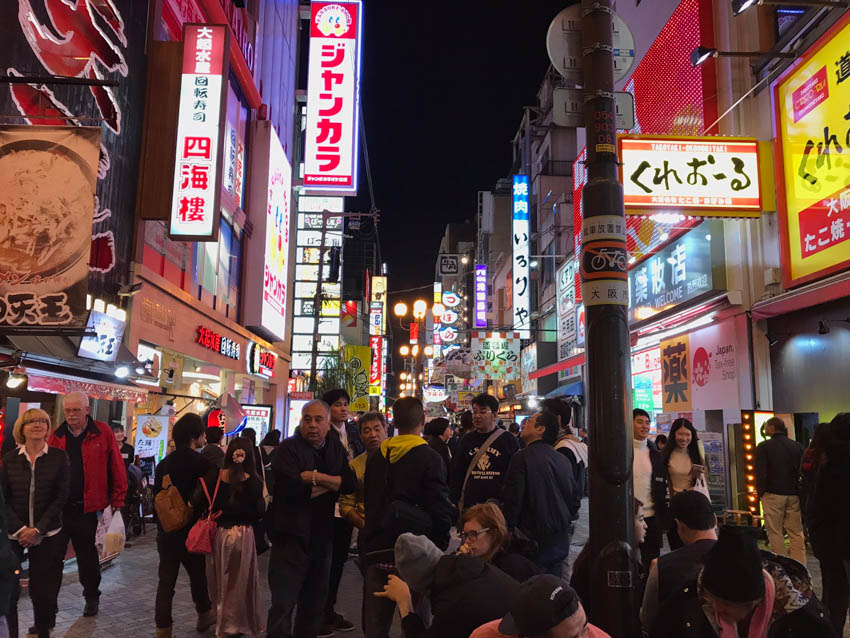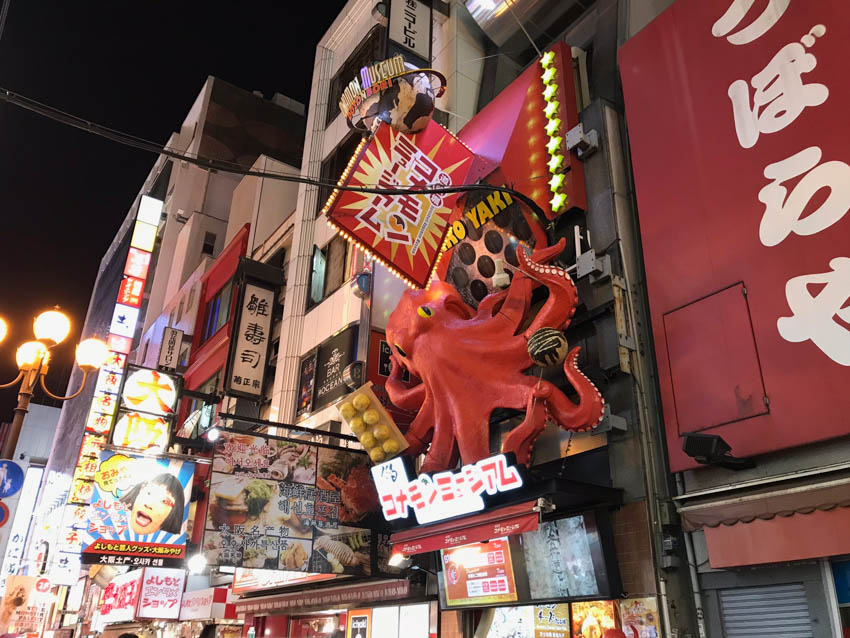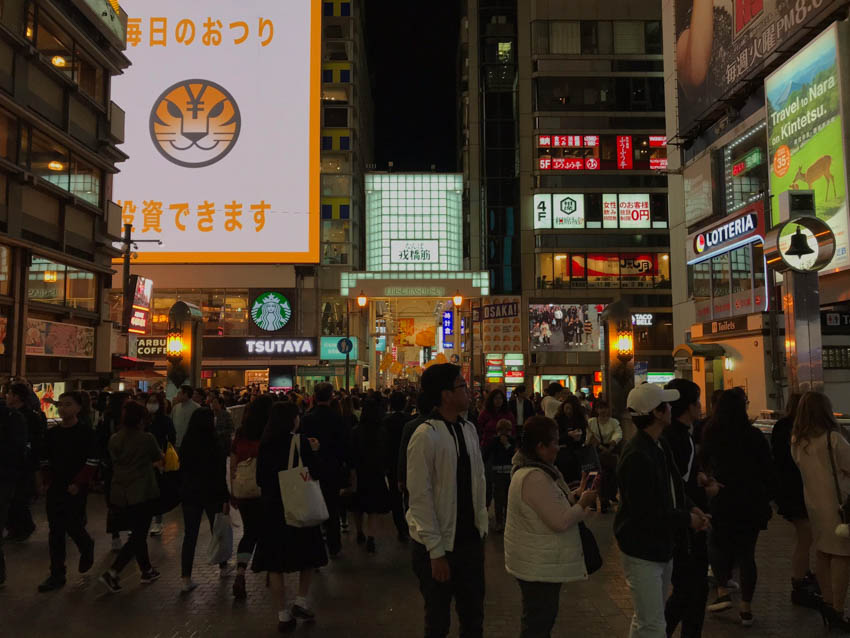 Nick had found an okonomiyaki (Japanese pancake) restaurant online that was off the beaten path, but you could see that it was quite popular. A line had even formed after we had our meal and left! We were especially keen to have good okonomiyaki following our bad experience at Abeno in London last year. Abeno had such good reviews, and continues to receive them, but the inauthentic experience and tasteless food left us pretty disappointed.
This restaurant was warm inside, inviting, and full of locals. It was busy too – always a sign that you're in a good place. We shared a bacon, egg and cheese okonomiyaki and both got plum wine with soda. That is officially my favourite cold drink to have in Japan now! I remember having plum wine back at home at a Japanese restaurant, but I just had it with ice so I had to get used to the taste.
The okonomiyaki was very tasty. Although it looks like they put a lot of sweet sauce and mayonnaise, it evens out once you put it in your mouth. And you can even add more if you want. The flakes on top are bonito (a type of fish) flakes, which the Japanese put on lots of food, like okonomiyaki, takoyaki (balls of batter and squid/octopus pieces) and some sushi.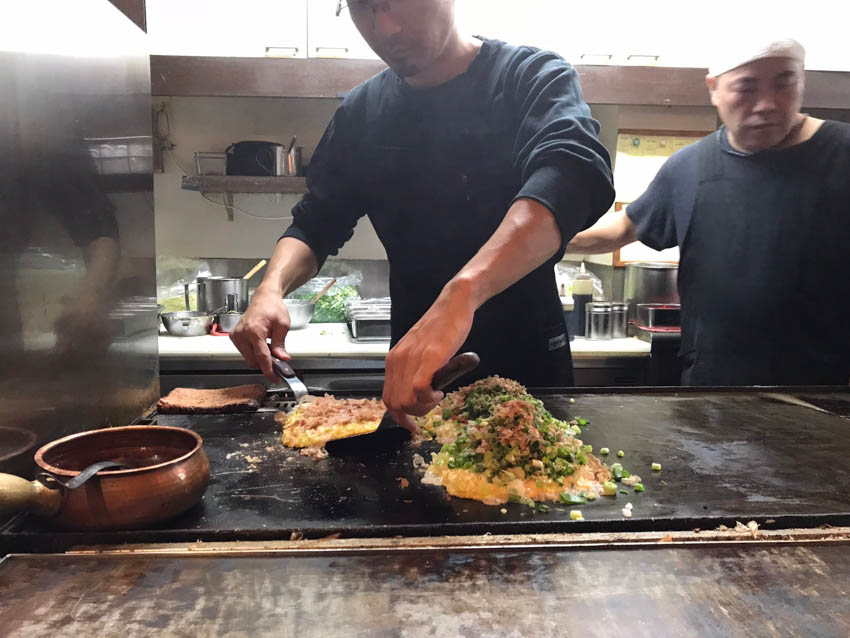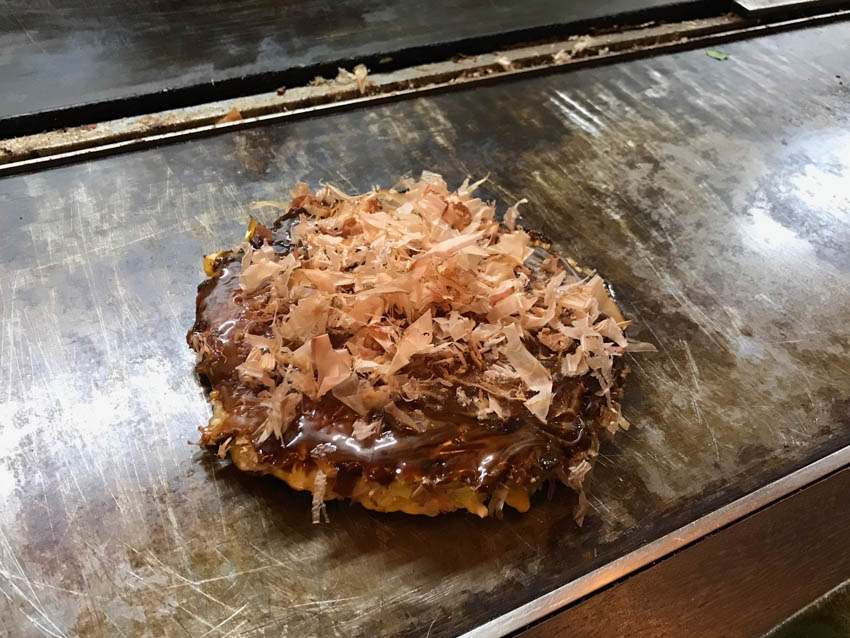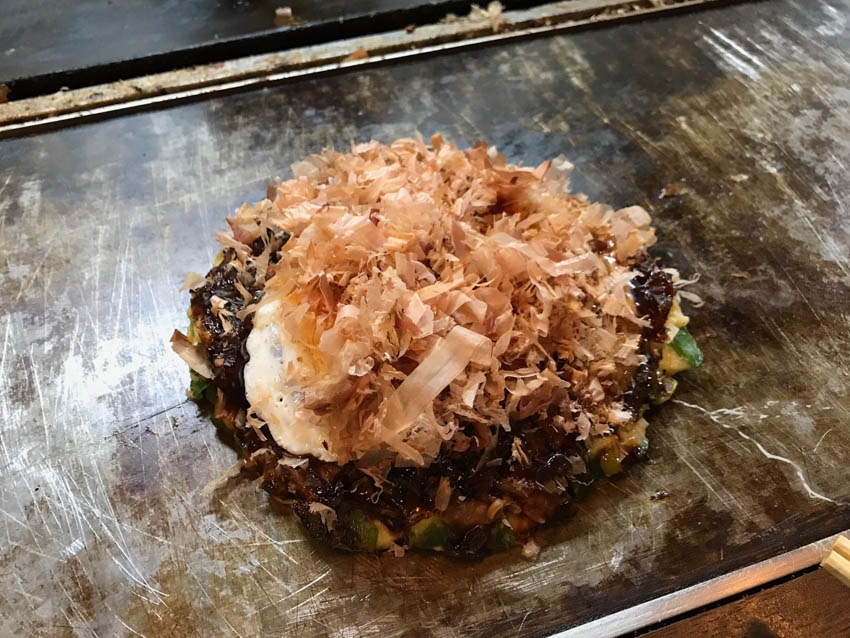 We definitely wanted more after that. You can create your own by selecting the ingredients you want, and we chose pork, egg, and green onion. That was really tasty and got a thumbs up from us.
Afterwards we had a quick spot of dessert at a cafe, and walked around Dotonbori some more. We looked in some of the supermarkets and walked along the river. There were a lot of game arcades and we poked our head in but didn't play anything.
The next day we planned to do a fair bit of sightseeing around Osaka. We went to Shinsekai (literally Japanese for "new world") but there weren't a lot of shops open.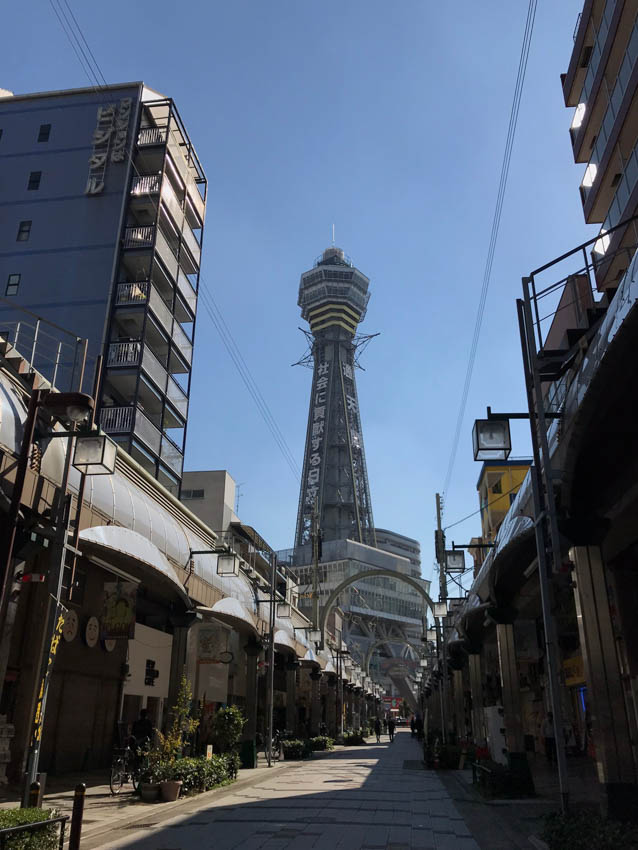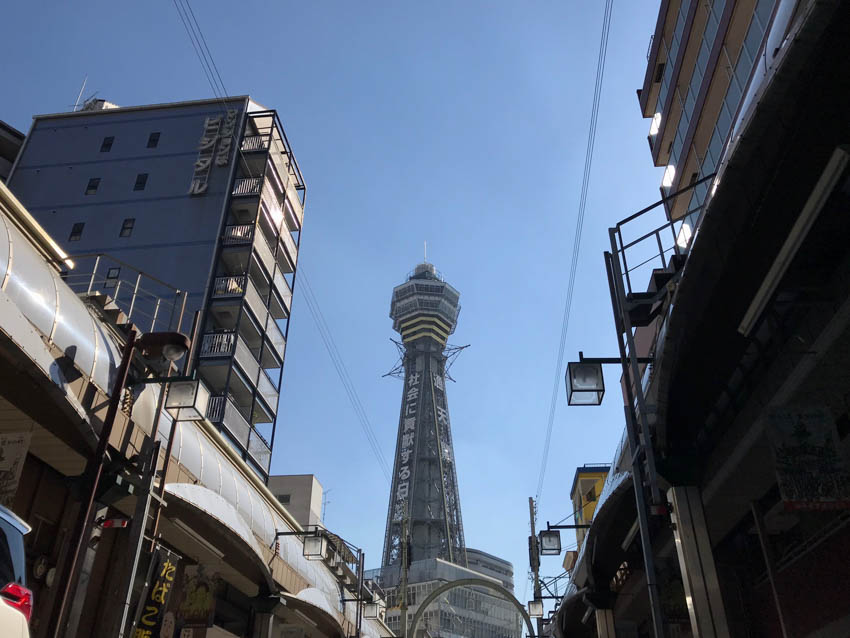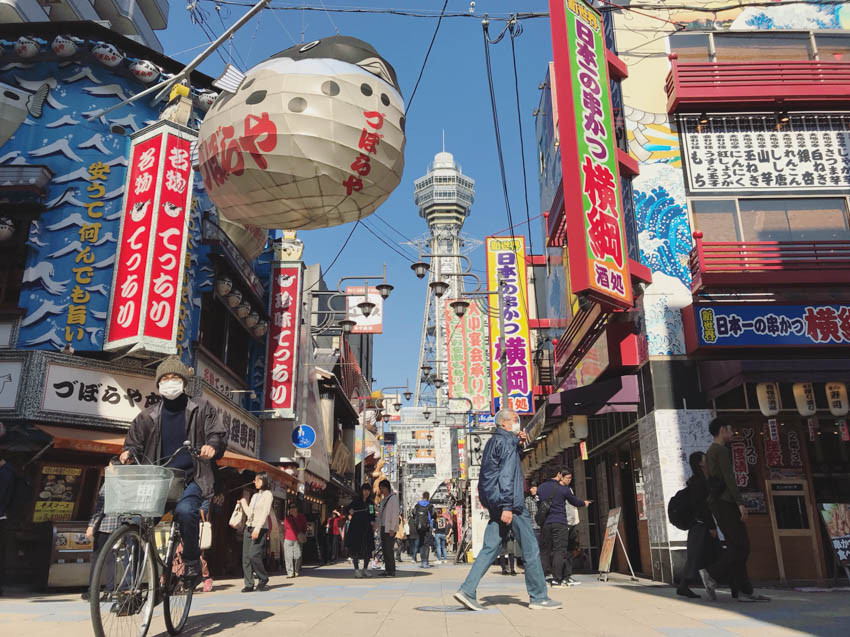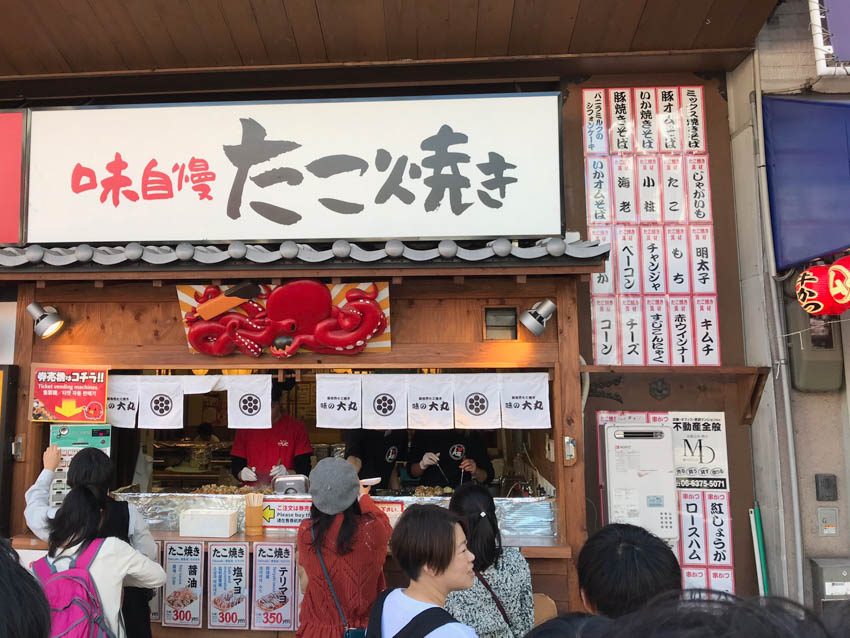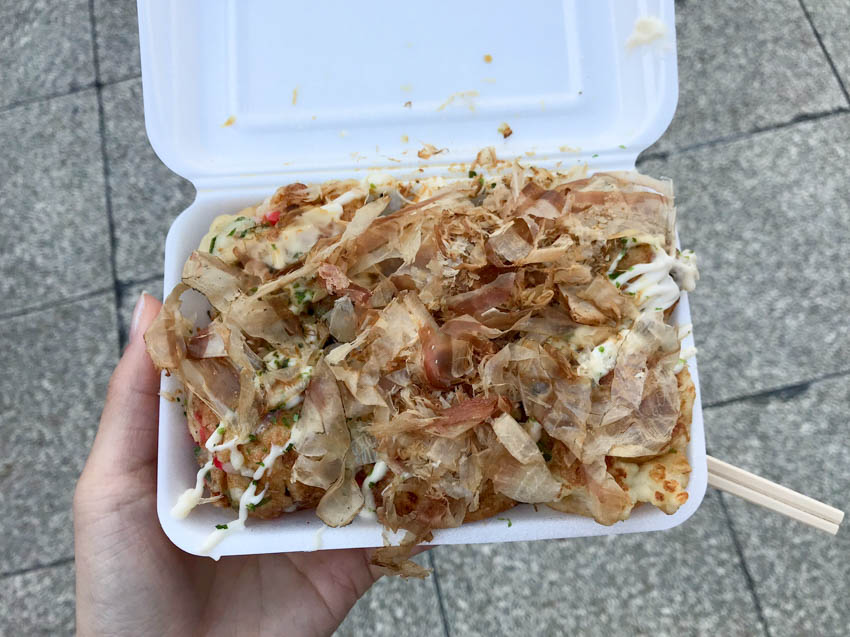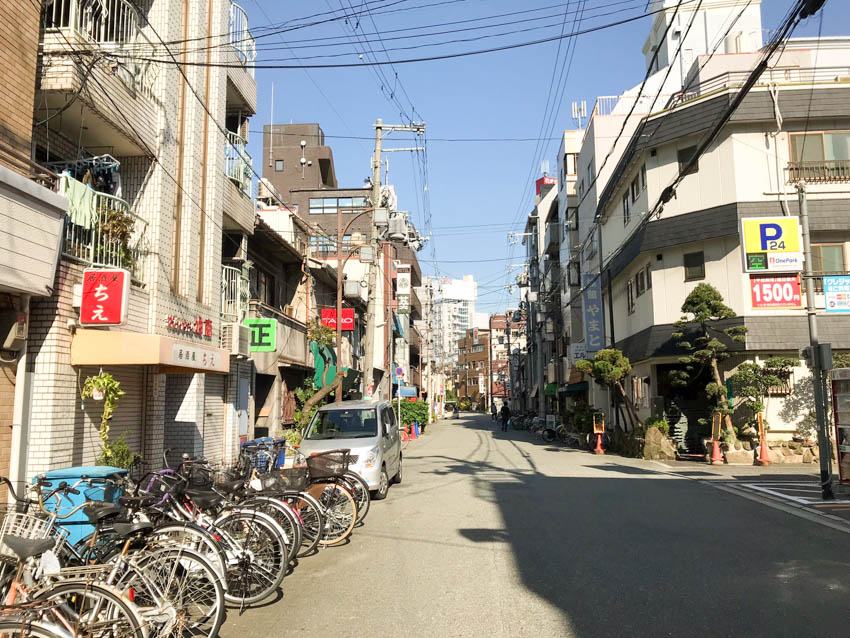 In Japan, breakfast isn't a big thing and a lot of shops don't open until later in the day, but do open fairly late into the night. I got six takoyaki (battered balls with squid), which Osaka is famous for. Unfortunately Nick is allergic to squid so he had to settle for a crepe instead.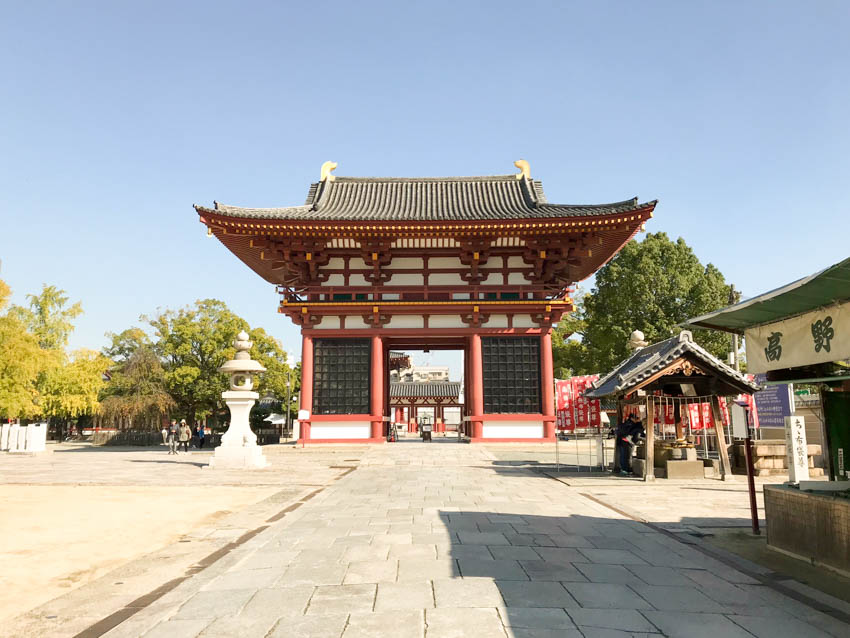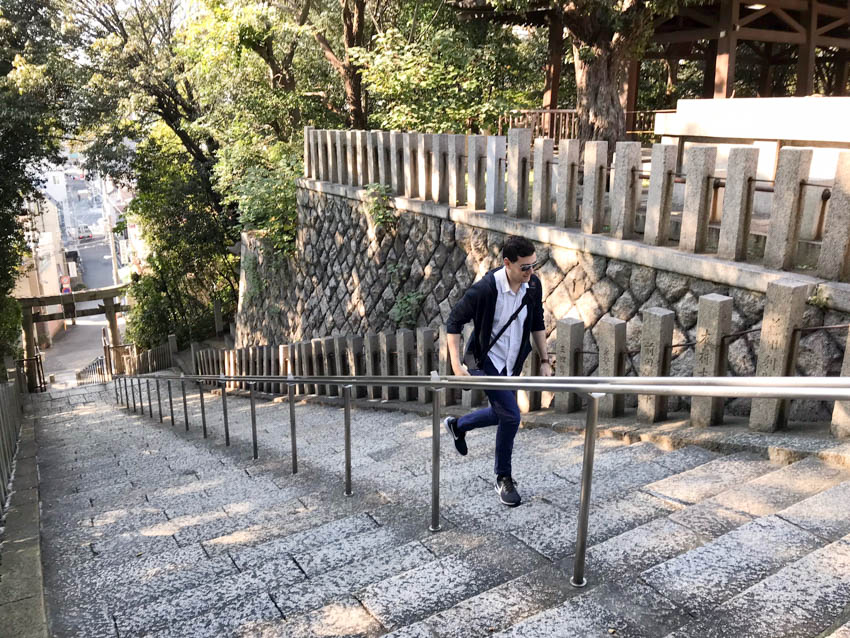 We arrived at Osaka Castle in the afternoon. It felt like a long walk and we were taken into an elevator and browsed the museum inside from the top level downwards. This obviously meant reducing congestion because you'd be at the exit once you finished looking through the whole thing. Pretty efficient if you ask me!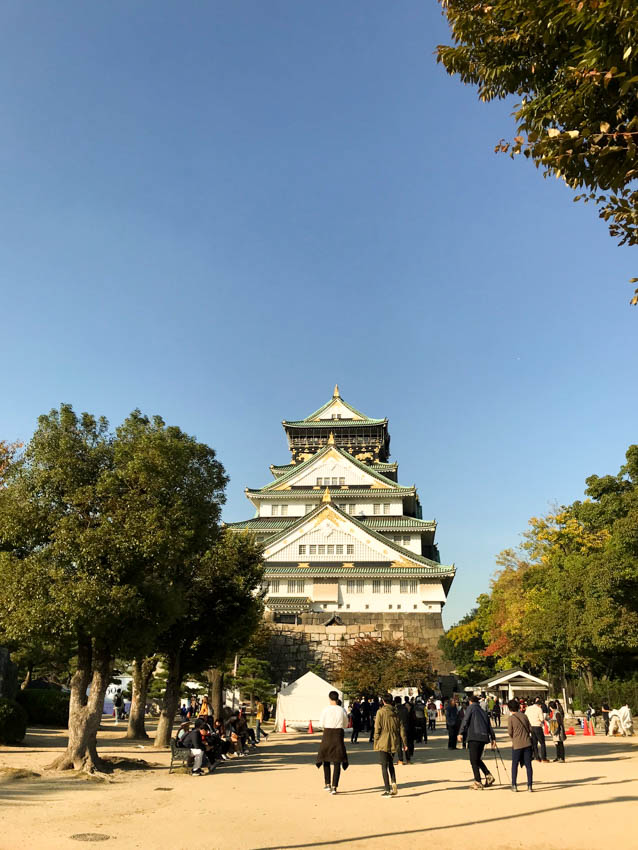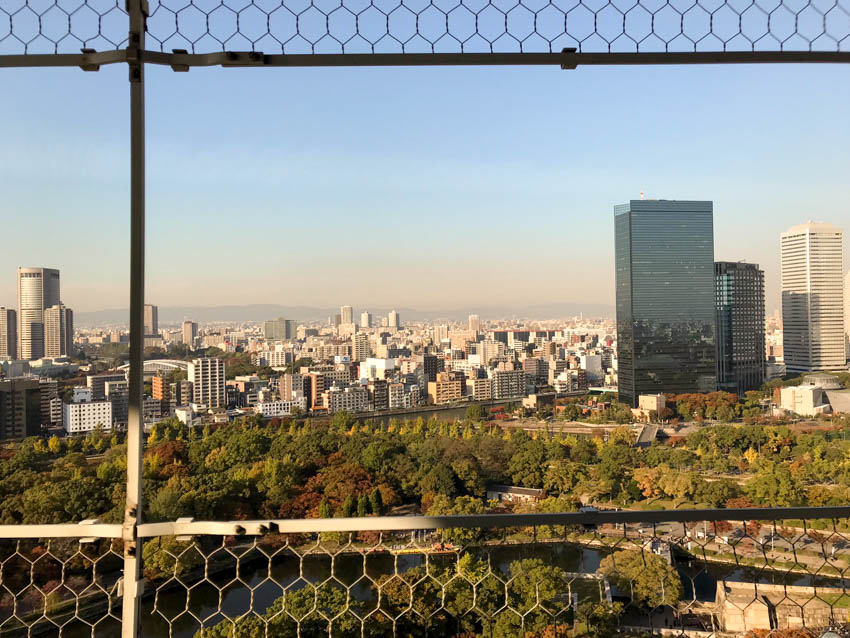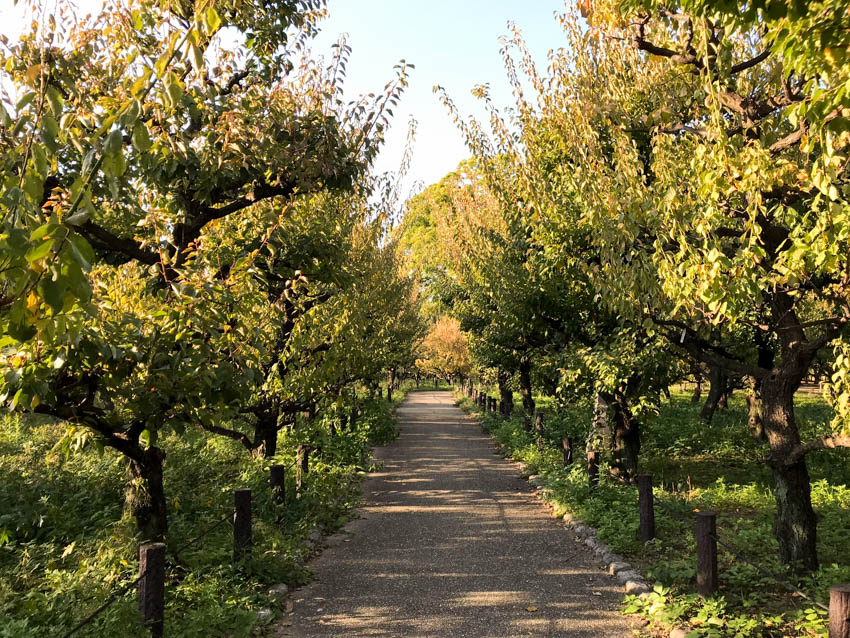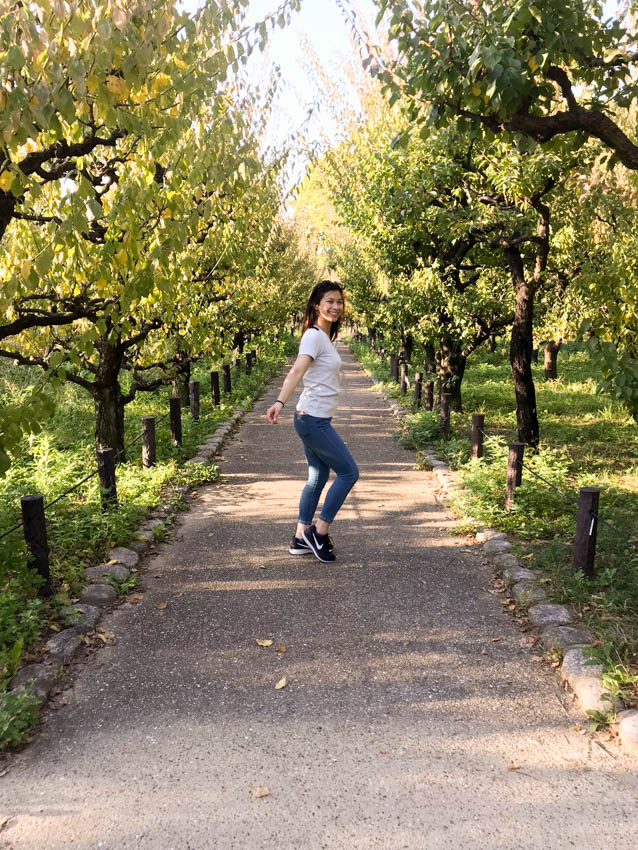 We got ourselves to Umeda Sky Building next, a unique structure with amazing views up top. I would say it is a little on the pricey side compared to other attractions, but worth it especially if you specifically came to Osaka. After going up an elevator high enough, you go even higher as a long escalator takes you to the "sky park" area. This area provides a 360° view of the city of Osaka. We got there at a good time – it was sunset and everyone was silent in roughly the same spot. You could hear just a few camera clicks and shutters.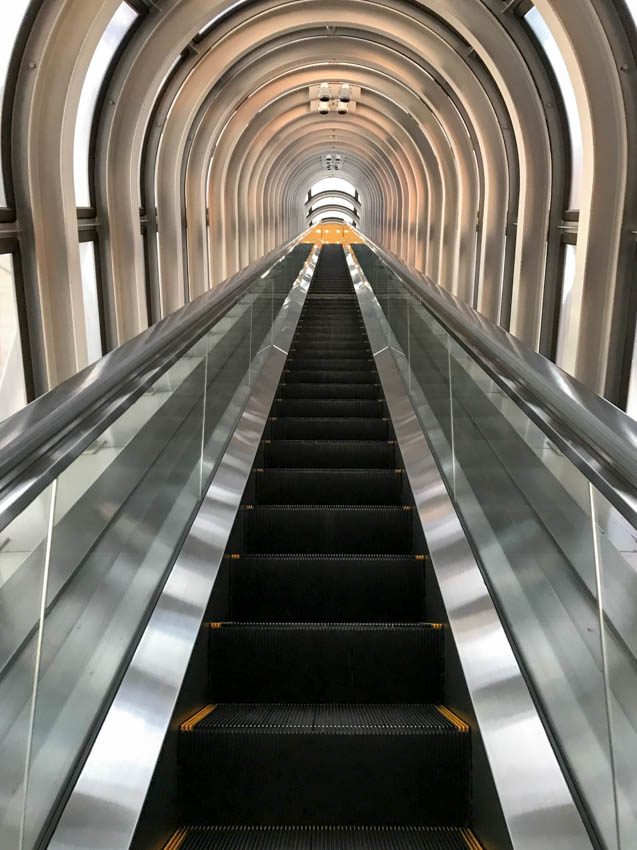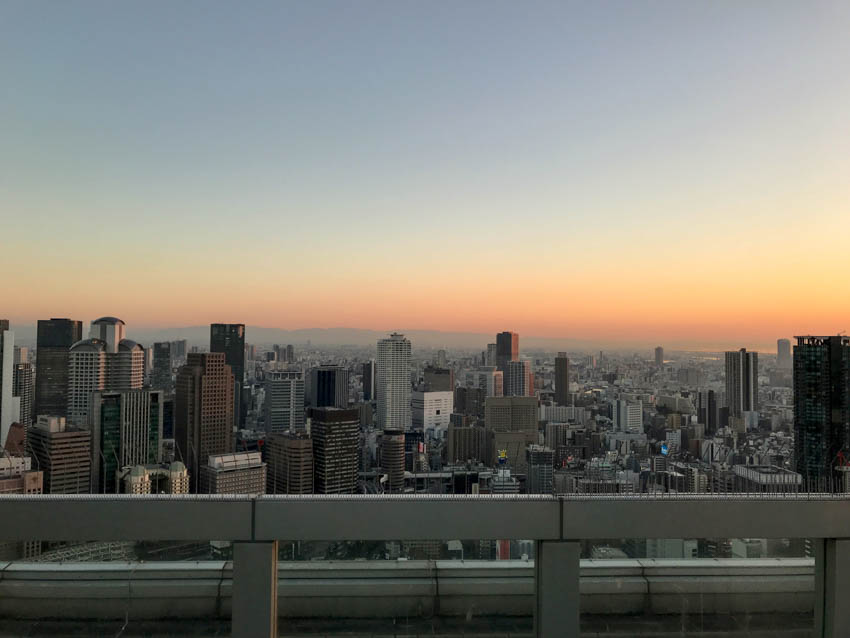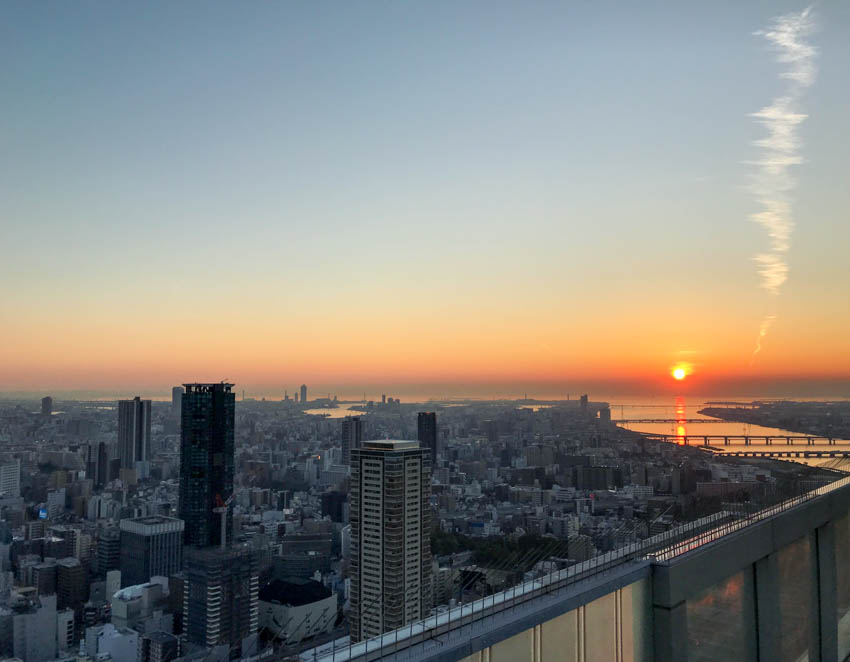 Then the most random thing happened: a man, who was photographing the sunset on his phone as well, all of a sudden let out a very loud fart that lasted several seconds. It was enough time for us to look around in confusion, and for a split second I made eye contact with another man who looked equally puzzled. The man who farted didn't even flinch. He just kept taking photos of the sunset. I suspect he probably meant for it to be a silent fart? After that, Nick and I just found it hilarious and couldn't stop laughing about it.
For dinner we met up with my online friend Sydney! She recently moved to Osaka from Las Vegas. I don't remember how long I've known her for but it was really awesome to finally meet up in person. We went for ramen at a place called Zundoya, another spot that Nick had found some positive reviews on on the internet. It ended up being really, really good. I'd say it's the best ramen I've had!
Ichiran Ramen is a chain that is famously good as well, but both Nick and I preferred Zundoya!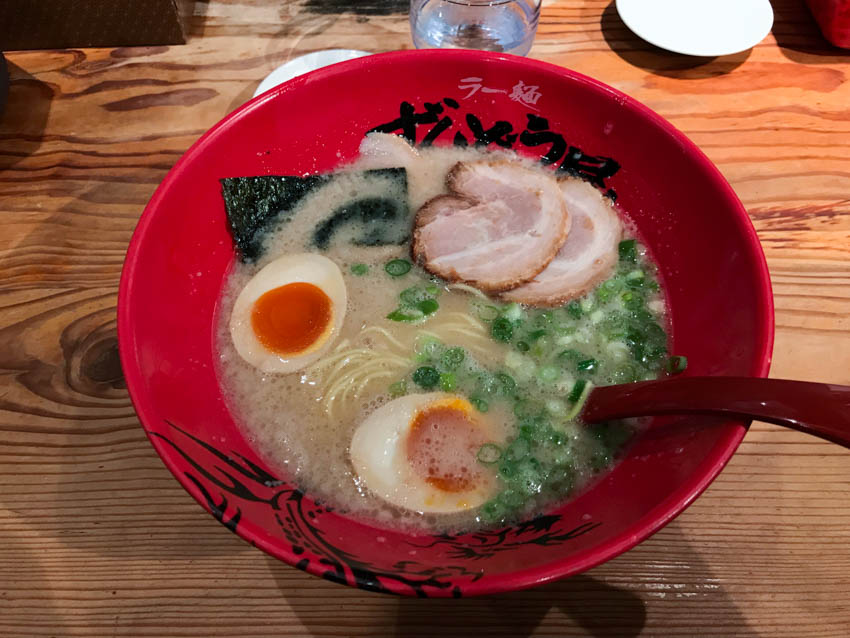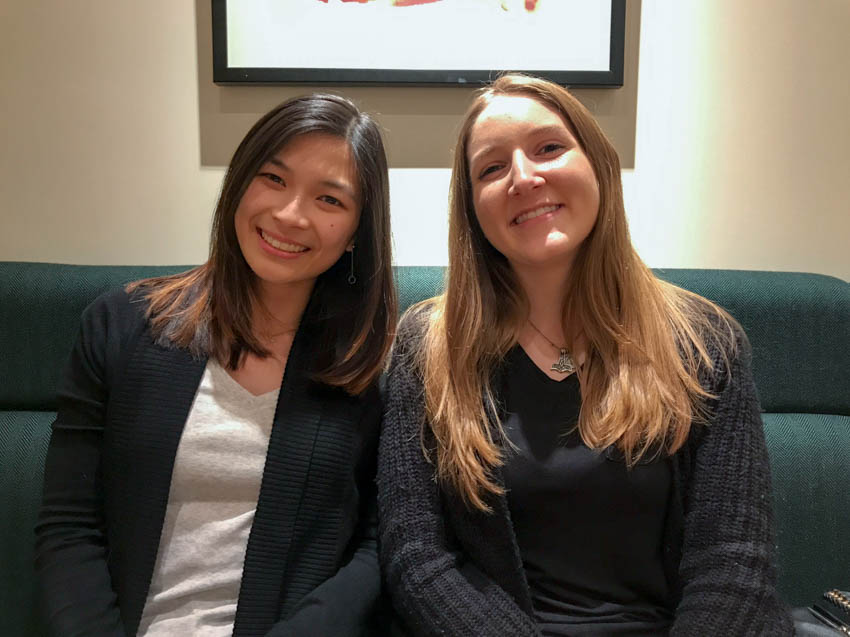 We had dessert afterwards at a cafe. I don't usually have "room" for dessert but in Japan I always feel like there's room for a little something. 😆 It may have something to do with the smaller portion sizes, even though most Japanese dishes have rice and rice can really fill you up. Or maybe the food is just so good that I can't pass anything up?!
My next post will be about our day trip to Hiroshima and Kobe!
---
Photos in this post were taken by myself or Nick on our iPhone 7s.
You can follow our honeymoon adventures with the hashtag #thecookeshoneymoon on Twitter (mostly me) or on Instagram (mostly Nick). 💖