Fashion Friday: Reactive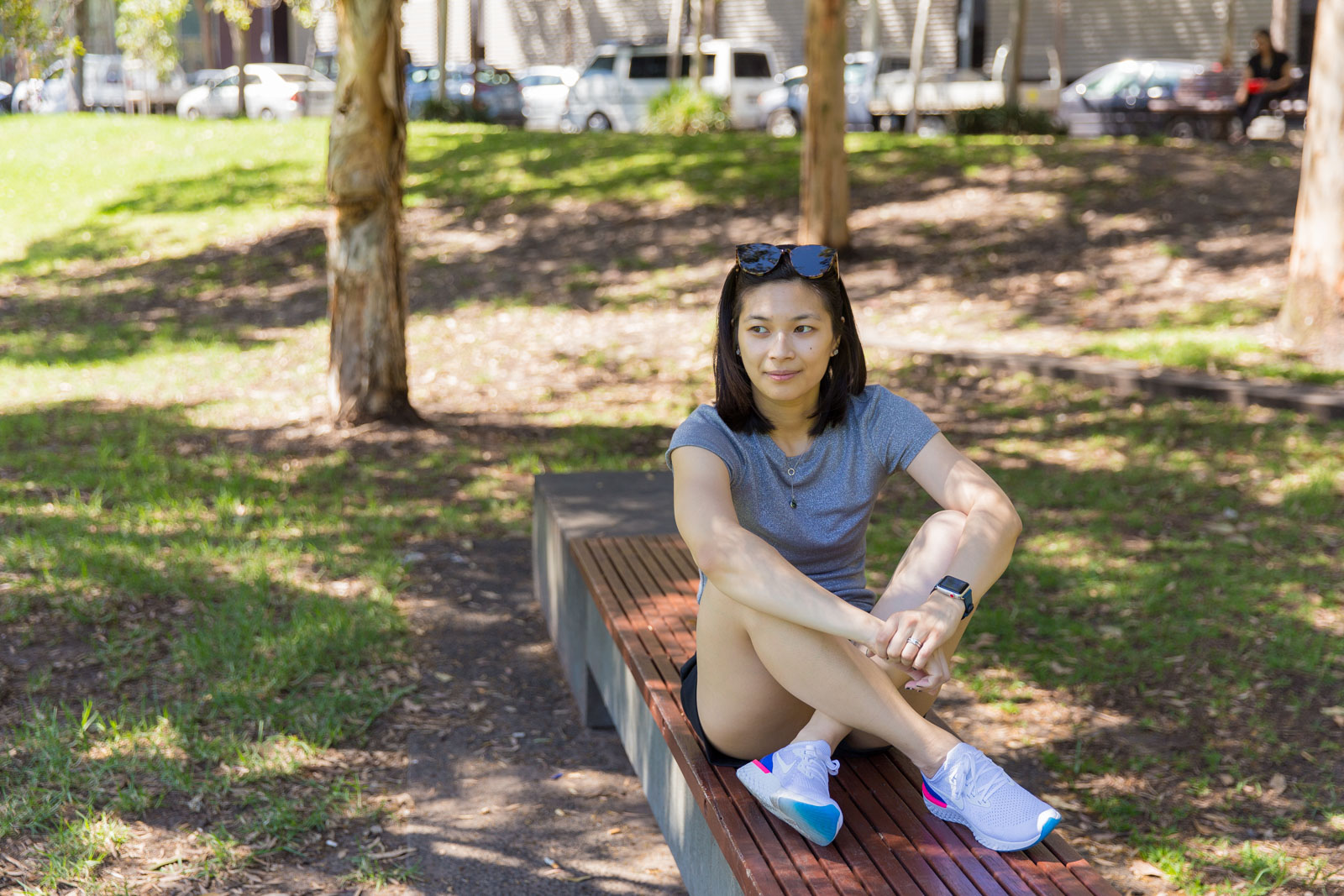 Before I say anything else: holy fucking shit I love these shoes.
I bought a new pair of Nike Epic React shoes recently, and I'm completely in love with them. It's quite funny, when you think about it – never once did I think I'd be so into fitness that I would get excited about a pair of sneakers/joggers/running shoes.
Here's a little story about how I came across these shoes. I was initially looking for Nike Metcons, which would be appropriate for what my main and particularly current focus at the gym is: weightlifting. I used to do a lot of HIIT (high intensity interval training) last year but have reduced that a little bit. Weightlifting generally requires flat shoes, or no shoes – you might see weightlifters at the gym take their shoes off – having a flat shoe, or no shoe, helps ground your feet to the ground so that you're stable. A lot of shoes have air or cushioning to absorb impact, making them less suitable for lifting weights.
While eyeing these Metcons I visited the Nike website and saw an advertisement for a new shoe called Epic React. My instant reaction was, "They are so pretty!" Reading more into it, I realised they were a (revolutionary) running shoe (that makes it feel like you are literally walking on mattresses and sponges), which was honestly the last thing I needed. 🙄 However, because I was also on the lookout for a lifestyle shoe, a sneaker, something like a Converse Chuck Taylor style shoe, or volleys, I was wondering if it was possible for me to purchase a shoe that could function for more than one purpose.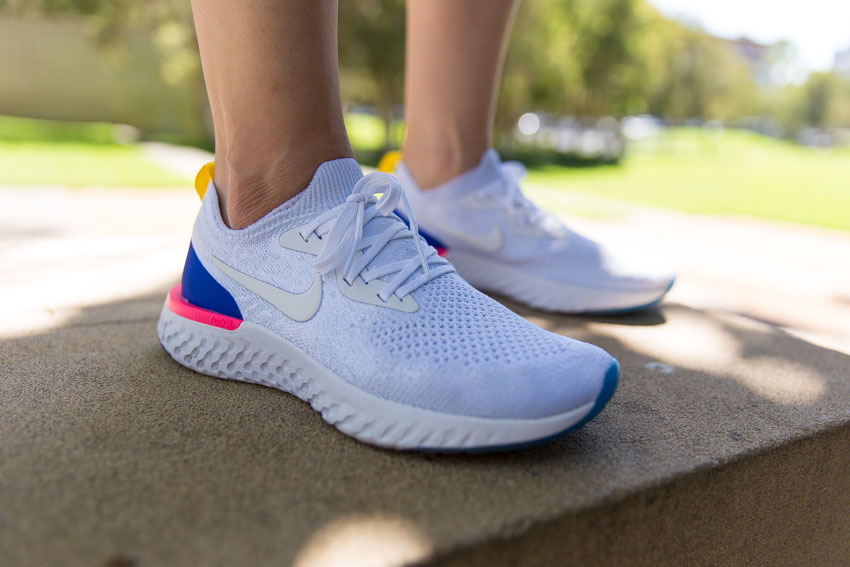 I was considering buying a Nike lifestyle sneaker, since I liked the look of some of them, and be able to use it at the gym too. After all, many weightlifters lift in their Converse.
Or was it possible to have a running shoe that was doubly cool as a lifestyle shoe?
Meanwhile, I'm browsing Instagram, and because these days the internet is creepy as hell, I got an advertisement for the Epic React shoe. 👀 It was a short clip of a girl who said she was trying out the new shoes on a run, and that they were great to run in. As she ran, the clip was annotated with cartoon squiggles that implied the soft and comfortable cushiony feeling of the shoe.
Ugh, OK!
I already have a pair of Nike shoes which is a good walking and running shoe and a good general gym shoe. So I really did feel that a running shoe was unnecessary.
When I went into the Nike store and tried on Metcons, I found that they didn't have the colour I wanted in my size. 😞 I figured since I was already there, I might as well try on the Epic React and see how it felt to walk in them. Yeah, I got sucked in by the advertising, I guess. Let's see how this spongy mattress claim holds up. (It was even advertised in the storefront with model feet bound to small piles of thick spongy material.)
Oh. It all made sense now. I was in love with them when I tried them on. They were so comfortable and it really did feel like I was walking on mattresses. It was incredible. And I only walked in them for a few minutes to be honest.
Unfortunately…! They were sold out in my size in all the stores. The staff member serving me said they'd sold hundreds in their first day and week. She even checked the other colours for me and said that every colour in my size was sold out. ❗ Although she wasn't able to check online stock, she had mentioned it at some point in our conversation. So I walked back to the office, kinda disappointed. I actually couldn't stop thinking about the shoes. When I asked, the staff member had said that she bought a pair herself and yes, she definitely wears the white version as a lifestyle shoe. "I'd never wear them running," she said, "No way, they'd get wrecked."
Back at the office I went on the Nike website… and I found the shoes were available in my size. I got super excited, but sat there pondering making the purchase. Ugh the shoes were just so good.
I reached out my colleagues who sit around me, and Sam suggested that I should get the white ones, since they were the ones I initially wanted. We discussed how spending too much time on a decision can make us – once the decision is made – stress more over whether we made the correct decision or not. And that impulse buys can sometimes be a good thing. So I went for the white ones haha.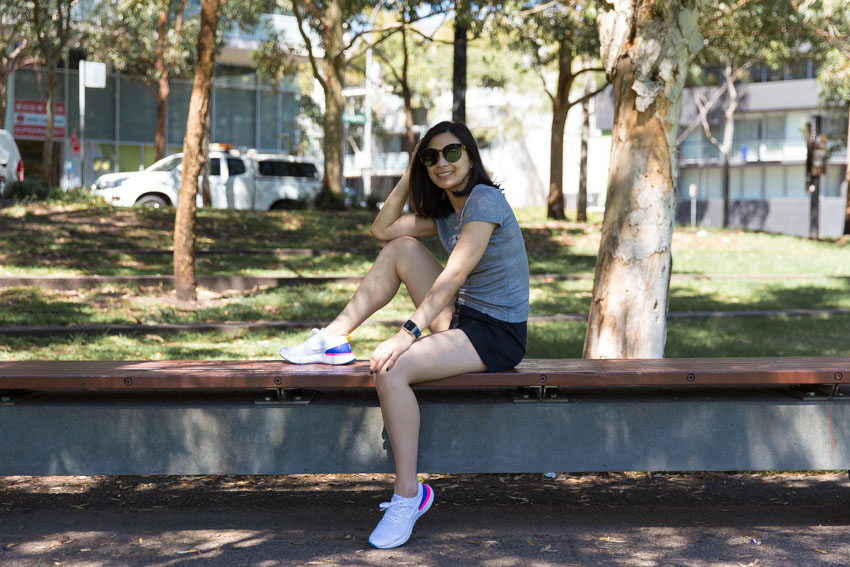 And they are fucking amazing. 😆 I'm wearing them as a lifestyle shoe, mostly, but, I did run on the treadmill in them at the gym. And they were great to run in. The shoelaces don't come undone as easily as my other Nikes, and I feel that they are more supportive of the whole foot. Presumably that is because of the flyknit style. The top of my right foot is a bit bigger than my left, so I have to loosen the shoe up a bit on that side, and my feet are still getting used to the style, but dang. They are comfortable to walk in and I've walked, jogged, and ran comfortably in them! 😍 Successful purchase.
I'm done rambling about these shoes, they are the highlight of this outfit. 😜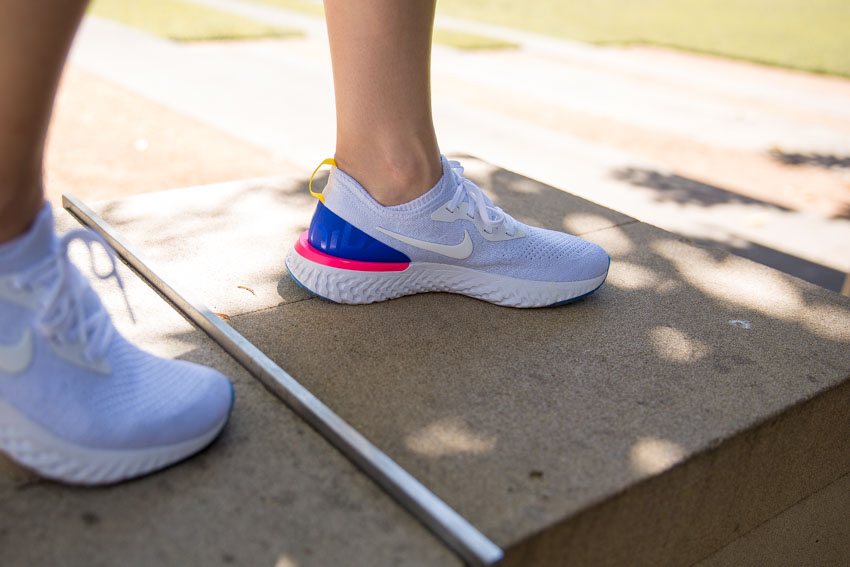 Sporty isn't usually my general style, so this outfit is a bit of a casual cool deal still with that Georgie edge. I've taken a bit of a liking to sparkly material, although I don't own a lot of pieces. I enjoy browsing them in stores for inspiration. ☺ I had bought this sparkly top as a "basic", something that generally goes with everything, but also as a more "interesting" basic t-shirt. I like it more than I had anticipated, actually. I wear it a lot, with both jeans and skirts. After some time the lurex threads feel itchy, and it seems that most sparkly material changes after just a few washes, and almost looks old. But you can't really see it on this shirt. I still try to wash it in a mesh bag if I can.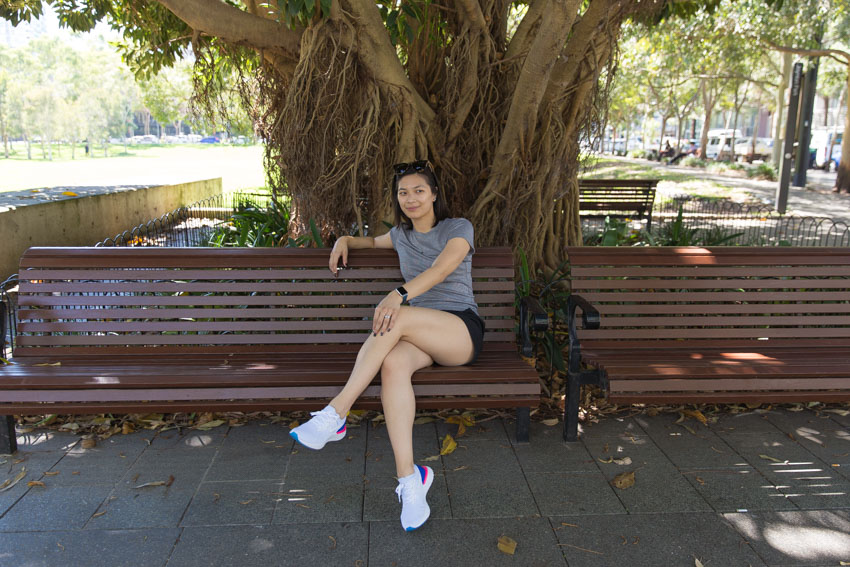 I bought the shorts from Lululemon. I've never thought of buying anything from Lululemon besides activewear, but when these shorts were released, I really liked the length and the cut. They are called the Minimal Short, and the tailored look was pretty much everything I was after in a pair of shorts.
I'm not big on shorts. I wore denim shorts and high waisted shorts a couple of times in previous Fashion Fridays, but that doesn't really appeal to me anymore. When I saw these shorts I realised they would be really comfortable for travelling and general wear, but could also be dressed up nicely too. And no obnoxious branding on the shorts, either.
I sat on it for a while, but we all know Lululemon shit sells fast.
Within a couple of weeks, I couldn't find my size in store, not even one size up, and they had disappeared online too. I was pretty upset because I was sure the shorts would be a winner. It wasn't until a couple days later, me perusing the site every day to see if they would come back, that I saw a size 4 (Australian size 8) online. I'm usually a size 2. But I figured, since my hips and bottom have grown bigger, and I'm working on them at the gym, too, that size might be OK. So I ordered it.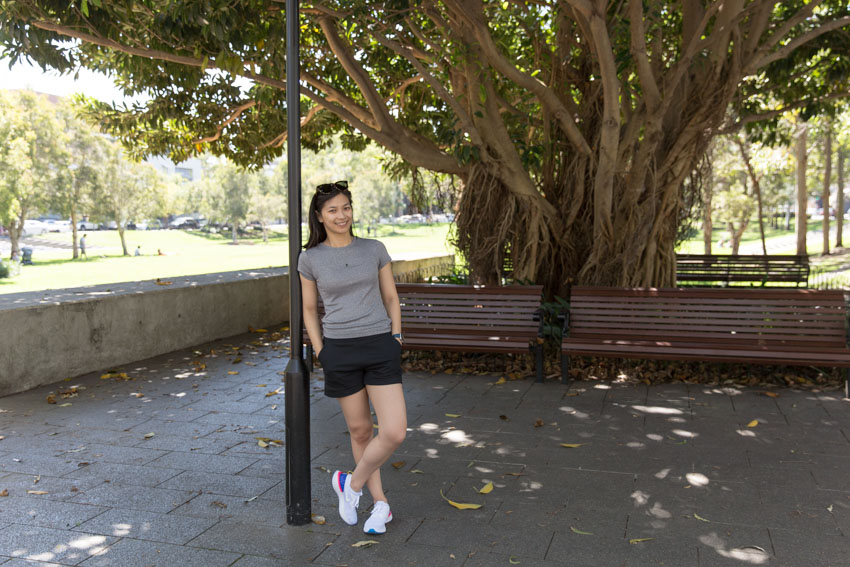 The waist is low and the shorts are kind of slung on my hips, but I decided to deal with it. I figured it was unlikely that I could land a size 2 by way of someone returning it or reselling it. At least not any time soon. If it gets annoying I can try to take it to a tailor, but it does look like it'll be a complex job. Anyway, it's really quite tolerable for now! 👌 Another reason I love the shorts is the pockets… I probably should have mentioned that first. 🤪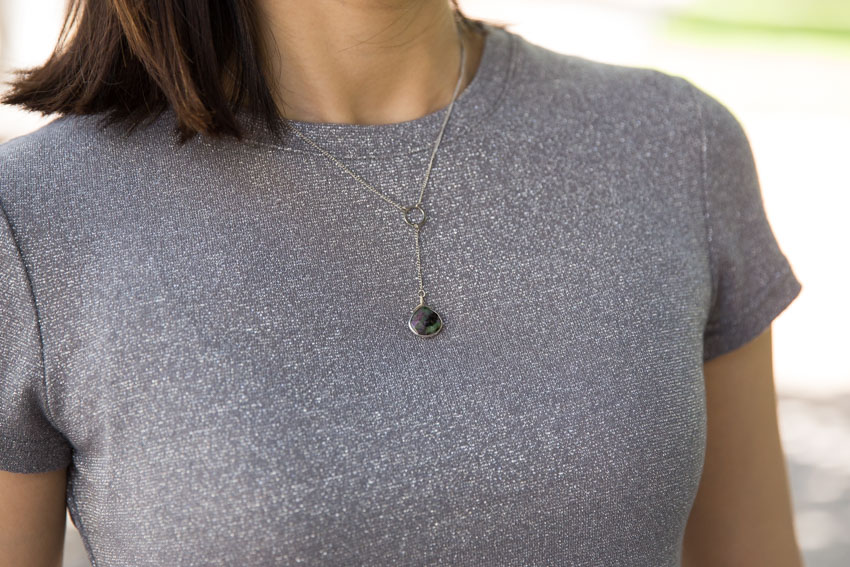 I've popped on a natural stone necklace (this one is a ruby), as per true Georgie style. I think it adds a little extra to the outfit. In days gone by, I wasn't very good at mixing and matching different styles – in this case chic and sporty, I guess – but I think I've done much better here. What do you think?
The title of the post is derived from React, the shoe name, and, well, "active". 🏃🏻‍♀️
📷 All photography by Nick.
Outfit details
Top: Lulu + Rose (Lykke Metallic Tee – shop similar)
Shorts: Lululemon (Minimal Short – details on lulu fanatics database)
Shoes: Nike Epic React Flyknit Running Shoe (White/Racer Blue/Pink Blast/White)
Necklace: By Invite Only (Stainless Steel Ruby Zoisite Juliet Necklace – no longer available)
Sunglasses: Gentle Monster (Black Peter – shop similar)
Nails: Scratch (Monthly Mani Kit exclusive – not really visible in photos, but they are black with small swan print)
---
Would love to hear your opinions on the slightly sporty look, let me know what you think! Also no this is not a sponsored post. I just really like the shoes. 😉