Visiting a maid café in Akihabara
This post is the eighth in a series on our honeymoon trip in Japan. The previous post recounted our adventures in and around Harajuku. You can find all our honeymoon-related posts on my blog at #thecookeshoneymoon. ☺️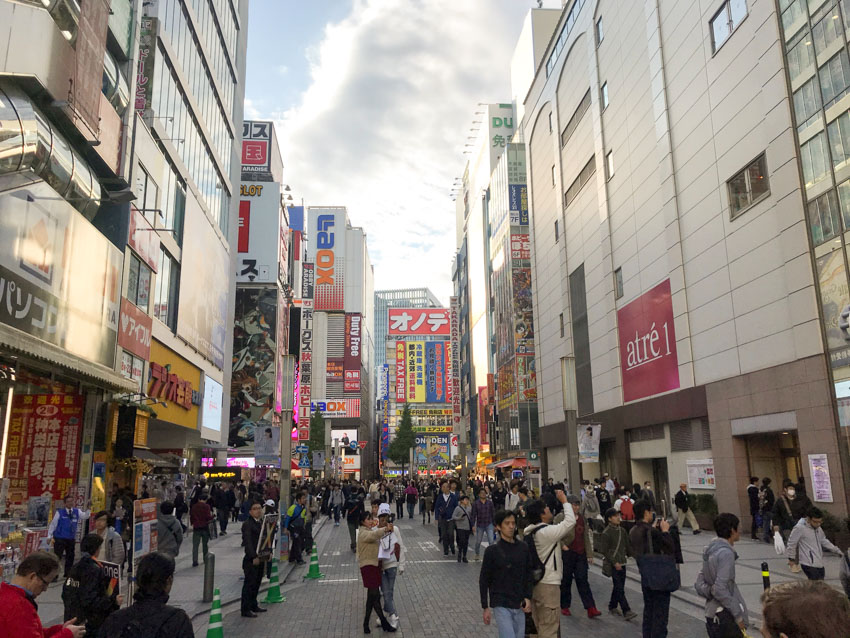 Akihabara, Japan, is the place to go if you are really into anime and manga. This area of Tokyo wasn't really my thing but I didn't mind walking around, crowd-watching, and looking in stores. Our main reason for stopping by Akihabara was to experience a maid café.
We went to a Maidreamin' maid café. We'd found some videos about this franchise of maid cafés on YouTube, prior to our trip, and it seemed like it would be a good choice. There seem to be other other companies that have maid cafés but I think this one might also be the most popular.
If you haven't heard of the premise of a maid café, it's one of Japan's famous "themed" cafés – just like cat, dog, and owl cafés. In the animal cafés you can purchase food and drink, play with the animals like pets, and be entertained. In the maid cafés the waitresses are dressed up in maid costumes and there is a general aura of cuteness around the café as well as around the food. ☺ They encourage you to wear bunny ears and to pay a little extra for them to do a performance, which is usually a cute dance, often with singing. In the videos and articles we have watched and read, some people do initially misunderstand and don't realise this is simply an innocent cute themed restaurant. 🐰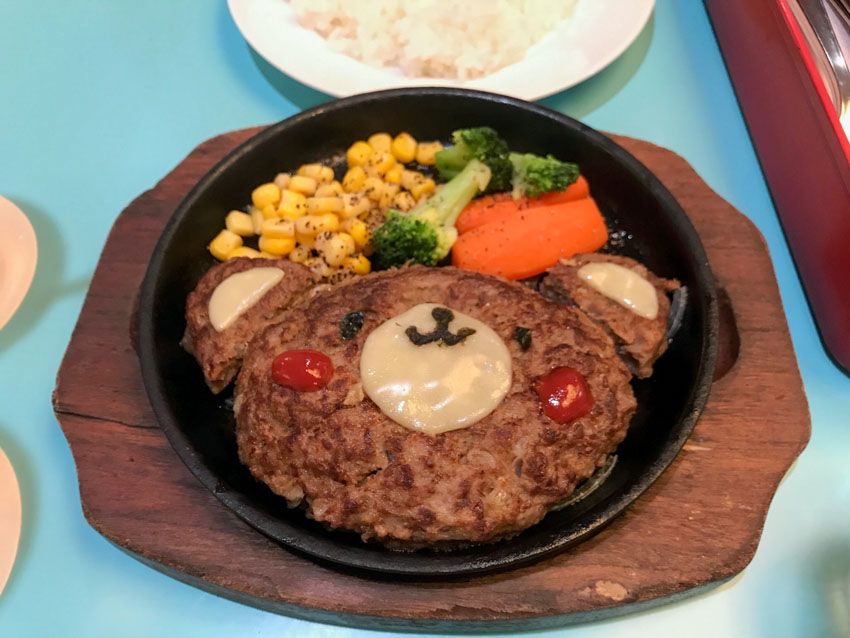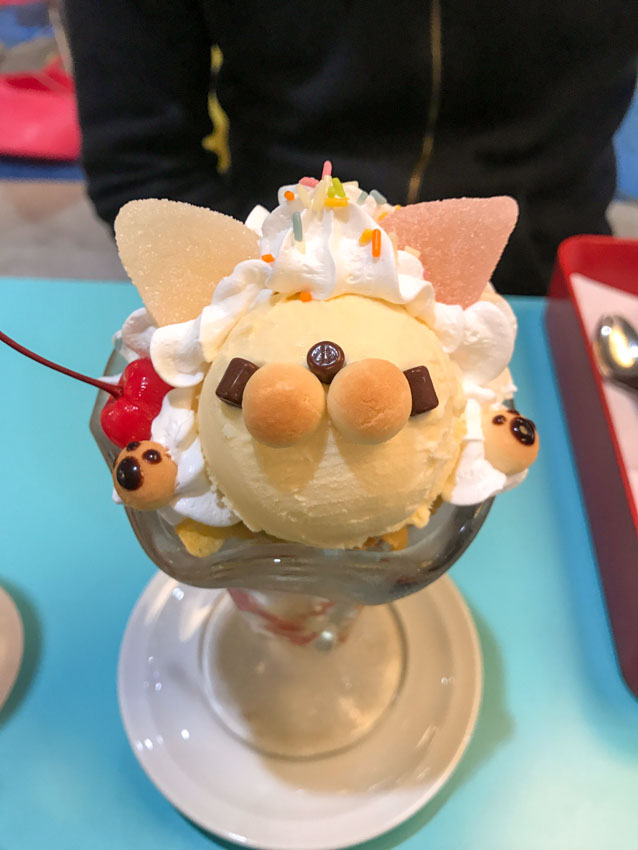 The cost of the food was a little pricey, but we ordered a hamburger steak and a parfait to share. Parfaits, by the way, are very popular in Japan. They often have a crunch cornflake base, followed by soft serve, and then topped with whipped cream, biscuits, and sprinkles. The food was average tasting, but of course, the café is more about the entertainment and the presentation of the food rather than its taste.
We had ordered the food as part of a package so we the maids sang a song and three of them danced together while we were supplied with light sticks to wave around. We got a photo with one of them. Excuse my bright pantyhose, my fashion was so not on point that day.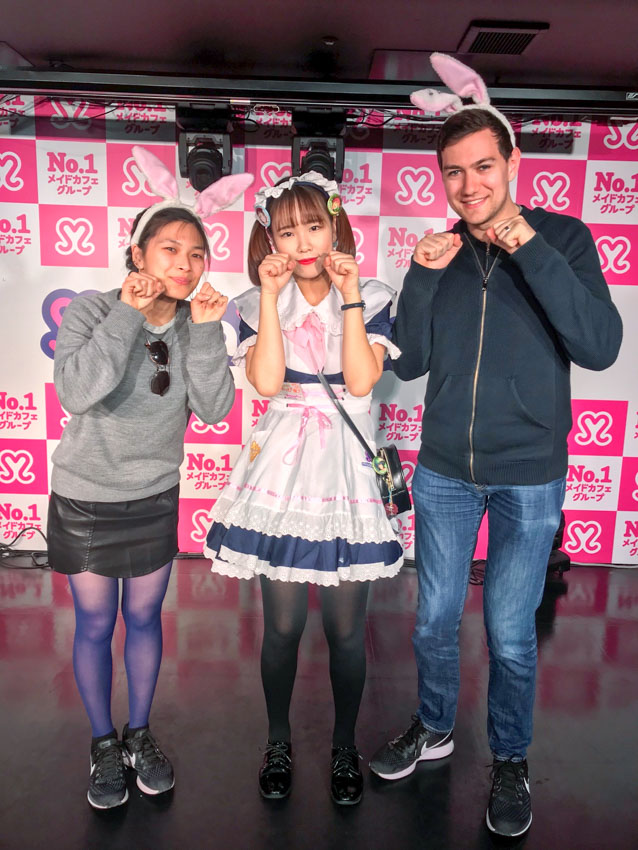 We had the option to get a souvenir and I chose the keyring because I thought it was probably the most practical – I think the other options were chocolate (actually in hindsight, I should have gotten that instead, but it didn't seem like that much of a souvenir if it was edible haha) or a printed photo with a maid. It was a funny experience, I'm not dying to do it again but if there are other maid cafés out there that are different, I wouldn't mind visiting one again.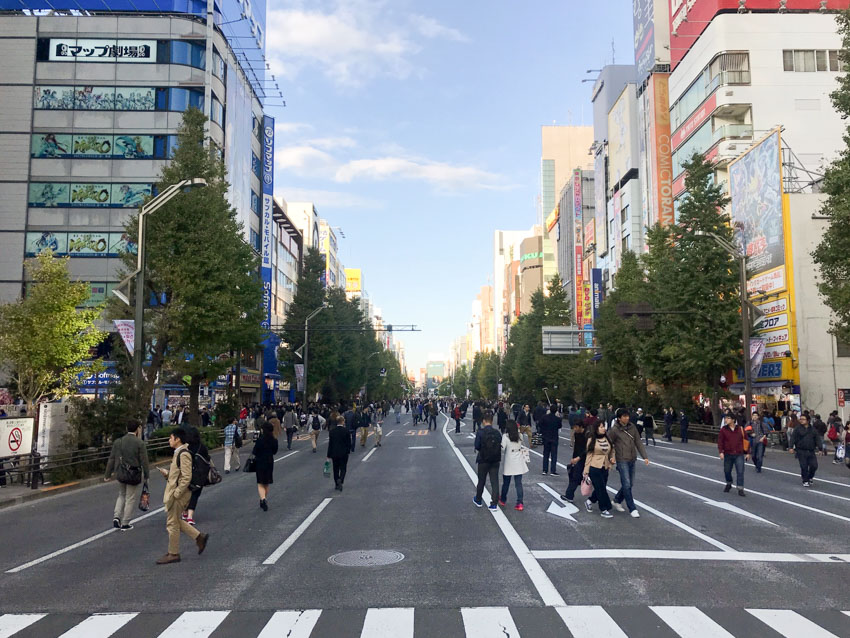 On our way out of Akihabara we spotted a shop with cheese tarts. Of course, we had to give them a try! I picked out an apple pie one, while Nick could not resist the strawberry flavoured one.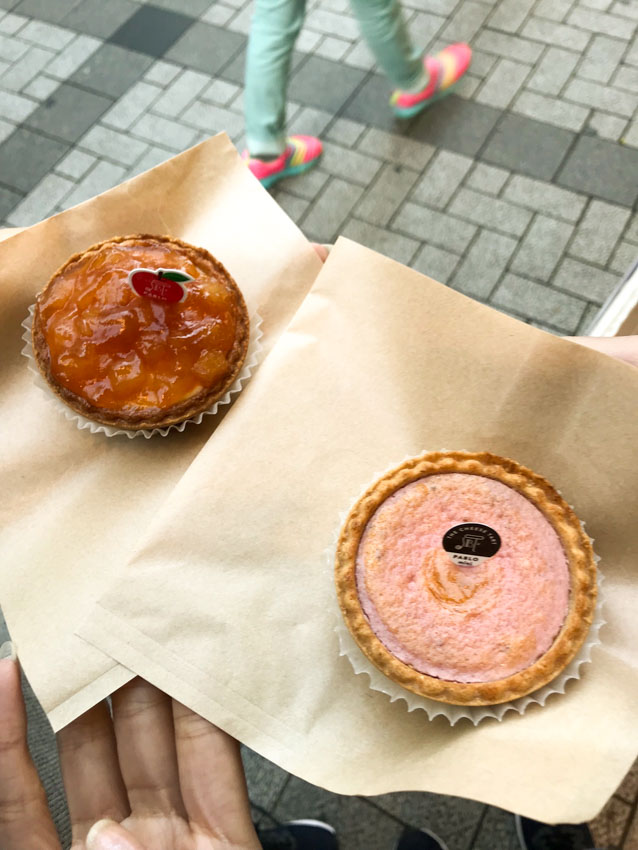 That evening we went to Zundoya Ramen in Kabukicho. After having Zundoya in Osaka, we were itching for it again. It makes me want some even just writing about it now. 😧 🍜
Stay tuned for my next post. I'm not sure what it'll be yet, but there's quite a bit more to come – including Tokyo Disneyland, Disneysea, and the Robot Restaurant!
---
Photos in this post were taken by me or Nick on our iPhone 7s.
Although we returned from our honeymoon four months ago, you can see the rest of our honeymoon adventures with the hashtag #thecookeshoneymoon on Twitter (mostly me) or on Instagram (mostly Nick). 💖
Other posts in this series: