Stylesheet 002: Starry starry night • Ready for another (mostly) WFH winter
Hi! ❄️👋 It's still not winter yet in Sydney… but I had to get my coat out of my drawer because it was cold enough to warrant warmer outerwear. I really wanted to delay getting the coat out for as long as possible, but I can't deny the versatility of my blue coat.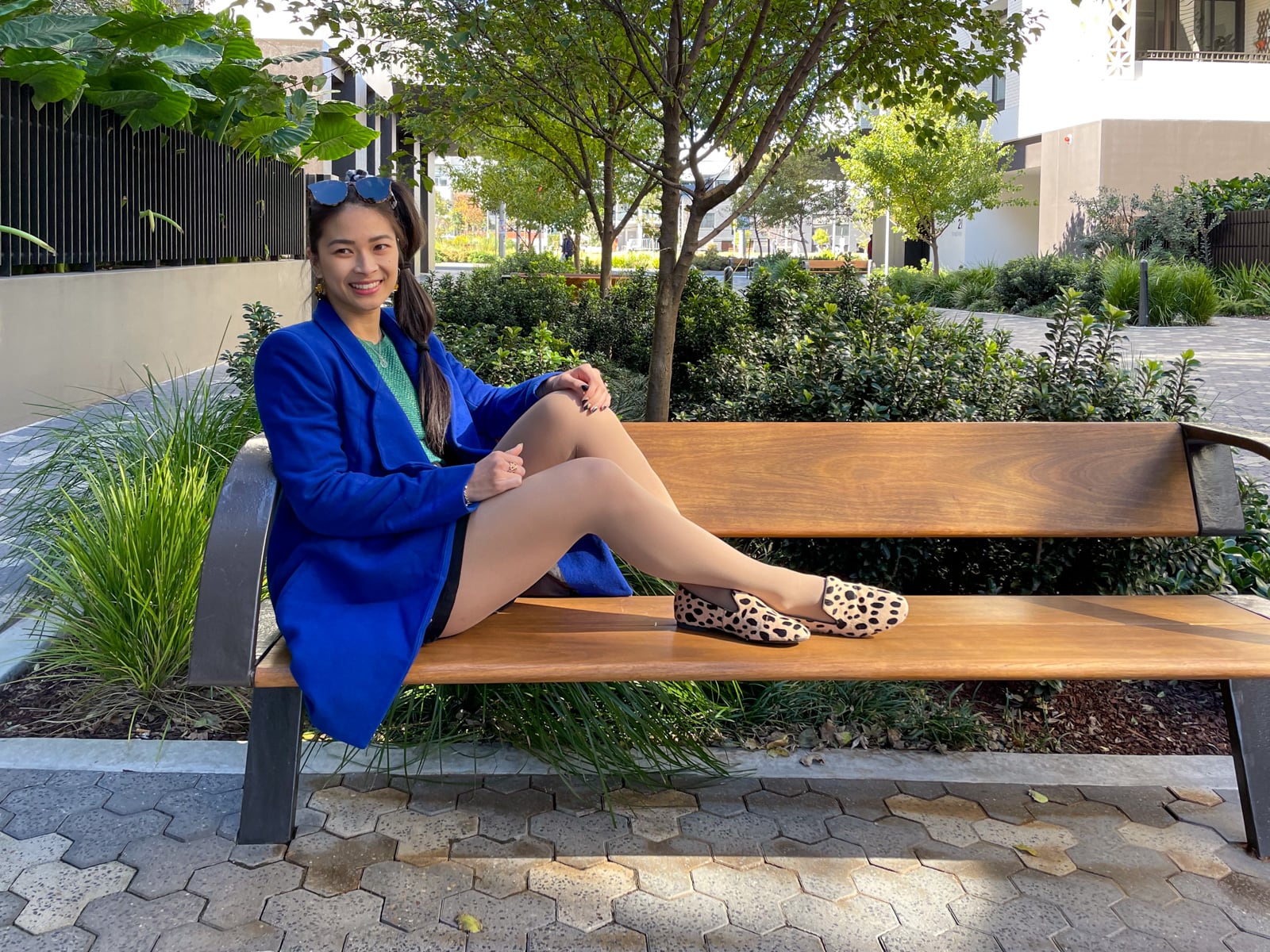 Ooooh, it's cold 🧣
I first featured the coat last year in the Kaleidoscope outfit, with a matching blue scarf. That time, I wore it with a short skirt. Because of the length of the coat, I really like how the hem sits at roughly the same point on my leg when I wear shorts and skirts. The coat is one of my best second-hand purchases – considering I only have one other coat, and I prefer this one over the other, this gets a lot of wear throughout the colder months. It's almost completely made from wool.
It's oversized, but is a smaller size than I usually wear, so it works out pretty well. Unfortunately, my muscle building efforts at the gym have made it a bit tight around my shoulders and armpits, but only if that starts getting exceptionally bothersome will I try and look for a replacement.
When picking out the coat, I'd actually already chosen the shorts and top ensemble. We were really only heading out for brunch on the weekend, but even though it's the weekend and even though I may only be going to brunch, I still like to make stylish choices.
I have always been reluctant about wearing the bright blue with the bright green. I think I pull it off pretty well, but I feel like it's a combination I don't love. I love blue – a lot! – and I like emerald green, but I've yet to find a combination of the two colours that I enjoy wearing. I like emerald green and sky blue together, but I think I need to balance it out with another colour, or play with those colours in accessories, shoes, and prints/patterns. In this particular outfit I think the black really anchors the green and blue so it's not too much.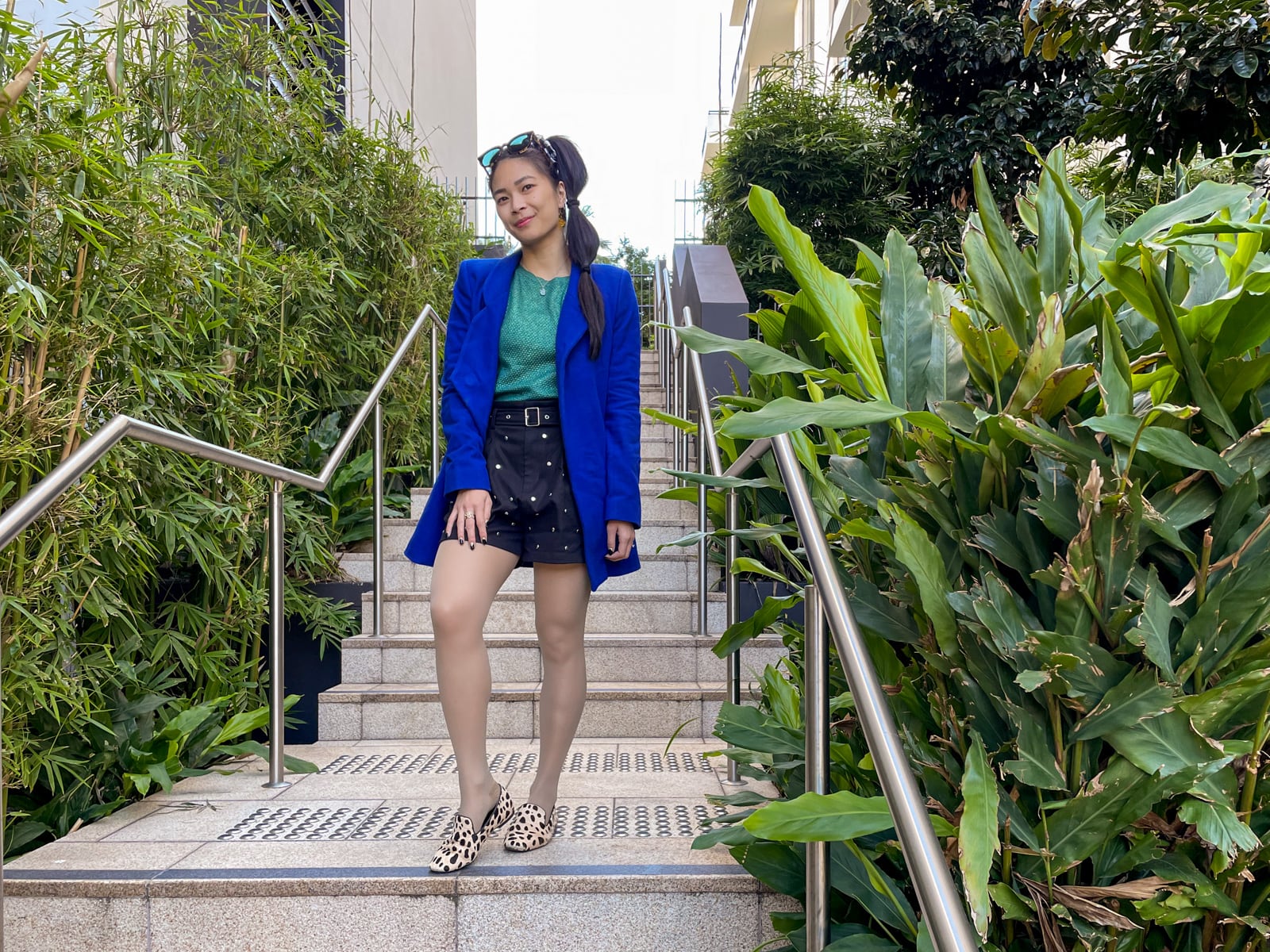 I'm proud to say that my green top is one of the oldest pieces in my wardrobe. I've had it for about three years – which is honestly a very long time considering other pieces in my wardrobe were only purchased a year ago, or I've sold other clothes that I had for a shorter period of time. I find that my winter clothes don't change all that much.
This top is a cotton, modal and wool blend. It's really easy to wear and I love that it's made from natural fabrics. It wears really well. I bought it when I didn't care too much about fabric composition and also during a time when I didn't know my personal style very well, so I'm glad it's sort of lived up to its destiny now. 😂 I actually featured it a while ago in my older Fashion Friday series in the Faerie edition and mentioned how I loved the ¾ sleeves. I still do!
Studded shorts 🤩
Admittedly, the shorts are a purchase from earlier this year. After buying a successful pair of second-hand shorts last year, and experimenting with a few styles, I found that more modern, current fashion was in line with what I was looking for. Unfortunately, I couldn't find any second-hand shorts that fit what I was looking for. It was worth a little experiment though!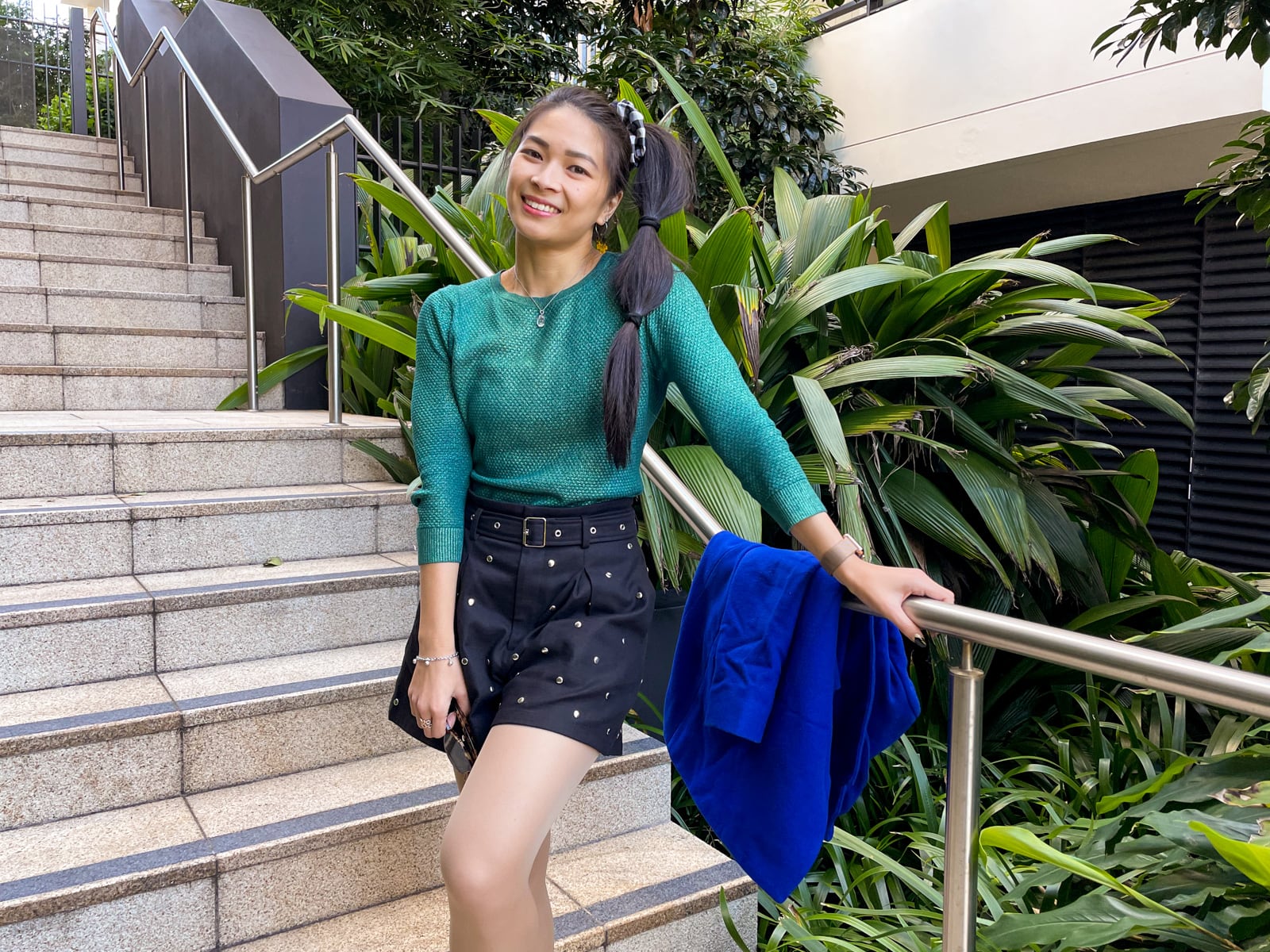 These shorts are from the Australian brand Third Form – and as you know, I have been trying to support local, smaller brands for the past couple of years. They're a a brand I will keep looking out for from now on, since I like their vision of bringing a comfortable, versatile, but cool and confident vibe to the everyday. I bought a matching crop top with these shorts, which has actually got a tonne more wear than the shorts themselves. Surprising considering it's a really cropped top – I hope to share it in one of my posts in the future. I actually bought the set when it was marked down by about 50%. I honestly wouldn't have paid full price for either of these items since the original price was in excess of $200. 🙈
But I love these shorts! They are very comfortable, and have legitimate pockets that fit my phone (must-have in every girl's wardrobe, really). I was a bit conscious of wearing them since they feel a bit precious and fragile due to the studs all over. In actuality, the studs are very secure, but it's the belt I'm a bit worried about. The silver eyelets on the belt holes do pull a little bit where the belt buckles up, so the fabric has tiny tears where it meets the eyelet. I think most people would experience this with any kind of belt with eyelets – there's just always going to be stress at the point at which the eyelet meets the fabric. I am just a bit careful not to pull the belt too much, but otherwise I'm pretty chuffed that I have a pair of black, good quality shorts, that can be dressed up and down!
I think a funny thing about the shorts is that the studs make a bit of a rattle noise when I walk. Probably going to be awkward if I'm ever sitting an exam in a quiet room and leave to go to the bathroom, but I mean, that's clearly not going to happen. 😝 I can imagine it might be distracting in a very quiet environment – a library? a church? but I decided not to let it bother me.
Thoughts on tights
I don't know what's up with my pantyhose but it looks like they are darker than my skin colour, almost like they are stained black. Maybe they got darker when I just threw them in a regular wash in the washing machine? 😂 I think I usually prefer light, skin-toned pantyhose but I've been thinking that they do give off a strange vibe when I wear them during the day. It feels like they're too formal for the day (and is something that pertains to the suggestions of how to dress a flamboyant gamine body type – the Kibbe image ID that I identify with). I think I'll be more open to trying opaque tights in the future, or at least now I will be choosing black pantyhose over skin-toned. I actually used to wear a lot of patterned tights when I was in university – with dogs, skulls, and other animated prints – but back then, my wardrobe was a bit of a hot mess anyway. 😅
The shoes are another piece I've owned for a few years! I repaired them recently along with a couple of other shoes, to extend their life. I featured these giraffe print loafers in Daydreamer and Apollo and you might be familiar with the ankle boots I have in the same print! Although these shoes are comfortable for short walks, I wouldn't wear them for longer walks or when I expect to be walking a lot.
Hair and accessories 💫
I adopted a sort of 90s look for my hair. At least, I think it's 90s? Please correct me if I'm wrong. I just think of this sectioning of hair as being something from that era. I was inspired to do it after my hair bun came loose during a class at the gym, and I didn't know what to do with my spare hair tie, so I tied it halfway down my ponytail. This sparked the inspiration for the hairstyle, and I've worn it a few times like this since.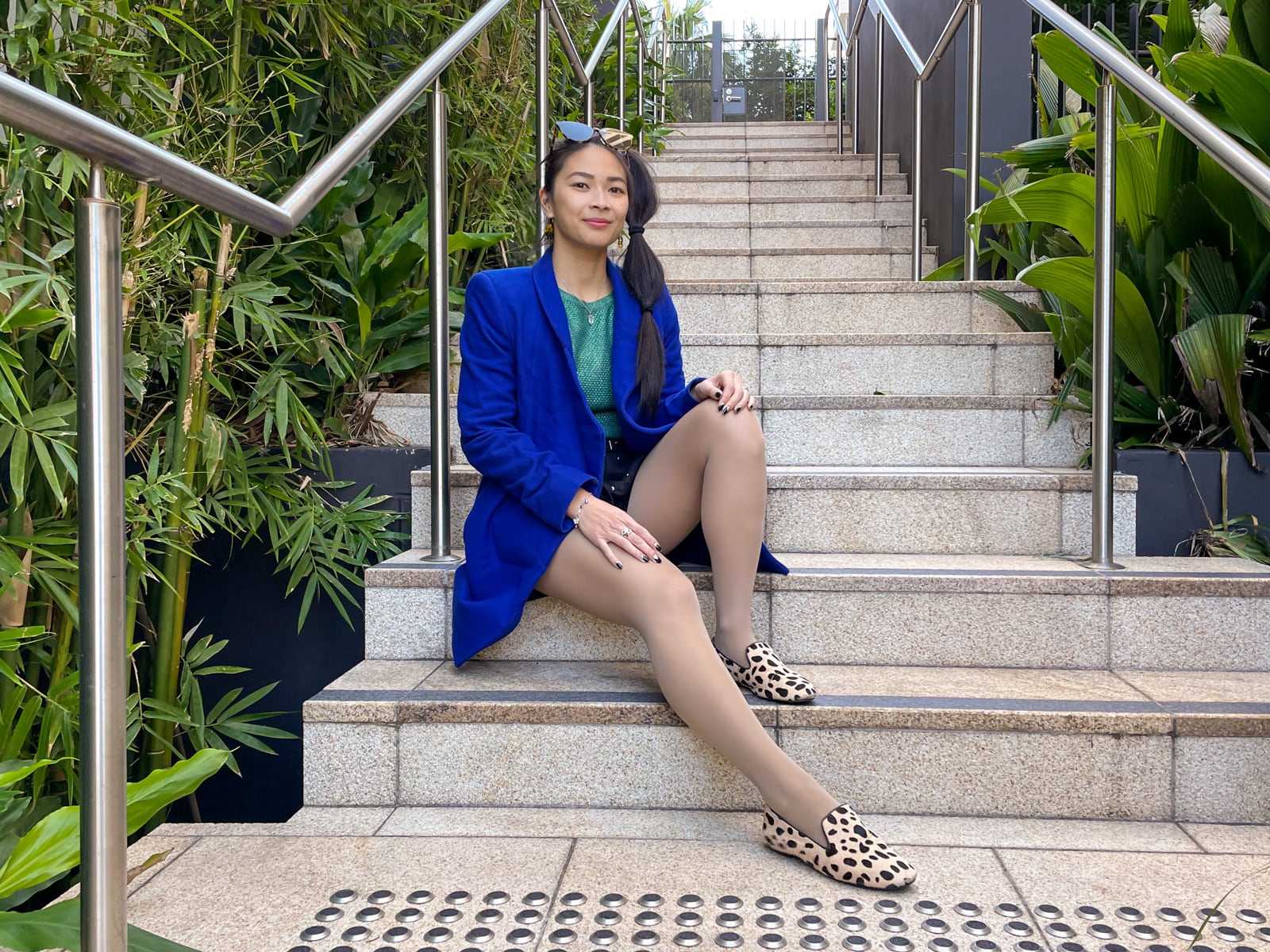 I don't have a bunch of close-up photos! Oh well. So my nails have black nail wraps with gold glitter accents, which are actually the same as the wraps I used in the Fashion Friday edition Midnight. I find them to look quite classy regardless of what I'm wearing.
I've been rotating between my puzzle resin earrings and my blue diamond resin earrings, which you might have seen in previous outfits. I'm really enjoying the vibrancy they add to all my outfits. I tend to choose whichever pair works better for the outfit I'm wearing.
I chose to wear a rose gold ring to match my Apple Watch band. I've been trying to find a way to re-introduce rings back into my outfits, because I used to wear them a lot, but now I'm a lot more minimal when it comes to jewellery. I think the rings got a bit annoying because they would tarnish if I ever wore anything that was costume jewellery, and I really couldn't be bothered removing them every time I washed my hands.
I've owned this ring for at least four years now and it's rose gold plated with a sterling silver base. It's held up very well to a lot of handwashing, and has barely tarnished (if at all). I find that lots of rose gold plated pieces lose the plating quite easily, but I think this is common for a lot of online brands. 👀 My mum bought me this ring many years back from a commercial jeweller and the quality of their rings has always been great.
Weather report ❄️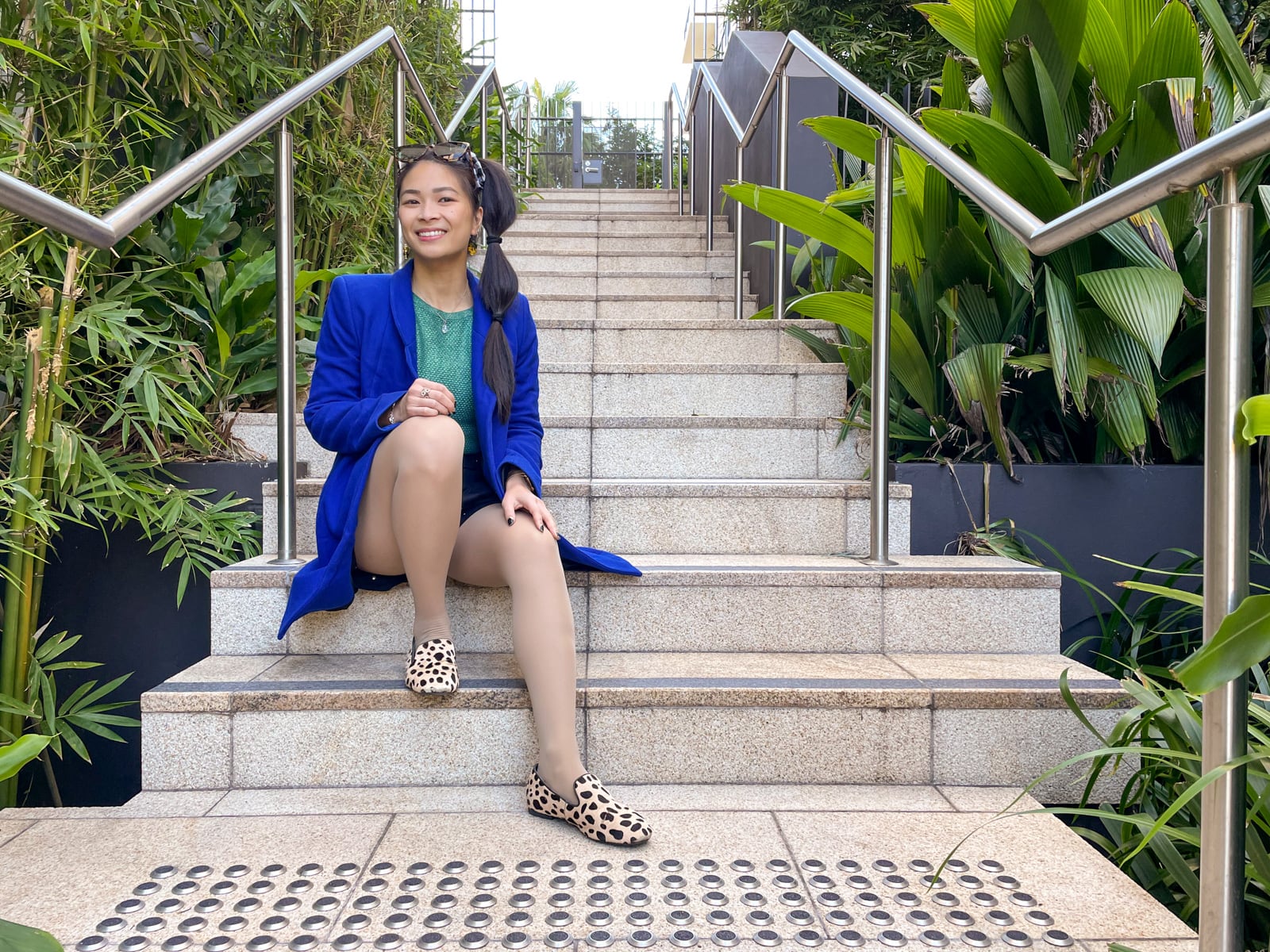 I think I need to put some more thought into outerwear for my winter wardrobe. Sadly, my go-to leather jacket also has the same issue of being tight in the shoulders and arms (thanks, shoulder muscles and biceps), which means that I don't reach for it anymore in the colder months. That's not how you want a piece of outerwear to function! You want it to be easy to wear. Since outerwear can be expensive, even when you are looking for good quality second-hand items, I don't want to rush into any decisions.
I'm currently in the middle of a small wardrobe experiment to try and work with a limited amount of clothing that I know is interchangeable, and trying not to repeat any outfits. It's just getting a little challenging as the weather gets colder. I might experiment with trying to layer more pieces together.
Anyway! Thanks for tuning into another edition of Stylesheet ☺️ What's your approach towards outerwear in the colder months? I'd love to hear how you keep it practical, and – if you do – how you keep it minimal as well.
Outfit details
Colophon
📸 All photography by Nicholas Cooke. (on my iPhone 12 mini)
We took these photos in a quiet spot near some apartment blocks.
I named this edition of Stylesheet Starry starry night, from the song Vincent by Don McLean, because the studded shorts and the kind of sparkly top gave off that vibe, and the green paired with the blue definitely feels like it's inspired by the Starry Night painting by Van Gogh.