Fashion Friday: Kaleidoscope 🔹 | Sharp lines with bright colours
Spending the pandemic mostly indoors is strange when it's winter in Sydney. I've had many a coworker mention how cold it is and see them with beanies and scarves on during Zoom calls, but the sun leaks into our apartment and in a mohair sweater I'm already sweating. Having a north-facing apartment, albeit one where the view is of a much taller apartment building, means that it gets pretty warm in winter. The sun sits lower in winter, too, so it really does get warm and stay warm.
It almost feels like I will get to the stage where I have skipped a proper winter in 2020, simply by being inside so much. I've definitely been outside, but not been outside that I need to rug up in my coat and a couple of layers. I'm outside for such a short amount of time that minimal layers is fine.
The strange thing about all of this is that I have winter clothes that could have gotten a lot more wear if I had been outside a little more. I've mostly just been wearing the same things.
All that said, I've decided to feature an outfit that was my favourite winter outfit in 2019, and I dare say is still a favourite in 2020. 😆❄️ When I say "favourite in 2019", I literally mean that I wore almost this exact outfit several times a week last year, and it was my go-to outfit of the season.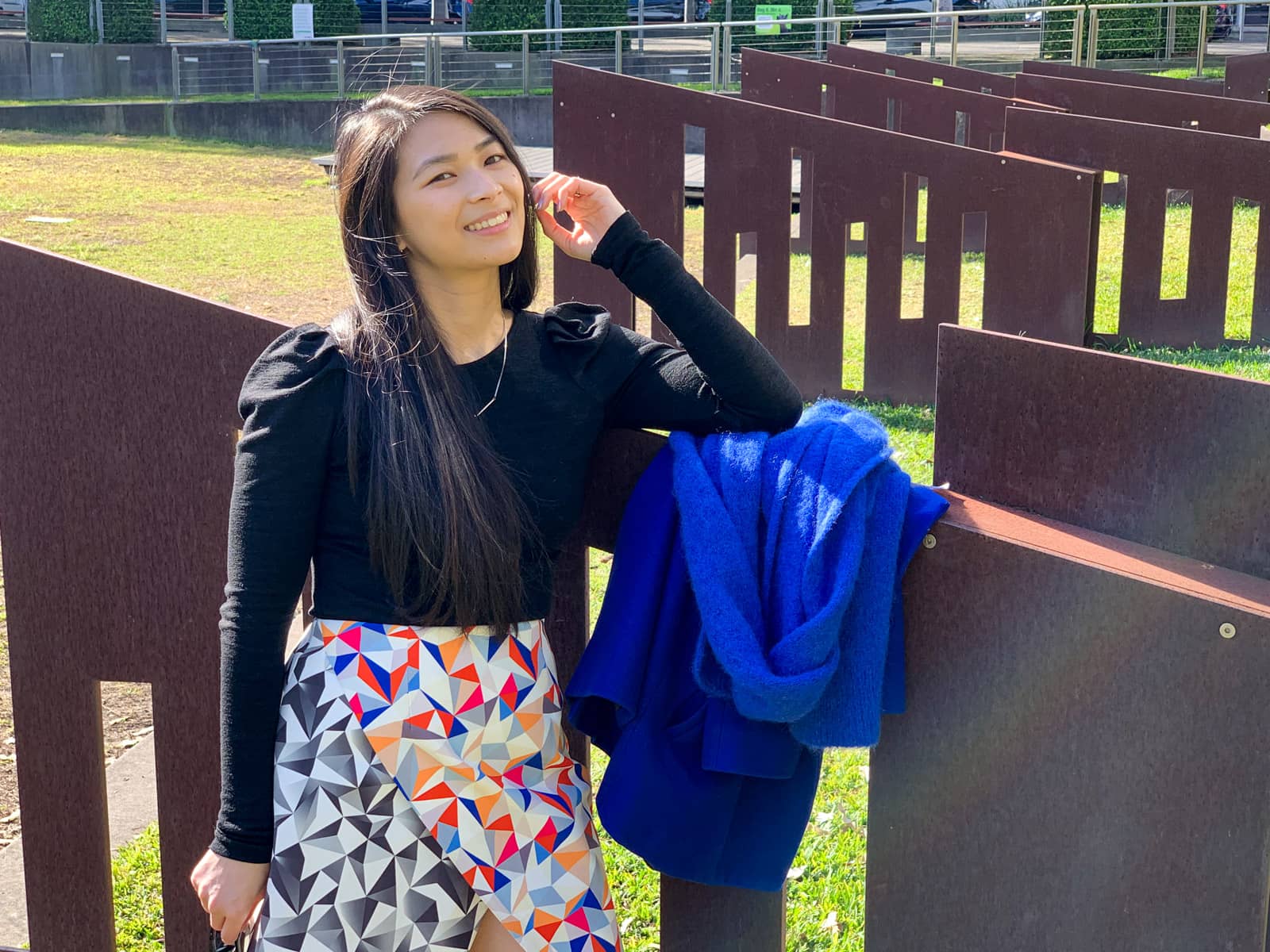 Since I dislike jeans and don't own too many pants, skirts and pantyhose often make for a suitable alternative in the winter. I don't find pants to keep me any more warm than pantyhose does, to be honest. There's no difference to me – though a longer skirt (rather than a shorter skirt) often helps.
A colourful, structured, geometric print skirt 🔺🔸🔹
I love this skirt to absolute pieces. 🎨 I bought it second-hand on eBay a couple of years ago for about $15. I don't know exactly what drew me to it, but around the time, I was drawn to bright, slightly loud, geometric or abstract patterns. The a-line shape of this skirt also tickled my fancy, because as a weightlifter, I find these kinds of skirts easier to wear because of my thick legs. The skirt was in a size up from what I usually wear, though, and even though I could probably still have dealt with the bigger waist, I decided to get it taken in at the tailor.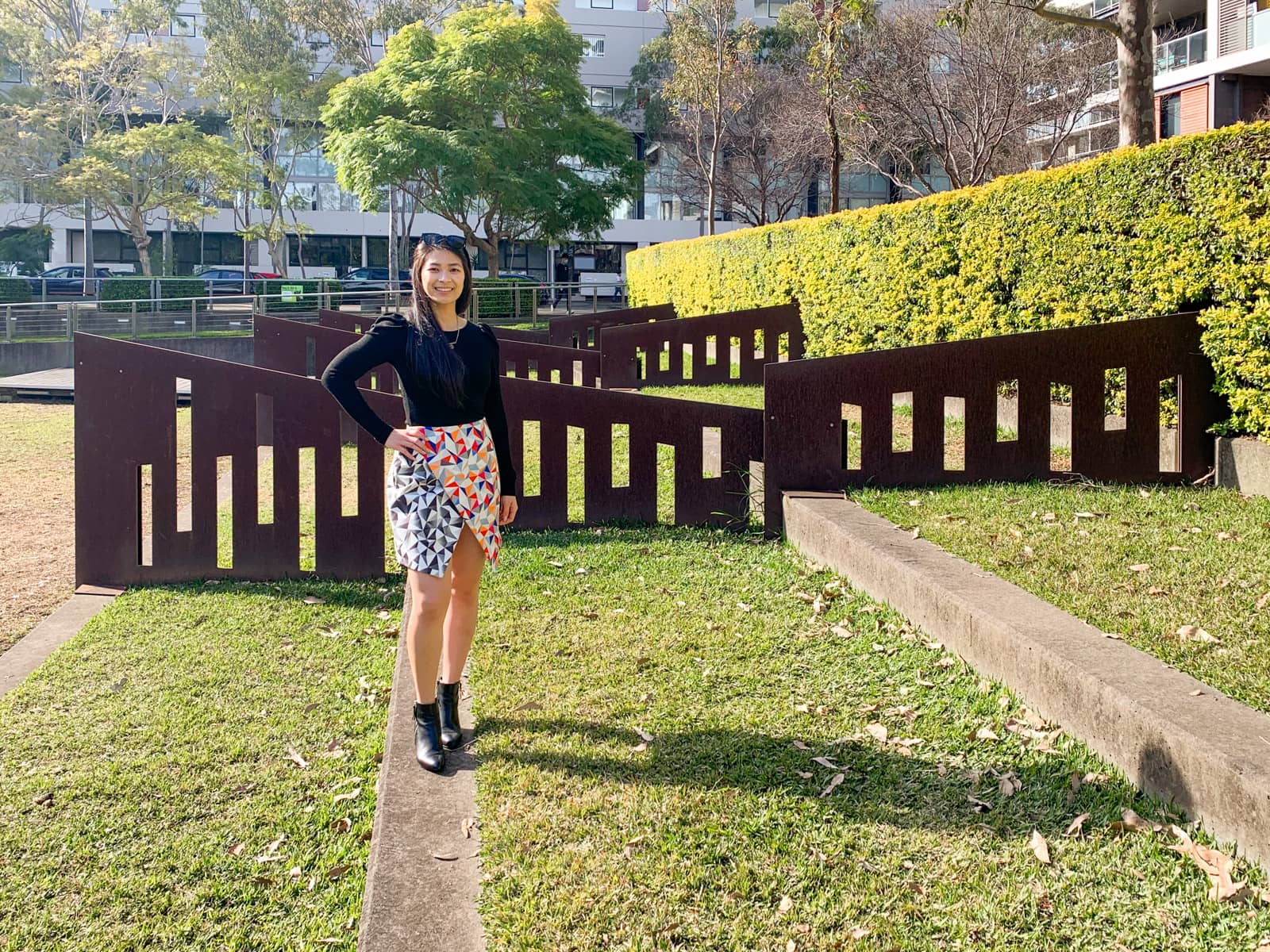 I made the mistake of going to a tailor in the city rather than my local one, so what probably should have cost me the same amount I paid for the skirt itself, ended up costing me an extra $88. 🤦🏻‍♀️ The tailor did a great job on it, but I was convinced I could have gotten it done cheaper at my local one. (Rent is obviously more expensive in the city area so prices are marked up.)
Regardless of that setback, I still love this skirt so much. I've gone through phases of not feeling like wearing it, and it definitely doesn't match with every single top I own, but it is undoubtedly my favourite skirt. I wear it in summer too, so it makes me thrilled that it is versatile across the months of the year. It also still fits me after I've gained some weight – unlike a lot of my other clothes that don't fit because their styles and cuts haven't been as forgiving.
A simple black top with a small detail
This black top is not the exact same black top I wore last year with this outfit – I actually sold that one to my friend Monica because it was getting too small for me! But it was still a black a semi-fitted long sleeve tee. The thing I like about this one is that it has little puffy sleeves, but they are subtle. Puffy sleeves have been trendy for some time, and I don't often jump on trends unless I really like how they look on me, but this top had the puffy sleeves done so delicately that I thought I'd give it a try. I love it a lot more than I expected to. The fabric is very stretchy, and even though it's not wool like my previous black top, it's still very warm. It's a rayon and polyester blend. I've been trying to avoid buying anything with too high a percentage of polyester, since the fabric is not very good for the environment or if it sits close to the body. This top has a higher percentage of rayon though. 😊
Blue wool coat 🧥
This coat is, hands down, my favourite coat. I purchased it for over $100, second-hand on eBay two years ago, and that was a lot for me to spend on a second-hand piece of clothing, to be honest. The brand, Nicholas, is an Australian designer which has since changed its direction – some of their older designs fit my current style but the current designs are just so far out from my personal style. So I was not in any way hoping that they would come out with a similar coat. I think this coat would have retailed at well over $1000 brand new. I should add, it's made of wool and cashmere – sustainable fabrics that are also more suitable for a winter coat. I feel like I'd be hard-pressed to find a real wool (or wool blend) coat for a price like this.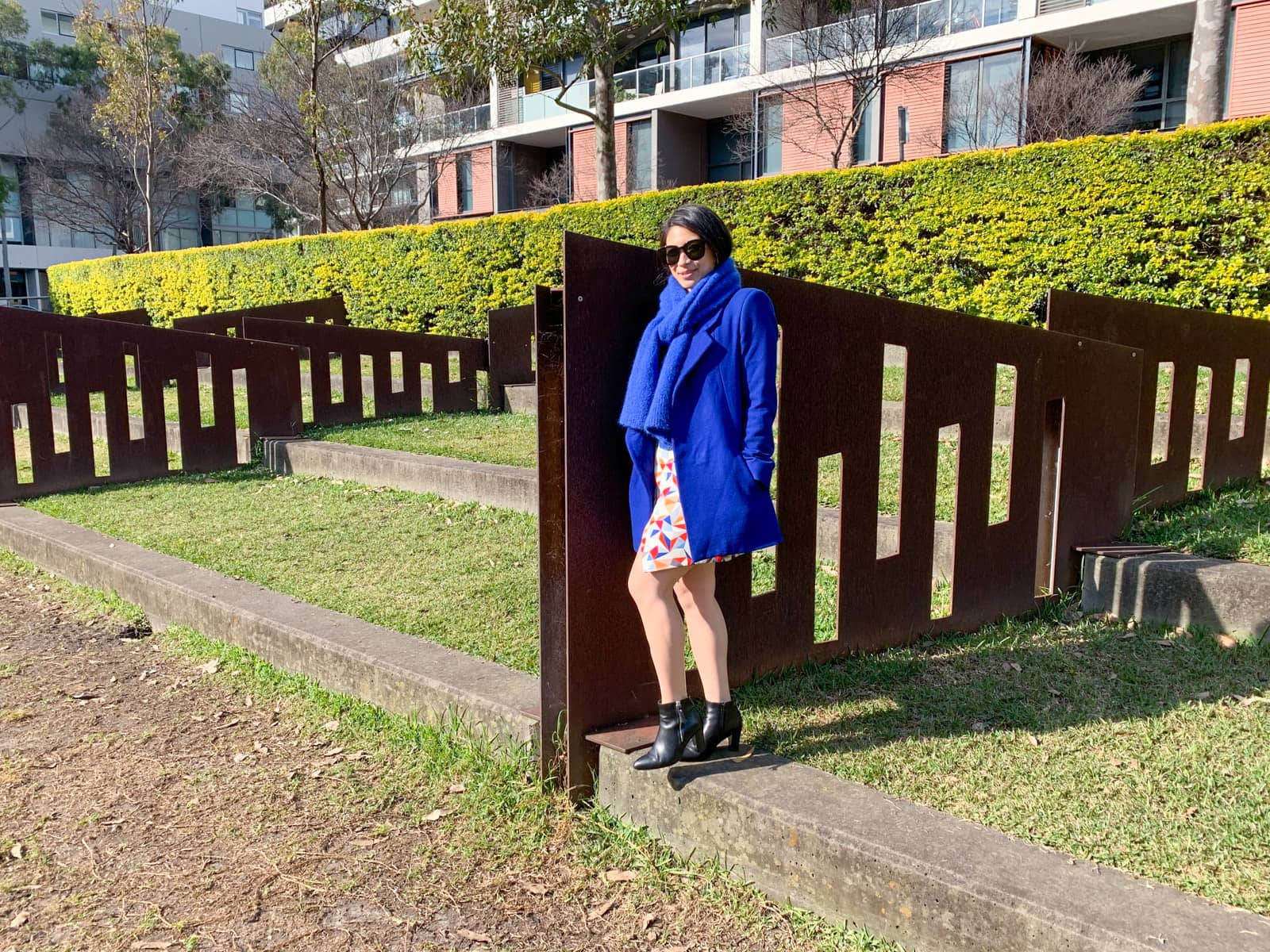 The colour of the coat is incredible. I have actually seen the same coat in other colours listed on eBay – red and black, to name a few. I've seen them get snatched up pretty quickly by buyers. I almost bought the red one I saw since it was listed on the site at around the same time as this blue one. I was a little worried this blue would be too bright, but it only looks that way in the sun.
The coat is slightly oversized. When I bought it and noticed it was one size down from what I usually buy (I am an Australian size 8/US size 4 while the coat is AU 6/US 2), I decided it would be fine since it had quite a boxy fit. Over time my shoulders have become more broad and I've gained some muscle in my upper back, so the coat has become a little tight, and the lining has ripped a little bit down the middle of the back, but it still – for the most part – fits me! I'm still seeking it out in a size up, if anyone out there has it and decides to sell it. The thing with second-hand items is that sometimes you just never know if the same thing will ever pop up again. It's part of the fun, kind of. 👗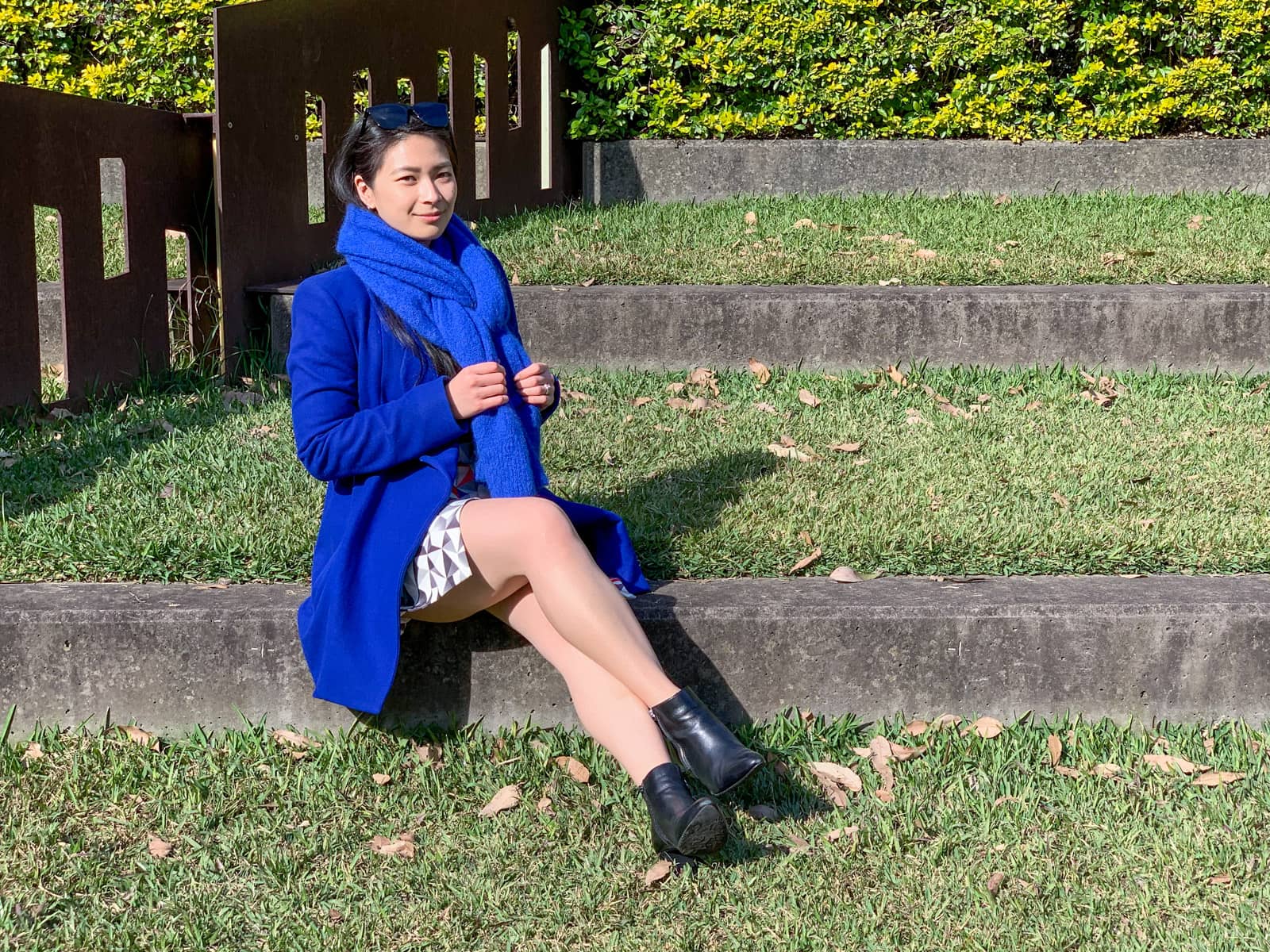 Another feature of the coat is that the closure is magnetic. I didn't really demonstrate it in the photos, but there are small magnets at a couple of points in the coat that allow it to close. It's one of the more unique features of this coat.
Another thing I do love about the coat is the length. It works perfectly for my height, and it means that if I wear it with a shorter skirt like this, the hem of the coat and the skirt will end in roughly the same place, which is nice. Not too many horizontal breaking lines in my outfit.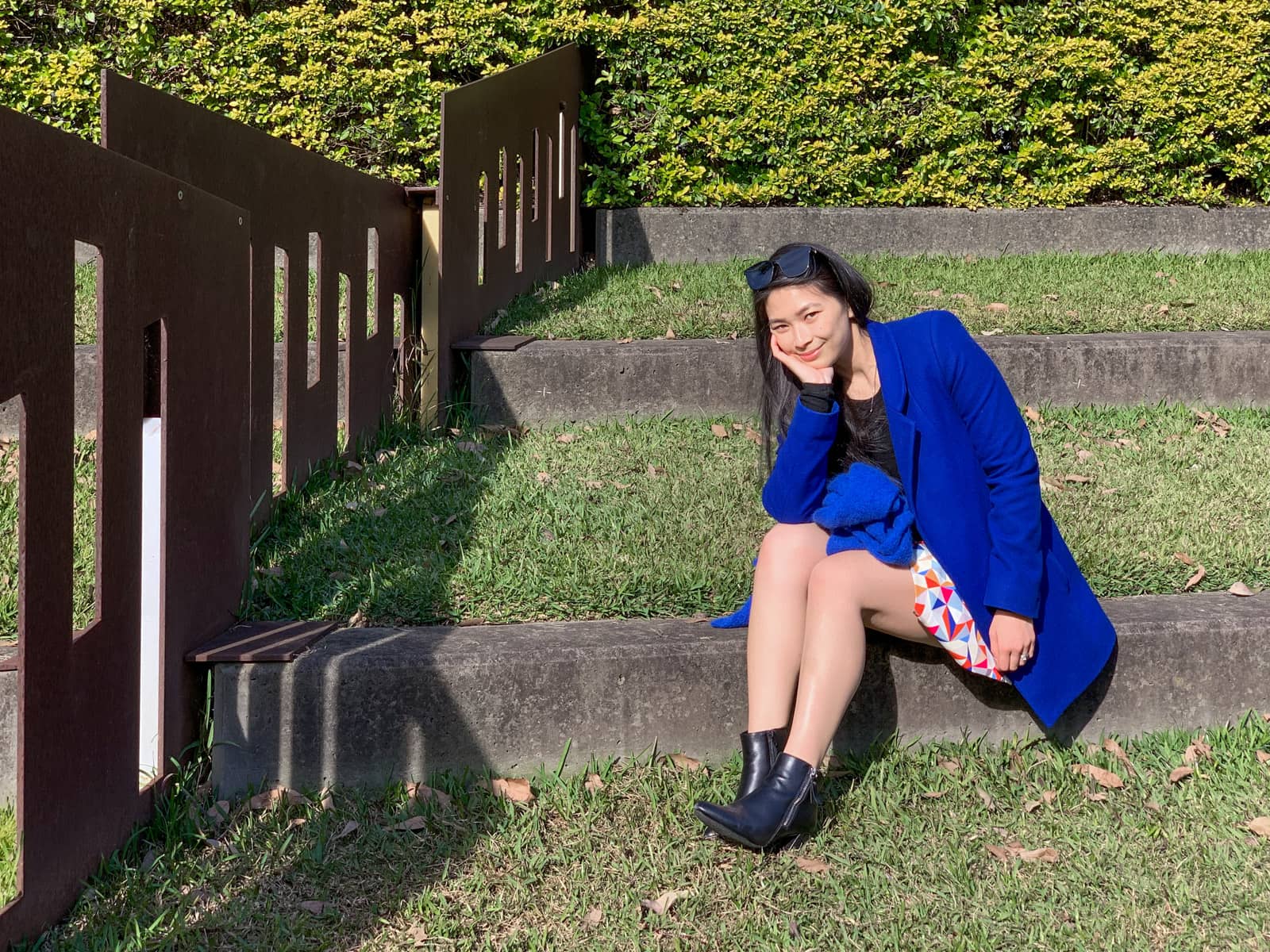 Boots and other things
I would have normally worn this outfit with black pantyhose to match my boots but it was a warmer day when we took these photos so I went without. Having black ankle boots in my wardrobe is a must, though over the years I've preferred to have a slightly lower heel. These are only 6.5 centimetres (2.5 inches), and according to most shoe retailers this is a "mid height" heel, but it's verging on "fucking stop killing my bones" territory, LOL. Seriously, I can probably only stand to walk in 5cm/2in max. 😆👢
It's no coincidence that my scarf matches my coat! I am always drawn to this cobalt blue colour, and I wanted a scarf in my favourite colour. I definitely didn't buy this at the same time as the coat. I bought it in a "spend-and-save" deal where I spent $300 on it and a blue sweater, and got $100 off. At the time I didn't own a single scarf made of real wool, or made of a fabric that would keep me warm, and that wasn't made of crappy acrylic. So I thought it would be a good idea to invest in a quality scarf and I'm glad I did. This one definitely keeps me warm beyond belief, haha.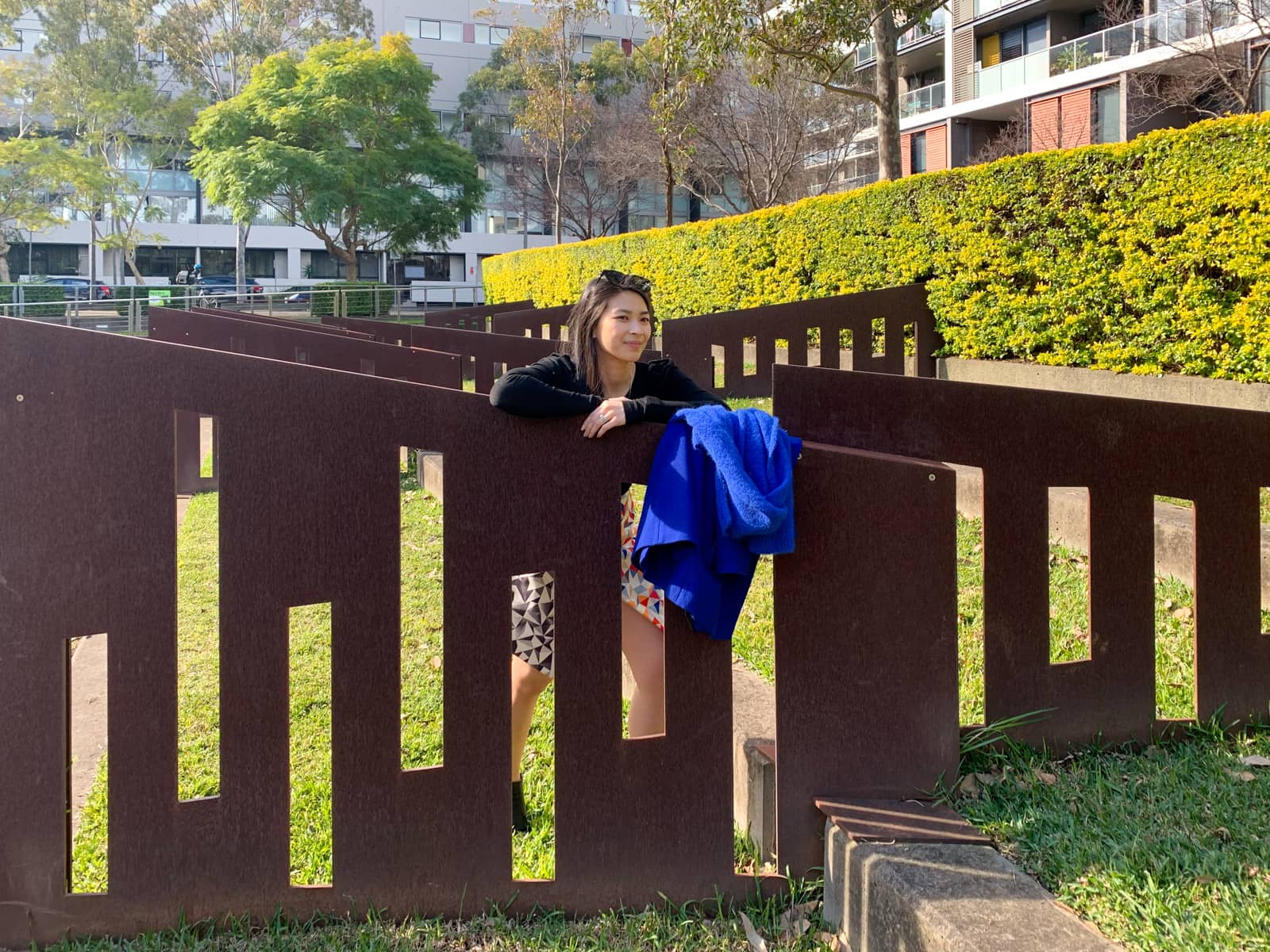 So that's it for my favourite winter outfit. What do you think of the bright colours and the sharp lines? Do you have a go-to winter colour or certain items of clothing that you like for the season? Some of you are in the northern hemisphere – what are you wearing over there this time of year? 😎
Outfit details
Coat: Nicholas The Label (style unknown, purchased second hand)
Skirt: Cameo The Label (style unknown, purchased second hand)
Top: Sheike (Monsoon Tee in black)
Shoes: Sandler (Perth Ankle Boot)
Necklace: By Invite Only [referral link for 15% off] (Stainless Steel Herkimer Diamond Necklace – no longer available)
Sunglasses: Gentle Monster (Black Peter – available in other colours)
Scarf: Country Road (alpaca scarf – style unknown, no longer available)
Colophon
📸 All photography by Nicholas Cooke. (iPhone Xs)
These photos were taken in a park near where we live. Nick thinks I like this park but I just like it because it is usually quiet and OK to shoot in. He isn't a big fan of the fencing – I've got to admit, it's kind of weird and unusual. But I didn't mind that about it. Now that I think about it, it is actually in line with the sharp lines in this outfit. 📐
This edition was named Kaleidoscope, inspired by the triangles on my skirt, which are much the view you see through some kaleidoscopes.