Fashion Friday: Daydreamer
Oh hey! I've been missing Fashion Friday so I'm glad to have another one to share with you that is cough extremely up to date. 😆 The last one was a cop-out because I just used photos from our cookesUSA2018 trip back in July (unbelievable, Georgie, I know). So this one is fresh. 🍅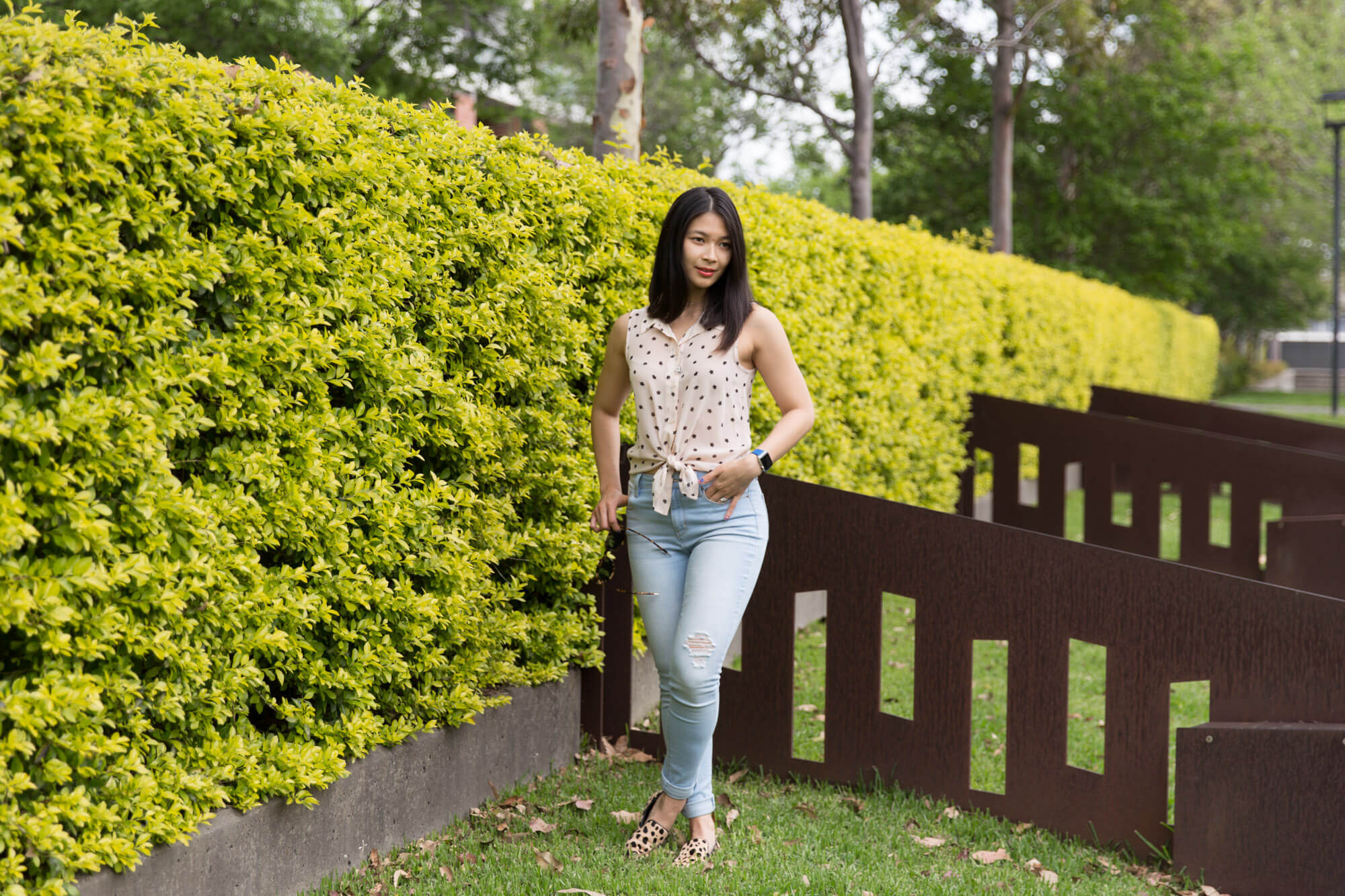 What I want to rave about most in this outfit is my top. You might remember it as the top I was wearing when Nick proposed to me in 2016. Or that top I was wearing in an old Fashion Friday where I was wearing black tights, nice heels, and still had long red hair – Peach & Pearl.
Or, "hey, she posted that photo in her #ILookLikeAnEngineer tweet".
Or, "didn't she wear the same shirt in that photo in her XOXO post?"
Yes, and yes. (LOL, is that a pun given that I wore it when Nick proposed to me?) Except what you might have noticed is that the shirt looks different, because I got it altered!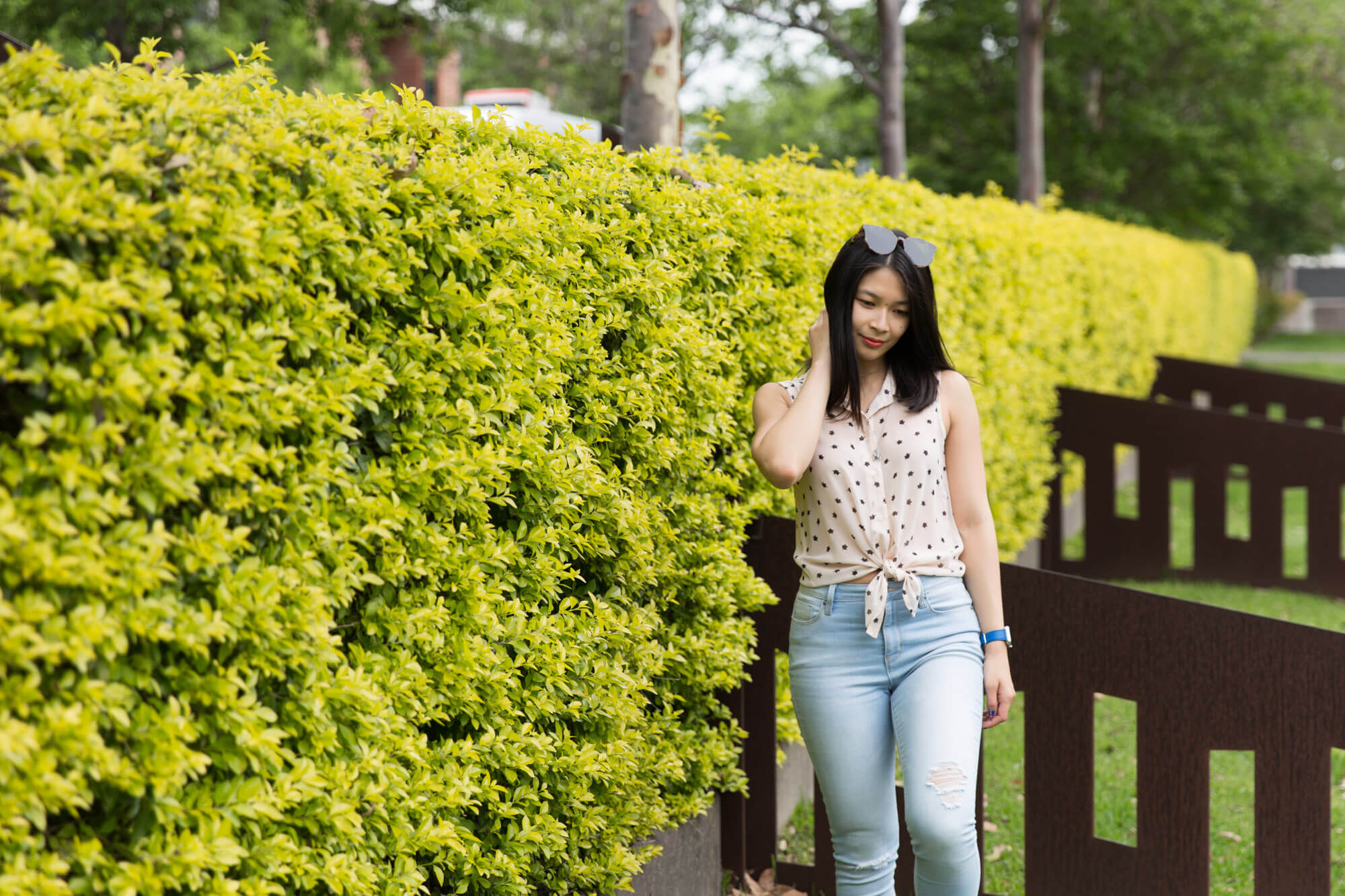 I've recently been more conscious of how much I am wasting in terms of being careless with recycling, food, buying products I don't use until they are finished, buying clothes that don't last a long time, and the amount of clothes I am donating. I made an effort to analyse and really think about some of my garments, especially ones I've owned for a while, and looked at whether I can repair or renew them somehow. This top was one of them. I remember just… really not feeling it anymore. I was like, ugh, I hate the long dipped hem at the back. I rarely wear long shirts anymore as I've gained some booty from working out at the gym, and I sometimes want to show that off, and having a long shirt or top entirely covering my backside gives me a frumpy look. I also tend to wear high-waisted bottoms because they are more comfortable, so I favour shorter tops.
I played around with the top one day and wondered if there was a way I could make it look different but still like it. I like the fact that it's a sleeveless shirt but has a collar. The style gets a thumbs up from me, even though I'm not a "cat person" and I was kind of over the print.
I wore it once with the excess fabric beneath my hips tied into a knot, and that is where I got the idea for just getting the back hemmed, and leaving the front to be tied into a nice knot. I went to a local tailor with a bunch of my garments to get them fixed or altered and help me love them again. I looooove the result; it's seriously like I am wearing a new shirt. 😻 The fabric is just so cool in summer.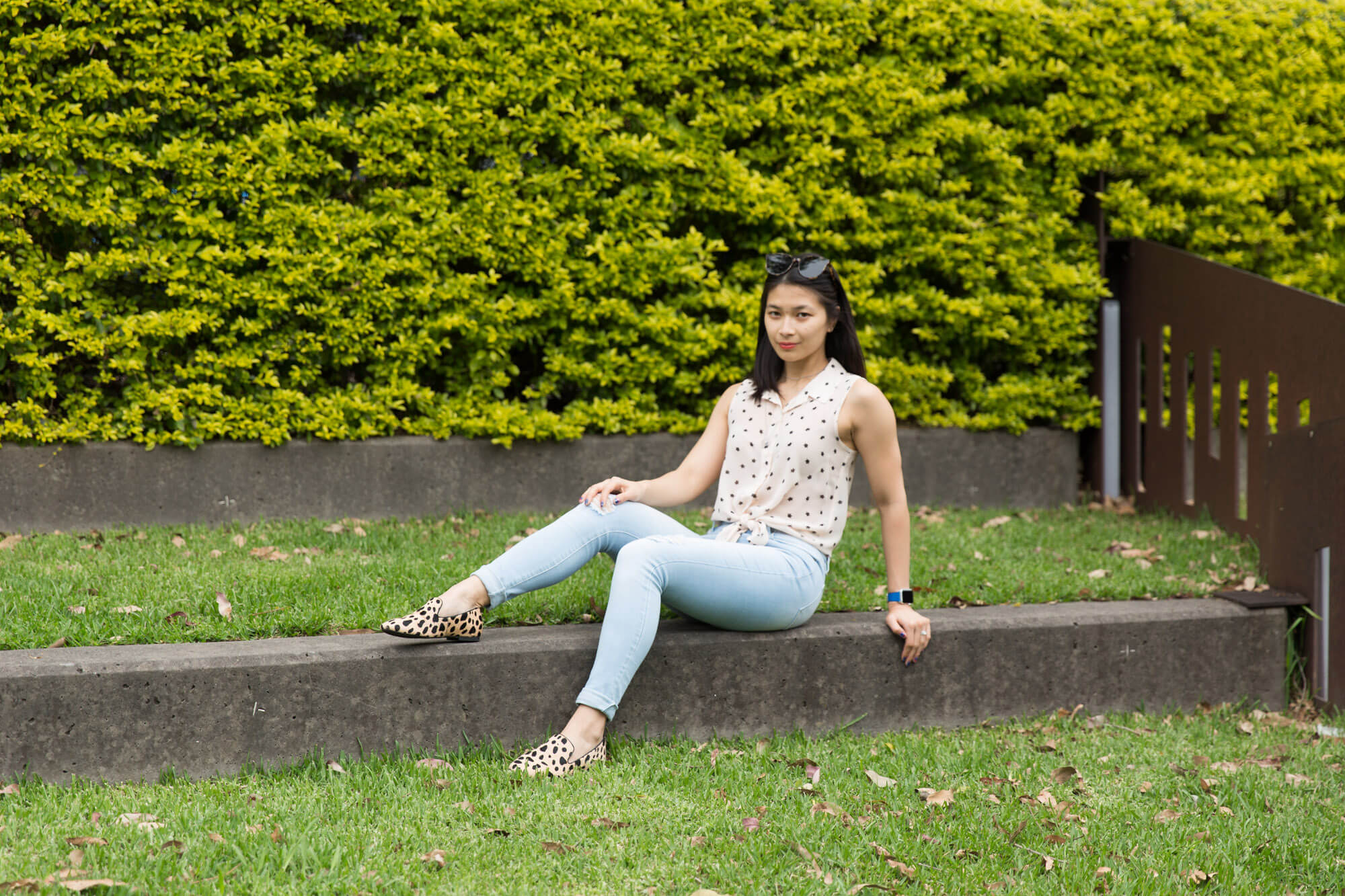 These jeans are my Fashion Nova jeans that I wore in a previous Fashion Friday when the weather was cooler (that Autumn Sweater one that also had my brief review of Fashion Nova). I like the way these jeans look on me, and they are really lovely for summer. As I mentioned, they were the only jeans out of my Fashion Nova purchases that worked out. I still don't think they are that great because I have to keep pulling them up, and they do get baggy around the crotch in an unattractive way. 🤷🏻‍♀️ I digress. For the most part, they are comfortable.
My mum bought me the shoes! I was drawn to the shoes and they were on sale but I was trying to save money so my mum bought them instead of me buying them. 🤣 They are a giraffe print and they ended up being super comfortable. I had to buy heel grips to stop the back of my right heel getting rubbed painfully on the shoe, but other than that they are terrific. I recently decided that high heels are not worth the pain and I find comfort so much more important, so I have been wearing high heels far less and enjoying walking in flat shoes or boots, or at least boots with a block heel that are not painful.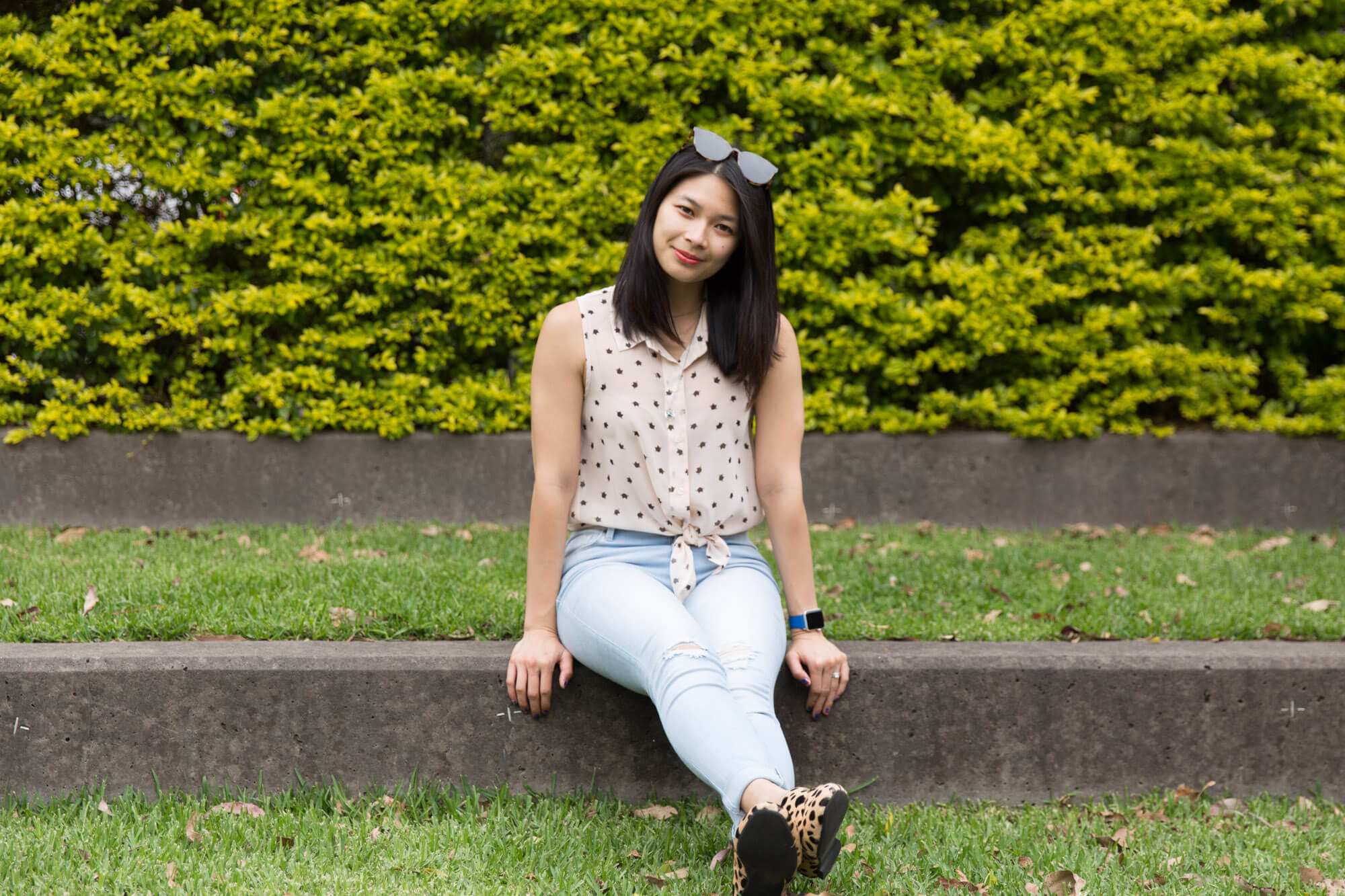 These are my second pair of loafers – I have a black pair but the style is quite different and the back of the heel is a soft back, and they also have the tendency to slip off. I like these because they have a hard back and stay on my feet better (even though, as I mentioned, it was rubbing the back of one of my heels). I think they have gone extremely well with some of my outfits too, in being a nice statement shoe without being too loud. I've gotten compliments on them already, and I have a pair of ankle booties in the same print! 🙈
The nail wraps are from last November's Scratch subscription. I didn't like this print at first, and I meant to skip my subscription for that month, but I forgot. I ended up really liking how they looked, though. I was being very economical when using the wraps – this is the second time I've used them, and I think I have enough for a third set. It also helps because I've been keeping my nails short recently due to going rock climbing regularly, so I use less of the wraps each time.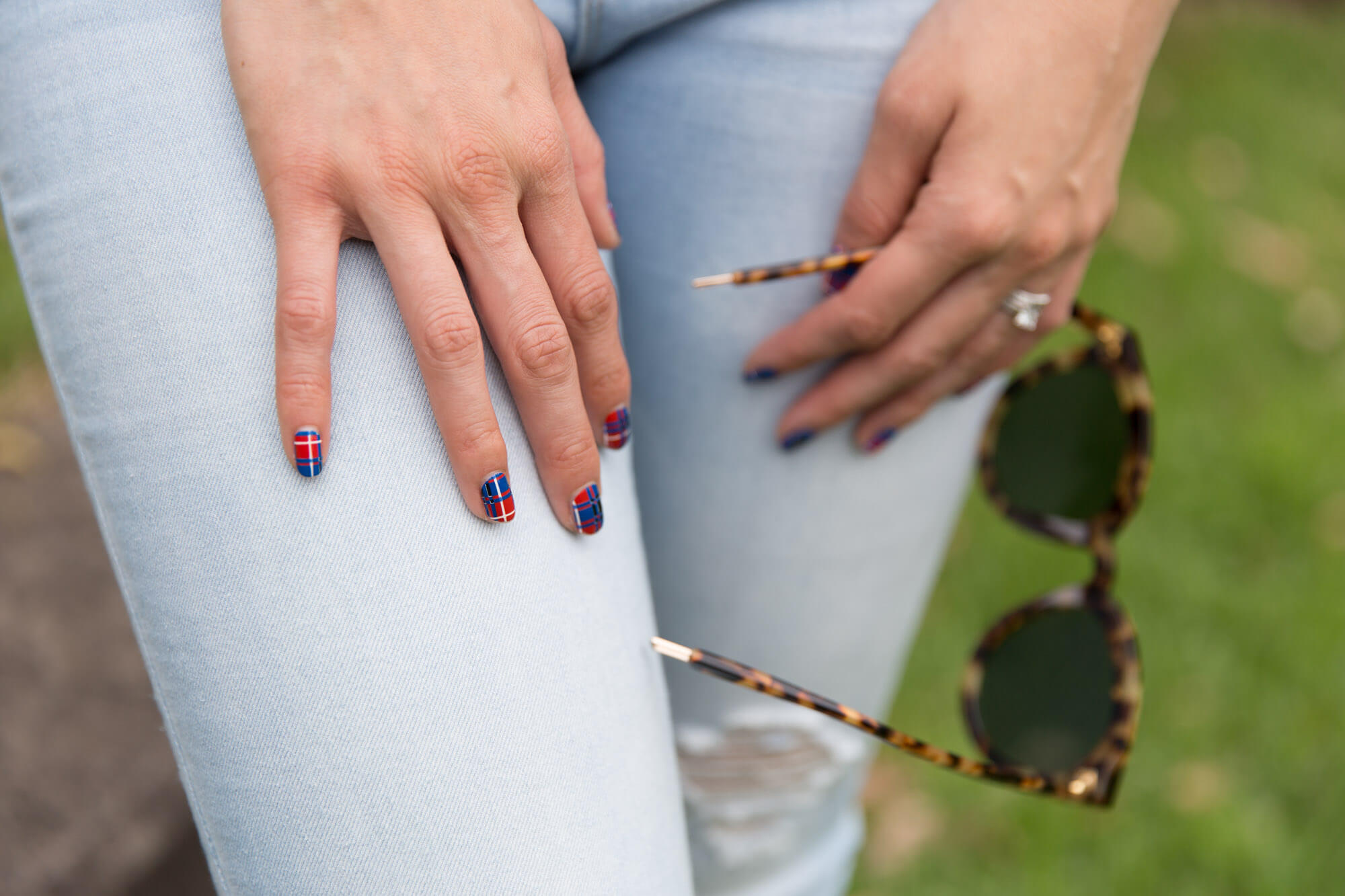 I normally just wear a choker necklace with this shirt, because it's a busy shirt and most necklaces would detract or clash with it. But I wore a longer simple chain with a blue bead, as well as a simple choker. The earrings are new, and I bought them from one of my favourite Etsy sellers, a studio based in the Netherlands who create and craft their own stainless steel minimal jewellery. I have sensitive ears and I found that their earrings were perfect for daily wear (and I didn't have to take them off), at an affordable price point, perfect (small size) for my multiple piercings, and have lasted me a long time. They had a hiatus for almost a year and had a sale to celebrate their newborn child, so I took the opportunity to purchase more of their earrings. 💕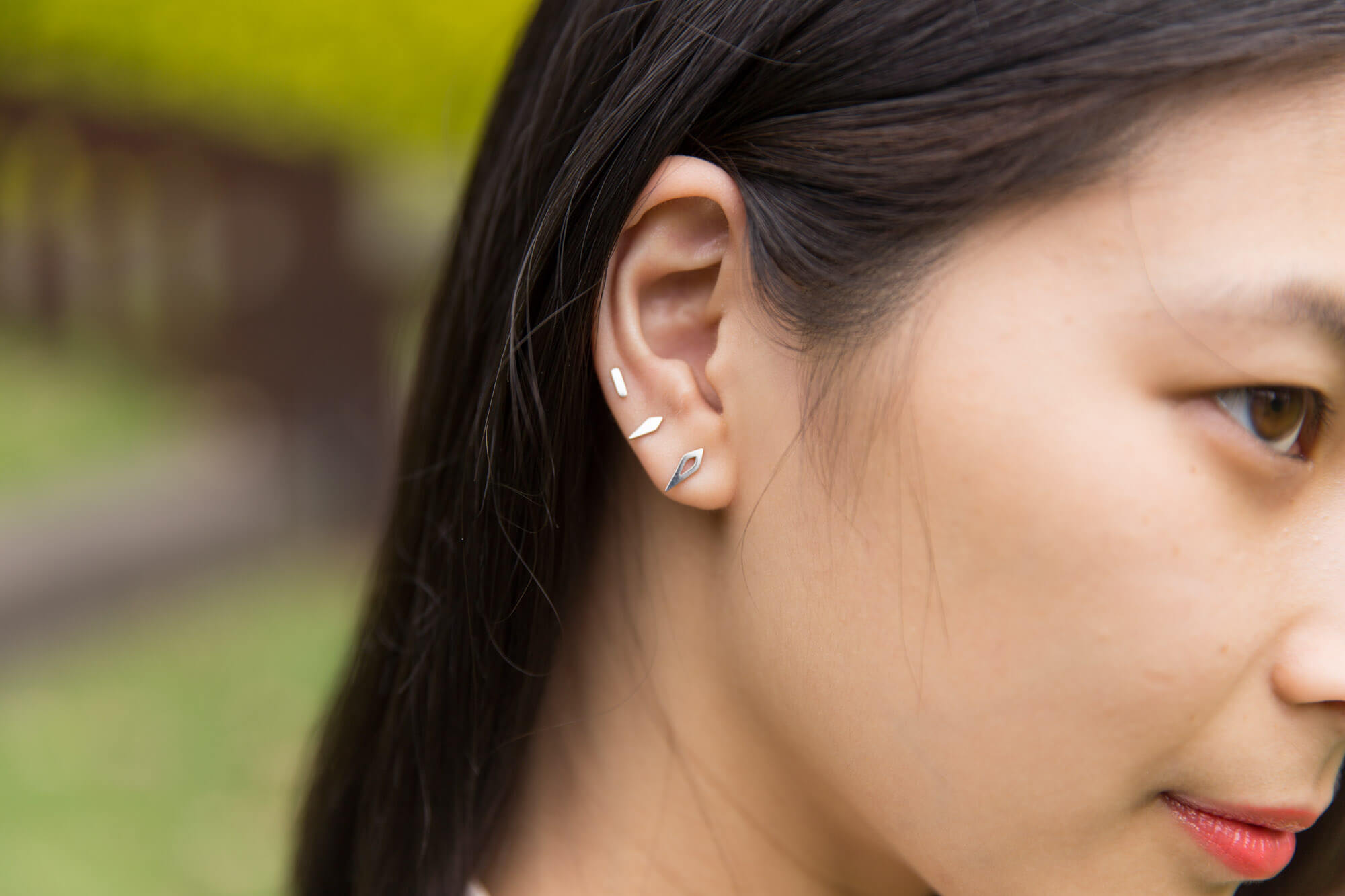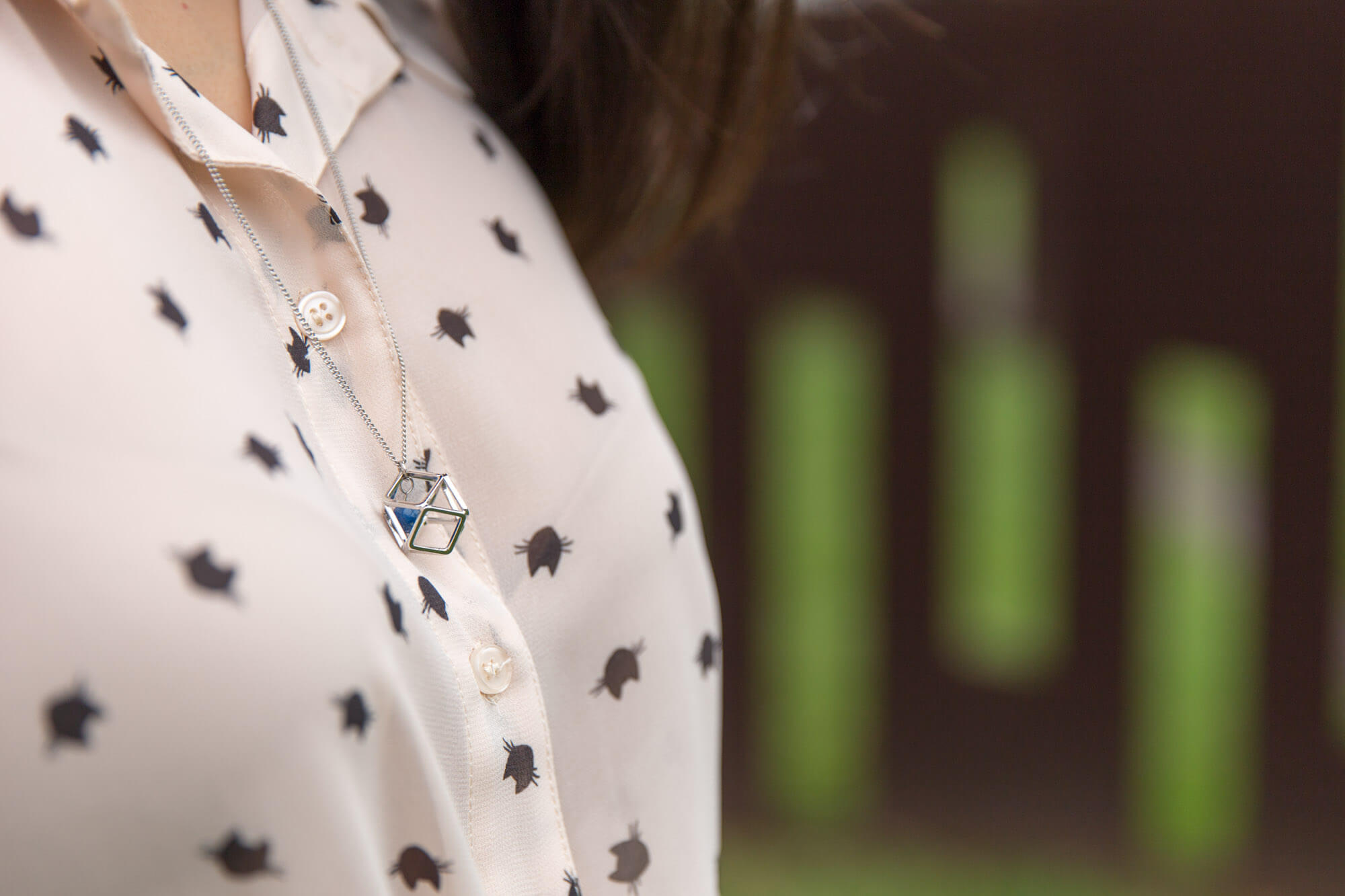 I've been parting my hair on the right side of my head for a couple of weeks. I have a deep part on the left, and my hair had been looking really flat and misshapen, so I switched it up. I'm able to use a blowdryer to force my hair to part on the opposite side. It used to be very difficult but it seems to be working quite well lately. I like how it looks, it almost feels like I've got a different hairstyle or my hair looks nicer. More power to me? 😅
Oh, OK, let's talk about that bright blue Apple Watch band. 💙 Long story short, I ended up buying it in Portland because they sold out in Australia and I was lusting after it for ages. Most people know that – uh, despite it not appearing all that much in my Fashion Friday posts – blue is my colour. I cannot control myself when I see clothes or accessories in bright blue. The same was with this watch band. I didn't really need it, and given that I already had a watch band that I wore daily, I just didn't see a reason to get another, when I can only wear one at a time anyway.
But I kept seeing it in Apple stores every time I passed by. When we visited the States, I would look for it in the Apple stores. Nick and I have a habit of just strolling into every Apple Store we see and ogling at the products. 😂 I think by then I'd had enough though – the blue was in a shade of blue I deemed beautiful and vibrant, and I decided that I wouldn't buy it in the States but I'd order it when I got back to Australia.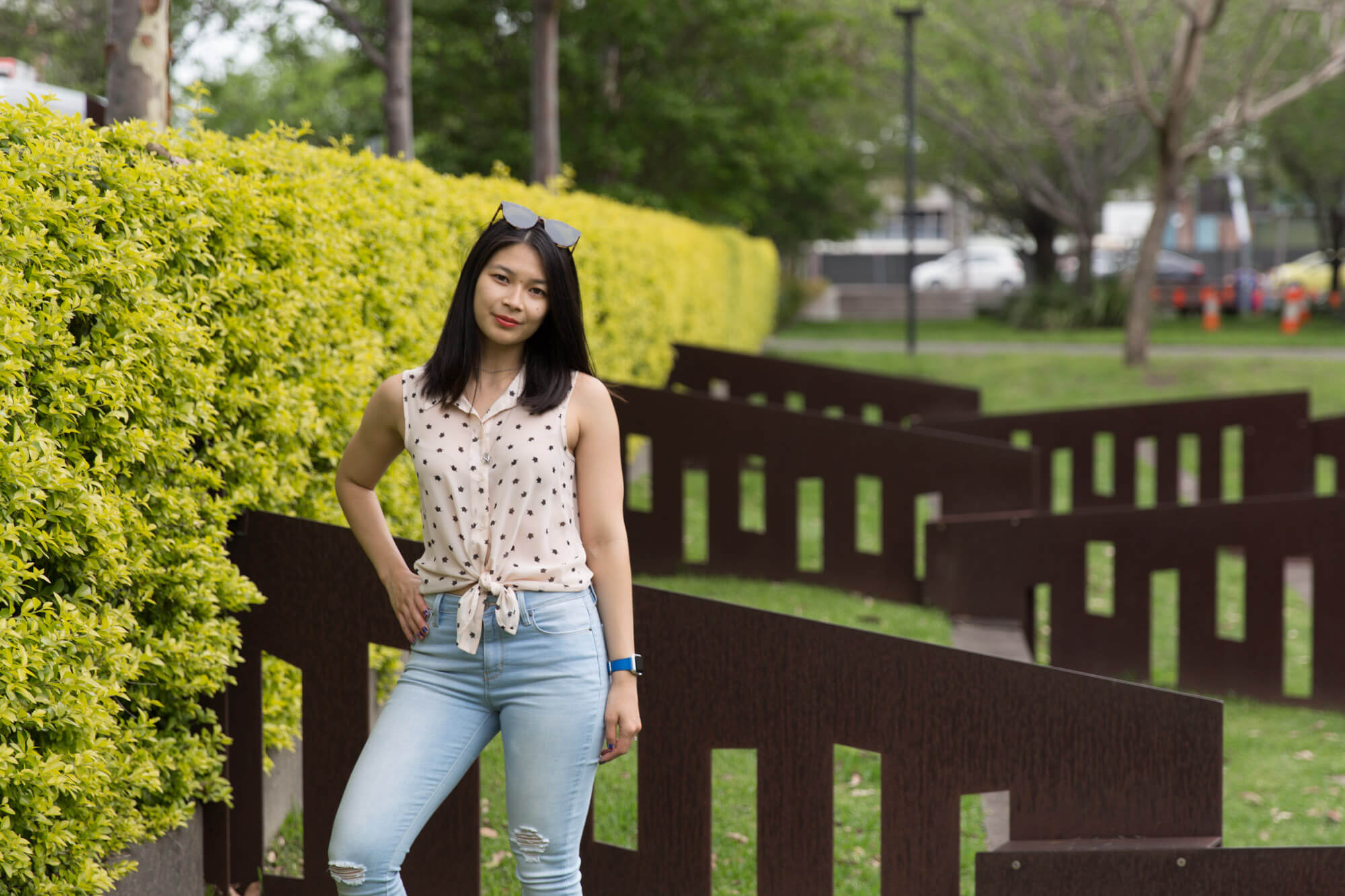 Alas, when I got back to Australia it was sold out of the Apple store here. 🙄 I was, however, internally screaming. I even contacted their support to ask if it would be back, and when, and if it was soon. They said it was popular (well, no shit) but to send a request to restock it. I did that, but I doubted it would do anything.
Then I found out I was going to Portland for XOXO fest, and on my first afternoon in Portland I popped into the Apple Store. I saw the electric blue watch band there, but when I asked if it was in stock, it unfortunately wasn't, and they only had the display model. The staff member there encouraged me to buy it online through the U.S. Apple site and get it sent to my hotel. I'd never done that before and I just worried it'd get lost or something like that. But I really wanted the band so I made sure to check that the address of my hotel was correct. The staff member suggested I put my room number there too. When I returned to my hotel I let reception know that I ordered something to be sent there, and they had no problem with it. 🙂
I ended up being really happy with my band; yes it was quite an investment given that I already have another leather band but I really enjoy wearing it when I am wearing other bright colours, or the opposite – when I'm wearing something that isn't that bright, to add a pop of colour to the outfit.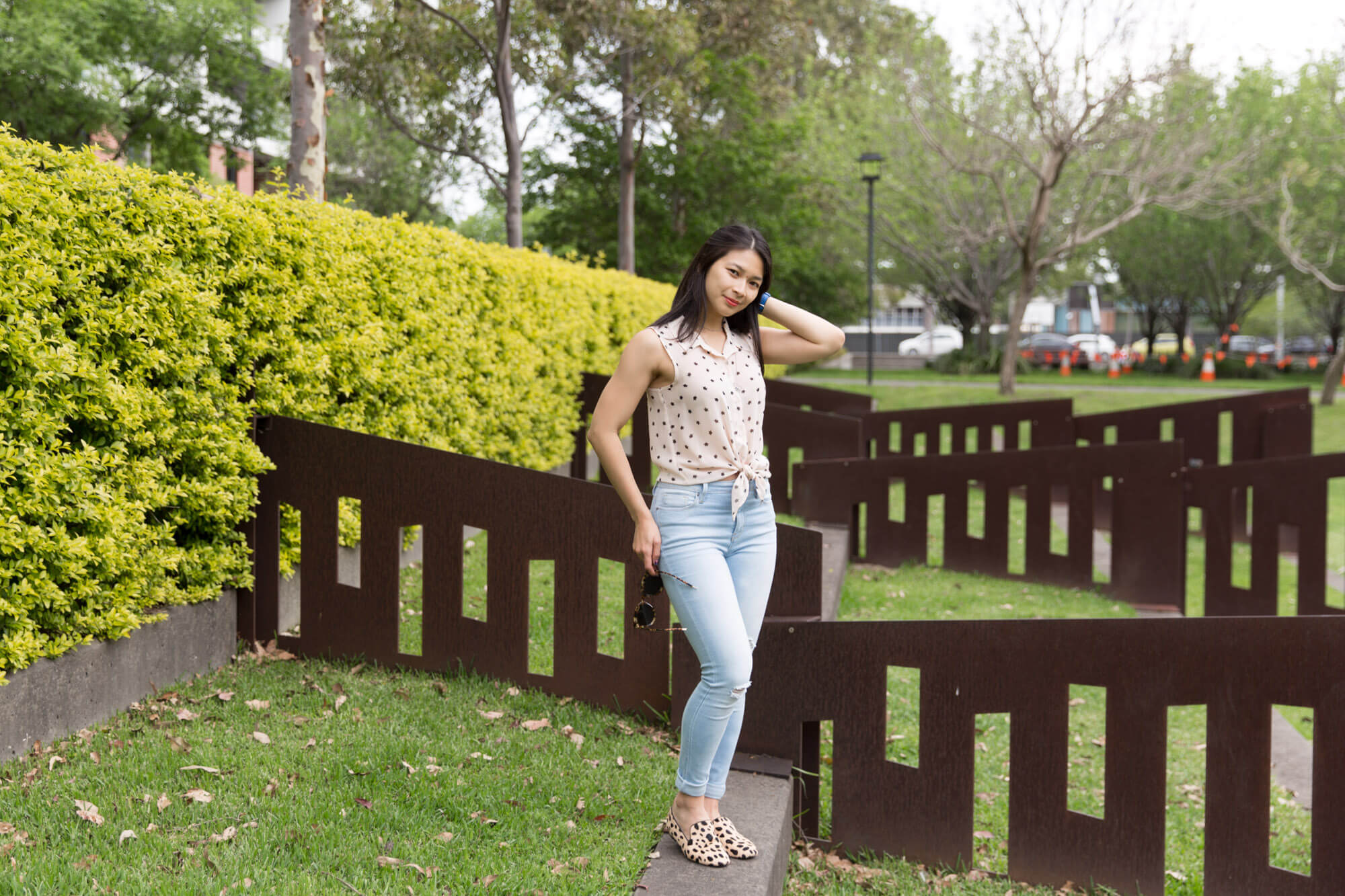 I think this outfit just evokes a sense of summer, clouds, and daydreaming, so I named this outfit Daydreamer. It's spring time in Sydney, but still sweater weather on some days, so the weather isn't that warm yet. I like the in-between, even though Sydney tends to have some really rainy spring weather. These photos were taken at a park near where we live.
📸 All photography by Nick.
Outfit details
---
What did you think of this outfit? Have you tried to take garments to the tailor to give them an entirely different look?