Fashion Friday: Peach & Pearl
Today's edition of Fashion Friday was photographed by Nick. I have decided to alternate between Nick and Seb photographing Fashion Fridays, which makes things easier to organise, and of course, it's quite fun having two different photographers because they both have their own style. I have found that it is quite important for me to play a part when it comes to posing and giving some kind of creative direction. In the end, I am the one who will be using the photos and it is sort of up to me to make sure I am happy with them.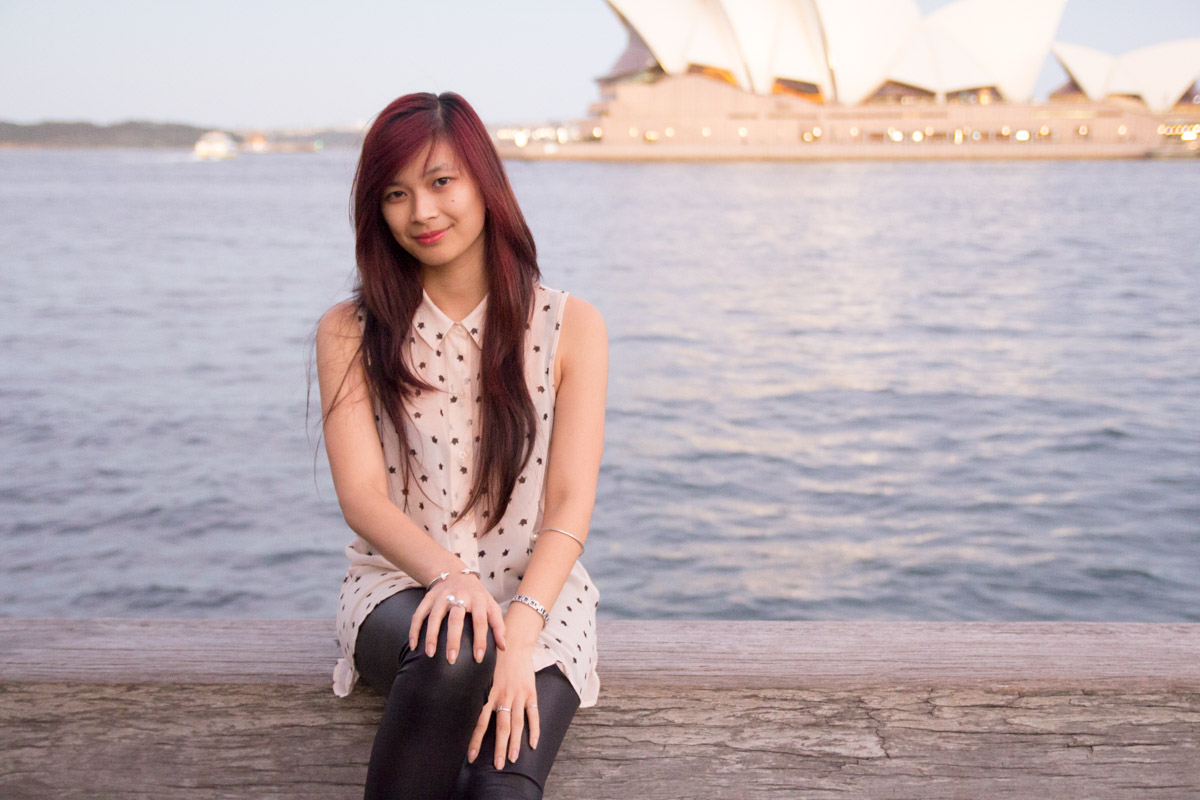 I have taken a liking to pearls lately. A while ago I was considering buying some pearl earrings just to see how I liked them. I haven't always liked pearls because I thought of them as rather simple and drab balls/beads, but now I think they can look quite classy. More on the accessories later, as I like to talk about them last.
This outfit is a bit of a mix-and-match. It contains quite a few new pieces. I have mixed a rather girly style with something a bit "punk" – something with a bit of edge. It doesn't stray too far from my teenage years of being somewhat of a rock chick, but it's got the right blend of kick-ass and fun, while still being mature at the same time.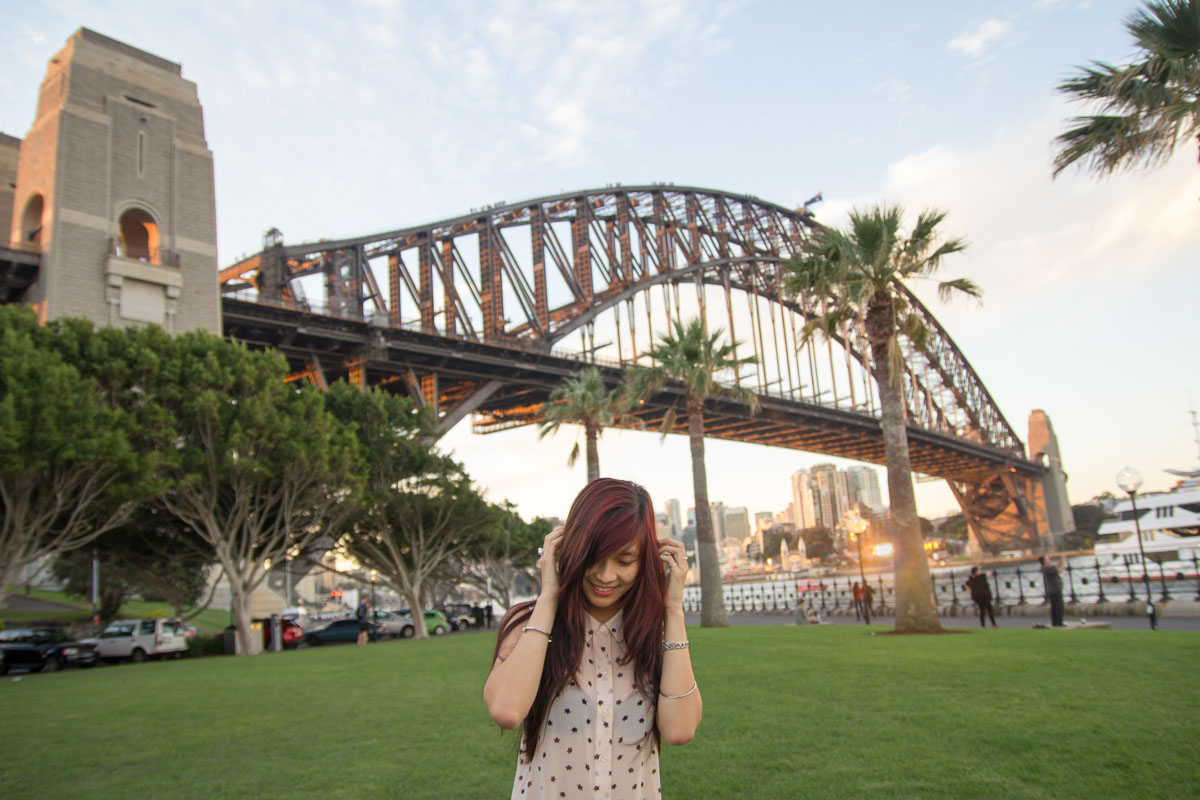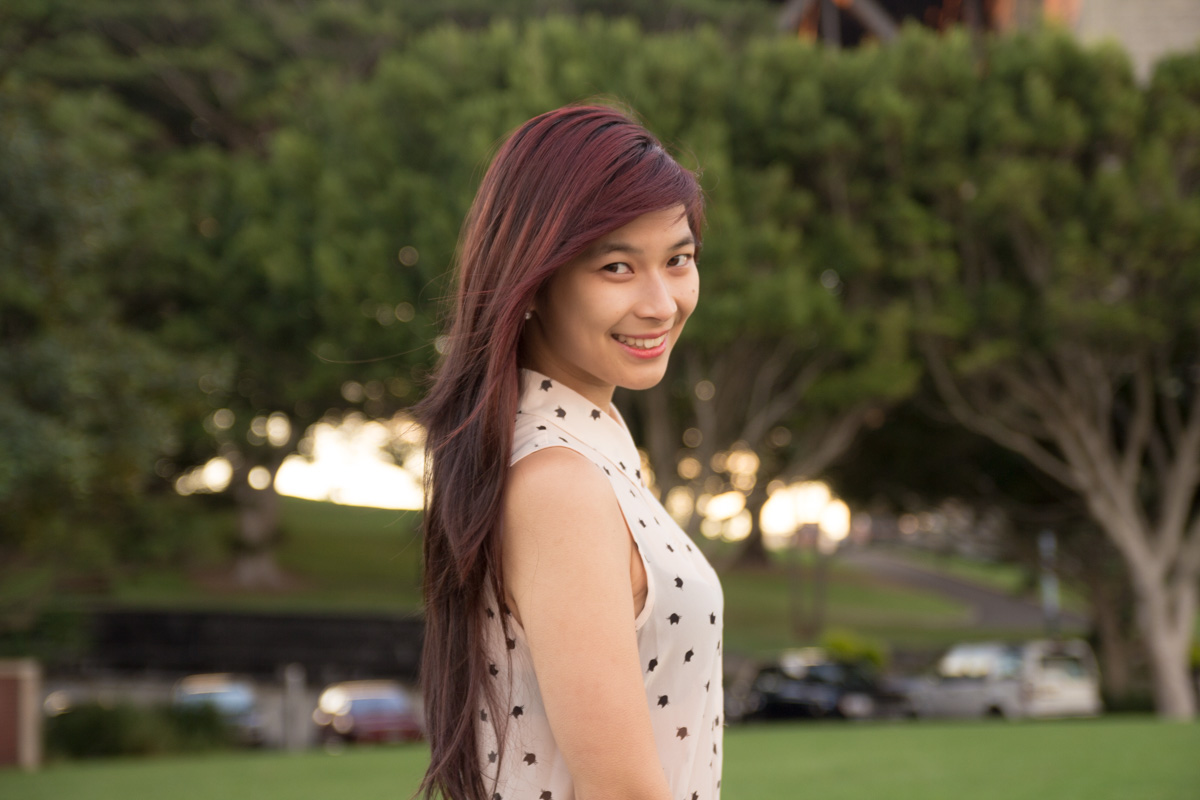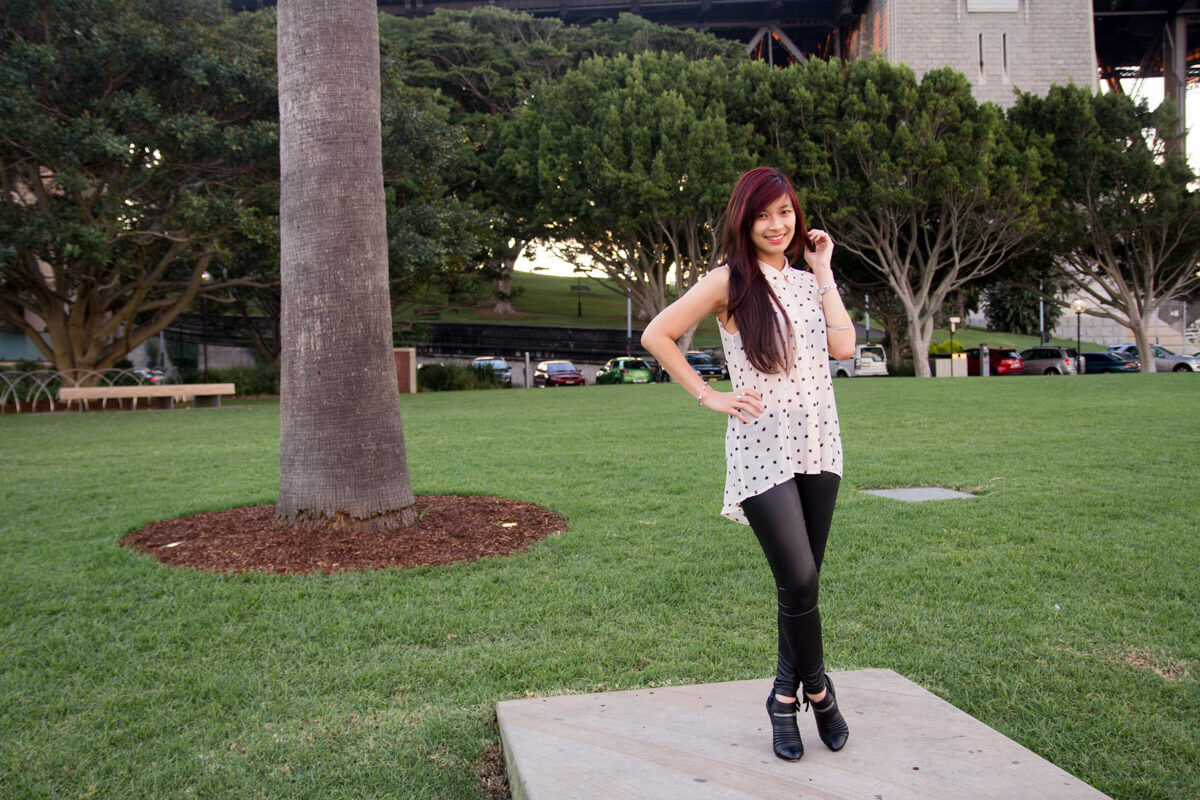 I bought the top from department store Myer, which I have enjoyed shopping at lately (it helps that my mum works there and can tell me about sales, new arrivals and staff discounts). There are some brands exclusive to Myer that have nice clothes, and Miss Shop – the brand of this peach-coloured printed top – is one of them. At first glance, I didn't like the cat print on the top. I don't really like cats very much. I liked the collar and the sleeveless blouse style, which is something I have been looking for recently. I wasn't a hundred percent sold on the sheer material, or the low dip hem at the back, but decided to go for it.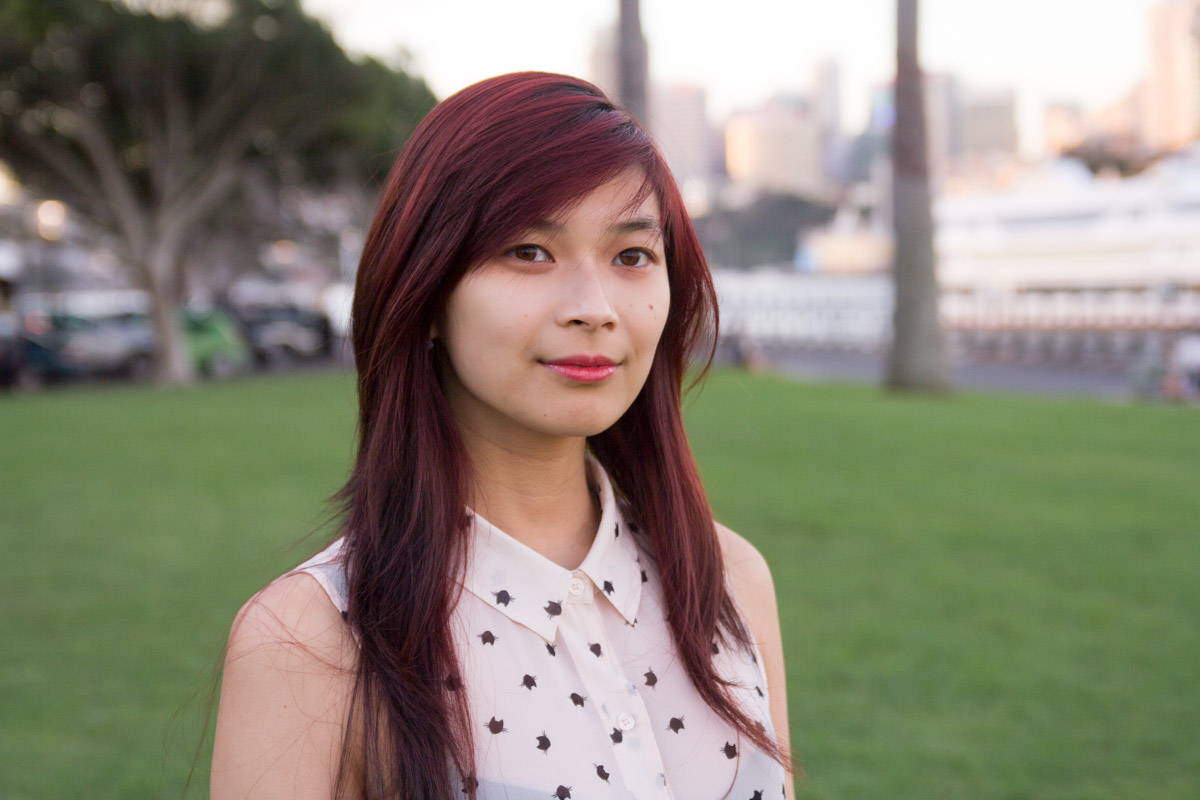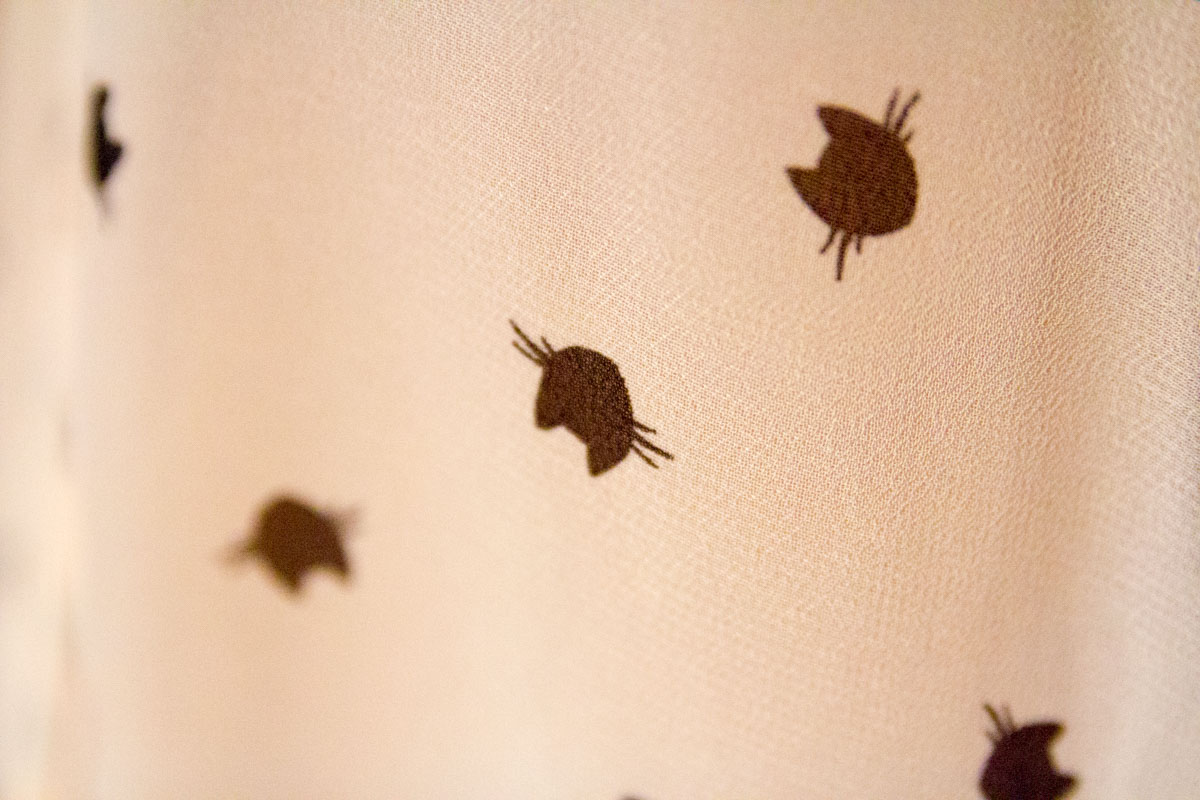 I haven't yet tried wearing the top with a skirt. I've worn it with jeans and leggings, as it seems to work better because of the long hem at the back. I wore it once with dark purple leggings to complement the colour of the top, and with dark blue or almost black jeans for the same effect. I chose black wet-look leggings for maximum contrast. It's the first time I am wearing them – I forgot that my mum had bought them and I had stretched my old black ones out so much that I had to get rid of them.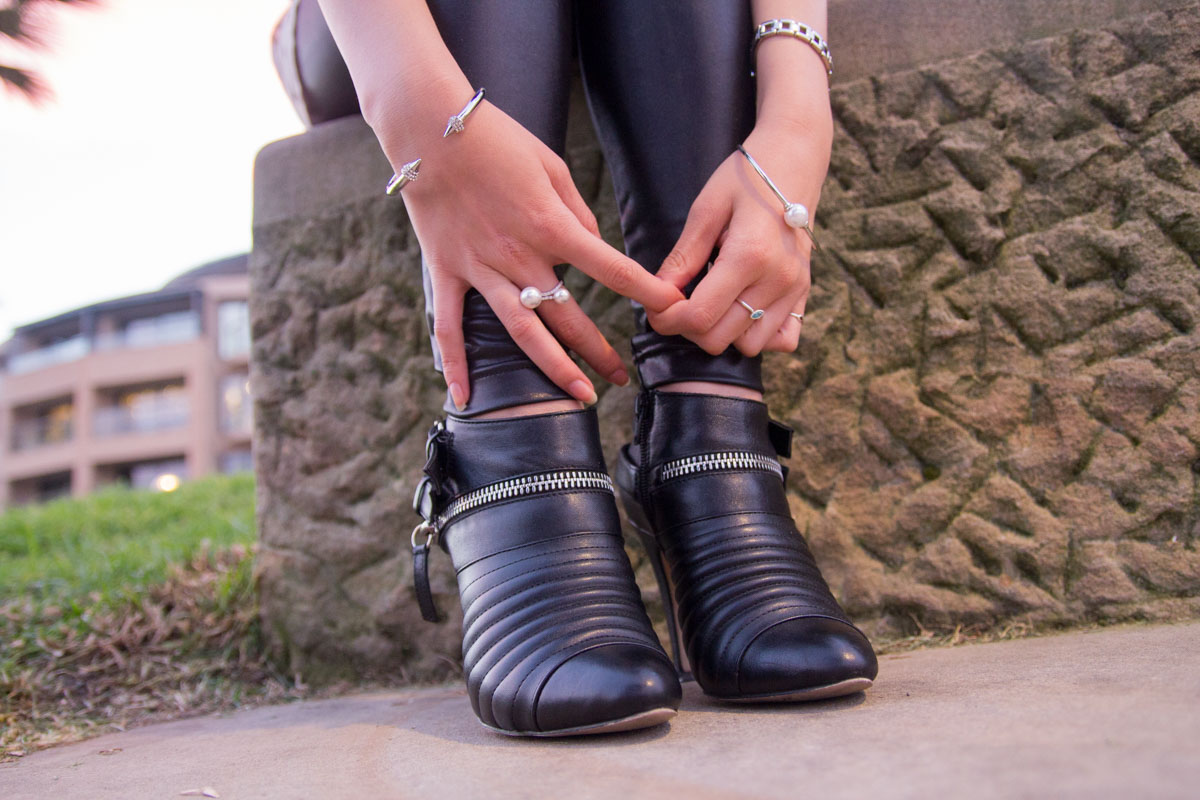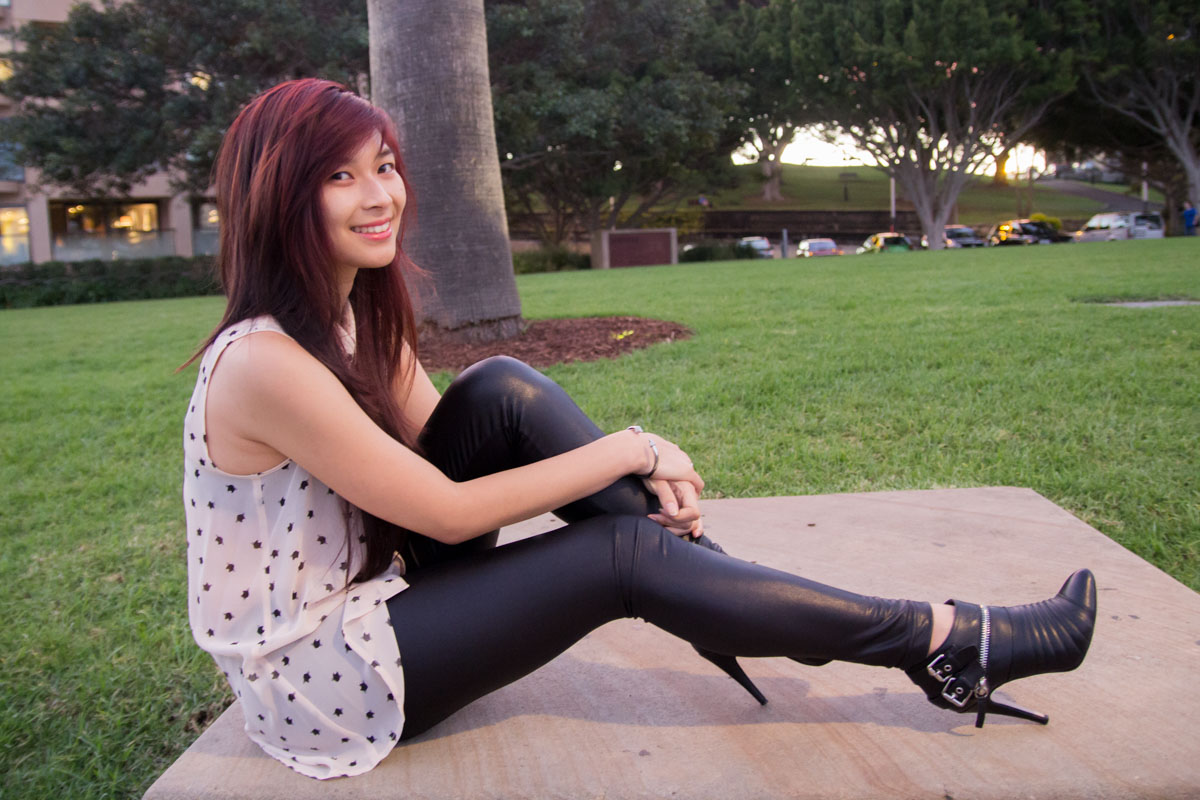 As for the choice of shoes, I chose the pair because they went well with the slick leggings. Both give the outfit that edge. The shoes are Wayne Cooper, and I originally bought them to replace my old black pointed heels that I have featured in multiple Fashion Fridays. However, the style is really quite different – my pointed heels are not as high, and are simple and minimal. These heels are very high and the soles of my feet get tired after walking in them for a while. I can wear my pointed boots all day (heck, I wore them to a festival!) quite comfortably, but these would hurt my feet after a while.
As I mentioned earlier, pearls are a highlight in this outfit. I am wearing pearl earrings I bought from a chain store called So Good Jewelry, which is apparently really popular in the US but I think all stores in Australia are having closing down sales. I remember buying some lovely rings at the store a while ago, but only a few weeks ago did I realise they sold good quality jewellery, some of which were sterling silver. I bought these earrings because I like the way the pearl hangs down and forms part of the earring backing – these hanging earrings are quite trendy at the moment. The clear gem doesn't look plastic and obviously fake like some fashion jewellery does. It goes well with my other cubic zirconia studs that I wear all the time.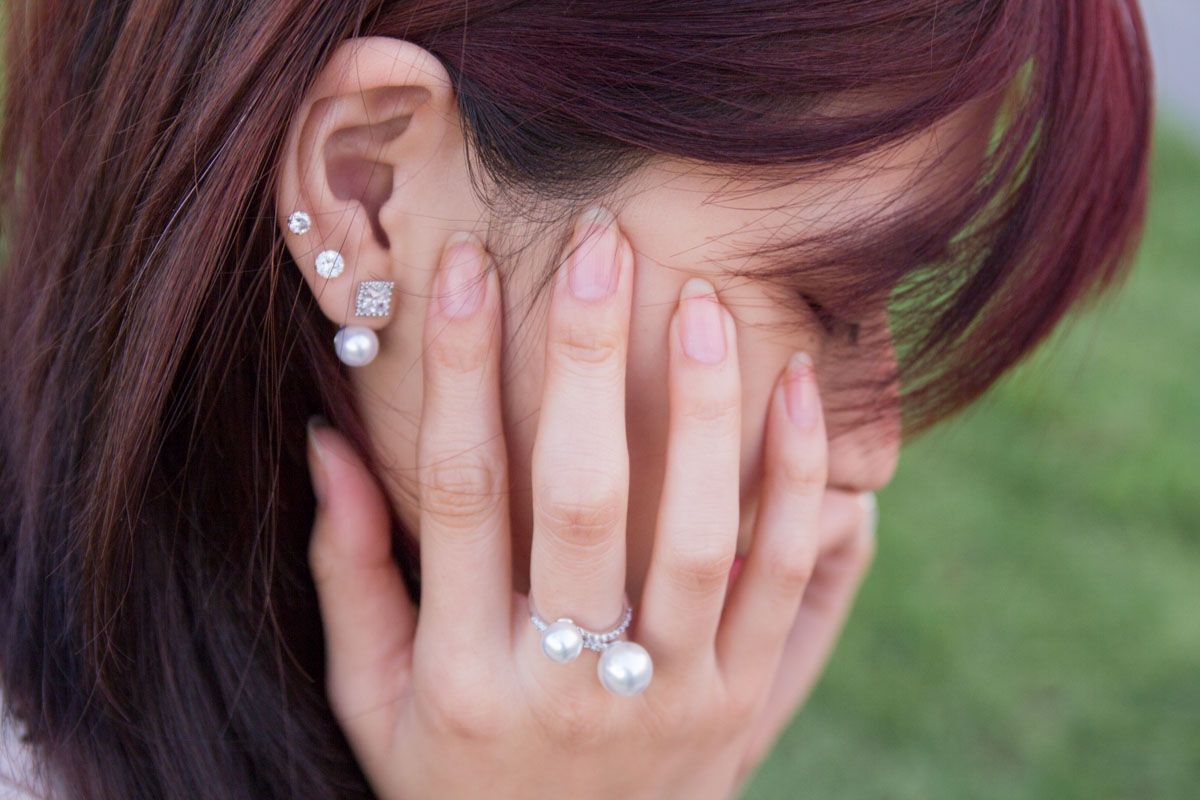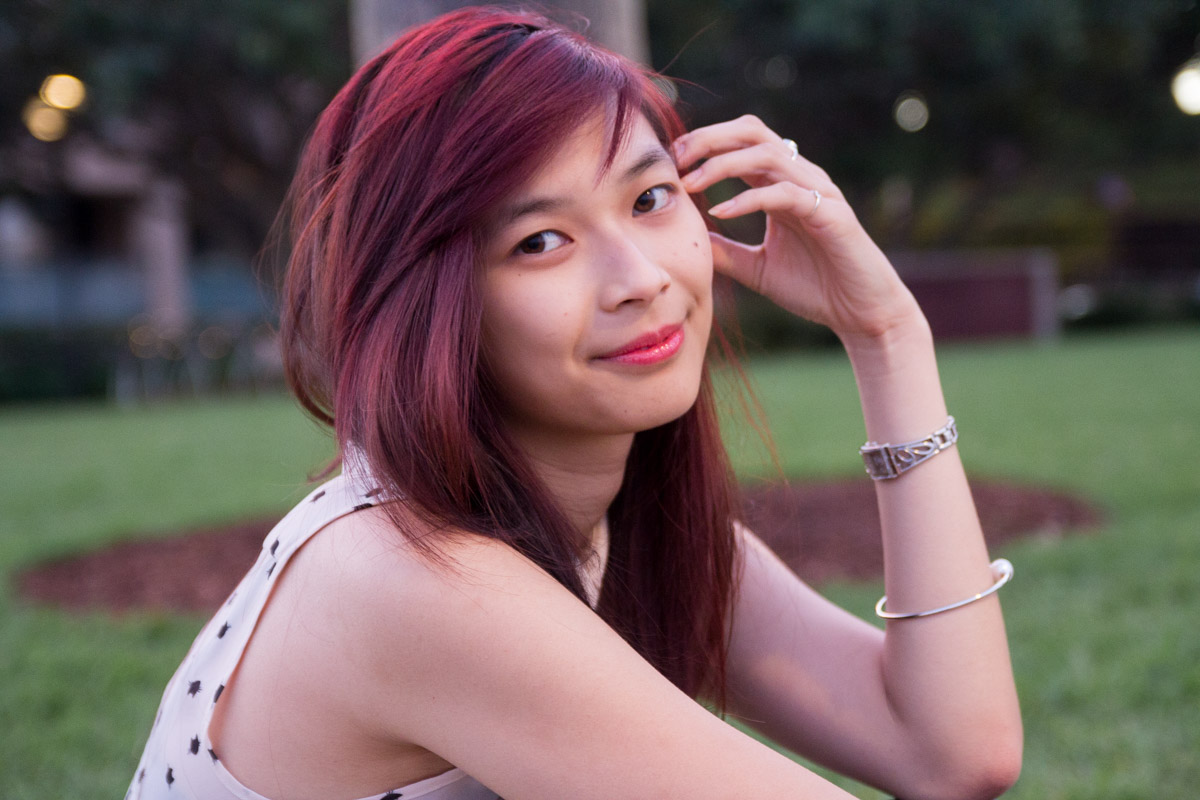 I bought the pearl ring from So Good Jewelry as well, just to have something to match with the earrings. It was the most interesting one I could find that wasn't just a simple pearl and didn't have too many loops.
I recently subscribed to The Armored Club, a new Australian-based jewellery subscription box that delivers seasonally. It was hard to resist, the pieces looked stunning and I find the box to be well curated. I settled for the Silver subscription box (there is Bronze, Silver, Gold and Platinum, and as you go up, the pieces become more fancy and unique) and received my Autumn/Fall box a week ago. Suzie, the owner of The Armored Club, was lovely enough to send me extra pieces from the previous (Summer) box. One of them was the pearl bangle. I was thrilled to receive it because it matched with the earrings and ring I already bought.
The other bangle I am wearing is a pointed cuff bangle that was actually part of the Autumn box. In fact, you can buy it individually on the website. To be honest, I find the hinge a little clunky. I find myself comparing the piece of jewellery to that of The Peach Box from which I have bought many bangles that have very precise, neat hinges. This bangle's quality looks a bit cheap from some angles, but from other angles the bangle looks great. The bangle appears to be a copy of a Vita Fede bangle. Anyway, I like the fact that my wrist is very skinny because the bangle sits beautifully without being tight and without slipping off my wrist. There is no need for me to pull it further up my arm, unlike the pearl bangle which is very large so I wear it up my arm.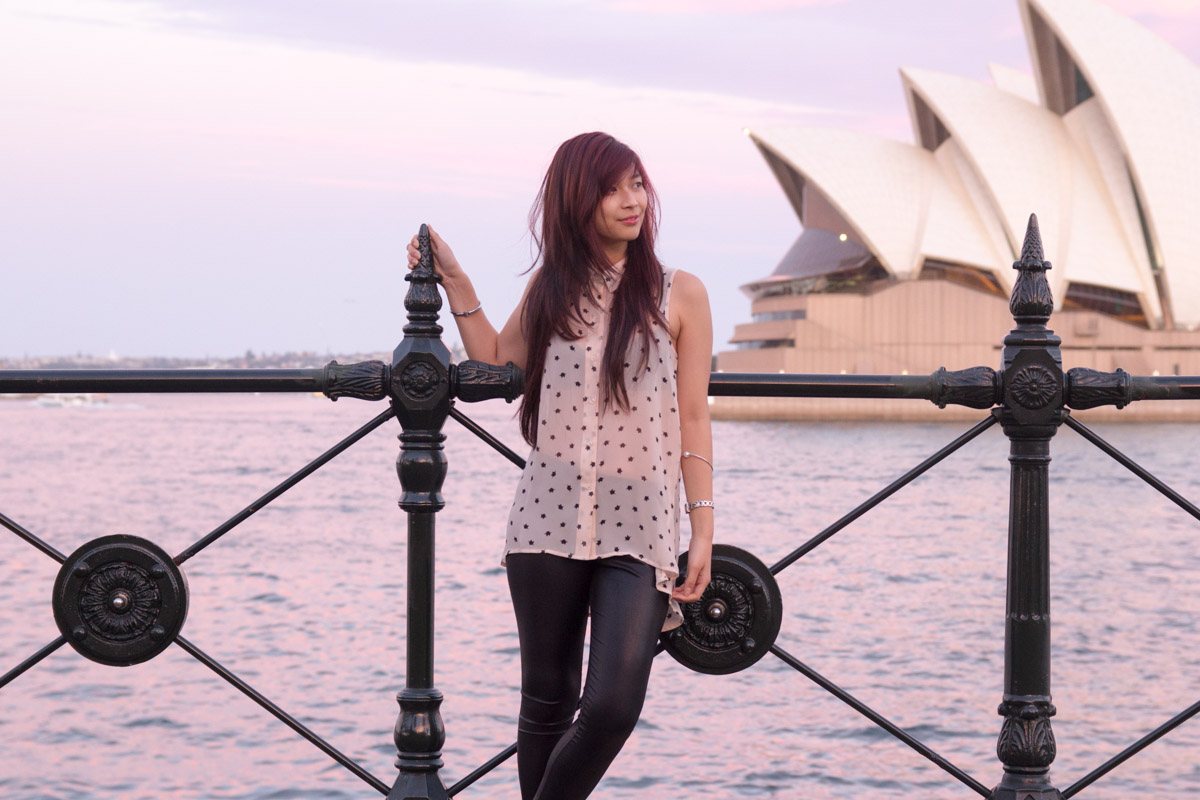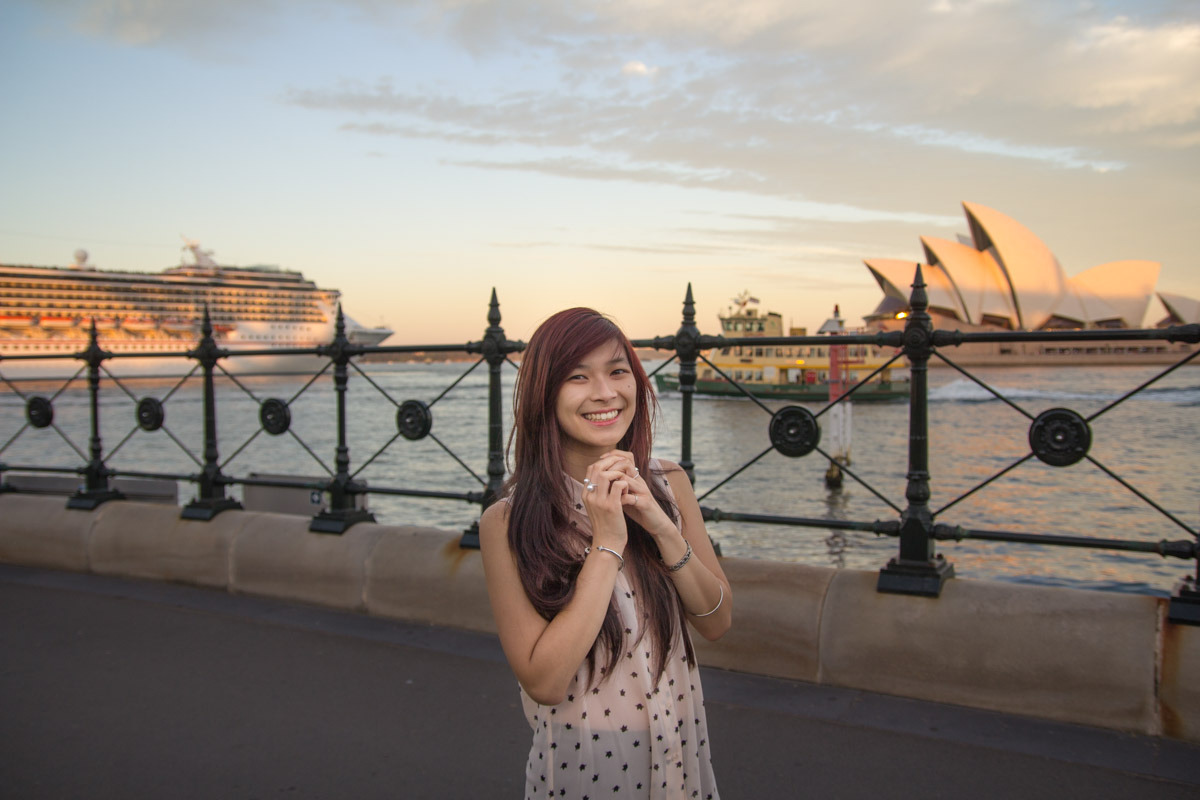 I really enjoyed doing this shoot because the Carnival Legend cruise ship was in the background, and we did the shoot at dusk (one of my favourite times of day). The sky was really beautiful at this time. I think that Nick did a really good photographing again – there were a lot of really good shots I had to leave out of the post because I didn't want to include too many. It was good to have the harbour and Sydney's favourite icons in the backgrounds too.