Fashion Friday: Autumn Sweater (featuring a review of Fashion Nova jeans)
Hey, we're back! It's been some time since I've posted a Fashion Friday post. Excuses? First, I injured my leg and couldn't walk for a few weeks, and second, it's been raining! I mean, we could try getting creative with the rain but can't really afford the time or effort right now. 😛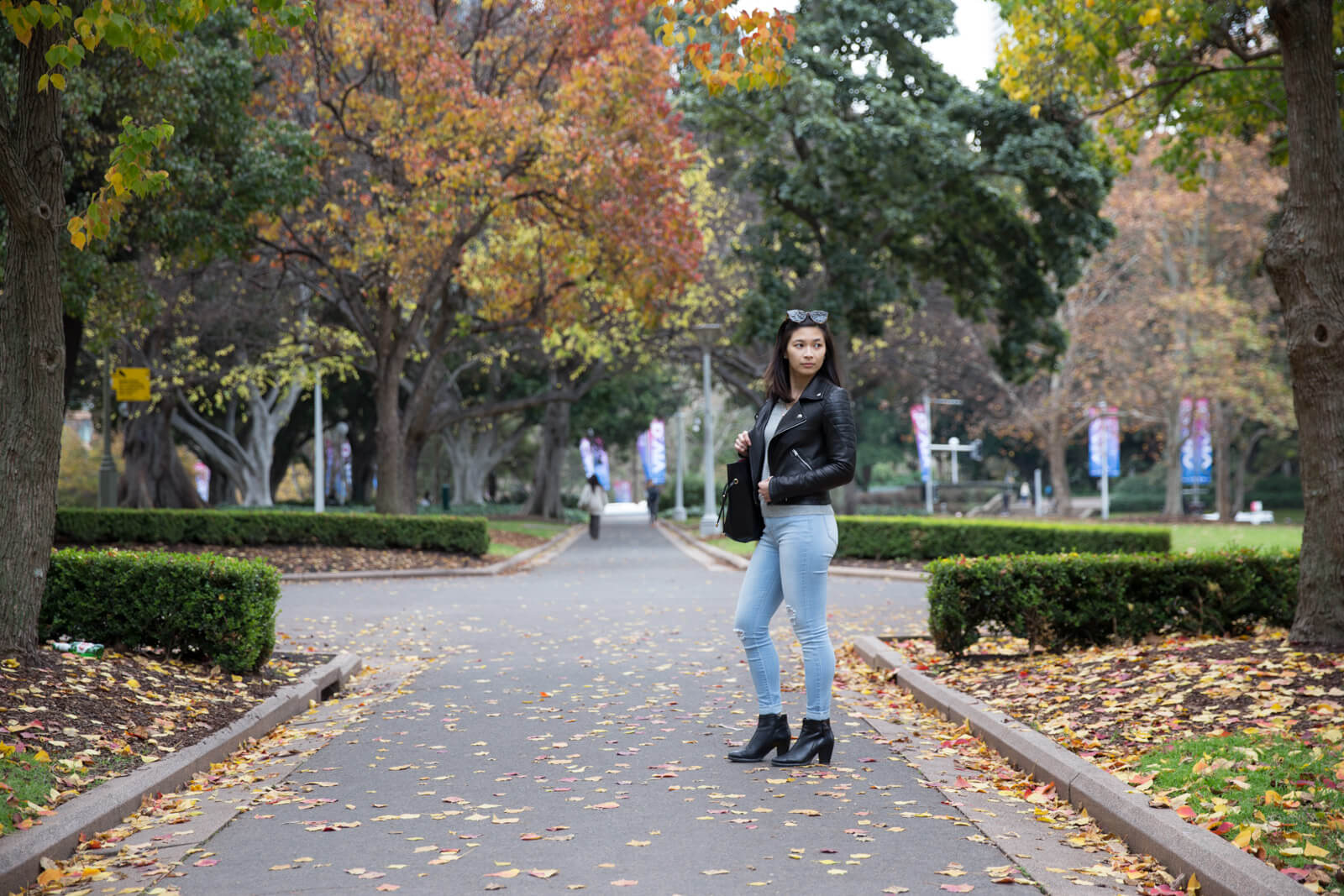 We caught a day with a bit of cloudiness and no rain – today!
Now I'm willing to admit that I probably wore all the clothes I am wearing in this outfit at least three times this week. I'm pretty sure today was the second time I wore the grey sweater and jeans together. I wore the sweater with another pair of jeans yesterday. And I wore the jeans with a green sweater earlier in the week. And I definitely wore the shoes many times this week – since my leg has recovered, I am more easily able to wear my favourite black boots, which do have a bit of a heel, but it's a tolerable one since it's a block heel and easier to walk on than a stiletto.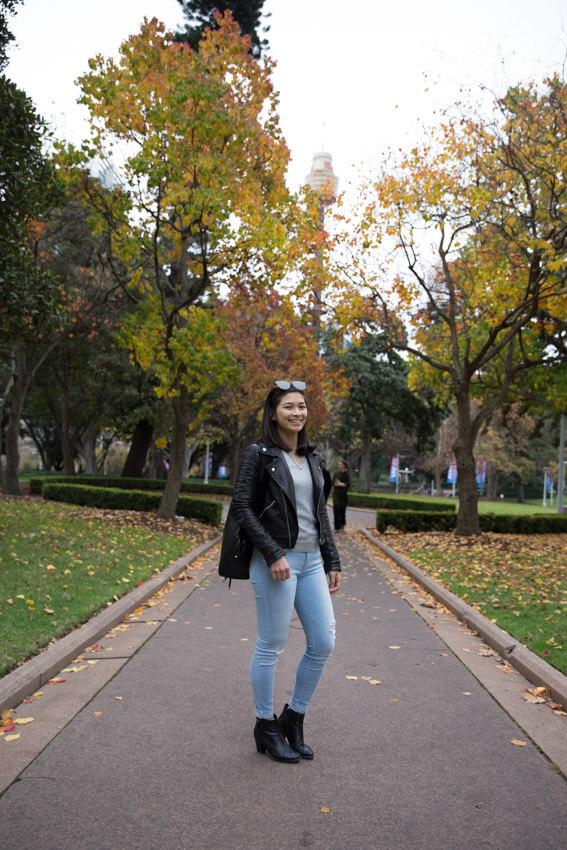 But yeah, repeating outfits? I remember feeling strange about this concept when I was younger. I like my clothes – what is wrong with wearing them again? If someone notices I wear an item of clothing regularly, I actually find that I get more compliments on it, because the item gets noticed more. I also make the assumption that people do laundry and don't just wear dirty and smelly clothes, so it's not like wearing clothes again means you have a cleanliness problem! So this lovely grey cashmere sweater got a lot of wear this season already.
I purchased the sweater in Japan, from Uniqlo. Although I have quite a few items (mostly sweaters) from Uniqlo, I have noticed that their quality is great, but occasionally a bit hit-and-miss. One of my t-shirts from Uniqlo is quite rough and not soft, while another is so soft and never creases after being washed. Also, of the cashmere sweaters I own, all get a bit itchy except for this grey one.
Now I don't know if I made a boo-boo and should have gotten a larger size, or if I seriously grew that much since I bought the sweater (haha, arm gains) but I find it snug enough to wear as a top. I've actually done that in this outfit. I guess it's thin enough to make for a nice "knit" rather than a sweater as outerwear, but thick enough to keep you warm. So yeah, this is a very soft, lovely sweater. I had wanted a good quality grey v-neck for quite some time. I used to wear them regularly many years ago until the ones I had stretched out of shape or got stains that weren't removable. And my grey top I wore in outfits such as Wanderlust is nice, but I wanted something just like that without the faux trims that make it look like I am wearing a collared shirt underneath.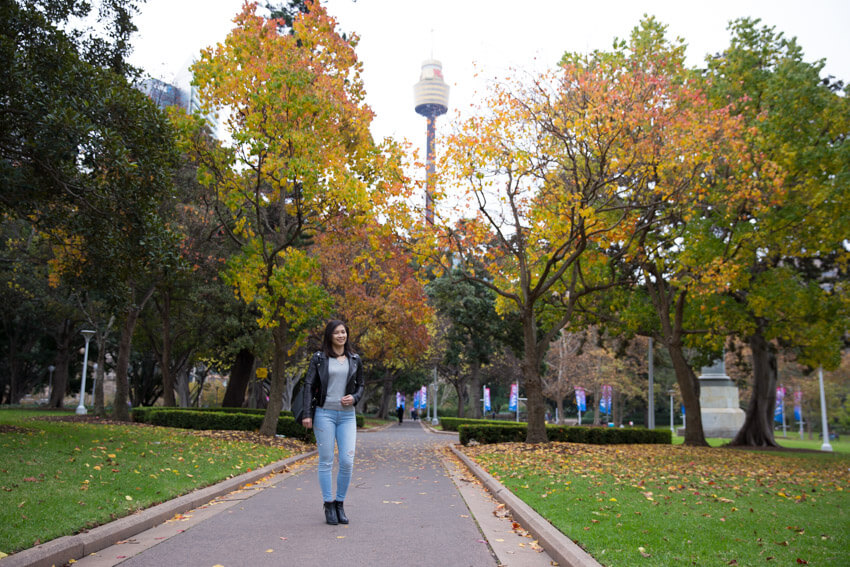 My leather jacket features in this outfit again! I probably mentioned in the past that I don't plan to wear it with longer-sleeved tops as it's quite snug and keeps me fairly warm already. It's really a tight fit with this sweater, so I always take the jacket off when I am indoors. However, the sweater is obviously thicker than a regular long-sleeved top.
I'm wearing a necklace from By Invite Only [referral link for 15% off]. I had my eye on it since they released it… then it was out of stock. I eagerly waited for it to return, and it did, but I waited again, in case it would be marked down in a sale. But even when it was, I still waited! 🤦🏻‍♀️ I ended up getting it though, when the website notified me that the stock was low. I still thought about it, because I knew the rose gold plating would be susceptible to wear off. My favourite pieces of jewellery from the site are the stainless steel ones because they won't tarnish and will remain shiny after lots of wear. The plating on the gold and rose gold pieces can wear off over time.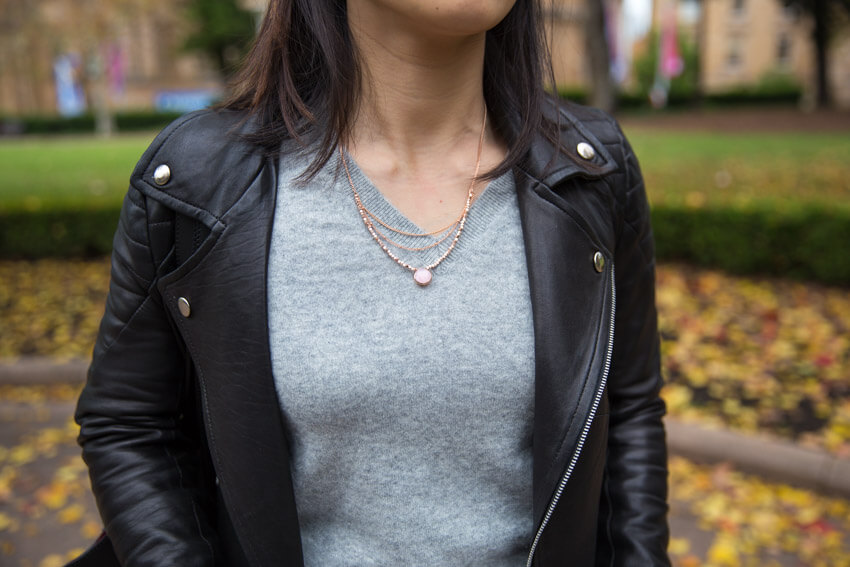 But it was such a beautiful and unique necklace that I wanted to buy it. It was also of a length I quite liked, and I can confidently say that I don't have very much rose gold jewellery, so this would be an appropriate addition to my collection. I do find that it does sit better with scoop-neck or crew-neck tops but can work with v-neck tops too. It's very pretty!
My mum gave me this handbag for my birthday. ☺ I haven't owned a black handbag since I parted with my old Fossil one – I didn't like that it was soft leather and the size was too large for my liking after some time. This bag is the right size – not too big like a tote, and not a small bag like my blue one. So it's a really nice in-between. I feel like I have the "essentials" – a small navy bag, a medium-sized black shoulder, and a tan tote. 😆 I was actually able to fit my camera in this bag for this shoot.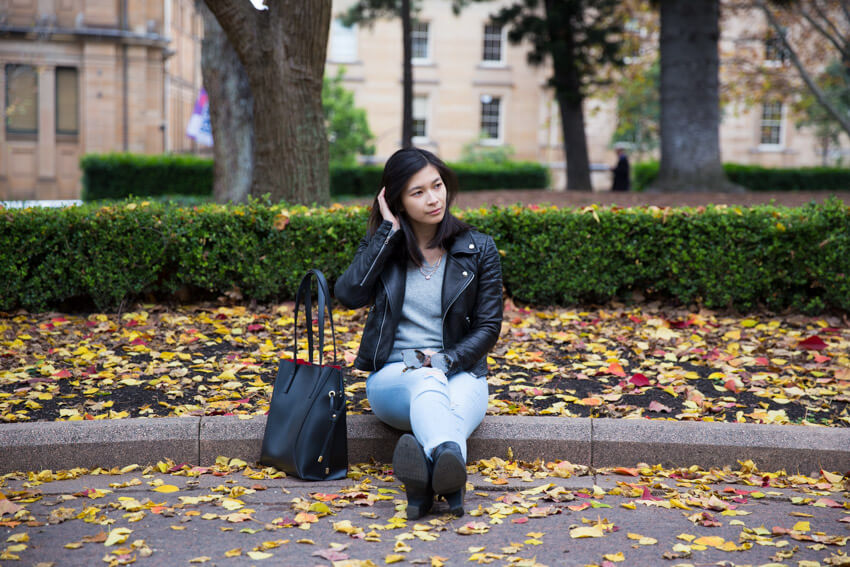 OK, let's talk about these Fashion Nova jeans…
I left writing about the jeans for last because, ha… I have a story about them. I'll try to keep it succinct but you can skip ahead to the summary. I had heard about the brand Fashion Nova everywhere on Instagram, especially from fitness models and gym junkies. Apparently, Fashion Nova makes jeans that fit you if you have a big booty!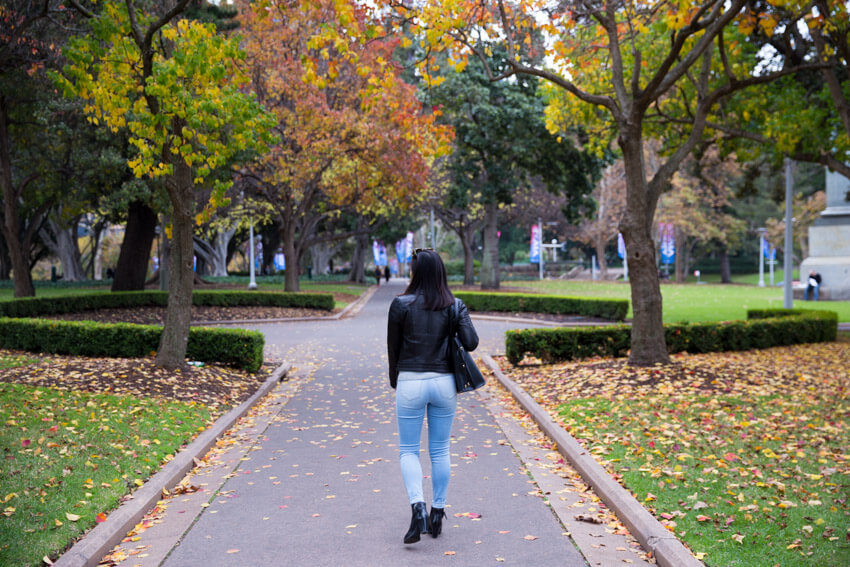 Great, I thought. Something for quadzilla, finally. I have always had trouble finding jeans that fit my tiny waist and big legs.
I spent way too long on the site, checking inseam lengths, trying to decide which size I was between two of them, picking out jean styles, and reading reviews. I also watched many YouTube video reviews and tried to get a lot of information about the jeans from women who might be around the same size as me. It really didn't help when girls and women in videos said "It actually fits me really well!" but gave zero indication of their size. Like hello, woman, that's what helps people the most! Online shopping and trying to figure out size can be a nightmare.
Reviews were mixed. It was hard to tell what was good, and I watched a lot of reviews about packages taking a long time to arrive, or incorrect items being sent. In the end, I settled on buying four different pairs: light wash, medium wash, dark wash, and black. They were slightly varying styles too. I figured four was a good enough amount to know whether it would be worth buying from them again. If I bought any less, and they were all duds, then I couldn't safely assume everything would be a dud, right? I tossed a cheap sweater in my order too. Just for good luck, LOL.
I had already read into it, and it was not worth sending the items back and getting a refund (which is actually only store credit). The jeans are really cheap, like $14–$35 USD. So I was prepared to take the risk and lose a bit of money.
They have weird sizing. I ended up getting a size 3 for all the jeans, which is about a size 26, size 2 in US, or size 8 in AUS. My waist is about 66cm (almost 26in) and my hips are 92cm (about 36in). Most jeans that fit my legs and butt do not fit my waist.
The package arrived in about six days. Speedy, considering it's international. Instead of sending me dark wash jeans, I got a pair of shorts in a size large. 🤣 Damn it, they could have at least sent me the wrong product in my size!
The medium wash – don't get me started. The black one – I'm so confused? Basically, I tried them all on, and something about them was weird. They were giving me excessive camel toe and they just… they were really roomy. As in, I could put my hands straight down the front or back of the jeans with no issues. I scrutinised them all night and I couldn't quite figure out what was wrong with them. The material was really stretchy and roomy. The medium wash jeans were far too long for me and the waist almost hit my boobs, so I dunno, it was obviously made for someone way taller than me, or someone who likes their jeans up to their ribcage.
Basically, the jeans all fit too large, and I tried shrinking all of them by putting them in my dryer multiple times, because I think they were too loose and the problem was that too much fabric gathered around the crotch and made it look like I had "baggy" cameltoe. Not the kind you get in gym pants, no.
For some reason, the black pair was so roomy in the butt and front. It was great on my legs, but it kept sagging and falling all around my butt and front. If I wore a belt (which I hate), I don't think it would have helped. It would have still looked baggy around the crotch. I kind of like them, but kind of not enough. The medium blue jeans didn't even shrink (much, anyway). Besides, even though I considered altering/tailoring, I don't think it would be worth it because it looks like tailoring is going to be hard because the cut and shape looks so damn weird.
So, in summary:
To sum up, these light wash jeans are pretty much the only jeans that worked out. They aren't perfect, though, as the waist sits slightly lower than "high waisted", so I have to keep pulling them up. They are not snug enough at the waistband. But I deal with it, ha… because this is basically the problem I have all the time. Always gotta keep pulling my jeans up, but my legs will always bloody stay put. Oh well. Guess Fashion Nova was a bit of a fail.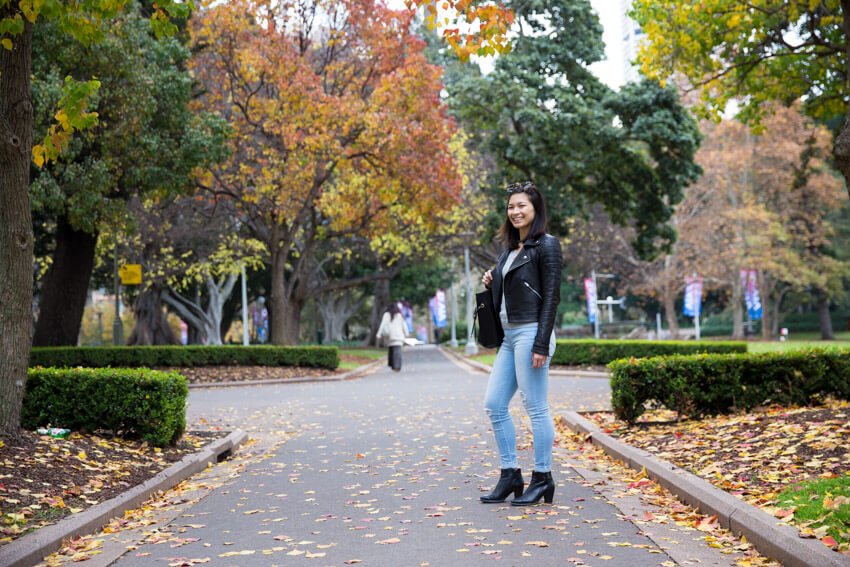 I do like these jeans though because the light wash is very nice, and very simple. I used to own a pair of light wash jeans but the wash of the denim was really "busy". I know light wash jeans make you look bigger and people like a slimming effect, but I wanted to have a light wash for something different. Plus I don't care if my legs look bigger, I've learned to embrace that, haha.
It's worth noting, finally, that these jeans are not the brand Fashion Nova – they just sell this brand – which is YMI.
This outfit was named after the Yo La Tengo song Autumn Sweater (YouTube audio). It's an unusual alternative song, it certainly reminds me of rainy depressing days. But when the song is sung, I find the lyrics slightly amusing as well, because of the subtle sarcasm: we could slip away, wouldn't that be better? me with nothing to say, and you with your autumn sweater. 🎶 I was really only referring to my sweater in the title, but hey. Make of it what you will.
📷 All photography by Nick.
Outfit details
---
Have you tried Fashion Nova before? Have you ever tried to purchase something online that's usually your "problem" item of clothing?
If you're interested in a (slightly) more in-depth review of Fashion Nova, let me know! I probably covered most of it here, though.